• Wary Of High Divorce Rates, Saudi Girls Wed Education!
• Female Customs Officers to Screen Women Landing In Riyadh
• Bangladesh Mahila Parishad Urges Female Lawmakers to Protest Attack on Nurjahan Begum
• Egyptian Fatwa: Women Who Swim In the Ocean Guilty Of Adultery
• Brides in Pakistan Say I Do – Thanks To Charity
• Malala Book Launch in Pakistan Cancelled Due To Security Concerns
• Defiant Muslim Woman on Trial in Britain Refuses To Remove Niqab
• Palestinians Hold Mass Weddings in Jericho and Gaza
• Graphic Journalism and Photos Tell Yemeni Women's Struggle
• Cost Is No Consideration for Lavish Iranian Weddings
• Pakistani Lecturer hurt in acid attack 10 days before wedding
Compiled by New Age Islam News Bureau
URL: https://www.newageislam.com/islam,-women-and-feminism/new-age-islam-news-bureau/lack-of-sex-pushed-1,371-saudi-women-to-seek-divorce-in-2013/d/35497
--------------
Lack of Sex Pushed 1,371 Saudi Women to Seek Divorce in 2013'
January 29, 2014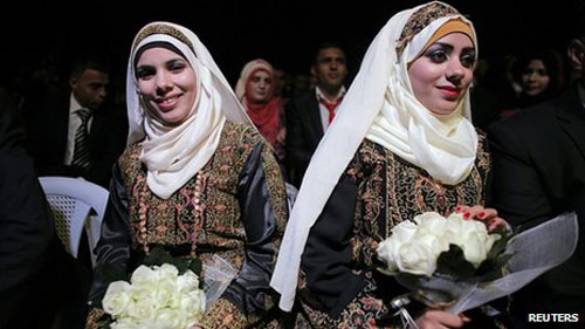 The Palestinian brides wore traditional embroidered robes
-----------------
More than 1,650 people in Saudi Arabia filed for divorce in 2013 on grounds of lack of sex, according to recent statistics by the kingdom's justice ministry
Statistics showed that 1,371 cases were filed by women and 238 were filed by men.
Ahmed Saqia, a legal advisor and former judge at the board of grievances, told Al Arabiya that litigation usually takes place in a woman's hometown and proceedings take no more than eight days due to the "sensitive nature of the issue."
"Our society is influenced by its surroundings. Some people, especially in remote regions and suburbs, believe that going to court [over lack of sex] is a disgrace," Saqia said.
He explained that most of the cases are resolved with the so-called "preferred means of conflict resolution," which include medicated reconciliation based on the Islamic Shariah. Proof or evidence of lack of sex is rarely sought as a basis for divorce, he said.
If a woman claims that she is not being satisfied in bed, this provides enough reason for a judge to divorce her according to the Shariah law, he said. But 60 percent are solved through reconciliation, he added.
Saqia lauded the justice ministry's decision to publish statistics about this "sensitive" issue.
"Revealing such statistics represents a high degree of transparency and allows researchers and specialists to address such problems," he said.
Hani al-Ghamdi, a psychotherapist specialized in family and social issues, said: "One must first understand that the essential pillar of a marriage life is the sexual relationship and there is nothing wrong in it."
"When a wife complains about this issue, it means that there is a failure at home and it is her right to complain about it; there are dozens of stories about our predecessors confirming that the sexual relationship is an essential part of a happy married life," he noted.
He said women in a conservative society should not feel ashamed to file for divorce on sexual grounds. "It is a normal reaction and such cases have always existed, and still exist, in courts. What surprises me is that people feel astonished about such cases. Specialists like us have been aware of these problems for many years."
"Many couples suffer from the lack of sexual intimacy, but let us be fair, these problems can be found everywhere; we do not recommend divorce but we rather try to solve problems. The sexual relationship is a complicated matter for sure; it is not simple at all. Distractions and extramarital relationships are the main problems in these cases," Ghamdi said.
A legal source who refused to be named told Al Arabiya that male lawyers are often uncomfortable with handling such cases.
He said they usually ask their clients to go for psychological counseling. Sultan Zahem, a lawyer, played down the issue in Saudi Arabia, saying the figures released by the ministry remain very low compared to the overall number of family cases in courts.
http://english.alarabiya.net/en/variety/2014/01/29/Lack-of-sex-pushed-1-654-Saudis-to-seek-divorce-in-2013.html
--------------
Wary of high divorce rates, Saudi girls wed education!
29 January 2014
The Kingdom's soaring divorce rates have forced young Saudi girls to opt for pursuing higher education rather than getting married at an early age.
Divorce cases increased to more than 30,000 in 2012, averaging 82 divorces per day, or three divorces an hour.
The study, conducted by the economic research unit at Al-Eqtisadiah newspaper, showed that there are 2.5 divorce cases for every 1,000 men above 15.
"Divorce rates in the Kingdom are alarmingly high. To put an end to that, young couples must attend marriage counseling sessions before getting married," says Dr. Aliyah Hani Hashim, a Jeddah-based marriage counselor.
"Having a certificate from a marriage counselor prior to getting married should be made obligatory. This will ensure a better understanding of the responsibilities spouses have toward one another," she said.
Hashim adds that the rate of divorce among youth is definitely on the increase and that many couples are getting divorced after only one or two years of marriage.
In earlier reports, the Ministry of Economy and Planning confirmed that while courts and marriage officials register around 70,000 marriage contracts annually, they also process more than 13,000 official divorce papers.
Basma Abuznada, a young Saudi who is a medical intern, says she is planning to go abroad to continue her medical studies rather than stay in the Kingdom and potentially get married at an early age.
"My parents are very adamant about finding a spouse for me even though I'm only 23. The idea of marriage in today's world has totally changed in my mind. Being a witness to what most of my married friends are going through, I totally opt to continue my studies rather that get married early." She adds that divorce has become an easy way out. "I know a lot of other girls who prefer to continue their studies rather than get married early. Of course, there are marriages that work and couples that live happily, but it's always better to be on the safe side and graduate first."
Sophia Abdul Kader, another young Saudi, says that it is important to get to know potential husbands before getting married.
"Divorce today is occurring in very disturbing proportions and for the slightest reasons, which will definitely scare young girls off and change their perception of marriage."
"There is a need for more marriage counseling courses conducted by expert psychologists throughout the Kingdom," says Abdul Kader. "The Kingdom must take steps to help solve this problem and convince young girls that divorce is not the only solution to a bad relationship."
Abdul Kader, 26, is delaying marriage simply out of fear. She is currently pursuing her MBA at a reputable college in Yanbu. "It is out of the fear of getting married that I continue studying so that my parents or relatives don't bother me with talk of marriage. Of course, some day I have to face it, but for now, I just need to convince myself that divorce is not happening to every couple."
The study also showed that the Kingdom ranked second among GCC countries for the highest divorce rates after Bahrain, where the rate stands at 2.7 cases for every 1,000 people.
The same study showed an upward trend in divorce cases in 2012 compared with 2010, when divorce cases amounted to 75 a day.
http://www.arabnews.com/news/516576
---------
Female customs officers to screen women landing in Riyadh
29 January 2014
Riyadh's King Khaled International Airport has started employing women customs officers to check the baggage of female travelers, according to a media report.
The step, the first of its kind in the Kingdom, would soon be taken at all entry points across the Kingdom, said Fahad Al-Dayel, head of the airport's passenger and customs section. His department is currently training 16 women. The aim is also to speed up passenger movement at customs sections, he said. Eight experienced female customs employees are training the staff.
Anwar Al-Sarhani, a customs inspector at Al-Durra entry point, said women would play an important role in ensuring the effectiveness of the department.
He said the department has separate sections for female employees where they can speak to female passengers, ask them personal questions and check their intimate items.
He said the newly trained female inspectors would join over 400 female employers of the department. He said they would help efforts against smuggling.
Batlah Faraj Al-Dosari, a woman customs inspector, said the move was important to respect the privacy of female passengers at inspection points.
She said airport customs officials earlier this month confiscated a large bag full of wigs. Some smugglers exploit women by forcing them to carry such items, she said.
Ebtesam Metleq bin Saad, another inspector, said women employees had suggested the idea of expanding their tasks to be on an equal footing with their male colleagues.
http://www.arabnews.com/news/517191
---------
Bangladesh Mahila Parishad Urges Female Lawmakers to Protest Attack on Nurjahan Begum
29 January 2014
Bangladesh Mahila Parishad (BMP) yesterday urged all women representatives of the national parliament to protest the recent attack on Nurjahan Begum, a female union parishad member in Chapainawabganj, which left the tendons of her hands and legs severed.
Apprehending that such a brutality will terrorise female politicians in the future, the BMP leaders observed that it was a responsibility of female parliamentarians to raise their voice. They also demanded exemplary punishment for the culprits to stop recurrence of such atrocities.
BMP held a human chain in front of Jatiya Press Club in the capital to protest the attack carried out allegedly by BNP-Jamaat men.
Ayesha Khanam, president of the organisation, said, "The attack committed in broad daylight is a serious blow to women's empowerment in the country." She demanded that the home ministry and law enforcers take immediate steps to ensure women's safety in society.
"The government must take immediate steps to stop all forms of political violence in the country," Khanam added.
Rakhi Das Purakayastha, acting secretary of BMP, also spoke at the event.
http://www.thedailystar.net/city/bangladesh-mahila-parishad-urges-female-lawmakers-to-protest-8944
---------
Egyptian Fatwa: Women Who Swim In the Ocean Guilty Of Adultery
January 29, 2014
India Today published on Nov. 28, 2013 that a listing has recently been compiled in Egypt of some of the more puritanical Islamic fatwa's issued during the presidency of now deposed leader Mohamed Morsi.
During Morsi's brief stint as president, the Muslim Brotherhood and the equally violently straight laced Salafists issued blatantly anti-women Fatwas on a regular basis.
Arguably leading the list was the fatwa (Islamic religious ruling) issued that noted the Arab word for "sea" is masculine, therefore, if and when sea water comes into contact with a married woman's pelvic area, she literally committed adultery.
According to the fatwa, she becomes an 'adulteress' and should be punished.
The standard Sharia Law punishment for adultery for a woman is slowly stoning her to death.
As India Today reported, "According to the report, the Fatwas issued by both groups (the Muslim Brotherhood and Salafists) regard women as strange creatures who are created solely for sex. They considered the voices of women, their looks and presence outside the walls of their homes an 'offence'. Some even went as far as to consider women as a whole offensive."
Other officially issued Fatwas of note include:
A prohibition on women "eating certain vegetables or even touching cucumbers or bananas", due to their phallic imagery which could sexually tempt women.
Women were ordered "turn off the air conditioners at home in the absence of their husbands as this could indicate to a neighbour that the woman is at home alone and any of them could commit adultery with her."
Upon reaching the age of 10, girls should be married "to prevent them from deviating from the right path."
A marriage would be annulled if a married couple engages in sexual congress without any clothes on.
In order to bypass the Islamic law that women shouldn't be in public with males they weren't married to or related to, that women could "breastfeed male acquaintances thereby making them relatives and justifying their mixed company".
Numerous Fatwas were authorized to use women as human shields during moments of violence.
Seen as pagan images, Fatwas were issued that "advocated the destruction of the pyramids and sphinx."
Sanctioning the execution of anyone who protested against then-President Mohamed Morsi.
Officially forbad Muslims from greeting any Christians.
http://www.abna.ir/data.asp?lang=3&id=500855
--------------
Brides in Pakistan say I do – thanks to charity
January 29, 2014
The idea of helping to educate poor children and giving girls a more dignified life in Pakistan came from Noor Abid's elderly mother.
In 1986, the two were visiting Medina and she told him she would like him to spend some of his wealth on the young in their native Pakistan.
His mother died the same year and, to honour her wish, Mr Abid set up charitable organisations to educate, train and develop women. One of the organisations was Sayeban.
"Sayeban means a temporary roof over your head, a form of protection in calamities," Mr Abid says.
Last month, it also meant something more for 70 women living in Bagh-o-Bahar, a village about 30 minutes from Rahim Yar Khan city, in the Punjab province of Pakistan – a wedding day of which they could only have dreamt.
Mass weddings are part of the work of Sayeban, which has been operating since 2000, offering training in areas ranging from handicrafts and embroidery to computers and beauty treatment.
"Invariably, poor women in Pakistan remain unmarried until someone can pay for their dowries. If they are too late, the chances of their marriage become remote," says Mr Abid.
He is a retired managing partner of accountancy group Ernst and Young for the region and now works with his wife, Tabassum, helping people they will never know.
Mr Abid is still a board member on banks in Bahrain and Pakistan, and runs a 160-hectare farm that provides employment in one of Pakistan's poorest areas.
On December 22, dressed in the traditional red shalwar kameez and jewellery, the brides embarked on their new journey.
He says that too often unmarried women lead lives of desperation, dependent on their close relatives or working as farm labourers.
"In some cases they become victims of abuse," Mr Abid says.
Sayeban's committed team is dealing with a society where female illiteracy is still prevalent and women face many restrictions on their lives.
Its aim is to empower women to better take part in the development of their society and help to restore their self-esteem.
The number of mass weddings Sayeban has sponsored has been growing. Last year's was the largest, with about 1,400 people attending.
Among them was the founder's son Adil Abid, who lives and works in Abu Dhabi. "I was blown away by the setting," Adil says.
Sayeban pays the bill but does not find suitors for the women. Otherwise it ensures that the wedding is perfect, from preparation to decoration.
"Any women wanting to get married need to have a national identity card that proves they are 18," Adil says.
The next step is an application form that includes details of their families' circumstances, such as their monthly income. The organisation gives priority to the poorest candidates.
Details of each application are checked by asking other people in the village.
Before the marriage contract is signed, the women are asked twice to confirm that they are happy with the arrangement and are not being forced into it.
The couples are allowed to meet and talk in the presence of a guardian. Each girl is given 4,000 Pakistani rupees (Dh139) as a mahr, or dowry.
"Four thousand rupees might seem a small amount for some people, but for these women it's a treasure," says Adil.
Everyone is accommodated at the weddings. Food is cooked and served to guests by members of the community. Men and women are seated separately based on the Islamic rule.
Sayeban provides every bride with four bridal suits, shoes, a shawl or headscarf and make-up. The groom is also given a suit, rumaal shawl and shoes.
On the day of the wedding, each bride is dressed by volunteers chosen from Sayeban training centre.
The organisation also donates 66 items to help the couple start their lives together, including cooking utensils and bedsheets.
"Most suppliers know us, so they give us everything for low prices," Adil says. Some supply the goods free. "They appreciate the cause we are working for."
The 79 weddings have cost the organisation Dh143,285.
"The contributors are largely the Pakistani diaspora living in the Middle East, United Kingdom and my family members," Noor says.
Sayeban also provides medical treatment and has set up 13 primary schools in remote villages where children have no access to education.
"The schools are running very successfully. Each school has 35 to 40 children and we teach the government syllabus," he says.
The next mass wedding has been set for this December. Anyone wishing to contribute can do so through sayeban.org
http://www.thenational.ae/lifestyle/family/brides-in-pakistan-say-i-do-thanks-to-charity#ixzz2rjSki6qC
--------------
Malala Book Launch in Pakistan Cancelled Due To Security Concerns
January 29, 2014
PESHAWAR, Pakistan -- Officials at the University of Peshawar in Pakistan's northwestern Khyber Pakhtunkhwa Province have cited security concerns as the reasons behind the cancelation of an event celebrating a book by teenage activist Malala Yousafzai.
Malala, the recipient of the European Parliament's 2013 Sakharov Prize, has become an international icon of resistance to the Taliban after being shot and almost killed for her campaign in support of girls' education.
An RFE/RL correspondent quoted university officials as saying they had to halt the January 28 book launch after local government ministers and police asked them not to proceed due to unspecified security reasons.
Malala lives in Great Britain and was not in attendance.
In November 2013, some private schools in Pakistan banned Malala's book, "I Am Malala," from their campuses, calling the memoir "anti-Pakistan and anti-Islam."
http://www.rferl.org/content/pakistan-malala-launch-canceled/25245246.html
--------------
Defiant Muslim woman on trial in Britain refuses to remove niqab
January 29, 2014
A Muslim woman accused of intimidating a security guard at the Finsbury Park mosque in north London decided not to take the stand in her defense after a judge ruled she would have to remove her niqab, The Daily Mail reported.
While judge Peter Murphy said that defendant Rebekah Dawson, who wears a full-face veil, was 'fully entitled' to wear what she wanted in court, British law requires that the jury must see the faces of those giving evidence.
The judge offered the defendant a choice to give evidence from behind a screen shielding her from public view, but not from the view of the judge, the jury, and counsel; or by mean of a live TV link, but Dawson declined.
Her lawyer, Susan Meek, said she recognized the decision might adversely affect Dawson's trial.
'She was given a choice by the judge - she either gave evidence with the niqab off or she remained in the dock with it on. She has remained in the dock," said Meek.
The 22 year old is on trial with her brother, Matthias Dawson, 32 for allegedly intimidating security guard Daudi Yusuf at a mosque after an incident allegedly occurred between him and Ms. Dawson's husband.
Both defendants deny the charges.
Ms. Dawson's lawyer reminded the jury that the trial was, "not about the niqab, the niqab is not on trial in this courtroom. This is a woman accused of a criminal offense who happens to wear a niqab."
Debate over whether a niqab can be worn in court lies in two conflicting legislations.
Article 9 of the European Convention on Human Rights (ECHR) gives the defendant a right to manifest his or her religion or belief, wording that would seemingly allow the presence of a face-covering veil.
However, the country's law requires jurors to see the faces of a person giving evidence.
In an apparent effort to respect the ECHR's sentiments about freedom of religious manifestation, the judge stated that "no drawing, sketch or other image of any kind of the defendant while her face is uncovered be made in court, or disseminated, or published outside court."
The trial is set to continue today when the jury is meant to issue its verdict.
http://english.alarabiya.net/en/variety/2014/01/28/Defiant-Muslim-woman-on-trial-in-Britain-refuses-to-remove-niqab.html
--------------
Palestinians hold mass weddings in Jericho and Gaza
January 29, 2014
Nearly 300 Palestinian couples have taken part in mass wedding ceremonies in the West Bank and Gaza.
Palestinian President Mahmoud Abbas attended the marriage of 218 couples in the West Bank city of Jericho.
Mr Abbas's office said the Palestinian Authority had spent $1.5m (£900,000) on the event, which included a gift of $4,000 for each couple.
Another 80 couples married at a parallel ceremony in the Hamas-controlled Gaza Strip.
Palestinian official Jamal Lafi said the mass wedding was "to help young couples get married in the difficult economic situation".
He said all the wedding expenses had been paid for by the authority.
Palestinian divisions
At the ceremony in Jericho, brides wore colourful embroidered Palestinian robes and carried bouquets of white roses, while the bridegrooms wore black suits, white shirts and red ties.
The couples sat in rows of chairs flanking a central stage in the car park of the Intercontinental Hotel.
In his speech, Mr Abbas criticised Hamas, the militant Islamist movement which has governed Gaza since 2007.
Palestinians are divided politically between Mr Abbas's West Bank-based Fatah movement and Hamas in Gaza.
Mr Abbas said the group had prevented the couples from Gaza joining the ceremony in Jericho.
"Unfortunately, Hamas is insisting on dividing the people," he told the couples.
"Hamas today banned our boys and girls in Gaza from having their party together with us. We wanted to do it as an expression of national unity that they (Hamas) didn't want."
Previous Palestinian mass weddings have mainly been the domain of Hamas.
In the past three years there have been 25 mass weddings in the Gaza Strip either organised by Hamas or by its smaller rival, Islamic Jihad.
http://www.bbc.co.uk/news/world-middle-east-25938549
--------------
Graphic journalism and photos tell Yemeni women's struggle
January 29, 2014
BOLOGNA - A reportage released by Coconino Press mixes graphics and photos to narrate the story of the silent revolution of Yemeni women for their emancipation. 'Il Mondo di Aisha' ('The World of Aisha'), a 144-page work of graphic journalism published by the Bologna-based publishing house of the Fandango group, focuses on the stories of three women. The author, Ugo Bertotti, made the drawings in black and white, inspired by a story by photographer and documentary-maker Agnes Montanari, who collected the stories of Aisha, Sabiha, and Hamedda. Aisha lives in the capital, Sanaa, has a degree in computer science and works for a software company. She does not want to marry her cousin, which is what has family has asked her to do. She has a jealous boyfriend, and wears a niqab - but mainly because it ensures her freedom of movement and prevents her being looked at incessantly by men. Sabiha is a child bride, having been married to a 23-year-old when she was only 11. Though Yemeni law prohibits marriage under age 15, in the rural area where she lives tribal laws and the Sharia hold sway. Sabiha wears a full Islamic veil, but at dawn she likes to go to the window without it to feel the fresh air on her face: something her violent husband does not approve of. Hamedda, 65, was also a child bride in her time, but she managed to make the best of the situation and is now the wealthy owner of a restaurant chain. She became a widow very early on and had to find a way to get by, and hit on the idea of opening a small restaurant for soldiers. She has never worn a niqab, despite rumors going round about her as a result and gossiping behind her back. The author of the graphic novel and the photojournalist tell the stories of the three protagonists and the women around them.
''The Islamic veil makes a big impression on you Westerners,'' Aisha says. ''But you don't understand that for us it isn't that important. What is really important for us is to be able to work outside the home, teach, treat patients, engage in politics. If you wear a niqab this is more easily accepted, since men feel less destabilized.'' Set up in 2000 as part of a project by Igort and Carlo Barbieri, Coconino Press has brought to Italy graphic novels and comics by authors of such international renown as Gipi, José Munoz, Jiro Taniguchi, Daniel Clowes and Davide Toffolo.
http://www.ansamed.info/ansamed/en/news/sections/culture/2014/01/28/Graphic-journalism-photos-tell-Yemeni-women-struggle_9976556.html
--------------
Cost is no consideration for lavish Iranian weddings
January 29, 2014
TEHRAN // At an engagement party in an upmarket district of Tehran, Narges, 26, and Ehsan, 30, discuss the cost of their upcoming wedding.
"All the girls in our family had big weddings. Mine should be bigger," Narges said, as Iranian and international pop songs blared across the room and men danced together with women who were not wearing the hijab, breaking Iran's conservative laws. "Everybody expects to attend a good party," she added.
After two months of mournful Shiite rituals, Iran's extravagant wedding season is under way and despite the Islamic Republic's economic woes, young couples are buying into a demanding culture of lavish spending on getting married.
Narges and Ehsan are no exception. The couple, who are both from rich families, plan to spend about Dh331,000 (US$90,000) on their wedding in March, having already spent Dh55,000 on the engagement party alone.
A team of 20 English-speaking waiters wandered around a reception hall decorated with pink flowers, in the exclusive Zaferanieh district north of Tehran, offering non-alcoholic drinks and snacks.
Narges said she had spent Dh9,180 on a pink engagement dress to match the party's theme. For the wedding, 400 people have been invited and Narges plans to wear a Dh36,730 dress from Spanish luxury brand Pronovias. The dress costs more than 30 times the average monthly salary in Iran.
The spending is not limited to Tehran's more affluent families.
In the middle-class neighbourhood of Karaj, a city west of Tehran, Mohammad Ali,29, presented his fiancée Mina, 28, with a gold ring at a gathering of relatives.
"If it was up to me I would definitely cut extra expenses," said Mohammad Ali, who like the other couple interviewed for this story, declined to give his last name. "I just wanted to get her a plain gold ring, but the traditions aren't easy to bypass." Mina's ring was a gold ring with 5 small diamonds, which cost 20,000,000 rials.
At least 200 guests attended Mina and Mohammad Ali's "small family party" and his mother, Khatoon, highlighted the importance of weddings and related events.
"This is the Prophet's tradition and we must do our best for young couples," she said. "We are not rich, but all the family helped. It is just one night for them," she added.
Mina has a bachelor's degree in graphic design and works at a private graphic design company, commuting to Tehran every morning by train. Her husband-to-be imports medical equipment, and lives in the south-eastern part of Tehran.
Mina and Mohammad Ali both consider themselves middle-income Iranians but their wedding, although small by Iranian standards, will be an opulent affair.
They have hired a team including photographers, videographers, a DJ and a caterer who will prepare at least five main dishes.
"We had to do it because everybody else is doing it. All these expenses look unnecessary to me, but they are part of our culture." Mohammad Ali said. "My parents are not rich, but they helped me with wedding expenses. To be honest, they were more insistent on a costly party than Mina and I."
Across the city at this time of year, young couples can be seen waving from the windows of their wedding cars that have been covered with elaborate floral arrangements. Other drivers pull their vehicles closer to catch a glimpse of the couple and madly blast their horns.
But the big spending comes against the backdrop of Iran's dire economic climate following eight years of mismanagement under former president Mahmoud Ahmadinejad and stifling international sanctions imposed to curb the country's nuclear programme.
His successor, Hassan Rouhani, who took office in August last year, faces serious challenges in trying to improve Iran's economy.
A Dh55 monthly subsidy for all Iranians, introduced last year to offset rising food and energy prices, has created a budget shortfall.
Inflation has soared to 40 per cent, the rial has lost 50 per cent of its value since 2012 and unemployment among 15-24 year olds is at 26 per cent, according to Iran's National Statistics Centre.
Yet even poor Iranians spend excessively on weddings, often beyond their means.
"It seems most Iranians confuse happiness with comfort in their lives. We think living in luxury is ideal," said Mahmoud Sariolghalam, an aide to Iran's president and a professor of international relation at Shahid Beheshti University. According to Mr Sariolghalam, the effort most Iranians exert to live luxuriously is mostly to show off to others.
The gifts that Narges and Ehsan have received underscore this attitude.
Ehsan's father bought his son a Lexus, which costs the equivalent of Dh496,000 in Tehran, as an engagement gift. Ehsan, who holds a master's degree in business administration, works at the family's import-export business.
The gifts do not end there. Ehsan's father is also buying the couple an apartment in Elahiyeh, another sought-after part of Tehran, where prices hover around Dh20,000 per square metre.
But the money Iranians spend on their weddings does not always buy happiness.
There were 70,323 cases of divorce in the country from March through September during the current Iranian calender year, which began on March 21, 2013, an increase of 13 per cent compared with the same period a year before, according to Iranian media.
In the capital, Tehran, one out of every 2.9 marriages, ended in divorce in the same period.
foreign.desk@thenational.ae
http://www.thenational.ae/world/middle-east/cost-is-no-consideration-for-lavish-iranian-weddings#ixzz2rjSvP4Sn
--------------
Pakistani Lecturer hurt in acid attack 10 days before wedding
29 January 2014
LAHORE - Unidentified men stopped an auto-rickshaw in the main bazaar near Akbar Chowk in Green Town area, threw acid on a university teacher, and fled from the scene on Tuesday.
The victim identified as Huma Shahzad fell unconscious after the attack and was rushed to the Jinnah Hospital in critical condition.
Police said two men riding on a motorcycle intercepted a rickshaw at College Road on Tuesday evening and threw acid on lecturer's face, chest and shoulders. The family had scheduled wedding ceremony of the victim next month.
SP Sadar Division Malik Awais told The Nation that the motive behind the acid assault on the 24-year-old woman has not yet been established. "Investigations are on until we apprehend the criminals. Police are collecting information to track down the criminals," the police officer said.
"We had scheduled her wedding ceremony on February 8. She was coming back from the University of Management and Technology (UMT) after delivering lectures as usual when she was attacked," Shahid Farooq, the complainant and brother of the victim told this reporter by phone.
Witnesses said two motorcyclists threw acid on the woman who was travelling in an auto-rickshaw and fled.
The resident of Township sustained serious injuries and was rushed to Jinnah Hospital, where her condition was reported to be out of danger.
But she was being provided medical treatment at the intensive care unit of the hospital till Tuesday night.
Police investigators say they believe the attackers were not happy over her planned marriage. A member of the victim family told this reporter that the involvement of a friend of the bridegroom in the gruesome attack could not be ruled out. The police have registered a case against unidentified men and are investigating with no arrest made yet.
Though the government had introduced legislations to severely penalize the perpetrators in such incidents yet there is no lull in acid attacks as seen in recent months.
On December 1, a young woman suffered moderate burns after her husband allegedly threw acid on her following domestic issues near Firdos Market Gulberg.
On August 15, at least six persons including three nurses and a woman patient suffered critical to moderate burn injuries when a man threw acid on his nurse wife at Mayo Hospital's emergency.
The Acid Survivors Foundation (ASF) claims that 150 acid attacks occur in Pakistan each year.
In 2012, Sharmeen Obaid-Chinoy sought to bring global attention to acid attacks and the women who are left to live with the consequences with their documentary, Saving Face, which won Academy Award.
http://www.nation.com.pk/national/29-Jan-2014/lecturer-hurt-in-acid-attack-10-days-before-wedding
---------
URL: https://www.newageislam.com/islam,-women-and-feminism/new-age-islam-news-bureau/lack-of-sex-pushed-1,371-saudi-women-to-seek-divorce-in-2013/d/35497