New Age Islam News Bureau
29 March 2013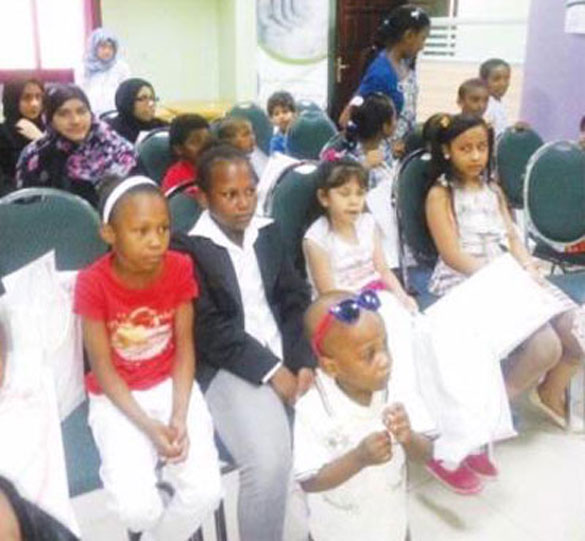 Photo: Child participants with their parents watch a movie on sexual abuse at the Hemaya workshop in Jeddah on Wednesday. — SG photo
----------
• Muslim Women Encouraged to Explore Science, Technology, Engineering and Math
• Libyan Women Should Be Banned From Marrying Foreigners: Grand Mufti
• 200 Children Participate In Workshop in Jeddah on Sexual Abuse
• Kidnap and Sexual Assault of Aid Convoy Britons in Benghazi
• Lashes for Sexually Harassing Nurse at Abha, Saudi Arab
• Man Accused of Sexually Harassing an Emirati Colleague
• A 3-Year-Old Girl Can Be an Agent for Change
• Kazakhstan Beauty Third At Miss Kharkiv International
• Kyrgyz Designers Show Their New Collections of Muslim Fashion
• Bahraini Actress Escapes Death While Filming Execution Scene
• Syrian Childhoods 'Smashed To Pieces': UK Prime Minister's Wife
• Nigeria: Reasons Girl-Child Shouldn't be Sent Hawking
• Nigeria: Another 1000 Women for Kano Mass Wedding
Compiled by New Age Islam News Bureau
URL: https://newageislam.com/islam-women-feminism/'lack-open-discussion-sexual-health/d/10939
-----------------
'Lack of Open Discussion on Sexual Health Putting Pakistan Society at Risk'
29 MARCH 2013
ISLAMABAD: Participants including former parliamentarians, civil society and religious scholars on Thursday agreed to advocate for the rectifications of existing policy gaps regarding sexual and reproductive health (SRH) and maternal and neonatal health (MNH) needs of adolescent girls and young mothers.
The speakers said that ever increasing population has severe consequences for the health of mothers and children as well as hampering economic development of the country. Speakers claimed that a pregnant woman died every 25 minutes in Pakistan and more than half-a-million children died every year due to non-availability of proper medical facilities.
Pakistan has one of the youngest populations in the world, with 60 percent of its citizens less than 24-years-old and 21.4 percent in their adolescence (10-19 years). To maintain a healthy, productive growing population, it is essential that special attention is paid to the sexual and reproductive health needs of young people, they argued.
The speakers claimed there is "considerable evidence that commencing sexual activity at a young age puts marginalised adolescent girls and young women at heightened risk of early and unwanted pregnancy, unsafe abortions, sexually transmitted infections (STIs) including HIV, death from complications in pregnancy or child-birth and sexual coercion." They lamented that "most Pakistani society is conservative and open discussion on sexual and reproductive health issues is considered inappropriate. Parents and teachers are usually unwilling to shareeven age-appropriate information with their charges and often discourage inquiry."
Former MPA from Khyber Pakhtunkhwa (KP), Faiza Rasheed informed the participants that the KP government has not only passed the population welfare resolution but also adopted it and all parliamentarians unanimously passed it. This was a start and the future assembly will further make legislation in this regard, she maintained. The KP government also allocated funds for population welfare programs. Another KP MPA of JUI-F, Uzma Khan said the parliamentarians worked hard for the passage of population welfare bill and convinced all to pass and adopt it.
However, three provinces failed to properly legislate on population welfare but their representatives assured the participants that future assemblies will legislate in this regard. The workshop was organised by Rahnuma Family Planning Association of Pakistan (Rahnuma FPAP) here at a local hotel.
CEO Rahnuma FPAP, Syed Kamal shah, briefed the participants about the objectives of the event. He shared the history, programmes and achievements of Rahnuma with the participants.
Amna Akhsheed, Director Adolescent / Women Empowerment / Poverty Alleviation, shared a policy review from gender perspective, the gaps identified and recommendations presented to bridge the gaps. She highlighted that adolescent and young people make up more than 60% ofPakistan's population, out of which 27 million are the females. The needs of adolescent girls and young mothers are grossly neglected at the policy levels leading to worst social indicators in the South Asian region such as low female literacy, high infant mortality rate, high maternal mortality rate, low contraceptive prevalence rate (CPR).
Rahnuma FPAP with collaboration of Research and Advocacy Fund (RAF) have taken the initiative to plug the policy and practice gaps at national, provincial and district levels for addressing the sexual and reproductive health (SRH) and maternal and neonatal health (MNH) issues of young women, by mobilising the policy makers and stakeholders.
http://www.dailytimes.com.pk/default.asp?page=2013\03\29\story_29-3-2013_pg11_5
-----------------
Muslim Women Encouraged to Explore Science, Technology, Engineering and Math
Six women share their success story at the Lorton Library
By Andrea Worker
March 28, 2013
The Nubian Benevolence Association was the official sponsor for the Muslim Women in Science, Technology, Engineering and Math (STEM) presentation at the Lorton Community Library on Saturday, March 23, but there was little doubt that Hajjar Ahmed, daughter of the organization's co-Founder Hossam Ahmed, was the driving force behind the event.
The session was not originally on the association's calendar. "My daughter suggested that the association sponsor a positive program during March, National Women's History Month, about Muslim women as a way of encouraging the next generation of women to enter STEM careers. She came up with the idea in response to what we saw as a negative meeting that we had read about. Hajjar pretty much put this together in less than a month," said Mr. Ahmed.
He was referring to the February meeting of the Republican Women of Clifton. The topic to be discussed by guest speaker Stephanie Reis was "the treatment of women in Islamic Society" and how she believes that the Hijab (head scarf often worn by Muslim women) "is a catalyst for Islamic terrorism."
"Some local Muslim men and women attended the talk," said Mr. Ahmed, "hoping to correct any misimpressions that the speakers might bring up. But my daughter didn't want to attend a negative event. She wanted to showcase Muslim women who have succeeded in difficult, male-dominated fields, and done so peacefully in the United States of America."
Mr. Ahmed welcomed the assembly with a brief explanation of who the Nubian people are, describing the descendents of an ancient civilization, located between northern Sudan and southern Egypt, speaking a unique non-Arabic language, as "a peaceful people." As to the purpose of the day's event, "It's important to encourage all people to explore the sciences," he said, "for the continued growth and welfare of our country. In the last 10 years there has been a 32 percent increase in jobs that require STEM backgrounds, but the numbers of students enrolling in STEM fields had decreased during that same time period."
THE SMALL MEETING ROOM was filled to capacity with teenagers and their families as six women, all wearing Hijab, took to the speakers' panel table. Their titles, printed boldly beneath each of their names, were an impressive variety of engineering specialties, from civil to aerospace engineering, from forest genetics to IT security.
After an introduction by Hajjar Ahmed, the women spoke for about 20 minutes each, with tales from their childhoods, speaking of how they became interested in STEM areas, providing highlights from their academic and professional careers, and offering advice on how to pursue a path in the sciences, math and technology. Some of the women were born in the United States of immigrant parents. Amani Eisa, a civil engineer who graduated from George Mason University, came to this country in 2001 with no English skills. "Maybe not the best timing, giving the tragedy of that year, but whatever is happening around you, you keep working and going forward."
Sumara Baig came to America from Pakistan at 12 years of age. Her parents wanted her to be educated, and that was not an option for girls past the sixth grade where she came from. The Oakton High School graduate stressed how important it was to be able to communicate well in English, no matter what you study. Today, Baig works in air traffic control technology for Lockheed.
The particulars of their stories may have differed, but there were many similarities as well. The speakers, who ranged in age from 60s to 20s, all recounted having been one of few females in their majors classes, like Herndon High School graduate Hazima Javaid who was one of six girls in a class of 150 studying aerospace engineering at Virginia Tech. They were in the minority in the internships that they completed, the competitions they entered, and often in their workplaces, even today. All have experienced gender bias, often further complicated by their wearing of the Hijab.
Regardless of the difficulties for women, they urged their audience to persevere, if their passion really lies in STEM fields. One after another, their advice was repeated: "Take the challenging classes, stretch yourself;" "Keep busy and intellectually active during the summer and breaks. Go after those internships early;" "Read. Read everything you can and learn to communicate;" "Seek out mentors and listen and learn;" "Be true to yourself. And if your faith guides you, then be true there, too. How you wear the Hijab says a lot about your faith and your belief, even in yourself."
A FORMAL QUESTION AND ANSWER period followed the presentation. The speakers stayed beyond the program to answer additional questions and to personally show their own mentoring spirit. Members of the Nubian Benevolence Association, headquartered in Falls Church, were also present and available for questions and comments. The Nubian Benevolence Association can be contacted at nbawashington@gmail.com.
http://www.connectionnewspapers.com/news/2013/mar/28/muslim-women-encouraged-explore-stem/
-----------------
Libyan Women Should Be Banned From Marrying Foreigners: Grand Mufti
28 March 2013
Libya's Grand Mufti, Sheikh Sadeq al-Ghariani, has called on the government to ban Libyan women from marrying foreigners, Egypt's state news agency MENA reported Wednesday.
He states that no Libyan women should be permitted to enter into marriage with a foreign man even if they are Muslims or Arabs.
Al-Ghariani says that he received several complaints that Shiite and Druze men from Iran and Syria are "taking advantage of the loose security grip in Libya and the chaotic situation in the public administration." He cites this as justification for his call.
Sunni Muslim states, like Libya, tend to be sensitive to the entrance of Shiism into their societies through various means such as marriage and tourism.
Earlier this month, for example, Egyptian Islamist preacher, Safwat Hijazi, voiced objection to a tourism agreement with Iran. He expressed fear that the Ayatollah's regime in Tehran may send Shiite missionaries disguised as tourists.
Hijazi told Al Arabiya in an interview that since the Islamic Revolution, the Ayatollah's regime in Tehran has sought to disseminate the Shiite doctrine outside their country, especially among the Sunnis.
In Libya, the Grand Mufti's call, if implemented by the government, would likely be seen as another setback for women's rights in the post-Qaddafi era.
In February, the Constitutional Chamber of the Supreme Court sanctioned polygamy after it abolished an old amendment that required men to have their first wife consent to them marrying a second one.
http://english.alarabiya.net/en/News/middle-east/2013/03/28/Libyan-women-should-be-banned-from-marrying-foreigners-Grand-Mufti.html
-----------------
200 Children Participate In Workshop in Jeddah on Sexual Abuse
March 28, 2013
JEDDAH — A child sexual abuse awareness and prevention workshop was conducted successfully in Jeddah on Wednesday to educate 200 children.
Empowering children to be safe, strong and free was the main theme of the workshop organized by the Jeddah-based Family Protection Society (Hemaya) with the participation of a number of family affairs experts.
Ayman Al-Harbi, general director of Hemaya, said the workshop focused on educational courses for children to learn how to protect themselves and understand what sexual harassment actually is.
"With the growing number of child sexual abuse cases in the Kingdom, it is our rule to identify sexual abuse and highlight the problem to our society.
"Young children need to be aware of such issues, since they can be subjected to abuse anytime by anyone, especially when they turn five.
"It is the year when children show their interest in what others do."
She said the workshop also makes parents aware of how to identify signs of sexual harassment and how to deal with it.
"At the same time an abused child must resist and tell their parents about the incident even if the perpetrator is a family member."
Meanwhile, Hanadi Al-Belawi, a social worker at Hemaya center, said the workshop also provided mothers with the opportunity to exchange experiences about family affairs related to the behavior of children.
She said: "Parents and children were able to watch a movie about the sexual harassment of children, allowing social workers to observe the reaction and behavior of children while watching the movie."
She added that if child abuse is not stopped in the beginning, children could become abusers themselves when they grow older.
Al-Belawi pointed out that this workshop addressed the questions of what sexual harassment is and what can be done to stop it.
http://www.saudigazette.com.sa/index.cfm?method=home.regcon&contentid=20130329158968
-----------------
Kidnap and sexual assault of aid convoy Britons in Benghazi
28 March 2013
At least one woman travelling with an overland aid convoy heading to Gaza has been sexually assaulted in Benghazi, during the brief kidnapping of five British nationals.
The incident took place on Tuesday, when two groups from the aid mission, a British-Pakistani family – a father with his two daughters – and another man and a woman, decided to leave the convoy, which was being delayed at the Libyan-Egyptian border, and return to the UK.
The five took a taxi back to Benghazi but were stopped at the Sidi Al-Faraj checkpoint by members of the Libyan regular army. They were then kidnapped and taken to a farm in the Sellouk area, where at least one of the girls was sexually assaulted. Four of the kidnapped Britons managed to escape and found a local police station. The fifth was later rescued.
It is not clear how many of the three kidnapped women were abused. It has been reported that one was raped. Deputy Prime Minister Awadh al-Barassi said in a statement released on his Facebook page that both daughters had been "brutally raped" in front of their father. "I express my very deep sorrow at what happened," he said.
Full report at:
http://www.libyaherald.com/2013/03/28/kidnap-and-sexual-assault-of-aid-convoy-britons-in-benghazi/
-----------------
Lashes for Sexually Harassing Nurse at Abha, Saudi Arab
March 28, 2013
ABHA — An Asian man was whipped by the members of the Commission for the Promotion of Virtue and Prevention of Vice (Hai'a) in public after he tried to sexually harass a nurse. The man and the nurse work for Sabt Al-Alaya General Hospital. The man was flogged in the open area of the hospital's premises. Representatives from the court and police were present when the lashes were handed out.
http://www.saudigazette.com.sa/index.cfm?method=home.regcon&contentid=20130329158971
-----------------
Man Accused of Sexually Harassing an Emirati Colleague
Marie Nammour / 28 March 2013
A man has been charged in the court with molesting and breaching the decency of a compatriot female colleague at their work place on two separate occasions.
The 36-year-old defendant, an Emirati, is accused of sexually harassing his colleague in two incidents between June 2011 and January 2012 at an office in Al Rafaa where they both work.
The man is accused of groping the woman while he was walking behind her, as well as touching her against her will.
In another instance, the accused allegedly grabbed the woman by her hands and pushed her to a table before giving her a kiss on her right cheek. He is also accused of telling her 'you are still desired and soft' as he groped her bottom. The accused was not present at the Court of First Instance to face the charges.
mary@khaleejtimes.com
http://www.khaleejtimes.com/nation/inside.asp?xfile=/data/crime/2013/March/crime_March48.xml&section=crime
-----------------
A 3-Year-Old Girl Can Be an Agent for Change
29 MARCH 2013
This is a copy of an email received by the Manadeel Waraq campaign for the defence of street children:
"Dear all, Today the hospital admitted a 3-year-old girl. Her mother and father brought her to the hospital saying she had fallen from the second floor. Upon examination, the physician issued a report with the following: 'Both arms broken, concussion, cigarette burns all over the body, second-degree burns caused by an iron on both legs, deformities in the body where she had been bitten.' We called the police and the parents were arrested."
The simple string of words made me cry while translating this brief report for my article. The report is so cold in its lack of emotion — even factualness and rawness. But it had to be, because words cannot ever capture the feelings of the person who went to see this girl and wrote to us, reaching out for help.
Full report at:
http://www.egyptindependent.com/opinion/3-year-old-girl-can-be-agent-change
-----------------
Kyrgyz designers show their new collections of Muslim fashion
Friday, 29 March 2013
A fashion show in Bishkek, Kyrgyzstan featured a collection of colorful dresses for a unique spring 2013 collection targeted to Muslim women, who want beautiful clothes that still protect their modesty.
"I think that a woman, whether she is Muslim or Christian, has to follow fashion and her appearance should be decent, and she has to look beautiful, womanly," said 'Fashion Muslim Kyrgyzstan' attendee Ruhina Kozhambekova.
Like Kozhambekova, hundreds of Kyrgyz women attended the fashion show, clapping to the pulsing beat of the music while the models flowed along the runway in long-sleeved, high-necked gowns paired with veils framing their faces.
Full report at:
http://english.alarabiya.net/en/life-style/2013/03/29/Kyrgyz-designers-show-their-new-collections-of-Muslim-fashion.html
-----------------
Bahraini Actress Escapes Death While Filming Execution Scene
Tuesday, 26 March 2013
A Bahraini actress escaped death while shooting an execution scene in the TV series "Not a Tear of Sadness," Emirati newspaper al-Bayan reported Tuesday.
Fatima Abdel Rehim's leg slipped accidentally while a rope was tied around her neck.
"I saw death with my own eyes," she was quoted as saying. "I hallucinated, cried and fainted. I was thinking at that moment of my mother and my children."
Abdel Rehim was quickly saved by the show's crew.
Director Mohammed al-Qafas said he was thankful that the actress is in good condition, adding that he made four crew members surround her while shooting the scene to deal with any emergencies.
Full report at:
http://english.alarabiya.net/en/life-style/2013/03/26/Bahraini-actress-escapes-death-while-filming-execution-scene-.html
-----------------
Syrian Childhoods 'Smashed To Pieces': UK Prime Minister's Wife
27 March 2013
Syrian childhoods are "being smashed to pieces," said the UK prime minister's wife following her visit to a Syrian refugee camp in Lebanon on Wednesday.
"As a mother, it is horrifying to hear the harrowing stories from the children I met today. No child should ever experience what they have," The Guardian quoted Samantha Cameron as saying.
"With every day that passes, more children and parents are being killed, more innocent childhoods are being smashed to pieces," she added.
Syrian families seeking refuge in Lebanon's Bekaa Valley told her how they had witnessed the deaths of relatives during the two-year-old civil war.
Full report at:
http://english.alarabiya.net/en/News/2013/03/27/Syrian-childhoods-smashed-to-pieces-UK-Prime-Minister-s-wife.html
-----------------
Nigeria: Reasons Girl-Child Shouldn't be Sent Hawking
BY OJOMA AKOR
29 MARCH 2013
Many parents send their children to hawk wares for various reasons ranging from poverty, tradition, and supplementing family income among others. However, this exposes them to dangers which are particularly worse if they are females. In some communities, only girls hawk while the parents and male children stay at home.
The children leave home as early as 6 a.m and return as late as 11p.m. They also hawk under different weather conditions. Some of them whose guardians or parents beat and starve for not making enough sales even hawk in the rain. The fact that some of the children hawk in groups has not significantly reduced the problems and dangers they encounter.
A category of people like poor parents, women with negligent or lazy husbands who do not provide for the family, widows, widowers, divorcees, sick or disabled parents with able children feel they should not be blamed for sending their children hawking because they are helpless. In all cases, the disadvantages of sending their children hawking far outweighs whatever benefits are derived from them. In this scenario, it is better for the parents or the adults themselves to do the hawking and not the children. Government , NGOs and Social welfare centres should also come to the rescue of orphans and street children who earn a living from hawking.
Full report at:
http://allafrica.com/stories/201303290825.html?viewall=1
-----------------
Nigeria: Another 1000 Women for Kano Mass Wedding
BY LUBABATU I. GARBA
28 MARCH 2013
Kano — The Kano State Hisbah Board said yesterday that it has concluded plans to marry off 1000 widows and divorcees in the third batch of its mass marriage program aimed at reducing the number of unmarried women in the state.
Commandant General of the board, Sheikh Aminu Ibrahim Daurawa, in an interview with Daily Trust, said the mass wedding will take place on April 7, 2013. "The government introduced this plan in order to reduce marital problems in our society. When we first suggested the mass wedding plan, many people thought it would not be possible, but Alhamdulillah, we have succeeded in marrying off about 350 women in two batches", he said.
Full report at:
http://allafrica.com/stories/201303280373.html?aa_source=acrdn-f0
-----------------
URL: https://newageislam.com/islam-women-feminism/'lack-open-discussion-sexual-health/d/10939