New Age Islam News Bureau
2 Dec 2018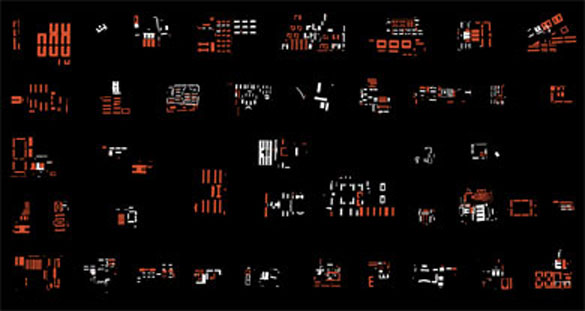 (Supplied Photos)
Here is a graphic rendition of the building footprint of the Korla facility. It has almost doubled in size over the past 17 months. By August this year, the built-up area covered 114,000 square meters.
-----
• Fraudulent Gang of Non-Muslims Marrying Muslim Girls Busted
• Story of ISIS Affiliated Bangladeshi Jihadist Sisters
• FIFA Examining Sexual Abuse Claims on Afghan Women's Football Team
• Record Number of Women Elected To Bahrain Parliament
• TV Series Showcases UAE through the Eyes of Women
• Arab women take to the 'death boats' of illegal migration
• 125 Women, Girls Raped, Whipped and Clubbed In South Sudan
• Lebanese Women Still Struggle with Inequitable System
• Female Victims Come Clean About 'Torture' In UAE Jails
• Female Political Prisoner Zeinab Jalalian Subjected To Violence in Prison
Compiled by New Age Islam News Bureau
URL: https://www.newageislam.com/islam-women-feminism/kuwaiti-cleric-says-it-haram/d/117039
--------
Kuwaiti Cleric Says 'It's Haram for Women to Wear Pants'
2018-11-26
Kuwaiti cleric Dr. Othman Al Khamees is no stranger to sparking controversy online and things weren't so different over the weekend.
On Thursday, the scholar uploaded a video to Twitter in which he states "it's haram for women to wear pants."
The statement came in reply to a question the cleric was asked about whether it's permissible for women to wear pants above their heels.
In his reply to the inquiry, Al Khamees said:
"Pants are 'haram' altogether and they're asking about ones that go above the heels! It's impermissible for Muslim women to wear pants except if they put on a 'thawb' [floor-length garment] over them. It isn't acceptable in Islam for a woman to expose her legs and thighs, and pants define these body parts. Ones that go above the heels also reveal a part of the body that shouldn't be out."
His words divided people's opinions, with many supporting his stance on the issue and others hitting back at his rhetoric.
This isn't the first time an edict issued by Al Khamees divides people's opinions.
Earlier this year, a video of him saying it's unacceptable for a Muslim woman to travel alone sparked controversy on Twitter.
The statement came in response to a question the cleric was asked by one of his followers and featured pretty bizarre reasons why females shouldn't travel alone.
"What if she had to make an emergency landing in Holland or Germany, what if her flight gets diverted? It's not right, it's just not acceptable to have her travel alone," he added.
https://stepfeed.com/kuwaiti-cleric-says-it-s-haram-for-women-to-wear-pants-4581
--------
Fraudulent Gang of Non-Muslims Marrying Muslim Girls Busted
Dec 02, 2018
Kashinagar: A fraudulent group of non-Muslims which married poor Muslim girls was busted. They had married Muslim girls claiming themselves to be the Muslims. Later, when they could not perform prayer according to Muslim traditions, people suspected them and informed the police.
This incident occurred in Sikhonia Village of Kabeer Asthan Thana.
According to the report published in Inquilab Urdu Daily, a group of people came from Rajasthan and stayed in a person's house. The same person arranged the marriages of these people in the evening of Thursday. After the marriage ceremony, when the grooms came out to take the blessings of the elders, they were following Hindu rituals. The onlookers felt surprised.
On Friday, when these grooms went to Masjid for offering prayer, they were not following Islamic traditions while performing namaz. The local residents got suspicion. They convened a meeting and interrogated the persons who had married Muslim girls. Some of them told that they are the Hindus. The villagers sent them back without their brides.
https://www.siasat.com/news/fraudulent-gang-non-muslims-marrying-muslim-girls-busted-1440396/
--------
Story of ISIS Affiliated Bangladeshi Jihadist Sisters
December 2, 2018
North South University (NSU), a privately-owned leading educational institution in Bangladesh has once again been accused of housing jihadists – more precisely Islamic State (ISIS) affiliated jihadists. Previously several students of NSU were tracked as jihadists by the Bangladeshi and foreign counterterrorism agencies. Following this latest incident, an internationally acclaimed counter-jihad expert has rightly questioned – "Why did North South University not oppose the jihadi culture and network it hosts?"
According to information, a large number of the students of North South University regularly join jihadist discussion through various groups on the Facebook. They also use secured apps like Telegram for communicating amongst themselves. It is further learnt that several students of NSU are already associated with another jihadist group named Hizbut Tahrir as well as terrorist student front of Jamaat e Islami Bangladesh.
Counter-jihad scholar and President of the Middle East Forum, Dr. Daniel Pipes, while commenting on two jihadist and ISIS connected sisters from Bangladesh has questioned – Why did the Bangladeshi police not take proper protective steps when it questioned Asmaul Husna (sister of a jihadist now under custody of the Australian authorities)? Let us first of all know who this Asmaul Husna is. She is the younger sister of Momena Shoma, a 24-year-old Bangladeshi ISIS jihadist in Australia.
Momena Shoma arrived in Melbourne on Feb. 1, 2018, to study linguistics on an excellence scholarship at La Trobe University. Describing herself as "an introvert and very shy in nature," she spoke of an ambition to become a university instructor. Coming from an affluent and secular Dhaka family which considered her "brilliant," Momena had been an 'A' student at some of the Dhaka's elite English-language educational institutions such as Loreto School, Mastermind School, and North South University (NSU). She graduated from NSU with an honors degree in English language and literature in 2016, and then enrolled for a master's degree at NSU before switching to La Trobe.
At the height of ISIS' notoriety in 2014, Momena applied for a student visa to travel to Turkey to take up a scholarship from Ankara's Atılım University, but probably really intending to join ISIS. However, the Turkish consulate in Dhaka turned her down, as it did about half the Bangladeshi student applicants. Momena may also have tried, unsuccessfully, to obtain visas for Tunisia and the United States.
A Bangladeshi police report found that Momena's sister Asmaul Husna also became radicalized after their mother's death from diabetes in June 2015; the sisters together took to watching Al-Qaeda and ISIS videos. Both sisters got inspired to devote [themselves] to jihad and vowed to fight for establishing an Islamic caliphate in Bangladesh. They joined a faction of Jamaat-ul-Mujahideen Bangladesh (JMB), an ISIS-linked jihadist group with a violent record dating back to 2005 (when it announced itself with 350 explosions in one hour) and culminating with the attack, killing 29 people [mostly foreigners] at the Holy Artisan Bakery in Dhaka's posh diplomatic enclave named Gulshan on July 1, 2016. There had been allegations of some of the top figures of Bangladesh Nationalist Party (BNP), one of the two largest political parties in the country giving patronization to JMB and other radical Islamic groups.
Momena was in contact with many Bangladeshi jihadists, both local and fighting for ISIS in Syria. The latter included ATM Tajuddin and Gazi Sohan. Sohan, also an ISIS recruiter until his arrest in 2015, met Najibullah Ansari, a Bangladeshi marine engineer and JMB member, in an online chat room and introduced him to Momena in 2014. Momena and Najibullah hit it off and quickly planned to marry but did not due to family opposition. Soon after, Najibullah announced in January 2015 (in a Facebook message to his younger brother) that he was "going to Iraq to join ISIS," though it appears he actually went to Syria. Najibullah's father filed a report with the Chittagong police in 2015, informing them of his son's travels.
Bangladeshi police also found evidence (on Momena's smartphone and computer) pointing to an important jihadi connection in Australia: an unnamed female friend from an Islamic discussion group at NSU; the two then together communicated with ISIS recruiter Gazi Sohan. Momena's female friend married a Bangladeshi resident in Australia and moved there after graduation in 2016. She stayed in steady electronic contact on WhatsApp, inciting each other with jihadist videos. The friend apparently convinced Momena to join her in Australia, leading to Momena's enrolling at La Trobe.
Jihadist beasts beneath burqa:
Momena Shoma was like a regular female students before she got enrolled at the North South University. Before getting admitted with NSU, she never put on burqa or hijab and was living a regular life as any of the members of an elite family would do. But, the atmosphere at NSU had turned her into a jihadist. She immediately started wearing hijab and then burqa thus giving her soul the scope of turning into a monster.
Soon after arriving in Australia, Momena Shoma started looking for her targets. To the police, she calmly elaborated that she had come to Australia not to study but to kill "in the name of God." She expected that a knife stab to the neck "would be fatal." Seeing herself as a foot soldier of the Islamic State (ISIS), Momena had planned out the attack; indeed, before leaving Dhaka, she had told her younger sister Asmaul Husna, 22, of her murderous plan.
Momena had put herself in a jihadi mood that morning by watching a gruesome 55-minute ISIS video from 2014, Flames of War.
Momena took a 25 cm (10 inch) kitchen knife to her Bundoora room and repeatedly stabbed her bed, she signaled the danger to come. In the words of a magistrate, "She did the practice run on the mattress with the first family that hosted her and they felt intimidated enough to go to [AHN], saying, 'We're scared, we don't want her to continue living with us'." Out she went, facing homelessness.
Responding to her urgent need for accommodation, the Singaravelu family – husband and nightshift nurse Roger (56), wife Maha (45), and daughter Shayla (5) – on Feb. 7 welcomed Momena into their 4-bedroom house in Melbourne's Mill Park suburb for a few days until she found more permanent lodgings. Maha explained her motive in accepting Momena: "I felt for her, being in a foreign country. I put myself in her shoes and her parents' shoes."
Themselves immigrants from Malaysia, the Singaravelus had come to Australia 30 years ago, Roger explained, "to seek opportunity." They had hosted foreign students since 2014 in a spirit of multiculturalism, of giving back, and of teaching tolerance to their daughter. A neighbor, Neil Fitzroy, described the Singaravelus as engaging and open, taking in foreign students to give them "an Australian experience."
Matters started well enough with Momena, Maha recalls: "She was very pleasant to deal with. She even offered to babysit our daughter if we ever went out." Roger concurs: "Shoma gave a good impression right up before the attack." He found her "well mannered" and noted that she spoke better English than he did.
Growing up in Malaysia, a Muslim-majority country, Roger tells me, he and Maha "understand the norms that are embraced by Muslims." But AHN had not informed the family that Momena wore a burqa and her appearance, Roger recounts, "gave us a shock when she first arrived at our doorstep." That she was constantly lifting the burqa during meal times to get food into her mouth caused the family to feel "uncomfortable having meals together." Much less did AHN inform the couple about Momena having been thrown out of her prior homestay due to her practice at stabbing. And no one knew she had stolen the knife from the first homestay host.
On February 9, 2018, after two days with the Singaravelus, Momena struck. At 4:25 p.m., with Maha out of the house and Roger napping on a mattress in the lounge, child in arms, wearing her burqa, she used her stolen knife to stab her host in the neck. But the under-five-foot woman lacked the strength to cut the much larger Roger's jugular vein, getting the knife only superficially into his neck – enough to make him bleed "like a fountain" but not enough to do him fatal damage.
In his words: "I thought I was dreaming as I felt a sharp pain on my neck. I woke up and started screaming." He tried to pull the knife out as Momena leaned over him and pushed it in, yelling all the while, "Allahu Akbar."
Bangladeshi ineptitude reached new heights when, three days after Momena's attack on Feb. 9, a Dhaka Metropolitan Police team from the CTTC went to the Shoma family home at the Royal Aroma Garden apartment building to investigate. Moniruzzaman cooperated during the two-hour inquiry. But Momena's sister Asmaul Husna (aka Sumona), who also attended elite English-language schools, was "very rough" in her attitude. Then, the CTTC reports: "when the police officers were leaving, Sumona surprisingly launched a knife attack, shouting Allahu Akbar. She also said, 'You are Kafirs [infidels]. We must establish the rule of Islam in the country. We must do jihad if necessary'." A press account quotes her adding, "I will kill [Bangladeshi Prime Minister] Sheikh Hasina, I will kill [Syrian President Bashar] Assad. They are all infidels. One day everyone will join jihad and Islam will rule the world."
The injured policeman was taken to the hospital and quickly released. The CTTC subsequently found that, before departing for Melbourne, Momena had ordered her sister to murder a policeman and instructed her on use of a knife. Due to her JMB membership, Asmaul Husna was charged with terrorism. One would have expected a counterterrorism team to be a little better prepared for trouble from a potential jihadi.
Within three days, then, the two sisters, both inspired by Islamic motives, had stabbed two victims in two countries. In the face of Momena's eventual guilty plea, the denial on the part of her family stands out. Her uncle asked, "How can she be involved in militancy after only eight days in Australia? We cannot picture her holding a knife. She is not aggressive or cruel person. No way she can be part of terrorism. We are Muslim, but we are not terrorists or extremists." The uncle recently refused to reply to my question whether, after she pleaded guilty, he still maintains Momena's innocence.
How she became a jihadist?
Although Momena's uncle asked how she turned into a jihadist just within 8 days of her arrival in Australia, here is my reply to it. Momena Shoma, like many other students of the North South University must have been radicalized while she was in Bangladesh. A clear evidence of her becoming radicalized is – she put on hijab and then burqa, which are actually signs of a female becoming inclined towards radical Islam and jihad. Also I would like to tell the family of Momena Shoma – the way her younger sister Asmaul Husna [a student of Mastermind school] became radicalized being in Bangladesh – Shoma must have been radicalized in the same way. It certainly was a fault of the family to ignore the fact that Momena Shoma suddenly covered her head with Islamic scarf and stopped watching television. Her behavior was similar to that of any jihadist.
Beware of the radicalized Muslim females:
As I have been warning my readers for many years, I would like to remind them once again to keep vigilance on every Muslim female in the West in particular, who are wearing hijab or burqa. Before considering any of these females as mere innocent people, everyone should remember – they have put on hijab or burqa only after being substantially radicalized. Such radicalization can always lead them towards extreme notoriety and cruelty. They can be lone wolf or even worse. Most importantly, these Muslim females are filled with antisemitic and jihadist indoctrination.
Western nations and their diplomatic mission and consulates in the Muslim countries should follow certain strict rule before issuing visa to a Muslim male or female visa applicant. Western intelligence agencies need to keep eyes on the Muslim-dominated areas in particular especially the mosques and Muslim community centers to track female wearing hijab or burqa as well male growing beard, Moreover, social media accounts of these individuals must come under strict surveillance.
Unless we take such measures forthwith, we will never know, if any or many 'Momena Shoma' are already taking jihadist preparation and would cause severe harm to their victims.
https://www.weeklyblitz.net/news/story-of-isis-affiliated-bangladeshi-jihadist-sisters/
--------
FIFA Examining Sexual Abuse Claims on Afghan Women's Football Team
Dec 01 2018
The Fédération Internationale de Football Association (FIFA) is examining the sexual and physical abuse claims on Afghan women's football team.
The former head of the women's football department Khalida Popal, players Shabnam Mobarez and Mina Ahmadi and the head coach, Kelly Lindsey, have accused the Afghanistan Football Federation officials of sexually and physically abusing the players of the women's football team.
Popal has told Guardian that the members of the women's football team were sexually abused by two men who were accompanying the team during a trip to Jordan in February of this year.
She also added that her investigations revealed sexual, physical, and mental abuse of the female footballers by Afghanistan Football Federation officials.
The Afghanistan Football Federation in a statement said "The Afghanistan Football Federation (AFF) vigorously rejects the false accusations recently made with regard to the AFF's women national team."
The statement further added "Should the AFF receive specific factual information and/evidence, it will not hesitate to initiate further investigations immediately and to take all appropriate steps to prevent such actions and prosecute those responsible for them."
https://www.khaama.com/fifa-examining-sexual-abuse-claims-on-afghan-womens-football-team-02851/
--------
Record Number of Women Elected To Bahrain Parliament
2 December 2018
Six Bahraini women MP-elects have broken their country's record of female representation in parliament when official results on Sunday confirmed that they – along with several fresh-faced independents – will make up part of the island-kingdom's fifth legislative term.
Before Saturday's run-off vote, only eight districts were able to elect candidates directly to parliament while the rest narrowed down the top two candidates to determine winners.
Fawzia Zainal from the southern fifth district and Fatema Abbas were the only women who were able to win their seats outright during the Nov. 24 elections. A record ten women contested Saturday's run-off vote.
According to the final results, Masooma Abdulrahim of the capital sixth district, Sawsan Kamal of the capital second district and Kaltham Abdulkareem of the northern first fistrict were confirmed winners against their male opponents. Zainab Abdulameer defeated her female compatriot Afaf al-Mosawi in the capital seventh district.
Unlike other countries in the region, Bahrain has no quota for female representation in parliament and many Bahrainis view such a system to be in contravention of Bahrain's constitution and the National Action Charter, a document passed in 2001 that set in motion a wide range of political, social and economic reforms in the kingdom, which gained the approval of 98.4 per cent of the people in a national referendum at the time.
"The 2018 elections are historic for Bahrain, we will certainly have more women in parliament and this is a source of pride for all Bahrainis as we believe in equality and the important role played by Bahraini women in society and politics," Mohammed Al Sayed, spokesperson for Citizens for Bahrain – a group that monitors and analyzes elections as an independent volunteer group, told Al Arabiya English.
Speaking from her district of East Riffa, Zainal welcomed dozens of her supporters and said that it was a long journey from 2006 and 2014 when she unsuccessfully bid to represent them.
"My victory has broken the rule of male domination of this district and indicates that the people of the area have reached the conviction and maturity that make them not look at candidate's gender, but at their capabilities and ability to take responsibility," Zainal said.
"The coming period will be the hardest, so parliament must be able to provide, especially as we seek to exit from the difficult economic situation and the challenges ahead," she said.
Zainal also confirmed to Al Watan newspaper that she will be seeking to run for the speaker position of the upcoming parliament and said that she has the backing of at least 21 MPs so far. Should she be successful in her run, Zainal might just become the second woman to head a parliament in the Gulf Arab region after The United Arab Emirates (UAE) made history in 2015 when it appointed Amal al-Qubaisi as president of the country's Federal National Council (FNC).
Final figures from the Nov. 24 elections showed that women collected 32,254 votes in the first round in various constituencies, of which 11,316 votes in the capital governorate, 8,219 votes in the southern governorate, 7,961 votes in the northern governorate and 4,858 votes in the Muharraq governorate, setting a new record by female candidates in the number of votes cast in their favor compared to previous election cycles.
Breaking the glass ceiling
In the first elections of 2002, all 31 women candidates lost in the elections. In 2006, a total of 18 women candidates took part but only one candidate, Lateefa al-Gaood, won a seat by default after her two male opponents dropped out of the race before election day. She would retain her seat and representation as the only woman MP in 2010.
In 2014, three women won their seats by vote when Fatima Al Asfoor, Roua Al Hayki and Jameela Al Sammak all elected in the Northern Governorate, an area of Bahrain that has traditionally been among the most conservative in the country.
Speaking on Bahrain Television, Bahrain Businesswomen's Society Ahlam Janahi said this year's election would be remembered as the one that finally broke the glass ceiling.
"Finally, the women of Bahrain have proven themselves that they are able to represent themselves in all facets of life and proved that as a country, we do not need a quota system in order guarantee female representation," Janahi said.
According to Bahrain's Minister of Justice Shaikh Khalid bin Ali Al Khalifa, the voter turnout in this year's election was estimated at 67%, adding that the voter participation this year represented the largest in the island-kingdom's history.
https://english.alarabiya.net/en/News/gulf/2018/12/02/Bahraini-women-break-kingdom-s-record-of-female-representation-in-parliament.html
Nadine Shah: 'I am just one version of a Muslim woman, and people don't get to see a lot of my kind'
You might think that music prize ceremonies are all glamour and excess. Not for Nadine Shah, whose third album, Holiday Destination, was the bookies' favourite to win the Mercury this year. "I was looking after my parents," says the singer-songwriter, "and I was knackered and just wanted to go home, but was convinced to go to a local pub and popped into Lily Allen's for half an hour, then went home and cleared the cat's litter tray."
Holiday Destination may have lost out to Wolf Alice's Visions of a Life, but it was the more potent album. Blending her sullen monotone with an intense post-punk redolent of PJ Harvey, it bristled with prescient themes – the rise of nationalism, refugees, divisive politicians and a pressing need for empathy. It certainly struck a chord for many. Since its release last year, she's won AIM's Album of the Year award, and has been invited to give countless talks on political matters.
When we meet, she's as happy as ever to discuss its troubling subject matter, because, she says, they're even more pertinent today: "They've got worse, if anything. These topics need addressing more than ever."
One of those topics, of course, is Brexit. "It's just really sad; the most vulnerable people in society have been lied to and manipulated. And as a musician, it'll affect us with touring," she says, acknowledging how much harder and more expensive it will become to play abroad. "Touring is our bread and butter, and it's also my favourite part of the job. That's a real worry."
Born to a Norwegian mother and a Pakistani father in Whitburn, South Tyneside, Shah was introduced to politics from a young age by her older brother, a documentary maker. She remembers going to London as young as 10 years old to join him on protests. Back in the family home she was aware of news beyond the UK, thanks to the Pakistani television her father watched.
Shah is conscious that being a Muslim woman in the music industry makes her a role model: "If it inspires any young Muslim women to pick up a guitar and play a song, that's brilliant." She recalls two young women wearing hijabs in the crowd at her Roundhouse show, one of whom mouthed "thank you" and the other who gave her two thumbs up. "Obviously I burst out crying," she says. "That is a memory that's going to stay with me forever. It makes me want to do more. I am just one version of a Muslim woman, and people don't get to see a lot of my kind."
She had an idyllic childhood – that is, until the events of 9/11, at which point everything changed overnight. Suddenly even she, with her Caucasian pale skin, became the victim of Islamophobia. It forced her to move to London, aged 16, to live with her brother.
"I loved being mixed race growing up," she says. "I felt it was something that made me different, and I had this wealth of beautiful culture to draw on that friends didn't know about and I could teach them. Things were awful after 9/11. So I did find coming to London as an escape." She now lives in north London's Tottenham, which she loves for its diversity.
Her debut album, Love Your Dum and Mad, tackled mental health – and was prompted by the suicides of two former boyfriends. Her fourth album, which is "pretty much all written", is set to take an entirely different trajectory: female fertility and the pressures on thirty-something women to settle down and get married. It's inspired by both her age (she turns 33 in January) and her suffering from endometriosis.
"I really want to have children," she says, but such is her condition that she doesn't know if she can get pregnant. "It's a thing we just assume we can do, and it's quite scary when you're told you can't – if you want to have children. It also brought up conversations with my friends of: do you feel pressured, as a woman, to have children? Do you feel stigmatised because you're a woman who doesn't want to have children?"
Everything inspires her songs, from current affairs ("normally some kind of injustice" – the last thing that made her angry was hearing how in certain parts of the UK, IVF services aren't available on the NHS to women over age of 35) to conversations. Her mobile phone voice memos are filled with chats overheard on the bus or something an Uber driver told her. "It's not always dark and gloomy and political. Sometimes I want to write about lovely characters I meet", she says. "They probably won't appear on this album, though, it's going to be another misery."
Not that the album really will be a "misery"; you imagine it will be imbued with the warmth and sharp wit that Shah displays throughout our interview. "A lot of it's tongue-in-cheek, like that desperation in your mid-30s to settle down, and the most brilliant, beautiful, talented female friends of ours settling down with the biggest losers just because [the women] are a ticking time bomb. It's a big topic to cover..." she says, switching to a comically deep, serious voice, "gender politics".
These are issues we don't often hear about in music, she says, and she feels "compelled to tell the stories" that exist among her friends.
Writing keeps Shah's anxiety and depression at bay, and exercise helps, too, although a recently injured ankle has set her back. "If I'm not stimulated, that's when my mind wanders and then unhealthy habits come into play," she explains. "There are loads of things that I didn't realise when I first started out: it's such a caustic environment, the music industry."
She points out gradual improvements, such as charities including Music Mind Matters and Calm, for which she's an ambassador. "It's improving a lot", she says, pointing out the disappointment of the friends she takes backstage at festivals these days. "They're all expecting some kind of Spinal Tap debauchery, and it's just bands talking about catering, drinking herbal teas and Skyping their family, because people are starting to look after themselves a lot more." Shah is one of them.
Because of the many recent casualties in the music industry, from Amy Winehouse to Mac Miller, there is heightened awareness around drug and alcohol abuse, and mental health. But Shah says it's also down to "the myth of the tortured artist".
"It's the romanticising of that image, I think, that is quite destructive. I used to drink so much in the beginning and I also used to embrace my depression because I felt it was part of the job, almost, to suffer." But, the excessive drinking had to stop: "I couldn't keep up with it; I was having really severe panic attacks. It was really awful, and my depression got really bad."
In the early days, though, alcohol was encouraged to help fuel her entertaining chat on stage; people would line up drinks for her. These days she and the band – "average age 50, my five dads" – will unwind with a bottle of wine, "but it's never wild".
In addition to the healthier lifestyle, in the lead up to Holiday Destination, Shah extricated herself from a destructive relationship that she has described as "being tortured every day". Then she met her boyfriend (who works with songwriters), "the kindest most decent human being in the world".
"I was very aware of what I wanted to make me happy." She throws herself back on the sofa. "These interviews sometimes feel like therapy sessions!"
https://www.independent.co.uk/arts-entertainment/music/features/nadine-shah-interview-holiday-destination-singer-brexit-muslim-children-drinking-a8661276.html
--------
TV Series Showcases UAE through the Eyes of Women
December 1, 2018
A group of authors and filmmakers recently released Hi Dubai series to celebrate the love of the UAE through the eyes of Emirati and expat women. Dedicated to the memory of the late Sheikh Zayed bin Sultan Al Nahyan, the founding father of the UAE, the series celebrates achievements of 12 local and 12 expat women living in the UAE.
The original English-spoken series, subtitled in six languages, addresses women in youth, tolerance, happiness, sports and future, with the first episode dedicated to Sheikh Zayed and the Spirit of the Union.
Benedetta Paravia, Italian producer of the series, said in each of the seven episodes, four women share their inspirational and motivational stories and their love for the UAE.
The series, she said, aims to reflect the city's soul, unveiling characters, opportunities, ways of living, social events, sites and amusements of the 'City of Future'. "All protagonists share how Dubai enriched them, through their culture, traditions, experiences, engagement and lifestyles," she said.
The pre-production of Hi Dubai started in the 'Year of Giving' as a way to give back to the community and to the wise leadership. The production has been completed in the 'Year of Zayed'. It went live on Dubai One channel from November 30. Viewers can also watch it online and on the Dubai Media Incorporated channels.
Paravia said the series plans to give enough empowerment and information for those who want to move to Dubai, as women are a pillar of empowerment and enrichment for the whole community. "Though I travel continuously outside the UAE, I consider myself a 'Dubaiite' since I moved to the city in 2002. I am often faced with misconceptions and rhetoric around Arab culture in general and Islam in particular. With this series I hope to present instances of Islamic hospitality, generosity and inclusiveness starting from the UAE, my beloved home," she said.
Viewers can expect to see women speaking of tolerance, addressing four different religions living in the UAE including Islam, Buddhism, Christianity and Hinduism. Among the participants in the 'happiness' episode is Italian expat Simona Briggiotta, mother of a triplet among which two are special needs. "(Briggiotta) tells the story of how Dubai is inclusive, and how she's happy with her children here," said Paravia.
The series is endorsed by the Ministry of Culture and Knowledge Development, General Authority of Sports and Zayed University.
https://www.khaleejtimes.com/nation/abu-dhabi/tv-series-showcases-the-uae-through-the-eyes-of-women
--------
Arab women take to the 'death boats' of illegal migration
02/12/2018
CAIRO - Illegal migration is widespread but the migrants are generally male. Despite the perilous experience, however, some women in Tunisia were not deterred from getting on the boats. They were fleeing tough living conditions that have become even harder since the 2011 revolution.
Due to lax security, illegal migration became endemic in Tunisia but it was brought under check when authorities clamped down on traffickers. Still, the "death boats" of illegal migration entice young Tunisians, including women.
In 2018, there were at least two sinking incidents off the Tunisian coast. In June, more than 80 migrants drowned near the coast of the Tunisian island of Kerkennah and eight drowned off the coast of the island of Djerba last August.
Among the victims in the Kerkennah tragedy were quite a few women, some of whom were pregnant. Experts said desperation in their home countries led some of them to seek to have their babies born in Europe so they can more easily obtain residence documents and give their children a chance at a better life.
During the first nine months of 2017, Tunisian authorities foiled 164 immigration attempts, 1,300 Tunisians were among them.
In October 2017, the Tunisian Ministry of the Interior said the number of women attempting to illegally cross to Europe had risen to 5% of the total from just 1% in 2016. The Tunisian Forum on Economic and Social Rights said Tunisian women make up 4% of irregular migration from the country.
Forum President Messaoud Romdhani pointed out that "Tunisian females suffer twice as much than males from unemployment. More than 30% of women complain from the lack of job opportunities and that leads them to risk a dangerous adventure."
Tunisian sociologist Taieb Touili said a Tunisian woman "would not dare to get on board a 'death boat' unless she is experiencing a real economic or social threat or in case her family fabric is torn apart by the absence of her husband. There are significant numbers of women who migrate to join their husbands."
Touili said the fluctuation of the proportion of females among illegal immigrants "should be considered as a real indicator of the gravity of the security, economic and social conditions in the country."
Tunisia is not the only country experiencing a rise in the illegal migration of women. Morocco has seen the same phenomenon.
Unemployment and marginalisation that characterise the lives of some young men and women are not the only reasons behind a growing clandestine immigration in Morocco. Many young women are fascinated with Europe and believe it to be the land of their dreams and happiness.
Hossam Hab, deputy head of the Moroccan Centre for Youth and Democratic Transitions, said illegal "migration of Moroccan women to Europe via 'death boats' is not a new phenomenon in Morocco. The new phenomenon, however, is the wide media coverage it is getting because of the popularity of social media networks in Morocco."
Hab pointed out the country's growing youth population will inevitably lead to increased demand for services to meet their social, economic and psychological needs. So, there should be an expected increase in the number of female migrants from Morocco if they see few opportunities at home.
In Egypt, too, women are taking to the "death boats." Some are fleeing male domination and attempt the passage alone. Others cross with their husbands. There are women with young children in their arms or babies in their wombs.
Female illegal migration first came to light in Egypt in September 2016 when the ship Rasheed sank off the coast of Beheira governorate and more than 200 people died. The bodies of women in their 20s were recovered. Ten women survived.
A similar incident occurred three months earlier when the Egyptian Navy found nine decomposing bodies, including the body of an Egyptian woman. Also, a boat bound for the coast of Europe sunk and the navy rescued 12 people, including three women.
Amal Wajih, a 30-year-old Egyptian woman, lives with her 47-year-old husband in Italy after arriving there via illegal immigration channels. The passage to Europe had cost her about $2,250. Amal said by phone that she chose to get on a "death boat" rather than to live the bitterness of the conditions in Egypt.
Wajih said she was comforted by the presence of other women on the boat. There were women with their husbands. There was a woman who was running away from an "obedience" sentence and another who had served a prison sentence and could no longer stand the mean looks of society and what she said was her husband's treachery.
Wajih said she could not remember how many days she spent on the boat because of pain and dizziness she suffered during the journey. She said she remembered howling winds and roaring waves that pounded the boat, knocking those on board to the deck.
For many women, the journey must have seemed a "ticket to death."
Egyptian government efforts to stem illegal migration have significantly reduced "death boat" incidents. Still, illegal migration of females is expected to continue due to economic decline, the reluctance of young women to marry and their resentment of male dominance.
Hana Ashmawi, an Egyptian sociologist, said, despite tough measures provided by Egypt's Law 82 of 2016 against illegal migration and human trafficking and the toughening of security measures, women would continue to risk their lives on the vessels. This will hold true even though clerics place attempts to cross on "death boat" on a par with suicide, which is considered a sin in Islam, Ashmawi said.
His view was confirmed by a young woman from the village of Borg Mghizel in Kafar Sheikh District in northern Egypt. She said: "My ardent desire to get to the shores of Greece and join my sweetheart as soon as the chance presents itself will not be deterred by the dangers ahead at sea."
He had been in Greece for four years but could not save enough to afford a proper wedding. "Sailing into the unknown with a death ticket is not as painful as feeling estranged in a society that looks at a female only as a body for sexual satisfaction and for making babies," the woman said.
What these experiences reveal is that more Arab women are willing to take great risks to achieve their ambitions and the migration of women from countries that fail to provide decent lives for them to more developed countries is inevitable.
https://thearabweekly.com/arab-women-take-death-boats-illegal-migration
--------
125 Women, Girls Raped, Whipped and Clubbed In South Sudan
December 01, 2018
JUBA, South Sudan: One hundred and twenty-five women and girls have been raped, whipped and clubbed in attacks so shocking that some aid workers in South Sudan say they are left speechless.
Doctors Without Borders on Saturday said the "dramatic increase" in sexual violence occurred over 10 days, between Nov. 19 and Thursday, as the women and girls walked to a food distribution site in Bentiu in Unity state. By contrast, the medical charity's Bentiu clinic treated 104 survivors of sexual assault in the first 10 months of this year.
Sexual violence has been widespread in South Sudan's civil war, and even under a recent peace deal humanitarians have warned of higher rates of sexual assault as growing numbers of desperate people try to reach aid.
A midwife with Doctors Without Borders who treated some of the survivors said those targeted include pregnant and elderly women and girls as young as 10.
"What is happening since last week is indescribable. I haven't got words for it," Ruth Okello told The Associated Press. The women were robbed of clothing and shoes, and even their ration cards for food distribution were seized and destroyed, the aid group said.
The United Nations mission chief, David Shearer, said the "abhorrent" attacks were carried out by young men in military uniforms and civilian clothing. The UN has increased patrols in the area and launched an investigation while urging local authorities to hold the attackers accountable.
South Sudan's government was not immediately available for comment.
The UN's World Food Program said that while there was a distribution underway in Bentiu for displaced people, the women and girls weren't due to receive food assistance until the following week. WFP said it was looking into whether it can move distribution sites closer to communities in the area.
A new report by the United Nations panel of experts monitoring sanctions on South Sudan says it remains "extremely concerned" about the continued high level of conflict-related sexual violence, despite the peace deal signed in September.
http://www.arabnews.com/node/1414061/world
--------
Lebanese Women Still Struggle with Inequitable System
02/12/2018
There are a few tragic situations that test the limits of humanity and shake one to the core. Chief among them, the sight of a child forcefully and unjustly removed from the bosom of his or her mother over an ugly custody battle.
The Lebanese recently witnessed incidents involving two mothers who were forced to hand over their child or risk incarceration. In one case, police stormed the house of the mother and handed the 2-year-old boy to his father, a high-ranking security official.
The crux of this predicament does not dwell on the fact that the personal status laws of Lebanon merely empower women but rather that the legal and political system is rooted on a paternal male chauvinism that promises, yet never delivers any kind of, reform.
Activists have rigorously campaigned for women to achieve some parity in the sectarian Lebanese political system. Despite their huge efforts, only limited changes have been made
Despite attaining suffrage in 1953, Lebanese women have played little or no role in the political life of their country. Most of the well-known female politicians only played a leading role due to their family feudal status or other subjective reasons that moved them to the forefront.
As it stands, six women have seats in the 128-member Lebanese parliament, most of whom were picked by their respective governments to portray an image of modernity.
Just like their male colleagues, female parliamentarians are pawns to their sectarian parties. Be that as it may, the overhaul of the Lebanese political system is not the hindrance to women achieving their political and social rights but rather the fact that their legitimate demands have been sidelined by the ruling establishment for lacking urgency.
Perhaps topping these women's rights demands is the campaign to grant Lebanese women married to foreigners the right to pass on their nationality to their children, which current law prohibits, citing the naturalisation of Palestinian refugees and the delicate demographic balance as its weak pretext.
Despite their palpable complaints and lobbying, female activists are yet to get the endorsement of any major parliamentary bloc to the bill submitted by a member of the Progressive Socialist Party.
While women wait for the legislators to fulfil their empty promise, their children suffer from a state bureaucracy and regulations, which goes out of its way to make the non-Lebanese, especially Palestinians and Syrians, feel unwelcome. Many children of Lebanese women married to foreigners must leave Lebanon after they become adults because they are barred from certain professions.
An equally important legal demand that women have yet to attain is the criminalisation of sexual harassment, which is not clearly stipulated under the Lebanese penal code.
In the previous parliament in 2014, former MP Ghassan Moukheiber, a renowned legal and civic activist, proposed a law that would punish all forms of sexual harassment, including the despicable act of cat-calling. Shamefully, many of his lawmaker colleagues ridiculed this proposal as being a waste of the assembly's resources, which should be used to attend to more pressing matters such as the economy and political stability.
However, those Lebanese legislators and the political elite have yet to address those more pressing matters because the so-called elite has been unable to moderate their differences. This has led to the collapse of the state and an ever-menacing economic catastrophe looming.
Rather than merely empathising with Lebanese mothers and their uphill battle with the custody laws, the Lebanese should acknowledge that the system they so fondly vote for every few years disenfranchises not only women but most of the population.
Despite the legal battles won over time, ultimately the difficulties facing women in Lebanon are reminders that, contrary to what the Lebanese propagate, their country's laws remain far behind in being
equitable to women and there is little chance of reform.
https://thearabweekly.com/lebanese-women-still-struggle-inequitable-system
--------
Female Victims Come Clean About 'Torture' In UAE Jails
Dec 1, 2018
A new report has revealed the extent of torture and violent instances of mistreatment practiced against women in UAE prisons.
The New Khalij - an Arabic-language news website covering the human rights situation in the Persian Gulf's littoral Arab countries - in an audio report published on Friday studied several cases in which of sufferings by female detainees in UAE prisons.
The audio report provided oral testimonies of the victims, themselves, who called on the United Nations and human rights organizations to investigate the situation.
They specifically mentioned the al-Wathba prison in Abu Dhabi as a venue that needed to be investigated.
One woman, who introduced herself as Maryam, said she was detained in 2015 and held in "secret detention" for five months in a row, noting that she had been faced with insult in addition to torture.
Elsewhere in the audio, the females described the situation in their prison cells as "inhumane," complaining about "overcrowding, unsavory food, and absence of medical services."
Some have fallen victim to life-threatening diseases such as cancer.
Maryam said one had contracted colon cancer, and was left without medical assistance for four months.
The blamed Emirati Crown Prince Mohammed bin Zayed Al Nahyan for issuing the decree enabling the inmates' torture.
This is not the first time the Emirati royalty have been associated with torture.
Last June, the Brussels criminal court handed eight Emirati princesses -- a mother and her seven daughters -- suspended sentences of 15 months for human trafficking and degrading treatment of their servants. Sheikha Hamda al-Nahyan and her daughters were accused of abusing more than 20 female servants, whom they had brought along while staying at the luxury Conrad Hotel in the Belgian capital for several months back in 2007 and 2008.
In February 2016, a report by The Guardian said two Americans and a Canadian, all holding dual Libyan citizenship, and two other Libyan nationals had faced grave torture while in custody in the UAE.
UN experts noted back at the time that the men had been tried for "terrorism" based on a law enacted after their arrest, given limited access to lawyers, adding that the confessions signed during detention could have been the result of torture.
https://www.presstv.com/Detail/2018/12/01/581661/UAE-women-prisons-torture
--------
Female Political Prisoner Zeinab Jalalian Subjected To Violence in Prison
01 December 2018
Without giving any clear indication or reason, prison agents inspected the personal belongings of Zeinab Jalalian, political prisoner in the women's ward of Khoy Prison, in West Azerbaijan Province in northwestern Iran.
On Wednesday, November 28, 2018, several of the Khoy Prison agents went into the women's wards and, without any explanation, inspected the bed of political prisoner Zeinab Jalalian. They then seized all her personal belongings, including blankets, clothes, books and manuscripts.
Political prisoner Zeinab Jalalian is sentenced to life in Khoy Prison.
Following the illegal inspection, the agents gave her a blanket and told her that until further notice she cannot have anything with her other than the clothes she is currently wearing.
Zeinab and other female prisoners objected to this illegitimate action and asked the agents to explain. The agents responded that they were executing the orders of the higher authorities and did not give any satisfactory answers.
According to reports, Zeinab Jalalian's family went to Khoy Prison on Monday, November 26, 2018, for a family visit. The political prisoner's family were interrogated before the visit, and the visit was delayed for several hours.
In a call for urgent action on June 15, 2018, Amnesty International said Zeinab Jalalian is being subjected to torture by blocking her access to medical care.
Zeinab Jalalian also has heart, intestinal, and kidney problems, as well as an oral thrush condition that has caused painful white bumps on her tongue and interferes with her ability to eat and swallow. She is at risk of losing her eyesight in prison as she is being denied surgery for a worsening eye condition called pterygium, which is impairing her vision and causing her severe discomfort. The right side of her body is numb, the reason for which remains unknown, as she has not received any diagnostic tests.
https://women.ncr-iran.org/iran-women-news/5606-female-political-prisoner-zeinab-jalalian-subjected-to-violence-in-prison
--------
URL: https://www.newageislam.com/islam-women-feminism/kuwaiti-cleric-says-it-haram/d/117039
New Age Islam, Islam Online, Islamic Website, African Muslim News, Arab World News, South Asia News, Indian Muslim News, World Muslim News, Women in Islam, Islamic Feminism, Arab Women, Women In Arab, Islamophobia in America, Muslim Women in West, Islam Women and Feminism