New Age Islam News Bureau
24 Feb 2016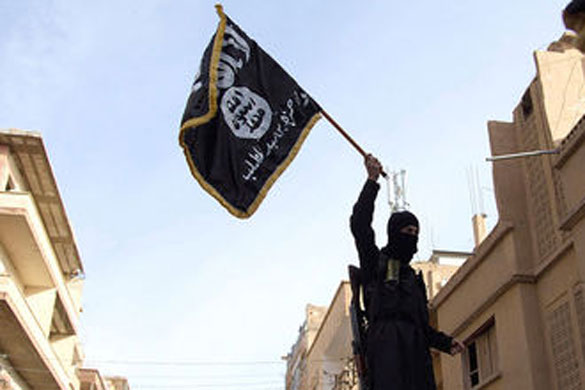 Photo: A member of an Islamist group holds a flag during a protest in Deir el-Zor in this Feb. 25, 2013 file photo. REUTERS/Khalil Ashawi
-----------
• High School Girl Arrested After Students Stabbed At Canadian School
• Rescued Swedish Girl Says Life under Islamic State 'Really Hard'
• FGB Sheds Light on Successful Women in the Arab World at Global Women's Forum Dubai
• Prince Hamdan Honours Queen Rania at Global Women's Forum
• Pakistan's Tribune Staffer Becomes First Woman in 55 Years to Join Photographers' Association
• Play About Muslim Female Boxers, No Guts, No Heart, No Glory, Debuts in Perth
Compiled by New Age Islam News Bureau
URL: https://newageislam.com/islam,-women-and-feminism/new-age-islam-news-bureau/kurdish-special-forces-rescue-swedish-girl-from-islamic-state/d/106454
-----------
Kurdish Special Forces Rescue Swedish Girl from Islamic State
Feb 24, 2016
A teenage Swedish girl being held by Islamic State militants in Iraq was rescued in a raid by Kurdish Special Forces last week, the autonomous region's Security Council said in a statement on Tuesday.
The 16-year-old travelled from Sweden to Syria last year and later crossed into Iraq, where she was rescued near the Islamic State stronghold of Mosul on Feb. 17 by forces from the Kurdish counter terrorism department, the statement said.
The Kurdish Security Council identified the rescued teenager as coming from the Swedish town of Boras and said she had been "misled" into making the journey to Syria by an Islamic State member in Sweden.
"The Kurdistan Region Security Council was called upon by Swedish authorities and members of her family to assist in locating and rescuing her from ISIL," the statement read.
The teenager is currently in the Kurdistan region and will be handed over to Swedish authorities so she can return home once necessary arrangements are made, it added.
Security services estimate that hundreds of Western men and women have left home to join Islamic State since they overran large parts of Iraq and Syria in June 2014.
Earlier this month, a mother who took her 14-month-old son to Syria to join Islamic State fighters was jailed for six years by a British court.
(Reporting by Isabel Coles; Editing by Dominic Evans and Raissa Kasolowsky)
reuters.com/article/us-mideast-crisis-islamicstate-hostage-idUSKCN0VW18J
----------
High School Girl Arrested After Students Stabbed At Canadian School
AP | Feb 24, 2016
PICKERING (Ontario): A 14-year-old female high school student is in custody after eight people were stabbed at a high school east of Toronto, police said Tuesday. All the injuries are minor.
Durham Regional Police Sgt. Bill Calder said officers were called to Dunbarton High School in Pickering, Ontario, on Tuesday morning after a report about a female waving a knife around. He said six students and two staff members sustained minor injuries. Calder said four people were taken to a hospital with minor injuries.
Students described running from a girl brandishing two kitchen knives careening down the hallways of the school.
Kristina Petrovska, 14, said she came face-to-face with the suspect, who slashed the knives at her.
"I just ran for my life," the girl said. "I just can't believe it happened. She almost got me."
Another student, Stephen Pim, said he saw a girl with a long black coat chasing students in the hall waving a knife in each hand.
"I heard the teachers say 'clear the halls' so I started to run outside informing people that there's a student with a knife, you need to get to safety," the 16-year-old said in a text message as he sat in a locked classroom inside the school.
Police have not released the name of the female student taken into custody.
"There are different areas of the school where the assaults took place," Calder said. "It seems to be a random attack."
Two staff members tackled the student and held her until police arrived, he said.
Calder said charges are pending, but would not comment specifically on which ones she might face.
The school remains in lockdown as police continue to investigate, Calder said.
Violence at schools is rare in Canada. However, a 17-year-old shot and killed four people at a school and home in an aboriginal community in Saskatchewan last month. The school in La Loche, Saskatchewan, reopened Tuesday.
timesofindia.indiatimes.com/world/rest-of-world/High-school-girl-arrested-after-students-stabbed-at-Canadian-school/articleshow/51116155.cms
----------
Rescued Swedish Girl Says Life under Islamic State 'Really Hard'
Feb 24, 2016
ERBIL, Iraq - A Swedish teenager rescued from Islamic State militants in Iraq has said life in the so-called caliphate was "really hard" and that she was duped into going there by her boyfriend.
In her first interview since Kurdish Special Forces recovered her in northern Iraq, the 16-year old told a Kurdish TV channel she had met her boyfriend in mid-2014 after dropping out of school in Sweden.
"First we were good but then he started to look at ISIS videos and speak about them and stuff like that," she told Kurdistan 24 in a brief interview, using another name for the Islamic State group.
"Then he said he wanted to go to ISIS and I said ok, no problem, because I didn't know what ISIS means, what Islam is -- nothing," said the girl.
The couple set off from Sweden in late May 2015 and made their way across Europe by bus and train until reaching the Turkish border province of Gaziantep, from which they crossed into Syria.
From there, Islamic State militants ferried them by bus with other men and women to the city of Mosul in neighbouring Iraq and provided them with a house. There was no electricity or running water.
"I didn't have any money either - it was a really hard life," she said, looking relaxed and healthy. "When I had a phone I started to contact my mom and I said 'I want to go home'."
The teenager, who was rescued on Feb. 17, is currently in Iraq's Kurdistan region and will be handed over to Swedish authorities.
Security services estimate that hundreds of Western men and women have left home to join Islamic State since the group overran large parts of Iraq and Syria in June 2014.
A mother who took her 14-month-old son to Syria to join Islamic State fighters was jailed for six years by a British court earlier this month.
Smiling occasionally, the girl compared life under Islamic State to that in Europe: "In Sweden we have everything, and when I was there, we didn't have anything".
torontosun.com/2016/02/24/rescued-swedish-girl-says-life-under-islamic-state-really-hard
----------
FGB Sheds Light on Successful Women in the Arab World at Global Women's Forum
February 24th, 2016
FGB, one of the leading banks in the UAE, continued to highlight remarkable stories and achievements of seven young Arab women at its 'Rising Talents' hub at Global Women's Forum Dubai.
During the 'Talent of Women, Spirit of Change' session held at the hub today, Hana Al Rostamani, Head of Consumer Banking, spoke about the UAE's role in supporting women in education, the workforce and in government positions, in addition to promoting gender balance in the UAE.
"FGB is deeply committed to enhancing female participation in the UAE workforce and supporting the rise of women to leadership positions in the financial sector. 38.2 % of our workforce in FGB and its subsidiaries are women, and they also make up 14.3% of our leadership positions," Al Rostamani said.
"Women empowerment is something very close to our hearts at FGB, and we're delighted to be supporting this important initiative, which is happening for the first time in the MENA region. This year, we are celebrating talented women, who are rising to become influential figures across a variety of fields. We are pleased to be recognising these inspirational figures in the 'Rising Talents' Hub, and are excited to hear their stories of courage, sacrifice and ultimately, perseverance," she added.
The Rising Talents hub spotlights seven women of under 40 years of age, across all business sectors, who have demonstrated remarkable skills and courage in their professional and personal lives, acting as catalysts for change within their companies and communities. These women will also become members of the international Women's Forum Rising Talents Network, which currently features over 160 women, representing some 50 countries.
albawaba.com/business/pr/fgb-sheds-light-successful-women-arab-world-global-women%E2%80%99s-forum-dubai-809446
----------
Pakistan's Tribune Staffer Becomes First Woman in 55 Years to Join Photographers' Association
February 24, 2016
The Express Tribune's photographer, Aysha Saleem, has been elected as a member of the governing body of the Pakistan Association of Press Photographers.
This is the first time in the history of the 55-year-old registered association that a female photographer had contested the elections, won and is now part of the governing body.
14 times Huma Choudhary beautifully captured people's lives
Aysha, who contested from the Green Panel, was just one vote short in securing the highest number of votes. She received 57 votes in total.
The elections were held at the Karachi Press Club on Monday. Aysha is presently working at the paper's City desk.
Earlier this month, The Express Tribune's photojournalist Huma Choudhary, 30, passed away on Saturday at a local hospital in Islamabad.
Choudhary was on an official work assignment in the United Arab Emirates where she suspected she had contracted food poisoning, according to colleagues and family who had spoken with her.
She flew back to Pakistan on Saturday morning and was taken to a hospital where she passed away. The cause of her death has not been ascertained yet.
Three Pakistanis shortlisted for world's biggest photography contest
Choudhary was a graduate of the Lahore School of Economics. She left a lucrative career in the financial sector to join The Express Tribune as a photojournalist in the summer of 2014. Her decision was prompted by a desire to contribute to society in a more meaningful manner and help restore a more positive image of Pakistan.
During her time with the paper, she contributed to a number of memorable photographs and stories to the paper. Beyond her contributions to the newspaper, her lively personality, desire to constantly improve, and a willingness to test herself were a source of inspiration for her co-workers.
tribune.com.pk/story/1052967/tribune-staffer-becomes-first-woman-in-55-years-to-join-photographers-association/
----------
Play About Muslim Female Boxers, No Guts, No Heart, No Glory, Debuts in Perth
February 24th, 2016
The story of five female Muslim boxers from one of the United Kingdom's roughest cities has made its Australian debut at the Perth International Arts Festival.
No Guts, No Heart, No Glory was written by UK playwright Aisha Zia, and is directed by fellow Brit Evie Manning.
"It's about being young, female and doing the unexpected," Ms Manning said.
"It's about challenging your horizons and your limits, and it's based on interviews with Muslim female boxers."
Ms Manning lives in the English city of Bradford, which has a large Muslim community.
"The story idea came about from my neighbour, really, who kept inviting me to go boxing," she said.
"I was quite surprised because she was a female and she wore a burqa.
"I grew up in a Muslim community all my life, I have a lot of Muslim friends, and I was still surprised that she was boxing and I thought, wait, we've got to challenge this."
Muslim Pakistani women make up cast
The script was written in collaboration with its five cast members, all Muslim Pakistani women.
Saira Tabasum, 24, is the only one in the show with a boxing background.
"I actually found it really hard," the former British Universities Boxing Champion said.
"I did boxing first and then acting while the other girls did acting first and then boxing."
The team spent days training and learning the choreography, but 19-year-old Freeya Ali said it was worth it.
"I feel like I've gotten so fit, I've lost so much weight and everything," she said.
"I do feel so cool. When you're like huffing and puffing and punching and stuff it feels so good, it feels amazing."
PIAF season at Queen Street Gym sold out
The show has already sold out its PIAF season at the Queen Street Gym in Perth.
Accompanied by a live electronic score and cinematic lighting, the performance is immersive and audience members move about with the actors.
"At the end sometimes the audience members are like, you were this close to me and I nearly got hit in the face," Ms Tabasum said.
"And I'm like don't worry, don't worry, it's all controlled, we're not going to hit you."
No Guts, No Heart, No Glory premiered at the Edinburgh Fringe in 2014, where it took out The Scotsman Fringe First Winner award.
Since then the show has toured Finland and other parts of the UK.
'We don't see Muslim women in the spotlight'
It is the group's first time in Australia.
"For us it just feels very honourable to be able to come and tell you the story and tell it to Australia," Ms Ali said.
"We're so lucky that Perth is willing to have us.
"I've loved every minute of the journey and hope it goes on forever."
The Director Evie Manning said she thinks the shows success is due to its message.
"We don't see Muslim women in the spotlight enough I think and so one of the reasons why it's done so well is because it's captured this imagination of people going, oh wow, we can see things a bit differently," she said.
"Also at the same time it's very much a show that transcends race, it transcends gender, it's very much about discovery.
"We hope it really shows the people that you can be anything you want to be and overcome your challenges, stand up for what you believe in, and stand up for what's right."
abc.net.au/news/2016-02-24/no-guts-no-heart-no-glory-play-about-muslim-female-boxers-perth/7194362
URL: https://newageislam.com/islam,-women-and-feminism/new-age-islam-news-bureau/kurdish-special-forces-rescue-swedish-girl-from-islamic-state/d/106454
New Age Islam, Islam Online, Islamic Website, African Muslim News, Arab World News, South Asia News, Indian Muslim News, World Muslim News, Womens in Islam, Islamic Feminism, Arab Women, Womens In Arab, Islamphobia in America, Muslim Women in West, Islam Women and Feminism