New Age Islam News Bureau
12 Oct 2014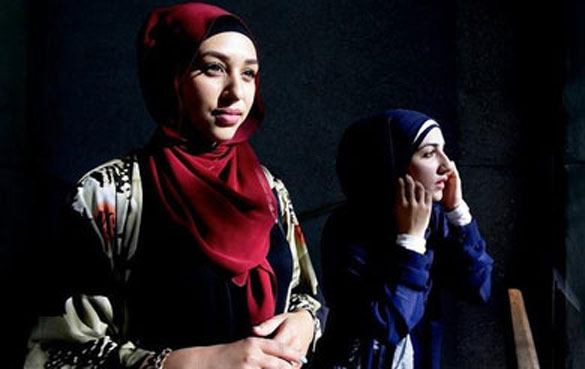 Sisterhood acts: Narjis Salah, left, and Amirah Amin. Photo: Edwina Pickles
---------
• Fearful Australian Muslim Teenage Girl's Plea to Be Accepted
• Iraqi Yazidi Girl, Tells Of Captivity in IS Group
• Europe: Debate Stirs As Muslim Women Rise To Prominence
• Rape in S Sudan Worst Ever: UN Special Envoy
• Africa Can End 'Child Abuse' Of FGM by 2035: Activists
• South Africa: Pregnant Women and Girls Continue To Die Unnecessarily
• Kudos Abound for Indonesia's 'Iron Lady'
• Nobel Peace Prize Winner Malala Yousafzai to Get Honorary Canadian Citizenship
• Suspect Arrested In Brutal Murder of Female Journalist in Balkh, Afghanistan
• Chime for change: My name is Fatima and my dream is to be a scientist
• Sumedha: The Woman Who Launched Kailash Satyarthi's Journey
• Burka Avenger Nominated For Emmy Kids Awards
Compiled by New Age Islam News Bureau
URL: https://newageislam.com/islam-women-feminism/kurd-woman-leading-kobane-battle/d/99481
-----------
Kurd Woman Leading Kobane Battle Against IS: Activists
October 12, 2014
A Kurdish woman fighter is leading the battle against Islamic State jihadists in the Syrian battleground town of Kobane, a monitoring group and activists said Sunday.
"Mayssa Abdo, known by the nom-de-guerre of Narin Afrin, is commanding the YPG in Kobane along with Mahmud Barkhodan," Syrian Observatory for Human Rights head Rami Abdel Rahman told AFP.
The secular and left-leaning Kurdish People's Protection Units (YPG) group has been defending Kobane, on the border with Turkey, since Islamic State (IS) fighters launched an assault on September 16.
The group, the de facto army of the Kurdish regions of north and northeast Syria, is the armed wing of the powerful Kurdish Democratic Union Party (PYD).
As is the custom for Kurdish fighters, Mayssa, 40, uses a pseudonym, with hers coming from the Afrin region where she was born that is located like Kobane in Aleppo province.
"Those who know her say she is cultivated, intelligent and phlegmatic," said Mustefa Ebdi, a Kurdish activist from Kobane.
"She cares for the mental state of the fighters and takes interest in their problems," he said.
Women traditionally form a major part of Kurdish fighting forces, and they are well represented among Kurdish forces in neighbouring Turkey and Iraq.
On October 5, young Kurdish woman fighter Dilar Gencxemis, identified by the YPG by the nom-de-guerre of Arin Mirkan, blew herself up outside Kobane in an attack which reportedly killed dozens of IS militants.
She became the first Kurdish woman suicide bomber since the 2011 start of Syria's conflict.
Since the withdrawal of government forces from Kurdish areas of Syria in mid-2012, the PYD has set up local councils for Kurds to run their own affairs, with women filling 40 percent of seats.
http://english.ahram.org.eg/NewsContent/2/8/112900/World/Region/Kurd-woman-leading-Kobane-battle-against-IS-activi.aspx
----------
Fearful Australian Muslim Teenage Girl's Plea to Be Accepted
12 Oct, 2014
Navigating body image, career choices and finding their place in the world is a tough journey for teenage girls, but for young Australian Muslims it has recently become a lot tougher.
Amirah Amin, a project coordinator with the Lebanese Muslim Association (LMA), believes the "ban the Burqa" campaign has had "lasting repercussions" for Muslim women who have now inadvertently found themselves at the centre of a national debate around their clothing choices.
"It's not fair that we have to constantly keep justifying and explaining things that people have not put any effort in trying to understand," she said.
Ms Amin, 27, a trained social worker, is now mentoring a handful of young women who meet in the cafe of Bankstown library each Wednesday.
Ms Amin said she felt compelled to start the group, called "SisterHOOD", after recognising that young women in Sydney's western suburbs needed a non-judgmental environment where they could meet other girls in similar situations.
One participant, 18 year-old Narjis Saleh, said had felt scared to go outdoors because her Hijab had become a public invitation for scrutiny, judgment and abuse.
Over the past few weeks she has been spat on, called a terrorist and hissed at to take off her Hijab.
"I have a personality, I have an identity, why can't you look past my beliefs and just talk to me?" Ms Saleh said. "I just didn't want to be out in public."
"I was so scared."
She said fear has prompted many young women to stop wearing their Hijabs.
For Muslim teenagers, who may already have been grappling with the anxieties and insecurities that typically plague the teenage years, the situation is especially damaging, Ms Amin said. "It's an extra added pressure in your formation of self and your identity," she said. "It's just getting harder and harder to figure things out."
But when in the group, which discusses a spectrum of issues universal to all teenage girls – from body image and eating disorders to coping with parental expectations – they have a feeling of community, with themes of identity and self-expression featuring prominently.
"I like the togetherness and the feeling of community – it's as if we belong to the one place," Ms Saleh said.
"I think it's really important that young women are confident and comfortable in the Hijab because now more than ever it's a very difficult time."
While the group welcomes young women of all faiths and cultures, the recent spate of attacks against Muslim women have made the need to for an "open, friendly and welcome space" more pertinent than ever, Ms Amin said.
"We needed to do something, these young girls have no role models, and they don't have a healthy body image or relationships with themselves."
"Then all this started, and it just added an extra layer to it."
http://www.smh.com.au/nsw/fearful-muslim-teenage-girls-plea-to-be-accepted-20141010-113yml.html#ixzz3FvrVd5k5
-----------
Iraqi Yazidi Girl, Tells Of Captivity in IS Group
12 Oct, 2014
The young Yazidi girl rocked apprehensively as she described the ordeal that took her from her family, snatched from her home by militants in Iraq, then sold as a slave in Syria before finally escaping to Turkey.
The 15-year-old is now with what is left of her family — two of her brothers and some more distant relatives — living in a makeshift roadside shelter in this tiny village in northern Iraq, along with other families shattered by the onslaught from the Islamic State militant group.
Her two sisters remain in the militants' hands, and her father, other brothers and other male relatives have vanished, their fates unknown.
The girl was among hundreds of women and girls from the Yazidi religious minority captured by Islamic State fighters in early August when the militants overran her hometown of Sinjar in north-western Iraq. Hundreds were killed in the attack, and tens of thousands fled for their lives, most to the Kurdish-held parts of northern Iraq.
Iraq's Human Rights Ministry said at the time that hundreds of women were abducted by the militants, who consider the Yazidis a heretical sect.
The Associated Press spoke to the girl and several other young women who escaped captivity by the Islamic State group. While specifics of their stories could not be independently confirmed, they reflected circumstances reported by the United Nations last month.
They each independently painted a similar picture of how the militants scattered them around the broad swath of territory controlled by the Islamic State group in Syria and Iraq and sold the girls to the group's foreign fighters or other supporters for "marriage."
For weeks after being snatched from Sinjar, the 15-year-old girl and two of her sisters were shifted from one place to another, she said. The AP does not identify victims of abuse, and the girl also did not want to be named for fear of reprisals against her relatives still being held by the militants.
As she told her story, the girl rubbed her hands and avoided eye contact. But she spoke decisively and clearly, never hesitating when asked questions. She asked her relatives to leave the room, saying she was more comfortable speaking alone.
First, she said, she and other girls were taken to the nearby town of Tal Afar, where she was kept in the Badosh Prison. When U.S. airstrikes began around the town, the militants took her and many other girls with them to the Islamic State group's biggest stronghold, Mosul, in northern Iraq.
From the city of Mosul, she and her sisters were taken to the militants' de facto capital, the Syrian city of Raqqa. There they were held in a house with other abducted girls.
"They took girls to Syria to sell them," she said, her body shyly hunched over as she spoke. "I was sold in Syria. I stayed about five days with my two sisters, then one of my sisters was sold and taken (back) to Mosul, and I remained in Syria."
In Raqqa, she said, she was first married off to a Palestinian man. She claims she shot him, saying the Palestinian's Iraqi housekeeper who was in a dispute with the man helped her by giving her a gun. She fled, but she had nowhere to run. So she went to the only place she knew, she said — the house where she was first held with the other girls in Raqqa.
There, the militants did not recognize her and sold her off again — for $1,000 to a Saudi fighter, she said. The Saudi militant took her to a house where he lived with other fighters.
"He told me, 'I'm going to change your name to Abeer, so your mother doesn't recognize you,'" she said. "You'll become Muslim, then I will marry you. But I refused to become a Muslim and that's why I fled."
She said she saw the fighters at time taking a powdered drug. So she poured it into tea she served to the Saudi and the other men, causing them to fall asleep. Then she fled the house.
She found a man who would drive her to Turkey to meet her brother. Her brother then borrowed $2,000 from friends to pay a smuggler to get them both back to Iraq. They ended up in Maqluba, a tiny roadside hamlet just outside the Kurdish city of Dahuk, where several other Yazidi families are staying.
The other women who spoke to The AP described difficult conditions, where the militant fighters would deprive them of enough food, water or even a place to sit. They all reported having seen dozens of other Yazidi women and children as young as 5-years old in captivity, and they all said that they have relatives who are still missing.
Amsha Ali, a 19-year-old, said she was taken from Sinjar to Mosul. Ali was around six months pregnant at the time. The last she saw of her husband and other men in her family as she was being dragged off, was the scene of the militants forcing them to lie on the ground, apparently to shoot them. Ali agreed to be identified, saying she wanted the ordeals of the women to be known.
In Mosul, she said, she and other women were taken to a house full of Islamic State fighters to be married off. "Each of them took one of us for themselves," she said. She too was given to a fighter. She said she was never raped by the man — likely because of her pregnancy, she said — but she witnessed other girls being raped.
After several weeks, she was able to slip out of a bathroom window at night and escape. A Mosul resident who found her in the streets helped her get out of the city to nearby Kurdish territory on Aug. 28, she said. She said she tried to convince other women to flee with her, but they were too afraid. "Because they were so terrified, they are left there and now I know nothing about them," she said.
Now Ali is with her father and a surviving sister living in an unfinished building in the town of Sharia, where some 5,000 Yazidi refugees live, also near Dahuk.
"The killing was not the hardest thing for me," she said of seeing fellow Yazidis slain in the assault on Sinjar. "Even though they forced my husband, brother-in-law and father-in-law on the ground to be murdered — it was painful — but marrying (the militant) was the worst. It was hardest thing for me."
http://english.ahram.org.eg/NewsContent/2/8/112800/World/Region/Iraqi-Yazidi-girl-tells-of-captivity-in-IS-group.aspx
-----------
Europe: Debate stirs as Muslim women rise to prominence
Habib Toumi, Bureau Chief - Gulf News
12 Oct, 2014
Manama: An article in the Kuwaiti press highlighting Muslim women who have risen to high government positions in Europe has stirred a debate in the country's blogosphere…
Kuwaitis expressed mixed feelings over the report. Some social network users reacted by paying tribute to the women, their success stories and the positive attitudes of their host countries while others said that they were promoted politically and socially only after they adopted Western values and ways of life.
"These women made it because they worked hard and there were no obstacles to their rise and success," Kuwaitawi, a blogger, wrote. "There was no jealous bias against them nor were there attempts to deflate their egos or to undermine their work. Such attitudes towards foreigners would not have worked here," he said.
Arsenal Fan, another blogger, posted on local news site Al Aan that the women deserved to be praised for their success. "Those who have expressed criticism should know better than to be jealous of the women's success. They should uphold high moral grounds."
Faysal held the view that the West was better prepared to support people and give them ample opportunities to succeed. "The good thing is that people in the West usually support everyone to achieve something. Success is very important in their culture," he said.
However, several bloggers said that they were not impressed with the move by some countries to give government portfolios to Muslim women. Some even accused the women of abandoning family values to elevate their social and political status.
Ahmad said that these women succeeded in Europe "because they gave up their way of life and adopted that of the West".
"It is really terrible and families ought to instil our values in our children better," he said. "It is heartening to see there are no women originally from the Gulf among them," he added.
Bu Mohammad said that none of the women who were appointed ministers wore a veil. "I am sure that the West would not have allowed any of the women to become minister if she had a headscarf, for example," he posted. "They made it to the government because they distanced themselves from their original values and traditions."
For a list of prominent Muslim women recently appointed to positions of power in Europe please see the original Gulf News article.
http://muslimvillage.com/2014/10/10/58467/debate-stirs-as-muslim-women-rise-to-prominence/
-----------
Rape in S Sudan worst ever: UN special envoy
AFP
12 Oct, 2014
Bentiu - The levels of rape in war-torn South Sudan are the worst the UN special envoy on sexual violence has ever seen, she told AFP on Friday, after meeting scores of survivors of attacks.
"In all my life and experience of nearly 30 years in public service and in the UN and as a government minister, I have never seen what I have seen today," Zainab Bangura, Special Representative of the Secretary General on Sexual Violence in Conflict, told AFP.
Bangura, who comes from Sierra Leone, said she had witnessed brutal violence during the civil war there, but conditions in South Sudan after almost ten months of conflict were worse in terms of attacks on women and girls.
She said she had been in the Sierra Leone capital Freetown when it fell. "We picked bodies from streets and buried them."
Speaking in the South Sudan town of Bentiu, which has repeatedly changed hands in the war, she said both government troops and rebels were committing rapes.
Thousands of people have been killed and almost two million have fled fighting between government troops, mutinous soldiers and ragtag militia forces divided along tribal lines.
Almost 100 000 people are sheltering in squalid UN peacekeeping bases fearing they will be killed if they leave the barbed wire protection.
"It's unbelievable. It's painful. It's challenging to see the conditions under which these women live, the harassments and sexual violence that take place at check points, and when the women go out to get food, and when they go out to get fire wood. It's really extremely distressing," Bangura said.
"These are not conditions and circumstances under which women can live. I heard a story of a woman who had just given birth who had been raped, I heard a story of an old woman who was raped, children as young as 10 or 11 years who are being raped on daily basis."
Fighting broke out in the oil-rich country, also the world's youngest nation, in December 2013 following a clash between troops loyal to President Salva Kiir and his former deputy Riek Machar.
The war spread rapidly across the country and has been marked by widespread human rights abuses and atrocities by both sides.
Bangura is visiting South Sudan in a bid to persuade both sides to end the violence and rekindle stalled peace efforts.
"I have travelled around the world and I come from a conflict country, but I have never seen what I saw today," she said, adding it was worse than conditions she had seen in many countries including Bosnia, Central African Republic, Democratic Republic of Congo, Liberia and Somalia.
"This is the worst case scenario for me, it is extremely difficult to deal with."
http://www.news24.com/Africa/News/Rape-in-war-torn-S-Sudan-worst-UN-envoy-ever-witnessed-20141011
-----------
Africa Can End 'Child Abuse' Of FGM by 2035: Activists
12 Oct, 2014
NAIROBI (Thomson Reuters Foundation) - Africa can end female genital mutilation (FGM) in 20 years, activists said on Friday as they launched a continent-wide campaign, calling the ancient ritual a form of child abuse aimed at controlling women's sexuality.
FGM, a practice involving the partial or total removal of the external female genitalia, can cause haemorrhage, shock, complications in childbirth, fistula and death.
"I believe that FGM will come to an end in this generation," said Agnes Pareyio, a Maasai woman who runs a rescue centre for girls in her community facing the cut.
"Unless the violence stops, we will not rest."
Some 30 million African girls are at risk of FGM over the next decade. This includes tens of thousands of girls from Diaspora communities in Europe and North America who are often taken abroad to be cut.
In Kenya, 27 percent of women undergo FGM, although it reaches 98 percent in some communities, such as the Somali.
"FGM is child abuse," said Leyla Hussein, a British FGM survivor of Somali origin. "It is one of the worst forms of violence a woman or a girl will ever experience."
As FGM is traditionally performed without anaesthetic, elderly women sometimes have to sit on the writhing girls, breaking their bones, said Guyo Jaldesa, an obstetrician and lecturer at the University of Nairobi.
"It is done for one simple reason: to subjugate women," he said. "It's actually a way of controlling women, their sexuality, their mentality, their behavior."
The death rate among babies born to mothers who have undergone FGM is up to 55 percent higher than that of babies born to uncut mothers, he added.
The Girl Generation campaign aims to bring about cultural and behavioural change in 10 African countries, starting with Kenya, Burkina Faso and Nigeria.
Kenya and Burkina Faso are active in prosecuting FGM cases, while nearly a sixth of the estimated 125 million women living with FGM are Nigerian.
Campaigners said it was important for survivors within FGM-practising communities to persuade people, particularly men, that it is wrong.
"They value a girl that is cut," said Samuel Gachagua, director of education for the Samburu Girls Foundation, which works to change attitudes among Kenya's Samburu community.
"That is what they have been taught since they were young. If we work with men … we have a really good shot of ending this in less than a generation."
The £6.5 (10.4143 US dollar) million campaigns, which will run for four years, is being funded by the British government's Department for International Development.
Other focal countries include Sudan, Egypt, Somalia, Gambia, Mali and Senegal.
http://uk.reuters.com/article/2014/10/10/us-foundation-africa-fgm-idUKKCN0HZ1J920141010
-----------
South Africa: Pregnant Women and Girls Continue To Die Unnecessarily
12 Oct, 2014
Hundreds of pregnant women and girls are dying needlessly in South Africa. In part, this is because they fear their HIV status may be revealed as they access antenatal care services, according to a major report published by Amnesty International today.
Struggle for Maternal Health: Barriers to Antenatal Care in South Africa, details how fears over patient confidentiality and HIV testing, a lack of information and transport problems are contributing to hundreds of maternal deaths every year by acting as barriers to early antenatal care.
"It is unacceptable that pregnant women and girls are continuing to die in South Africa because they fear their HIV status will be revealed, and because of a lack of transport and basic health and sexuality education. This cannot continue," said Salil Shetty, Amnesty International's Secretary General.
"The South African government must ensure all departments work together to urgently address all the barriers that place the health of pregnant women and girls at risk."
South Africa has an unacceptably high rate of maternal mortality. There were 1,560 recorded maternal deaths in 2011 and 1,426 in 2012. More than a third of these deaths were linked to HIV. Experts suggest that 60% of all the deaths were avoidable.
Antenatal care is free in South Africa's public health system. However, Amnesty International's research found that many women and girls do not attend clinics until the later stages of their pregnancy because they are given to believe that the HIV test is compulsory. They fear testing and the stigma of being known to be living with HIV. Nearly a quarter of avoidable deaths have been linked to late or no access to antenatal care.
Worryingly, these fears are not without foundation. Amnesty International's report, based on field research conducted in Mpumalanga and KwaZulu-Natal provinces, contains testimonies from women and girls who say that health care workers inappropriately discuss HIV test results with others.
"The nurses are talking about people and their status", a woman from KwaZulu-Natal explained.
Amnesty International also found that several clinics it visited use processes for pregnant women and girls living with HIV that disclose their status, including separate queues for antiretroviral medication, different coloured antenatal files and different days for appointments.
"[I]f I go for antiretroviral, my line is that side. All the people in this line they know these people are HIV. That's why people are afraid to come to the clinic," one woman in Mpumalanga told Amnesty International.
"During antenatal care, if women come out of the counsellor's room with two files, then everyone knows they are HIV positive," said another woman.
Women and girls said they feared discriminatory treatment even from partners and family members as a result of testing positive for HIV and that HIV-related stigma remained a problem in many communities.
"While HIV testing is an important public health intervention it must be done in a manner that respects the rights of women and girls and does not expose them to additional harm. It is deeply worrying that the privacy of pregnant woman and girls is not respected in health facilities. The South African government must take urgent steps to correct this," said Salil Shetty.
"It is vital that health care workers in South Africa receive additional training on providing quality care that is both free of judgement and stigma and that women and girls accessing sexual and reproductive health services are able to trust that their confidentiality will be respected."
Lack of information about sexual and reproductive health
Amnesty International's report also identifies that a lack of information and knowledge about sexual and reproductive health and rights increases risks of unplanned pregnancies and HIV transmission, especially among adolescents. Likewise women and girls are often unaware of the importance of early antenatal checks.
Persistent problems relating to transport
The report also documents the lack of progress made in KwaZulu-Natal and Mpumalanga to ensure that women and girls can physically access health services. Problems persist relating to shortages of public transport and poor road infrastructure. The roads in some areas visited by Amnesty International are of such poor quality that they become impassable when it rains. Even when it is dry, ambulances will not go beyond a certain point on some roads. Amnesty International had documented the same problems in both provinces in a 2008 report.
"The South African government must build better road networks in these rural provinces to guarantee access to healthcare facilities. The government must also ensure that ambulances are always available to transport those who are in need," said Salil Shetty.
Amnesty International is also calling on the government to:
Ensure that all health system procedures uphold patient privacy, particularly for people living with HIV.
Improve knowledge about sexual and reproductive health and rights, including through comprehensive sexuality education that involves men and boys.
Urgently address the persistent lack of safe, convenient and adequate transport, and the poor condition of transport infrastructure.
Additional information
This report builds on Amnesty International's 2008 report, 'I am at the lowest end of all': Rural women living with HIV face human rights abuses in South Africa, in which the organisation documented gender, economic and social inequalities as barriers to health care for women living with HIV.
http://www.amnesty.org/en/news/south-africa-pregnant-women-and-girls-continue-die-unnecessarily-2014-10-09
-----------
Kudos Abound for Indonesia's 'Iron Lady'
12 Oct, 2014
Bandung. The 76-year-old grandmother led a grueling 20-hour plenary session last week with an iron fist, standing her ground and barking back at 560 recently inaugurated members of the House of Representatives who constantly shouted, disrupted and at times even went up to intimidate her.
It was her fearless performance chairing the House's first plenary session, in addition to her heavy Sundanese accent and the occasional comical mishaps like the time she lost the gavel, that made lawmaker Popong Otje Djundjunan a household name.
The hashtag #SaveCeuPopong ("Ceu" is a Sundanese way to address an older lady) topped the Twitter trending topic list that evening, as millions of Indonesians were mesmerized by her fierceness and candid demeanor in controlling aggressive and at time infantile legislators.
In an interview with the Jakarta Globe at her home in Bandung, West Java, she says she does not think too much about her social media fame, and her performance as an ad hoc plenary chairwoman, an honor granted to Popong as the oldest member of the House, before a permanent speaker and four deputies were selected.
She also doesn't think much about the challenging task at hand as an ad hoc chair, as Indonesian politics became polarized into two rivaling camps ever since the July 9 presidential election.
"My throat was sore from talking for 20 hours straight all the way until dawn," Popong said of the only real concern she had after leading the plenary.
"People call [the plenary] brutal. For me, I never saw it as brutal. I just tried to stay polite but firm. If I hadn't been firm, maybe [the plenary] would go on for days," she said, sometimes breaking into her native tongue.
"When I was bombarded with interruptions, particularly when they stood up and stormed the podium … I told them to behave and sit down. Maybe they were mad at me [for telling them to sit down]. I just don't approve of such action."
The fracas occurred when Popong tried to end a heated debate, which dragged on for a considerable time. She adjourned the session to keep lawmakers' heads cool. But the lawmakers kept shouting nonetheless and amidst the tension some went up to the podium to protest directly.
"I was completely surrounded. It was others who worried about me. They feared for my safety. But I believed God would protect me. I did my best to carry out this huge responsibility and God will take care of the rest. Which is why I didn't get nervous or let my emotion get the best of me," she said.
Popong's little brother Deddy Pandji, 60, said he didn't worry about his sister's safety during the plenary. "I stayed calm because I know my sister. She is tough. Although people were yelling at her, pointing their fingers, she stayed cool," he said. "If it weren't for Ceu Popong, the plenary would have been a mess."
Golkar Party
The first of 11 children, Popong was born on Dec. 30, 1938 into a family of teachers. Her political career came about entirely by chance, she said, because of her devotion for her husband, Otje Djundjunan, an Army colonel who went on to become Bandung mayor between 1971 and 1976.
"All military wives had to be members of Golongan Karya [Golkar Party]," Popong said of the time when she joined the party, which was the political vehicle of former dictator Suharto.
"I never dreamed of becoming a lawmaker. I didn't know anything then. I joined Golkar because I loved my husband."
As her husband's political career grew, so did Popong's prominence within the party's ranks. She was offered the position of Golkar legislative candidate on several occasions since 1971, but it was only after her husband died in 1987 that she took the offer seriously.
Aside from a two-term hiatus between 1999 and 2009, Popong has been a lawmaker ever since.
"Very different," she said when asked to compare the House of today to her early political career.
"The political conditions were different. So the mood was different. There would never be any fighting like this. At the very least, the rules were still respected," Popong added.
"For me, tensions like [now] are unacceptable. If you want to cause a riot, better stay away from becoming a member of the House.
"House members must live by their oath as representatives of the people. Everyone from all 10 parties takes the same oath. So sentiments between parties must come second. If not, then this country will be destroyed."
http://thejakartaglobe.beritasatu.com/news/kudos-abound-indonesias-iron-lady/
-----------
Nobel Peace prize winner Malala Yousafzai to get honorary Canadian citizenship
Associated Press
12 Oct, 2014
Ottawa, Ontario: Canada will formally bestow honorary citizenship to Malala Yousafzai, the young Pakistani education activist who won this year's Nobel Peace prize. Prime Minister Stephen Harper had announced the government's intention to grant her honorary citizenship last year. He said Friday that it will be formally awarded to her when she travels to Ottawa on October 22.
Harper's spokesman, Jason MacDonald, said a Parliamentary process is ongoing to confer the citizenship. She is the sixth person to receive honorary Canadian citizenship. Yousafzai, 17, was shot in the head by a Taliban gunman two years ago for insisting that girls, as well as boys, have the right to an education. With the help of British medical care, she survived to become an international advocate for girls' education.
She was awarded the Nobel Peace Prize along with India's Kailash Satyarthi, who has fought to end child slavery and exploitative child labor. Harper congratulated both winners "for their wonderful work for humanity, for their tireless efforts in favor of children's rights, and for bringing the causes they cherish to the attention of the whole world."
http://www.deccanchronicle.com/141011/world-americas/article/nobel-peace-prize-winner-malala-yousafzai-get-honorary-canadian
-----------
Suspect Arrested In Brutal Murder of Female Journalist in Balkh, Afghanistan
12 Oct, 2014
A suspect has been arrested in connection to the brutal murder of a young female journalist in northern Balkh province of Afghanistan, local officials said.
Provincial police chief, Raziq Qaderi, said the suspect was arrested from Mazar-e-Sharif city on Friday and is currently in police custody for further interrogation.
The female journalist – Palwasha Tokhi Miranzai was repeatedly stabbed by unidentified men inside her house in Mazar-e-Sharif city earlier last month.
According to reports, Tokhi was working as media analyst in Bayan news network and had recently returned to Afghanistan after completing her higher education studies in Thailand.
Tokhi's murder comes as Afghanistan Journalists Center (AFJC) informed of growing violence against the journalists in its annual report earlier this year.
The report further added that 84 cases of violence were registered during 2013 across the war-torn country.
According to AFJC, the cases include murder, injuries, physical and verbal abuse, death threats and closure of media outlets from January to December 2013.
http://www.khaama.com/suspect-arrested-in-brutal-murder-of-female-journalist-in-balkh-8782
-----------
Chime for Change: My Name Is Fatima and My Dream Is To Be a Scientist
12 Oct, 2014
Fatima, 15, wants to be a scientist and it worries her that there are "so few female role models in the world of science."
"I want my name to live forever through the research and experiments that I do," says Fatima, in a 54-second-long video produced by Sharmeen Obaid Chinoy (SOC) Films for the Chime for Change (CFC) campaign aimed at strengthening voices speaking out to promote the cause for promoting justice, health and education for girls and women the world over.
Produced and shared in relation to the International Day of the Girl, the video brings to light the attention that needs to be paid to girls and women wanting to strive in sciences as well as encouraging the overall participation of women in society.
The slogan for the CFC campaign founded by Gucci says: "Education. Health. Justice. For every girl. Every woman. Everywhere. Because none of us can move forward if half of us are held back."
The campaign is looking at innovative methods to raise awareness and funds and so far, CFC has raised money through a string of short documentary films, world-wide concert events and by spreading the stories of girls and women around the globe who are hungry for change.
To date, CFC has funded more than 390 projects in 86 countries and is helping girls like Fatima to realise their dreams.
http://www.dawn.com/news/1137310/chime-for-change-my-name-is-fatima-and-my-dream-is-to-be-a-scientist
-----------
Sumedha: The Woman Who Launched Kailash Satyarthi's Journey
12 Oct, 2014
NEW DELHI: Kailash Satyarthi's journey as an activist against child bondage and trafficking couldn't have taken flight without his 59-year-old wife Sumedha. As much an activist as Satyarthi, she lovingly calls him "Saabji" and coyly informs her husband sometimes refers to her endearingly as "Deviji". He has been her inspiration.
For Sumedha, who completed 36 years with Satyarthi on October 8, there can be no bigger honour than the Peace Nobel for her husband and his relentless child rights crusaders. She as a young wife with a year-old son stood behind Satyarthi like a pillar of strength when he gave up his engineering career and decided to make activism his life. That was in 1980. The couple first launched a publication called "Sangharsh Jari Rahega" to give voice to the concerns of the underdog. His fight for the rights of kids caught in bondage began from a rented room in Minto Road where the couple then lived. "We had nothing and spread newspapers on the floor at meal time, sat around it and ate. Nothing came in the way of our dream to fight against bondage and trafficking," she says.
Sumedha often joined her husband in rescue operations. Currently a director who manages Bachpan Bachao Andolan's Jaipur Bal Ashram, she and her husband kindled the fire of activism in their children.
Their lawyer son, Bhuwan Ribhu, leads BBA workers and is a noted activist.
Satyarthi's daughter Asmita, 29, an economics graduate, works for the rights of children and has joined campaigns, including the fight against children working in the fire-cracker industry. The children grew seeing phases when the family faced serious threats. The family, as a principle, doesn't use a surname. This is their way to build on a culture of equality. Asmita says this is their protest against the ills of the caste system. She was at the BBA's Kalkaji office with her mother and brother all day celebrating the joy Satyarthi and team gave the country.
http://timesofindia.indiatimes.com/india/Sumedha-The-woman-who-launched-Kailash-Satyarthis-journey/articleshow/44778832.cms
-----------
Burka Avenger Nominated for Emmy Kids Awards
12 Oct, 2014
Pakistan's first animated television series, Burka Avenger has been nominated by the International Emmy Kids Awards.
The nominations were unveiled yesterday and the creator and director of the series, Aaron Haroon Rashid made the announcement via his official Twitter account.
The multi-award winning series has been nominated in the animation category and this is the first time any Pakistani animated series has been recognised in the Kids Awards.
Produced by Unicorn Black Studios, the 13 episode series aired on Geo Tez of Geo Network TV in 2013.
Burka Avenger's story revolves around an animated superheroine, Jiya who wears a burqa as a disguise to conceal her identity while fighting villains for justice, peace and education for all.
The series stars the talented Ainy Jaffri and Hamza Ali Abbasi as the voice of Burka Avenger and Baba Bandook respectively, and features songs from some of the biggest musical acts from across South Asia, including Ali Zafar, Haroon, Ali Azmat and Josh among many others.
Burka Avenger has previously won several awards including 'Peabody Award 2013', 'Gender Equity Prize' and the 'Rising Star Award' in the animation category at Canada International Film Festival.
The international Emmy Kids Awards ceremony will be held in New York on February 20, 2015.
http://www.dawn.com/news/1137088/burka-avenger-nominated-for-emmy-kids-awards
-----------
URL: https://newageislam.com/islam-women-feminism/kurd-woman-leading-kobane-battle/d/99481