New Age Islam News Bureau
28 May 2019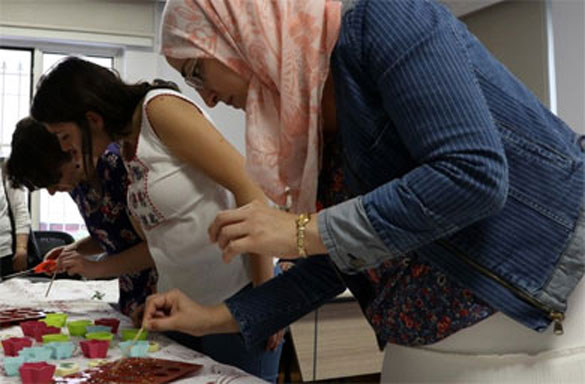 Turkish and Syrian women work together to learn different branches of art at the workshop in Gaziantep.
-----
• Out of Respect Tents are used to Bury Muslim Women in The UAE
• Bahrain Top Court Revokes Female Activist's Citizenship
• Art Workshop Helps Turkish, Syrian Women Bond
• IHC Reserves Judgement on Intra Court Appeal Of New Muslim Girls
• Pakistani Activists Want Anti-Chid Bride Bill Approved
• Senior Saudi Cleric Slams 'Paranoia' Over Segregation between Men And Women
Compiled by New Age Islam News Bureau
URL: https://www.newageislam.com/islam-women-feminism/kolkata-two-mosques-make-provisions/d/118728
--------
Kolkata: Two Mosques to Make Provisions for Women
by Ravik Bhattacharya
May 28, 2019
Two heritage mosques in Kolkata are making provisions, including separate entries, special halls and washrooms, for Muslim women to offer namaz on the premises through the year.
Authorities of the Nakhoda mosque and Tipu Sultan mosque are creating separate halls and washrooms for women after a written request by the Bengal Imam Association.
Imam Shafique Qasmi of Nakhoda Masjid — popularly known as Badi Masjid — confirmed the letter and said plans were afoot. "Yes we have received the letter. Many women still come and offer namaz at one corner of the masjid but now the managing committee is making better arrangements for women. There are three entrances to Nakhoda Masjid and none of them is exclusive for women. A separate place for women to perform ablutions, offer namaz and take rest are planned within the masjid," said Qasmi.
"We have seen that there is no proper provision for women to offer namaz in these two renowned mosques. According to the Sharia, women can offer namaz where there is a provision for 'purdah'. However, such provisions are not available. Women visit these mosques even from abroad but can't pray here under present circumstances. Therefore, after discussions, we decided to send a letter to the two mosques," said Md Yahiya, chairman of Bengal Imam Association.
"We are happy that they agreed to our proposal. Proper arrangements and special halls are being prepared where women can offer namaz," added Yahiya.
The letter, a copy of which was also sent to the Kolkata Municipal Corporation among others, has three requests — a separate 'purdah' arrangement for women to offer namaz, a washroom for women and another for people with disabilities.
"We have seen that many women, including foreigners, visit the mosques with the intent to offer namaz. But they feel uncomfortable as there are no separate provisions. We are ashamed to see this," the letter states.
Authorities of the two mosques have agreed and started drawing up plans for setting up separate halls and other provisions for women.
While Muslim women are allowed to offer prayers in mosques as per Islamic law, they do not get a chance to pray at many religious spots in Bengal, barring some of the mosques, due to lack of separate provisions for them at many of these spaces.
"It would be nice if we have proper provision in mosques to offer namaz. We cannot pray along with men because it is against Islamic law… If proper arrangements are made, women like me would not miss namaz even when outside home," said Amina Khatun, a teacher. with an English medium school in South Kolkata.
Tipu Sultan mosque was built in 1842 by Prince Ghulam Muhammed, youngest son of Tipu Sultan, while the foundation stone of Nakhoda mosque was laid on September 11, 1926.
https://indianexpress.com/article/india/two-mosques-to-make-provisions-for-women-5751499/
--------
Out of Respect Tents are used to Bury Muslim Women in The UAE
May 27th, 2019
A tent-like cover can now be used in burying Muslim women at Abu Dhabi cemeteries as a sign of respect, authorities have announced.
Officials of the Abu Dhabi Municipality said the tent would cover the deceased throughout the burial process, in order to respect a woman's sanctity and privacy.
"The dignity of women has to be preserved, whether they are alive or dead," they said.
Saeed Al Ameri, head of cemetery services at Abu Dhabi Municipality, said: "This step embodies the lofty values that underpin our wise leadership in dealing with humans and preserving their dignity. These values stem from the top ideals of humanity."
The tent will cover the entire area of the grave, and it is equipped with adequate lighting and ventilation.
"It is placed over the grave during the burial of the woman's body and it is wide enough to accommodate the people laying down the body," said Al Ameri.
He noted that the concept of a tomb cover is already being implemented by other civic bodies in the UAE, such as the Ajman Municipality, which initiated the idea.
Recognising its importance, the Abu Dhabi Municipality decided to introduce the initiative for the Capital's graveyards, including the Bani Yas, Al Bateen and Samha cemeteries.
The municipality provides free maintenance services in the cemeteries to keep them clean and preserve the sanctity of the dead.
https://www.albawaba.com/editors-choice/out-respect-tents-are-used-bury-muslim-women-uae-1288216
--------
Bahrain Top Court Revokes Female Activist's Citizenship
May 27, 2019
Bahrain's supreme court of appeal has upheld a five-year prison sentence for an imprisoned female anti-regime activist as the ruling Al Khalifah regime continues its heavy clampdown on political dissidents and pro-democracy activists in the tiny Persian Gulf kingdom.
On Monday, the Court of Cassation also stripped the defendant, identified as Zakia al-Barbouri, of her citizenship after finding her guilty of terrorism-related charges, Arabic-language Lualua television network reported.
On February 6, Bahrain's Fourth High Criminal Court sentenced Barbouri to five years in prison, and ordered her citizenship to be revoked.
Bahraini authorities claimed at the time that the dissident was "transporting materials used in explosive devices" to an alleged cell trained in Iraq.
The officials leveled terror charges against the defendant based on her confessions. Confessions, however, were extracted under duress and torture, according to international human rights groups.
Masked pro-regime militiamen, accompanied by members of the security service, arrested Barbouri early on May 17, 2018 after they raided her home in the village of Nuwaidrat.
She was held incommunicado at a detention facility for weeks following her arrest.
Thousands of anti-regime protesters have held demonstrations in Bahrain on an almost daily basis ever since a popular uprising began in the country in mid-February 2011.
They are demanding that the Al Khalifah regime relinquish power and allow a just system representing all Bahrainis to be established.
Manama has gone to great lengths to clamp down on any sign of dissent. On March 14, 2011, troops from Saudi Arabia and the United Arab Emirates were deployed to assist Bahrain in its crackdown.
Scores of people have lost their lives and hundreds of others sustained injuries or got arrested as a result of the Al Khalifah regime's crackdown.
On March 5, 2017, Bahrain's parliament approved the trial of civilians at military tribunals in a measure blasted by human rights campaigners as being tantamount to imposition of an undeclared martial law countrywide.
Bahraini monarch King Hamad bin Isa Al Khalifah ratified the constitutional amendment on April 3, 2017.
https://www.presstv.com/Detail/2019/05/27/597064/Bahrains-top-court-upholds-jail-term-for-female-antiregime-activists-revokes-her-citizenship
--------
Art Workshop Helps Turkish, Syrian Women Bond
28.05.2019
An art workshop in Gaziantep, a Turkish province bordering Syria, brings out the artist inside Turkish and Syrian women and helps them mingle in a country that hosts the largest Syrian refugee community, at more than 3.5 million people.
Syrian and Turkish women come together to learn and create art at the workshop founded by a local nonprofit organization. Called Mutfak/Matbakh (kitchen in Turkish and Arabic), the workshop offers training in painting, sculpture and jewelry design.
Falak al-Ghazzi, a Syrian artist who mentors the participants, told Anadolu Agency (AA) that they wanted to boost dialogue between Turkish and Syrian women and apart from teaching them she "learned a lot" from the Turkish women. "We create together and benefit from the experiences of each other. I don't speak the same language as them, but we get along easily with body language. I am already involved in projects by Turkish associations to bring together Turkish and Syrian women, and I want to do more for more joint projects," she said.
Ayşegül Ateş, the Turkish founder of the workshop, said they started the workshop in 2015 in different branches before switching to their new project, "Women's Unity in Arts," that brought together women from two countries. Ateş says the workshop seeks to increase solidarity between women. "The concept of living together should be empowered. We want more women creating, whether they are filmmakers, chefs or painters. We wanted to make them more visible in society and showcase the strength of women," she said. Currently, 10 Syrian and 10 Turkish women work together at the venue, and Ateş says they wanted to create a "joint production model." "Conveying experience to each other will bolster cultural sharing and encourage more joint productions," she said. "We have no belongings here and any participant can use tools of others to create. Everyone has different stories. A Syrian woman tells the story of her migration to Turkey, for instance, while a Turkish woman tells how she left her hometown for another city," Ateş said.
Turkey is home to the largest Syrian refugee community who fled the ongoing civil war in Syria. A small fraction of refugees live in camps set up by the Turkish state, while others fend for themselves outside the camps; however, integration remains a key challenge especially for women and children. A survey by the Turkish nonprofit organization Women and Democracy Association (KADEM) shows Syrian women find language a main obstacle for integration. The survey shows only one in every four refugee women have Turkish friends. According to the same survey, 94.4% of the women interviewed for the survey did not work in Syria and only 22.7% expressed willingness to join the labor force in Turkey. However, the survey also shows women have a lack of knowledge on how to join the labor force in the country. Turkey introduced a work permit program for refugees a few years ago on a limited basis.
https://www.dailysabah.com/turkey/2019/05/28/art-workshop-helps-turkish-syrian-women-bond
--------
IHC Reserves Judgement on Intra Court Appeal Of New Muslim Girls
May 28, 2019
ISLAMABAD: The Islamabad High Court (IHC) Monday reserved its judgment on maintainability of a petition seeking security of two Hindu girls of Sindh who recently converted to Islam and married Muslim boys.
A divisional bench of IHC heard an intra court appeal (ICA) of two new Muslim girls Ghulam Ayesha and Dua Fatima against the decision of single member bench which dismissed the petition earlier.
Petitioners' counsel Umair Baloch Advocate pleaded that single member bench had dismissed the girls' petition and directed them to approach Sindh High Court (SHC) for relief.
He stated that local member provincial assembly (MPA) Asad Sikander was also threatening the petitioner girls.
He argued that Ghulam Ayesha and Dua Fatima had willfully converted to Islam and married.
Baloch contended that there was a threat to girls' lives and prayed the court to issue directives of Inspector General of Police (IGP) Islamabad to ensure their safety.
The petitioners had nominated MPA Asad Sikander, girls' parents, Interior Ministry and IGP Islamabad as respondents in their petitions.
After hearing arguments, the bench reserved the decision on maintainability of the case. It may be mentioned here that earlier Chief Justice Athar Minallah had already dismissed the same plea.
https://www.pakistantoday.com.pk/2019/05/27/ihc-reserves-judgement-on-ica-of-new-muslim-girls/
--------
Pakistani Activists Want Anti-Chid Bride Bill Approved
by Shafique Khokhar
05/27/2019
Faisalabad (AsiaNews) – A well-known rights group is calling on the government to approve the law against child marriages as soon as possible.
After adoption in the Senate, the bill is stuck in the National Assembly (lower house) due to the opposition of some of its members as well as government ministers who claim the draft law violates Sharia and is un-Islamic.
The Child Marriage Restraint (Amendment) Bill 2019 raises the legal age to marry at age 18, and imposes stricter penalties and fines on anyone who abducts non-Muslim women and girls to Islam, converts them against their will, and force them to marry much older Muslim men.
Hailed around the world as a victory for child rights, the bill is currently held up in Parliament.
According to Human Rights Focus Pakistan (HRFP), the number of girls deprived of their childhood and the possibility of studying is staggering. About 21 per cent of girls in Pakistan are married before age of 18 and 3 per cent are married before the age of 15. Pakistan has the sixth highest number of child brides in the world, 1,909,000.
For HRFP president Naveed Walter, "Pakistan has committed itself to eliminate child, early and forced marriage by 2030 in line with target 5.3 of the Sustainable Development Goals [objective] which seeks to eliminate all harmful practices, such as child, early and forced marriage and female genital mutilations."
HRFP as well as other civil society groups want to see an end to kidnappings, forced conversions and forced marriages of girls. All Pakistani girls must have a chance to pursue a career without the obstacle of their guardians and be the authors of change in society for a truly democratic, tolerant and prosperous Pakistan. The life and future of the new generations must not be ruined.
http://asianews.it/news-en/Pakistani-activists-want-anti-chid-bride-bill-approved-47120.html
--------
Senior Saudi Cleric Slams 'Paranoia' Over Segregation between Men And Women
May 27, 2019
JEDDAH: The former Imam of the Holy Mosque in Makkah, Sheikh Adil Al-Kalbani, has called for men and women not to be separated using a partition during prayers.
In a televised interview with Saudi Broadcasting Corp. (SBC), he said that this type of segregation did not happen during the era of Prophet Muhammad. He stressed the current segregation practices have no roots in Islamic tradition and are a result of unjustified "paranoia" of women, even during prayer.
"Sadly today, we are paranoid — in a mosque — a place of worship. They are completely separated from men, they cannot see them and can only hear them through microphones or speakers. And if the voice has been cut off, they wouldn't know what is going on (during prayer)," he elaborated.
"In the Prophet's era, and they are the most protective and God-fearing people. With all these traits, the men used to pray in the front and women prayed in the back of the mosque without a partition, not even a curtain. And today, it is a separated room, some even far from the original Prophet's Mosque area, I believe this is some type of phobia toward women."
He also touched on the issue some conservative men have in calling a woman by her name, pointing out that this should not be the case as there are also no roots of this fear in Islamic tradition. "Our daughters or sisters are no better than Aisha bint Abu Bakr (wife of the Prophet) — or the rest. All the Muslim women's names are known and their fathers' names are known. And they have given so much to society and the Ummah. It never harmed them that people knew their names."
Commenting on recent reforms the Kingdom is witnessing, Al-Kalbani praised the improved socio-economic situation of women in the present era.
"We began to constantly hear that a woman became a deputy minister, ambassador and other high ranking positions."
http://www.arabnews.com/node/1502966/saudi-arabia
--------
URL: https://www.newageislam.com/islam-women-feminism/kolkata-two-mosques-make-provisions/d/118728
New Age Islam, Islam Online, Islamic Website, African Muslim News, Arab World News, South Asia News, Indian Muslim News, World Muslim News, Women in Islam, Islamic Feminism, Arab Women, Women In Arab, Islamophobia in America, Muslim Women in West, Islam Women and Feminism