New Age Islam News Bureau
18 Nov 2017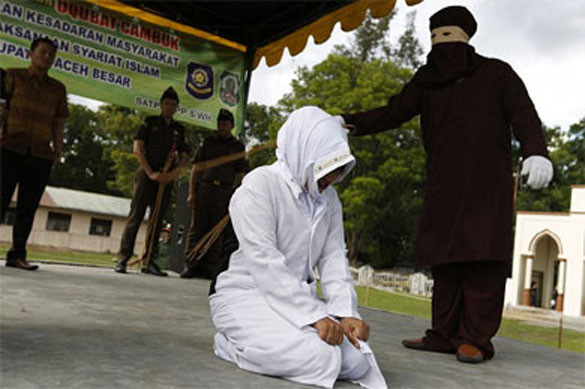 A woman is forced to kneel before being caned for adultery in the Indonesian province of Aceh
-----
• Kneeling Woman Is Brutally Caned For Adultery By Masked Sharia Law Enforcer In Indonesia
• Child Marriage Is Statutory Rape, Says Sabah Minister
• Malala Makes It To The Prestigious '150 Visionary Women' List
• Saudi Arabia to Open Justice Ministry Jobs to Women, Legalizes Yoga
• In New Book, Muslim Sisters Hope To Dispel The Mystery Behind The Hijab
Compiled by New Age Islam News Bureau
URL: https://www.newageislam.com/islam-women-feminism/kneeling-woman-brutally-caned-adultery/d/113268
--------
Kneeling Woman Is Brutally Caned For Adultery By Masked Sharia Law Enforcer In Indonesia
17 November 2017
Ten people have been caned for adultery in the Indonesian province of Aceh, where strict Sharia law is in force.
The pictures show a man and a woman, who is in obvious distress, being led to a specially erected covered area where they are caned by a masked sharia enforcer, known as an 'algojo'
The woman is forced to kneel before her punishment begins, which usually consists of the prisoner being hit up to 29 times for their so-called crime.
Earlier this year footage emerged of a woman collapsing in pain due to the severity of their injuries inflicted during the beatings.
The barbaric punishments, which occurred today in Banda Aceh, are the latest to emerge from the only province in the country to implement the Islamic punishment.
Despite than 90 per cent of the 255million people who live in Indonesia describing themselves as moderate Muslim, the region is allowed to retain brutal sharia punishments as part of a peace deal that ended a three decade insurgency.
A peace agreement signed in 2005 granted special autonomy to Aceh, at the northern tip of Sumatra, on condition that it remained part of the sprawling archipelago.
People are still flogged for a range of offences including gambling, drinking alcohol, gay sex or any sexual relationship outside marriage.
Back in September 2014, Aceh approved an anti-homosexuality law that can punish anyone caught having gay sex with 100 lashes.
Anybody caught engaging in consensual gay sex is punished with 100 lashes, 100 months in jail or a fine of 1,000 grams of gold.
The law also sets out punishment for sex crimes, unmarried people engaging in displays of affection, people caught found guilty of adultery.
People can be caned for something as innocent as standing too close to a partner in public or being seen alone with someone they are not married to.
http://www.dailymail.co.uk/news/article-5092697/Kneeling-woman-brutally-canned-adultery-Indonesia.html
--------
Child marriage is statutory rape, says Sabah minister
Tracy Patrick
November 18, 2017
KOTA KINABALU: Any man who marries an underage girl is considered to have committed statutory rape even if the marriage is consensual, declared Sabah Community Development and Consumer Affairs Minister Jainab Ahmad Ayid.
Jainab said the law of the land prevails in such a case, in that all females under the age of 18 are classified as children.
"Children should be going to schools and get an education. They should not be involved in marriage, even if it is consensual. Parents must understand this," she said.
Jainab was commenting on a statement made by Liawan assemblyman Sairin Karno who urged the national registration department (NRD) to be flexible when it comes to an underage girl who marries according to the customs in Sabah.
He said that such marriages are permitted by certain customs in Sabah.
Jainab said while she agreed such marriages exist and are admittedly, very rampant, she is sad it has continued to be allowed to take place.
"It is not about whether it is allowed or not. Under civil law, it is illegal. The ministry has continuously done various programmes in the villages to educate the parents but at the same time, it is very difficult because they don't want to change," she said.
Jainab then cited a case in 2014 where a man who had raped a 13-year old schoolgirl decided to marry the girl in exchange for her parents withdrawing their report against him.
However, the authorities pursued the case against the man and he was eventually found guilty of rape and jailed. Despite serving time for his crime, he chose to stay married to the rape victim.
"When the ministry advised the parents of the girl to let her go back to school, they refused saying that the girl is married and prefers to work.
"They said because the man's first wife is a make-up artist, their daughter could learn the trade and become a make-up artist one day.
"That is illogical but who are we? We are not the parents. We have asked some NGOs to counsel the parents but the father was stubborn and would not allow the daughter to go to school," Jainab said.
Nevertheless, Jainab said her ministry together with various agencies and NGOs will continue to educate parents to let their children finish school and get an education instead of marrying them off young.
"The problem is we have three court systems namely the civil court, shariah court and native court. People make use of the loopholes. We are trying to stop this but it is very difficult," she said.
Jainab also warned of the physical and psychological issues that could arise with underaged girls getting married.
"They will have health problems and the lack of education as well as illiteracy means they do not have any future other than staying in the village in poverty.
"Many times their equally young husbands will migrate to cities to find jobs, leaving behind the wives and young children and they never come back.
"It is a vicious cycle," she said.
http://www.freemalaysiatoday.com/category/nation/2017/11/18/child-marriage-is-statutory-rape-says-sabah-minister/
--------
Malala makes it to the prestigious '150 Visionary Women' List
November 17, 2017
After Momina Mustehsan made it to BBC's list of most influential women in the world, youngest Nobel Laureate Malala Yousufzai is next to be named so, according to Harper Bazaar.
Categorized as one of the 'Opinion Formers' on the list, Malala was rewarded with this title along with Emma Watson, Amal Clooney and JK Rowling.
The list known as '150 Visionary Women list' was released on account of the magazine's 150th anniversary, aiming to honor some of the most powerful and exemplary women in the world.
Spanning from fashion to travel and arts, the list entailed a number of women excelling in their distinctive realms as they continue to inspire thousands across borders.
"Each of the individuals on the list has proved herself to be forward-thinking, high-achieving and an inspirational role model to women everywhere", says Harper's Bazaar.
While Malala's efforts and struggle for girl child education is a matter known to everyone, she has served as a role model for most part of her life.
https://www.thenews.com.pk/latest/245376-malala-makes-it-to-the-prestigious-150-visionary-women-list
--------
Saudi Arabia to Open Justice Ministry Jobs to Women, Legalizes Yoga
17 Nov 2017
Less than two months after Saudi Arabia announced it would lift a decades-old ban on female drivers, the kingdom has legalized yoga, held its first women's basketball tournament, and announced that it will allow Saudi women to work for the Ministry of Justice.
"The Ministry of Justice is keen to open the door to employment for Saudi women because they have an important role in facilitating the provision of services in the judicial and documentation fields," Waleed Bin Mohammad Al Samaan, Saudi Arabia's justice minister, said according to Gulf News. "Saudi women have achieved numerous successes in various fields."
The ministry reportedly said it will post applications for the positions on its website. Saudi women who hold postgraduate degrees in sharia law, sociology, and administration would be considered for positions as social researchers, religious researchers, and legal researchers and administrative assistants in Riyadh, Mecca, Madina, Jeddah, and Dammam.
On Tuesday, Saudi Arabia officially approved yoga as a sport under its Ministry of Trade and Industry. According to India Today, "In 2015, shortly after the United Nations declared June 21 as the International Yoga Day, the Indian diplomatic missions in Saudi Arabia had organized maiden Yoga sessions in various Indian schools in the Islamic kingdom."
According to the India Today report, "shortly after the United Nations declared June 21 as the International Yoga Day in 2015, the Indian diplomatic missions in Saudi Arabia organized maiden Yoga sessions in various Indian schools in the country."
Last Saturday, the Saudi Kingdom held its first women's basketball tournament at Al Jawhara Stadium, which saw over 3,000 women in attendance.
According to Al Arabiya, it was organized by the Jeddah Women's Championship, the Ministry of Health and the General Authority for Sport, and a team from Jeddah's University of Science and Technology won the competition.
The event was reportedly meant to raise awareness among women about the importance of sport and healthy living.
http://www.breitbart.com/national-security/2017/11/17/saudi-arabia-opens-justice-ministry-jobs-to-women-legalizes-yoga/
--------
In new book, Muslim sisters hope to dispel the mystery behind the hijab
By Priscilla Lalisse-Jespersen
November 17, 2017
About US is a new initiative by The Washington Post to cover issues of identity in the United States. Look for the About US newsletter launching this winter.
Shaheen Pasha is a Muslim woman who doesn't cover her head, a decision that did not sit well with some in her community, especially one girl who began pressuring her during her senior year in high school. But that experience has not dampened her excitement about toy maker Mattel's latest addition to its Sheroes doll collection — a hijib-wearing Barbie.
The new Barbie is modeled after American fencer Ibtihaj Muhammad, who in 2016 became the first U.S. woman to wear the Islamic headscarf while competing at the Olympics. This week the toy maker introduced the doll, scheduled to go on sale next year.
"The use of Ibtihaj Muhammad as a model . . . is a nod to the understanding that Muslim women are very much a part of mainstream society," Pasha said in a recent interview. "They are athletes, journalists, models, medical professionals and the hijab is just a part of their identity. That's kind of the message that our book was attempting to get across."
Pasha, a professor of international journalism at the University of Massachusetts Amherst, is passionate about how Muslim women are portrayed and perceived in the West. She is especially concerned about how people react to and what they think of women who cover their heads.
"Too often, Muslim women who wear hijab are shown in one light as victims of oppression, unable to reach their full potential," she said. "By normalizing the hijab through this Barbie, I think it opens a dialogue for girls from a young age to see that for many Muslim women, it is not an impediment to achievement. It's just who they are."
Pasha and her sister Nausheen Pasha-Zaidi, a lecturer in psychology at the University of Houston, have put together a collection of essays written by women who get to explain, in their own words, why they do or don't wear hijabs or niqabs. In their book, "Mirror on the Veil: A Collection of Personal Essays on Hijab and Veiling," which was borne out of their own personal discussions and Pasha-Zaidi's dissertation, they give us a glimpse into what it means to be a Muslim woman in the current times.
The sisters, whose parents are from Pakistan, grew up in the New York City area. They tapped into their network of friends to find women around the world who were willing to share their stories.
About US spoke to Shaheen Pasha about what she and her sister learned while putting together the book. This interview has been edited for length.
Your own personal essay was quite remarkable. I was struck by your story and how it took that one voice, different from your own and in this case your husband, to confirm what you probably already knew inside which is that you did not need to cover your hair to be a "good Muslim."
That is accurate. It took that one extra voice to confirm it for me. My husband was most certainly that voice and now we have been married for almost 17 years. When that happened, I was very happy. My husband is more conservative than I am in many ways. He grew up in a more conservative family but he thinks for himself. And he ultimately is also very supportive of the person I am and how I choose to live my life. Would I have come to the same conclusion without him? Probably but a lot had to do with my age at the time — I was quite young. I would have eventually found my own truth but let's just say that my husband helped me get there quicker. Today we have a 14-year-old daughter. If one day she decides to wear a hijab that will be her own choice.
Other religions such as Protestants or Pentecostals wear headscarves. Why do you think it's so much more controversial in terms of Muslim women? It is Hollywood and the media as one of the writers, Kamran Pasha suggests in his essay?
Yes, I believe that the media and Hollywood really contribute to a lot of the negative perception that's out there. In their portrayal of Muslim women for example, they always look for what they consider to be the picture of what a stereotypical Muslim female looks like. Many Muslim women, like myself, do not wear hijab but are supportive of those that do. But too often we see two categories: The Muslim woman who covers her hair, appears more conservative and is presented as the "other" to the Western narrative. Or you have a Muslim woman who doesn't wear hijab, is vehemently and vocally opposed to it and is presented as being the modern and Westernized voice of Islam. That's problematic to me and creates a false dichotomy. I was once interviewed by someone who wanted a picture of me wearing a hijab for the piece. I don't wear hijab so I wouldn't have a picture like that and didn't understand why that was necessary. So, they took one of my pictures from somewhere else. I was in Egypt and I was wearing a headscarf, not because of my religion, but because it was simply hot and I was protecting my head from the sun.
Some of the contributors wrote about France where they've banned overt religious headwear. I was still living there when that law was passed in 2011, and I've seen the effect that it has had on the Muslim community. Do you worry that this could be implemented in the United States despite the religious freedoms here?
A few years ago, I would have said it's highly unlikely because I had a lot of faith in freedom of religion as laid out in the American constitution. In the current political climate, however, I think it would be naive to rule anything out because there is a real vilification of Islam, and women who cover are the most visible symbol of the religion. And such bills and laws are being introduced in other countries so it's not so far-fetched. Whether it's France or Quebec's recent introduction of Bill 62, which prohibits women who cover their face from even being able to access services like public transportation, there is a clear move to dictate what women can and cannot wear. To me, whenever someone tries to police a woman's attire, that is oppression. As a Muslim feminist, I don't believe a woman should be forced to wear hijab or a full veil and I certainly don't believe a woman should be forced to take it off if it is part of who she is and her belief system.
Last month in New York City a terrorist attack occurred, allegedly by a Muslim. How do these types of incidents affect women who wear the hijab?
As soon as something like this happens, the first thing we do as Muslim women is pray that the person who perpetrated the crime isn't Muslim. We fear for our safety whenever these things happen and that's not right. We shouldn't have to. But yet, we must decide if it's safe to wear the hijab? Is it safe to ride the subway? Will we be attacked? Will we be ostracized? In the end, women bear the brunt of these actions.
A quote in your book was very telling, "The hijab has long been a deeply misunderstood expression where many assign their own meaning to it instead of listening to those who choose it." What is the one lesson you hope that readers will learn from this book if nothing else?
The one lesson I really want readers to take away is that every woman has a voice and her own personal agency to decide what is right for her. Every woman who decides to veil or not veil has had personal experiences that have shaped her decisions. There really is such a variety of thought on hijab and veiling. Rather than judging those choices prematurely based on innate biases and preconceptions, we should listen to the women who are talking about it. Let us be the masters of the conversation, even if you disagree with our views on the subject on a personal level.
Priscilla Lalisse-Jespersen is freelance writer and the editor and founder of Prissy Mag, an Anglophone webzine about life in Paris as an expat. She now lives in the Washington, D.C. area.
https://www.washingtonpost.com/news/post-nation/wp/2017/11/17/in-new-book-muslim-sisters-hope-to-dispel-the-mystery-behind-the-hijab/?utm_term=.3a9f3748fd85
--------
URL: https://www.newageislam.com/islam-women-feminism/kneeling-woman-brutally-caned-adultery/d/113268
New Age Islam, Islam Online, Islamic Website, African Muslim News, Arab World News, South Asia News, Indian Muslim News, World Muslim News, Women in Islam, Islamic Feminism, Arab Women, Women In Arab, Islamophobia in America, Muslim Women in West, Islam Women and Feminism