New Age Islam News Bureau
9 Apr 2015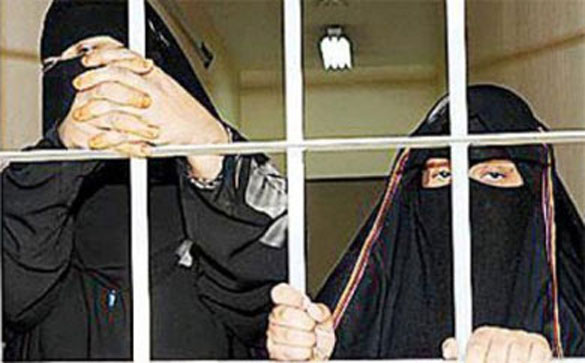 Photo: Saudi Businessman Starts Campaign to Help Female Convicts Marry
------------
• 3 Women Join Islamic Centre of Tucson's Board of Trustees
• Recent Muslim Marriages in Singapore See Decline in Divorce Rate
• Tanzania: Adolescent Pregnancies Remain Perilous
• Saudi Businessman Starts Campaign to Help Female Convicts Marry
• Kansas First State to Ban 'Dismemberment Abortions'
• Outrage as Saudi Father Lets 8-Year-Old Daughter Fire Machine Gun
Compiled by New Age Islam News Bureau
URL: https://www.newageislam.com/islam,-women-and-feminism/new-age-islam-news-bureau/king-mohammed-vi-wants-more-women-scholars-in-morocco'-religious-bodies/d/102368
------------
King Mohammed VI Wants More Women Scholars in Morocco' Religious Bodies
09 April, 2015
Rabat – King Mohammed VI wants more women Alimates (Muslim scholars) to be represented in the country's major religious bodies.
In a statement carried by Maghreb Arab Press, the Ministry of Endowments and Islamic Affairs said, on Wednesday, King Mohammed VI gave his "instructions […] to strengthen women's representation in the spiritual guidance of citizens through the increasing of the number of Alimates within the Superior council and regional councils of Ulema."
The superior council of Ulema, a word refers to the religious elite of scholars, is chaired by the Commander of the Faithful King Mohammed VI.
The board is composed of the Minister of Islamic Affairs, 30 presidents of the regional councils, the General Secretary and fifteen other theologians appointed by the King.
Created in 1981, 35 women are in regional councils and one woman in the Supreme council: Fettouma Kabbaj.
According to Article 41 of the Moroccan constitution, the council is the sole instance enabled to comment on the religious consultations (Fatwas) before being officially agreed to, on the questions to which it has been referred and this, on the basis of the tolerant principles, precepts and designs of Islam.
http://www.moroccoworldnews.com/2015/04/155772/king-mohammed-vi-wants-women-morocco-religious-bodies/
---------
3 Women Join Islamic Centre Of Tucson's Board Of Trustees
09 April, 2015
Three women will join the Islamic Centre of Tucson's highest governing board for the first time.
While women have often served on the centre's executive committee and board of education, Hala Tyree, Ismat A. Shafiqullah and Rania Kanawati will give women an unprecedented voice on the seven-member board of trustees.
"It shows that the community sees women's roles and representation are needed, so that we can voice and achieve women's goals and requests," said Tyree, 55, who has attended the Islamic Centre, 901 E. First St., with her family for 15 years. She also serves as secretary on the board of education.
The board of trustees is responsible for "whatever issues the community faces," said Kamel Didan, the vice chairman of the outgoing board. This can include personnel decisions, financial planning and community involvement.
About 30 people were nominated for the three-year position, said Ahmed Meiloud, the chair of the election committee. Board members must be members of the Islamic Centre, receive at least two nominations from other members and accept their nomination. If more than seven nominees accept, the centre holds an election among members, an unnecessary step this time around.
The all-new board announced Friday represents another transition for the centre, which welcomed a new imam at the end of last year, after a series of temporary leaders.
"No matter how fair and just and representative we try to be, there will be a missing touch with half the community not being fully represented," Didan said. "The mosque traditionally caters to men, and for the most part men are in the forefront, but now they are bringing in ladies ... and I hope it will become a tradition."
The leadership transition comes at a time when the centre is considering expanding and remodelling, whether on campus or elsewhere. The women on the new board want to ensure that their sisters are considered.
"We are looking at expansion, so we want to have our voice in the plans in what it will look like for women to have more space," Tyree said.
Kanawati has attended the centre for about 10 years and teaches Arabic at the Al-Huda Islamic School. She said the lack of space for child care is another issue.
"We pray during the kids playing, and sometimes we don't hear anything," said Kanawati, the 43-year-old chair of the centre's board of education.
For most of the year, men and women pray in separate spaces. During Ramadan in particular, women pray in an area connected to the main prayer room, with the space made distinct by a sliding curtain. Some prefer it open, others do not.
"We have big TV monitors and we can see the imam, and we don't want to mess with that setup," Shafiqullah, 71, said of the women's prayer space. They can also see through a window between the rooms. "As it is, we don't have enough room for the men, so sometimes it overflows."
Shafiqullah has been "behind-the-scenes" at the centre since her husband became one of the founding members of the mosque in the early 1970s, but she calls herself a "troublemaker." She likes to see the imam and keep the curtain open.
"It's nice to see the whole congregation," she said. "You feel like you're part of it."
For now, staying out of the main prayer room during crowded services is an issue of respect and space, Shafiqullah said. The diversity of the centre also means some members come from more traditional backgrounds, including women who prefer to pray in a separate space.
"Some men would freak out if they saw us, these heavenly beauties floating there," Shafiqullah joked. "I respect that."
In the past, the board has responded favourably when she has brought the requests of the centre's women to its attention. Now, though, there will be a more direct female voice.
"Most women have so many challenges when they come to the U.S.," Kanawati said. She noted that many at the Islamic Centre move to Tucson from other countries. That can make caring for a family and communicating difficult. "If you don't have a connection in the ICT, you are lost."
http://tucson.com/lifestyles/faith-and-values/women-join-islamic-center-s-board-of-trustees/article_2e80ccdd-19cc-54e4-9bc8-6f763bfa9cc7.html
---------
Recent Muslim marriages in Singapore see decline in divorce rate
09 April, 2015
With divorce rates on the rise in general in recent marriages, statistics show divorces among Muslim couples before the fifth year of marriage have seen a decline in Singapore.
A study by the Ministry of Social and Family Development (MSF) found that divorce rates decreased from 14 percent among those who married in 2003 to 11.4 percent who married in 2008.
In comparison, divorce rates before the fifth marriage anniversary for non-Muslim couples have remained about the same for the 2003 and 2008 cohorts, at 5.1 percent and 5.6 percent respectively.
The lower divorce rates for recent Muslim marriages could be attributed to community initiatives in marriage preparation as well as counselling and enrichment for Muslim couples, the MSF said in a statement.
A mandatory counselling programme has been set up under the Shariah court, whereby Muslim couples who want to leave the marriage must attend before making the final decision.
Since the programme started in 2004, more than 27,000 couples have taken part; after which about 44 percent of them changed their minds about separating.
Marriage preparation programmes for Muslim couples have also been enhanced to address the needs of different types of marriages, including that of young couples and remarriages.
There are also support programmes for Muslim newly-wed couples and new parents to help them manage transitions and challenges in marriage, as well as public education efforts via print media, TV and radio dramas.
Muhammad Ali Mahmood, senior director of social services at voluntary welfare group PPIS, agreed that the community initiatives have helped.
He said marriage preparation programmes for minor couples, in which one of the partners is below 21, and the mandatory counselling programme for Muslim couples seeking divorce have helped.
"It is important that minor couples get the help they need, as they may lack the resources to make good decisions," he said.
He recalled a case of how a couple had sought divorce but attending the programme helped them change their decision.
The wife felt that her husband was not fulfilling his role as a father and not playing with their child at all.
After counselling, they learnt the husband did not play with his child as he grew up in a family where he did not experience such love from his parents too.
"As women get more educated, they are less dependent on their husbands and more likely to consider divorce," Ali said.
The husband was later willing to make amends and learnt to be a better parent.
"After couples are counselled, they realise that there are actually many things at stake," Ali added.
"It's not just a dissolution of a marriage; it's the dissolution of a family with children," he concluded.
http://tribune.com.pk/story/866323/recent-muslim-marriages-in-singapore-see-decline-in-divorce-rate/
---------
Tanzania: Adolescent Pregnancies Remain Perilous
09 April, 2015
IT is indisputable that Africa has the world's highest rates of adolescent pregnancy, a factor that affects the health, education, and earning potential of millions of African girls, according to a report released by the United Nations Population Fund (UNFPA).
Although Tanzania's record is not shockingly high at the continental level it is a headache on the home front. Niger tops the list with 51 per cent of women between 20 and 24 reporting a birth before the age of 18.
And of 20 countries with the highest rates of adolescent pregnancy, 18 are African, the report, "Motherhood in Childhood: Facing the challenge of adolescent pregnancy," says.
When a girl becomes pregnant or has a child, her health, education, earning potential and her entire future may be in jeopardy, trapping her in a lifetime of poverty, exclusion and powerlessness, the report says. "Adolescent pregnancy is intertwined with issues of human rights.
A pregnant girl who is pressured or forced to leave school, for example, is denied her right to education," UNFPA's Executive Director, Babatunde Osotimehin, explains in the report foreword. "There are 580 million adolescent girls in the world. Four out of five of them live in developing countries including Tanzania.
Investing in them today will unleash their full potential to shape humanity's future," he adds. The distorted transitioning of girls into womanhood as a result of early pregnancy ought to be seen as a significant economic loss.
As mentioned before, underage pregnancies are a headache especially in regions of Dodoma, Mara, Manyara, Kilimanjaro and Mbeya. Indeed, Tanzania must pursue policies that bridge the gender disparity between boys and girls in access to health care, education and other basic social services.
Leaders must also accelerate efforts towards universal primary education that gives particular focus to girls. Current statistics on underage pregnancies are hard to come by in Tanzania but the country has one of the highest adolescent pregnancy rates in the world.
In fact, thousands of girls in Tanzania have their educational pursuits cut short every year as a result of pregnancy. This diabolical situation, which is indeed, a communal and national headache, affects girls' health, education, future employment and prevents victims from reaching their full potential in life. Every year more than 8,000 girls drop out of school due to untimely pregnancies.
The African Charter on the Rights and Welfare of the Child says in Article 21 that: "States shall take all appropriate measures to eliminate harmful social and cultural practices affecting the welfare, dignity, normal growth and development of the child."
The Charter also says that: "Child marriage shall be prohibited and effective action, including legislation, shall be taken to specify the minimum age of marriage to be 18 years and make registration of all marriages in an official registry compulsory."
Tanzania is a signatory to the charter. In another development, a report by the Legal and human Rights Centre (LHRC) in 2010 said that teenage pregnancies are a major hindrance to the ability of girls to access adequate education. According to the "Basic Education Statistics in Tanzania" for 2012, a total of 610 primary school girls dropped out of school due to pregnancy.
In 2011, a total of 5,157 secondary school girls dropped out due to pregnancies. Underage marriage is another critical problem. Thousands of underage brides are often married off to men in some parts of rural Tanzania. In some cases, the husbands turn out to be older than their own fathers.
Early marriage is a serious social problem in this country. Thousands of girls are married off before the statutory age of 16. Of course, the government, in league with NGOs and religious establishments, is now trying to eradicate this misguided practice. But even the statutory age of 16 is inappropriate.
This age should have been pegged at 18, the age of majority. It should be understood that a girl aged 16 years is not biologically ripe to make children. She may be tall and robust.
She may even look heftier than her own mother. But the reality is that she remains unripe for the task of managing a pregnancy, excruciating labour pains and delivery. Marrying off young girls to husbands is an old tradition that can be traced back to numerous generations.
It remains persistent today. The practice is one of the principal causes of the now numerous pregnancy complications in young mothers. Many such marriages fail to work. The practice also denies the unfortunate girls access to education, especially those who get married at tender age.
A girl aged 15 years is expected to be a Form Three student somewhere - not someone's wife. Traditions are so powerful in many parts of Tanzania, especially among the Wamasai, Wakurya, and Wachagga in the north; the Wahehe and Wamakonde in the south; and the Wahaya in the west.
Traditions also die hard in central Tanzania mainly among the Wagogo and Wanyamwezi. Deeply entrenched traditional values here mean that the local practice is for girls to marry when they are very young. Of particular concern to the government is the large number of pregnancy complications amongst young girls whose bodies are not yet ready to bear children.
According to a report by the Women's Dignity Project, obstetric fistulas are common complications. Women who have the fistula are often the young girls who are married early, before 15 for example, who are too poor to attend health services and try to deliver at home.
Apart from being poor, these young mothers are often ignorant about motherhood. Medical experts say an obstetric fistula can occur because the woman's pelvis is too small; the baby's head is too big, or the baby is badly positioned; the woman can be in labour for five days or more without expert medical help and other unfortunate reasons.
In most cases the baby dies. If the mother survives, she is left with extensive tissue damage to her birth canal that renders her incontinent - either of her bladder or bowel functions. This is the beginning of a medically pathetic situation for the young mother. Medics say corrective surgery is possible as long as the fistula - or hole - is not too big.
Without surgery, young women damaged by an early pregnancy remain physically and psychologically scarred. This irreparable damage wrecks the life of the young woman. At the level of the family trouble for the woman starts at this juncture.
The husband who took this unfortunate girl-bride in the first place will often turn his back on his wife, appalled at the smell and her inability to control her own motions. Many such women grow old childless in a tribal setting where motherhood is the essence of a woman's value.
A childless woman among the Wakurya is seen as a social misfit or outcast. Women's dignity activists insist that the best approach now is to stop girls getting pregnant. It is imperative to insist here that underage marriages are abominable. Some of these unfortunate girls miss the prospect for education.
Others drop out of school to get married. And there are those who marry immediately after accomplishing primary school education. Many get married off just before they comprehend the world around them. Throughout the world today there is a concern to recognise the constitutional rights of children.
Children should be protected from all forms of exploitation and cruelty and arbitrary separation from the family. Those who marry off underage girls fail to protect their daughters from exploitation, cruelty and arbitrary separation from the family. They also deny them the prospect for education and much more. Children are entitled to develop their full potential before they are separated from the family.
The African Charter on the Rights and Welfare of the Child says in Article 19 that: "Every child shall be entitled to the enjoyment of parental care and protection."
It also says that "No child shall be separated from his parents against his will, except when a judicial authority determines in accordance with the appropriate law that such separation is in the best interest of the child."
http://allafrica.com/stories/201504090316.html
---------
Saudi Businessman starts campaign to help female convicts marry
09 April, 2015
JEDDAH — A wealthy Saudi businessman has initiated a campaign aimed at encouraging men to marry ex-convicts especially women who have repented and regretted the crimes that resulted in their incarceration.
Fahd Saad Al-Johani is married to three women and has children from all of them but he wants to marry for a fourth time. "My fourth wife will be a convict," he declared.
He said female ex-convicts have to be encouraged to marry so they can lead a normal life when they are released from jail.
"Why do we always forgive men's sins and crimes but are not ready to do this with women?" he questioned.
Al-Johani said he has always wondered where ex-convicts go if their families refuse to accept them upon their release. He was surprised to learn that many ex-cons return to a life of crime because they are rejected by their families and society.
"Allah accepts repentance and forgives sinners. Why do we, as human beings, close the doors in the faces of female ex-cons? Why do not we give them hope for a new life? Why do we prevent them from settling down and enjoying a happy married life?" he asked.
Al-Johani said he spoke to a number of scholars and preachers who liked his idea and encouraged him to establish a charitable society to look after the affairs of ex-con women.
"I have asked officials at the Ministry of Social Affairs to recommend a female convict who is about to be released from jail so I can marry her," he said while adding he will soon launch his society to look after the affairs of women convicts and help them find suitable men to get married to.
Ziyad Saad Al-Maawi, a Mazoun (marriage official) said marrying an ex-convict will confirm her repentance from the mistake that landed her in prison in the first place.
"Marrying an ex-con should not be a cause of worry that she may return to a life of crime and repeat past mistakes," he said while urging eligible men to help women prisoners start a new life after their release from prison.
Al-Maawi said he had helped two convicts inside prison get married so they can live together legally. The man and woman were jailed because they were living together without a marriage contract.
Omar Zuhair Hafiz, supervisor of the National Society for Human Rights (NSHR) in Makkah region, welcomed Al-Johani's proposal and said Saudi society should not judge ex-convicts after they complete their jail terms and are released.
"We should not always look at female convicts as criminals. We should help them enjoy their God-given rights ensured by Islam," he said.
Hafiz said once a female convict has completed her jail term, she is a free person who should only be judged by her manners and ethical behavior.
"We should look at female ex-convicts who are released after serving their sentences as normal human beings with rights and duties toward their families and society," he said.
Faisal Awad, an Islamic researcher, said once a convict is released, this means that she has paid the price of her crimes or mistakes.
"Every one of us is liable to make mistakes. When a male or a female prisoner is released, we should rehabilitate him/her and enable them to become a useful member of society," he said.
Awad warned against looking at released prisoners as criminals and asked the families of ex-con women to take them back in their homes and allow them to lead a normal life.
Maj. Gen. Ali Hussain Al-Harithy, former director general of prisons, said the chances of ex-con women getting married are very slim because they require the approval of their male guardians and the presence of witnesses.
He said when a male guardian refuses to marry a woman under his guardianship, the prison administration will exert all efforts to convince him to change his mind before finally going to court to complete the marriage.
Maj. Gen. Al-Harithy asked men wishing to marry ex-convicts to apply to the prison's administration and to the welfare reconciliation committees to help them find a suitable bride.
Nasreen Abu Taha, a supervisor of a social protection home where female ex-cons whose families have refuse to accept them are hosted, said the home has received a number of requests by men wishing to marry ex-con women.
"Since the home was established about three years ago, three ex-con women have been married and are now living happily," she said.
Abu Taha said it was very common for families to refuse to accept the return of female members who were locked away. Most families also refuse to approve of their marriages.
"In these cases, we obtain the consent of the Interior Ministry and go to court to complete the marriage," she said.
http://www.saudigazette.com.sa/index.cfm?method=home.regcon&contentid=20150409239773
---------
Kansas First State to Ban 'Dismemberment Abortions'
09 April, 2015
Kansas became the first state to ban a common second trimester abortion procedure when Governor Sam Brownback, a Republican, on Tuesday signed into a law an act to halt what lawmakers said are "dismemberment abortions."
The law that goes into effect on July 1 prohibits the use of dilation and evacuation. The bill says the procedure can result in the fetus being extracted in pieces.
Supporters in Kansas have called the procedure horrifying while women's healthcare groups have said it is considered the safest way to terminate a pregnancy in the second trimester.
The law allows for the procedure to preserve the life of a pregnant woman or when the mother's health is in serious jeopardy from the pregnancy.
Republican-controlled Kansas has taken a leading role in imposing restrictions on abortions, with more than 20 measures being enacted since Brownback took office in 2011, according to the Guttmacher Institute, a research group that supports the right to abortion but whose research is cited by both sides in the debate.
The procedure is used in about 8 to 9 percent of abortions nationwide and similar bans are being considered in Oklahoma, Missouri and South Carolina, it said. Nearly 90 percent of U.S. abortions take place in the first trimester.
© 2015 Thomson Reuters. All rights reserved.
http://www.charismanews.com/us/49095-kansas-first-state-to-ban-dismemberment-abortions
---------
Outrage as Saudi Father Lets 8-Year-Old Daughter Fire Machine Gun
09 April, 2015
Citizens on social media have been outraged at a video clip circulating on social media purportedly showing a Saudi man allowing his eight-year-old daughter to hold and fire a machine gun, because he wanted to show his support for Operation Decisive Storm.
Maha Al-Munif, director of the Iman National Family Program, said parents encouraging their children to hold and fire guns are breaking the law and could be punished, according to a report in a local publication recently.
She said the father could face a prison sentence of up to a year and a fine of between SR5,000 and SR50,000.
Local laws and international conventions signed by Saudi Arabia prohibit children under 18 from taking part in wars and carrying weapons, she said.
She said this father's behaviour does not assist in building patriotism. Children should be socialized using other methods, not guns, she said.
The child protection law passed by the Saudi Cabinet states that children are abused if they are exposed to or allowed to carry weapons, forced to join armed groups, or involved in publishing violent acts in the media.
She said the National Guard Hospital in Riyadh has treated many children injured by weapons that negligent parents had not stored securely.
http://www.arabnews.com/saudi-arabia/news/729486
---------
URL: https://www.newageislam.com/islam,-women-and-feminism/new-age-islam-news-bureau/king-mohammed-vi-wants-more-women-scholars-in-morocco'-religious-bodies/d/102368