New Age Islam News Bureau
13 Jan 2013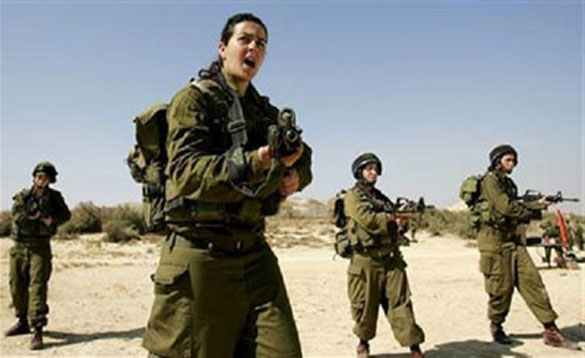 • Saudi teenage bride married elderly man 'to help family'
• Full of elan, women vow to give Shoura their best
• New Shoura members look forward to challenges
• 'Husband killings' become crime phenomenon in Yemen
• Nasair keen to hire Saudi female cabin crew
• Moroccan dancer, Ruby, to testify Monday in Berlusconi sex trial
• Saudi women seek wider representation
• Women's issues still hanging, Saudi activist says
• Female judges complete capacity building course
• Social recognition of liberation war women victims urged
• HIV/AIDS Activist Fighting for Care and Justice in Indonesia
• Israeli Women Soldiers Have 'Right Stuff' for Border Watch
• Reclaiming the "F" word: Being a Pakistani feminist
• A Voice for Peace in Afghanistan: "Stop This Criminal War"
Compiled by New Age Islam News Bureau
Photo: Israeli women soldiers have 'right stuff' for border watch
URL: https://www.newageislam.com/islam,-women-and-feminism/new-age-islam-news-bureau/khyber-agency--government-girls'-school-blown-up-in-bara/d/9986
--------------
Khyber Agency: Government girls' school blown up in Bara
January 13, 2013
BARA: Unidentified militants destroyed a government girls primary school in the Sipah area of Bara tehsil on Saturday.
Political administration official Javaid Afridi said that around 4am, the primary school in Sipah was destroyed when explosives planted by unidentified militants in the school building went off. Panic gripped the area's residents after the explosion.
"The school was closed due to the ongoing military operation in the tehsil," the official added. Explosives were planted in one of the classroom of the building, which completely destroyed the structure.
More than 90 schools have been destroyed in the agency by militants. Most residents of Sipah now live in the Jalozai camp for the internally displaced persons (IDPs), the official said. Tent schools have been set-up inside the camp for students to continue their studies.
http://tribune.com.pk/story/493211/khyber-agency-government-girls-school-blown-up-in-bara/
--------------
Saudi teenage bride married elderly man 'to help family'
Mother hoped for education, health opportunities for children
January 13, 2013
Manama: The Saudi teenage bride who was married off to a 90-year-old man but changed her mind on their wedding night, said that she initially accepted the marriage to help dry the tears of her 12 brothers and sisters.
"I agreed to marry an old man because I felt really sorry about the painful living conditions of my family," Shareefa Ali Shuwai said. "We lacked the essential elements to live in dignity. We had no real or secure home and we were deprived of school. We ate beef only on rare occasions or when charitable people offered it to us. My brothers and sisters had no toys or anything," she said.
The family lived in a straw hut in the southwestern corner of the country, near the border with Yemen.
"Whenever there was rain, we really suffered and our father took us to our neighbour's house so that we were protected from the downpour. Our father never got his identity papers because he did not complete the administrative procedures and we do not know what awaits us," she told local Arabic daily Al Sharq a few days after her husband signed a document to formally divorce her.
Her mother, Mariam Hazazi, in her 40s, said that she was praying for a decent home, either from the government or a benefactor, and for official documents that would allow her sons and daughters to receive a formal education and healthcare.
Her father, Ali Shuwai, said that he laboured on a plot of land that belonged to Saudis who lived in another area and that he received part of the produce.
"We get some money and we store some of the wheat for the family's needs throughout the year," he said.
The family came under scrutiny following news that Shareefa, believed to be 15, was married off to a man reportedly six times her age.
The huge age gap prompted the Saudi Human Rights Commission to leap into action and formally end the highly controversial wedding.
"We wanted to protect the young woman from this unbalanced wedding and provide the legal assistance she might need," the Commission said in a statement. "We also met the head of the local tribe and dignitaries and we eventually reached an agreement for the divorce that was signed by the parties involved."
The agreement settled the issue and gave Shareefa her freedom.
An earlier decision based on local traditions in the rural area in Jizan in southwestern Saudi Arabia reportedly put an end to the marriage between Haider Bin Ali Masrahi, the 90-year-old man, and Shareefa after she refused the forced wedding.
The decision meant to conclude a bitter dispute between the man and his bride's family that lasted several months.
However, the nonagenarian insisted on either getting his wife or dowry money back before agreeing to the divorce in a marriage that was never consummated.
The case started when the would-be groom proposed to the teenager and offered her parents, a Saudi father and Yemeni mother, a 45,000 riyal dowry (Dh44,074) and said that he would fund the celebrations.
The father accepted the offer and agreed to the marriage despite the huge age difference between the bride and the groom.
However, the marriage was never consummated after the bride locked herself in a room following the celebrations, and refused to allow her husband in.
The bride spent the night crying and in the early morning, the groom called her family to "reason" with her.
When her relatives arrived, she opened the door and they were shocked to find her in tears. They also found out that she had torn her wedding dress in distress, a local daily said.
The distraught family took the bride home and refused to compromise with the groom.
When he later visited them to take his wife home, the family refused, leading the man to ask for the dowry money.
The family said that they had spent it and that they did not have any money to give back, prompting him to take action against them.
Shareefa's father attributed his decision to accept the peculiar marriage to his family's "extremely dire living conditions."
"Poverty had pushed me to marry Shareefa to a man who was much older than she was," Ali said. "I was lured by the money because my family needed it. We live in a straw hut that does not protect us from the terrible cold or the sweltering heat. My family have been through extremely hard times and I do not even have identity papers that prove my civil status. I was financially unable to follow through the administrative procedures to receive my identity documents," he said, quoted by local Arabic daily Al Sharq.
Her father said that his daughter was not 15 as reported by the media and that she was in her 20s.
The groom who insisted that he was in his mid-80s, said that Shareefa's family readily accepted his proposal to marry her.
"Her father and I agreed on the marriage details, including the dowry money," he said. "I paid 45,000 riyals while the other expenses amounted to 35,000 riyals," he told the daily.
The marriage was however never consummated.
"When we got home on the wedding night, she rushed to a room and locked herself inside and refused to open the door until early morning when two of her uncles came to take her to her family's home," he said.
He said that he received back only 20,000 riyals and that he wanted to file a complaint to have the rest of the money in case Shareefa refused to go back to him.
"There is nothing wrong with me taking up a wife. I am still physically active and I am in great shape," he said.
He attributed his decision to get married to the old age of his first wife.
"She is past her 80s now and it has been a long time since we lived as husband and wife. I have decided to take up a new wife," he said.
Local daily Al Youm, quoting sources close to the case, said that the man's marriage with Shareefa was not his first with an adolescent.
"Around 18 months ago, he married a Yemeni girl who was also 15 years old," the sources said. "She stayed with him for about one month before fleeing and seeking help from a village dignitary."
However, the elderly man told the daily that his Yemeni bride did not abscond from home and that he had divorced her.
http://gulfnews.com/news/gulf/saudi-arabia/saudi-teenage-bride-married-elderly-man-to-help-family-1.1131413
--------------
Full of elan, women vow to give Shoura their best
13 January 2013
The newly appointed women members of the Shoura Council say there is a real and genuine political will to ensure Saudi women are involved in the decision-making process. The common theme among the 30 women is willingness to work toward the common good.
The new appointees on the 150-member council are highly educated and have had distinguished careers at research centers, hospitals and universities.
"The most important issue is serving the whole nation, not a certain class or region," said Haya bint Abdulaziz Al-Manea, the first Saudi woman doctor in biotechnology, and one of the new members. She added that King Abdullah's decision marks the start of a renaissance. She said all her colleagues are committed to working hard to help develop the country. Al-Manea is currently at Harvard University in the US to complete a program that she developed to sponsor innovators.
Salwa Al-Hazza, chief scientist at the research center at King Faisal Hospital, and ophthalmology consultant professor at the Faculty of Medicine at the University of King Faisal, said that the leadership's confidence was a chance for her to show that Saudi women are worthy and can perform well in such positions. She said that the responsibility of the task ahead motivates her to do the best she can and to be a role model for every Saudi woman.
"It is a big responsibility and we hope to do the best we can," said Firdaus Al-Saleh, professor of nuclear physics and a deputy at Princess Noura University. She thanked King Abdullah and added that she has many ideas and projects to propose to the Council.
Ilham Al-Mahjoob, assistant professor in the Department of Computer Studies at Umm Al-Qura University, said, "It is a real and clear step to make Saudi women a true partner in the development and advancement of the country that is based on Islamic law in the Kingdom."
Hamda Al-Anzi, associate professor at the University of King Faisal, said: "The presence of Saudi women in the Council may lead in future to positions in the Council of Ministers." She said Saudi women have been able to make significant contributions to the country in a short time, in comparison with other nations.
She said she would raise issues on the rights of women and children in the Council's sessions. The involvement of women will ensure a greater discussion of these issues.
http://www.arabnews.com/full-elan-women-vow-give-shoura-their-best
--------------
New Shoura members look forward to challenges
13 January 2013
Women's entry to the Shoura Council is a great accomplishment for women in the Kingdom, said a newly appointed female member of the consultative body yesterday.
"It is a great achievement for all Saudi women and we feel honored to benefit from the progressive efforts of Custodian of the Two Holy Mosques King Abdullah," Nora bint Abdullah Al-Adwan, the newly appointed Shoura member, told Arab News yesterday.
Al-Adwan has been a consultant to the council for the last six years and has participated in several Shoura programs both within the Kingdom and internationally. Her impressive resume also includes chairing two international symposia on women affairs in Amman and in Abu Dhabi recently.
"We have 30 female members in the consultative body and I am confident that we will initiate a positive impact in the debates and discussions that will take place within the council during the coming four years," she noted.
She also pointed out that women's participation in the council would help the 150 member council to contribute a great deal to enlighten the consultative body about the problems Saudi women face.
"We will function as female members in the council within the framework of the Islamic Shariah," said Al-Adwan, who is currently affiliated to the research chair, specializing on women issues at King Saud University (KSU).
In a major initiative to reform the existing political system, Custodian of the Two Holy Mosques King Abdullah chose 30 female members to join the 150-member Shoura Council on Friday.
According to the royal decree, the council will have a 20 percent quota of female members in the council when its new term begins on Tuesday.
Custodian of the Two Holy Mosques King Abdullah appoints a team of 150 members from various professions for a term of four years. The present President of the Shoura Council Abdullah Al-Asheikh has been reappointed.
The other key officials reappointed were Mohammed bin Ameen bin Ahmed Al-Jeffery, deputy speaker of the Shoura Council, and Fahad bin Mu'tad bin Shafaq Al-Hamad, assistant speaker.
Fayez Al-Shehri, a new member to the Shoura Council, said he is delighted to be appointed as a member of this assembly. "I am thankful to the Almighty Allah and then to King Abdullah for reposing confidence in me to carry out this great task," he said, adding that he would contribute his best to the progress of the council's activities in the coming four year. Describing the new appointment as a challenging job, he said the new members would look forward to an eventful tenure in the coming years.
Alshehri, a writer and researcher in the news media, holds a Ph.D. in e-journalism and MA in information sources and e-news from the University of Sheffield in the United Kingdom.
Thanking King Abdullah for the new responsibility bestowed upon him, Khalid bin Saad bin Abdulaziz bin Said, professor of health and hospital management and chairman of the board of Saudi society for health management in Dammam, said his new assignment would pave the way for new areas of work toward national development.
The Kingdom's Ambassador in Manama, Abdul Mohsin Al -Marik, who is one of the new nominees to the Shoura Council thanked King Abdullah and Crown Prince Salman, deputy premier and defense minister, for his new appointment.
http://www.arabnews.com/new-shoura-members-look-forward-challenges
--------------
'Husband killings' become crime phenomenon in Yemen
08 January 2013
About 50 Yemeni women were arrested in 2012 for murder, most were accused of deliberately killing their husbands, Yemen's interior ministry announced this week.
According to a report released by the ministry's Information Security Centre, the Yemeni women were between the ages of 25-50 and most had committed the crimes with the help of male relatives.
Inequality, domestic violence and "emotional motives" were just some reasons behind such crimes, said the report, adding that the killings took place in Mahweet, Taiz, Hajjah, Sana'a, Amran and Marib.
Full report at:
http://english.alarabiya.net/articles/2013/01/08/259264.html
--------------
Nasair keen to hire Saudi female cabin crew
13 January 2013
Nasair CEO Sulaiman Al-Hamdan is keen to hire Saudi women as cabin crew at the airline, provided the government approves it, according to a recent interview published by American magazine Supply Chain.
The statement from the chief of Kingdom's low-cost airline has evoked mixed reactions.
"We live in a closed society where women are not allowed to leave the country without a male guardian's permission. So how is it going to be possible for them to work on an airplane?" said Saleh Makki, a 53-year-old marketer. "I personally have nothing against it, but bear in mind that Saudi society is a closed one so this is far from possible," he added.
Full report at:
http://www.arabnews.com/nasair-keen-hire-saudi-female-cabin-crew
--------------
Moroccan dancer, Ruby, to testify Monday in Berlusconi sex trial
13 January 2013
The nightclub dancer who is the main witness in the sex trial of Italy's former prime minister Silvio Berlusconi is to testify on Monday, her lawyer said on Saturday.
Karima el-Mahroug, a Moroccan who is now 20 and better known by her stage name "Ruby the Heartstealer," was due to testify in the Milan court in December but failed to show up, telling her lawyer she was on holiday in Mexico.
Full report at:
http://english.alarabiya.net/articles/2013/01/13/260122.html
--------------
Saudi women seek wider representation
13 January 2013
Following the decision of Custodian of the Two Holy Mosques King Abdullah to appoint 30 women to the Shoura Council, many business experts and social observers raised the question as to whether there are sufficient remarkable names from all fields to represent Saudi society.
Arab News spoke to a number of businesswomen and experts on social issues who confirmed that this is an important development but they called for further appointments of those with expertise in fields such as economy, industry and civil society.
Full report at:
http://www.arabnews.com/saudi-women-seek-wider-representation
--------------
Women's issues still hanging, Saudi activist says
January 12, 2013
Riyadh: Saudi Arabia's king granting women seats on the country's top advisory council has come against the backdrop of heavy restrictions on women, who are not allowed to travel, work, study abroad, marry, get divorced or gain admittance to a public hospital without permission from a male guardian.
Advocates of greater rights for women largely welcomed the appointments. But the king's actions on women's issues have failed to tackle many of the bigger obstacles, said Aziza Al Yousuf, a university lecturer in Riyadh. "I don't think they're going far enough," Dr Aziza said.
Full report at:
http://gulfnews.com/news/gulf/saudi-arabia/women-s-issues-still-hanging-saudi-activist-says-1.1131215
--------------
Female judges complete capacity building course
January 13, 2013
LAHORE: Justice Sheikh Najamul Hasan of the Lahore High Court has said that female judges and lawyers are proving their worth by dint of hard and honest work in the judicial hierarchy of the province.
Addressing a concluding ceremony of Capacity Building Training Course designed for female civil judges at the Punjab Judicial Academy on Saturday, he said that female judges and lawyers were more devoted to their duty as compared to their male counterparts.
Full report at:
http://www.dailytimes.com.pk/default.asp?page=2013\01\13\story_13-1-2013_pg13_3
--------------
Social recognition of liberation war women victims urged
January 13, 2013
Speakers at a seminar yesterday emphasised social recognition of the women who were victims of sexual harassment by Pakistani occupation forces during the Liberation War in 1971.
Full report at:
http://www.thedailystar.net/newDesign/news-details.php?nid=265024
--------------
HIV/AIDS Activist Fighting for Care and Justice in Indonesia
Charlotte Greenfield | January 13, 2013
Baby Rivona is a 45-year-old mother of two who lives in Jakarta. She is a busy woman. As well as caring for her 3-year-old son, her role as the head of a nationwide advocacy group requires her to communicate with members from around Indonesia, meet with government departments and travel around the world to consult with international organizations such as the United Nations.
Full report at:
http://www.thejakartaglobe.com/home/hivaids-activist-fighting-for-care-and-justice-in-indonesia/565543
--------------
Israeli Women Soldiers Have 'Right Stuff' for Border Watch
Dan Williams | January 13, 2013
Israeli-Egyptian Border. Breaking cover from a lookout point disguised as a dune, four soldiers storm into the open, plowing through the sand with rifles aloft. Their battle cries are like seagull calls, and from under their helmets, ponytails flap.
Team Mor is a spotter unit on Israel's fenced-off border with Egypt, deployed at night to intercept would-be infiltrators from the lawless Sinai desert. Like dozens of others along the tense divide, it is all-female.
Full report at:
http://www.thejakartaglobe.com/international/israeli-women-soldiers-have-right-stuff-for-border-watch/565546
--------------
Reclaiming the "F" word: Being a Pakistani feminist
Sarah Elahi
January 11, 2013
As we begin a new year with a new set of resolutions to follow, it appears that the world is reacting negatively to the small victories won by feminists around the world in 2012. While women rights advocates throw their collective weight behind struggles for equality in education, health care and the workplace, others decry the "irrelevance" of feminism in third-world countries such as ours. Why care about women when we should be caring about humans? Why affix the dreaded label of "feminist" which conjures images of bra-burning circa 1960s? Why cry about the status of women in South Asia where the matriarchal figures of grandmothers and great-aunts hold so much power in popular culture? There is no women's problem; there is just a developmental problem, right?
Full report at:
http://dawn.com/2013/01/11/reclaiming-the-f-word-being-a-pakistani-feminist/
--------------
A Voice for Peace in Afghanistan: "Stop This Criminal War"
Malalai Joya pushes back against a decade of war, occupation and propaganda
By Jon Queally
January 13, 2013
Malalai Joya has a simple message for US, NATO, and Afghan leaders: Get out.
'Get out' of her country, she tells those from the US and other western nations. And to the warlords, the Taliban, and the fundamentalists represented in the ruling government, she says 'get out of the way' of a peaceful and prosperous future for regular Afghans.
As Afghan President Hamid Karzai prepares to meet with Barack Obama on Friday and speculation swirls about the future US role as 2014 slowly approaches, one of Afghanistan's leading peace advocates has a message that those in the US—increasingly cited for their war-weariness—rarely hear: Afghans themselves, caught between an occupying power and a corrupt government, are "fed up" with war, death and the destruction of their rights and aspirations.
Full report at:
http://www.rawa.org/temp/runews/2013/01/10/a-voice-for-peace-in-afghanistan-stop-this-criminal-war.html#ixzz2HqtyOm51
--------------
URL: https://www.newageislam.com/islam,-women-and-feminism/new-age-islam-news-bureau/khyber-agency--government-girls'-school-blown-up-in-bara/d/9986