New Age Islam News Bureau
21 Feb 2014
• Foreigners Married 13,000 Saudi Women Last Year
• In Yemen, a Woman's Life Entangled With Al-Qaida
• Saudi Women Protest at 'Law' Prohibiting Doctor Appointments without Male Guardian
• A First Step toward Ending Somalia's Rape Epidemic
• For Syrian Refugees, Early Marriages End Early
• Training Course Shows Women How To Build Happy Marriages
• Women's Champions Cheer a Victory in Afghanistan
• War-Hit Syrian Children Offered All-Out Support
• Saudi Businesswoman to Open City's First Cooking Academy
Compiled by New Age Islam News Bureau
URL: https://newageislam.com/islam-women-feminism/khula-divorces-rise-jeddah-riyadh/d/35869
-------------
Khula divorces on the rise in Jeddah and Riyadh
Social media changed women's view of marriage, says expert
Feb 21, 2014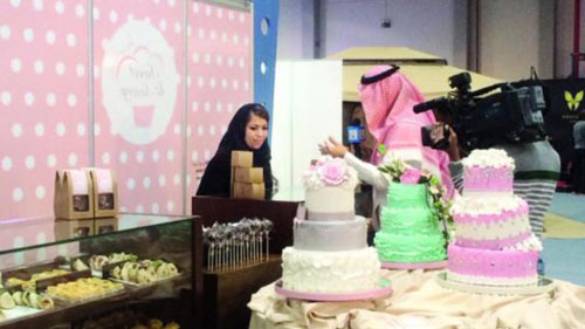 Saudi businesswoman Fatima Qadi plans to establish a cooking academy in Jeddah in 2016. She currently owns the "Sweet and Savory" cake shop in the city. (AN photo by Fouzia Khan)
--------
JEDDAH — Courts in Jeddah and Riyadh saw an unprecedented increase last year in the number of khula cases where women exercise their right to demand a divorce from their husbands, Al-Watan daily reported.
The Jeddah General Court reviewed 333 khula cases while the Riyadh court looked into 108.
Omar Al-Khuli, law professor at King Abdulaziz University and member of the Human Rights Commission (HRC), attributed the increase to several reasons, the most important one being husbands' insistence that the women quit their jobs and stay home to take care of house chores and children.
"Those husbands believe that women don't have the right to work," Al-Khuli said.
Another reason is that most Jeddah families come from somewhat liberal backgrounds. In other words, women do not feel any shame or social stigma in filing for khula if they do not want to live with their husbands under the same roof.
In other cities, women think twice before filing a khula case due to social restrictions and pressure, Al-Khuli said. "No matter how abusive the husband is, the woman will never file a khula case due to social and family traditions," he said.
Al-Khuli also attributed the increase in khula cases to social media websites and modern technology.
"Twitter, Facebook, WhatsApp all have contributed to changing the way women view marriage. These applications have given women greater awareness and a reason to file for khula."
On the other hand, Abdulaziz Al-Dakheel attributes the rise in such cases in Jeddah to the large population of the city.
The social background of women plays an important role in the rise of khula cases, he said, adding that women who hail from conservative families tend to put up with husbands' abuse instead of filing for divorce.
"In more open societies, this is not the case as women won't hesitate to bring a khula case against their abusive husbands."
http://www.saudigazette.com.sa/index.cfm?method=home.regcon&contentid=20140220196332
-------------
Foreigners married 13,000 Saudi women last year
Feb 21, 2014
About 13,000 Saudi women have married non-Saudi men in the last year, of whom the highest number married Yemenis, according to a statistical report released by the Ministry of Justice.
The report states that 13,117 Saudi women married foreigners, including US, UK and Turkish citizens, an increase of 8,553 interracial marriage contracts from the previous year.
A total of 2,583 Saudi men married foreigners out of a total of 160,271 marriage contracts sealed last year.
Makkah ranked first in the list of Saudi women married to foreigners, with 7,964 marriages, followed by Riyadh, with 3,665, Madinah with 613, the Northern Borders with 23 and Hail and Baha, with 9 contracts.
According to the report, the largest number of Saudi women in this category married Yemenis, with 544 marriage contracts, while 375 married Kuwaitis, 307 married Qataris, 120 married Syrians, 112 married Emiratis, 72 married Pakistanis, 65 married Palestinians and 62 married Egyptians.
The report also stated that five Americans, three British, and three Turks married Saudi women in 2012. The Philippines was at the bottom of the list, with only one marriage contract.
The report stated that there were 337 divorce cases, which translates to only one percent of the total number of marriages. Yemenis topped the list in this category, registering the highest number of divorce cases, with 59 cases, followed by Kuwaitis, with 26 and Qataris with 20 divorce cases.
http://www.arabnews.com/news/528881
-------------
In Yemen, a woman's life entangled with al-Qaida
Associated Press
Feb 21, 2014
SANAA, Yemen Abeer al-Hassani's ex-husband was famed for his beautiful voice. He used it, she says, singing poetic hymns to martyrdom and jihad to try to draw youth from their neighborhood of the Yemeni capital into joining al-Qaida. He sang at weddings of fellow members of the terror group, and held discussions with young men at local mosques.
"One woman complained to me that her son wanted to go fight in Iraq after speaking with him," the 25-year-old al-Hassani recalled in an interview with The Associated Press.
For most of her young life, al-Hassani has been entangled with al-Qaida through family bonds she has tried to shake off. Three of her brothers became fighters for the group, and all three are now dead, two of them killed by U.S drone strikes on consecutive days in January 2013.
Her story provides a rare look into one of the most dangerous branches of the terror network, which has withstood successive blows and yet continues to thrive. It has moved to fueling conflict elsewhere in the region, sending fighters and expertise to Syria and to Egypt's Sinai Peninsula.
Her ex-husband, Omar al-Hebishi, backed up his recruiting with cash. During their four-year marriage, she says, he received large bank transfers or cash delivered overland from Saudi Arabia — money, he told her, that was to support the families of "martyrs." She and al-Hebishi divorced in 2010.
A month ago, he left for Syria to fight alongside al-Qaida-inspired extremists — but not before trying to recruit the older of their two sons, 8-year-old Aws, to come with him by showing the boy videos of al-Qaida fighters jogging and swimming.
"Mom, I want to go because they have a swimming pool," Aws told her, al-Hassani said.
Al-Qaida in the Arabian Peninsula, as the Yemen branch is known, has been hit hard in the past few years. A U.S.-backed government offensive in 2012 drove it out of southern cities that it seized a year earlier. Relentless U.S. drone strikes have killed several senior figures and dozens of lower-level fighters, keeping the group on the run.
Still, several Yemeni security officials say al-Qaida has spread to operate in every province of the country of more than 25 million. Al-Qaida's branch demonstrated its capabilities with a sophisticated and brutal attack in December on the Defense Ministry in the capital, Sanaa, that killed more than 50 people.
The group benefits from Yemen's political instability since the ouster of longtime President Ali Abdullah Saleh. While his replacement Abed Rabbo Mansour Hadi is battling the group, Saleh's loyalists still infusing security and intelligence agencies have quietly backed al-Qaida fighters to keep the government unstable, the officials told the AP. They spoke on condition of anonymity because they are not authorized to talk to the press.
"The former regime forged a close relationship with al-Qaida," said Fares al-Saggaf, an adviser to Hadi. In the southern province of Abyan "entire army camps have been handed over to al-Qaida."
Al-Saggaf said al-Qaida is on the ropes, in large part due to the drone strikes. He said sympathy for the group has fallen, particularly after the December attack, during which fighters broke into a hospital inside the Defense Ministry complex and killed patients, doctors and nurses. Hadi ordered security camera footage of the bloodshed released to the public, a move al-Saggaf said "dealt the image of al-Qaida a serious blow."
But al-Hassani's tale illustrates the pull that al-Qaida has in a society where poverty is rife, the population is deeply conservative and many resent a corrupt government and abuses by security forces.
"I can guarantee you that my two sons, Aws and Hamza, will follow in the footsteps of their father if we stay in Yemen," al-Hassani said. "We need to get out of Yemen."
Diminutive and soft-spoken, wearing an enveloping black niqab veil and robes that leave only her large dark eyes visible, al-Hassani has lived under the full weight of Yemen's patriarchal society. She was first married off at the age of 15, but she kept running away from her husband, so they divorced after only a month.
Soon after, her older brother Bandar brought home a new husband for her — al-Hebishi, a man 20 years her senior.
Al-Hebishi, known by his nom de guerre Abu Osayed al-Madani, is renowned in extremist circles as a "munshid," or singer of Islamic hymns and anthems. His voice is often heard singing in al-Qaida propaganda videos showing footage from their attacks and of martyrs. The Yemeni security officials confirmed to AP that he works in the media branch of al-Qaida in the Arabian Peninsula.
A veteran jihadi who fought in Bosnia in the 1990s, he was a secretive man who didn't like having his picture taken, al-Hassani said. She showed one of the few photos she has of him — their wedding picture, where he stands grim-faced. "He was unhappy my mother was photographing him," she said.
"He was so courteous and convincing when he spoke to teenagers he wanted to recruit," said al-Hassani. In one case, she said, he used the money he received to buy a car and house for a Yemeni who lost both his legs while fighting alongside miltiants in Iraq, she said.
At home, she said, he was abusive, striking her and the children. After their divorce, her brothers forced her at one point to hand custody of their sons to al-Hebishi. During the time they were with him, al-Hebishi told her he burned matches on their younger son, Hamza, as part of his toilet training, al-Hassani said, showing photos of her son with the burns.
She said she received word two weeks ago that her ex-husband was now in Syria.
In recent weeks, militant supporters have proclaimed in messages on Twitter and on militant websites that "the munshid Abu Osayed al-Madani" has come to Syria and joined the Islamic State of Iraq and the Levant, one of the most hardline groups fighting in that country's civil war. Al-Qaida's central command broke off ties with the Islamic State in February, accusing it of causing strife with rival militants in Syria amid increasing infighting among them.
A Twitter account in the name of Abu Osayed al-Madani, apparently belonging to her ex-husband, is full of tweets from Syria about the conflict. Among them are appeals for reconciliation between al-Qaida and the Islamic State.
During and after her marriage, al-Hassani watched helplessly as her three brothers, Bandar, Abdullah and Abdel-Meguid, were drawn one by one into al-Qaida.
Bandar, seven years older than al-Hassani, was detained by the Political Security Agency for two years. When he emerged in 2006 he had become more religious — indoctrinated by militants he was jailed with, al-Hassani says. For the next years, he associated with al-Qaida members, while security agents harassed him, trying to turn him into an informant.
In 2009, Abdel-Meguid, who was 16 at the time, was also arrested. He was held for three years, often in a cell with hardened militant fighters.
At about the same time, Abdullah — who was two years younger than al-Hassani, disappeared from home to join al-Qaida.
When the popular uprising against Saleh began in 2011, Bandar left home for the mountainous central province of Marib to join al-Qaida fighters, she said.
The following year, Abdel-Meguid was released from prison. The younger brother who loved dancing as a teen was now bitter.
"He only spoke about how much he wanted to blow himself up in the middle of Yemeni soldiers," al-Hassani said.
She pleaded with him to stay at home, but after three days, Abdel-Meguid left to Marib to join his brother. From there, he went to the nearby province of al-Jawf for training in al-Qaida camps, al-Hassani said.
Bandar was killed by a drone strike in Marib on Jan. 20, 2013. The next day, a strike in al-Jawf killed Abdel-Meguid. Security officials confirmed the circumstances of their deaths to the AP.
Al-Hassani saw her brother Abdullah once before his death, in 2012.
She and her mother drove 19 hours to visit him in a village near al-Jaar, one of the southern cities that al-Qaida took over. Abdullah was there helping treat wounded fighters.
She was there for two days, and most of it she spent arguing with her brother. Abdullah tried to recruit her, offering her fellow fighters to marry so she could become a "mujaheda," meaning she would cook and clean for the fighters. She argued back that al-Qaida defames Islam, that its fighters cut off the hands of thieves and execute people without really knowing if they are guilty.
Abdullah tried to convince her of the beauty of jihad. He told her fighters smile when they die, knowing they are entering paradise — militant videos and photos often show the corpses of martyrs with blissful smiles on their face.
"I just get depressed when I see their videos," Abeer said.
It was their first meeting in three years — but it was a cold one. Abdullah scolded her for not wearing gloves and for not covering her eyes with a mesh.
"Every time I tried to give him a big hug, he would move away," she said. "It was like he disapproved of me and what I stood for."
Less than a week after they returned to Sanaa, Abdullah was killed in fighting with security forces.
http://www.charlotteobserver.com/2014/02/21/4712967/in-yemen-a-womans-life-entangled.html#.UwfkfGJdUqM#storylink=cpy
-------------
Saudi Women Protest at 'Law' Prohibiting Doctor Appointments without Male Guardian
Feb 21, 2014
Saudi women have contested an edict that prevents female patients visiting a male doctor, without being accompanied by a male guardian.
The Commission for the Promotion of Virtue and the Prevention of Vice, the government bureaucracy enforcing Sharia law in the Islamic nation - informally known as Haia - has officially prevented women from going to a hospital appointment alone.
A member of the Council of Senior Scholars issued the fatwa, which has been met with criticism by several Saudi women.
Qais al-Mubarak, a member of the Council of Senior Scholars, said: "Islamic law does not permit women to visit their doctors without male guardians. Women are prohibited from exposing body parts to male doctors in Islamic law, especially during childbirth.
He added: "This does not include medical emergencies. Islamic jurisprudence makes exceptions. Unaccompanied visits to male doctors can have negative implications,""
Many women have opposed the move, saying their male relatives are not always available to accompany them. Male guardians can only be next of kin, which include sons, grandsons, husbands, brothers, fathers or uncles.
According to Arab News, Haia members recently issued orders to employees working at a nutrition centre to not admit female patients unless a guardian was present.
Muneera Dawood commented: "This is going to be a huge burden for us. Many of us don't have male guardians. Those of us who do, can't depend on them, as they have work and travel commitments.
She added: "Does this mean that I have to wait for my husband to be free to go on my weekly checkup? This is a serious matter. Going to the doctor is not a luxury like going to the hair salon."
Women have demanded that the authorities hire female doctors for gynaecological issues and ultrasounds, rather than impose the ban.
Hina Ashrad told Arab News: "The Haia should order hospitals to hire female doctors, especially for ultrasound procedures and MRIs, because even if a male guardian accompanies her, the doctor will not let him into the examination room.
She added: "So what's the point of imposing this restriction? Instead, the Haia should emphasise the hiring of more female doctors."
Huda Abdulaziz commented that a good education and upbringing would be more beneficial in addressing the "negative implications" of unaccompanied visits.
She said: "Does it mean that now a woman visiting a shop or going in a taxi will need a male guardian? What about male drivers? Will a woman need a male guardian if she were to go out of her house?"
http://www.ibtimes.co.uk/saudi-arabia-women-protest-law-prohibiting-doctor-appointments-without-male-guardian-1437234
-------------
A First Step Toward Ending Somalia's Rape Epidemic
Feb 21, 2014
Mogadishu—Fadumo, a Somali journalist, finally spoke to the media about being raped after her calls to the authorities fell on deaf ears.
She said she had been raped by two other journalists several months earlier. Two days after her interview was broadcast, police hauled her in for questioning. Three weeks later, a judge convicted her of defamation—based on a complaint filed by the alleged perpetrators—and sentenced her to six months of house arrest. When I spoke to her in Somalia's capital Mogadishu, she told me: "The most important thing for me now is to have my life back."
In late 2012 a new government came to power in Somalia. Shortly after taking up office the new President, Hassan Sheikh Mohamud, committed to tackling the country's rampant sexual violence and to carry out essential security sector and justice reforms.
Despite these commitments, Fadumo's case is one of three high-profile Somali incidents of sexual violence Human Rights Watch documented in 2013 in which state security forces intimidated and sought to discredit women who reported rape.
In two of the cases, the new Somali government prosecuted the women reporting the rape.
In February 2013, an internally displaced woman, who said she was raped by government forces, and the journalist who interviewed her were prosecuted and convicted of tarnishing state institutions. They were eventually acquitted—after the journalist served 66 days in Mogadishu central prison. In August, another woman said that Somali soldiers abducted her and handed her over to African Union soldiers who raped her. A joint Somali and African Union mission high-level task force established to investigate the incident never published their findings or took any specific action. During the investigation, government intelligence agents intimidated and threatened the survivor and the service provider who offered medical support and a safe haven.
These three women's lives were devastated, first by the rape, and then by the persecution they faced for speaking out.
Human Rights Watch's new report, "'Here, Rape is Normal,' documents the ongoing crisis of rape in Mogadishu, particularly for internally displaced women and girls. We explain that the government can and should tackle Somalia's epidemic of sexual violence by improving the security of vulnerable populations and ensuring survivors have access to medical assistance and judicial redress.
Somalia's new government clearly faces daunting challenges given the scope of abuse and the extensive measures needed to address it. Many of the recommendations will take significant time and resources to implement. But preventing retaliation against victims who dare to speak out or against health service providers who are valiantly offering basic critical support is a crucial cost-free measure. It only requires the political will to make it happen.
Foreign Secretary William Hague welcomed the release of our report on Twitter, and said the FCO was looking at stepping up support for vulnerable groups. Given the UK's role as a key donor to Somalia and the Foreign Secretary's personal commitment to tackling conflict-related sexual violence, it should take the lead in pressing their Somali counterparts to make sure that the mistakes of 2013 are not repeated. In Mogadishu, a range of key government officials including ministers in the new cabinet pledged to act. Police officials committed to deploying competent police to the capital's unprotected internally displaced people's camps. Members of the government's new ministry for human rights agreed their draft policy on gender equality needed to prioritize sexual violence. This is a sign of some progress. During a massive influx of internally displaced persons into Mogadishu during the 2011 famine in which there were increased reports of rape, the Somali authorities did little but deny the problem.
Despite these positive responses, we must ask, if the authorities were once again faced with a highly publicized or politicized case, would they react any differently? Would they focus on investigating the claims—or would the priority once again be on protecting the image of the state and silencing the victim?
During our meetings in Mogadishu we repeatedly heard the same refrain, "we will investigate credible allegations but seek to prevent false ones." Given the huge obstacles and real dangers faced by women reporting rape, the government should not adopt the mindset that they are being bombarded with false rape claims.
Instead they should recognize the urgent need to build up strong and independent institutions capable of preventing rape and supporting victims.
Fadumo will never be able to return to her previous life, given both the physical and psychological impact of the rape and the stigma of her conviction. However, if the government works to establish an enabling environment for women to come forward about rape, allows all claims to be promptly investigated, and ensures that service providers working with victims of sexual violence are able to do their work, free of harassment, other women and girls in Somalia may yet escape Fadumo's fate.
http://www.trust.org/item/20140220001749-hvn6s/?source=hppartner
-------------
For Syrian Refugees, Early Marriages End Early
Feb 21, 2014
ZAATARI REFUGEE CAMP, Jordan (WOMENSENEWS)--Samir Abu Mohammed approved of the marriage of his daughter in Zaatari refugee camp, the largest refugee camp here in Jordan, last year.
His daughter is 16 years old and her now ex-husband, also a Syrian refugee, is 22.
But after about two months, the bride's father pushed for the young couple to separate. "Her husband was tightfisted and barely fed her so we pushed for their separation," he told Women's eNews. The decision was taken jointly with his wife but his daughter had little say in the matter.
"She was becoming skins and bones, it was the right decision," said his wife Umm Mohammed.
This family comes from the Syrian province of Daraa, cradle of the 2011 uprising that was brutally repressed by Syrian President Bashar al-Assad's regime, leading part of the population to take up arms and dragging the country into a messy, bloody conflict.
Early marriage was not uncommon in Syria before the crisis, with UNICEF estimating that 3 percent of Syrian girls were married by age 15 and 13 percent by age 18, although the practice may be more prevalent in rural communities such as the southern province of Daraa, where tribal traditions run strong.
However, displacement has had an impact on how early marriage is practiced by the Syrian community. Many aid workers and Syrian refugees report larger age gaps between the spouses than would have been considered acceptable back home.
In some places, the problem of early marriage is leading to the issue of early divorce, said Noor Al-Hussein, a Syrian working with women and girls in the refugee camp. "Marriage under 18 is a problem, especially here in Zaatari, because girls are getting married and divorced within two months."
As families become scattered and fragmented by refugee life, girls from regions where early marriage is practiced are marrying more often outside the community, instead of with relatives or neighbors.
Observers such as Al-Hussein say this erodes the traditional social supports and customs that have helped teen newlyweds weather conflict. Some of these divorces may leave ex-wives particularly vulnerable due to the questionable legal standing of the marriages.
In 2002 Jordan amended its Personal Status Law to raise the legal age of marriage to 18 from 15. The amendment still allows exceptions for the marriage of teens between the ages of 15 and 18 if the judge considers that this would "benefit both spouses."
Informal Marriages
Syrian refugees, however, often lack the means or documents to formally register any of their marriages, exceptional or not. Those in Zaatari camp, for instance, go to the Sharia Court of the nearest town, Mafraq, which requires a special escort to leave the camp and costs about $42.
Instead, many turn to religious leaders and village elders, or sheikhs, in the community even though the contract they generate is not recognized by either Jordanian or Syrian authorities and makes Syrian women and girls, and their children, particularly vulnerable in case of divorce or separation.
Children born out of such unofficial marriage arrangements risk statelessness.
"The people who carried out marriage contracts inside the camp are not appointed or legitimate authorities recognized by the embassies of their country; they bear responsibility for the consequences," said Issam Arabiya, head of the Council of Sharia judges in Jordan.
Arabiya added: "The fear is that in the future there will be issues. The most important issue is proving the marriage, which requires formal documents. What if the husband denies they were married or refuses to pay her dowry? She will have no rights."
A judge was appointed to officiate marriages in Zaatari to help address the problem last year but had not assumed his functions as of February. Local sheikhs approached by Women's eNews denied filling the role in the community, but refugee families showed marriage contracts made by sheikhs in the camp.
Jordanian laws regarding divorce and custody of minor children are adjudicated in religious courts. If the marriage partners are Muslim, disputes will be resolved before a Sharia court judge who will apply principles of Islamic law. Christians turn to an ecclesiastical court.
In order to divorce – a process that takes between six to 12 months in Jordan – couples must have married following the official procedures of a religious court, otherwise the couple faces a monetary fine as high as 1,000 dinar (about 1,400 U.S. dollars).
Complicating the issue are differences in Jordanian and Syrian legislation. In Syria the legal age for marriage is 17 for girls and 18 for boys. Religious leaders, however, can authorize exceptions and approve a union at the age of 13 for girls and 16 for boys. There are no penalties in Syria for marriages conducted below the legal age of consent.
"The monthly average of early marriages conducted in Jordan – for Jordanians, Syrians and other nationalities – ranges from 80 to 120," said Karen Whiting, a protection officer at the U.N. High Commissioner for Refugees (UNHCR), in an email interview with Women's eNews.
A 'Forced Marriage'
Whiting noted that child or early marriage is considered a "form of forced marriage as girls are not legally competent to agree to such a union."
Consequences of early marriage, she said, can include an increased likelihood of domestic violence and sexual abuse, education opportunities cut short, social isolation and reproductive health issues such as complications during childbirth due to physiological immaturity.
There are efforts to curb the practice. UNHCR and UNICEF have established a special task force to tackle early marriage in Zaatari and the International Rescue Committee has developed, in collaboration with Syrian women living in the camp, an animated video campaign on the risks of early marriage.
One video portrays a girl excited to be married and leave school but she soon learns that she lacks basic household skills, such as making coffee, considered necessary to please her new husband. Inevitably the story ends in divorce.
Such messages resonate strongly with the experience of Alia. A native of Golan Heights in her early 20s, Alia, whose name is being withheld to protect her safety, recalls being married at age 15 in Syria.
It was a short-lived experience, as she was engaged for two months to a relative and divorced after only two months of marriage. But the experience has marked her for life and now informs the social work she carries out with Syrian refugees in north Jordan.
I wish families who have young girls wouldn't marry them," she told Women's eNews. "Even if the girl is happy for the first year or two, a day will come when they will regret having married early. What I felt, I wish no one would go through, especially because our society has no mercy."
Her history as a child bride is one she has kept largely secret. She never shared this information with colleagues for fear they would see her in a negative light – as a fallen women or a disgraced divorcee – even though her peers are likeminded and working on social issues.
The worst feeling in the world is feeling like a victim. Even if you can adapt to your situation, people around you will make you feel pressured because of their thoughts, their convictions, even if they are wrong, they will judge you," she said, overcome by tears.
This story was produced by Women's eNews' three-person multi-media team, led by Dominique Soguel. Videos were produced and translated by Hajer Naili and Touline Habake. This special project, Collateral Damage Syria: Women and Girls Fleeing Violence, was funded by a group of private donors and contributors to the Women's eNews Catapult online campaign.
Dominique Soguel is a multimedia journalist focused on the Middle East. She contributes and coordinates reports from the region for Women's eNews and manages its Arabic site. Soguel also works for Agence France-Presse.
http://womensenews.org/story/marriagedivorce/140218/syrian-refugees-early-marriages-end-early#.UwfadGJdUqN
-------------
Training course shows women how to build happy marriages
Feb 21, 2014
Saudi women planning to get married can take up a special course here on how to build happy homes for their families.
The course, "My Home My Haven," will be held at the 15th Saudi wedding exhibition under the patronage of Princess Modi bint Nasser bin Abdulaziz Al-Saud.
The Jeddah Chamber of Commerce and Industry (JCCI) and XS Conventions and Exhibition Company have organized the event at the Hilton Hotel in Jeddah on Feb. 23.
The Tarateeb Center for Training hopes to attract 1,000 Saudi women for its course, said Abeer Al-Hidan, the director of the organization.
The course includes how to build relationships with their husbands, Islamic values, etiquette, cooking, hospitality and Saudi culture. It would include lectures held by various experts.
"Our commitment is to provide training for women planning to get married because many face various problems once they tie the knot. They don't know how to build a family. We believe the family is the basic building block of the community," she said.
http://www.arabnews.com/news/528866
-------------
Women's Champions Cheer a Victory in Afghanistan
Feb 21, 2014
(WOMENSENEWS)--Activists and advocacy groups are welcoming Afghan President Hamid Karzai's decision earlier this week to withhold his signature from the draft of new criminal legislation, which contains an article banning relatives from testifying against each other that would have shielded perpetrators of domestic violence, forced marriage and child abuse.
"This is a big win for the Afghan civil society and it is a testimony that they have come a long way during the past 12 years," Hamid Arsalan, Afghan analyst at the National Endowment for Democracy, based in Washington, D.C., told Women's eNews in an email interview.
He said that by not signing article 26 of the new criminal prosecution code, Karzai has given women's activists a second chance to press their demands in parliament.
"The key change that the civil society demands for article 26 is that relatives of the victims of domestic violence be able to testify as witness in domestic violence cases," said Arsalan.
Article 26 also bars doctors and psychiatrists from providing evidence, which activists say would make it virtually impossible to get a conviction in most domestic cases of abuses.
Karzai yielded to pressure from activists and western governments and ordered changes to the brief section of the law that had caused the outcry, The Guardian reported Feb. 17.
Manizha Naderi, executive director of Women for Afghan Women, a human rights organization based in Queens, N.Y., said she is "thrilled" to see the text go back to the Ministry of Justice for revision.
"Now we are going to be very attentive to what is going to happen and we are going to work with the Ministry of Justice to give them our recommendations on what should be in that article," Naderi told Women's eNews in a phone interview.
Naderi said that family members should be able to testify against each other and "say something."
Aimal Faizi, Karzai's spokesperson, said in a Feb.17 post on Twitter that the new "Afghan criminal prosecution code won't come into force unless new amendments are made."
"This law will not bar any relative or any family member to testify against each other or another member of their family," Faizi told the Associated Press. "It will be up to them. They will have the freedom."
Decision Applauded
Karzai's decision set off a torrent of plaudits on Twitter from groups including Women Living Under Muslim Laws and Fariba Nawa, an Afghan journalist and also a contributor for Women's eNews.
Reports of violence against women increased by 28 percent from October 2012 through September 2013, found a December report released by the United Nations.
In a few months, Karzai will be leaving office as he won't be able to run for reelection in April 2014.
"I hope in the remaining months of his term, the president will live up to the precedent he first set in 2009 when he approved the Elimination of Violence Against Women law and take action to fully and effectively implement the law and block any additional attempts to weaken it," Julia Drost, policy and advocacy associate for Amnesty International USA's women's human rights program, said in an email interview.
She also urges the country's Ministry of Justice, which is in charge of making the revisions, to "take measurable steps to eradicate discrimination against women and ensure that survivors of domestic violence, rape and other violent crimes have a clear path to justice."
Hajer Naili is a New York-based reporter for Women's eNews. She has worked for several radio stations and publications in France and North Africa and specializes in Middle East and North Africa women in Islam.
http://womensenews.org/story/domestic-violence/140219/womens-champions-cheer-victory-in-afghanistan#.Uwfd3WJdUqM
-------------
War-hit Syrian children offered all-out support
Feb 21, 2014
Saudi Arabia will hold a day of solidarity on Tuesday Feb. 25 to help raise funds and improve international humanitarian aid for Syrian children living in abject conditions because of the civil war in their country.
Custodian of the Two Holy Mosques King Abdullah has given instructions for the organization of the event. "The solidarity day has been declared by the king in response to the worsening conditions of thousands of Syrian children," said Interior Minister Prince Mohammed bin Naif.
He said the day would be used to support local and international efforts to save children inside and outside Syria.
Saudis and expatriates have applauded the royal gesture.
Mohammed Badahdah, assistant secretary-general of the World Assembly of Muslim Youth, described the Syrian crisis as an unprecedented human tragedy and urged all Saudis and expatriates to support the drive financially.
Grand Mufti Sheikh Abdul Aziz Al-Asheikh on Wednesday urged Saudi businesspeople and philanthropists to donate generously. He said this was the only authorized manner to receive donations for Syrians. The Interior Ministry has banned other parties from collecting donations, fearing the money would end up in the wrong hands.
Prince Mohammed, who is supervisor of the national campaign, said the event would be held at the King Fahd Cultural Center in Riyadh at 7 p.m. on Tuesday.
Top personalities including princes, ministers, businesspeople and representatives of international organizations would attend, he said. Dr. Saed Al-Arabi Al-Harthi, adviser to Prince Mohammed and head of the campaign, said the king's gesture was aimed providing all forms of assistance to the Syrians. "This is a continuation of the Kingdom's humanitarian and relief efforts for the Syrians. It gives an opportunity for Saudis to express their solidarity with Syrian children."
He said the campaign committee has already established contacts with banks, major companies, businessmen and businesswomen and charitable organizations to provide moral and material assistance to the Syrians.
Al-Harthi said the campaign would accept donations from the public in cash and kind and people can deposit their donations in the NCB account No. SA 231 00000 201 88888 000100. Donations in kind would be accepted at the campaign's warehouses in Riyadh, Jeddah and Dammam, Qassim and the Northern Border Province. People can also announce their donations by phone through a joint No. 5565 of telecom companies.
The Saudi campaign has been extending assistance to Syrian refugees in Jordan, Turkey and Lebanon where it has opened regional offices to distribute relief supplies. "We have been providing shelters, foodstuff and medical assistance to the refugees," Al-Harthi said. The relief supplies were distributed among the refugees inside and outside Syria with the support of international organizations.
http://www.arabnews.com/news/528966
-------------
Saudi businesswoman to open city's first cooking academy
Feb 21, 2014
A young Saudi businesswoman is preparing to launch the city's first cooking academy to teach people how to produce local and international dishes.
Fatima Qadi said she plans to establish the academy on a 400-sqm area in Jeddah at the beginning of 2016 with 80 girls and women. She is now preparing a feasibility study with the help of a local company.
Qadi started her career four years ago with a cupcake shop called "Sweet and Savory" and soon got the support of her husband because of its success. She wants to teach single and married women how to cook various dishes.
She acknowledged that there have been many difficulties in her career so far but this was outweighed by the "joy and accomplishment when you find solutions to these problems."
"This is not only about making money, but also seeing the satisfaction on customers' faces. I give them the same products that my children eat," she said.
http://www.arabnews.com/news/528861
-------------
URL: https://newageislam.com/islam-women-feminism/khula-divorces-rise-jeddah-riyadh/d/35869