New Age Islam News Bureau
15 Sept 2015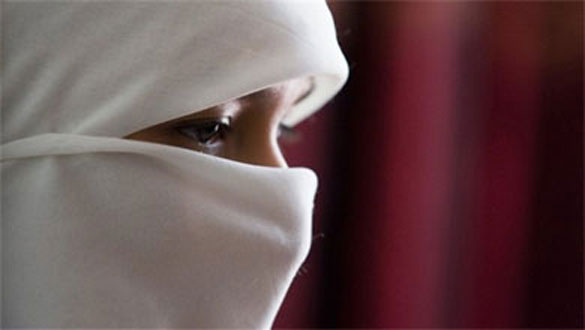 The Niqab case started two years ago when a devout Muslim woman who agreed to remove her face covering for an official before writing and passing her citizenship test then objected to unveiling in public at the oath-taking ceremony. (Luc Lavigne/Radio-Canada)
---------
• Canada Wants Muslim Women to Take Off Their Face Coverings for Citizenship Oath
• Meet the Brave Pakistani Woman Working To End Honour Killings in Her Village
• Aqeela Asifi, Teacher Who Educated Afghan Refugee Girls Wins UN Prize
• Riffat, a Pakistani Gypsy Girl, Inspires Cross-Border Film
• If Bangla Women Tour Is On, Pakistan Players Will Play In BPL
• Women Cyclists Push Cultural Barriers In Afghanistan – Trailer
Compiled by New Age Islam News Bureau
URL: https://www.newageislam.com/islam,-women-and-feminism/new-age-islam-news-bureau/khost's-tani-tribe-of-afghanistan-imposes-ban-on-giving-girl-as-'compensation'/d/104587
---------
Khost's Tani Tribe of Afghanistan Imposes Ban on Giving Girl As 'Compensation'
By ZABIHULLAH MOOSAKHAIL
Sep 15 2015
The Tani tribe in Khost province has imposed a ban on giving girl as 'Compensation'.
Several elders of this tribe, community representatives and religious scholars convened a meeting in Khost province yesterday where they collectively agreed on fighting the phenomena.
Mawlawi Mir Alam Khan, a religious scholar said in the meeting that giving girl as compensation for somebody else's crime is against the principals of Islam and those committing this crime is violating women's rights.
The participants of the meeting said that their tribe is no more allowed to give girl as compensation and those not abiding by the ruling would not be able to participate in tribal gatherings, weddings and funerals.
The participant of the meeting also issued ruling that no one in their tribe is allowed to received more than 300,000 (AFG) as Mahr 'Dowry' and that they should reduce the wedding costs as well.
Dowry in this tribe was as high as 1,000,000 (AFG) which the working and middle class people were unable to pay.
They would choose to go abroad and spend several years to make this money in order to get married.
http://www.khaama.com/khosts-tani-tribe-imposes-ban-on-giving-girl-as-compensation-3910
---------
Canada Wants Muslim Women to Take Off Their Face Coverings for Citizenship Oath
By Rachel Browne
September 15, 2015
The showdown over Canada's ban on face-coverings during citizenship ceremonies takes center stage in an Ottawa courtroom tomorrow, for a case that has reignited a national debate about multiculturalism and religious freedom in the country.
Last February, the Federal Court of Canada sided with Zunera Ishaq, a Pakistani Muslim woman who sued Canada's immigration ministry over a policy that requires new Canadians remove their face-covering veils — also known as a niqab — while taking their oath of citizenship. The 29-year-old says the niqab ban violates her religious belief that her face and hair must remain covered in the presence of men.
In its ruling, the court deemed the ban "unlawful" — a decision that was met with swift condemnation from the Conservative government. And now, lawyers for Citizenship and Immigration Canada will fight to have its ban upheld by the Court of Appeal.
Prime Minister Stephen Harper has already said that covering one's face while taking the oath required to become a Canadian citizen is "not how we do things here."
"It is offensive that someone would hide their identity at the very moment where they are committing to join the Canadian family," he said earlier this year.
In its factum filed with the court, government lawyers defend the niqab ban, writing that the ministry's guidelines for citizenship ceremonies protect Canada's multicultural values.
The factum lists a number of situations in which it says Ishaq, who has been a permanent resident in Canada since 2008, has lifted her veil in public, including to have her driver's license and health card photo taken, as well as for her citizenship interview and airport screenings. It adds that Ishaq has refused their offer to conduct the oath in a section of the room where she would "not generally be seen by other participants during the very brief period of time when the oath was being recited."
But this does not ensure that she would be lifting her veil in private, away from men.
Immigration Minister Chris Alexander told VICE News this spring that if someone wants to become a Canadian, they have to be seen and heard taking the oath. "When you become a citizen, you don't get to dictate the rules. The rules apply equally to everyone...You don't get to come to Canada and decide the rules don't apply to you," he said.
In an op-ed Ishaq wrote for the Toronto Star in March, she says "I have taken my niqab off for security and identity reasons in every case where that's been required of me," such as taking a driver's license photo or going through airport security.
"I will take my niqab off again before the oath ceremony without protest so I can be properly identified. I will not take my niqab off at that same ceremony for the sole reason that someone else doesn't like it, even if that person happens to be Stephen Harper," she wrote.
Ishaq has also found a strong ally in the government of Ontario, which filed its own factum supporting her position to the court of appeal last week. It argues that requiring a Muslim woman to take off her Niqab in order for her to take her citizenship oath "fails to respect and accommodate the diversity of religious beliefs and sociocultural backgrounds of Canadians."
Last week, it was revealed that another Muslim woman has also been fighting the government's niqab policy. Maiia Mykolayivna Zaafrane, of Montreal, filed a complaint to the Canadian Human Rights Commission in April 2014 against Citizenship and Immigration Canada, alleging that its niqab ban was discriminatory and violates the Canadian Human Rights Act. If the commission's tribunal agrees with her, she could receive compensation.
In June, the day the House of Commons broke for summer break, Canada's federal minister of state for multiculturalism tabled new legislation that would require someone to uncover their face when taking the oath of Canadian citizenship.
A poll conducted in March found that most Canadians agree with the Conservatives that women should not wear their Niqabs while taking their citizenship oaths.
https://news.vice.com/article/canada-wants-muslim-women-to-take-off-their-face-coverings-for-citizenship-oath
---------
Meet the brave Pakistani woman working to end honour killings in her village
September 15, 2015
LAHORE (Staff Report) – Khalida Brohi, a girl from a small village in Balochistan, is the founder and executive director of the Sughar Empowerment Society, a nonprofit social enterprise in Pakistan dedicated towards providing tribal and rural women opportunities to grow their skills as well as learn leadership skills in an environment of growth and development.
Through Sughar, Brohi's aim over the next 10 years is to change the lives of one million women in Pakistan.
The courageous woman has been named in Newsweek magazine's 25 under 25; awarded the "Woman of Impact Award" by the Women in the World Foundation, Women Excellence Award by national Government of Pakistan; the Young Champion Award from the University of Singapore; and the Unreasonable Institute Fellowship Award. Brohi has addressed numerous global forums, and has received recognition from Oprah Winfrey, CNN correspondent Christiane Amanpour, and the former American President Bill Clinton.
http://en.dailypakistan.com.pk/pakistan/meet-the-brave-pakistani-woman-working-to-end-honour-killing-in-her-village-920/
---------
Aqeela Asifi, Teacher Who Educated Afghan Refugee Girls Wins UN Prize
15 September 2015
GENEVA, Sep 15 (UNHCR) – Afghan refugee teacher Aqeela Asifi, who has dedicated her life to bringing education to refugee girls in Pakistan, has won the 2015 UNHCR Nansen Refugee Award.
Aqeela Asifi, 49, is being recognised for her brave and tireless dedication to education for Afghan refugee girls in the Kot Chandana refugee village in Mianwali, Pakistan – while herself overcoming the struggles of life in exile. Despite minimal resources and significant cultural challenges, Asifi has guided a thousand refugee girls through their primary education.
Afghanistan is the largest, most protracted refugee crisis in the world. Over 2.6 million Afghans currently live in exile and over half of them are children. Access to education is vital for successful repatriation, resettlement or local integration for refugees. Yet globally it's estimated that only one in every two refugee children are able to go to primary school and only one in four attend secondary school. And for Afghan refugees in Pakistan this falls further, with approximately 80 per cent of children currently out of school.
UN High Commissioner for Refugees, António Guterres paid tribute to the efforts of the winner of the global humanitarian award: "Access to quality and safe education helps children grow into adults who go on to secure jobs, start businesses and help build their communities – and it makes them less vulnerable to exploitation and abuse. Investing in refugee education will allow children to play a part in breaking the cycle of instability and conflict. People like Aqeela Asifi understand that today's refugee children will determine the future of their countries, and the future of our world."
UNHCR has released a contextual report Breaking the cycle: Education and the future for Afghan refugees, to coincide with today's announcement. The report outlines the challenges that children, especially refugee girls, face in accessing education in Pakistan.
Asifi is a former teacher who fled from Kabul with her family in 1992, finding safety in the remote refugee settlement of Kot Chandana. Asifi was dismayed by the lack of schooling for girls there. Before she arrived, strict cultural traditions kept most girls at home. But she was determined to give these girls a chance to learn. Slowly but surely she convinced the community, and began teaching just a handful of pupils in a makeshift school tent. She copied out worksheets for the students by hand on sheets of paper. Today the tent school is a distant memory and over a thousand children are attending permanent schools in the village thanks to her early example.
She believes that instilling a belief in the power of education for girls in this generation will transform the opportunities of the next. "When you have mothers who are educated, you will almost certainly have future generations who are educated," she said. "So if you educate girls, you educate generations. I wish for the day when people will remember Afghanistan, not for war, but for its standard of education."
"Access to education is a basic human right. Yet for millions of refugee children it is a lifeline to a better future which they have been heartbreakingly denied," said UNHCR Goodwill Ambassador, Khaled Hosseini.
"I have met many young refugees who have been torn from everything that makes them feel safe: their homes, their families, their friends and their schools. Investing in their education is an investment in their future, giving them hope and the chance to one day be a part of rebuilding their broken home countries.
"UNHCR is working to give all refugee children the chance to go to school. Aqeela Asifi has shown us all that with courage change can happen. We must continue her fight."
Since the fall of the Taliban in 2001 5.7 million Afghans have returned home, yet insecurity still remains. UNHCR has embarked on a strategy to assist remaining Afghan refugees to return home and a key element of this is ensuring they can access quality education. A ministerial level meeting in early October in Geneva will seek to advance this strategy with key regional partners.
UNHCR's Nansen Refugee Award honours extraordinary service to the forcibly displaced, and names Eleanor Roosevelt, Graça Machel and Luciano Pavarotti among its laureates. The 2015 ceremony will be held on 5 October in Geneva, Switzerland. Speakers and performers at the event will include UNHCR Honorary Lifetime Goodwill Ambassador Barbara Hendricks, UNHCR Goodwill Ambassador Ger Duany, Unicef Goodwill Ambassador and singer Angelique Kidjo and visual artist Cedric Cassimo.
For further information or interview requests :
For media inquiries concerning the 2015 Aqeela Asifi please contact:
Leona Everitt at everittl@unhcr.org
For inquiries concerning the Afghan refugee situation in general please contact:
Andy Needham at Needham@unhcr.org
For inquiries regarding Afghan refugees in Pakistan please contact:
Duniya Aslam Khan at khand@unhcr.org
For inquiries concerning the Nansen Refugee Award and ceremony please contact:
Leigh Foster at foster@unhcr.org
A special report "Breaking the Cycle: Education and the Future of Afghan Refugees" is being released to coincide with the announcement. It can be downloaded from: http://www.unhcr.org/nansen15media
A multimedia package including case studies, photographs, B roll and further information can be accessed here: http://www.unhcr.org/nansen15media
About UNHCR's Nansen Refugee Award:
UNHCR's Nansen Refugee Award recognizes extraordinary humanitarian work on behalf of refugees, internally displaced or stateless people. The award includes a commemorative medal and a US$100,000 monetary prize. In close consultation with UNHCR, the laureate uses the monetary prize to fund a project that complements their existing work.
Nominations are now open for the 2016 Award.
About UNHCR:
The United Nations High Commissioner for Refugees (UNHCR), was established on December 14, 1950 by the United Nations General Assembly. UNHCR safeguards the rights and well-being of refugees and stateless people. In more than six decades, the agency has helped tens of millions of people restart their lives. UNHCR is on the front lines of the world's major humanitarian crises, including Syria, Iraq, Central African Republic, Afghanistan, South Sudan, Democratic Republic of the Congo, and countless other emergencies.
http://www.unhcr.org/55f2924f6.html
---------
Riffat, a Pakistani gypsy girl, inspires cross-border film
Sep 15, 2015
In a season of generals flexing muscles, ceasefire violations and rising tensions between India and Pakistan, the shooting of a celebratory film on the life of a young 'Pakhiwas' (gypsy) girl Riffat is going on at Kamalia - a small town in the Toba Tek Singh district in Pakistan Punjab province - from September 1.
The out-of-the-box civil society initiative led by Chandigarh-bred Shumita Didi, involving creative inputs from both sides, has been supported by crowd-funding. Artistes, writers, friends and well-wishers from both countries as well as the diaspora have come forward to chip in Rs 500 to Rs 10,000. It is a warm response beyond borders to this people-to-people initiative.
"On a visit to Harappa in June, I had a chance meeting with a group of 'Pakhiwasis'.I struck a special chord with young Riffat, who was about to get married, and her elder sister Shazia who sang lovely songs. I took their pictures and video clips which were appreciated by friends in India," says Shumita, who has been involved in the cross-border cultural activity through the group 'Sanjhe Rang Punjab De'.
Having completed her assignment of being an associate producer for Sudhir Mishra's film 'Aur Devdas', she was planning to return to Mumbai for more work when it struck her that she could document Riffat's wedding for 'Blue Owl Produktions' - a production house set up by her in collaboration with Pakistani poet and television producer Ikram Basra.
The chirpy Riffat had invited Shumita to her wedding in the third week of September. "I don't have parents. Why don't you come and be my 'ammi'(mother) at my wedding!" she told Shumita.
So instead of Mumbai, Shumita landed in Lahore where she roped in young filmmaker Danyal Rasheed, sound expert Shehryar Khan, consultant Amen Jaffar and others for the project. Their caravan moved to the lesser-known Kamalia town that can only boast of being the birthplace of Brijmohan Lall Munjal of the Hero Motocorp fame.
The crew came across the gypsies, who were staying in makeshift tents set up close to a canal. The shooting for a 40-minute documentary 'Riffat, the Pakhiwas Girl' started soon after.
Recounting his experience, Shehryar says: "When Danyal first approached me for the project, I had no clue about what course of action we would follow. However, my experience here was amazing and it left me creatively enriched."
Reportedly, there are around 10 million gypsies in Pakistan living a scattered life and are part of a vulnerable and disadvantaged group that is often the target of prejudice. "The film will focus on Riffat and her sister Shaziya who sings exceptionally well. Pakhiwas women as artisans play a major role in sustaining their families," says Shumita. "They are the poorest of the poor living a very hard life. The children are without education and the men folk is addicted to narcotics. Yet their zest for life is remarkable and this is aptly visible in their cheerful persona and celebratory songs. Theirs is a world within our world that needs to be probed," adds Danyal.
The final round of shooting will be held during the wedding on September 19. "I had around Rs 50,000 kept aside for a rent deposit that I pumped into the project. However, I soon realised that a modest trousseau of string cots, utensils and some clothes along with a meal for 50 persons alone would cost that much. Money was also required for renting a car, buying fuel, memory cards, batteries and many other things. I sent out messages and contributions started pouring in. So far we have collected nearly $1,900," says Shumita. A sack of rice and a pair of silver ear-rings have also been gifted to us, she adds.
And what does Riffat have to say about the buzz around her? "She is ecstatic. She tells me that when I first clicked her picture at Harappa she knew I was up to something. She also introduces me as her 'ammi' from India," says Shumita.
http://www.hindustantimes.com/chandigarh/chirpy-riffat-a-pak-gypsy-girl-inspires-cross-border-film/article1-1390431.aspx
---------
If Bangla women tour is on, Pakistan players will play in BPL
September 15, 2015
Karachi: The Pakistan cricket authorities are employing the wait and watch policy with the Bangladesh Cricket Board as they would only allow its players to play in Bangladesh Premier League if BCB sends its women's team for the scheduled tour of Pakistan. Reliable sources in the PCB told PTI that the board has yet not taken a policy decision on whether to allow its players to sign up for teams in the BPL.
"The board wants to see first whether the Bangladesh board sends its national women's team to Pakistan later this month or in October," a source said.
A high-level security delegation of the Bangladesh board recently visited Karachi and Lahore to inspect the security and other arrangements for the planned tour by their women?s team.
The Bangladesh board is yet to give confirmation if they have accepted invitation of the PCB to send their women's team. Relations between Pakistan and Bangladesh boards have not been very cordial since the last three years the origin of the dispute being the failure of the BCB to send its national team to Pakistan for a limited over series in 2012/13 when Zaka Ashraf was Chairman of the board.
The PCB didn't take kindly to the BCB refusing to send its team on security grounds after a MOU was signed between the two boards under which Pakistan agreed to support the nomination of Mustafa Kamal for the ICC President's post in return for Bangladesh sending its team.
http://zeenews.india.com/sports/cricket/if-bangla-women-tour-is-on-pakistan-players-will-play-in-bpl_1796840.html
---------
Women cyclists push cultural barriers in Afghanistan - trailer
September 15, 2015
A new documentary is due for release which follows the lives of women riding bicycles in Afghanistan, showing how they are challenging gender perceptions in the country.
The film, which is still being recorded, first began shooting in 2013. It profiles three Afghanistan-based cycling teams based in the mountainous province of Bamiyan and in Kabul. This includes the Afghani national team which is striving to compete more greatly on the international stage.
The film's trailer was released on August 30 and it shows several women and girls talking about their cycling.
One woman, who speaks with her face hidden, says Afghanistan can be a dangerous place for women.
"The condition for girls in Afghanistan is full of fear. We know people are watching us from behind our backs and it is horrifying," she says.
The full-length documentary titled Afghan Cycles is expected to come out in 2016.
Sarah Menzies, founder and director of production company LET MEDIA, said the women ride for the love of riding and in doing so challenge gender barriers.
One myth female cyclists have to combat is the idea that riding bicycles make women less fertile, she added.
LET MEDIA is working to raise $50,000 to fund a trip to Afghanistan for one last shoot in the Autumn. The hope is to enter the film for international film festivals once it is eventually completed, Menzies said.
http://www.timesofmalta.com/articles/view/20150915/odd-news/women-cyclists-push-cultural-barriers-in-afghanistan-trailer.584450
---------
URL: https://www.newageislam.com/islam,-women-and-feminism/new-age-islam-news-bureau/khost's-tani-tribe-of-afghanistan-imposes-ban-on-giving-girl-as-'compensation'/d/104587