New Age Islam News Bureau
20 Aug 2017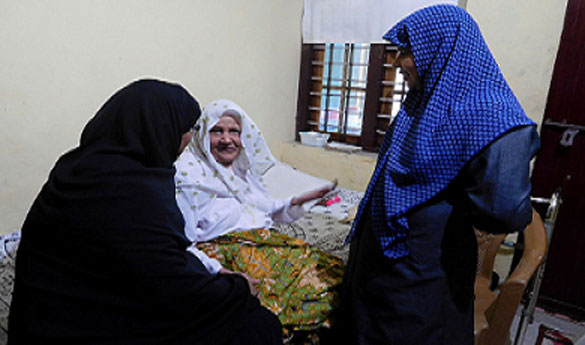 Mahal committee member Shakeela visits an elderly woman in Shanthapuram on Saturday. (Photo credit: TA Ameerudheen).
-------
• Girl Substantiates Willing Conversion to Islam by Reciting Kalma in Pakistan Court
• Remedy for Triple Talaq Lies with the Constitution
• Aafia Goes Without Mention on Humanitarian Day
• Montreal Opposes Law That Forces Muslim Women to Remove Burqas
• Islamic Girls' School Has a Lesson for All
Compiled by New Age Islam News Bureau
URL: https://www.newageislam.com/islam-women-feminism/keralas-muslim-women-turn-mosque/d/112260
---------
Kerala's Muslim Women Turn to Mosque Administration
Aug 20, 2017
Till recently, some of the theological debates among Kerala's Muslim community were centred on whether women were eligible to enter mosques and offer prayers. But with an increasing number of mosques permitting women to enter their premises, the debate has now shifted to the participation of women in mosque administration, which is considered to be a male bastion.
A few mosques in Kozhikode and Malappuram districts of the coastal state have taken the lead by electing women representatives in their decision-making bodies, prompting many others to follow suit.
The change started from Sivapuram village in Kozhikode, when three women members were inducted into the mosque's mahal committee in 2011.
The word mahal refers to the geographical area under the jurisdiction of a prominent mosque. The mahal committee deals with issues affecting the local Muslim community. It governs the functioning of the mosques under its jurisdiction, keeps a registry of the marriages solemnised in those mosques, ensures the dignified burial of the dead, finds amicable solutions to disputes and offers interest-free financial assistance to the needy, among many other things. The geographical area, population and number of mosques in a mahal vary from place to place.
In 2012, Shanthapuram in Malappuram district became the second mahal to elect women to its committee. Chennamangaloor in Kozhikode district was the latest to join the list when it elected three women to its committee in May. But with 16 women members, Shanthapuram has the maximum number of women representation among the three mahals in Kerala that have elected women to their committees.
Change descends
Located around 30 km southwest of Malappuram, Shanthapuram mahal is spread over 5 km in Keezhattoor and Vettathoor gram panchayats. Its headquarters are at Shanthapuram Juma Masjid. Of the 1,200 families in the area that falls under the mahal's jurisdiction, 950 are Muslim and the rest belong to the Hindu community. According to the latest enumeration by the mahal committee, the mahal has 5,400 Muslims above 18 years in its jurisdiction.
East Pallikkuthu Juma Masjid, Chungam Juma Masjid, Mullyakurissi Juma Masjid are the other three prominent mosques in this mahal. It is also home to Al Jamia Al Islamiya, a well-known Islamic education institution run by the Jamaat-e-Islami Hind, an Islamic organisation that enjoys considerable clout in Kerala.
"The Prophet exhorted women's participation in mosque-related activities. We are just following the teachings of the Prophet," said mahal committee member P Fathima, who works as an Arabic teacher at the Government Vocational Higher Secondary School in nearby Palakkad district. "It is time to move past the debate on the entry of women in mosques. In fact, it was a non-issue for us as we have been offering prayers at the mosque for many years."
Election process
The election to pick mahal representatives in Shanthapuram is a long long-drawn-out process that is held once in two years. It begins with the imam of the Shanthapuram mosque announcing the polling date three weeks in advance.
"It has many differences from the traditional elections," said mahal committee member Ishaq Ali, who is headmaster of the Panakkad Thangal Memorial Upper Primary School.
For instance, no one has to enter the fray or enter their nominations. All members of the community who live in the jurisdiction of the mosques in the Shanthapuram mahal are eligible to vote and become members.
The preliminary election is held in all the four mosques in the mahal on a specified day after Friday prayers.
"On election day, a sheet of paper with 20 rows is handed over to male and female devotees who attended Friday prayers," said Ali. "They have to write the names of 20 people, both men and women, whom they think will work hard for the development of the mosques. A total of 66 councillors, including 16 women, will be elected from this poll."
The election results are announced within few hours, after the votes are counted.
The second phase of the election is held after a few days with the councillors assembling at Shanthapuram mosque to elect the 26-member mahal committee, of which at least eight members must be women. "The committee will be elected by consensus," said Ali. The women representatives hail from different walks of lives – there are school teachers, madrasa teachers and home makers. The majority of them came to Shanthapuram after they got married.
'Pleasant surprise'
In April, Basheera, a resident of Shanthapuram, was elected as councillor. "My joy knew no bounds when I was picked to the mahal committee in the second phase a few weeks later," she said.
Basheera said that her election gave her the opportunity to serve the people in her locality.
The elected councillors regularly visit homes, interact with families, understand their problems and report it at the mahal committee meetings. "The committee then decides the remedial measures and I will implement it," she said.
'Democratic arguments'
On Saturday, seven of Shanthapuram mahal's women councillors assembled in a madrasa close to the Shanthapuram Juma Masjid. They discussed many topics, including gifts to be distributed among Hindu families in the local community during Onam, the biggest festival in Kerala, which will be celebrated on September 4, and preparations for the sacrifice of animals during the upcoming Eid al-Adha, on September 1.
"Though we focus on serving Muslim households, we never ignore our Hindu sisters," said Shakeela, one of the mahal committee members. "We distribute gifts to Hindu families during Onam. We also provide a monthly financial assistance of Rs 700 from the mahal fund to Hindu women who are living in distress."
Another mahal committee member, Muneera, dons many hats and almost works round the clock every day. She represents Mulliakurissi ward in the Keezhattor gram panchayat in Malappuram district. She is also the member of the panchayat's welfare standing committee.
"Men and women sit together and discuss the mahal issues at least once in a month," she said. "We engage in heated but democratic arguments with our male counterparts. We strongly argue for our cases to convince the committee."
Muneera described how she argued for the case of Kaliyamma, a Hindu widow in her locality, who is being given a monthly allowance of Rs 700 by the mahal committee after her husband died in 1998.
Muneera said that Kaliyamma's son lived elsewhere and never looked after her. However, after he returned home recently, a few committee members suggested that Kaliyamma's monthly allowance be stopped.
"No one knew Kaliyamma's condition better than me," said Muneera. "Though her son stayed with her, he never took care of her needs. So I argued to retain the allowance, and the committee obliged."
She added: "The committee wouldn't know her fate if it comprised of only male members."
Mahal committee general secretary MT Kunhalavi agreed. "Women members help us understand the ground realities better," he said.
On the other hand, many women members say that their election to mosque committees has helped in their personal development. "I was a bit shy to interact with others before being elected to the committee," said Shakeela. "But this position helped me shed my inhibitions. It has boosted my confidence levels."
As she walked to visit the home of a woman who is suffering from age-related ailments, Shakeela said that Muslim women in Shanthapuram have showed others how to utilise the services of men and women in religious affairs. "I hope others will take a cue from it," she said.
scroll.in/article/847163/breaking-barriers-keralas-muslim-women-turn-to-mosque-administration
--------
Girl Substantiates Willing Conversion to Islam by Reciting Kalma in Pakistan Court
by Haider Ali Sindhu
August 19, 2017
ISLAMABAD – A 'Hindu' girl whose family claimed that she was kidnapped, forced into marriage with a Muslim man and forcibly converted to Islam recited the Kalma in court room to prove to her family that she had willingly converted to Islam.
Twenty-one year old Maria, while appearing before Justice Shaukat Aziz Siddiqui of the Islamabad High Court contended that she had converted to Islam of her own volition and no one compelled her to do so.
At this moment, an uncle of the girl named Kishan Lal requested the court to keep her in Darul Aman and a meeting between the girl and her parents should be arranged before recording her statement.
While referring to the minority status of Hindus in Pakistan, he said that thousands of Hindus were living in Pakistan; their girls were being kidnapped and converted to Islam which is "injustice" and should be redressed.
"We are also Pakistanis, we should also be provided justice," he said.
To this, Justice Siddiqui remarked that all the citizens belonging to any religion were equal before the law.
He, however, inquired 'when will Karo-Kari end' adding that a girl should not be killed just because she has accepted Islam and exercised her free will to marry.
On the request for a meeting with parents, Justice Siddiqui directed to arrange a meeting between the girl and her parents on the next date of hearing – August 25 and ordered police protection for the couple till then.
In the previous hearing, the court directed the Islamabad's Inspector General of Police to provide protection to a couple marrying of their free will, keep them at some secure place and produce them before the court with police escort on August 18.
Justice Siddiqui also issued a notice to the secretary Ministry of Interior with directions to depute a responsible officer to appear before court and explain the arrangements that could be made to protect the lives of the couple.
In compliance, a deputy secretary of MoI appeared before the court whom the court directed to contact IG Sindh and home secretary and convey court's directions.
en.dailypakistan.com.pk/pakistan/girl-substantiates-wilful-conversion-to-islam-by-reciting-kalma-in-court/
--------
Remedy for Triple Talaq Lies with the Constitution
Aug 20, 2017
A two-day conference highlighted the challenges faced by Muslim women in their battle for rights as equal citizens, called for 'gender-just law'.
The Constitution alone can give Muslim women their rights as equal citizens -- that was the theme of a two-day conference organised by Bebaak Collective and the Tata Institute of Social Sciences' Advanced Centre for Women's Studies.
The petitions filed in the Supreme Court, asking for a ban on the practice of 'triple talaq' formed the backdrop of the conference. Bebaak Collective, a conglomeration of feminist Muslim organisations, is one of the intervenors in the case, judgment on which is expected soon.
Bebaak founder Hasina Khan, who has been involved in the Muslim women's rights movement since the 1990s, stated in the first session on Saturday, that Bebaak disagreed with the approach of other Muslim women's groups that had also intervened in the matter. While the latter demanded the abolition of triple talaq primarily because it went against the Quran, Bebaak wanted it struck down because it violated the fundamental right of equality guaranteed by the Constitution, she said.
"The need is for a gender-just law,'' said Hasina. "Personal Laws of different religions only deal with women vis-a-vis the family. We need a law that gives equality to women as women, whether within or outside the family.''
Two developments arising out of the Supreme Court petitions were seen as deeply disturbing, and referred to again and again by the conference participants, who work among Muslim women across the country. The first was the signature campaign started by the All India Muslim Personal Law Board, which is also a party in the Supreme Court. In its affidavit, the Board has supported triple talaq.
Muslim women's signatures were collected en masse by the Board on forms that expressed opposition to any change in the Shariat or Muslim Personal Law, including to the practice of triple talaq. Activists from Mumbai to Muzaffarnagar reported that women were told that "Islam was in danger'', and that they had to sign the form to prevent the BJP from doing away with the Shariat, and thereby, destroying Muslim identity.
In some places, the women managed to bring the forms to their organisations. When told that these were actually aimed at upholding the practice of triple talaq, they simply didn't take them home. In other places, when the women's groups tried to organise a counter signature campaign among women, they were physically attacked by Muslim men.
The second development that disturbed the gathering was the way the BJP and specially Prime Minister, had projected the abolition of triple talaq as their own cause. ``How did we reach this stage when Hindutva parties, whose policies are destroying our community, are speaking on our behalf?'' asked an anguished Jameela Nishaat, who has been running the Shaheen Women's Resource Centre in Hyderabad's old city for the last 15 years. "Muslims' rights have always been talked about, but Muslim women's rights have never been included in them," she said bitterly.
What was meant by the term `community', asked Hasina. "From the time of the Shah Bano judgment (1985), Muslim women have always been told: `Change can come only when the community is ready to accept it.' Who makes up this `community? Only men?"
mumbaimirror.indiatimes.com/mumbai/other/remedy-for-triple-talaq-lies-with-the-constitution/articleshow/60139970.cms
--------
Aafia goes without mention on Humanitarian Day
August 20, 2017
KARACHI - Aafia Movement leader Dr Fowzia Siddiqui has said that today the world is observing the humanitarian day, but Pakistani mother Dr Aafia Siddiqui is still languishing in a foreign prison with disregard to her basic rights as a person, woman and mother.
In a statement release here on Saturday, she said that the world humanitarian day demands that the basic rights of Aafia, dubbed as the most wronged person on the earth, should be fully respected and she should be doled out justice.
She said that the chief of army staff General Qamar Bajiwa by rejecting the US assistance has represented the national aspirations of Pakistanis. She said the financial and monetary benefits are not more important than the national pride. She said the Pakistani nation does not want a lip-service to praise its sacrifices in the terror war, but the losses that this nation has faced while fighting this war should be made good and the innocent persons arrested in connection to this war should be freed. She said Dr Aafia Siddiqui is an innocent person and she should be freed. She said former US attorney general Ramsey Clark has already declared Dr Aafia as an affectee of the war on terror.
She regretted that the US instead of rewarding us for our sacrifices in the war on terror, gave us a bad name, disgraced us and slapped repeated trade bans. She said that the Pakistani nation has always opposed exchange of the national pride for the US dollars. She said our leadership wasted several chances to secure the release of Aafia. However, she suggested that the administrations of the US and Pakistan can win the hearts and minds of people by getting ended the illegal detention of Aafia. She appealed to the COAS General Qamar to play his role for ending long ordeals of Aafia.
nation.com.pk/karachi/20-Aug-2017/aafia-goes-without-mention-on-humanitarian-day
--------
Montreal Opposes Law That Forces Muslim Women To Remove Burqas
08/19/2017
The mayor of sanctuary city Montreal doesn't want to enforce a provincial law that would force Muslim women to uncover their faces if they want access to pubic services.
Mayor Denis Coderre, who continues to welcome thousands of illegal refugees into his city every week, said Friday the Quebec legislation will force even bus drivers in Montral to become "burqa police."
The municipal-provincial spat is just the latest between the liberal and comopolitan metropolis and the rest of a province that is increasingly insistent that immigrants adapt to the majority culture.
Bill 62 was introduced by the Liberal provincial government and merely dictates that both government clerks dispensing government services and those receiving them cannot cover their face. It says nothing about Muslim women or the the wearing of the burqa.
The legislation was only supposed to relate to areas of provincial jurisdiction but Quebec's justice minister decided to expand the law to cover municipal services and even those operating public transit.
Coderre, a former federal immigration minister in the Liberal government of Jean Chretien, proclaimed Montreal a sanctuary city in February, just as asylum seekers began to pour across the Quebec border from New York. On Friday he rejected the province's order that municipal authorities will enforce the law, suggesting it would be difficult if not impossible to do so.
"Are we going to say to the driver, 'I've become the burqa or niqab police, and I'll decide who gets on the bus or not?'" Coderre asked at a news conference at Montreal city hall. "And if the driver says you can come in, will we have citizens who take the law into their own hands?"
But Quebec Premier Philippe Couillard said there could be no municipal exceptions to the law.
"This law will apply throughout Quebec," he said to reporters on Friday. "We can't allow Quebec's biggest city, its metropolis, not be part of the same landscape."
Before the "quite revolution" of the the mid-1960s, Quebec politics and the lives of its people were heavily influenced by the Roman Catholic Church. It has since rejected every form of pubic religious expression including elements of Muslim culture that many in the province view as inconsistent with the secular image of Quebec.
"For us it's a matter of expressing principles," Couillard said. "It's not a matter of dictating to people in Montreal how to dress. We're just talking about a clear and simple principle: having an uncovered face to give and receive public services, for reasons of communications, identification and safety."
dailycaller.com/2017/08/19/montreal-opposes-law-that-forces-muslim-women-to-remove-burqas/
--------
Islamic girls' school has a lesson for all
August 20 2017
The school where pupils make the most academic progress in England is Tauheedul Islam Girls' High School in Blackburn, once criticised for requiring its pupils to wear a hijab — a rule it has since scrapped.
It belongs to a mixed academy trust, which already runs 18 Muslim and four non-faith schools and plans to extend its network across the country.
Although most of the Tauheedul Education Trust's (TET's) schools are single-sex Islamic state schools, whose pupils are Muslim boys or girls, some of Pakistani or Bangladeshi heritage, it has recently also taken over some failing comprehensives with large numbers of white working-class pupils. These include the Highfield Leadership Academy in Blackpool, where parents initially objected to their children's school being run by the trust…
thetimes.co.uk/edition/news/islamic-girls-school-has-a-lesson-for-all-2qrwmpnh9
URL: https://www.newageislam.com/islam-women-feminism/keralas-muslim-women-turn-mosque/d/112260
New Age Islam, Islam Online, Islamic Website, African Muslim News, Arab World News, South Asia News, Indian Muslim News, World Muslim News, Womens in Islam, Islamic Feminism, Arab Women, Womens In Arab, Islamphobia in America, Muslim Women in West, Islam Women and Feminism