New Age Islam News Bureau
16 March 2020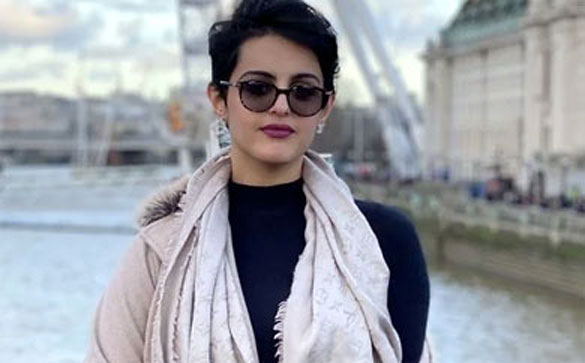 Aisha Al-Qahtani, 22, fled to London in December 2019 while on a trip to Kuwait. (Twitter)
-----
• Iranian Woman Humiliates Man Who Attacked Her over Veil
• Qatari Woman Still Feels Unsafe Despite Fleeing Violence
• Nigerian Air Force Female Pilots Bomb Boko Haram Hideout
• Syrian Female Journalists Facing Their Bitter Reality In Idlib
• Saudi Health Ministry Grants Pregnant Women Sick Leave to Avoid Virus Risks
• Black Muslim Women Working Months of Intersections
• Saudi Law Granted Women New Freedoms. Their Families Don't Always Agree.
• Iraqi Photographer's Lens Captures Iraq's Protests, Women's Role In Exhibit On Uprisings
• Pakistan Tops In Holding Biases Against Women: UN Report
Compiled By New Age Islam News Bureau
URL: https://www.newageislam.com/islam-women-feminism/kerala-women-sonia-sebastian-fathima/d/121318
--------
Kerala Women, Sonia Sebastian and Fathima Who Joined Islamic State Now Want To Return Home
16th March 2020
THIRUVANANTHAPURAM: Two Kerala women, who had fled the country to join Islamic State-led community in Afghanistan and were later rounded up by Afghan agencies after IS citadels got breached, have expressed interest to return to the state.
In a video released by a website, Fathima alias Nimisha, a native of Thiruvananthapuram, and Sonia Sebastian aka Ayesha of Ernakulam were seen telling they would like to return to Kerala and that their husbands were killed in Afghanistan.
Nimisha and Sonia had converted to Islam from Hindu and Christian faiths during their college days.
Nimisha later married Esa, a Muslim convert from Christianity, while Sonia tied knot with Abdul Rashid, who is considered as the ring leader of Kasargod IS module.
Sonia said she would like to return to her husband's family and added that they were disappointed with the life in Afghanistan.
Nimisha was heard saying that she would love to visit her mother provided she is not arrested.
https://www.newindianexpress.com/states/kerala/2020/mar/16/kerala-women-who-joined-islamic-state-now-want-to-return-home-2117159.html
--------
Iranian woman humiliates man who attacked her over veil
March 15th 2020
A man was caught on camera allegedly attacking a woman because she was not wearing her veil correctly, the Daily Mail reports. However, the woman does not take the unwarranted assault lying down and immediately fights back.
Footage of the incident was posted to Twitter by Iranian journalist and activist Masih Alinejad.
Masih Alinejad 🏳️
✔
@AlinejadMasih
Watching this video makes one very angry.
In broad daylight in Iran, a woman walking in the street is physically harassed by a pro-regime vigilante due to her hijab.
Next time they tell you compulsory hijab is a small issue, show them this video.
Many Iranian women face this
Embedded video
37.6K
6:31 PM - Mar 11, 2020
Twitter Ads info and privacy
25.6K people are talking about this
"Watching this video makes one very angry," Alinejad wrote. "In broad daylight in Iran, a woman walking in the street is physically harassed by a pro-regime vigilante due to her hijab. Next time they tell you compulsory hijab is a small issue, show them this video. Many Iranian women face this".
The activist then revealed in the tweet that she had spoken to the woman, who said she had gone to the police station to file a complaint on the incident.
Alinejad explains: "Yet, the authorities refused to arrest the man because 1) she only faced internal injuries 2) the man said he was voluntarily enforcing morality codes ( tolerated in Iran)."
Masih Alinejad 🏳️
✔
@AlinejadMasih
• Mar 11, 2020
Watching this video makes one very angry.
In broad daylight in Iran, a woman walking in the street is physically harassed by a pro-regime vigilante due to her hijab.
Next time they tell you compulsory hijab is a small issue, show them this video.
Many Iranian women face this
Embedded video
Masih Alinejad 🏳️
✔
@AlinejadMasih
I've talked to this 42-year-old woman. She said she went to the police station to file a complaint. Yet, the authorities refused to arrest the man because 1)she only faced internal injuries 2) the man said he was voluntarily enforcing morality codes ( tolerated in Iran)
4,577
6:56 PM - Mar 11, 2020
Twitter Ads info and privacy
1,738 people are talking about this
Unsurprisingly, many Twitter users took to the thread to praise the woman for fighting back, with some even calling her a "heroine".
Masih Alinejad 🏳️
✔
@AlinejadMasih
• Mar 11, 2020
Replying to @AlinejadMasih
I've talked to this 42-year-old woman. She said she went to the police station to file a complaint. Yet, the authorities refused to arrest the man because 1)she only faced internal injuries 2) the man said he was voluntarily enforcing morality codes ( tolerated in Iran)
Powinda Chaudhary
@PowindaC
Insane monster! This veiled lady rightfully told the man to go mind his own business when he shamelessly attacks her.
The #Iranian authorities make a perverse mockery of their religion. Is it not an immoral crime to assault a woman?Why was he looking at her in the 1st place ?
1
9:08 PM - Mar 11, 2020
Twitter Ads info and privacy
See Powinda Chaudhary's other Tweets
Rob Smith
@rcssmedasmith
• Mar 11, 2020
Replying to @AlinejadMasih
Someone should have punched him in the nose
Cyrus The Great
@GreatBeingCyrus
I think if the other passers-by hadn't intervened, she may well have broken his nose. Look at her! She just keep going and going at him, despite the fact he's much bigger than her.
105
7:05 PM - Mar 11, 2020
Twitter Ads info and privacy
See Cyrus The Great's other Tweets
Masih Alinejad 🏳️
✔
@AlinejadMasih
• Mar 11, 2020
Replying to @AlinejadMasih
I've talked to this 42-year-old woman. She said she went to the police station to file a complaint. Yet, the authorities refused to arrest the man because 1)she only faced internal injuries 2) the man said he was voluntarily enforcing morality codes ( tolerated in Iran)
Sabi سابي
@Sabi98288193
She is such a heroine. She even went to the police station! The only sane solution.
But in insane environment it does not work, i guess
112
7:04 PM - Mar 11, 2020
Twitter Ads info and privacy
See Sabi سابي's other Tweets
One person wrote: "I think if the other passers-by hadn't intervened, she may well have broken his nose. Look at her! She just keep going and going at him, despite the fact he's much bigger than her."
Another added: "She is such a heroine. She even went to the police station! The only sane solution. But in insane environment it does not work, i guess."
An appalled Twitter user referred to the man as an "insane monster".
They added: "This veiled lady rightfully told the man to go mind his own business when he shamelessly attacks her. The #Iranian authorities make a perverse mockery of their religion. Is it not an immoral crime to assault a woman?Why was he looking at her in the 1st place ?"
https://vt.co/news/world/iranian-woman-humiliates-man-who-attacked-her-over-veil/
--------
Qatari Woman Still Feels Unsafe Despite Fleeing Violence
March 15, 2020
LONDON: A Qatari woman seeking asylum in the UK has told of her fear that despite fleeing her abusive family, she is still not safe from their reach.
Aisha Al-Qahtani, 22, fled to London in December 2019 while on a trip to Kuwait with her brother, but has been forced to move constantly since landing in Britain, and has faced harassment from relatives and Qatari officials.
"In Doha, a woman is a second-class human," she told The Times of London.
"People are not free to speak." Al-Qahtani, the youngest daughter of a powerful figure in the Qatari military, described a life of seclusion and violence, saying she lived in a room with bars across the window, had tracking software installed on her mobile phone, and had been promised in marriage to a hardline religious scholar.
She detailed how she was repeatedly beaten for "disobedience," including an incident where a vase was smashed on her by a relative because she had cut her hair. "How can you be human when you can't even protect yourself from being abused?" she told The Times. "I felt like I had lost my humanity and I told myself 'I will gain it back.' But there is no way I could have done that in Qatar."
She took the opportunity to flee the abuse while out of the country, slipping past her brother's hotel room one night and getting a taxi straight to the airport.
It was something that would have been impossible in Doha: Qatari law forbids women under the age of 25 from leaving the country without the consent of a male guardian. But even after arriving in Britain, her troubles were not at an end. Within 24 hours of arriving in London, the police informed her that a male relative had been stopped by immigration officials at Heathrow Airport.
Al-Qahtani claims that since then, other family members have tried to track her down, with one even suggesting he had bribed a UK Home Office worker to hand over details of a secret address she had been staying at. "The asylum protection people led me to you," he told her. "Everything in London gets done with money."
Al-Qahtani doubts that this happened, and that her family were actually tipped off by another asylum seeker. But such tactics are designed to intimidate and make her feel as if there is nowhere she will be safe. It is a feeling reinforced by reminders of Qatari soft power around the world, including in the UK.
Al-Qahtani cites the Shard — the imposing Qatari-owned skyscraper that towers over central London — as an example of the Gulf state's reach. "It is a manifestation of how far they will go to seek validation from the West. They keep producing this perfect, polished image of Qatar," she said.
Officials from the Qatari government have also tried to make contact. "They were promising me that nothing is going to happen back home, but they just want me to shut up," she said. "If I go back, I will go to prison or my family will kill me. I have brought shame on the family — even if I was silent, I have removed my niqab and revealed my face. I have spoken. I have destroyed their reputation."
Al-Qahtani, an English literature and philosophy graduate with a love of art, grew up listening to the Beatles and Bach, and risked her family's wrath by reading Western novels. She said she "questioned everything" as a child.
Now she lives in the world that spawned the creative spirit that prompted her to break free. Yet she must still question everything: She has cut off contact with everyone she knew in Qatar, has changed her SIM, uses private networks to communicate and access the internet, and cannot reveal her location for fear of being traced. "I ran away to be free," she said, "but at the same time there is this fear, so it is not full freedom."
Yet she hopes her actions will perhaps lead to change in Qatar, where women under 25 are controlled by guardians, wives must defer to their husbands and cannot even leave the house without their consent, and domestic violence against women is not a criminal offense.
"When I walked out of that hotel (in Kuwait) it was the first time in my life that I opened a door without permission," she said.
"The law (in Qatar) doesn't offer basic human rights for women. They have allowed this crazy, barbaric behavior. Every second I remember how abused I was," she added. "I am optimistic — that's how I've got this far. If I wasn't, I wouldn't have gone through this crazy journey in the hope of finding a better life."
https://www.arabnews.com/node/1641821/world
--------
Nigerian Air Force Female Pilots Bomb Boko Haram Hideout
March 15, 2020
By Wale Odunsi
Female fighter pilots of the Nigeria Airforce (NAF) have carried out aerial bombardment of a Boko Haram hideout in the Northeastern part of the country.
The destruction of the stronghold, in collaboration with the ground troops, has put the insurgents in serious panic.
The Nigerian Army had earlier corroborated the information that camps of Boko Haram/ISWAP leaders and members were in disarray
On Sunday, an intelligence officer told PRNigeria, that the women have distinguished themselves in a field often seen as the exclusive preserve of men.
The source said: "We observe with interest the recent series of successful attacks carried out by the Air Task Force (ATF) of Operation LAFIYA DOLE, where the female pilots play major roles in NAF Air Interdiction Operation codenamed DECISIVE EDGE.
"They accomplished the sustained airstrikes sequel to Intelligence, Surveillance and Reconnaissance (ISR) missions with accurate hits on the target areas.
"The Women of War, in effective coordination with their male counterparts, have continued to provide intelligence, neutralize Boko Haram fighters, bomb ISWAP fuel storage/logistics facilities, destroy terrorists' gun trucks and training camps.
"In fact, in recent operations, they destroyed terrorists' hideouts that are inaccessible to ground forces due to difficult and sometimes heavily mined terrain. Battle Damage Assessments have always confirmed their accurate hits on targets."
DAILY POST recalls that in celebration of the 2020 International Women's Day, the Nigeria Air Force released a footage on the women's contributions and sacrifices in ensuring a safe Nigeria.
NAF Director of Public Relations and Information, Air Commodore Ibikunle Daramola, in a statement, saluted all women in the Armed Forces for their unique resilience, industry, productivity and commitment to humanity.
https://dailypost.ng/2020/03/15/nigerian-air-force-female-pilots-bomb-boko-haram-hideout/
--------
Syrian Female Journalists Facing Their Bitter Reality In Idlib
14/03/2020
"I am fine, thank you for your support, which means the world to me," with these words, Mirna al-Hassan, a journalist working in Idlib province, denied the rumors of her assault by four members of the Syrian National Army (SNA). The rumors circulated after Faris al-Shihabi, a member of the Syrian People's Council, posted it on his official Twitter account, and later the rumors were shared by pro-Syrian regime's social media pages.
Al-Hassan started her journalistic work secretly in written and broadcast media outlets with the beginning of the Syrian revolution through coordination groups of young people residing in different Syrian provinces with very humble capabilities.
In 2015, she started to work publicly in the audio-visual media, as she chose the profession of journalism to "be the voice of the most vulnerable and most affected groups in the Syrian war, namely women and children," as she told Enab Baladi.
She came under lots of "insults, humiliations and threatening messages" during her previous work, whether from the surrounding community or regime loyalists. Nonetheless, al-Hassan turned the "insults" into a "force," proving herself in her work; that is why she did not make declarations about such a treatment.
"Since I chose this profession, I knew that the road is difficult, long, and full of obstacles. Journalism is a difficult profession for men, and it is even harder for women, especially in a conservative society," she said.
The young journalist took the recent campaign she was subjected to with "an open heart" as she put it. She said she did not expect the "tremendous amount" of encouragement, love, and solidarity messages from the near and far surrounding community and countries around the world.
She added that the campaign had not affected her personally in a negative way. However, it reflected one of the difficulties which female journalists and media workers are facing in Idlib.
Al-Hassan feels proud that "she can deliver a message to loyalists and the world, that she can work in a place described by loyalists as a hotspot for terrorists and militants."
Humiliating acts
In a press statement, Reporters without Borders organization has condemned the campaign against al-Hassan, describing it as "degrading, and cannot be justified under the pretext of media polarization with connection to the conflict."
The Syrian Journalists Association also condemned what al-Hassan has been subjected to, through a statement on its official website, noting that these are unethical practices of pure hate by loyalists to the Syrian regime.
Communications director of The Institute for War and Peace Reporting (IWPR), journalist Zina Erhim, has joined those who condemned the campaign. She said that what happened was a masculine-biased smear campaign based on the sensitive issue of honor of al-Hassan's society.
Erhim added that the campaign is not intended to argue with the content al-Hassan provides, but it is instead a "personalized" endeavor to push her to quit her work in the media.
Erhim described the personalized smear campaigns against female journalists and activists, to Enab Baladi, explaining that they are "very dangerous," due to the physical dangers that a female journalist could face, in addition to the "moral assassination" that may lead many females to leave journalistic work and retreat from public activity.
Meanwhile, al-Hassan cannot prosecute those responsible for this campaign in Syria in light of the unavailability of laws protecting press freedom, and the absence of administrative procedures for laws protecting journalists in Syria.
Difficulties encountered by female journalists
Female journalists and media workers in Idlib are facing many difficulties, most prominent of which are the customs and traditions that were challenged by the Idlib-based journalist, Salwa Abdel Rahman, who started her journalistic work in 2015.
Abdel Rahman told Enab Baladi that her first debut in front of the camera was not "disturbing" to the surrounding community, but rather a break to the customs' chain. She said her family was supportive despite their fear that the regime would target her directly.
She also added that female journalists always fear being arrested; they are in constant worry about security forces' frequent questions about them." However, she said that she had overcome her fears.
Abdel Rahman is trying as much as possible to balance between her work and her house. She expressed that the media is a "large sea," however, it does not require to know all the details, but it is essential to "take a certain path" in media and be professional in doing so.
She said that she does not face difficulties at the professional level because "the field offers a platform for learning," and she is always learning.
Moreover, Abdel Rahman is studying English literature after she finished her studies in the media institute. She wants to deliver her voice to the world in English, during her journalistic work. She believes that the media is "important to serve the weak and highlight important issues such as corruption" rather than merely being a profession.
The journalist said that there are different levels of difficulties encountered by active female journalists in northern Syria, most notably is when a female journalist has to reveal her face in front of the camera, especially if she is young and single.
Female journalists' clothing, movements, limited mobility, and with whom they work are "all under scrutiny," and any error or what considered to be a mistake by the opposition factions made by the journalist" can put her life and her professional career at possible risk.
According to what Reporters without Borders quoted from the Syrian Center for Media and Freedom of Expression (SCM), there are 60 female journalists in Idlib province as Syria is ranked 174 out of 180 countries in the World Press Freedom Index of 2019.
The challenges are not limited to the customs and traditions that were broken by many women journalists and media workers. Female journalists face several challenges such as insecurity, repeated shelling of opposition areas, direct targeting of journalists, and harassment by members of particular factions. Besides, logistical matters such as power blackouts, poor internet services, and lack of equipment, are also obstacles that stand in their way.
The Syrian Center for Journalistic Freedoms (SCJF) documented in its 2019 annual report, the killing of 7 female journalists and 14 arrests out of a total of 35 violations against female workers in the field of journalism and media in Syria, since the beginning of the revolution in 2011 until last year. The center pointed out that the Syrian regime ranked first on the list of perpetrators of violations against female workers in media.
https://english.enabbaladi.net/archives/2020/03/syrian-female-journalists-facing-their-bitter-reality-in-idlib/
--------
Saudi Health Ministry Grants Pregnant Women Sick Leave to Avoid Virus Risks
March 15, 2020
RIYADH: Saudi Arabia's Ministry of Health has announced a compulsory two-week sick leave for pregnant women.
The leave has also been granted to people with respiratory and chronic diseases, tumors and immunodeficiency who are workers in both the private and public sectors.
Dr. Tawfig Al-Rabiah said the committee tasked to monitor coronavirus developments will "implement a package of preventive measures to prevent societal outbreaks."
The committee "obliges all governmental and private sectors to grant compulsory sick leave of two weeks from its date and that it is not calculated from the leave balance for all employees who meet these conditions."
The sick leave is part of precautionary measures aimed at reducing the numbers of patients infected with the coronavirus in Saudi Arabia.
https://www.arabnews.com/node/1641811/saudi-arabia
--------
Black Muslim Women Working Months of Intersections
MARCH 15, 2020
BY NBAMUSLIMS
By Layla Abdullah-Poulos
January not only ushers in a new year but an increased focus on the histories and experiences of people across social intersections. It starts with annual events and national holidays, like the Women's March and Dr. Martin Luther King Jr. day in January, then Black History Month and World Hijab Day in February, Women's History Month follows in March and Malcolm X is honored in May.
All of the aforementioned are necessary for our society, which is steeped in Eurocentric, White Supremacist patriarchy with tendencies to skew histories, favoring cisgender, able-bodied White men and White women as the embodiment of who we are as Americans. Yeah, that's basically a load of wrong, because we all know that without the people existing outside of those limited parameters, there would be no America.
Some may decry the necessity of spending a day, week or month shedding a lens on specific cultural experiences. However, I think that centering the uniqueness of a people aligns with Allah's (S) ayah:
O mankind, indeed We have created you from male and female and made you peoples and tribes that you may know one another. Indeed, the noblest of you in the sight of Allah is the most righteous of you. Indeed, Allah is Knowing and Acquainted. (Quran 49:13)
The human condition is prone to supremacy and tribalism, rooted in kibr (arrogance), two diseases of the heart that are the foundational catalysts for social oppressions plaguing us. Black History Month is not a cure, but it and other social awareness endeavors offer opportunities for those of us inundated with social messaging to resist layers of external and internalized oppression, empower ourselves by driving our cultural narrative and equipping ourselves with the knowledge that we are more than the stereotyped representations permeated by the dominant culture.
So, people often get very busy during the season of resistance, especially those navigating multiple marginalized intersections. With ownership in an array of social identities and heritages, Black Muslim women connect various aspects of resistance, making their voices and perspectives invaluable contributions to combating suppression and hegemony.
Black Muslim women scholars, thought leaders and activists can provide rich analyses of how systems of oppression coordinate and coalesce. Below is a speech by community advocate and activist Cjala Surratt at a recent Women's March rally in a Syracuse, NY church. She draws from intersections of resistance owned by her. Her words give a powerful, rich introduction to our season of resistance.
https://www.patheos.com/blogs/nbamuslims/2020/03/15/seasons-of-resistance-black-muslim-women-working-months-of-intersections/
--------
Saudi Law Granted Women New Freedoms. Their Families Don't Always Agree.
By Vivian Yee
March 14, 2020
MEDINA, Saudi Arabia — On the question of women working, the law of the land was crystal clear. Raghda and Rafaa Abuazzah's parents had ruled otherwise.
"What will people say? You'll be in public!" their father said after the sisters scandalized their parents by announcing that they wanted jobs at a coffee shop in Medina, the second-holiest city in Islam, where the Prophet Muhammad was said to have died. "It's fine to work in an office because no one can see you there. But how can you work with men?"
Two years and much ado later, Raghda serves lattes filigreed with milk art at a strip-mall coffee shop and Rafaa hosts community gatherings at an event space across the way. Their co-workers and customers include men and women. Though their hair remains covered, their faces are bare. And their parents, to everyone's surprise, are coming around. Kind of.
"My parents are against me working here. But it's so good to finally be myself," said Raghda, 21. "Now, I'm free. I can finally talk to people without covering my face."
For Westerners, squinting at Saudi Arabia across a vast landscape of stories about oppressed women, ultraconservative Islam and human rights abuses, the desert kingdom often leaves a single, damning impression: Here is a country that women are desperate to flee.
But the changes driven by Crown Prince Mohammed bin Salman, the kingdom's de facto ruler, have complicated that image over the last few years, codifying for women the right to drive, attend sporting events and travel without a man's permission, among others. As the social codes that long governed their lives relax their grip, more women are wearing their hair uncovered and mingling openly with men — at least in larger cities.
But whether reality lives up to the law depends on the dice roll of birth. Day by day, it still falls to women in many households to negotiate their freedoms with the fathers, husbands, brothers and sons who serve as their legal guardians.
Even before the legal changes, Saudi women from tolerant families rarely had to chafe under requirements that a male guardian approve plans to get jobs or travel abroad. For them, permission was nearly always granted.
Though Prince Mohammed has spoken of dismantling the guardianship system, women remain legal minors when it comes to marrying, living on their own and other matters. Those from more traditional families are still yoked to male guardians for whom fear of God, change or what the neighbors will think often outweighs the letter of the law.
For a long time, Raghda and Rafaa seemed fated to retrace the path of their five older sisters: arranged marriages while still young; children soon thereafter; faces covered with the niqab, the black veil that reveals only the eyes. The sisters who worked did so in the seclusion of offices, segregated from male co-workers.
The younger siblings were not looking forward to it.
"Me and Raghda were so depressed," said Rafaa, who is younger but more forceful. "We thought: We can't do anything. We don't have choices. This isn't the life we want to live."
Compared with girls they had seen in Jeddah, the Saudi port city where looser social customs allowed women to go unveiled, wear their all-covering robes open over jeans and mingle with men in public, the sisters felt anonymous, forgettable.
"We had no self-esteem," Raghda said, "because we all looked the same."
Triumphs that might seem trivial outside the kingdom loom huge within it, especially in the small cities and villages where most Saudis live, far from cosmopolitan Riyadh and Jeddah.
Female baristas were nonexistent in Medina when the sisters first got hired at a coffee shop whose owner had decided to brave it. Skittish about their uncovered faces and flustered about their friendly interactions with boys, he fired them soon after.
By then, however, other cafes had opened with both male and female staff. Raghda and Rafaa found new jobs, Raghda at Dasoqa, a coffee shop whose name means "ladybug," and Rafaa at Blink, a community gathering space nearby.
Their parents have caved a little, but fretted a lot. They feared for the family's reputation as much as for their daughters' souls.
"Our dad says, 'What if my family came and saw you here working, making coffee and drinks?'" said Raghda. "'They'll see your face!'"
To the sisters, that was the point. Raghda's hair remains neatly tucked under a lilac head scarf, Rafaa's under a black one. But their faces — sometimes people still do a double-take when they see them — are bare.
"My face is my identity," said Rafaa.
It was not only their parents who objected. When they waited for Ubers after work, the young men hanging around the mall often heckled them, suspicious of their uncovered faces and light makeup.
"What are you doing with those guys?" they demanded as the sisters chatted with male friends.
The lack of reliable public polling and free speech makes it difficult to gauge how Saudis view women's changing status. But one study, from 2018, suggested that fear of social stigma may drive opposition more than personal resistance.
It found that a majority of Saudi husbands approve of their wives working outside the home, yet underestimate how many other men also support it. Telling them that more men actually favored it was enough encouragement for them to register their wives for a job-recruitment service.
The problem is persuading individual legal guardians that attitudes are changing.
By December, Raghda and Rafaa had turned to their next project: persuading their father to let them go to an electronic music festival in Riyadh, a 90-minute flight away, with a group of friends, male and female.
Rafaa told him they were going to "a festival," omitting the part about the music. But he had already read all about it.
"Dad said, 'I know it's a concert. I'm on Twitter, too,'" she said.
As she spoke, her phone buzzed. She held it up, wide-eyed. "Yes," his text message read. "You can go."
Their parents' easing up has mirrored a general loosening of Saudi society, much of it owing to the legal changes set in motion by the crown prince, who has erased many social restrictions and defanged the once-feared religious police.
Though Crown Prince Mohammed remains a volatile and internationally controversial ruler — this month, he delivered back-to-back surprises by detaining at least four royal relatives and rocking global markets with a sudden oil price war — he appears committed to his social agenda.
Not all the changes have been hard sells in Saudi Arabia.
Many Saudis, having traveled and lived abroad or seen the world through the internet, were already ready for a more permissive way of life. Others, like Rafaa and Raghda, were pushing for it from below.
"I think it's a huge wave that our parents can't stand in front of," Rafaa said. "Even if they wanted to, they can't."
In Riyadh, the capital, it was not only respectability but religion that troubled Revan Moha's parents. Ms. Moha, a baby-faced 18-year-old with round, wire-rimmed glasses and close-cropped hair, had not dared tell her father that she had a job, let alone that she worked at a coffee shop where clientele and baristas mixed freely, male and female.
"Here in Saudi Arabia, it's always, 'What are people going to say?'" she said. "I really don't care what people say, but my parents do."
For all the government reforms, she said, "If your family is traditional, it wouldn't help at all."
The gulf between strict and tolerant families can be vast. Women whose families raise no objections, like Joumana Alshaikh, 20, Ms. Moha's co-worker and friend, often assert that the crown prince has granted women all the rights they need.
"My parents are OK with me traveling alone. Others' aren't," Ms. Alshaikh shrugged. "In other countries, men and women are living the same life, they're equal. But in Saudi, women are living the best life."
Ms. Moha stared. "What? No!"
When she lived for a time with her strict, pious father after her parents' divorce, cutting her hair short was forbidden. So were talking to boys and outings with friends. So was playing music, as she dreamed of doing, or even listening to it.
She coped with an old iPod, a phone and a keyboard hidden in her room. When she heard her father coming home, her fingers flew to silence the music and close the social media apps where she chatted with male friends. After her father confiscated her phone, she would message friends from her laptop, wheedling them into ordering her Ubers so she could sneak out.
Ms. Alshaikh, who never had to sneak around her parents, sees the place of women differently.
"The new thing is, women have more rights than men," she said. "Men do things for women. He does whatever you want. You're the princess of the house."
"What are you talking about?" Ms. Moha sputtered. Things might be changing but she could not think of a single arena in which Saudi women's rights outstripped men's.
Her father eventually gave up and sent her to live with her mother, under whose more permissive roof Ms. Moha cut her hair, uncovered her head, started wearing her abaya open over jeans and T-shirts and bought a piano and an electric guitar.
She has even told her mother that she has a job. Revealing where she works, though, will have to wait.
https://www.nytimes.com/2020/03/14/world/middleeast/saudi-women-rights.html
--------
Iraqi Photographer's Lens Captures Iraq's Protests, Women's Role In Exhibit On Uprisings
Azhar Al-Rubaie
15/03/2020
BAGHDAD - When anti-government demonstrations erupted in Baghdad and southern Iraq last October, Amir Hazim, a fine arts graduate and professional photographer, joined the protests in Baghdad's Tahrir Square to record the unprecedented popular movement through his camera lens.
Hazim, 23, has a passion for documenting people's lives, routines and events. He devoted much of his time to make black-and-white photos to archive Iraq's revolution.
"Taking a photo is like making a painting," Hazim said. "I like black-and-white photography because I love to see things in these two colours and to put people in the context directly without any colour distraction."
The protests that have rocked Iraq for six months saw scores of young people pour into the street to express their rejection of a corrupt political class and call for reforms.
Hazim said his passion for photography started in 2017 and has concentrated on shooting his subjects in black and white using a professional camera that he purchased with the help of family and friends.
"Everything is worth being photographed if you feel that moment with your lens. It all started as a passion and an obsession but, recently, I took it to a professional level and turned the hobby into a career," Hazim said.
He started by capturing scenes he reckoned would be of interest to the public and posted them on social media.
"What made me continue to do photography is my inner lust to handle the camera and hunt for the right movements to snap photos that I wanted people around the world to see. I thought there is a bright side in every photo that has to be seen by all," Hazim said.
He said his images challenged the stereotype about Iraqis being blindly led by their political leaders like "herds by their shepherds."
"That is totally untrue. My duty as a photographer was to deliver facts from the field and expose the realities that were revealed by the protests," Hazim said.
"While photos are still, in my own way I can make them move and speak to the recipients," he said. "Each photo I snap has a big story behind it and, through those photos, I wanted to show the world who these people really are and that the protesters who have been protesting for months are not just numbers."
Capturing Iraqi women's unprecedented participation in the protests was at the heart of Hazim's documentarian work.
"I was so excited to take photos of the women-led marches," he said. "Iraqi women have long been denied the right to raise their voices publicly in a country where tribal customs and traditions are still deeply entrenched in society. Actually, women have torn down many taboos by standing with their brothers and I am proud that I documented these moments.
"Photos tell people many different things, including the time, the place and the story of what is illustrated."
Hazim's photography, at first capturing "mementos," became a "full-time job to provide photos to media outlets around the region and have them published in esteemed platforms over the world. I wish my photos will be included in history textbooks to give future generations insight into what was done to earn our rights," he said.
Hazim's work was featured in an exhibition in the United Arab Emirates about Iraq's protests. The show titled "All What I Want is Life" takes its name from a phrase echoed on the streets of Baghdad and scrawled across the city's walls.
"The exhibition was about the revolutions and uprisings that took place in the Arab region, including Iraq. I participated with 20 photos summarising the protests. Although the number was small, the photos conveyed the voices of millions," he said.
Azhar Al-Rubaie is a freelance journalist based in Iraq. He has been working in the field of media since 2014. His writing focuses on politics, health, society, wars and human rights. Follow him on Twitter: @AzherRubaie
https://thearabweekly.com/iraqi-photographers-lens-captures-iraqs-protests-womens-role-exhibit-uprisings
--------
Pakistan tops in holding biases against women: UN Report
MAR 11, 2020
New Delhi: Pakistan tops a list of countries of people holding prejudiced views against women, a United Nations report has said.
According to the findings of the Gender Social Norms Index report, released recently by the United Nations Development Programme (UNDP), the percentage of those holding at least one sexist bias was the most in Pakistan, at 99.81%. Qatar and Nigeria followed with 99.73%.
The index measured how social beliefs act as a hindrance to gender equality in areas like politics, work and education, and the study surveyed 75 countries, or around 80% of the world's population.
Last Sunday, thousands of Pakistani women took to the streets in the largest-ever women's rights demonstrations in the country. The marchers, who were commemorating the International Women's Day, demanded gender equality, minimum wages for the working class and bodily rights, as they raised slogans against sexual harassment and gender-based violence.
A manifesto released by "Aurat March" (women's march) organisers in Pakistan demanded economic and environmental justice, reproductive rights and better access to public spaces for women. Additionally, the manifesto sought an end to enforced disappearances and militarisation, as well as protection of religious minorities in the country.
The World Economic Forum has ranked Pakistan 151 out of 153 countries in its 2020 Global Gender Gap Index Report.
According to the UNDP report, Andorra had the least population with sexist beliefs, at 27.01%, followed by Sweden and the Netherlands with 30.01% and 39.75%, respectively.
France, Britain and the United States had scores of 56%, 54.6% and 57.31%, respectively, of people holding at least one bias.
The research does not present a bright picture, as 90% of the people studied worldwide have at least one prejudice against women.
The prejudiced views that were asked in the study were: that men are better politicians and business leaders than women; that going to university is more important for men than women; and that men should get preferential treatment in competitive job markets.
The numbers show "new clues to the invisible barriers women face in achieving equality" despite "decades of progress", the UNDP said in a statement released along with the report. "The work that has been so effective in ensuring an end to gaps in health or education must now evolve to address something far more challenging: a deeply ingrained bias — among both men and women — against genuine equality," UNDP Administrator Achim Steiner said.
The agency called on governments and institutions to change discriminatory beliefs and practices through education. Beyond inequalities in education, health and the economy, the statement also called out one of the most chilling findings of the report — 28% of people believed it was okay for a man to beat his wife. https://economictimes.indiatimes.com/news/international/world-news/pakistan-tops-in-holding-biases-against-women-un-report/articleshow/74568595.cms
--------
URL: https://www.newageislam.com/islam-women-feminism/kerala-women-sonia-sebastian-fathima/d/121318
New Age Islam, Islam Online, Islamic Website, African Muslim News, Arab World News, South Asia News, Indian Muslim News, World Muslim News, Women in Islam, Islamic Feminism, Arab Women, Women In Arab, Islamophobia in America, Muslim Women in West, Islam Women and Feminism