New Age Islam News Bureau
7 May 2018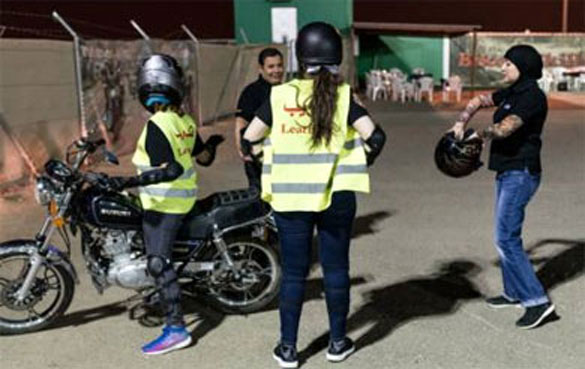 Image Credit: Washington Post
Hanan Abdul Rahman and Tinawi at a training session. Bukaryeva, their instructor, is at right.
----
• 'Adrenaline Junkie' Women Bikers Practice Ahead Of Saudi Driving Ban Lift
• Malala Condemns Assassination Attempt on Ahsan Iqbal
• Malaysia Election: UMNO Women's Wing Making Headway in Rural Kelantan
• Iran Jails 16 Women for Joining Daesh in Syria
• Samar Saleh: First Saudi Woman to Be Appointed Commercial Attaché
• Turkey: In A Land Of Men, Women Have Few Title Deeds
• Three Islamic State Arab Female Members Arrested In Nineveh: Source
Compiled by New Age Islam News Bureau
URL: https://www.newageislam.com/islam-women-feminism/kerala-woman-confined-mother-two/d/115168
--------
Kerala Woman 'Confined' By Mother for Two Years for Affair with Muslim Rescued
by Shaju Philip
May 7, 2018
The Police have rescued a 24-year-old Hindu woman, a native of Kerala, who was allegedly confined by her mother in a rented house in Mangaluru for the past two years with the help of some BJP men for having an affair with a Muslim youth.
Anjali Prakash was recused on May 1 after the Mangaluru police in Karnataka received a tip off from their counterpart in Kerala that she had been confined in rented house by her mother Vineetha. The woman is a native of Guruvayur in Thrissur.
Mangaluru DCP Uma Prasanth said: "The woman was rescued from the custody of her mother. She (Anjali) was produced before a court, which sent her to a rescue home after she refused to go with her mother. We have arrested her mother in the case and are looking for the involvement of others, if any."
In recently released video, Anjali had claimed that she was detained in Mangaluru with the support of the BJP. "Such things could not be confirmed now. We are investigating into the allegation she has raised," the DCP said.
The incident had come to light Saturday after Anjali sent out a video seeking help.
In the clip, Anjali was heard saying that could be her last video. "I have no means to escape. If anything happens to me tomorrow, my mother would be responsible for it. I have suffered enough in the last two years for having loved a Muslim. I have been admitted to Amrita hospital for mental treatment for two months. After that, for another two months, I have been at an orphanage run by RSS. I have been here in Manguluru for last several months. There is full support from BJP…I have suffered enough. I am not allowed to go out. I am languishing in this situation as none has intervened to save me," Anjali is heard as saying in the video.
According to Anjali, she was in love with his childhood friend Nalakath Manas, 28, who runs a poultry farm. She said, the trouble started in August 2016, after her mother came to know about their affair. On the same night, she was tortured by her relatives. Soon she was shifted to a hospital in Kochi for mental treatment.
Manas said, he had moved a habeas corpus petition in the High Court after Anjali was admitted to the mental hospital for 40 days. "Her family painted me as a terrorist. They produced the certificate regarding treatment for mental illness. The court ordered police protection for the woman and her mother. The court also restrained me from meeting her."
Manas said in early 2017, Anjali was taken to Mangaluru by her mother with the help of a local BJP leader in Thrissur. He said Vineetha had recently given Anjali a mobile phone (without SIM). "I arranged a SIM for Anjali, with which she managed to make distress calls to police, which led to her rescue last week."
Manas said he wanted to get Anjali released from the rescue home in Mangaluru. "I am planning to move the court as well as the rights panel. The custody of Anjali was given to her mother by the Kerala High Court in 2016. But, Anjali does not want to go with her mother now," said Manas.
Anjali's mother Vineetha was not available for comment.
Her aunt, Jayanthi said, Anjali had called her several times, complaining about the torture . "I want Anjali be released from the rescue home. She should not be punished for loving a person of her choice. I am ready to take her protection. She should not be left to die in her mother's hands. She is a bright student and not a mental patient," said Jayanthi.
http://indianexpress.com/article/india/kerala-woman-confined-by-mother-for-two-years-for-affair-with-muslim-rescued-5166121/
--------
'Adrenaline Junkie' Women Bikers Practice Ahead Of Saudi Driving Ban Lift
May 6, 2018
Riyadh: As night falls on a deserted motor-sports circuit on the outskirts of the Saudi capital, Hanan Abdul Rahman weaves through traffic cones on her black Suzuki motorcycle.
The 31-year-old in a yellow learner's jacket has one word for what this feels like: "Freedom."
The scene is new for Saudi Arabia, where, as of June, women will finally be allowed to drive.
Saudi authorities have clarified that women will be permitted to drive motorcycles, vans and trucks in addition to cars.
The decision to lift the driving ban, announced seven months ago, is one of the most prominent moves by the ambitious young crown prince, Mohammad Bin Salman, as he presses ahead with a much-trumpeted process of modernising the kingdom.
It is a historic step, female activists say.
Out on the track, Abdul Rahman and fellow biker Leen Tinawi, a 19-year-old Jordanian born and raised in Saudi Arabia, are focused on the task at hand.
"My friends think I'm crazy," said Abdul Rahman, a self-described adrenaline junkie and fan of extreme sports.
On weekends, the motor-sports circuit screams with drag racers and drifters getting their fix of petroleum-fueled fun in the car-obsessed country.
But on Wednesday nights, the circuit is the bikers' domain.
The two women strap on protective gear over their Harley Davidson T-shirts and jeans before their practice.
For Abdul Rahman, it's a 125cc "Suzy."
For Tinawi, it's a 250cc Honda called "Honey."
They maneuver through the orange cones and practice U-turns under the floodlights before following their Ukrainian instructor, Elena Bukaryeva, 38, aboard a Harley, out onto the track.
Abdul Rahman learned to drive at age 14, taught off-road by her father in the hopes that one day she would be able to get a license of her own. He was particularly happy at the news that women would finally be allowed to drive.
"It was a week-long party at my house," Abdul Rahman said.
Women who do not already hold foreign driver's licenses are required to enroll in training courses.
At Princess Nourah University in Riyadh, which has one of just five schools offering driving lessons, 20 hours of practical instruction costs about $700.
A woman who can drive but does not have a license is required to take six hours of instruction, the Interior Ministry said.
It said the same rule will be applied to men.
"Everything is going as planned," the Interior Ministry said in a statement.
Two years ago, the crown prince unveiled "Vision 2030," a programme that aims to diversify Saudi Arabia's oil-dependent economy and modernise the country. Mohammad has also pledged to quash religious extremism, which has flourished in the country since the late 1970s.
And some changes have come.
The government withdrew powers of arrest from the religious police, who are mandated to promote virtue and stamp out vice with patrols in public places.
In one Riyadh cafe, groups of men and women sit unsegregated as music plays on the patio - a scene unthinkable just a few years ago.
And this month, the kingdom's first cinema in 30 years opened, also not segregated.
Some guardianship restrictions have been eased, with a woman supposedly no longer needing permission from a male relative to use many government services, get a job or start a business.
https://gulfnews.com/news/gulf/saudi-arabia/adrenaline-junkie-women-bikers-practice-ahead-of-saudi-driving-ban-lift-1.2217057
--------
Malala Condemns Assassination Attempt on Ahsan Iqbal
MAY 7, 2018
OXFORD: Education activist and Nobel Prize winner Malala Yousafzai, condemned on Sunday night the assassination attempt on Interior minister Ahsan Iqbal.
Yousafzai, who is currently studying at the University of Oxford, said that she was very sad over the incident.
She said that she was praying for his quick recovery and thanked Allah that the attack had not been fatal.
"I wish that every Pakistani remains safe and that no one's life is in danger," she said.
"I hope for a Pakistan where everyone lives peacefully." she also added.
Ahsan Iqbal was fired on Sunday evening by Abid Hussain, 21, from a 15-yard distance, when the minister was entering his vehicle to leave a rally in his home constituency of Narowal.
https://dailytimes.com.pk/237063/malala-condemns-assassination-attempt-on-ahsan-iqbal/
--------
Malaysia Election: UMNO Women's Wing Making Headway in Rural Kelantan
06 May 2018
TANJUNG MAS, Kelantan: Madihah Abdul Aziz is different from most women in Kelantan.
In a society where traditional gender roles prevail, the human resources undergraduate from Newport University stands out because of her leadership qualities. When she speaks, both men and women listen intently.
"If you elect me, I'll fight for you," she told a group of around 50 residents of Tanjung Mas, a state seat constituency in Malaysia's 14th general election.
"The money this town needs to clear the rubbish you see on the street - I'll go myself to the state government and get it for you," said the Barisan Nasional candidate, drawing applause.
The certified human resources trainer is contesting for the Tanjung Mas seat against incumbent Parti Islam Se-Malaysia (PAS) candidate Rohani Ibrahim, and Parti Keadilan Rakyat (PKR) candidate Hafidzah Mustakim.
While the contest is expected to be tight, Madihah said she has an edge because of her role in UMNO women's wing, Pergerakan Wanita UMNO. Madihah is the head of Pergerakan Wanita UMNO in Kota Bharu, the capital city of Kelantan, and she maintained that her team has been working hard in the northern state over the last two years.
"We have been persuading female voters to join us. One UMNO women's wing member is expected to pull in 30 women voters," she said.
"We do this through programmes like Quran recitation sessions, baking tutorials and sewing lessons. These women don't like to just meet up and talk over tea, they want to participate actively," Madihah added.
Through such activities, Madihah noted that these women, who are mostly housewives, can be equipped with skills that will allow them to earn some income on the side.
"Most of them are small-scale entrepreneurs. We give them an opportunity to channel their skills and put them to good use. We want to empower them to be productive to society," she said.
A Tanjung Mas resident who recently joined the UMNO women's wing told Channel NewsAsia that she was previously a PAS supporter, but she will now vote BN.
"I believe that BN empowers me as a woman. I'm not just my husband's wife anymore. I can make money and help my family," said Siti Khadijah, who operated a roadside stall selling snacks, after she learnt how to bake.
An elderly woman living in Tanjung Mas who declined to be named said that the religious activities organised by BN makes her life fulfilling.
"It feels good to get out of the house and talk to other women and interact with them. If not, I'll just be stuck at home cooking and cleaning," she said.
Madihah said that she has never heard or come across any such activities by PAS, that were especially organised for women in Kelantan. According to latest government census, the number of men and women in the state is split 50 per cent each.
PAS is the incumbent state government for Kelantan but Madihah stressed that the party's influence on women voters is waning because the party fails to recognise women's role in society.
"I feel the PAS wants to show that it upholds Islamic values, albeit excessively. For Muslims, activities like these are good, because they encourage stronger relationships in the community. But PAS does not seem to recognise this," she said.
Expert on rural communities in Malaysia, and research fellow at the ISEAS-Yusof Ishak Institute Serina Rahman told Channel NewsAsia that Malaysia's ruling coalition BN has the resources to organise such activities on a large scale.
"Pergerakan Wanita UMNO is very strong, in all states, in all rural communities. They are the backbone of female societies in rural areas," she said.
Dr Serina added that UMNO women's wing members will likely vote for the ruling coalition, and influence their closest friends and relatives to do the same.
"There will be societal pressure to vote for UMNO," she said.
https://www.channelnewsasia.com/news/asia/malaysia-election-umno-women-s-wing-making-headway-in-rural-10206158
--------
Iran Jails 16 Women for Joining Daesh in Syria
May 6, 2018
Tehran's Prosecutor Abbas Ja'afari Dolatabadi says 16 women have been sentenced to prison terms for joining Daesh terrorist group.
Dolatabadi added on Sunday that the women were also ordered to turn over more than three billion rials (about $72,000), which they had received from the terrorist group.
He noted that the women had gone to Syria to join and support Daesh Takfiri group and had received training to carry out acts of terror. They also conducted some operations there.
The Iranian judiciary official said the female terrorists were arrested upon their return to Iran from Syria.
This is not the first time that Iran's security forces arrest members of the Takfiri terrorist outfit.
A division of the Islamic Revolution Guards Corps (IRGC) said in January that it had arrested a number of Daesh terrorists in the west of the country.
Following intelligence activities, the IRGC Ground Forces' Najaf Base engaged in clashes with 21 members of the Daesh terrorist group, who had entered the country through its western borders.
Brigadier General Mohammad Pakpour, the commander of the IRGC Ground Forces, said that 16 Daesh terrorists were arrested during the operation while a number of them were killed.
Iranian security forces also in June 2017 arrested a number of terrorists linked to Daesh before they could carry out any act of terror in the country's religious cities.
According to a statement by Iran's Intelligence Ministry, Iranian security forces managed to identify and arrest the Daesh-linked terrorists, who were planning to carry out terrorist acts in provinces deep in the country as well as religious cities.
http://www.presstv.com/Detail/2018/05/06/560841/Iran-Syria-Daesh-Tehran-Prosecutor-Abbas-Jaafari-Dolatabadi-women
--------
Samar Saleh: First Saudi Woman to Be Appointed Commercial Attaché
May 7, 2018
RIYADH – Minister of Commerce and Investment Dr. Majed Bin Abdullah Al-Qasabi has appointed Samar Bint Mazin Saleh as commercial attaché at the Saudi Commercial Attache's Office in Tokyo.
Samar Saleh is the first woman to be appointed as commercial attaché. This step comes within the ministry's policy to empower Saudi women.
Samar Saleh holds a master's degree in journalism and international media from City University in London. She obtained a bachelor's degree in journalism and mass media from the American University in Sharjah. She also completed the executive leadership program at Harvard University in the US.
She started work in the financial sector.
She speaks fluent English and Italian.
Before being appointed as commercial attaché, Samar Saleh worked as in-charge for developing trade exchange at the Commercial Attache's Office in the Kingdom's Embassy in Italy.
Her functions included developing nonoil exports, including commodities and services.
She was assigned many tasks including coordinating with the Saudi and Italian government authorities related with promoting nonoil exports, according to the executive plan of the Foreign Trade Agency of the commercial attaches offices, linked with Vision 2030.
http://saudigazette.com.sa/article/534276/SAUDI-ARABIA/Samar-Saleh-First-Saudi-woman-to-be-appointed-commercial-attach-eacute
--------
Turkey: In A Land Of Men, Women Have Few Title Deeds
May 7, 2018
Official figures by the Directorate General of Land and Cadastre points to the obvious in Turkey; that is to say, male ownership of properties is higher than that of female ownership. Sixty-three percent of men are holders of title deeds to more than 57 million plots of land, including business places and independent housing units, compared to just 37 percent of female title deed holders. The figures are the reflection of a male-dominated, patriarchal mindset where women's right to ownership is limited and the majority of property families own are traditionally left as inheritance to male members of families.
Women in the small cities of Bayburt, Burdur and Çankırı are luckier than their peers in other places as it was only in those cities that female property ownership rose to about 43 percent, still lower than men.
Nevertheless, the eastern cities top the list of places where number of men as title deed holders are overwhelmingly higher than women. In the southeastern city of Hakkari, some 86 percent of title deeds are in the name of men. Although women have equal rights to ownership of title deeds left as inheritance, predominant customs force them to hand over them to their male relatives. The male population in Turkey, where more than 80 million people live, is higher than that of women and women strive to achieve gender equality, especially in terms of employment and representation in politics.
https://www.dailysabah.com/turkey/2018/05/07/in-a-land-of-men-women-have-few-title-deeds
--------
Three Islamic State Arab Female Members Arrested In Nineveh: Source
by Nehal Mostafa
May 6, 2018
Nineveh (IraqiNews.com) Three female prominent members of Islamic State have been arrested in Mosul, a security source from Nineveh Police Command said on Saturday.
"Security troops of Nineveh Operations Command arrested the three Islamic State female members depending on intelligence information that showed they have been hiding since more than a year in al-Houd village in Qayyarah, south of Mosul," Cap. Amir Wathiq told BasNews.
The troops, according to Wathiq, "besieged the militants, who were Saudi and Syrian nationals and arrested them before taking them to Nineveh police station for investigations."
The militants were known for "lashing the women in Mosul, stoning and executing them after they get orders."
Thousands of Islamic State militants as well as Iraqi civilians were killed since the government campaign, backed by paramilitary troops and the coalition was launched in October 2016 to fight the militant group, which declared a self-styled "caliphate" from Mosul in June 2014.
Islamic State continues to launch sporadic attacks across Iraq against security troops. Security reports indicate that the militant group still poses threat against stability in the country.
Iraqi Prime Minister Haidar al-Abadi announced, in December, full liberation of Iraqi lands, declaring end of war against IS members. The war against IS has displaced at least five million people.
https://www.iraqinews.com/iraq-war/three-islamic-state-female-members-arrested-in-nineveh-source/
--------
URL: https://www.newageislam.com/islam-women-feminism/kerala-woman-confined-mother-two/d/115168
New Age Islam, Islam Online, Islamic Website, African Muslim News, Arab World News, South Asia News, Indian Muslim News, World Muslim News, Women in Islam, Islamic Feminism, Arab Women, Women In Arab, Islamophobia in America, Muslim Women in West, Islam Women and Feminism