New Age Islam News Bureau
27 Nov 2017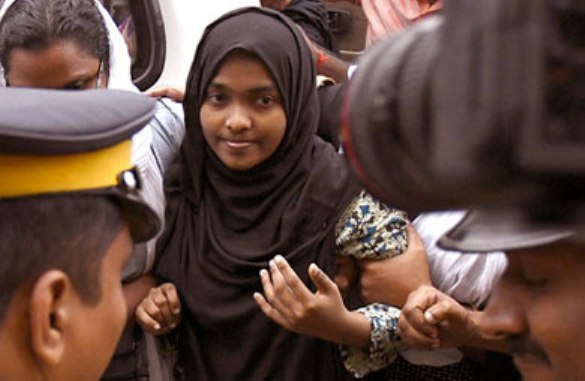 Hadiya or Akhila Ashokan
------
• Muslims Organise Funds for Hindu Woman's wedding in Bengal Village
• More Women in the Workforce, Saudi-Style
• Nearly 2,000 Women Killed In Eight Years in Turkey
• Iran: Rise in Husbands' Abuse of Women Due To Poverty, Unemployment
• Follow Islam to Protect Women's Rights: Pakistan Minister
Compiled by New Age Islam News Bureau
URL: https://www.newageislam.com/islam-women-feminism/kerala-love-jihad-i-want/d/113369
--------
Kerala Love Jihad: I Want My Freedom, Hadiya Says; SC Orders Her to Rejoin College
By Anusha Soni
New Delhi, November 27, 2017
Hadiya or Akhila Ashokan today told the Supreme Court that she wants her freedom. "I want my freedom," Hadiya told the court in the Kerala 'love jihad' case.
Her deposition began after the Supreme Court in its October 30 order directed Hadiya's father to present her in the court to ascertain her views on her marriage to Muslim man, Shafin Jahan.
The court today asked Hadiya if she wants to continue her studies on state expenditure. "I want to (continue my studies) but not on state's expense when my husband can take care of me," Hadiya replied.
The Supreme Court, however, told Hadiya to resume her studies and directed her to return to Salem. The court said that it is important to protect the economic interests of Hadiya and asked the state of Tamil Nadu to "provide her protection if any situation arises".
The Supreme Court also said that the dean of her college can apprise the court in case of any untoward situation. "I should be considered a human being. I want to be a good citizen," Hadiya told the Supreme Court.
The court fixed third week of January as the next date of hearing in the 'love jihad' case.
WHAT ARE YOUR DREAMS, COURT ASKS HADIYA
The court spoke to Hadiya via a translator for nearly 20 minutes during which it asked her about her dreams and aspirations and what she wanted to do in her life.
"I want to meet my husband and I don't want any local guardian to be appointed," Hadiya told the court.
She said that she has been in unlawful custody for 11 months and wanted her freedom back. As court recorded her testimony, Hadiya repeatedly said that she wanted to meet her husband.
HADIYA's FATHER CITES INDIA TODAY STING
Earlier, Hadiya's father cited India Today investigation that unmasked Kerala's conversion factories in the Supreme Court and said that Sathya Sarini, PFI's sister organisation, is involved in radicalisation and conversion of youths.
Hadiya's father K M Ashokan said that Shafin Jahan, Hadiya's husband, has been in touch with people on Facebook and even asked them how much he would be paid for recruiting from India. Ashokan asked the court to hold in-camera proceedings in the case.
India Today's sting operation showed Zainaba A S, head of radical Islamic charity Popular Front of India's (PFI) woman wing, accepting the fact that PFI's sister organisation Sathya Sarani carried out massive conversions. Hadiya's father cited India Today expose on Sathya Sarani in the Supreme Court today.
The National Investigation Agency (NIA) told the Supreme Court that Sathya Sarini has a well-established machinery for indoctrination. "They programmed people and radicalised them," the NIA told the court.
WILL SUCH MARRIAGES BE SCRUTINISED BY COURT?
Kapil Sabil, who is appearing on behalf of Shafin Jahan, told the court that he was saddened by the communal arguments in the case. "Will now all marriages between Hindus and Muslims be scrutinised by courts like this," Sibal asked.
"Why is the Bench not listening to Hadiya," Sibal said. Hadiya, before leaving for Delhi from the Kochi airport on Saturday, told the media that she wants to be with her husband. "I am a Muslim. I was not forced. I want to be with my husband," Hadiya said.
The court is hearing a plea by Shafin Jahan challenging the Kerala High Court order of May nullifying his marriage with Hadiya and seeking recall of its order asking the NIA to investigate the conversion of Hadiya to Islam and her marriage.
Source: indiatoday.intoday.in/story/kerala-love-jihad-case-hadiya-shafin-jahan-supreme-court-conversion/1/1098148.html
--------
Muslims organise funds for Hindu woman's wedding in Bengal village
Nov 26, 2017
A group of Muslims came together to fund the marriage of a Hindu woman in a West Bengal village, which has only eight Hindu families and around 600 Muslim households.
Led by Motiur Rahaman, a local madrassa headmaster, the Muslims helped Saraswati, daughter of late daily-wager, marry Tapan Chowdhury in their Khanpur village of Malda district on Thursday.
Saraswati's father, Trjilal Chowdhury had died three years ago leaving his wife Sovarani in financial crisis with her five daughters and a son.
Sovarani had managed to arrange Rs 2,000 dowry demanded by the groom's family, but was left penniless after that to arrange the wedding.
"On coming to know of Sovarani's problem, I had discussions with my neighbours Abdul Bari, Imadul Rahaman, Jalaluddin, and Sahidul Islam, among others. We all agreed that since Saraswati is our daughter only despite being of different religion, it is our duty to arrange a proper wedding," Rahaman told HT.
He and his group then approached Sovarani and assured her the amount, which they collected soon after and helped conduct the marriage.
A reception ceremony was also held on November 25 where Rahaman stood at the entrance of Sovarani's residence, greeting the groom and his family members.
"Had Trjilal been alive, he would have done that. In his absence, I did it since Saraswati is nothing less than my own daughter," Rahaman said.
http://www.hindustantimes.com/india-news/muslims-organise-funds-for-hindu-woman-s-wedding-in-bengal-village/story-h3eKAuhk1DRpJJjyWXNmMK.html
--------
More Women In The Workforce, Saudi-Style
27 November 2017
Lifting the driving-ban will provide a fillip to women's participation in national life even as opportunities for foreign workers shrink
Thanks to a royal decree issued by King Salman on September 26, 2017, women will be permitted to drive for the first time in the history of Saudi Arabia. It is a big step towards women empowerment — as the New York Times rightly put it, the ban has become a global symbol of the oppression of women in the ultraconservative kingdom of Saudi Arabia.
According to the decree, the traffic laws would be amended and a high-level ministerial committee will look further the necessary steps need to be taken before the change can be implemented. The new policy will be implemented from June 24, 2018. As reported by Wall Street Journal, according to market-research firm Frost & Sullivan "up to 150,000 women will get drivers' licenses in the kingdom each year but the number could be higher in the first year as many women, particularly younger ones, rush to get behind the wheel."
Princess Nourah University having more than 60,000 female students in Riyadh and other cities is preparing to open a driving school. There are eight million adult Saudi women and from Saudi Arabia's perspective the decision will bring more and more women into the workforce. For global car makers, the decision has opened a large market and the automobile industry has responded with enthusiasm, their social media handles welcoming the decision.
Of course, while not every Saudi woman is likely to drive but the job market for foreign drivers will surely shrink especially as car-hailing apps with plans to hire female chauffeurs are already in the works and, once women hit the roads, job opportunities for foreign drivers will shrink further. The Saudi authorities have already made clear that because of the low rate of 'Saudisation' in the transport sector no foreign drivers male or female would be hired.
There are number of people from South Asia working in the West Asia and Indians are the largest expatriate community in Saudi Arabia at present — there are about 2.96 million Indians living and working in the country. Since 2009, every year India accounts for around three lakh workers per year sent to Saudi Arabia. But the numbers are falling. Responding to a question in Rajya Sabha, the Ministry of External Affairs said the number of registered migrants heading towards the Gulf Cooperation Council (GCC) countries which were 775,845 in 2014 fell to 507,296 in 2016. For Saudi Arabia, the number fell from 329,882 in 2014 to 165,356 in 2016. Most South Asian expatriates working in GCC countries are less or semi-skilled. This explains why despite of 34.6% decline in the number of migrants heading towards GCC, the total flow of remittances went down just approximately 10 per cent, from $70 billion in 2014 to $62.745 billion in 2016. And foreign workers in the transport sector where 'Saudisation' is now the key phrase are likely to be only the first lot to be affected by the realization in Riyadh of the importance of getting women into the workforce.
Today, about 10 per cent of Kerala's population does not live in the State; approximately every third house has a person working in the Gulf and remittances constitute almost 35 per cent of Kerala's gross state domestic product. In the last couple of the years, the underdeveloped areas of 'Purvanchal' which constitute eastern Uttar Pradesh and western Bihar had started making a beeline for the Gulf. Presently, the number of emigrants from Bihar is estimated to be around 1.5 lakh and according to estimations made by travel agents around 70 per cent of emigrants come from Gopalganj and Siwan. During 2007-2012 the Siwan and Gopalganj police verified 198,000 and 153,000 passports respectively and the maximum remittances for the period April 2015- March 2016 were received by Siwan district followed by Gopalganj, and the trend was the same during 2014 also. But these new entrants and those in the queue have to understand that the policy of replacing expatriates with the locals, especially encouraging women to enter the workforce including in even previously ultra conservative societies such as Saudi Arabia shows that employment opportunities are rapidly shrinking in West Asia. In these circumstances, even the "house driver visa", which was one of the easiest to get for Indians and was a well-paying job compared to wages obtainable in India, is likely not to be the same anymore.
The decision to let women drive would help Saudi Arabia to save about twenty billion Saudi riyal a year. Many from Kerala work as house-drivers in Saudi Arabia and the ripples of this decision are already being felt. As more women join the work-force, they will replace immigrants in other sectors of the economy in Saudi Arabia also. In the situation when creating well-paid jobs are proving to be an arduous task for successive Indian governments, and given the trend of shrinking job opportunities for Indians in West Asia, it is time for New Delhi to focus its energies on getting more and more women into the workforce to ensure long-term economic benefits for the country and the empowerment of women.
(The writer is a post-graduate student, Centre for Informal Sector and Labour Studies, School of SocialSciences, JNU)
http://www.dailypioneer.com/columnists/oped/more-women-in-the-workforce-saudi-style.html
--------
Nearly 2,000 women killed in eight years in Turkey
November 26 2017
Nearly 2,000 women have been killed over the past eight years in Turkey, according to statistics gathered by a website tracking femicides across the country based on reports by the Bianet news website.
At least 1,915 women were killed since 2010 and the only province where no femicides were reported out of all of Turkey's 81 provinces was the northern province of Bayburt, kadincinayetleri.org stated.
Violence against women and femicides continue to be major problems in Turkey, with statistics showing that current preventive measures are far from sufficient.
One out of every two women killed since 2010 was murdered either by their husbands or boyfriends, with at least 396 taking place at the stage of breaking up or divorce.
According to the website's figures, the number of women subjected to violence, harassment or threats before being killed was at least 355.
Most shocking is the fact that at least 237 murders were committed despite the victimized women having applied to the state for protection.
Some 62 percent of women were killed by their husbands, boyfriends, former husbands or former boyfriends, corresponding to 1,193 femicides.
At least 213 women were killed either by their fathers, sons or brothers and 114 were killed by male relatives.
Among the "justifications" for these murders are suspicion of being cheated on, divorce requests, refusal to get back together, and so-called "honor killings." Among the men who committed the killings were those who reportedly complained that their wife "didn't put tomato sauce in a meal," "made fun of my manhood," "complained about me," and "refused to give her phone's password to me."
Istanbul topped the list of provinces where femicides were committed, with 261 women killed since 2010.
The western province of İzmir followed Istanbul with 139 murders and Ankara was third with 105.
While no femicides were reported in the media in Bayburt, the least number of women killed were reported in the Black Sea provinces of Artvin, Karabük and Gümüşhane, as well as the eastern provinces of Tunceli and Bingöl.
Among the main causes of the failure to prevent murders of women is the common reduction of sentences for convicts due to "good conduct" during their trial.
A court in the southeastern province of Batman recently reduced the sentence of a man who tortured his sister to death, prompting outrage on social media.
Masum Demirtaş, who was sentenced to aggravated life sentence in prison for killing Amine Demirtaş in 2016, received a reduction in his sentence for "his good and regretful conduct" during the trial process, and was given life in prison instead.
"After I understood that I wasn't going to be able to obtain any results from beating her, I electrocuted her five or six times in order to scare her. I thought she was pretending to have fainted [when she died]," Masum Demirtaş previously told the Batman Second Heavy Penal Court in his defense.
After the reduction in his sentence, the Batman Bar Association's Women's Rights Commission appealed against the ruling.
Commenting on the reductions of sentences in femicide cases, Prof. Adem Sözüer from Istanbul University's Faculty of Law said a suspect's sentence should not be decreased "just because he wears a tie during the trial."
"Without a concrete reason, a suspect's sentence should not be decreased automatically for 'good conduct' just because he behaved well in court," Sözüer told daily Hürriyet.
Female lawmakers from the ruling Justice and Development Party (AKP), the main opposition Republican People's Party (CHP) and the Nationalist Movement Party (MHP) also commented on the "good conduct" reductions.
"Can a reduction of a sentence for wearing a tie be applied in a murder case? New legal regulations are necessary on this issue," AKP Antalya deputy Gökcen Özdoğan Enç told Hürriyet, while Justice Minister Abdülhamit Gül recently stated that he is often "saddened" by "good conduct" sentence reductions.
CHP Istanbul deputy Didem Engin stressed that "sentences must be a deterrent," while MHP Aydın deputy Deniz Depboylu also urged more severe sentences in femicide cases.
Meanwhile, thousands of women across Turkey took to the streets to mark Nov. 25, the International Day for the Elimination of Violence against Women.
In Istanbul, a march was held on Istiklal Avenue with the participation of hundreds of women calling for an end to femicides and violence against women.
CHP deputies Sezgin Tanrıkulu and Ali Şeker, as well as Peoples' Democratic Party (HDP) deputy Pervin Buldan, participated in the march.
"We are not silent or afraid and we won't obey!" was among the slogans chanted by the women.
http://www.hurriyetdailynews.com/nearly-2-000-women-killed-in-eight-years-in-turkey-123079
--------
Iran: Rise in husbands' abuse of women due to poverty, unemployment
26 November 2017
Rate of domestic violence in Iran had a 3.2% rise in the Iranian year of 1395 (March 2016 – March 2017) compared to the previous year.
Ali Hadizadegan, head of the Coroner's Office of Mashhad, told an expert meeting, "A Coroner's Office survey done in 28 Iranian provinces shows that around 66 per cent of the families refer to the office due to family disputes have experienced domestic violence at least once."
The study also indicates that 52% of the violence has been verbal or psychological, 37.8% physical and 10.2% sexual. Also, 22% of women who referred to the forensics had been abused by their husbands," Hadizadegan added.
He also pointed out, "Violence is more common among young couples. Most abused women were between 20 and 35 years of age. A woman's occupation and income has been effective in decreasing violence. Violence happens more frequently in under educated families. Families with low income also experience more violence."
Hadizadegan acknowledged that the figures provided by the government do not reflect the reality because women generally do not complain about the violence they experience. (The state-run Fars news agency – November 23, 2017)
http://www.women.ncr-iran.org/iran-women-news/4531-iran-rise-in-husbands-abuse-of-women-due-to-poverty-unemployment
--------
Follow Islam To Protect Women's Rights: Pakistan Minister
November 27, 2017
FAISALABAD-Addressing an awareness walk, State Minister for Textile Haji Akram Ansari said that Islamic teachings should be followed in to ensure protection of women's rights in true sense.
The minister said that present govt had given section attention on the welfare of the women and necessary legislations had also been framed in this regard.
Under the arrangements of Social Welfare Department, the walk was held here in connection with the International Day for the Elimination of Violence against Women. The walk was jointly led by Deputy Commissioner Salman Ghani, State Minister for Textile Haji Akram Ansari, women parliamentarians Begum Khalida Mansoor, Madeha Rana, Dr Najma Afzal and Fatima Fareeha.
Women belonging to different NGOs and employees of the various departments participated in the walk; they were carrying banners and placards inscribed slogans violence against women and women rights . The walk started from District Council Chowk and culminated at the Kutchehry Bazaar Chowk after passing through the Khaleeq Qureshi road. Expressing his views, Deputy Commissioner Salman Ghani said that a 16-day awareness campaign was being started for elimination of violence against women. Various activities would be held to highlight the women's rights and the steps taken by the govt for their welfare.
He said that district administration was implementing the policies and measures for the development and welfare of the women to bring them main stream of the national development. He said that positive trends be promoted in the society to provide the women with respectable status.
The women parliamentarians urged upon the people to contribute actively for building a strong and valued society that empowers the women across the board. They said that violence against women and injustice could not be tolerated in the civilised society. The Punjab govt. had taken a number of steps for the development and progress of the women including legislation for women's protection, establishment of women protection authority and other such policies.
They also highlighted other steps taken by the govt including establishment of Darul Aman in the all districts, setting up daycare centres increasing employment quota for women, protection of inherited rights and introducing a helpline to provide information about women's rights and services.
http://nation.com.pk/27-Nov-2017/follow-islam-to-protect-women-s-rights-minister
--------
URL: https://www.newageislam.com/islam-women-feminism/kerala-love-jihad-i-want/d/113369
New Age Islam, Islam Online, Islamic Website, African Muslim News, Arab World News, South Asia News, Indian Muslim News, World Muslim News, Women in Islam, Islamic Feminism, Arab Women, Women In Arab, Islamophobia in America, Muslim Women in West, Islam Women and Feminism