New Age Islam News Bureau
27 March 2015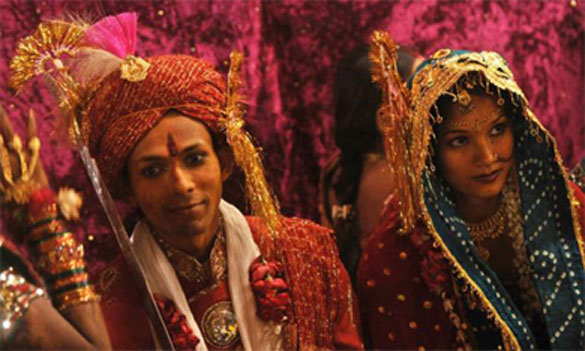 The state has not formulated legislative procedures to register minorities' marriage and divorce.—AFP/File
------------
• Saudi Women Looking Forward to Municipal Elections Which They also can Fight
• Saudi Education Ministry to Open Nurseries at Girls' Schools
• Arab Women's New Face in the Knesset
'• Violent Attack' On Sydney Muslim Woman Highlights Reports of Islamophobia
• UK King's Surgeon's Daughter 'Brainwashed' Before Going to Syria, Says MP
• In Chitral, Home Is the Opium Den for Women and Children Braving Cold
• Pak Minorities Suffer Due To Lack of Family Laws
• Egyptian Mother Who Spent 43 Years Living As a Man Honoured As the 'Ideal Mother'
Compiled by New Age Islam News Bureau
URL: https://newageislam.com/islam,-women-and-feminism/new-age-islam-news-bureau/kenyan-women-mps-wants-dpp-to-probe-sexual-harassment-in-parliament/d/102140
-----------
Kenyan Women MPs Wants DPP to Probe Sexual Harassment in Parliament
27 March, 2015
More than 50 women parliamentarians on Wednesday urged the Director of Public Prosecutions to investigate claims of sexual harassment against women.
In a media briefing, the Kenya Women Parliamentary Association noted increased cases of sexual assault, citing the recent attack on Taita Taveta Women MP, Joyce Lay.
"We are closely following the investigations involving the MP and the outcome. We promise to work closely with the DPP in ensuring justice is served to the victims," said chairperson Cecily Mbarire.
Mbita MP Millie Odhiambo said that KEWOPA will use the legal machinery to force the government into action.
The MP, who last year claimed to have undergone sexual harassment in the chamber, took issue with those unfairly branding MPs.
"Strong women are always branded as immoral. If they call women immoral, the blame should be equally distributed because the immorality comes with sleeping with men. That blame must be balanced!" Odhiambo said.
Kibwezi East MP Jessica Mbalu urged the government to protect the women by ensuring that the Sexual Offences Act is implemented fully.
"We cannot afford to have a situation like this happening and it is business as usual! Where are the police? And why are the investigations taking too long? We need the government to answer these questions," said Mbalu.
Lay, who also attended the briefing, was allegedly sexually harassed by a male colleague while on a parliamentary mission in Japan.
Her incident was followed by accusations that Imenti Central MP Gideon Mwiti raped a lady in his office five days ago.
KEWOPA promised to establish a gender unit the National Assembly to cater for women MPs and parliamentary staff.
http://allafrica.com/stories/201503260104.html
----------
Saudi Women Looking Forward to Municipal Elections Which They also can Fight
27 March, 2015
Saudi women have progressed significantly during the past few years and have occupied many important positions on the way, from undersecretary at the Education Ministry to membership of the chambers of commerce and the Shoura Council.
Saudi women are now preparing to enter into a new sphere of politics and serving the country by participating in municipal elections for the first time in the history of the Kingdom.
Under a new partnership, called the Baladi Initiative, training workshops will be conducted to strengthen women's participation in municipal council activities.
Hatoon Al-Fassi, the general coordinator of the Baladi Initiative, told local newspapers that the workshops — a total of 13 will be held across the Kingdom — will involve many levels such as the election campaigns and training and preparations for elections beginning in 2016.
"We need to train voters and candidates on how to run an election campaign," she said. "Our numbers are not enough to cover the whole Kingdom," she said.
Al-Fassi said that in the first phase of the project, trainers come in from other countries in the Arab world, such as Lebanon, Jordan and the United Nations. In the second phase, she noted, Saudi female participants will be trained to become trainers themselves.
Speaking on the role of municipal councils after the election process and holding them accountable, and how women can contribute and be active in the development of their local communities, Al-Fassi said: "The Baladi Initiative has already defined the identity of such councils and their social, political and cultural rights."
The Baladi Initiative, she explained, seeks to contribute to the formation of women's committees affiliated with the government.
Nora Al-Soyan, a training supervisor in Riyadh and member of the initiative, said that the Al Baladi Initiative faced difficulties when it was first launched.
"It wasn't easy for Saudi women to enter this new process and experience in the first place," she said.
"We, therefore, had to find a suitable location to hold the workshops as an NGO because the first question we've been asked is about the official agency we were affiliated with."
She said the workshops were excellent because women's participation in the political process was strong and extensive despite the unfair stereotypical image of Saudi women in general, inside and outside the Kingdom.
The other hardships the campaign faced involved the time dedicated by women to participate in the workshop as the majority of them are either in academia, business or hold other jobs.
Fatima Ateef, another campaign coordinator in Jazan, said it is very important that Saudi women be involved in the election process.
"It is a necessity and not a luxury. Women's participation does not mean that she should give up and cancel her Islamic identity, as some sees."
The female element, she pointed out, will drive the wheel of development forward in accordance with Islamic law and regulations.
"Here, in Jazan, women are very optimistic about the forthcoming municipal elections because we already have the support of Jazan Gov. Prince Mohammed bin Nasser," said Ateef.
One of the workshop participants, Latifa Al-Airee, said she is very optimistic about the elections which will open many doors for Saudi women.
Another participant, Latifa Al-Maiuf, agreed. "My experience in the banking sector and administrational training confirms my vision that Saudi women can succeed and excel in any field they believe in," she said.
http://www.arabnews.com/saudi-arabia/news/723386
----------
Saudi Education Ministry to open nurseries at girls' schools
27 March, 2015
Teachers have welcomed the decision by Education Minister Azzam Al-Dakhil to open nurseries at all government and private girls' schools across the Kingdom.
The ministry wants to increase the productivity of women teachers and put their minds at ease concerning the safety of their children during working hours, the minister said on his Twitter account recently.
"We desperately want to boost the productivity of women teachers while assuring them that their children are safe ... I just issued a decision to open nurseries at all government, private and foreign girls' schools in the Kingdom."
Many working women in the Kingdom have expressed concern about the safety of their children after several incidents involving foreign housemaids killing youngsters.
Latifa Abdulmohsin, a teacher, said the decision was long overdue and hoped it would be implemented soon. However, she said many school buildings lack the infrastructure for safe and healthy areas for their children.
"Taking my kids to school will help me do my work. The decision will reduce the number of days that women take off to care for their children," she was quoted as saying in a local publication recently.
She said it was a pity that women working in far-flung areas would not benefit because they would be afraid to take their children out on the country's dangerous roads.
Najla Al-Fahd, another teacher, said she was happy with the decision because it would help ease her mind. "Unfortunately many schools lack adequate infrastructure to establish nurseries," she said.
Al-Fahd said she has already seen the benefits of a nursery at a school in Riyadh. "There was a positive psychological impact on all the women teachers. They were more committed to their work because they were assured their children were safe," she said.
Abdulrahman Al-Madairis, the director general of education in the Eastern Province, said the new decision would ease the minds of teachers and increase their productivity.
The decision would also help the children in terms of their education, social, physical, cultural, and emotional development, and aid their shift to kindergartens, he said.
Fawzia Barian, head of the early class division at the education department in Jeddah, said the teachers would become more stable emotionally and psychologically. It would also improve their performance.
Other women teachers said it would help prevent women from quitting the profession.
http://www.arabnews.com/saudi-arabia/news/723421
----------
Arab women's new face in the Knesset
27 March, 2015
Among Arab Israelis, Aida Touma-Sliman is a symbol of an independent, strong and assertive woman. For many Israelis, however, she was quite an anonymous figure until she was named second on the Hadash Party slate and fifth on the joint Arab slate.
Touma-Sliman's admirers, who have followed her active and intensive career over the years, including her failed attempts to garner a spot on the Hadash Knesset list, sighed with satisfaction after the March 17 elections. At last, Touma-Sliman will be part of the Arab-Jewish Joint List, which garnered 13 Knesset seats. They are convinced that she will make an active and constructive parliamentarian.
Touma-Sliman, born in Nazareth, is a familiar face within the Arab sector and other sectors as well, due to her long-standing public activity. In 1992, she founded the Arab-feminist association Women Against Violence, serving as its CEO. She was also the first woman on the High Follow-Up Committee for Arab citizens of Israel and the chief editor of the daily Al Ittihad. Political and social engagement have been part of her life ever since her high school years.
In an interview with Al-Monitor, she candidly talks about what she has done so far and has yet to do. She also touches on the attitude of Jewish society toward Arab Israelis, and particularly toward Arab women.
The text of the interview follows:
Al-Monitor: You started vying for your place in Hadash 22 years ago during the 13th Knesset (1992). It has taken you a long time to persuade Hadash of your political skills.
Touma-Sliman: First let's start by defining what a political sphere is. If we're talking about parliamentary work, then yes, it has taken a while. But I'm one of those who believe that politics can be pursued outside the Knesset as well, and I've proven it. I was among the founders of the International Women's Committee for Justice Peace Israel Palestine, which consists of 20 Israeli women, 20 Palestinian women and 20 women from around the world. I was among the co-writers of the future vision of the Arab population [document published by the High Follow-Up Committee in 2006]. I was the first woman to serve on the High Follow-Up Committee for Arab citizens of Israel. I was the editor of the Israeli Arab-language Al Ittihad newspaper, so I think that politics can be pursued not only in the Knesset.
Al-Monitor: In Israel, you were quickly compared to another member in the joint slate, Haneen Zoabi, and it seems to be that you were slightly taken aback.
Touma-Sliman: I come from a social-communist ideology that believes in Jewish-Arab partnership. But first there's one thing I'd like to emphasize — I think that what was done to Zoabi was part of the desire of the Israeli public, the Zionist mainstream, to create a scarecrow that can be used to heat up emotions — a scarecrow that can be used to mark a new enemy around whose hatred people can rally. Zoabi has suffered an injustice. In fact, she talks about the injustices suffered by a people under occupation. She talks about the national-civic rights of the Arab-Palestinian population within the State of Israel. She also talks about democratic values and equality within the general population.
It's possible that she and I have a different style and a different way of expressing ourselves, but in the end we don't have different political views. We both speak against the occupation and we are both in favor of democracy.
Al-Monitor: You asked not to be compared to her. Do you think she's causing damage to the Arab sector?
Touma-Sliman: I think it's a fundamental right for anyone engaging in public activity to ask not to be compared to anybody else. And if we're making comparisons, why not compare me to [former left-wing Knesset member] Tamar Gozansky? We share the same ideological outlook.
Al-Monitor: Would you like to be compared to her?
Touma-Sliman: Tamar is a role model. She's a leader who embraced the same ideology as me. She fought against the occupation and for peace, women's rights and workers' rights — so it's an honor for everyone. But my basic wish is that you get to know Touma-Sliman.
Al-Monitor: Your social and political engagement goes way back. What prompted you to engage in the activity you're doing today?
Touma-Sliman: I grew up in a home that believed very much in my power as a human being, not as a woman. I was brought up to be critical, to look at what's going on around me and ask the right questions, such as "How can this situation be fixed?" It was no coincidence that at 21 I chose to be a communist. When I see an injustice — regardless of gender or national affiliation — it's obvious for me that I can't stand on the sideline and just watch. I have a desire to create a better place and environment — for me and for future generations.
I have two daughters. I wanted them to grow up in a society that accepts them better as young women. I wanted them to grow up in a country that treats them democratically. When I enrolled my daughter in kindergarten, I put up a fight when they didn't want to accept her because the kindergarten close to our home was a Jewish one. I fought hard and she was eventually admitted. I grew up at a time when Hadash won the elections in Nazareth, giving rise to hope that we can make a difference and change things. It all prompted me to look around, ask the right questions and want to make a change.
Al-Monitor: In this day and age, it seems as if only Arab Israelis openly and proudly talk about being communist. In Israeli eyes, communism has almost become a derogatory term, or a term that's almost obsolete.
Touma-Sliman: Communism is starting to be a derogatory term, but Marxism isn't. I remember my daughter once telling me: "I think it's easier to be a communist Arab than a communist Jew." To be a communist on the Arab side is to be part of a group that fought for its rights, defended the Arab population before 1948 until the end of the martial law. It paid quite a stiff price — both as individuals and as a group. I think that the pride emanates from the history of the party in the Arab population, which was also a way of preserving our culture. Al Ittihad and Al Jadid magazine preserved Arab culture during attempts to create the new Arab: The Arab-Israeli who is detached from his national affiliation. And there was also the newspaper of the communist party that preserved that culture. Samih al-Qasim started [publishing his poetry] there, as did Emile Habibi and Mahmoud Darwish.
Al-Monitor: With your permission, let me touch on a painful topic. Four years ago you lost your husband. Your journey to the Knesset has become today a lone one. Would you say that your loss further drove you to enter parliamentarian politics?
Touma-Sliman: Yes. I had a partner who is still with me. He was very special and very supportive of my struggles. When I was tired he would always say to me, "Aida, you have a unique voice and people want to hear it. You can't stand on the sideline." That always empowered me, and it still does. I spent five months with him during his treatment, and I saw other people with the same problem, but they didn't have the energy or the knowledge to cope with it. I saw how they could easily get lost in the Israeli health system. Even there, Arabs are treated differently. Four years ago when we were looking for a support group for my family and myself, there wasn't even a single Arabic-speaking group.
On the other hand, to be a widow in an Arab society has its own status that carries other layers of oppression and discrimination. I used to think — and I still do — about those other women who are more than disenfranchised. How do they go through this process?
Al-Monitor: On election day, Prime Minister Benjamin Netanyahu warned his electoral base that "the Arabs are coming out in droves to vote." In your long journey during this campaign, I'm assuming that you noticed and experienced the negative sentiments in Israel against Arabs.
Touma-Sliman: A few weeks ago, during the election campaign, I attended panels at two Ort schools in Acre — one for Jews and one for Arabs. It scared me to see that in my own hometown, Acre, there are many Jews who will vote for [Foreign Minister Avigdor] Liberman's [Yisrael Beitenu] party — especially in a place that's being portrayed as a city of coexistence.
Al-Monitor: When arriving in the Knesset, I imagine that you will bring with you your long and rich experience battling violence against women, fighting poverty and advocating coexistence. I think one could already guess what type of legislation you'll want to focus on.
Touma-Sliman: Anything that has to do with workers' rights. This is something I'd like to tackle — how to help disenfranchised people and not just in the Arab population. You can't ignore the issue of poverty. It has facets of both class and nationality.
Al-Monitor: Upon arriving in the Knesset assembly, you will probably find yourself in front of right-wing Knesset members with no holds barred. They now constitute a large majority.
Touma-Sliman: Don't you worry. When push comes to shove, I'm a true fighter. I know how to run wars. I'm going into politics to make a change, not to be changed.
http://www.al-monitor.com/pulse/originals/2015/03/aida-touma-sliman-interview-arab-woman-future-arab-knesset.html#ixzz3VcsnfwwS
----------
'Violent attack' on Sydney Muslim woman highlights reports of Islamophobia
27 March, 2015
The woman, who does not wish to be named, says she was shoved, kicked and called names between Sydney's Central and Town Hall stations before anybody came to offer her support.
"When (the attacker) became loud, I looked around me… and I just thought 'Nobody is here to help me,' so if I keep speaking he may come closer to me and attack me physically," she told SBS.
She says she knew the attack was religiously motivated because of the way he looked at her hijab and told her "you people get in our way," before pushing her.
The woman says she was only offered support after the man left the train.
"Somebody offered me tissues, somebody asked me how I was… One woman who didn't see anything but heard everything, came out when I was crying and she came to me and said 'You don't have to cry, these people are nonsense….racist.'
"And I am very grateful to those people, but when I was fighting for my respect nobody even came."
This is not an isolated event according to lawyer and founder of Islamophobia Register Australia Mariam Veiszadeh, who said the Register has been receiving a large number of reports of Australian Muslim women wearing the hijab being targeted.
"The anxiety felt by victims is very much crippling and have detrimental impacts on all aspects of their lives and their broader families and communities," she said.
"Many of the women who have submitted reports to us have indicated that they have had to change their daily routines and curtail their activities and participation in public life based on fear and anxiety," Ms Veiszadeh said.
She also noted an "upward surge" in incidents being reported whenever Muslims are "involuntarily thrown into the media spotlight."
Following the Sydney siege last December and growing reports of anti-Islamic sentiment, a Twitter campaign with the hashtag #illridewithyou grew rapidly in support of Muslim people who felt unsafe when riding public transport alone.
The woman who was attacked on a Sydney train on Monday night counts herself among those who felt threatened in the days following the siege.
"When I was on the train, it was just like 'everybody's looking at me.' I was very scared. For the next few days I travelled with my colleagues on the train," she said.
"And then I heard about that hashtag and…this gave me my strength back actually."
For her, the attack on Monday was the first time during her one year living in Australia that she has been abused because of her religion, and it has lowered her confidence in the Australian public.
When one friend suggested taking her hijab off when she feels scared for her safety, she rejected the suggestion as intolerant.
"If this country is not accepting of me, I will return to my country. I will not stay here. I am not going to lose my identity because of this."
Race Discrimination Commissioner Dr Tim Soutphommasane noted the rise in "anti-Muslim sentiment" late last year, pointing out concerns for the safety of "women who wear visible Islamic dress such as headscarves."
"Such forms of anti-Muslim sentiment should have no place in our society. Every person should be free to live their lives, without being harassed or intimidated because of their religion."
Recently SBS reported that some Australian Muslim leaders are calling for tougher federal legislation to protect Australians from being targeted because of their religion.
At present, the Racial Discrimination laws that protect people against vilification because of their race, colour, ethnicity and national origin, do not apply to religion.
Anti-Islamic attacks fall broadly under "bias-motivated crimes." According to Ms Veiszadeh the current man power and resources devoted to investigating such crimes is "grossly inadequate," and she calls for better policing of Islamophobic attacks.
"Islamophobia, if left unchecked, may serve to erect barriers to Muslim inclusion in Australia, increasing alienation, especially among young Muslims. Not only would such a situation do grave damage to our social cohesion, it would simultaneously rapidly expand the pool of recruits for future radicalization," Ms Veisadeh said.
Parramatta police have commenced an investigation into the attack and are urging anyone who witnessed the assault to call Crime Stoppers.
http://www.sbs.com.au/news/article/2015/03/25/violent-attack-sydney-muslim-woman-highlights-reports-islamophobia
----------
UK King's Surgeon's Daughter 'Brainwashed' Before Going to Syria, Says MP
27 March, 2015
A medical student with links to Lynn's Queen Elizabeth Hospital has been "brainwashed" into travelling to Syria by Islamic extremists, according to the town's MP.
It emerged on Monday that Lena Mamoun Abdel-Gadir, 19, who is one of nine medical students to have gone to the war-torn area, is the daughter of a surgeon at the Gayton Road site.
The exact whereabouts of the group, who were all studying at the Khartoum Medical School, remain unknown.
However, a Turkish politician who is supporting the students' families has suggested they are in an area controlled by Islamic State militants.
North West Norfolk MP Henry Bellingham said Foreign Office staff were doing "all they can" to support the families, who are still in neighbouring Turkey.
Earlier this week, he revealed he had asked the foreign secretary, Philip Hammond, to provide consular assistance.
He said that while he had not heard from Lena's family directly, he believed they may have contacted other relatives.
He added: "It's a very sad situation. This girl really couldn't have been given more in life.
"They sent her to Khartoum to get a really good, balanced medical training.
"They didn't know she was going to be hoodwinked and brainwashed."
Lena is known to have sent a WhatsApp message to her sister two weeks ago to say that she and her fellow students were about to cross the Turkish-Syrian border to volunteer to treat injured people.
But it is feared that the group actually travelled there to support the extremist organisation, which controls large areas of both Syria and Iraq.
National newspaper reports have also suggested that Lena used a Twitter account to praise those responsible for the terrorist attack on the office of the French magazine Charlie Hebdo in January, in which 11 people were killed.
The account, the identity of whose author has not been verified, also contains comments which appeared to call for the implementation of Islamic Sharia law and a claim that former friends had ceased contact with the author because they had become "too Muslim."
The post then concluded: "You haven't seen the half of it."
Mr Bellingham, a former Foreign Office minister, said it was possible that people working in field hospitals in Syria could be supplying information to western intelligence services that could help to establish exactly where Lena and her fellow students are.
But he warned it could be "a long haul" for any groups that tried to get the group out of the conflict zone.
"The difficulty and challenge is IS, having got them there, will not want them to leave and the history is when people do try to leave, they get dealt with very severely."
He added: "Our hearts and prayers go to the family who are a hugely respected family and have done a lot for this community."
http://www.lynnnews.co.uk/news/local/latest-local-news/king-s-lynn-surgeon-s-daughter-brainwashed-before-going-to-syria-says-mp-1-6657484
----------
In Chitral, home is the opium den for women and children braving cold
27 March, 2015
PESHAWAR: They are not junkies or a group of friends, but family members smoking opium on a freezing cold evening in Baroghil Valley — a small town situated in the extreme north of Khyber Pakhtunkhwa's Chitral district.
A traditional chillum (pipe) is passed from one member to another — including children — as they hunker on their knees, while thick smoke permeates the main room in one of Baroghil's households.
"We smoke opium because we have no other option; it helps us to ward off the biting cold," says Ahmed Tajik, a resident of Lashkargash village in Baroghil — where the mercury drops below -15°C in winter.
While saying this, he puffs smoke in the face of his five- year-old son.
70 per cent in Baroghil addicted to opium
According to locals and researchers, more than 70 per cent of the population in Baroghil valley is addicted to opium smoking.
The valley is situated at about 12,500 feet in the extreme northeast and is nearly 280 kilometres away from Chitral town — the headquarters of landlocked Chitral district. It is located at the junction of Hindukush, Karakoram and Pamir ranges and borders with Afghanistan, Tajikistan and Wakhan Patti.
The mountainous valley comprises nine villages with nearly 4,000 households.
Opium procured from Afghanistan
Opium is not locally cultivated in Baroghil but smuggled from Afghanistan, which is the largest producer of the drug in the world.
Wakhi tribes living in Baroghil are given to the traditional way of smoking. They prepare opium in a chillum, a process which takes about 30 to 40 minutes.
"For a perennial effect, opium is mixed with aspirin and paracetamol," says local resident Amin Jan.
"It is then put into the burning chamber of the chillum with a flaming piece of charcoal at the bottom which heats up the mixture. Then people inhale the fume through a pipe."
The drug costs Rs1,000 per tola (11 gram). A tola lasts for about two to four days. Majority of Baroghil's residents spend their hard-earned money on buying opium.
"The entire population in the valley is deprived of a basic livelihood with no access to health, education and other facilities," says Jan.
He also states that a lack of entertainment activities in the area has compounded the addiction. "Heavy snow compels locals to remain indoors round-the-clock during winter; and given the lack of activity, they take to consuming the drug fervently."
A traditional Wakhi house consists of one bedroom. "Opium is smoked in the main living room. After dinner, every house in the valley begins to reek of its smell," he adds.
"Passive smoking triggers others, especially children, to take to the drug as well," he said, while sharing that he gave up on it some years ago.
The addiction has created serious economical, physiological and health problems among locals.
Local residents, however, say that opium usage is part of the Wakhi culture and can be linked back even before the creation of Pakistan.
In the past few years, the remote valley has also gained an international reputation for freestyle unique yak polo which is played in July every year.
Yak and cattle are the main sources of income in the valley. "Yak has a good market, but people spend mostly on opium,"said a native Zakirullah, who also quit opium smoking a few years ago.
"I was a daily-wage worker for rich employers and would accept opium from my boss in exchange of salary. But I'm not the only one in line; there are dozens of young labourers taking opium instead of money."
According to Zakir, people nurture their animals only to sell them at a good price later, enabling them to buy opium for winter.
"I became addicted to it during my childhood but I have given it up now. I still get urges when I see someone smoking," he discloses, while explaining the nature of the addiction.
Of brutal cold, cross-border movement and tradition
For Amin and other residents, the reasons behind the high addiction rate are the brutal cold in the valley and the tradition itself which begins from a young age.
However, local researcher, Dr Inayatullah Faizi, also sees free cross-border movement contributing to high opium smoking in the valley. "More than 80 per cent of opium is smuggled from Afghanistan," he says.
"When teachers and other government employees belonging to lower parts of the district are posted in Baroghil for 2-3 years, they also develop an addiction."
Pointing out that people in the area are deprived of basic amenities in a modern world, he laments that the government is not taking a serious notice of the issue.
"Locals perceive opium as a medicine and administer doses to children, especially when they have chest and cough problems," he says.
In 2004, the Aga Khan Foundation had launched a rehabilitation centre to cure people of the addiction; however no visible results were seen due to a lack of funds. According to figures, 300 opium addicts, including women, were provided treatment.
Officials supervising the centre said they were not satisfied with the rehabilitation process.
"Almost 95 per cent of the rehabilitated people resumed smoking again," an official of the rehabilitation camp told DawnNews.
He said they had requested the authorities to seal the border in order to curb opium smuggling, but added that the government was reluctant to stop cross-border movement because majority of the border force personnel (BSF) were involved in smuggling as well.
"Wakhi people are dependent on opium smoking and it has completely paralysed their lives."
An official, who works at Aga Khan Health Services, visited Baroghil several times in light of the rehabilitation project and told DawnNews that funds are needed to control addiction in the area.
"Without provision of funds and basic facilities, it would be very difficult to control the addiction," the official, who asked not to be named, opines.
"Our dispenser at the health centre also became addicted to the drug and was arrested by police on charges of smuggling opium to Baroghil," the official reveals.
http://www.dawn.com/news/1171789/in-chitral-home-is-the-opium-den-for-women-and-children-braving-cold
----------
Pak Minorities suffer due to lack of family laws
27 March, 2015
LAHORE: Among the non-Muslims communities in Pakistan, the Christians and Parsis have some sort of legal framework concerning their marriage and divorce issues but the others don't have such legal protection.
The state has not formulated legislative procedures to register their marriage and divorce or to adjudicate their matrimonial disputes. The issues remain in the hands of the clergy instead of being resolved constitutionally.
On the other hand, the Muslim majority community has its Muslim family laws which have also been reformed and revised.
This was a study conducted by the Community World Service to review the existing laws, rules and administrative provisions regarding family issues of religious minorities.
The study was launched at a local hotel on Wednesday in the presence of Punjab Minister for Human Rights and Minorities Khalil Tahir Sindhu, MPA Shunila Ruth, former parliamentary secretary for external affairs George Clement and Sikh leader Sardar Kaliyan.
Sindhu said the issue of marriage registration of the minorities, particularly of the Hindus, was very sensitive and it should be dealt with accordingly. He said the newly married couples could not register their marriages at the union council level.
"The Christians are often forced to convert only to get a divorce which is a despicable situation," he said.
MPA Shunila Ruth said the assemblies had not helped the minority communities in this regard through legislation.
"The chief justice of Pakistan had ordered that the union councils to register these marriages but the order was not implemented," she lamented.
"The age (of the couple) is often not taken into account. Girls and even boys as young as 10 years old can be married and nothing can be done legally about it. The age limit for marriage among the minority communities should be at least 18 years so that they, especially girls, could develop vocational skills and complete their education," she suggested.
Ms Ruth further said that for the Muslims' cases were brought to the Family Courts but for Christians, the cases remained pending for years in Civil Courts. For Hindus, the situation was even worse and the Hindu Marriage Bill was in the Punjab Assembly and yet nothing was being done about it, she deplored, adding that there were no proceedings on the Christian Divorce Bill either.
"All minorities should be taken on board when discussing these family laws, not just the clergy," she suggested.
Ms Ruth complained that the minority representatives were not elected instead they were selected by their parties which meant those in the assembly were not the real representatives of their communities. However, once they reached the assemblies, they should work for their communities, she said.
Regarding the situation in Youhanabad, Shunila Ruth said police were picking up Christians from their localities without any confirmation of their involvement in the lynching and their families did not have any idea where they had been taken to.
"Police claim that the religious leaders have allowed these steps but religious leaders told me personally that they have not," she said, saying that it was inhumane to harass people like this.
Regarding Sikh marriage laws, Singh said they were different from other religions and that a separate Sikh marriage act should be devised.
George Clement, Atif Jamil, Sardar Kaliyan Singh and Tariq Javed Tariq also spoke and confirmed that a lack of a Hindu Marriage Act in Pakistan was creating major issues, especially in south Punjab where 0.4million Hindus were residing and were even subject to forced conversions.
http://www.dawn.com/news/1171984/minorities-suffer-due-to-lack-of-family-laws
----------
Egyptian Mother Who Spent 43 Years Living As A Man Honoured As The 'Ideal Mother'
27 March, 2015
An Egyptian single mother who spent 43 years living as a man in order to work and provide for her daughter has reportedly been honoured as the "ideal mother" in Cairo.
Sisa Abu Daooh, 64, received the "woman breadwinner" award from the Social Solidarity Directorate of Luxor for working so hard to provide for her family, Al Arabiya reports.
Ms Abu Daooh was left without an income when her husband died while she was pregnant. The newspaper reports that her situation was made more difficult by the fact that working as a woman was frowned upon in her community in Luxor.
Faced with a lifetime of begging on the streets, she disguised herself as a man by wearing loose, full length robes and took on manual jobs making bricks, working in construction and polishing shoes.
"I preferred working in hard labour like lifting bricks and cement bags and cleaning shoes to begging in the streets in order to earn a living for myself and for my daughter and her children," she said.
"So as to protect myself from men and the harshness of their looks and being targeted by them due to traditions, I decided to be a man ... and dressed in their clothes and worked alongside them in other villages where no one knows me."
Her daughter Houda went on to marry a man who later fell ill and was unable to work, leaving Ms Abu Daooh once again responsible for the family. She now works mostly polishing shoes, which she says earns here a "decent income".
Houda praised her mother for working so hard and said she still gets up at 6am every morning and goes to work.
http://timesofindia.indiatimes.com/world/rest-of-world/Egyptian-single-mother-who-spent-43-years-living-as-a-man-to-work-and-provide-for-her-daughter-honoured-as-the-ideal-mother/articleshow/46623136.cms
----------
URL: https://newageislam.com/islam,-women-and-feminism/new-age-islam-news-bureau/kenyan-women-mps-wants-dpp-to-probe-sexual-harassment-in-parliament/d/102140