New Age Islam News Bureau
12 Sept 2016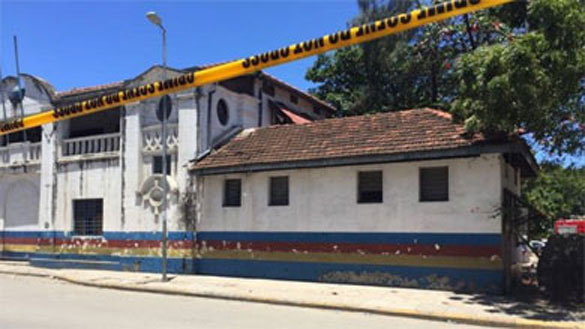 Police said women entered the station claiming they wanted to report a crime
------
• Islamic State Female 'Terrorist Commando' Found In France
• India Muslim Women 'Raped' In Fatal Attack 'Over Beef'
• Muslim Women's Forums Flay AIMPLB Stand on Triple Talaq
• She Was Targeted As a Black Muslim Woman In A Football Ad, Here's How She Responded
• Brooklyn Woman Attacks Muslim Moms, Attempts to Rip Off Their Hijabs
• Woman Attacks 2 Muslim Women Pushing Strollers
Compiled by New Age Islam News Bureau
URL: https://www.newageislam.com/islam-women-feminism/kenya-kills-three-hijabi-women-attackers-mombasa-police-station/d/108544
---
Kenya Kills Three Hijabi Women Attackers of Mombasa Police Station
11 September 2016
Three women have been killed after trying to stage an attack at the main police station in the Kenyan port city of Mombasa, officials say.
The women, wearing Hijabs, entered the station saying they wanted to report a stolen phone, police say.
One of the women pulled a knife and another threw a petrol bomb, starting a fire. Two officers were injured.
It is not clear who is behind the attack, but Islamist group al-Shabab has staged numerous attacks in Kenya.
The Somali-based group has been targeting Kenya since 2011, when Kenyan troops were deployed to rid Somalia of the militants.
Scene in Mombasa where three women were killed after trying to stage an attack at the main police station
A BBC journalist in Mombasa said the women were apparently wearing bullet-proof vests under their dresses, and an unnamed police officer said "they were definitely on a mission".
A witness called Saumu told Agence France-Presse that they were "shouting Allahu Akbar (God is greatest, in Arabic).
Al-Shabab has recruited hundreds of Kenyans, especially around Mombasa which has a large Muslim population.
Al-Shabab said it was behind the massacre at Garissa University in April 2015, in which 147 people were killed, and the attack on Nairobi's Westgate shopping centre in 2013 in which 68 people were killed.
Source: bc.com/news/world-africa-37332459
----
Islamic State Female 'Terrorist Commando' Found In France
September 12, 2016
A judge handed preliminary charges to a woman whom authorities suspect is part of a female "terrorist commando" in the service of Islamic State.
The 29-year-old was one of five suspects in an aborted attack near Notre Dame Cathedral in Paris and another possible attack thwarted by police.
The discovery of an abandoned car on September 4 led investigators to the arrests of three more women and a man that revealed links to two attacks this year in France claimed by Islamic State. The abandoned car was found with its licence plates removed, its hazard lights flashing and it was loaded with gas canisters.
A woman identified as Ornella G, was the first to be arrested, on Tuesday with a companion near the city of Orange. Her companion was freed, police said at the weekend. But Paris prosecutor Francois Molins said Ornella G's fingerprints were found in the car. She was known as someone looking to go to Syria.
The judge charged Ornella G with association with terrorists to commit attacks and attempted murder in an organised group linked to a terrorist enterprise and ordered her jailed, the prosecutor's office said.
Following Ornella G's arrest, police traced the person linked to the car to a house in the Essonne region south of Paris and descended on Friday. A confrontation with three women outside ensued, including the 19-year-old daughter of the car's owner, Ines Madani.
She was shot in the leg as she lunged at a police officer with a knife, after another woman, Sarah H, 23, attacked and wounded an officer with a kitchen knife through the open window of his car, Mr Molins said.
The third woman, Amel S, 39, who lived at the house, was arrested along with her daughter, who was about to turn 16 but implicated in the "terrorist project," said the prosecutor.
Mr Molins said the probe had led to the dismantling of a "terrorist commando of young women" aligned with Islamic State. "In the last few days and hours, a terrorist cell was dismantled, composed of young women totally receptive to the deadly Daesh ideology," said Mr Molins, using an Arabic acronym for the extremist group.
The prosecutor said the women were guided in their actions by Islamic State members in Syria, "which shows this organisation intends to make women combatants".
Police found a handwritten pledge of allegiance to Islamic State leader Abu Bakr al-Baghdadi in the purse of Ines Madani. Mr Molins said the note stated that in answer to the call of the No 2 Islamic State leader, killed in August, Abu ­Mohammed al-Adnani: "I attack you in your lands to mark your minds and terrorise you."
The probe took on a wider scope with the arrest of Sarah H.
Investigators discovered she was to marry Larossi Abballa, the man who killed a police couple in June in their home in Magnanville, outside Paris, before being killed in a police raid.
She then was to marry Adel Kermiche, who slit the throat of the priest Jacques Hamel, 85, during morning Mass in July in the Normandy town of Saint-Etienne-du-Rouvray, Mr Molins said. Kermiche and another attacker were shot dead by police.
Sarah H. was subsequently to marry Mohamed Lamine A, known to be radicalised and the brother of a man jailed in the Magnanville murders.
http://www.theaustralian.com.au/news/world/islamic-state-female-terrorist-commando-found-in-france/news-story/347a651ae7de9b55f1e417a6451b3deb
--
India Muslim Women 'Raped' In Fatal Attack 'Over Beef'
12 SEPTEMBER 2016
The woman, 20, told the BBC that four men carried out the attack in northern Haryana state two weeks ago. She denied consuming beef.
She said the men beat her uncle and aunt to death in their home in Mewat.
Many Hindus consider cows sacred and the slaughter of the animal is banned in several states, including Haryana.
The suspects have been arrested and charged with rape and murder.
However police have told reporters that there is no evidence to suggest that cow protection groups were involved in the attack.
Although the alleged rape took place two weeks ago, news of the incident has only just come out.
"They [the accused men] said that we ate cow meat and that is why we were being disgraced [raped]. They even threatened to kill me and my family if we ever told anybody what happened to us," the woman told BBC Urdu.
Muslim-dominated Mewat district, 100km (62 miles) from the capital Delhi, recently made headlines after a senior official told reporters that police would check dishes of mutton biryani to ensure they did not contain beef.
The latest attack has increased tensions.
Rape and gender crimes have been in the spotlight in India in recent years after the brutal gang rape and murder of a student in 2012 in Delhi.
In response, tough new anti-rape laws were introduced in the country.
However, brutal sexual attacks against women and children continue to be reported across the country.
http://www.bbc.com/news/world-asia-india-37336050
--
Muslim Women's Forums Flay AIMPLB Stand on Triple Talaq
12th September 2016
Bharathiya Muslim Mahila Andolan and Sadhanai Pura Women Federation (TN) strongly condemned "the patriarchal, inhuman and shameful propositions" put up by All India Muslim Personal Law Board (AIMPLB), in its affidavit submitted to the Supreme Court, justifying triple talaq and polygamy.
In a statement here on Sunday, BMMA State convener Jaibu Nisha Reyazbabu said the Board's stand that "men have greater reasoning power compared to women" smacked of a medieval mindset and prejudice against women.
Its justification of polygamy and triple talaq contravened the Constitution and the principles of gender justice in Islam. Nowhere in the Islamic world was triple talaq legal, she added.
A majority of Muslim women across the country would not tolerate biases and prejudices against them.
They expected to be treated with respect and dignity.
Not only should triple talaq be legally abolished but also misogynist practices such as 'Halala', underage marriages, 'Muta' marriages and polygamy and any form of unilateral divorce without recorded arbitration must be legally abolished, she demanded.
The entire Muslim family law as practised in India must be codified to enable Muslim women to live with dignity and respect, she added.
http://www.thehindu.com/news/cities/Madurai/muslim-womens-forums-flay-aimplb-stand-on-triple-talaq/article9097002.ece
--
She Was Targeted As A Black Muslim Woman In A Football Ad, Here's How She Responded
September 12, 16
The Stanford football game advertisement was typical for what's often issued by colleges around game day: a group of students, smiling and cheering in the stands and displaying school colors. One of the fans pictured, a black Muslim student at the center of the frame, was dressed in a Hijab. That's what got the attention of some online commenters last week.
"That Hijab Or whatever is being shoved right done [sic] my throat!" one user wrote on Facebook.
"What a ridiculous advertisement. You had to throw a Muslim in there, didn't you," another commented, adding, "Disgusting. Not one white person in that ad. Screw Stanford."
One Facebook user left a comment saying, "Hey Stanford take the Muslim bull—- elsewhere, we don't wanna see it…" to which another replied, "Take the Islamophobia elsewhere, we really don't wanna hear it."
Tesay Yusuf, the Muslim student in the ad and a junior at the university, didn't immediately see the ad for a Stanford "VIP Football Experience" because it was sponsored through a third-party company that uses Facebook's audience-specific advertising, as school officials later told her. The image appeared on Facebook and was shared on the site by the Stanford Club, eventually finding its way to Yusuf.
"We all thought it was pretty cool that they had used the picture of us for the ad and didn't make much of it otherwise," she wrote in an email to The Post.
But the self-described first-generation American and first-generation college student soon noticed the comments, and she made the decision to reveal a few of the more vitriolic responses on her Twitter account Saturday morning.
"I became more frustrated, which led me to share the tweet," wrote Yusuf, who was born in Maryland and grew up in the Washington, D.C., area. "I wasn't expecting the tweet to get so much attention."
At press time, Yusuf's post has been retweeted more than 6,000 times and liked over 5,000 times. Many users offered words of support, calling Yusuf "gorgeous," imploring her to "keep spreading your light," and saying "Stanford should be honored to have you in the pic."
"Thankfully almost every single response I've gotten has been extremely positive," Yusuf, an international relations major who is minoring in African and African American studies, wrote in her email. "I also know that the people who made those hateful comments are random people who probably have no connection to Stanford whatsoever."
https://www.washingtonpost.com/news/early-lead/wp/2016/09/12/she-was-targeted-as-a-black-muslim-woman-in-a-football-ad-heres-her-powerful-response/
--
Brooklyn woman attacks Muslim moms, attempts to rip off their hijabs
September 12, 2016
The suspect is alleged to have shouted, "this is the United States of America, you shouldn't be different from us," during the attack.
A Brooklyn resident, 32 year-old Albanian-American Emirjeta Xhelili, attacked two Muslim women and their children while on a walk Thursday, NBC reported.
The 32-year-old reportedly punched one of the women and attempted to rip off her hijab while yelling, "get the f--k out of America b----s, you don't belong here," according to the criminal complaint.
Be the first to know - Join our Facebook page.
Xhelili also reportedly pushed the woman's stroller with her 3-month-old infant inside and then attempted to grab the second woman's stroller which had her 11-month-old baby inside. The complaint filed reflects that one of the strollers was knocked to the ground.
The suspect is alleged to have shouted, "this is the United States of America, you shouldn't be different from us," during the attack.
Xhelili is currently facing multiple criminal charges including assault and endangering the welfare of a child.
According to Xhelili's social media accounts she is a staunch Trump supporter and works at Noi Due, a kosher Italian restaurant on the Upper West Side. She is expected to appear in court on September 14.
http://www.jpost.com/International/Brooklyn-woman-attacks-Muslims-attempts-to-rip-off-their-hijabs-467515
--
Woman attacks 2 Muslim women pushing strollers
12 SEPTEMBER 2016
New York City woman attacked two Muslim women who were pushing their young children in strollers and tried to rip off one woman's Hijab. Court documents say Emirjeta Xhelili approached the women near her Brooklyn home Thursday afternoon, punching one of them in the head as she screamed obscenities and told her to leave America. Authorities say Xhelili pushed the woman's stroller toward the ground and later tried to grab the second woman's stroller away from her. Xhelili faces charges including assault, menacing and endangering the welfare of a child. The Brooklyn District Attorney's Office has described the incident as a hate crime. Xhelili is being held on $50,000 bond or $25,000 cash bail. Her lawyer tells the New York Daily News Xhelili has no previous arrests.
http://www.nst.com.my/news/2016/09/172634/woman-attacks-2-muslim-women-pushing-strollers
-----
URL: https://www.newageislam.com/islam-women-feminism/kenya-kills-three-hijabi-women-attackers-mombasa-police-station/d/108544
New Age Islam, Islam Online, Islamic Website, African Muslim News, Arab World News, South Asia News, Indian Muslim News, World Muslim News, Women in Islam, Islamic Feminism, Arab Women, Women In Arab, Islamophobia in America, Muslim Women in West, Islam Women and Feminism