New Age Islam News Bureau
18 Oct 2019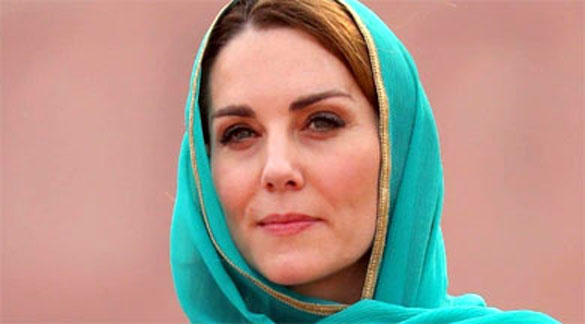 The duchess wore traditional Pakistani attire for the mosque visit.
------
• Two Muslim Women, Hajer Sharief and Ilwad Elman Were Nominated For the Nobel Peace Prize
• First Female NATO Number Two Hands Over Post Amid Turkey Crisis
• African Refugee Women Report Surge Of Sex Attacks In Egypt
• Macron Warning On Stigmatising Muslims amid France Veil Row
• Malaysia Is the World's Best Destination for Muslim Women Travelling Solo, Report Finds
• PM's Daughter Urges Policymakers To Read SIS Study On Malaysian Muslim Women, Not Just Headlines
• ISIS Says It 'Freed' Women Held By Syrian Kurdish-Led Forces
Compiled by New Age Islam News Bureau
URL: https://www.newageislam.com/islam-women-feminism/kate-middleton-wears-turquoise-hijab/d/120027
--------
Kate Middleton Wears Turquoise Hijab to Visit Badshahi Mosque in Lahore, Pakistan
Nyree McFarlane
Oct 17, 2019
The Duchess of Cambridge chose to wear a traditional Pakistani shalwar kameez and a scarf fashioned as a hijab for her visit to Lahore's historic Badshahi mosque on Thursday.
The intricately embroidered design is by Maheen Khan, who has proven to be Kate Middleton's favourite designer for the royal couple's busy Pakistani tour.
The royals heard a Quranic recital while inside the mosque, with the duchess bowing her head in respect during the recitation. In this video you can see that the man ends one recital and just as he is about to begin another, a person who is inside with Kate and William says "thank you, thank you so much, shukria [thank you]":
Jonny Dymond
@JonnyDymond
Inside the Badshahi Mosque in Lahore the Duke and Duchess of Cambridge William and Catherine hear a Koranic verse #RoyalVisitPakistan
Embedded video
60
4:17 PM - Oct 17, 2019
Twitter Ads info and privacy
21 people are talking about this
The Quranic words recited to Kate and William are from surah Maida (or chapter 5). One scholarly translation reads as below:
"To you, O Mohammad, We have revealed this Book with the truth. It confirms whatever has remained intact in the scriptures which came before it and also to safeguard it. Therefore, judge between people according to Allah's revelations and do not yield to their vain desires diverging from the truth which has come to you. We have ordained a law and a Way of life for each of you. If Allah wanted He could have made all of you a single nation. But He willed otherwise in order to test you in what He has given you; therefore try to excel one another in good deeds. Ultimately you all shall return to Allah; then He will show you the truth of those matters in which you dispute."
The mosque is a Mughal era structure, built in the late 1600s: it is carved from red sandstone featuring marble inlay. It is one of Pakistan's most renowned pieces of architecture.
Princess Diana also visited the mosque on her 1991 solo visit to Pakistan:
Mian Omer 🇵🇰
@Iam_Mian
Princess Diana also visited the Badshahi Mosque, in 1991.#RoyalVisitPakistan
View image on TwitterView image on Twitter
301
4:13 PM - Oct 17, 2019
Twitter Ads info and privacy
40 people are talking about this
Kate Middleton has previously worn a headscarf, doing so during a visit to a mosque in Malaysia in 2012.
Her and Prince William's day in Lahore includes a visit to the Badshahi Mosque, to children's charity SOS Village, to the Pakistan Cricket Academy and to Shaukat Khanam Cancer Hospital.
The duchess was seen earlier in the day wearing an embroidered shalwar kameez by Pakistani textile company Gul Ahmed and a shawl by Maheen Khan, and she even played a spot of cricket while in that outfit.
https://www.thenational.ae/lifestyle/fashion/kate-middleton-wears-turquoise-hijab-to-visit-badshahi-mosque-in-lahore-pakistan-1.924855#28
--------
Two Muslim Women, Hajer Sharief and Ilwad Elman Were Nominated For the Nobel Peace Prize
17 OCTOBER 2019
BY ZAHRA KHAN
Though Greta Thunberg has undoubtedly been the most uttered name in the realm of activism making her a leading contender for the Nobel Peace Prize, two high-achieving Muslim women are hot on her heels.
Last week, Libyan law student and activist, Hajer Sharief, and Somali human rights activist, Ilwad Elman, made their nominations public.
Having both been a part of former UN Secretary General Kofi Annan's initiative 'Extremely Together', which cultivates the abilities and potentials of 10 young activists from across the globe, both women are now known for being important catalysts for peacebuilding and combatting violent extremism in their respective countries.
At the ripe age of 19, Hajer Sharief co-founded the organization 'Together We Build it' and has since worked towards promoting a peaceful democratic transition in Libya, inclusive of women and youth.
Following in the footsteps of her late activist father, Ilwad Elman returned to her native city, Mogadishu, to run the Elman Peace and Human Rights Centre, at just 29 years old. Dedicated to peace efforts, the organisation is behind a number of initiatives motivated to prevent gender-based violence.
Henrik Urdal, Director of the Peace Research Institute Oslo (PRIO), who shortlisted the young activists as contenders for the prize said, "…Young people are setting the agenda on issues of critical importance for peace and security both locally and globally, challenging established narratives and generational power dynamics…it is my view that the contributions of young people should be highlighted in this year's Nobel Peace Prize." We couldn't have said it better ourselves.
https://www.graziame.com/life/two-muslim-women-were-nominated-for-the-nobel-peace-prize
--------
First Female NATO Number Two Hands Over Post Amid Turkey Crisis
October 18, 2019
NATO Deputy Secretary General Rose Gottemoeller likely wouldn't have wanted to be asked to dissect the situation in northern Syria as she prepared to exit her groundbreaking term as the highest-ranking woman in Alliance history. But her expertise on nuclear arms and her passion for helping improve gender balance in the Alliance had to take back seats in this interview to the latest crisis into which NATO has reluctantly been pulled.
The Alliance has no presence on the ground in Syria and until recently, managed to remain largely on the sidelines even in discourse while some of its member governments took active roles. But now that tensions are high in northern Syria between NATO's two largest military powers, Turkey and the United States, it can't avoid the spotlight.
Gottemoeller emphasizes restraint
As a highly experienced diplomat who negotiated US arms-control treaties with the Soviet Union, Gottemoeller refused to weigh in on the Syrian crisis which is dividing key NATO allies. She refused to comment on reports that Turkish forces had shelled areas near where US troops were stationed, a claim made by the US Department of Defense.
"I don't think anybody including me can speculate on exactly where this this crisis is headed," she said. "We can continue to emphasize restraint and emphasize the need to preserve the gains in our fight against Daesh," another term used for Islamic State of Iraq and al-Sham (ISIS). NATO and all allies are members of the US-led Global Coalition Against Daesh.
She wouldn't comment on allegations of extrajudicial killings carried out by fighters from Turkey-aligned Syrian rebel groups, material currently being examined by the United Nations. Gottemoeller did emphasize generally that "we need to pay attention to avoiding humanitarian problems, avoiding humanitarian tragedy further in this effort and that means avoiding things like extrajudicial executions and that type of thing."
Foreign fighter questions deserve "priority attention"
Over her three-year term, Gottemoeller's role at NATO expanded to include responsibility for heading up NATO's mounting counterterrorism efforts. In that vein, while saying she couldn't confirm reports that ISIS-linked detainees have escaped or been set free from facilities previously guarded by Kurdish militias, she pressed countries who have citizens there to finally take responsibility for them.
"It's high time that there be some priority attention given to resolving this problem," she said. "[T]he international community has been looking very very hard at how to deal with the issue of foreign fighters and their families, how to try them, what will be the proper judicial process for dealing with them. NATO supports that we support the international community's efforts to deal with this problem."
She deflected the question of how NATO would deal with escalating tensions between Ankara and the United States. Standing beside NATO Secretary General Jens Stoltenberg last week, Turkish Foreign Minister Mevlut Çavuşoğlu called European criticism of the Turkish incursion "hypocrisy" and demanded allies' moral support. "NATO already shows solidarity with Turkey," Gottemoeller underscored. "We spent $5 billion over the years in building up our NATO facilities in Turkey: air bases, naval ports, radar sites. We continue to defend Turkish airspace with flights by NATO AWACS planes to provide for situational awareness in the area. NATO is standing with Turkey as we do in our common defense."
"For all concerned," she added, "I think it's wise to consider how to get back to talking rather than fighting."
NATO gender balance slowly rising
That's the no-nonsense diplomacy for which Gottemoeller is legendary. She's also played a strong role in encouraging gender balance throughout NATO and says she's encouraged especially by the fact that classes of interns are now evenly balanced between women and men.
"I see a lot of young women rising through the ranks," she said. "They are really talented people and so I do think that increasingly we'll see them rising from the middle ranks to the upper ranks of leadership, but we've got a way to go."
She added, "I'm a little sorry that the next deputy secretary general will not be a woman" but agreed that secretary general is the next goal in any case.
Gottemoeller now heads for Stanford and Romanian diplomat Mircea Geoana, a former foreign minister and ambassador to Washington, takes over.
https://atlanticcouncil.org/blogs/new-atlanticist/first-female-nato-number-two-hands-over-post-amid-turkey-crisis/
--------
African Refugee Women Report Surge Of Sex Attacks In Egypt
Nadeen Ebrahim
OCTOBER 17, 2019
CAIRO (Reuters) - The 17-year-old South Sudanese refugee finally managed to escape after three months as a prisoner in a Cairo apartment where she was repeatedly gang raped, only to realize that she had become pregnant by one of her attackers.
She is one of a growing number of African migrant and refugee women in the Egyptian capital who report abuse, in what rights groups say has become an epidemic of sexual violence that has worsened in recent months.
Reuters met five women from Sudan, South Sudan and Somalia at a community center in Cairo, each of whom said she was a victim of violent sexual assault.
The 17-year old South Sudanese woman said she was snatched by strangers in a poor neighborhood and brought by a taxi to another area, where a man locked her up in an apartment for three months and repeatedly raped her with friends.
"I tried several times to escape," she said, adding that she finally managed to flee when her captor left a key in the house. She asked not to be identified but agreed to be filmed provided that her face was not visible.
A Sudanese woman who gave her name as Bakhtia said she was assaulted by a stranger on the street in what then became a gang attack.
"He touched me, after which I slapped him on the face," she said. "Immediately, around four other people (came over), each one grabbing me from a different body part. I tried to defend myself, but how can I defend myself?"
Three other women who spoke to Reuters said they were attacked while cleaning houses as domestic workers. Two were raped and one sexually assaulted. They asked not to be filmed or quoted directly.
The United Nations estimates around 500,000 migrants, half of them refugees, live in Egypt. Many arrived aiming to reach Europe via Israel or by boat to Turkey, routes that have been largely closed by tougher security measures.
Jobs are scarce. With austerity measures having driven up inflation since last year, many have found it more difficult to pay rent. Increasingly they have become homeless or are forced to share rooms with strangers, making them more vulnerable to sexual assault.
Cairo was named most dangerous megacity for women in an international perception poll carried out by the Thomson Reuters Foundation in 2017.
President Abdel Fattah al-Sisi ordered a crackdown on sexual harassment after seven men were arrested for attacking women near Cairo's Tahrir Square during his inauguration celebrations in 2014. Tougher sentences have been imposed for sex crimes.
But rights groups say such measures have done little to deter attacks against African migrants, who often have no recourse to the police or family to protect them.
"From two to three (complaints of abuse) a week they were going to seven a week," said Laurent De Boeck, head of the International Organization for Migration in Egypt, who blamed the surging cost of renting a room.
"The situation of them not having protection of a house, made them more vulnerable to the situation because they were basically in families in the street."
Fatma Abdelkader, who works with local aid group Tadamon which runs the community center, said cases of sex abuse had increased in the past six months, with attackers seeming to seek out African women as prey.
"The darker the skin tone, the more susceptible the women are to violence," she said.
https://www.reuters.com/article/us-egypt-migrants-women/african-refugee-women-report-surge-of-sex-attacks-in-egypt-idUSKBN1WW255
--------
Macron Warning On Stigmatising Muslims amid France Veil Row
17 October 2019
French President Emmanuel Macron has warned against "stigmatising" Muslims or linking the Islamic religion with the fight against terrorism.
"We have to stand together with all our fellow citizens," Mr Macron said during a joint press conference with German Chancellor Angela Merkel on Wednesday.
It came as a French woman said she was taking legal action against far-right politicians who criticised her for wearing an Islamic headscarf in public.
France has about five million Muslims.
It is the largest Muslim minority in Western Europe.
Wearing the Muslim headscarf or veil - known as a hijab - is banned in French schools, government offices and some other public buildings.
France is officially a secular state and body-covering garments have been at the centre of a number of controversies in recent years.
Last week, a Muslim mother who wore a headscarf during a school trip with her son to the regional parliament in Bourgogne-Franche-Comté in eastern France received verbal abuse from the chamber.
An image of the woman - given the name Fatima - embracing her son was widely shared after footage of the incident was posted on social media.
It also sparked street demonstrations in the area and has renewed a national debate over the Muslim veil. France currently has no law banning mothers from wearing the hijab on school trips.
On Wednesday, Mr Macron called for a better understanding of the Muslim religion in France and condemned what he described as the "fatal shortcut" of linking Islam with terrorism.
"There is a lot of irresponsibility among political commentators," he said, adding: "Communalism is not terrorism."
'My son approached me crying'
The incident at the regional parliament building in eastern France occurred during a school trip on Friday 11 October in which Fatima accompanied her young son.
A politician from Marine Le Pen's far-right National Rally - formerly known as the National Front - saw her during a debate and ordered her to remove her veil.
Julien Odoul posted his verbal exchange on Twitter along with a message citing a fatal knife attack on four police officers in Paris earlier this month which has been linked to Islamist radicalisation.
"After the murder of our four policemen, we cannot tolerate this [provocation]," he wrote.
In an interview with the group Collective Against Islamophobia in France (CCIF), Fatima said she was sitting quietly in a corner of the room when she heard someone shout "in the name of secularism".
"People started screaming and getting upset," she told CCIF (in French), adding: "The only thing I saw was the distress of the children - they were really shocked and traumatised.
"I tried to reassure them... my son approached me and jumped on me, crying. I told them I could not stay."
Muslim student hits back over headscarf claims
Her lawyer, Sana Ben Hadj, said her client felt "humiliated" after images of the incident were widely shared.
CCIF said Fatima was filing a complaint in the city of Dijon over "violence of a racial nature committed... by persons with public authority", adding that a further complaint would be filed in Paris for "incitement of racial hatred".
Headscarf part of wider debate
The incident has also sparked a debate over mothers wearing a headscarf going on school trips, when teachers are not allowed to.
Education Minister Jean-Michel Blanquer was widely criticised for suggesting the veil was "not desirable" in French society, and Marine Le Pen has called for it to be banned on school trips.
A ban on Muslim headscarves and other "conspicuous" religious symbols at state schools in France was introduced in 2004.
It received overwhelming political and public support in a country where the separation of state and religion is enshrined in law.
In 2011, France became the first European country to ban the full-face Islamic veil in public places, while alternatives such as hijabs, which cover the head and hair, remained legal.
Under the ban no woman, French or foreign, is able to leave their home with their face hidden behind a veil without running the risk of a fine.
Former French President Nicolas Sarkozy, whose administration introduced the ban, said veils oppressed women and were "not welcome" in France.
https://www.bbc.com/news/world-europe-50079997
--------
Malaysia Is the World's Best Destination for Muslim Women Travelling Solo, Report Finds
October 17, 2019
Malaysia is the world's most welcoming country for female Muslim travellers going solo, according to a joint report by Mastercard and halal-travel authority CrescentRating.
The country was found to have numerous key features women looked out for, such as halal food, female prayer rooms, single-gender spas, pools, beaches, beauty salons, as well as openness to the hijab being worn in public, the report said.
Other features included Islamic heritage tours, suhoor and iftar arrangements in hotels during Ramadan, and clean toilets with water to perform wudhu, a ritual wash done before prayer.
Published on Thursday (Oct 17), the Mastercard-CrescentRating report – which evaluated survey responses from 3,300 Muslim women, mostly from South-east Asia – claims to be the first in the world to look at the Muslim female travel market.
It ranked the top 10 Muslim female-friendly countries in the world, with the UAE, Turkey, Indonesia and Japan rounding out the top five.
Singapore came in sixth place, followed by South Korea, Australia, the UK and Brunei.
The report said that female Muslims were one of the fastest-growing segments in the global travel market, thanks to rising incomes, better education, and the demographic's increased empowerment to travel.
In general, Muslim women took between two and three holidays a year, accounting for slightly under half of all Muslim travels, the report said.
About 30 per cent of the 65 million journeys taken by the world's Muslim women last year were solo holidays done mainly by younger women, it added.
Over half of female Muslims used social media to research their accommodation, itinerary and food options before travelling, with 65 per cent choosing independent travel over a guided tour.
Among their top goals while on holiday were shopping, cultural and adventurous activities, festivals, and visiting the spa.
https://www.businessinsider.my/malaysia-is-the-worlds-best-destination-for-muslim-women-travelling-solo-report-finds/
--------
PM's Daughter Urges Policymakers To Read SIS Study On Malaysian Muslim Women, Not Just Headlines
15 Oct 2019
BY JERRY CHOONG
KUALA LUMPUR, Oct 15 — Prominent civil rights activist Datin Paduka Marina Mahathir today urged policymakers to read Sisters In Islam's (SIS) survey on Malaysian Muslim women.
Marina, who is also the eldest daughter to Prime Minister Tun Dr Mahathir Mohamad, said they should read the findings for a deeper understanding of the issues at stake and not just skim over news headlines about the civil society's survey findings.
"My only hope is that policymakers will read the report instead of just the headlines," Marina said during SIS' four-day conference on women's role in fighting extremism at the Istana Hotel here.
In her view, the biggest takeaway from the survey is the disconnect between the expectations of Malaysian Muslim women and what actually happens.
"For example, many expect their husbands to take up their share of household duties, yet are unable to convince them to take up even 50 per cent of those duties.
"The disconnect is further pronounced because people have come to think that this is the way things should be," Marina said.
The SIS member also touched on shifting religious interpretations in the country, saying what was once considered radical is now viewed as mainstream.
"Once upon a time, wearing the hijab was considered as such, but now it is mainstream. Even the niqab is even thought of as something ordinary.
"Another example is polygamy, which in the past was not talked about or boasted openly. But now some do, as they seem to think it is a measure of success in life," she said.
As a result, Marina said the politicisation of religion has led to people becoming afraid to challenge it, while those who do are tarred as deviant.
SIS executive director Rozana Isa highlighted the narrative of obedience has been inculcated into children, particularly girls, from young.
"It is something taught to you as a child. Even at that age the image of your husband is drilled into you, that you must obey him. At that age you do not even know what he will look like or if he is a decent person.
"This also extends to the notion that husbands can beat disobedient wives. We need to change this narrative, as Islam does not condone ways in which one is being treated harmfully," she said.
Rozana also echoed Marina's sentiments, saying the organisation is willing to assist any policymakers.
"We would be more than happy to meet up with any policymakers and brief them on the report's contents. This includes political parties, such as PAS," she said.
The survey was carried out by market research firm Ipsos between 2018 and 2019 in two phases, with the quantitative phase involving 675 Muslim women across the country aged between 18 and 55.
https://www.malaymail.com/news/malaysia/2019/10/15/pms-daughter-urges-policymakers-to-read-sis-study-on-malaysian-muslim-women/1800503
--------
ISIS Says It 'Freed' Women Held By Syrian Kurdish-Led Forces
17 October 2019
ISIS said Thursday it had "freed" women held by Syria's Kurds, the latest in a series of reported breakouts since Turkey launched a cross-border offensive last week.
In a statement released on the Telegram messaging application, ISIS said it had stormed a security headquarters west of its former stronghold of Raqqa on Wednesday, "freeing Muslim women kidnapped" by Kurdish-led forces.
It did not give a number or say if the women were ISIS members or wives of extremists.
https://english.alarabiya.net/en/News/middle-east/2019/10/17/ISIS-says-it-freed-women-held-by-Syrian-Kurds-.html
--------
URL: https://www.newageislam.com/islam-women-feminism/kate-middleton-wears-turquoise-hijab/d/120027
New Age Islam, Islam Online, Islamic Website, African Muslim News, Arab World News, South Asia News, Indian Muslim News, World Muslim News, Women in Islam, Islamic Feminism, Arab Women, Women In Arab, Islamophobia in America, Muslim Women in West, Islam Women and Feminism