New Age Islam News Bureau
14 Oct 2019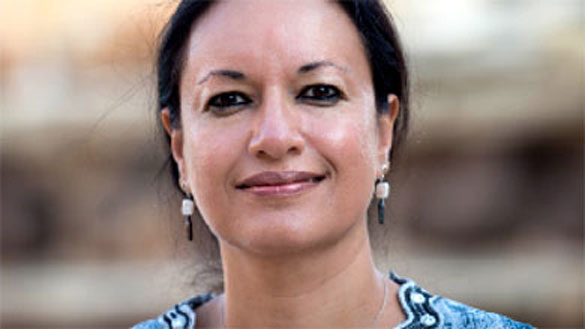 Dr Nyla Khan, professor of English at Oklahoma's Rose State College and a well-known author, was among the women feted at an Oct 10 dinner to honor '50 Making a Difference', The City Sentinel reported.
-----
• Muslim Women in Kumasi Walk to End Anti-Hijab 'Conspiracy'
• Govt Studying 'Exempting' GCC Women Married To Kuwaitis from Citizenship Law
• Somerset Police Encourage Muslim Women to Report Hate Crime
• Jada Pinkett Smith Calls Abida Parveen Her Spiritual Mother
• Far-Right French Politician Orders Woman To Remove Hijab On School Trip
• Nearly 60,000 Afghan Women Get Breast Cancer Annually: Media Report
Compiled by New Age Islam News Bureau
URL: https://www.newageislam.com/islam-women-feminism/kashmiri-ameri-writer-dr-nyla/d/119992
--------
Kashmiri-American Writer, Dr Nyla Khan, Among Nominees for Oklahoma's Woman of the Year
October 13, 2019
Dr Nyla Khan, professor of English at Oklahoma's Rose State College and a well-known author, was among the women feted at an Oct 10 dinner to honor '50 Making a Difference', The City Sentinel reported.
The annual event, sponsored by The Journal Record, a business newspaper, drew hundreds to the National Cowboy and Western Heritage museum in Oklahoma City to honor the Woman of the Year nominees.
In a statement, Dr Khan said she was "humbled to be one of the 2019 honorees of The Journal Record Woman of the Year."
After the event, she said, "I was grateful for and appreciative of my loved ones. I knew I was more sure of myself and undaunted by life's small annoyances. Every day I learn to leverage challenges to transform myself in powerful and positive ways."
The Kashmiri-American Nyla Khan was the only South Asian Muslim woman in the group this year. A well-known academic scholar, she is the author of important books like The Parchment of Kashmir: History, Society and Polity; The Fiction of Nationality in an Era of Transnationalism; Islam, Women and Violence in Kashmir Between India and Pakistan; and A Labor of Love.
Her work has got renewed attention after India annulled the special status of her home state of Jammu & Kashmir, going back on a seven-decade-old promise to give it a measure of autonomy.
Last month, Dr Khan got another notable recognition in the form of a Top 10 listing of contemporary women from Kashmir. The publication, Women's Web, is based in India and describes itself as "for women who do".
In her statement, Dr Nyla Khan continued, "I cherish my culture and values of the past while being aware of the exigencies of the present. I recognize that my personal emancipation is mediated by my responsibility toward my Oklahoma and Kashmiri communities. My state of adoption, Oklahoma, has given me an amazing platform and an ability to make constructive change at the grassroots level."
Dr Khan is also a member of the Harvard-based Scholars Strategy Network and is known for her work as a human rights and women's rights activist, besides her academic and political work in Kashmir.
In March, she was appointed commissioner of the Oklahoma Commission on the Status of Women by Oklahoma Senator Greg Treat, R-Oklahoma City, who serves as president pro tempore of the state senate.
She was also awarded the President's Volunteer Service Award and Silver Medal for her bridge-building work at the community and grassroots-level in Oklahoma.
https://indicanews.com/2019/10/13/kashmiri-american-writer-among-nominees-for-oklahomas-woman-of-the-year/
--------
Muslim Women in Kumasi Walk to End Anti-Hijab 'Conspiracy'
12-10-2019
Muslim women in Kumasi, the Ashanti Region capital, on Saturday embarked on a street protest against "persistent harassment by schools heads and other state institutions over wearing of hijab".
A hijab is a veil worn by some Muslim women and usually covers the head and chest. It is an important symbol of the Islamic faith.
Protestors, including some Muslim men, have vowed to protect their religious rights insisting they have equal rights before the law in all national life.
"We shall end conspiracies to stop young girls from wearing hijab to school or to work," some of the women chanted.
Although there have been calls for the rights of Muslim women to be respected when they wear hijab, opposition to Muslim ladies wearing the veil is rife, according to the protestors.
Campaigners say the right of girls to education is under threat because school officials either shut the doors to them or taunt and punish them for their beliefs.
Leader of the protest march, Rahinatu Boamah Agyemang, told JoyNews the age-old discrimination against women and girls wearing the hijab must end immediately.
"We plan to carry out several activities to call for respect for Muslim women in every sector of the society," Rahinatu added.
Many of the young women who joined the walk vowed to wear the veil in a bid to end the negative stereotypes about Muslim women wearing the religious garment.
One of them, Hawa Abdul-Karim said "the walk is a great idea for me and my colleagues. It will empower, enlighten and break barriers for us."
Deputy National Chief Imam, Sheikh Mohammed Kamil Mohammed, who also joined the walk, encouraged Muslim women not to give up the hijab over the discrimination.
He said the Muslim community will continue to demand equal rights no matter how long it takes.
Sheikh Kamil called on the government to direct all agencies to stop unwarranted discrimination against Muslim women over hijab.
"We won't give up this fight," he said.
He is confident, other Muslim leaders will join the campaign to ensure young girls are given their legal rights to wear hijab.
Member of Parliament for Asawase, Muntaka Mohammed also joined the march in Kumasi on Saturday.
Meanwhile, women groups say they are considering legal action against persons who harass Muslim for wearing hijab.
An Islamic committee is already in place to receive complaints of discrimination over hijab.
A case of discrimination against a Muslim wearing hijab is currently pending before the Supreme Court.
Muslim women hope a favourable ruling will bring an end to the problem.
https://www.myjoyonline.com/news/2019/october-12th/muslim-women-in-kumasi-walk-to-end-anti-hijab-conspiracy.php
--------
Govt Studying 'Exempting' GCC Women Married To Kuwaitis from Citizenship Law
October 14, 2019
KUWAIT CITY, Oct 13: Government is conducting a study to exempt the GCC nationals who are married to Kuwaiti men from the new citizenship law that permits the spouses of Kuwaiti citizens to apply for citizenship only after 18 years of marriage.
The draft was recently referred to the Interior and Defense Committee of National Assembly, reports Al-Qabas daily. The daily quoting sources pointed out that several MPs have responded to government's announcement regarding the issue and intend to press for exemption of the GCC nationals who are married to Kuwaiti men from the condition of staying married for 18 years before obtaining Kuwaiti citizenship, noting the MPs will endeavor to maintain the current condition of five years for the category.
They affirmed that Ministry of Interior understood the tendency of the lawmakers due to common traditions and close relations Kuwaitis have with other Gulf nationals, adding the amendment will be ready after the Interior and Defense Committee has completed discussing the law.
It is worth mentioning that the Parliament approved the amendment to Article 8 of the Amiri Decree No.15/1959 concerning citizenship, stipulating that the wife of a Kuwaiti man can obtain citizenship after 18 years of marriage instead of five years.
https://www.arabtimesonline.com/news/govt-studying-exempting-gcc-women-married-to-kuwaitis-from-citizenship-law/
--------
Somerset Police Encourage Muslim Women to Report Hate Crime
October 14, 2019
Some Muslim women suffer hate crime on an almost daily basis and police must make them aware they do not need to accept it, an officer has said.
Avon and Somerset Police said three-quarters of recorded hate crimes towards women in the past two years in Bristol were anti-Muslim.
Supt Andy Bennett said: "It is a crime and you don't have to put up with it".
Aaliyah Hussain, founder of campaigning organisation We Rise, said "all women face barriers" when reporting crime.
Supt Bennett and Ms Hussain said some victims got so used to being abused they treated it as normal, racial harassment tended to be carried out by young white men and that some people assumed Muslim women would not be allowed by men to report crimes.
Under-reporting 'off the charts'
Supt Bennett, Avon and Somerset Police's hate crime lead, said: "Islamic women in particular are suffering, often almost daily, verbal harassment and persistent name calling and intimidation - and this is the area where we really want to smash it.
"They are normalising this behaviour because it's part of their everyday life and I want to say 'the police absolutely don't want you to put up with this behaviour'."
Ms Hussain, from We Rise, which aims to empower Muslim women, said: "Sometimes there's a tendency to treat Muslim women differently than women in general when it comes to issues such as not reporting crime.
"The assumption made by many authorities is that Muslim women are under the control of men and therefore aren't able to report crimes, when actually if you look at the wider statistics relating to all gender-based violence such as sexual harassment, rape, domestic violence - you can see that the reporting rates are very low."
Supt Bennett said, based on results from The British Crime Survey, police knew there was "still a substantial gap between reported and unreported crime and in some crime categories it can be as much as 50%".
"The survey unsurprisingly shows even higher levels of under-reporting for hate crime. Every time I talk to Muslim groups, I can never find anybody who hasn't suffered from some form of hate crime and therefore my gut tells me that under-reporting is probably off the charts," he said.
He said officers had to "work much harder" to get the message through to women because "they're not as overtly present on prayer days as the men".
Sheila el Dieb, 72, from Bristol, has been a Muslim for 20 years. She said her experiences ranged from verbal abuse to physical abuse and damage of her property in previous homes.
"Sometimes I feel that women may be reluctant to report incidents and run the risk of upsetting family members who have been unable to protect them and risk changing the normal pattern of life," she said.
"I think most of the hate crime is perpetrated in the street by people passing by. Often we go into shock when it happens because it's unexpected and we don't know what to do.
"Generally it's opportunist. If your first language is not English, you think 'did I really hear that?'."
'Fair game'
Supt Bennett said the abuse his force dealt with was not just confined to Bristol.
"There are mosques in Bridgwater, Yeovil, Taunton, Street, Glastonbury," he said. "It's not unique to Bristol but amplified by the size of the Muslim community.
"An incredible amount of hate crime is perpetrated by a stranger to the victim. Our positive outcomes in hate crime are incredibly low and we if we don't have CCTV or witnesses it can be difficult.
"The perpetrators of racial harassment tend to be young white men under the age of 25. Perpetrators of hate crime tend to be cowards. They pick on people when they're vulnerable, on their own. It's the psychology of the bully.
"Why young white men? Hate crime is driven by ignorance. If you were to profile that 'young white man', they would tend to be what I'd call right wing."
Aaliyah Hussain said she had not experienced anti-Muslim crime because she was not "visibly Muslim".
"I don't wear the headscarf. I've endured racism but not Islamophobia. But women who do wear the headscarf are far more likely to be abused because they're considered fair game - and it's because of the pervasive hostility towards Muslims that is encouraged by the right wing media," she said.
https://www.bbc.com/news/uk-england-bristol-49905168
--------
Jada Pinkett Smith Calls Abida Parveen Her Spiritual Mother
October 14, 2019
Jada Pinkett Smith has made her love for Abida Parveen known before but that wasn't the end of it.
The actor attended a concert of the iconic Sufi musician and fell in love all over again with the maestro. Can you blame her?
Wrote Smith, "My night with my spiritual mother. Abida Parveen is one I won't forget. I see my path."
And of course, she did not miss the chance to meet up with Parveen and can you tell how excited she is?
Previously, Jada had shared Abida Parveen and Rahat Fateh Ali Khan's rendition of 'Chaap Tilak' and referred to the two as "two of my favorite vocalists of Sufi music."
Abida Parveen is a force to be reckoned with and we love that she has fans all over the world.
https://images.dawn.com/news/1183841/jada-pinkett-smith-calls-abida-parveen-her-spiritual-mother
--------
Far-Right French Politician Orders Woman To Remove Hijab On School Trip
October 14, 2019
The stand taken by the far-right parliamentarian during a school trip to the regional council drew criticism and condemnation from rights groups.
A school trip aimed at discovering the workings of a democratic assembly has caused controversy in France as a far-right French politician sought to target and publically humiliate a Muslim mother accompanying her children, demanding that she take her hijab off.
The Regional Council of Burgundy-Franche-Comté in Dijon was having a public plenary session when Julien Odoul, a far-right politician representing the National Rally party, said: "In the name of our republican and secular principles, I asked Marie-Guite Dufay [President of the regional council] to have the Islamic veil removed from a school counsellor present in the Chamber."
A video posted online by Odoul himself has garnered almost four million views and shows the Muslim mother holding her son, who starts to cry.
Julien Odoul
✔
@JulienOdoul
🔴 [RT]Au nom de nos principes républicains et laïcs, j'ai demandé à @MarieGuiteDufay de faire enlever le voile islamique d'une accompagnatrice scolaire présente dans l'hémicycle. Après l'assassinat de nos 4 policiers, nous ne pouvons pas tolérer cette provocation communautariste
Embedded video
8,296
7:20 PM - Oct 11, 2019
Twitter Ads info and privacy
13.2K people are talking about this
The National Rally party was formerly known as the National Front. In 2018 it changed its name in a bid to shed its toxic and racist image. The party is currently led by Jean-Marie Le Pen, who won 33.9 percent of the presidential vote in 2017.
Yasser Louati, a French human rights and civil liberties activist, speaking to TRT World, said that President Emmanual Macron is also to blame for the rise in anti-Muslim sentiment.
"Previous attacks [on Muslims] by Emmanual Macron, his minister of interior and his minister of education targeting specifically the Muslim minority in France, has normalised far-right ideas," said Louati.
"Emmanual Macron is no different from Marie le Pen or any other racist politician. Unfortunately, the world still sees him as a liberal white knight while in fact, he is just demonising Muslims to divert attention from the economic crises and institutional discredit [his government is facing]," added Louati.
In September of this year, the French Education Minister Jean-Michel Blanquer made a strong plea to schools and parent associations to avoid as "much as possible" bringing visibly Muslim mothers on school trips.
The racist comments to single out Muslim mothers caused an outcry in the Muslim community and were significant as they shared the same rhetoric as the far-right party.
The President of the Regional Council Marie-Guite Dufay condemned Odoul's words after the session, saying in a statement: "The president of the National Rally group, Julien Odoul, has set the tone of its priorities for the Region: racism, discrimination and incitement to hatred."
Marie-Guite Dufay
@MarieGuiteDufay
Halte au déferlement de haine! L'attitude du @RN_BFC est une insulte à notre institution et aux valeurs les plus élémentaires de la France. La République des lumières l'emportera @_LICRA_ @SOS_Racisme @LDH_Fr
View image on TwitterView image on Twitter
1,528
11:57 PM - Oct 11, 2019 • Dijon, France
Twitter Ads info and privacy
1,308 people are talking about this
The verbal assault by the far-right politician was widely condemned online:
Dermana Seta
@DjermanaSeta
School trip to learn about the democratic work of local parliament in France. Some parents accompany. A mother wears the headscarf. Local councillor calls for expulsion of the mother. Some other clap. The child cries... Handke gets Nobel... Verily Jannah is under mother's feet.
View image on Twitter
66
2:42 PM - Oct 12, 2019
Twitter Ads info and privacy
40 people are talking about this
The Collective Against Islamophobia in France, which is a human rights organisation aimed at tackling Islamophobia, said: "This mother is not the first (and unfortunately not the last) to be humiliated in front of her child. We must, therefore, support all discriminated women."
CCIF
✔
@ccif
• 20h
Replying to @ccif
Si vous souhaitez soutenir cette maman et son enfant en particulier, vous pouvez adresser une lettre de soutien sur contact@islamophobie.net. Notre assistante juridique se chargera de compiler les courriers pour lui en faire part.
CCIF
✔
@ccif
Mais cette maman n'est pas la première (et malheureusement pas la dernière) à se faire humilier devant son enfant. Nous devons donc soutenir toutes les femmes discriminées et engager l'énergie générée par nos émotions sur le long terme. http://agir.islamophobie.net
39
9:12 PM - Oct 13, 2019
Twitter Ads info and privacy
30 people are talking about this
The recently published European Islamophobia Report found that France in 2018 had seen a 52 percent increase in Islamophobia. The report noted that anti-Muslim sentiment is deeply rooted in contemporary French society, noting: "Anti-Arab and anti-Muslim racism take their modern roots in the French colonisation of Muslim lands from the conquest of Algiers in 1830."
Muslim women, in particular, are at risk of being discriminated against and facing assault.
https://www.trtworld.com/magazine/far-right-french-politician-orders-woman-to-remove-hijab-on-school-trip-30562
--------
Nearly 60,000 Afghan Women Get Breast Cancer Annually: Media Report
2019-10-13 19
KABUL, Oct. 13 (Xinhua) -- Some 60,000 Afghan women are reportedly developing breast cancer each year, mostly in the capital Kabul, a private English paper the Daily Outlook Afghanistan, reported Sunday.
According to the paper, a survey conducted by a non-governmental organization the Afghanistan Cancer Foundation (ACF) in 10 of the country's 34 provinces has found that Kabul has most number of the breast cancer patients.
"Kabul has most number of the breast cancer patients, followed by Balkh, Panjshir and Kapisa provinces," the paper quoting Jawad Safi, head of the foundation as saying.
Confirming the outspread of the disease, a source from the Afghan Ministry of Public Health (MoPH) said that breast cancer was the deadliest disease for women after heart diseases, the paper added in its report.
"Preventing breastfeeding, smoking and obesity are the major causes of breast cancer in the country," the paper citing a physician Nasrin Oryakhil as saying.
In the entire country, according to the media reports, there is only one oncology department with 65 beds, but with no readily available chemotherapy and no radiation at the state-run Jamhuriat (Republican) Hospital in Kabul, the paper added.
http://www.xinhuanet.com/english/2019-10/13/c_138468580.htm
--------
URL: https://www.newageislam.com/islam-women-feminism/kashmiri-ameri-writer-dr-nyla/d/119992
New Age Islam, Islam Online, Islamic Website, African Muslim News, Arab World News, South Asia News, Indian Muslim News, World Muslim News, Women in Islam, Islamic Feminism, Arab Women, Women In Arab, Islamophobia in America, Muslim Women in West, Islam Women and Feminism