New Age Islam News Bureau
08 June 2022
• Fatima Sajwani First Emirati to Reach 'Margherita Peak', Third-Highest and Most Dangerous In Africa
• Train Guard's Daughter, Tahseen Banu Dawadi, Only Muslim Woman in Karnataka to Clear UPSC
• Iraqi Women Academics Disagree About Women-Only Universities
• Allison Fluke-Ekren, Kansas Woman Admits To Training All-Female IS Battalion in Syria
• Top Woman Prison Officer with UN Mission in CAR Wins First Ever Trailblazer Award
• Hijab Row: Dakshina Kannada College Suspends 24 Students
• Hyderabad: The Need to Recognise Muslim Women's Agency in India
• Women and Girls Qur'anic Association Holds Annual Conference
Compiled by New Age Islam News Bureau
URL: https://newageislam.com/islam-women-feminism/kangana-nupur-prophet-mohammad/d/127199
--------
Kangana Ranaut Backs Nupur Sharma, Says She Is 'Entitled To Her Opinions on Prophet Mohammad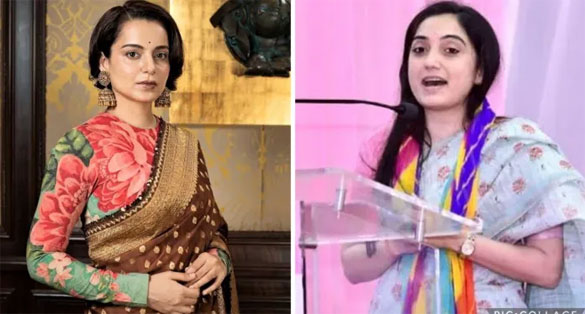 Kangana Ranaut (L), Nupur Sharma (R)
----
7th June 2022
Mumbai: Actor Kangana Ranaut on Tuesday voiced support for suspended BJP spokesperson Nupur Sharma, saying she was "entitled to her opinions" amid international condemnation over the politician's controversial remarks on Prophet Mohammad.
The BJP on Sunday suspended Sharma and expelled its Delhi unit media head Naveen Kumar Jindal as the row over their alleged derogatory remarks against Prophet Mohammad escalated with protests from some Muslim countries.
In her Instagram Story, Ranaut also condemned death threats against Sharma and urged people to take the legal route if they wanted her to be held responsible for the comments she made during a TV debate nearly 10 days ago.
"Nupur is entitled to her opinions, I see all kinds of threats targeted at her, when Hindu Gods are insulted which they are almost every day we go to court, pls do that no need to play dons yourself…(sic)" wrote the actor.
"… this is not Afghanistan, we have a proper functioning government which is chosen with a process called democracy… just a reminder for those who keep forgetting," she added.
Ranaut's statement comes hours after Delhi Police provided security to Sharma and her family after she alleged that she has been receiving threats and was being harassed over her remarks.
Amid demonstrations by Muslim groups and the sharp reaction from countries like Kuwait, Qatar and Iran, the BJP issued a statement asserting that it respects all religions and strongly denounces insults of any religious personality.
The comments by Sharma and Jindal, in now-deleted tweets, sparked a Twitter trend calling for a boycott of Indian products in the Arab world.
Actor Swara Bhasker on Monday night shared a tweet by the Ministry of Foreign Affairs of Indonesia condemning the inflammatory remarks against Prophet Mohammad, stressing the importance of respecting all religious beliefs.
"Oh hey @NupurSharmaBJP @navikakumar @TimesNow! Hope you are celebrating the international shame your hate filled rabble rousing has brought India!" Bhasker wrote in her post on the microblogging website.
In a tweet alluding to the controversy, "Badhaai Do!" star Gushan Deviah said "freedom of speech can't be absolute".
"It must bear the burden of social responsibility, but that's different from society to society. Telling someone not to be hurt after hurting them is the a****ole thing to do & in politics such opportunities will be properly exploited," Deviah added.
After suspension from the party in Centre, Sharma unconditionally withdrew her controversial statement and claimed that her comments were a reaction to "continuous insult and disrespect towards our Mahadev (Lord Shiva)".
Actor Richa Chadha questioned if Sharma's withdrawal of her comments could be even considered as an apology.
"Is it even an apology if extracted under pressure?" asked Chadha.
Source: Siasat Daily
https://www.siasat.com/kangana-ranaut-backs-nupur-sharma-says-she-is-entitled-to-her-opinions-2344233/
--------
Fatima Sajwani first Emirati to reach 'Margherita Peak', third-highest and most dangerous in Africa
Emirati Fatima Sajwani after reaching Margherita Peak in Uganda/ Image Credit: Supplied
----
June 07, 2022
Dubai: Fatima Sajwani has become the first Emirati to summit the third-highest and most treacherous peak in Africa — 'Margherita Peak' — in the Rwenzori Range of Uganda. Standing at 5,109 metres above sea level, Fatima raised the UAE flag on the peak for the first time on May 27, 2022.
Even though this was Sajwani's fourth climb, summiting Margherita Peak was the most challenging expedition the young Emirati climber attempted so far. Sajwani started climbing four years ago, at the age of 27 — first summiting Mount Kilimanjaro in February 2018, followed shortly after by Mount Elbrus in June 2018 and later Mount Aconcagua in February 2020. After a two-year hiatus due to the COVID-19 pandemic, Sajwani set off for Uganda late last month to take on this new challenge.
The Emirati climber took the decision to attempt Margherita Peak earlier this year, fuelled by a desire to increase representation of women and Emirati athletes within the global mountaineering community. "Mountaineering is still a very male-dominated sport and as an Emirati woman, I want to be a catalyst for other young Emiratis to discover climbing and shine light globally on Emirati athletes", says Sajwani.
Following her successful ascent of Margherita Peak, Sajwani is already training for her next climbing expedition. She will be attempting to become the first Emirati woman to reach the summit of Mont-Blanc in September this year.
Source: Gulf News
https://gulfnews.com/uae/fatima-sajwani-first-emirati-to-reach--margherita-peak-third-highest-and-most-dangerous-in-africa-1.88419983
--------
Train Guard's Daughter, Tahseen Banu Dawadi, Only Muslim Woman In Karnataka To Clear UPSC
08th June 2022
By S Lalitha
BENGALURU: Monday was a momentous day in the history of the school run by the South Western Railway Women's Welfare Organisation (SWRWWO) in Hubballi. It held a mega felicitation function for its only student in its 32-year-old history who cracked the Civil Services Exam in the results announced a week ago. What makes it all the more remarkable is that Tahseen Banu Dawadi, the only Muslim woman to clear the exams out of 26 in the State, is the daughter of a retired goods train guard. Dawadi secured 482nd rank in her second attempt.
Khadar Basha, who retired from Railways as a chief trains clerk in 2012, told TNIE, "I was very happy when the results were out. I was confident she would clear it. My two sons and two daughters are all good in academics. It was a proud moment for me when the General Manager, SWR and the Divisional Railway Manager, Hubballi invited us to their office and honoured my daughter."
Dawadi, 24, who completed her B.Sc in Agriculture from University of Agricultural Sciences, Dharwad in 2019, set her sights on the civil services exams when she was studying in the final year of her graduation.
She told The New Indian Express, "My father and mother Hasina Begum supported me and even sent me to Mumbai Hajj House in Mumbai for my coaching, which is conducted by the Ministry of Minority Affairs. I could not clear even the preliminary exams in my first attempt in 2020. But in my next attempt in 2021, I have cleared the prelims, mains and the interview. I was confident I would clear it as I have been good in academics throughout." She also took coaching from the Residential Coaching Academy of Jamia Millia Islamia in Delhi.
Dawadi says, "It was a surprise for me that I secured 482nd rank out of 680. I had thought I would be in the bottom five. I am also the only Muslim girl from Karnataka to clear the exams," she said. Sharing her keenness to take up a career in bureaucracy, she said, "I was keen on civil services as it directly gives one a chance to serve the society. I always wanted to be in a government job."
Source: New Indian Express
https://www.newindianexpress.com/good-news/2022/jun/08/train-guards-daughter-only-muslim-woman-in-karnataka-to-clear-upsc-2463010.html
--------
Iraqi Women Academics Disagree About Women-Only Universities
Amr EL-Tohamy
05 Jun 2022
Although several years have passed since the establishment of Al-Zahraa University for Women in the Iraqi city of Karbala, Iraqi women academics still disagree about the need for its existence.
Some believe having women-only universities is the only way young women from conservative families can finish their education, while others think policies should be put through that change society.
A Unesco report in 2019 said it was estimated that more than a quarter of Iraqi women were illiterate, with the percentage rising to 50 percent in rural areas.
Al-Fanar Media spoke to Maram Youssef, an 18-year-old student at Al-Zahraa University for Women, who said she chose to enroll in the university three years ago despite being accepted by other public universities. She said joining a university designated for women allowed her to overcome "potential difficulties in mixed universities."
She defended the idea of the university, saying studying there was a "fundamental right and a free choice that finds societal acceptance."
Conservative Families' Concerns
Al-Zahraa University for Women was founded in 2019 as the Iraqi Ministry of Higher Education's first university-level academic institution specialising in female education. It has three faculties—Pharmacy, Medical Technology, and Education—and currently enrols 2,850 female students from a number of Iraqi governorates.
The university is affiliated with the Imam Hussain Holy Shrine in Karbala, a Shiite religious institution that runs educational, charitable, and construction activities in southern Iraq.
The idea of establishing the university began in 2016, after some conservative families in the cities of Kufa, Najaf, and Karbala refused to enrol their girls in mixed universities, according to Abdul Razzaq Al-Issa, the minister of higher education in Iraq at the time.
Al-Issa told Al-Fanar Media that these families took that position because of "religious and social convictions." He said a number of young women had been forced to join the Faculty of Education for Women at the University of Kufa, despite their scientific ability to enrol in mixed medical colleges.
While Al-Issa believes university "should be a field for gender equality between men and women," he attributes his ministry's decision to establish the women's university to "meeting the societal and economic conditions of these cities and helping young women continue their education, rather than dropping out because their families had refused to let them go to mixed universities."
Giving Women Confidence in Their Studies
The president of Al-Zahraa University for Women, Zainab Al-Sultani, told Al-Fanar Media that the existence of an all-female university "is not a defect or underdevelopment because there are similar educational institutions in Europe." She referred to Europe's International Women's University, known as IFU, in Suderburg, Germany, as an example.
Al-Sultani said her university had "succeeded over the past years in preparing female leaders and providing them with educational and life skills."
The university's goals are to bring about positive change for female students by developing education, teaching and training activities … while developing their skills in scientific research and innovation through high-quality educational programmes, she said.
Al-Sultani also believes that "the university gives women confidence. Learning separately from men increases their educational attainment, psychological comfort and achievement of advanced levels."
Women make up 70 percent of the university's teaching and administrative staff. Male professors fill gaps in the teaching staff in medical colleges.
Wafaa Al-Sahn, a faculty member, had four years of experience in co-ed universities before coming to Al-Zahraa University for Women. She told Al-Fanar she found it better teaching only women.
Al-Sahn, who holds a doctorate in English from the University of Baghdad, said female students were calmer and understood the lectures better, which made them more efficient in their work.
She said it was important to have women's universities because they can take female students whose families do not want them to go to mixed universities. "Why should a girl be denied completing university when there are alternatives to help her do so?" Al-Sahn asks.
'A Serious Matter'
Some female academics, however, do not support the idea.
Hadeel Abdelhameed, an Iraqi researcher in feminist studies, told Al-Fanar Media she believes the establishment of a women-only university by a government decision is "a serious issue" because it "reinforces the presence of errors in the relationship between the sexes, and increases transgressions because everything forbidden is desirable."
The university "supports the separation of the sexes in the classroom and the existence of a gap between the sexes" in society, said Abdelhameed, who is a researcher at the Institute for Citizenship and Globalisation at Australia's Deakin University.
She considers the issue "one of the results of the societal transformations that followed the United States' invasion of Iraq in 2003, which made Iraqi society more radical."
The separation of men and women is not new in Iraq, said Abdelhameed. She said that while teaching two decades ago at the University of Baghdad, which is mixed, she was "forced to separate the sexes at times," according to instructions from the university administration.
Abdelhameed thinks solving the problem of conservative families' fear of mixed universities begins with designing policies to change the way these groups think, encouraging young women to mix and emphasising mutual respect between the sexes.
'Women's Empowerment'
Maysa Jaber, a professor of English at the University of Baghdad, said the issue with this type of education was how it was used and whetherits impact on women was positive or negative. She women's colleges exist even in the United States, giving the example of Scripps College, in Claremont, California.
Jaber said "female-only universities should be judged on whether this type of education was used to empower women rather than limit or suppress them, and the societal context that led to their existence."
Source: Al Fanarmedia
https://www.al-fanarmedia.org/2022/06/iraqi-women-academics-disagree-about-women-only-universities/
--------
Allison Fluke-Ekren, Kansas Woman Admits To Training All-Female IS Battalion in Syria
June 08, 2022
ALEXANDRIA, Virginia — An American woman has confessed to leading an all-female squadron for the so-called Islamic State group in Syria, as well as plotting attacks on US soil.
Allison Fluke-Ekren from Kansas pleaded guilty in an Alexandria, Virginia, courthouse on Tuesday to conspiring to provide support to the global terrorist organization.
Fluke-Ekren, 42, was arrested in Syria and taken into custody in the United States in January where she was charged with providing and conspiring to provide material support or resources to ISIS.
She faces a maximum of 20 years in prison at her sentencing in October.
The mother and teacher-turned IS leader left the US in 2011, and worked with a terror group in Libya before Syria. She led a group of over 100 female IS fighters -- some of whom were as young as 10 at the time.
During Tuesday's hearing, Fluke-Ekren claimed she wasn't aware that some of the female fighters she was training were minors at the time, saying that "we didn't intentionally train any young girls."
A former biology student and school teacher, Fluke-Ekren traveled to Syria to join the group after living in Egypt and Turkey.
While with IS, she led Khatiba Nusaybah, an all-female battalion based in its de-facto capital of Raqqa, Syria.
Her primary role was to teach women and children to use weapons, ranging from AK-47 rifles and grenades to suicide vests, according to officials.
In a Virginia court on Tuesday, she admitted to training the all-female group, but claimed she had never attempted to recruit children.
"We didn't intentionally train any young girls," she said, according to CNN. Some of the women she trained are expected to testify against her at her sentencing hearing.
Fluke-Ekren, who was known by the moniker Umm Mohammed al-Amriki, also lived in Mosul, Iraq, after it was captured by IS fighters.
According to prosecutors, one witness testified that her level of radicalization was "off the charts", and an "11 or 12" on a scale of one to 10.
She also admitted to discussing attacks on US soil, including at a university and shopping mall.
She "considered any attack that did not kill a large number of individuals to be a waste of resources", a witness said, according to the plea agreement.
The documents also reveal her second husband was a member of Ansar Al-Sharia, the militant organization that attacked a US compound in Benghazi, Libya, in 2012.
She and her husband, who was later killed in an airstrike, drafted a report for the leadership of the group after analysing US documents taken from the Benghazi attack.
In court, she wept when asked by the judge if she was taking the plea agreement because of her large number of children.
Her family members have previously asked the court to ban her from contacting them.
According to one US prosecutor, the relatives say she left a "trail of betrayal" and they may issue statements against her at her sentencing on 25 October. — Agencies
Source: Saudi Gazette
https://saudigazette.com.sa/article/621520
--------
Top woman prison officer with UN Mission in CAR wins first ever Trailblazer Award
June 08, 2022
NEW YORK — The creator of a women-only rapid intervention team who leads riot control activities inside the Central African Republic's biggest all-male high-security prison, was named the winner of a prestigious new UN award on Tuesday.
Téné Maïmouna Zoungrana, of Burkina Faso, serves with the UN Mission in CAR, MINUSCA. She received the United Nations Trailblazer Award for Women Justice and Corrections Officers at a special ceremony, at UN headquarters in New York.
The Chef de Cabinet of the Executive Office of the Secretary-General, Courtenay Rattray, presented the award to Ms. Zoungrana on behalf of the Secretary-General.
The head of UN Peace Operations, Jean-Pierre Lacroix, and Executive Director of UN Women, Sima Sami Bahous, also delivered remarks.
Zoungrana, first deployed to the Multidimensional Integrated Stabilization Mission in the Central African Republic, between 2014 and 2017 and began her current tour with the mission, in 2020.
She supports one of MINUSCA's most difficult tasks - the demilitarization of the prison system in CAR, said UN Peacekeeping, in a press release announcing the award.
She also leads and coordinates rapid-intervention and riot-control activities at the all-male Ngaragba Central Prison in Bangui, the largest and most volatile prison in CAR with a population of detainees classified as high-risk. It has some 1,335 inmates, accounting for just under 70 percent of the entire prison population of the country.
With her vast technical expertise in crisis intervention, Ms. Zoungrana has mentored many UN colleagues and national prison staff, and created a women-only rapid intervention team.
"Prison security has long been characterized by stereotypes that have hindered the development of women prison administrators", Ms. Zoungrana said, after being told about her selection for the new award.
"I am very pleased that today opportunities are given to women to work in prisons, and to perform all roles without distinction, and I feel empowered," said Téné Maïmouna Zoungrana as she was notified of the award.
Last month, the newly minted award winner spoke to UN News in a special profile on her pioneering work, noting that women are "often placed second or even ignored", when they work as corrections officers.
Among her achievements, she integrated rapid intervention training into the national policies for prisons and detention centers, and helped improve the effectiveness and accountability of CAR penitentiary institutions, leading to a significant reduction in the number of escapes at the prison.
"United Nations corrections officers, such as Ms. Zoungrana, work hand in hand with national corrections staff to ensure public safety. Corrections Officers carry out this work under difficult circumstances," explained UN Peacekeeping chief, Jean-Pierre Lacroix.
Executive Director of UN Women, Ms. Bahous, noted that we face "intersecting global threats to peace, justice and gender equality and growing pushback that threatens years of progress, it is more crucial than ever that the UN reflects its core values of fairness and equality. This starts with ensuring that more women have access to leadership and decision-making roles".
The UN Trailblazer Award was established in 2022 by the Justice and Corrections Service in Office of Rule of Law and Security Institutions, part of the Department of Peace Operations.
It aims to showcase outstanding women justice and corrections officers who have broken through gender barriers in difficult and dangerous contexts and proven that women are a crucial part of every peace operation's mandate to create sustainable peace.
The other outstanding nominees who made the shortlist for the Trailblazer Award, were Mboahangy "Fana" Rakotoarisoa of Madagascar deployed to MINUSMA; Wedji Mbengue of Senegal deployed to MINUSCA; Beatrice Were of Kenya previously deployed to MONUSCO; and Karima Dannauda Mohammed of Nigeria, deployed to MONUSCO. — UN News
Source: Saudi Gazette
https://saudigazette.com.sa/article/621530/World/Africa/Top-woman-prison-officer-with-UN-Mission-in-CAR-wins-first-ever-Trailblazer-Award
--------
Hijab row: Dakshina Kannada college suspends 24 students
Jun 8, 2022
MANGALURU: The Government First Grade College, Uppinangady, on Tuesday suspended 24 girl students for violating the prescribed dress code in the classroom.
Puttur MLA Sanjeeva Matandoor said that 24 more students have been suspended for wearing hijab inside the classroom. Regular classes are being held in the college, he said.
The MLA warned of strict disciplinary action if students violate the dress code that has been implemented by the Karnataka high court. Lecturers have been told to take disciplinary action against students who continue to enter the classroom wearing the hijab, he added.
On ex-minister UT Khader's suggestion that pro-hijab protesters need to appreciate the freedom one enjoys in India and focus on education instead of inconveniencing others keen to study, Matandoor said, "A Congress Muslim leader has spoken the fact. If these students accept him as a leader, then they should value his words."
Source: Times Of India
https://timesofindia.indiatimes.com/city/mangaluru/hijab-row-dakshina-kannada-college-suspends-24-students/articleshow/92069514.cms
--------
Hyderabad: The need to recognise Muslim women's agency in India
by Mohammed Baleegh
8th June 2022
Hyderabad: Given the present social scenario in India, there is a need to recognise women's agency, special laws to address crimes against humanity and the imminent genocide in the country, said a panel of experts in the city on Tuesday.
The panel comprised of Vahida Nainar, founder & director of Women's research and Action Group, Fatima Khan, a Delhi-based journalist, and Aseem Prakash, Professor at Tata Institute of Social Science (TISS), Hyderabad. It was moderated by Manisha Sethi, a professor from NALSAAR University.
The event or discussion was organised by the Maulana Azad National Urdu University (MANUU), titled 'Working with vulnerable women', as part of a three-day conference called 'Gender& Inclusion: A focus on Muslim women'.
Sharing her experience of working with vulnerable woman, Fatima Khan said,"I find myself speaking on this trope very often. Most people bring up the issue of Triple Talaq , thinking it has reduced the authority of Muslim man. However, many fail to understand the challenges it poses to women, the sense of insecurity is a major issue."
Khan added that these issues have been evident in the past two years, more so during the police crackdown on Muslims in parts of Uttar Pradesh, following the anti-CAA protest in 2020. "I had met an elderly woman who was beaten black blue by police personnel who barged into the house," she recalled.
In an attempt to differentiate between a crime and crimes against humanity, Vahida said, "This kind of violence violence is prevalent everywhere, the conclusion I draw from this is that India is at the point of conflict, which has now become the law. Ehat is happening in India is not being viewed under Article 3 of the Geneva convention. There is a call to genocide and we are witnessing conflict at all levels," she added.
Vahida then elaborated on the issue of "impunity" and sexual violence against women especially in times of conflict. "Even if cases are registered, most of the times people in power walk free." she remarked, and added that there are no laws to address this kind of conflict. She pointed out that genocide is recognised as a crime internationally but not in India.
"We don't even have a law against torture, which is one of the crimes recognised internationally" Vahida added. She stressed on the need for a special Law against incitement to violence and Genocide. "I agree that breakdown of law gives birth to impunity, all countries are responsible for to have a law against such crimes،" said the panelist.
Vahida went on to say that India has ratified the Genocide convention, yet it does not implement it. "Hence there is nothing or nobody to be held accountable. This is why we need to categorise these crimes according to the nature and scale of violence," she added.
The panel also highlighted how the anti-CAA protest had reflected upon the strength and agency of Muslim women. Even though most women aren't vocal of the discrimination and violence they face in their homes, they stood up against the unjust law, the speakers opined.
Addressing the lack of "common response", Prakash said "I have a limited understanding of gender and inclusion, and how institutions are being transformed today." He then highlighted the shrinking common culture among people of different religion in India today. "We used to take pride in the Ganga-Jamuni tehzeeb of India. Today, there is an evident lack of common response," he added.
Source: Siasat Daily
https://www.siasat.com/hyderabad-the-need-to-recognise-muslim-womens-agency-in-india-2344399/
--------
Women And Girls Qur'anic Association Holds Annual Conference
June 4, 2022
By Adama Camara
Daara Aisha Ummul Mu'mineen Association (DAUM) for Girls and Women Saturday, 28th of May, held its annual Quranic Recitation and Conference. The event held at the Gambia Supreme Islamic Council (GSIC) was organised to nurture scholastic talents among members of the association.
Speaking at the conference Sheikh Omar Ceesay, the Chief Executive Officer of the Islamic Institute for Education and Development (IIED) under whose organisation DAUM was established, highlighted the merits of the event as empowerment through education.
"Part of the reasons for this activity is to motivate members of the women association on their efforts to learn and share knowledge of the Quran and practices of the beloved Prophet of Islam. This is also to reassure parents or guardians and husbands who allow their girls and women to join the Daara that their efforts are not in vain."
Kawey Njie-Lette, Chairperson of Aisha Ummul Mu'mineen Association (DAUM) said the Daara comprises of female students of all ages and from all walks of life including public and private sectors.
"Our members are from all backgrounds and among us are students, mothers and role models united in the search for knowledge in order to make the society much more conducive for human living," she said.
Noting that, women are mothers who the society cannot go without, thus the need to search for knowledge that will benefit them in this world and the hereafter.
Sharing their experiences from the annual conference, Salimatou Sabally a member of the Daara expressed delight for the skills she earned in recitation of the Qur'an within a short period of her enrolment to the association.
Fatima Sowe, the Public Relation Officer of DAUM described the event as one of the initiatives meant to foster friendship and sisterhood among members. Other events, she said include speech competitions and lecture series among different groups of members meant to stimulate the culture of reading and research on any topical issue.
The event featured keynote lectures by Oustasha Mariama Sarr and Oustasha Fatima Quraysh on social interactions and nurturing relationships.
Daara Aish Ummel Mu'muneen Association is a non-charitable organisation that has existed for the past 25 years. It caters for need of girls and women in the learning and teaching of the Qur'an with support by the Busumbala based Islamic Institute for Education and Development (IIED). The teaching sessions conducted on Thursdays and Fridays evenings (between 4 and 7 pm) formerly in Pipeline are now conducted at Al Farooq Mosque opposite the Qcell building.
Source: Voice Gambia
https://www.voicegambia.com/2022/06/04/women-and-girls-quranic-association-holds-annual-conference/
--------
URL: https://newageislam.com/islam-women-feminism/kangana-nupur-prophet-mohammad/d/127199
New Age Islam Islam Online, Islamic Website, African Muslim News, Arab World News, South Asia News, Indian Muslim News, World Muslim News, Women in Islam, Islamic Feminism, Arab Women, Women In Arab, Islamophobia in America, Muslim Women in West, Islam Women and Feminism