New Age Islam News Bureau
23 Apr 2014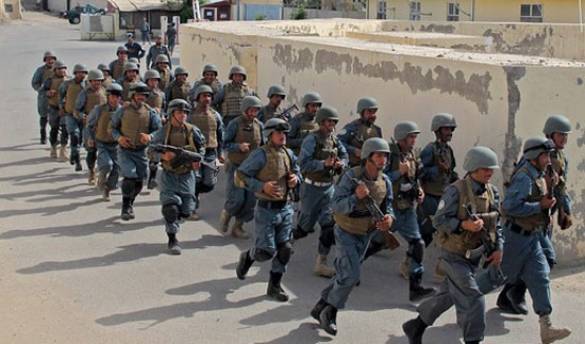 As a teenager, Maryam Sahar Naqibullah attended this school in the Afghan desert and was the only female interpreter for the Canadian forces in Afghanistan. (CBC)
------
• 2 Saudi Women Arrested 'On Way to Join Al-Qaeda'
• Growing Trend in Uzbekistan: More Money Means More Wives
• Three Jewish Minor Girls Arrested For Vandalising Muslim Graves in Jerusalem
• Jaafari Marriage Law Permits Marital Rape, Child Brides and Polygamy
• Woman Breaks Taboos, Announces Candidacy for Lebanon's Presidency
• Political Situation Serious, Says PTI Women Wing
• Ahrar Centre: 20 Female Detainees Face Harsh Israeli Penalties
• Unemployment Rate among Saudi Women Hits 34%
• Female Sit-In against Protest Law at Ittihadiya
• Transsexual Woman Murdered In Istanbul in Latest Homophobic Attack
• Iran President under Fire over Wife's "Lavish" Party
Compiled by New Age Islam News Bureau
URL: https://www.newageislam.com/islam,-women-and-feminism/new-age-islam-news-bureau/kandahar-to-carleton-u--afghan-woman-s-risky-pursuit-of-education/d/76704
-------------
Kandahar to Carleton U.: Afghan woman's risky pursuit of education
23 Apr 2014
Her first classroom was a patch of dry land in the desert in Kandahar. An unlikely oasis, but to an eight-year-old Maryam Sahar Naqibullah, that's just what it was.
"I was the first female in my family who got the opportunity to get an education," says Naqibullah, now 20. "My parents are uneducated. I was lucky to go to school. For me and my family, it's a really big thing. I call myself the luckiest girl."
Naqibullah and the other 12 Afghan students in her class - all eager, all of them girls, dressed head to toe in their Burqas – walked hours to get there. They sat under the hot Afghan sun on little square mats hand-stitched by their mothers, and drank in their first lessons.
Those lessons offered the promise of a better life, but also meant danger. Naqibullah's two best friends were killed by the Taliban in Kandahar right after they graduated from high school.
"They're in my heart every day. They died because they were working for women's rights. They died because they wanted to make a difference. They died because they were exercising their rights," Naqibullah says.
A lot of women have died like this in Afghanistan, she adds. "In all the provinces they've killed these women. But it makes us work harder for a better Afghanistan, to change Afghanistan for women."
She has come a long way down a complicated road since then, both academically and geographically.
As a teenager, Naqibullah was the only female interpreter for Canadian forces in Afghanistan. The ties she made helped open doors for her. A Canadian program supporting people who acted as interpreters for Canadian soldiers and diplomats in Afghanistan — sometimes at the risk of their lives — has resettled several hundred Afghan "terps" and their families in Canada in recent years.
On Oct. 22, 2011, Naqibullah immigrated to Canada under the program.
"When I leave my house in the morning, I don't have fear of who might kill me because I'm going to school," she says. "That's amazing - not being afraid of being shot for going to school."
Naqibullah says life in Canada is a radical change in other ways, too.
"Not wearing a burqa is a wonderful feeling. You can wear anything you want. I don't need a male escort here. I can get on the bus by myself. I can go home at 9 p.m. by myself. In Afghanistan, women can't go out without a male escort.
"My life is completely different than my mother and father. I have my rights here and I'm allowed to exercise that. No one tells me what to do and what not to do."
The 20-year-old is now studying at Carleton University in Ottawa. She has just completed her first year, majoring in international relations.
Getting a university education is the beginning, she says, of a second life.
"I never thought I'd be a student in Canada," she says. "I sometimes still think that I'm dreaming, that I'm not at university at all. How can I be sitting in a class at Carleton with a computer in a beautiful lecture hall … an Afghan girl [who grew up] with no paper, pens or chalk?"
She adds that she still feels responsible for Afghanistan and emotionally connected to the country, but she also wants to live a life with the freedoms and opportunity Canada offers.
"This country protected my life. It gave me freedom, gave me things I didn't have in Afghanistan. If Afghanistan is my soul, Canada is my body."
http://www.cbc.ca/news/world/kandahar-to-carleton-u-afghan-woman-s-risky-pursuit-of-education-1.2612370
-------------
2 Saudi Women Arrested 'On Way to Join Al-Qaeda'
23 Apr 2014
Jazan police arrested two Saudi women from Qassim and three Yemenis for allegedly trying to cross the border into Yemen to join Al-Qaeda last Thursday.
The women, Mai Al-Talq and Aminah Al-Rashid, were traveling with their four children and two other boys they had allegedly duped into going along with them. One of the boys, aged 12, is Al-Talq's brother, while the other youngster, aged 14, is the son of Al-Rashid's half-sister.
The three Yemenis were allegedly tasked with smuggling the women and children into Yemen.
Al-Talq and Al-Rashid had allegedly planned their trip to Yemen over the past few weeks and had collected money and gold jewelry to pay for the journey.
The women had apparently convinced their relatives last Wednesday that they were going to hire a chalet in Buraidah for the weekend. Al-Talq had allegedly convinced her brother to accompany her by saying they were going for a picnic.
It is claimed that Al-Rashid called her former husband to get his permission to take her son with her, and promised she would return him in time for school on Saturday.
After collecting the two boys from their schools, the women allegedly traveled to a location near Sabya in Jazan, not far from the southern border on Thursday. It is here that they met up with the three Yemenis from the Houthi tribe, it is alleged.
They continued their journey on foot in the dark across rough terrain but Border Guard officers spotted them before they reached the crossing point, it is claimed.
The children were apparently terrified, and had found it difficult traveling on foot. The women and children were given first aid and food after their arrest, and their relatives in Qassim informed of their whereabouts.
http://www.arabnews.com/news/560061
-------------
Growing trend in Uzbekistan: More money means more wives
23 Apr 2014
The increase in polygamy in Uzbekistan is the result of the growing popularity of Islamic traditions and a widening wealth gap.
Even though the law officially forbids polygamy, since the 1990s increasing numbers of men have managed to have a second wife.
"His wife was against … one more wife"
Dilfuza, a successful and modern woman, works at a bank in Tashkent. Some people respect her, others envy her, but no one suspects that behind her veneer she is hiding a personal drama.
"I met my future husband at work. He courted me lavishly. After we got to know each other he asked me to become his second wife," says Dilfuza.
Dilfuza was at first insulted by the suggestion, but her suitor was patient and persistent. His wife, he said was ill and did not object.
Dilfuza did not believe her suitor and insisted on meeting his wife.
"How could a woman agree to that? It was not clear to me. I am a woman myself. But in the end I met her and found out that indeed she was not against it," says Dilfuza.
They were married by a mullah in accordance to Muslim tradition, but did not register their marriage at the government registry office. They had a modest wedding celebration, and have lived together for seven years.
"I did not have any hidden financial objectives," says Dilfuza. "I have had a good job all this time. "
Up to three years imprisonment for polygamy
Most lawyers have an unambiguous opinion on the subject: Polygamy is forbidden by the law and is thus a crime.
Article 126 of the Uzbek Constitution defines polygamy as co-habitation with two or more women within a shared household. It is punishable by a fine of 50-100 minimum monthly wages, and prison or correctional work for up to three years.
Omina Karimova is a family practice lawyer. She believes that polygamy is a tragedy that is not justified by its ancient roots.
"The second marriage is simply an extramarital affair. The parties conduct a nikah, a Muslim marriage. Often times the first wife does not even know," says the lawyer. "What woman really wants a second wife for her husband? I believe polygamy to be a tragedy."
Journalist and writer Marfua Tohtahojaeva studies women's rights in Uzbekistan, and believes that both men and women are responsible for the practice of polygamy making a comeback in the country.
She believes that many women only want to settle down with well-off men. And those men who make good money are not against asserting themselves by having more than wife.
"The law forbids polygamy. It says that one household cannot have a second wife. But this can be interpreted to mean that if a man establishes a second household than it is acceptable," says Tohtahojaeva.
Better to be a second wife than be a single woman?
People do not like talking about polygamy in Uzbekistan, many choosing instead to pretend that it does not exist. And it often seems that the country's patriarchal society is more tolerant towards second wives than single or divorced women.
There is no official statistics in the country regarding polygamy and to date only two men have stood trial for it.
In 2012, Yakub Normurodov, head of Surkhandaryo's Muzrabadskiy district school board, received a court sentence for polygamy. Early, in June 2010, Lt. Col. Rahim Hudojberdiev, head of city of Gulistan Internal Affairs Department, was also sentenced for the same crime.
Uznews.net
http://www.uznews.net/en/society/26010-growing-trend-in-uzbekistan-more-money-means-more-wives
-------------
Three Jewish Minor Girls Arrested For Vandalising Muslim Graves in Jerusalem
23 Apr 2014
Three Jewish minors were arrested early Wednesday morning for damaging Muslim graves and spray painting the words "Price Tag" in a cemetery near the eastern wall of the Old City in Jerusalem.
The three girls refused to cooperate with police during questioning and were expected to appear in the Jerusalem Magistrate's Court on Wednesday.
Last week, the door of a mosque in the Arab-Israeli city of Umm el-Fahm was set alight, and racist graffiti was found sprayed on the walls on in an apparent "price tag" attack perpetrated by far-Right Jewish extremists. No arrests were made.
The Umm el-Fahm incident sparked protests among hundreds of Israeli-Arab residents of the city.
http://www.jpost.com/National-News/Three-minor-girls-arrested-for-vandalizing-Muslim-graves-in-Jerusalem-350150
-------------
Jaafari Marriage Law Permits Marital Rape, Child Brides and Polygamy
23 Apr 2014
In Iraq, a new Jaafari marriage law would approve marriages to 9-year-old girls in a bid to satisfy the nation's conservatives ahead of parliamentary elections. In order to please the Shia Muslim majority ahead of parliamentary elections, the Council of Ministers of Iraq have prepared a law that would permit marital rape. Article 101 states men have the right to have sex with their wives any time they want.
Article 104 permits unconditional polygamy and suggests how husbands should spend time with their wives: "In the case of four wives, the husband should sleep at the home of each woman one night each week. In the case of three wives, the husband should sleep at the home of each wife for one night and then choose which wife to spend additional nights with," reads the law, reports AL Monitor.
The Jaafari Personal Status Law was approved by the Council of Ministers in February and the law is awaiting passage in the Iraqi parliament in the last days before the April 30 election.
The current law of Iraq set the legal age for marriage at 18 and it does not permit any special privileges for members of particular religious sects. According to a survey held by UNICEF, more than 24 percent of women in Iraq are married by the age of 18 and almost 5 percent of them are married by the age of 15. However, these rates have increased since the fall of Saddam Hussein, whose secular Ba'ath Party oppressed Shia Muslims for the majority of his rule.
The new Iraqi law that was submitted by the minister of Justice Hassan al-Shammari would cover the Shia citizens of Iraq. Shia Muslims are the majority of the population at 36 million. The law contains 24 provisions, all of which are based on Islamic jurisprudence. In the provisions there are clauses that would prohibit women from leaving the house without permission of their husbands, and grant automatic custody in divorce cases to fathers.
Women aren't the only Iraqis whose rights would be curtailed under the proposed law. Under article 63 of the law, Muslim men would not be allowed to marry non-Muslims; those relationships would only be allowed for a temporary marriage for sexual pleasure.
http://www.latinpost.com/articles/10859/20140421/iraqs-new-jaafari-marriage-law-permits-marital-rape-child-brides-and-polygamy-men-granted-right-to-sex-authority-to-marry-multiple-girls-as-young-as-9.htm
-------------
Woman Breaks Taboos, Announces Candidacy for Lebanon's Presidency
23 Apr 2014
BEIRUT: Nadine Moussa, Lebanon's first female candidate for the presidency, insists that Lebanon needs a "new social contract," with women holding half of all parliamentary and governmental posts.
"I know what Lebanese women are capable of, and I know how much they can contribute," Moussa told The Daily Star.
Moussa, a lawyer who has worked to promote women's rights for over a decade, is the first female to officially run for president of Lebanon.
While Moussa has no experience in office, she had filed to run for Parliament in 2013 as an independent candidate in the Metn, before the election was delayed. Moussa does have experience in civil activism, as an active member of the Take Back Parliament Campaign, a grass-roots movement aimed at democratic secular non-sectarian government.
The Bikfaya native and mother of two says that her candidacy sends an important message.
"I'm breaking many taboos," she said. "It's time they be broken. We're not in the Middle Ages anymore."
Gender parity, however, is just part of Moussa's presidential platform. An outspoken critic of sectarianism and corruption, Moussa says she hopes to create a "new social contract" that will benefit all Lebanese equally.
Moussa, believes Lebanon needs a new political order, creating a more inclusive government and a more united society.
She called for a national dialogue that would bring together politicians, representatives from civil society, unions, young people and financial leaders to find an alternative to the confessional system which, she says, has failed the Lebanese people.
"Where are we today? The Civil War feels like it could come back at any time," she told a group of journalists and supporters Tuesday.
"Seventy years after independence, most of Lebanon is sectarian. It was never Lebanese," she said. "We need a civil system, not a sectarian system."
Aside from denouncing the confessional system, Moussa severely castigated what she called a "corrupt" political class.
The comment may well have been a thinly veiled dig at her fellow candidates Henry Helou and Robert Ghanem, who hail from political dynasties, and Samir Geagea, a perennial fixture of the Lebanese political scene.
"Corruption has become endemic," she told The Daily Star. "Corruption among the political class is very prevalent."
"It is estimated that corruption costs the Lebanese state between $12 billion and $17 billion annually. Think what we could do with these funds to improve people's lives."
Moussa acknowledged that her chances of winning the election appeared slim, but said her candidacy was still important.
"Running the country is not necessarily my ambition," she said. "My main goal was to put forth a new vision."
http://www.dailystar.com.lb/News/Lebanon-News/2014/Apr-23/254090-woman-breaks-taboos-announces-candidacy.ashx#ixzz2zhr2Mdld
-------------
Political situation serious, says PTI Women Wing
23 Apr 2014
LAHORE - Pakistan Tehreek e Insaf Women Wing President Punjab Saloni Bokhari has said that the current political situation has become exceedingly serious after the attack on Hamid Mir.
During a meeting held at the party office on Monday, she said that Pakistan was wobbling in its primary stage of democracy and institutions need to be strengthened.
In a statement, she said that these most important pillars of the State need to address the problems in a manner whereby grievances were discussed and resolved.
At this crucial juncture both have to work within their respective parameters or we shall be playing into the hands of our enemies, she added.
Saloni Bokhari also discussed the plans for celebrating the day the party's foundation was laid. Also present in the meeting were, Shamsa Ali, MPA Sadia Sohail, Shabnam Jahangir, Rubina Aziz, Seema Anwar, Sara Ahmad, Summaira Abid, Rizwana Iqtadar,and other office-bearers.
http://www.nation.com.pk/lahore/22-Apr-2014/political-situation-serious-says-pti-women-wing
-------------
Ahrar Centre: 20 Female Detainees Face Harsh Israeli Penalties
23 Apr 2014
Ahrar Centre for Prisoners' Studies revealed that 20 Palestinian female detainees, held in Hasharon prison, suffer very poor detention conditions.
Fouad Khuffash, director of the Centre, said that Israeli prison administration has imposed harsh penalties against Palestinian female detainees including banning family visits and personal needs and clothes, PIC reported.
Most of female detainees' trials are usually postponed more than once, while many of them suffer several health problems due to Israeli deliberate medical negligence, he added.
Israeli administration deliberately prevents the entry of items that may ease their suffering, leading to a permanent state of tension among the female detainees, Khuffash said.
http://english.farsnews.com/newstext.aspx?nn=13930202001186
-------------
Unemployment rate among Saudi women hits 34%
23 Apr 2014
The rate of unemployment amongst Saudi women in 2013 has been pegged at 34 percent, up 2 percent from the previous year, according to recent statistics issued by the Central Department of Statistics and Information (CDSI).
The rise in unemployment is surprising given the government's drive to encourage private companies to employ Saudi women as well as the high percentage of university graduates.
Early this year, Fahad Al-Tukhaifi, assistant undersecretary for development, said the ministry should exert more efforts to employ Saudi women, as the rate of unemployment is still high.
"I don't think it is the lack of jobs but the introduction of women in new sectors is a real challenge," said Khalid Al-Khudair, CEO of Glowork, an online platform for female employment based in Riyadh. "Saudi women are entering many new industries, such as the tourist industry, but gradually."
"In the past two years, with the help of the Human Resource Development Fund (HADAF) and other training institutions, over 160,000 women have been hired in the private sector. This year, there are over 450,000 women working in the private sector," he added.
Regarding the rate of unemployment, he said, "The only accurate way to measure employment is through Hafiz. That is the only way to find real committed job seekers."
"However, another reason for the rise in unemployment amongst women is the high percentage of fresh graduates- mostly college graduates and vocational trainees, and probably those who haven't reached the employment age and that's why they don't belong in the criteria," said Al-Khudair.
Meanwhile, the CDSI statistics also showed that the rate of unemployment among men stands at 6.2 percent.
According to the Civil Affairs Ministry, there are 1.2 million Saudis working in the public sector with women accounting for 38.3 percent.
The study also noted that most Saudi women prefer to work in the education sector as teachers or administrators mainly due to social factors and because the education sector provides the most appropriate work environment for Saudi women. The education sector currently encompasses the highest percentage of Saudi women workforce, estimated at 87.4 percent.
At a recent conference discussing unemployment, Al-Tukhaifi noted, that Saudi women must be encouraged to enter different domains and industries.
"Many Saudi women are heading businesses in the private sector. However, the business sector has not succeeded yet in ensuring women take up jobs in the retail sector. We can only say we have succeeded if Saudi women replace expatriate workers."
He also indicated that the feminization of shops selling women's products would be complete by 2016.
Meanwhile, Osama Filali, an economist, said, "It is important to alert the private sector of the significance of addressing the unemployment situation by creating employment opportunities. There is a need to work the system to replace expatriates with Saudis, and to put an end to minimum wage in line with a certificate of employee expertise and the nature of work."
http://www.arabnews.com/news/560096
-------------
Female sit-in against protest law at Ittihadiya
23 Apr 2014
A group of women activists will start a sit-in outside the Ittihadiya presidential palace on Tuesday as part of a series of events calling for the repeal of the protest law.
Nourhan Hefzy, the wife of Ahmed Douma, who was sentenced to three years in jail for breaking the protest law, said they would begin the sit-in by this evening, and there would be a march to the palace on 26 April.
Three prominent activists of the January 2011 revolution -- Ahmed Douma, Ahmed Maher and Mohamed Adel -- received three-year sentences and LE50, 000 fines for breaking the protest law in December 2013.
Another prominent activist, Alaa Abdel-Fattah, is being tried on the same charge.
Thousands of others, mainly supporters of ousted Islamist president Mohamed Morsi, have been arrested during demonstrations.
Authorities say the protest law -- which was passed in November 2013 -- is necessary to quash Muslim Brotherhood protests, but it has been widely criticised by local and international rights groups.
The sit-in is a part of series of events against the protest law organised by The Way of the Revolution Front, an anti-military and anti-Muslim Brotherhood coalition, along with April 6 Youth Movement and a number of other youth movements and political parties.
http://english.ahram.org.eg/NewsContent/1/64/99555/Egypt/Politics-/Female-sitin-against-protest-law-at-Ittihadiya.aspx
-------------
Transsexual Woman Murdered In Istanbul in Latest Homophobic Attack
23 Apr 2014
A transsexual woman was killed and a friend was wounded when unknown people opened fire at a house in Istanbul's Tarlabaşı neighborhood, in the latest episode of violence to hit Turkey's LGBTI community.
Çağla Joker, 25, and her friend, 45-year-old Nalan, were attacked on early April 22 by two assailants at the address on Daracık Street.
Police and paramedics immediately arrived at the scene after neighbours called police when they heard gunshots.
Joker died at scene, while Nalan was transferred to the nearby Şişli Etfal Hospital with serious injuries.
Police have launched an operation to capture the assailants who fled the scene after the incident.
Joker's body has been taken to a state medical examiner for an autopsy. The motive for the attack remains unclear, but there are strong suspicions that the murder was a hate crime against the LGBTI community.
People answered calls issued on social media to gather on Daracık Street at 12 p.m. on April 22 to protest the murder.
http://www.hurriyetdailynews.com/transsexual-woman-murdered-in-istanbul-in-latest-homophobic-attack.aspx?pageID=238&nID=65394&NewsCatID=341
-------------
Iran president under fire over wife's "lavish" party
23 Apr 2014
Iranian President Hassan Rouhani, already under pressure from conservatives for his tentative opening to the West, was criticised on Tuesday for what his opponents called a "lavish ball" thrown by the first lady.
Held in a palace of the deposed Mohammad Reza Shah in wealthy northern Tehran, the all-female dinner was held to mark Women's Day on Saturday which coincides with the birthday of the Prophet Mohammad's daughter Fatima, a paragon of Muslim virtue.
But hardliners in parliament said the event showed Rouhani was indulging in luxury while normal Iranians suffer economic hardship, caused in part by Western economic sanctions.
"Can one preach austerity and financial sacrifice and yet throw a lavish party on the public coffers?" one of them said in parliament where at least eleven members signed a petition chastising the president.
Rouhani's government is due to unveil price hikes on Thursday as part of a massive cutback in government subsidies for essential goods - a policy that will test his popular support 10 months after his surprise election win.
The president, who took Iran into talks with Western and other powers over the Islamic Republic's nuclear programme, rejected criticisms of the dinner.
"It is most shocking and regrettable that even a pure innocent gathering cannot escape an orchestrated chorus of gossip, slander and politically-motivated lies filling the air," his office said in a statement.
"All Islamic proscriptions were observed in this event ... women turned out in traditional folk dress ... only a few little girls capered and rejoiced," the statement added, to deflect impressions of a Western-style party, attended also by foreign guests and families of diplomats.
Rouhani's wife, Sahebeh Arabi, has been slightly more visible than other first ladies in Iran and on some occasions had been photographed attending an educational or charity event, always clad in a long black chador.
http://www.trust.org/item/20140422203807-jkj61
-------------
URL: https://www.newageislam.com/islam,-women-and-feminism/new-age-islam-news-bureau/kandahar-to-carleton-u--afghan-woman-s-risky-pursuit-of-education/d/76704