New Age Islam News Bureau
25 January 2021
• Pakistan-Born Saima Mohsin Becomes First Federal Muslim Woman Prosecutor for Michigan's Eastern District In US
• Nadia Helmy Ahmed an Egyptian-Danish Boxer Breaking Many Stereotypes
• Sold Into Syrian Servitude, Filipina Workers Tell Of Abuse, Rape And Imprisonment
• Meet The First Female Pilot At Sharjah Police
• Afghanistan's 1st Female Animator Receives Education In Turkey
• Indian Union Muslim League May Field Women Candidates In Kerala Assembly Polls
Compiled by New Age Islam News Bureau
URL: https://www.newageislam.com/islam-women-feminism/kaja-kallas-become-estonias-first/d/124147
--------
Kaja Kallas To Become Estonia's First Female Prime Minister
January 25, 2021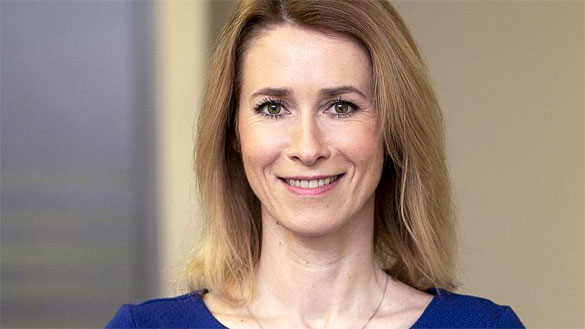 Kaja Kallas will become the first female PM of Estonia if approved by politicians - Copyright Raul Mee/AP
-----
TALLINN — Estonia's two biggest political parties clinched a deal on Sunday to form a new government to be led by a female prime minister for the first time in the Baltic country's history, replacing the previous Cabinet that collapsed following a corruption scandal earlier this month.
The party councils of the opposition, centre-right Reform Party and the ruling left-leaning Centre Party voted in favour of joining a Cabinet headed by Reform's prime minister-designate and chairwoman Kaja Kallas.
Both parties are set to have seven ministerial portfolios in addition to Kallas' prime minister post in the 15-member government, which would muster a majority at the 101-seat Riigikogu Parliament.
A joint statement said the Reform Party and the Centre Party "will form a government that will continue to effectively resolve the COVID-19 crisis, keep Estonia forward-looking and develop all areas and regions of our country."
Earlier this month, President Kersti Kaljulaid, who is expected to appoint Kallas' Cabinet in the next few days, said tackling Estonia's worsening coronavirus situation and the economic turmoil caused by the pandemic should be an immediate priority for the new government.
Kaljulaid, Estonia's first female head of state since 2016, tasked Kallas to form the government as her pro-business and pro-entrepreneurship Reform Party emerged as the winner of Estonia's March 2019 general election.
Pending approval from lawmakers, Kallas, 43, will become the first female head of government in the history of the small Baltic nation of 1.3 million, which regained its independence amid the fall of the Soviet Union in 1991.
A lawyer and former European Parliament lawmaker, she is the daughter of Siim Kallas, one of the Reform Party's creators, a former prime minister and a former European Union commissioner.
Her first Cabinet will see women in other key positions too as Reform's Keit Pentus-Rosimannus takes over the finance minister post and diplomat Eva-Maria Liimets becomes the foreign minister.
The government formation marks the second such attempt for Kallas in less than two years as she failed to bring about a Reform Party-led government after the 2019 election. That paved the way for the arch-rival Centre Party and its leader, Juri Ratas, to form a three-party coalition without the Reform Party.
Ratas and his Cabinet resigned on Jan. 13 over a scandal involving a key official at his Centre Party suspected of accepting a private donation for the party in exchange for a political favor on a real estate development at the harbor district of the capital, Tallinn.
Estonia's prime minister since November 2016, Ratas won't be part of the new Cabinet. Local media reported earlier that he could become the parliamentary speaker in March.Estonia has been a member of the European Union and NATO since 2004. — Euronews
https://www.saudigazette.com.sa/article/602857/World/Europe/Kallas-to-become-Estonias-first-female-prime-minister
--------
Pakistan-Born Saima Mohsin Becomes First Federal Muslim Woman Prosecutor for Michigan's Eastern District In US
Jan 25 2021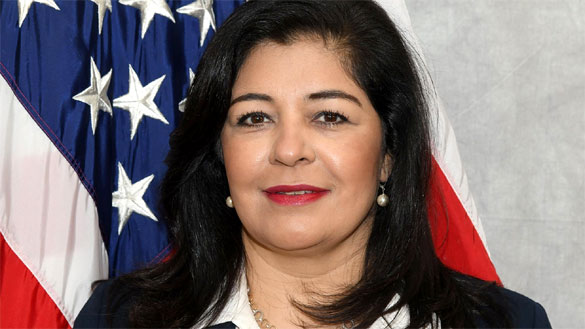 Saima Mohsin. Photo: Detroit Free Press
------
It has just been a week since President Joe Biden took over from Donald Trump and America has seen several firsts during this short time.
Last week, the administration made another record as it appointed the first Muslim woman attorney in the US by naming Pakistani-born Saima Mohsin as the acting US attorney for Michigan's Eastern District.
Mohsin will be taking charge of the post in an acting capacity following the resignation of incumbent Matthew Schneider. The prosecutor had resigned shortly after President Biden was sworn into office.
The US Justice Department said that Schneider's last day as the United States Attorney will be February 1.
The US Justice Department said that Mohsin will "immediately assume office as Acting United States Attorney" under the Vacancies Reform Act.
Earlier, Mohsin was serving as the First Assistant United States Attorney since March 2018.
"She is a career prosecutor, having served in the US Attorney's Office since 2002, and prior to that as a Deputy New Jersey Attorney General and an Assistant District Attorney in Manhattan," said the Justice Department.
Mohsin called the appointment a "great honour".
"I am deeply committed to fulfilling our core mission to faithfully enforce the law and seek justice for all," Mohsin was quoted in the press release.
Saima Mohsin's Profile
According to the Detroit Free Press, the Pakistan born lawyer will bring diversity to an important position.
The publication reported that Mohsin is a graduate of the Rutgers University in New Jersey where she earned a bachelor's degree and a law degree.
While outgoing attorney Schneider said he was "pleased" to leave the US Attorney's Office for Eastern District of Michigan in Mohsin's hands who he called "one of the finest federal prosecutors" he's ever known.
"Saima is a dynamic trial lawyer and a talented manager. And, as the first woman, immigrant, Muslim United States Attorney in American history, her service is truly historic," said Schneider. He is confident that the lawyer will be an "outstanding representative and defender" of the community.
Meanwhile, the two leaders with Muslim advocacy Council on American-Islamic Relations (CAIR) told the Detroit Free Press that they were not aware of any US attorney or acting US attorney who has been Muslim.
"I do not believe that there has ever been a Muslim US Attorney," Gaider Abbas told the Detroit Free Press.
The position of acting US attorney for which Mohsin has been named is not a permanent one and US laws allow judges to select an interim US Attorney.
Not only this, President Joe Biden could nominate someone to fill the position, which would have to be confirmed by the US Senate.
https://www.geo.tv/latest/331637-pakistan-born-saima-mohsin-becomes
--------
Nadia Helmy Ahmed an Egyptian-Danish Boxer Breaking Many Stereotypes
18 JANUARY 2021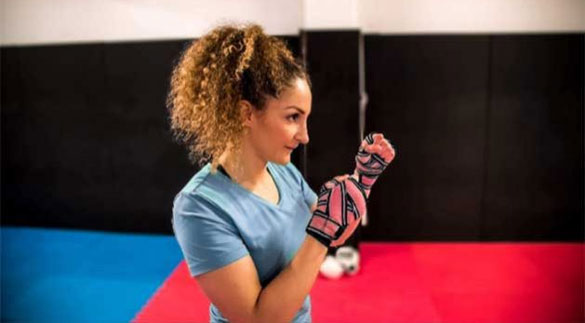 Nadia Helmy Ahmed
------
By Sania Farooqui
New Delhi, India — As a Muslim woman born and brought up in Denmark, Nadia Helmy Ahmed broke many stereotypes when she started boxing at the age of 15. "Back then it was not common for girls to take up elite boxing, let alone common for Muslim girls, I used to be the only girl in my gym, along with ten others boys," said Nadia to IPS News.
Elite boxing is defined by who the boxers fight, how they fight and how they handle top ranked competition on a consistent basis. Nadia has been an elite boxer for over 15 years, and is one of the only ten Danish women in the sport, representing Denmark in world championships.
"Being a girl in a male dominated sport means that you have to learn to deal with all the obstacles that come with it, sometimes you are treated differently, both from inside the community of the sport and outside from the Muslim community as well. Sometimes the tone in the gym can be a bit harsh, but I quickly learnt to turn that direct language into positive fuel.
"Boxing happened by chance in my life and I fell in love with the sport and it has stayed on with me. I am lucky to say my family has always been very supportive, and that's why I have been able to pursue my passion," said Nadia.
As a boxer, Nadia continues to challenge various gender stereotypes and cultural discourses. Nadia says, "by living my life the way that I have chosen to live, I have challenged many norms and expectations of what a Muslim woman should look like, what she should do, what her goals and ambitions should be. I have chosen another way for myself, a different path and I feel at home when I am training."
Nadia is part Egyptian and part Danish and she says she no longer wants to be caught between the discourse of identity and nationality, between her parents' countries of origin, and her own country of residence.
Denmark is home to almost 320,000 Muslims, which is about 5.5 percent of the population, putting the country in a slightly higher proportion than in the rest of Europe. According to a report published in Reuters, a growing number of Danish Muslims say that they have faced verbal abuse, exclusion and hate crimes since mainstream political parties began adopting anti-immigrant policies. Immigration in Denmark has become a strong issue especially during elections.
In December 2020, Denmark's government decided to separately classify people from or with heritage in primarily Muslim countries and regions in their official crime statistics. A move which was deeply criticized by many. Immigration and integration minister Mattias Tesfaye supported the differentiation of people in Denmark with Middle Eastern and North African heritage.
"Pluralism is based on trust, and the recognition between people, whether they want it or not, said Nadia. Religion plays an important role in cultural encounters, partly because it highlights differences and opens up new understandings of plurality and community. We as Muslim women have to use our understanding of liberal European politics to protest against the exclusion of immigrants from the public sphere.
"I crave to find a stance of cultural dignity, to find a moral community of mutual acceptance and purpose. The crucial issue for us has been to achieve a status in which is is legitimate and acceptable to be both Muslim woman and Danish at the same time," said Nadia.
Over the past few years, Nadia has taken her passion for boxing to Muslim girls in local communities living in Braband in Gellerup, an area of western Aarhus, which holds the biggest housing associations in Denmark. Nadia encourages women to empower themselves by teaching them how to tap in and use their physical and mental strengths.
"When I started coaching young girls from the community, I wanted to transfer my passion for boxing to them. My mission was to enable them, to empower them, to give them a space where they could be themselves, at the same time have fun using their bodies to do so", said Nadia.
"Boxing is a way of life. The combination of the mind and the body in sports gives a smaller picture of life in itself. When you think you can't give anymore, there is always a little more to give in sports. Without individual strength and power, it is impossible to fight for your rights, for a better society," said Nadia.
Integration remains a debate and challenge for those who come to Denmark, especially from Muslim countries. Human Rights organizations have reported numerous violations against refugees, immigrants and asylum seekers and have often described Danish policies towards immigrants as some of the most aggressive in the western world. In the current climate where European countries have been opening their doors towards immigrants and refugees, it is important for Denmark to re-think it's value-based policies which has become one of the biggest reasons for countries' polarizations especially towards its immigrants, religion, identity and culture.
According to Nadia, the way forward for Denmark is to identify the challenge of integration, without politicization, and interpret differences and similarities in real contexts, defining common goals and interests.
Sania Farooqui is a journalist and filmmaker based out of New Delhi. She hosts a weekly online show called The Sania Farooqui Show where Muslim women from around the world are invited to share their views.
https://allafrica.com/stories/202101250221.html
--------
Sold into Syrian servitude, Filipina workers tell of abuse, rape and imprisonment
By Katie McQue
Jan. 24, 2021
DUBAI — Josephine Tawaging was being bundled off to the airport in a locked car, begging to be let out.
She had traveled from her home in the Philippines a month earlier to find work in Dubai, the Middle East's glitzy business hub, she later recalled. But her recruitment agency instead locked her in a dark and dirty dormitory with several other women, who soon learned they would all be sent to war-ravaged Syria to be sold.
As Tawaging, 33, was being driven to Dubai's airport bound for Damascus, she protested one last time — and was slapped across the face. "They got angry with me and said, 'If you don't go, we'll kill you,' " she said in an interview, recounting the 2019 ordeal. Today, she remains trapped in Syria.
Dozens of Filipinas who were recruited to work in the United Arab Emirates have been trafficked to Syria to work as maids, at times subjected to physical and sexual attacks by their employers and denied the salaries they were promised, according to interviews conducted with 17 of these women over Facebook Messenger.
The Filipinas are often imprisoned in their employers' homes, and those who have escaped have fled to the Philippine Embassy in Damascus, where some of them say that about 35 women are now seeking shelter, unable to return home.
"My employer slapped me and put my head into the wall. I escaped because he did not give me a salary for nine months," said Flordeliza Arejola, 32, who has been in Syria since 2018. "I waited until he was asleep and climbed over the wall. I had some money for a taxi [to the embassy]."
Tens of millions of international migrants live in Persian Gulf countries like the UAE, many employed in sectors such as construction and hospitality or as domestic workers. Their cheap labor sustains the economies of the Arab region, while their remittances are often vital to supporting families back home.
Syria, after nearly a decade of civil war, is a far less desirable destination for migrant workers, but affluent Syrian families are prepared to pay thousands of dollars to obtain a maid. This has fueled demand for trafficked female migrants.
When asked about the trafficking of Filipinas to Syria, Paul Raymund Cortes, the Philippines' consul general in Dubai, said, "Of course we are very concerned about their plight." He said migrant workers should coordinate their overseas employment with Philippine government agencies and seek their help if they "are being lured to work outside the UAE."
Expired tourist visas
The Filipinas said in interviews that they arrived in the Middle East on 30-day tourist visas for the UAE, expecting it to be their final destination. But the recruitment agencies kept them locked up until the visas expired, making employment in the UAE no longer possible.
"The accommodation was dirty. There were more than 20 women in my room, and we slept on the floor," Arejola said. "Our phones were confiscated."
While they were being held, the women were told repeatedly by agency staff that Syria is a great place to live, that the civil war is over, and that they would command high salaries and have one vacation day per week. At the same time, the women said they were often physically abused and threatened, especially if they objected to going to Syria.
Six of the interviewed women identified two UAE employment agencies as having played a role in the trafficking. The Washington Post has not independently corroborated the claims, and the agencies did not respond to multiple requests for comment.
Research for this story began after a reporter saw a Facebook video in which more than 15 Filipinas inside the Damascus embassy appealed for help, and individual women were then identified via Facebook and contacted for interviews.
After being held in the UAE, the women were put on flights to Damascus in groups of two or three. When they arrived, the women said that they were held in communal accommodations owned by local brokers until they were placed in a household and that they were forced to line up for prospective customers.
"I felt like a prostitute because we all stand in a line, and the employers choose who they want," said one woman, a 48-year-old grandmother who spoke on the condition of anonymity because she felt ashamed.
The selling price was typically between $8,000 and $10,000, according to several of the women, who said their employers told them how much they were purchased for. The women who were not quickly sold were subjected to increasing violence by the Syrian brokers.
"I was told to be good, so I won't get raped and hurt. I stayed quiet and just said yes," said Joymalyn Dy, 26. The agency boss "wanted to sleep beside me and touch me. Luckily, the next day, my employer took me."
'I'm afraid to escape'
Once behind the closed doors of their new homes, the women said they were subjected to physical and sexual attacks by their employers. Geraldine Pahigon, 30, said she was repeatedly assaulted by her employer. "I was slapped, kicked and bitten many times," she said. "I endured this for four months."
She also said she was never paid for her work, echoing a complaint by other women who said the salaries they were promised by the UAE employment agencies — about $500 a month — did not materialize.
Another woman who was brought to Syria a year ago described 18-hour workdays starting at 5 a.m. with no days off. She said her employer is a member of a prominent Syrian family and lives in a home with guards at the front gate.
"I'm afraid to escape," said the 32-year-old woman, whose name is being withheld for her safety. "I want to go home, but I don't [know] how I will get there."
Four of the women identified the broker agency in Damascus that sold them as Nobalaa Alsham.
Contacted by WhatsApp, a lawyer for that company, Ramdan Mohammad, said the women's accounts were "absolutely incorrect." He said the women "consent to come to work in Syria and that is [confirmed] by video with their voice and pictures by the sending office before they travel, and we do our part to secure sponsors, homes and people who treat them very well and humanely." He said, "We check in on them and that they receive their full wages periodically and ask about their communication with their families via the Internet."
Mohammad added that the agency helps any workers who raise concerns and that there have been no complaints similar to those made by the women interviewed by The Post.
Employer knew she was 12
Lailanis Abduljaber said she was 12 years old when she was trafficked three years ago.
"While I walked home from school, I was thinking about ways to escape the struggle of poverty, and of girls that went abroad and have a good life, and their relatives could build their own house," she says. "I felt sorry for my family, so I wanted to help them."
Lailanis, from Cotabato City in the southern Philippines, found a recruitment agency that said it would arrange a passport for her with a falsified age and place her in a job in Dubai. Instead, she was taken to Syria.
She said she initially worked hard for her employer in Damascus, who knew she was 12. But when Lailanis received news after several months that her brother back home had died, she was overwhelmed by grief and her work suffered.
As punishment, she said, her employer slapped her and denied her food. When she begged to be allowed to go home to her family, he dropped her off at the Philippine Embassy, expecting it would fly her back. It did not. Now 15 years old, she said she has been living at the embassy for the past 20 months.
Lailanis does not know when she will get to go home, and embassy staff members have asked her if she would like to go back to work instead.
"It is like being a prisoner. I want to go home," she says. "I miss my mom and dad."
Stuck at the embassy
As soon as an opportunity arose, many of the women chose to escape their employers' homes and flee to the Philippine Embassy. But they were not greeted with the sanctuary they had hoped for.
Some of the embassy staff members are strict, the women said. A common punishment for minor offenses — such as sneaking some extra food from the kitchen — is the denial of breakfast for two weeks. The dormitory-style rooms are cold in the winter, and the women are locked inside each night.
To prevent them from complaining to their families about the living conditions at the embassy, their phones were confiscated. "For almost five months we couldn't communicate with our families because our phones were taken by the ambassador," said the 48-year-old woman. "It's like being in prison."
In response to a request for comment, the Philippine Department of Foreign Affairs said it had launched an "investigation into allegations of poor treatment while under temporary shelter and recommend the necessary actions accordingly." The department said it "has actively taken measures to ensure the safety and well-being of Filipino victims of trafficking" in Syria and has been trying to secure exit visas for the women and pay any outstanding fees and fines imposed by the Syrian government. Since December, when the department was contacted for comment, Philippine officials said they have begun repatriating some of the women.
Of the 35 female trafficking victims who were staying at the embassy in December, some said they had been stuck there for as long as two years because they were unable to obtain Syrian exit visas and money for flights home.
Several women reported being pressured by embassy staff members to return to the Syrian households they've escaped from.
"I want to die," said Juvie Balondo, 27, who has been staying at the embassy for a year. "We are all so stressed."
Tawaging, who recalled being bundled off to Damascus two years ago, has been marooned in the embassy after fleeing her employer early last year. "I ran away because my employer tried to rape me, and it made me too nervous [to stay]," she said.
Now, she spends most of her days in bed with little to occupy her. For more than a year, she said, she has been unable to speak with her children in the Philippines, ages 9 and 10, because the family has no Internet service. A widow, Tawaging had come to the UAE for work to provide a future for her children.
"I really miss them," she said. "We are still hoping and waiting to hear when we can go home."
https://www.washingtonpost.com/world/middle_east/trafficking-migrant-workers-syria-uae/2021/01/24/1d79e43c-3f0d-11eb-b58b-1623f6267960_story.html
--------
Meet The First Female Pilot At Sharjah Police
January 23, 2021
Aghaddir Ali
Sharjah: Nada Al Shamsi, 32, is literally aiming for the sky. A trailblazer in the true sense of term, she is Sharjah Police's first female police pilot.
Al Shamsi, said: "Emiratis are probably the luckiest citizens to be part of this great nation. Our leaders are way ahead in their vision in support of gender equality. Thanks to Major General Saif Ziri Al Shamsi, commander-in-chief of Sharjah Police and his support, women in Sharjah Police are not only supported but offered all sorts of opportunities and access in the workplace, together with a stimulating environment to thrive. For this, I'm grateful and proud to be one of Sharjah police staff."
Al Shamsi also praised her family role and how they supported her throughout her life. Recalling her training days, she said: " It was equally a physical and mental challenge and having to adjust my body to flying at different times of the day." Al Shamsi said that she faces many challenges but she overcame all of them. "Many of my instructors were actually tough with me because they wanted to make sure all the grades I got were well-earned."
Al Shamsi's course was split into two phases — ground school training and flying, which includes solo and dual flying. "Women can be whatever they want to be, that's what I think my example shows. All women should follow a career path that inspires and makes them happy." She currently flies Sharjah Police aircraft A6-XRK.
"I'm proud and extremely grateful to be serving my country being part of Sharjah Police. This is a very rewarding role where I get to help the community and have a job that I love." She hopes her story inspires "all young females still searching for a path and show them there is still space for women in serving our country".
Al Shamsi became a member in Al Jazirah Aviation Club in November 1, 2018 and she obtained her pilot's licence on November 11, 2019.
"My favourite moments are during take off and landing. Having all the high-end technology is great for things like navigation and troubleshooting, but when it comes to the take offs and landings, I like to have a hands-on manual approach. I am doing constant checks on things like fuel, time, navigation and also just checking that all the instruments are functioning correctly. As you fly more regularly you get used to the long hours as well, at first I thought it would be really difficult, but it's really normal for me now."
"Flying is so exciting," she shares. "When you're flying alone, you feel in charge. It was a beautiful experience.
Poetess
In addition to her work in Sharjah Police, Al Shamsi is also a well-known poetess and participated in number of events. She is an employee in the Media and Public Relations Department of the Sharjah Police General Headquarters and presented the morning traffic broadcasts in English on the emirate's police social media platform. She is also a member of the Emirates Poets Forum and a member of the Al Jazirah Aviation Club in Ras Al Khaimah.
She is the first to obtain a pilot's licence from the female component of the Sharjah Police General Command, and she also participated in the shows of the Al Jazirah Aviation show for Light Aircraft in 2020.
She holds a Master in Strategy and Leadership Management and a Diploma in International Leadership Development from the United Nations Institute for Training and Research, UNITAR in Switzerland, and an LSA pilot license approved by the General Civil Aviation Authority.
https://gulfnews.com/uae-success-stories/meet-the-first-female-pilot-at-sharjah-police-1.76678995
--------
Afghanistan's 1st Female Animator Receives Education In Turkey
JAN 24, 2021
Sara Barackzay, the first female animator and illustrator in Afghanistan, continues her struggle for digital art in Turkey while setting an example for hundreds of women in her country interested in learning about animation, illustration and graphic design.
Born in Herat, a historic city in western Afghanistan known for its artistic architecture, Barackzay, 27, spent her childhood and youth amid the devastating consequences of the war in Afghanistan, which broke out in the country when she was 7 following the U.S. invasion.
During her high school years, Barackzay started to depict some characters in the cartoons she had watched and the atmosphere of her country to the digital environment through her drawings. After high school, she applied to the Turkish Scholarships program and was admitted to the Department of Cartoon and Animation, Faculty of Fine Arts, Design and Architecture in Başkent University in Istanbul.
Barackzay, who strove to learn digital arts under difficult conditions in her country, improved her talent through further training in Turkey. While continuing her education at the university, she also held over 30 animation and illustration courses in Afghanistan when she went there. More recently, the artist has continued giving the courses online.
Through these courses, Barackzay has introduced hundreds of women to digital art. She has become Afghanistan's first female animation artist thanks to her achievements against all odds.
Following her university education, she started children's book projects with the United Nations International Children's Emergency Fund (UNICEF) and UNESCO and maintained them in the capital Ankara and Istanbul in Turkey. She seeks to produce content for world-famous animation studios such as Pixar and Disney and opened a department of digital design and animation in Afghanistan.
Barackzay spoke to Anadolu Agency (AA) about the process and dreams that led her to become Afghanistan's first female animator. Stating that she was born in the city of Herat and had a challenging childhood due to the environment of insecurity in her country, Barackzay said: "The schools are still blown up in my country. Girls have dreams and goals, but there are problems with their going to school. The war environment makes this situation even more difficult. The girls are trying to achieve them against all odds and one of them is me. Despite all these problems, I want to achieve my dreams. My parents also help me a lot."
Indicating that she began to develop an interest in art and design at the age of 4 or 5, Barackzay continued: "As Afghanistan lacks an environment of confidence, people cannot easily achieve their goals. I have loved art and design since I was a kid. I started drawing myself. Unfortunately, this kind of art is underrated while fields like medicine and engineering are valued more in Afghanistan. When I was a kid, I wanted to study art. I have faced a lot of obstacles, but I have not given up."
Barackzay stated that she took an art class to attain her goal of mastering in animation and cartoons, adding: "This field, as well as the media, is poor in Afghanistan. People say that girls shouldn't do this kind of works. However, animation and cartoons have always been my biggest dream. I wanted my drawings to move and talk. I worked for this and won the Turkish Scholarships program."
1st animation team in Afghanistan
Underlining that the training she received in Turkey has brought her one step closer to achieving her dreams, Barackzay noted: "During my years in Afghanistan, I tried to introduce and teach painting, animation and illustration especially to women. After coming to Turkey, I learned this area thoroughly. In the following period, I opened a lot of courses in Afghanistan and trained women. I have held 30 face-to-face and online courses. I designed cartoons and children's books for my country. I drew in cooperation with UNESCO and UNICEF, and these books were distributed at schools."
Stating that she went through difficult situations, Barackzay continued: "When I started animation, they were mocking my work. It was widely known in my country. I wanted to teach, but the students did not show up. Sometimes the power went out, and there was no place to teach. The parents did not let the girls come. But we are slowly overcoming these obstacles. We even managed to work in the dark without electricity. We formed the first animation team in Afghanistan. There are now 400 students in this group. I am very happy because we can finally design animations and books together," she expressed.
Pointing out that the children's books drawings she prepared for UNICEF reach children who cannot go to school, Barackzay stated that she made simple drawings that can be understood by children, especially ones to combat the coronavirus pandemic.
Thanking Turkey for its role in her becoming the first female animator and digital designer in Afghanistan, Barackzay said: "I could study in this field and realize my dream thanks to Turkey. I seek to expand the field of animation and cartoons and establish a studio in Afghanistan now. I want to work with other countries as well as with Pixar and Disney. I want to introduce and teach in this field, especially for girls, in our country. I aim to open a digital design and animation department in Afghanistan."
Barackzay lastly said that Istanbul is an important source of inspiration for works of art, continuing: "Istanbul is the city that inspired my art the most. It is beautiful with its historical places like the Hagia Sophia Grand Mosque, sea and nature. After seeing these, one wants to be an artist because Istanbul itself is like a work of art. I am very happy to live in Turkey."
https://www.dailysabah.com/arts/afghanistans-1st-female-animator-receives-education-in-turkey/news
--------
Indian Union Muslim League May Field Women Candidates In Kerala Assembly Polls
Jan 25 2021
Thiruvananthapuram, Jan 25 (IANS): The Indian Union Muslim League, which has in its history fielded only one woman in Assembly elections back in 1996, may change its policy and field more women candidates in the 2021 Kerala polls.
In 1996, Muslim Women League leader, Khamarunnisa Anwar was fielded as the party candidate from Kozhikode North seat but she could not win.
Since then IUML had cold shouldered women candidates for Assembly and parliament polls while several of these leaders are elected members in gram panchayats, block panchayats, district panchayats, municipalities and corporations.
The IUML which is male dominated, was preventing the candidature of women candidates in citing the religious zeolots who might oppose the presence of Muslim women in elections.
IUML organising secretary and Member of Parliament, E.T. Mohammed Basheer while speaking to IANS said "Party has not taken a call on the same but there is a large section of the leadership who want women candidates in certain sure seats. I will give my opinion in the party state executive."
However sources in the party says that there is a major possibility of women contestants in the next election. It will need women candidates as CPM will certainly field young women as candidates as well as professionals.
P. Kulsul, Muslim Woman League ,state secretary and former member, Kerala state woman's commission said "We welcome women candidates in the next assembly elections as it has been a long wait since 1996 when our then president Khamarunnisa Anwar contested from Kozhikode. We are hoping for the party to field some women in this elect
http://www.daijiworld.com/news/newsDisplay.aspx?newsID=794699
--------
URL: https://www.newageislam.com/islam-women-feminism/kaja-kallas-become-estonias-first/d/124147
New Age Islam, Islam Online, Islamic Website, African Muslim News, Arab World News, South Asia News, Indian Muslim News, World Muslim News, Women in Islam, Islamic Feminism, Arab Women, Women In Arab, Islamophobia in America, Muslim Women in West, Islam Women and Feminism