New Age Islam News Bureau
27 Jun 2019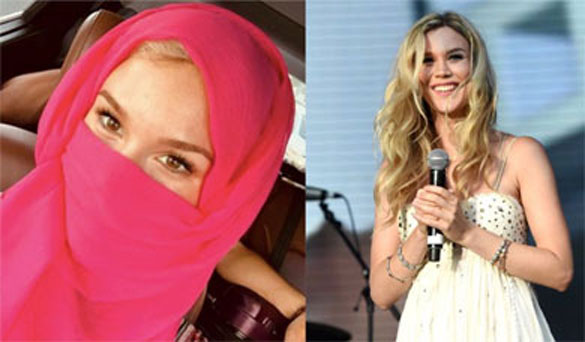 Joss Stone sparked criticism online after sharing a photograph of herself wearing a pink niqab [Photo: Instagram/Getty]
-----
• How a Former Child Bride Got A Fatwa Against Child Marriage
• Iran May Scrap Ban on Women Passing Nationality to Children
• France's 'Operation Burkini' Is About Treating All Women with Dignity and Respect
• Children of Saudi Women Married To Foreigners Have Residency, Work Rights
• Malala Makes 'Booksmart' Actors' Day at Pakistan-NZ Match
• Iraq Sentences Indonesian Women to Jail for Joining ISIS
• Syrian Woman Recalls Regime Torture, Condition Of Women In Prisons
Compiled by New Age Islam News Bureau
URL: https://www.newageislam.com/islam-women-feminism/joss-stone-sparks-online-debate/d/119009
--------
Joss Stone Sparks Online Debate after Wearing Pink Niqab in Saudi Arabia
Sabrina Barr
Jun 27 2019
Joss Stone has sparked a debate about the oppression of women in Saudi Arabia after sharing a photograph on Instagram of herself wearing a pink niqab during a visit to the country.
A niqab is a veil that usually covers the entire face other than the eyes, while the hijab is a headscarf which leaves the face visible.
In the picture's caption, Stone wrote that she "loves" the garment, and described the women that she'd met during her trip as "strong and exercising their choice to be free, wear what they want and do what they want".
"To each her own," the singer added, explaining that she spoke to women working in a variety of professions who "felt they were not oppressed" and were "free to choose how they lived their lives".
While some of Stone's Instagram followers praised her for sharing her experience of Saudi Arabia, others criticised her for her views concerning the traditional Muslim headscarf.
"The hijab is not a symbol of a free, powerful woman, it is one of oppression," one person commented.
"It is Sharia law compliance by force, not by choice. Western liberal progressives and feminists are falsely portraying the hijab as something beautiful and powerful."
"Sorry Joss, I never criticised your posts before, I do not agree with this one," another added.
"Wearing hijab is not a 'fun' thing, it is not even a 'cultural thing', it is a religious symbol of oppression and control over women."
In November last year, women in Saudi Arabia launched a protest against the abaya, a full-length robe worn by some women in the Muslim community, by wearing the garment inside out.
Eight months prior, the Saudi Crown Prince Mohammad bin Salman had stated that it is not compulsory for women in the country to wear the abaya, as long as they dress in a "decent and respectful" manner.
However, many women in the country still feel as though they are required to wear the garment, which is why they decided to launch the "inside-out abaya" movement.
While there are those who believe that women who wear niqabs, hijabs, burkas and abayas are being forced to do so, many Muslim women state that it is their choice.
Tahira Noor, a Muslim woman who has worn a burka for 20 years, told BBC Radio 5 Live that wearing the garment is "100 per cent my choice".
"It's not a must. It's not an obligation. However… [it] gets you closer to God. It's a spiritual thing more than anything else," Noor said.
In March 2018, an Iranian woman who publicly removed her headscarf in spite of the country's mandatory hijab law was sentenced to two years in prison.
Earlier this year, Stone performed at a bar in North Korea as part of her effort to play in every country in the world.
While Britons are not barred from visiting North Korea, the Foreign Office advises against travelling to the country except in cases of essential travel.
https://www.independent.co.uk/life-style/women/joss-stone-niqab-instagram-saudi-arabia-hijab-debate-a8976846.html
--------
How a Former Child Bride Got A Fatwa Against Child Marriage
June 26, 2019
Jaha Dukureh was having breakfast with her friends when the idea came to her. She wanted Muslim clerics to deliver a fatwa against child marriage – a religious opinion issued by one or more Islamic legal scholars.
It was June 18, the last day of the African Summit on Female Genital Mutilation and Child Marriages in Dakar, Senegal. Dukureh, a Gambian women's rights activist and founder of the nonprofit Safe Hands for Girls, was the chief organizer of the event.
It was a challenge to get the summit off the ground.
"We didn't have a lot of resources to pull this together. Everywhere we looked for money for the summit, we had a lot of people tell us no," Dukureh says. But she felt the conference was important: Nearly 800 million people alive today were married as children, according to UNICEF. Even though child marriage is against the law in most countries and considered a human rights violation by the United Nations, many communities still consider it a part of religious or cultural tradition.
At her early morning breakfast, Dukureh knew that her hard work had paid off. Hundreds of people attended the three-day event, including Phumzile Mlambo-Ngcuka, executive director of U.N. Women, who had called for an end to child marriage and female genital mutilation at the opening plenary.
In addition, numerous Islamic leaders attended and spoke out to condemn child marriage. And that's significant, Dukureh says. Even though Muslim leaders across the world have tried to end the practice, a number of Muslim-majority countries have relatively high rates of child marriage (as do other nations). And even in countries where the practice is banned, the government may make exceptions for "special cases."
Other fatwas have been issued against child marriage.
"This is not the first time in Islamic history," says Salma Waheedi, associate director at the Program on Law and Society in the Muslim World at Harvard University.
But Dukureh hoped to bolster the message by obtaining a fatwa from a delegation of five imams at the conference, including Saleh Abbas, deputy grand imam of Egypt's prominent Al-Azhar University.
Such a fatwa would be "unique because the fatwa is coming from a major institution like Al-Azhar, which carries a lot of weight in the Islamic world," says Waheedi.
It would not bring immediate change. A fatwa is non-binding, which means imams cannot enforce it in communities. But throughout history fatwas have been issued with an eye toward guiding Islamic law and civic life.
At breakfast last Wednesday, Dukureh excused herself and found two of her associates at the summit: Aya Chebbi, a youth envoy for the African Union, and Abdalaziz Al Hamza, a Syrian journalist. "I told them, let's go to the imams [Muslim religious leaders] and see if that's something we could push."
The delegation of imams agreed that a fatwa was warranted. Over the next four hours, they worked with Dukureh and her associates — all of them young advocates for women's empowerment — to write the text of the fatwa and translate it from Arabic to English and French. They pushed the conference's closing ceremony from 9 a.m. to 1 p.m. That's when Abbas announced the fatwa against child marriage to the conference attendees.
"Marriage in Islam is based on the consent of both parties, particularly the young woman," the fatwa begins. "The age of 18 marks the stage at which a woman can validly express her will to marry." Eighteen is the age considered acceptable for marriage according to the U.N.
The fatwa further notes that child marriage cuts short a girl's childhood and can prevent her from pursuing an education. (To read the full text, click here.)
Watching the imam announce the fatwa was "a lovely thing," says Nimco Ali, who has worked with Dukureh for years and is co-founder of the Five Foundation, which partners with Dukureh's organization and aims to end FGM.
Ali hopes that the fatwa could have an impact on Islamic countries with high rates of child marriage. But, she notes, the work is far from over.
Now that the fatwa has been covered by online media, the challenge is to spread the word about it "on the ground," she says. For instance, in northern Kenya, which is heavily Muslim, "where [child marriage] is massive, this fatwa would have a massive impact. But it has to be local people delivering [the message] to their communities and delivering in their language."
That's what happened in Indonesia last year, says Salma Waheedi of Harvard. A fatwa against child marriage "mobilized significant attention in Southeast Asia."
Keith West and Alain Labrique, professors at Johns Hopkins Bloomberg School of Public Health who work on child marriage and associated health issues in Bangladesh, agree that the fatwa's effect could be substantial.
"At the very least, it provides support for [groups] that are working to impact this longstanding cultural practice," Labrique says. They both say that support of religious leaders is key when fighting a longstanding cultural practice like child marriage. But since a fatwa is non-binding, there's no way to predict its impact, particularly in conservative communities. "You can't change cultural practices overnight," he says.
Dukureh is determined to keep working for change. To her, child marriage is not just an issue. It's part of her personal history. Her family married her off as a child twice, first at 15 and then, after a divorce, at 17.
Her father is a religious leader in the Muslim community in Gambia. Since Dukureh has dedicated herself to ending child marriage and promoting women's rights in the Muslim community, her father has listened to her views – and changed his position, she says.
He even attended the summit. After the fatwa was announced, she spoke to him. "I think my dad is the proudest person alive," she says.
https://www.npr.org/sections/goatsandsoda/2019/06/26/734535629/how-a-former-child-bride-got-a-fatwa-against-child-marriage
--------
Iran May Scrap Ban on Women Passing Nationality to Children
June 26, 2019
THE HAGUE — Iran plans to scrap a law banning women from passing their nationality to their children, which human rights experts said could help thousands of children living in legal limbo by letting them acquire citizenship.
Iran is one of 25 countries that do not permit women married to foreigners to hand their nationality to their children.
Citizenship experts say such laws can fuel statelessness, potentially depriving people of basic rights such as education, health care, housing and employment, and leaving them vulnerable to exploitation.
They said Iran could pass the new law imminently after its parliament approved the reform last month and sent it to the Guardian Council, a clerical body which vets proposed legislation.
No one at the Iranian embassy in London was immediately available to comment on the law's progress.
"This is a massive step in the right direction that will benefit many families," said Catherine Harrington of the Global Campaign for Equal Nationality Rights.
The proposed reform could benefit children born to women who have married men from Iran's large Afghan refugee and migrant population, according to Human Rights Watch.
Other countries that do not let women married to foreigners hand their nationality on to their children include Kuwait, Oman, Libya, Mauritania, Sudan and Nepal.
An Iranian embassy official said children born to non-Iranian men were not stateless as they would inherit their father's nationality.
But Harrington said this was not always the case.
Iran's move to amend its law comes halfway through a major decade-long UN drive to end global statelessness by 2024 launched as the #Ibelong campaign.
Sierra Leone and Madagascar have since scrapped laws preventing children inheriting citizenship from their mothers and Togo is expected to follow suit.
Melanie Khanna, head of the UN refugee agency's section on statelessness, said the shift in Iran looked very positive and likely to happen soon.
"This reform could change the situation for tens of thousands of children in Iran and prevent statelessness for a very significant number in the future," she told the Thomson Reuters Foundation.
UN officials, lawyers and campaigners are gathering in The Hague on Wednesday for a conference on ending statelessness, which affects an estimated 10-15 million people worldwide who are sometimes known as "legal ghosts".
There are no reliable data on how many people are stateless in Iran but Khanna said one government survey showed 49,000 children lacked proof of nationality.
Under the reforms, an Iranian mother will be able to apply for citizenship for any child under 18, while those over 18 can apply directly.
But Harrington said the law was still discriminatory as Iranian fathers could automatically hand on citizenship to their children whereas Iranian mothers would have to apply to do so.
"While we celebrate this reform, we urge Iran to eliminate all gender discrimination in the nationality law so that Iranian women have exactly the same right as men to pass (on) their citizenship," she added. — Thomson Reuters Foundation
http://www.saudigazette.com.sa/article/570059/World/Mena/Iran-may-scrap-ban-on-women-passing-nationality-to-children
--------
France's 'Operation Burkini' Is About Treating All Women with Dignity and Respect
Shelina Janmohamed
June 27, 2019
In the past few weeks, a group of veiled Muslim women in France have been compared to Rosa Parks. With echoes of the American civil disobedience movement of the 1950s, the women from Alliance Citoyenne, a social advocacy group in Grenoble, have been visiting swimming pools in burkinis, which are banned by a number of French cities. This Sunday – and every Sunday until the rules are changed – they'll be donning their cover-all swimsuits once again. Alliance Citoyenne organiser Adrien Roux says they have been applauded by other pool-goers, but when they got out of the water in one venue, there were police officers waiting to greet them and they were fined.
When Parks refused to give up her place on a Montgomery bus to a white passenger in December 1955, she said she was "tired" – not physically tired, but tired of giving in and being treated like a second-class citizen. Despite many changes instigated by her one-woman protest, there are still numerous instances in which the rules of exclusion continue to apply, creating de facto second-class citizens. Even if they cannot be compared to the horrors of racial segregation, when we see them, we have a responsibility to call them out because they are equally dehumanising.
The banning of Muslim women wearing the burkini in France is a case in point. Some might argue that the comparison is frivolous. But the Muslim women who have been protesting the ban at public pools and beaches across France say they are upholding the same freedom of conscience. The response has been telling – and terrifying. Grenoble mayor Eric Piolle tweeted: "National solidarity is at stake…the role of the state is to pose clear and just rules for everyone." Matthieu Chamussy, of the centre-right Republican party, went so far as to call the defiant act the advancement of "political Islam" and the retreat of "the cause of women".
France vigorously enforces secularism and banned the burqa and niqab in 2011, followed by a ban on the burkini in 2016. In Nice that year, when a veiled Muslim woman relaxing with her family on a French beach was surrounded by four armed policemen and ordered to remove the top covering her swimsuit, the pictures went worldwide. Commentators pointed out how less than a century earlier, beach police had patrolled to check whether women's swimsuits covered enough of their bodies, with a tailor on hand to stitch more modest attire if necessary. In both instances, women were being dictated to about what they should or shouldn't wear. In both cases, it was wrong.
Mealy-mouthed arguments have been used to justify the exclusion of veiled Muslim women from swimming in public in France. One is that by wearing burqinis, they are not integrating. Yet the images of the women merrily splashing about with their children in Grenoble, alongside other smiling swimmers, belie this, because going for a family day out to the swimming pool or to the beach in a western secular society is the very definition of integration.
Others have argued that it is a matter of national security. Yet the last time I checked, there were no burqini-wearing criminals on Interpol's most wanted list.
The nub of the issue is simply that this is about delegitimising veiled Muslim women and preventing them from mingling in society by issuing dictats on how they should dress.
What is the difference between a Muslim woman who wears leggings, a long tee shirt and a swimming turban, and a woman who covers her arms and legs so she doesn't burn and swims wearing a cap? Simply put: it is her faith.
None of this is about clothing and everything to do with excluding veiled Muslim women.
In the heatwave sweeping Europe this summer, I have been shopping for my own burkini this week. I will be wearing it with pride at the pool, in solidarity in spirit and body with those Muslim women in Grenoble – because no one should have to put up with being treated like a second-class citizen.
https://www.thenational.ae/opinion/comment/france-s-operation-burkini-is-about-treating-all-women-with-dignity-and-respect-1.879659
--------
Children of Saudi Women Married To Foreigners Have Residency, Work Rights
June 25, 2019
RIYADH — Children of Saudi mothers from non-Saudi fathers have residency rights and enjoy right to residency, work, education and medical treatment on equal footing with the children of Saudi mothers and fathers, the Human Rights Commission (HRC) has said.
It explained that the children of Saudi mothers and non-Saudi fathers who are staying in the Kingdom have the right to be issued with permanent iqama (residency permit) and the mothers can recruit them if they are living outside.
The commission said in this case, the government will bear the cost of issuance and renewal of iqama.
It said the children can work in the private sector without transferring their iqama and they will be included within the Saudi citizen category in private establishments.
According to the commission, children of Saudi mothers and non-Saudi fathers will be treated as full-fledged Saudi citizens in getting education and medial treatment.
The children should, however, have ID cards to prove their credentials.
The wife can also bring her foreign husband if he is living outside the Kingdom and can transfer his iqama on her if he so wishes.
Th non-Saudi husband will also have the right to work for the private sector without transferring his iqama on them.
The husband should have valid passport which is recognized by the Saudi authorities and the marriage should have been formally documented and made under the consent of the concerned Saudi authorities.
http://saudigazette.com.sa/article/569898
--------
Malala Makes 'Booksmart' Actors' Day at Pakistan-NZ Match
June 27, 2019
Pakistani Nobel Laureate Malala Yousafzai made the day for Hollywood stars Kaitlyn Dever and Beanie Feldstein on Wednesday as she revealed her favourite part of the film.
Pakistani actor Adnan Malik had been present at the Pakistan vs New Zealand clash on Wednesday alongside Malala Yousafzai when he revealed to the inspiring women's rights activist what his favorite part of the film was, which featured her as an integral code word between the two leads.
"So my favorite part about 'Booksmart' the movie is…", said Adnan as the 21-year-old shyly utters a "Malala."
Soon after the video blew up and reached Hollywood where the film's lead stars Beanie and Kaitlyn were over the moon finding their pinup acknowledge their work.
"I HAVE NO BREATH!!!!!!," shrieked an excited Beanie while Kaitlyn followed suit saying: "I ALSO HAVE NO BREATH."
Beanie Feldstein
✔
@BeanieFeldstein
I HAVE NO BREATH!!!!!! #malala @Booksmart https://twitter.com/adnanmalik/status/1143876152232153088 …
adnanmalik
@adnanmalik
So my favourite thing about @Booksmart is...
Embedded video
12.6K
11:45 PM - Jun 26, 2019
Twitter Ads info and privacy
1,110 people are talking about this
Kaitlyn Dever
✔
@KaitlynDever
I ALSO HAVE NO BREATH @Booksmart @Malala https://twitter.com/beaniefeldstein/status/1143945814777241603 …
Beanie Feldstein
✔
@BeanieFeldstein
I HAVE NO BREATH!!!!!! #malala @Booksmart https://twitter.com/adnanmalik/status/1143876152232153088 …
5,296
12:18 AM - Jun 27, 2019
Twitter Ads info and privacy
320 people are talking about this
"You are our hero. You are remarkable in every way," Beanie added further.
Malala
✔
@Malala
• 16h
Replying to @BeanieFeldstein @Booksmart
👋😊
Beanie Feldstein
✔
@BeanieFeldstein
You are our hero. You are remarkable in every way. ❤️❤️❤️
2,632
12:01 AM - Jun 27, 2019
Twitter Ads info and privacy
59 people are talking about this
The director of the film Olivia Wilde was also overjoyed as she screamed her name on Twitter with a crying emoji, retweeting Malik's Tweet: "MALALAAAAAAAAAAA!"
olivia wilde
✔
@oliviawilde
MALALAAAAAAAAAAA! 😭 https://twitter.com/adnanmalik/status/1143876152232153088 …
adnanmalik
@adnanmalik
So my favourite thing about @Booksmart is...
Embedded video
6,937
11:12 PM - Jun 26, 2019
Twitter Ads info and privacy
609 people are talking about this
The comedy film released last month shows 'Malala' as a code word being used between the two best friends as an annual, undeniable favor.
https://www.thenews.com.pk/latest/490476-malala-makes-booksmart-actors-day-at-pakistan-nz-match
--------
Iraq Sentences Indonesian Women to Jail for Joining ISIS
26 June, 2019
The Iraqi Supreme Judicial Council sentenced on Wednesday an Indonesian woman to 15 years in prison for joining the ISIS terrorist group.
The woman was married to an ISIS member who was killed in an airstrike by the US-led coalition, said the court in a statement.
It said the woman had crossed into Iraq's Nineva province from Syria, without saying when.
An Iraqi court sentenced in recent weeks about a dozen French citizens to death for being ISIS members. None of the sentences against the French have been carried out yet.
Iraq has detained or imprisoned at least 19,000 people accused of connections to ISIS or other terror-related offenses, and sentenced more than 3,000 of them to death, according to an analysis by The Associated Press last year.
https://aawsat.com/english/home/article/1786071/iraq-sentences-indonesian-women-jail-joining-isis
--------
Syrian Woman Recalls Regime Torture, Condition Of Women In Prisons
27.06.2019
"I want people who hear my voice to help those women who remain in prisons. They need a helping hand, just as the ones who survive prison," says Nur Hammad, one of thousands of female victims who were tortured and abused in Syrian regime prisons. As a former inmate of Syrian prisons run by the Bashar Assad regime, Hammad recounted the torture and abuse she faced during her incarceration as her scars keep horrific memories alive. In an interview with Anadolu Agency (AA), Nur Hammad, which is a pseudonym to protect her identity, spoke for the first time about the cruelty she was forced to endure during her nine-month imprisonment in several detention centers.
Almost 14,000 people have died in Syrian regime prisons since March 2011, when the civil war first erupted, while about 128,000 others still remain in detention, the U.K.-based Syrian Network for Human Rights (SNHR) said in a report released in March.
According to the report, some 127,916 people are currently in detention or have been forcibly disappeared, over the same period. The 30-year-old was arrested by the Bashar Assad regime soldiers in May 2018.
Before her arrest by regime henchmen, Hammad worked as a pharmacist in the Eastern Ghouta suburb of Damascus, which was under an intense siege by forces loyal to Assad. She left the region to move to Idlib, though she was later forced to return after her mother called her back as her younger sibling died.
"I prepared my stuff and left to go to my mother [to Eastern Ghouta]. After passing Free Syrian Army [FSA] checkpoints I reached the Assad regime checkpoints where they were conducting identity checks," she said.
She was called out of the car, only to find out her name was on the wanted list of the Syrian regime. Hammad said she was brought to the Aleppo political security center after being searched and handcuffed.
She was searched by men, who touched her and disrespected her religious and traditional values. "Later, a woman who was around 50 years old came and took me in a separate room where she removed all my clothes and searched me as well," she said.
From there, Hammad was brought to the Aleppo military intelligence center, with her hands bound behind her back.
"During the entire journey they [regime soldiers] cursed and insulted me; this was the first time I was slapped for sitting upright," she said.
At the intelligence center, she was put into a one-square-meter cell where she spent two days before her first interrogation began. "I couldn't even lie down as every two hours the soldiers would come in, pour water on me and insult me before leaving, I could also hear little children crying, and sounds of men suffering," she said.
On her second day in the cell, regime soldiers took her out for her first interrogation.
"They covered my eyes and tied my hands behind my back, and when I asked why I was treated like this they tightened the plastic handcuffs more and started to interrogate me," she said.
Despite repeatedly telling them that she was innocent, this treatment continued.
Hammad said she was accused of supporting the FSA with medical supplies and of supporting and standing with those rising up against the state.
"I told them that the pharmacy was open for every patient and person in need; I didn't know if anyone was from the opposition or the Assad regime," she said.
soldiers threaten
women with torture
She said that the soldiers looked through her pictures on the phone, insulting and threatening her with rape. "They told me to decide: 'either you admit [to the accusations] or you will die,'" she said. Inside her cell, Hammad said she lost any sense of time passing over 32 days under unbearable and unhygienic conditions. Hammad was unsure how long this continued.
"I felt like fainting, I couldn't bear this pain anymore, I no longer had any strength to speak," she said. Unable to stand the intensified torture, she accepted all charges against her. After seven months of incarceration in Adra Prison, Hammad was released and made her way straight to her family and friends who were living in Damascus.
Hammad called for help for those women who continue to languish in prisons and those who were released as she said
they are "forgotten." According to the Conscience Movement, more than 13,500 women have been jailed since the Syrian conflict began, while more than 7,000 women remain in detention where they are subjected to torture, rape and sexual violence. The movement is an alliance of individuals, rights groups and organizations aiming to secure urgent action for the release of women and children in the prisons of the Syrian regime.
The Syrian Human Rights Network (SNHR) announced yesterday that over 14,000 civilians have died of torture since the beginning of the civil war in Syria in 2011. "Some 14,227 individuals [including 177 children, 62 women] have died due to torture at the hands of main parties to the conflict in Syria from March 2011 to June 2019," according to the SNHR report, which marks the International Day in Support of Victims of Torture, falling on June 26.Torture by the Bashar Assad regime forces made up 14,070 of this number, including 173 children and 45 women.
The report stressed that the figures consisted of only those that can be identified, and that the real death toll is much higher.
https://www.dailysabah.com/politics/2019/06/27/syrian-woman-recalls-regime-torture-condition-of-women-in-prisons
--------
URL: https://www.newageislam.com/islam-women-feminism/joss-stone-sparks-online-debate/d/119009
New Age Islam, Islam Online, Islamic Website, African Muslim News, Arab World News, South Asia News, Indian Muslim News, World Muslim News, Women in Islam, Islamic Feminism, Arab Women, Women In Arab, Islamophobia in America, Muslim Women in West, Islam Women and Feminism