New Age Islam News Bureau
25 March 2014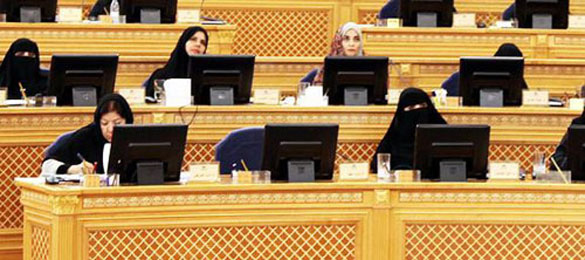 Photo: KSA women seek parity with men
------------
• Woman May Divorce Man in Jail: Turkey's Religious Affairs Directorate
• Pak Civil Society Concerned About Recent Violent Crimes against Women, Girls
• No Saudi Nationality for My Daughters, Says Shoura Member
• Makkawi Women 'Enrich the Holy City's History'
• Moroccan Artwork Highlights Traditions of Eastern Women
• KSA Women Seek Parity with Men: Member Shoura Council
• UK Muslim schoolgirls get a taste of food business in visit to Subway store
• Play in UK tells of Bengali women raped by Pakistani army during 1971 war
• WFP, Balochistan Govt to assist malnourished kids, women
• Women Activists Are the Bravest and Most Visible Right Now
• Unveiling the Face of Women in the Middle Eastern Business Landscape
Compiled by New Age Islam News Bureau
URL: https://newageislam.com/islam-women-feminism/jordan-court-rules-women-don/d/66265
------------
Jordan court rules women who don't wear hijab are 'sluts'
Women must wear hijab to testify, Islamic court in Jordan says
March 25, 2014
Amman Sharia Court of Appeals adopts a fatwa which deems any women who doesn't wear the hijab as "a slut."
Women who do not wear the traditional Islamic head-covering will not be permitted to testify in court, according to a decree handed down by a Jordanian religious court.
The Jordanian news agency Al-Madenah reported on its website that the Amman Sharia Court of Appeals adopted a fatwa which deems any women who doesn't wear the hijab as "a slut."
The decision raised the ire of the Jordanian Women's Union, which released a statement on Amman net criticizing the move as discriminatory.
"Seeing as this decision violates the provisions of the Jordanian Constitution which calls for equality between all Jordanians, and which protects their personal freedoms, we are demanding all the concerned parties to reconsider the decision," the union said.
"Women's attire is a personal choice and no one should challenge it as long as they're not breaking the law and stepping out of line. An attack on those freedoms is considered a crime and explicitly violates [Jordan's constitution]."
The union is calling on authorities to reverse the decision, and lawyers in the Hashemite kingdom are urging nationwide demonstrations against the ruling.
http://www.jpost.com/Middle-East/Women-must-wear-hijab-to-testify-Islamic-court-in-Jordan-says-346349
------------
Woman may divorce man in jail: Turkey's Religious Affairs Directorate
March 25, 2014
Turkey's Religious Affairs Directorate has stated that it is religiously permissible for a woman whose husband is sentenced to one or more years in prison to apply for a divorce.
"A majority of Islamic scholars agree that the wife cannot demand a divorce if her husband is imprisoned, arrested for a long time, or is a prisoner of war. However, according to the Malikis, one of the schools of religious law within Sunni Islam, if the husband is apart from the wife for more than a year, for whatever reason, then the wife has the right to demand a divorce," said the Religious Affairs Directorate in a fatwa.
"The judge can divorce the couples who remain apart for more than a year. This rule is the same for the cases when husband is sentenced to prison for one or more years. Remaining apart for such duration will cause the women to be deprived from her rights of getting alimony," it added. A woman whose husband is lost can demand a divorce after waiting for four years and get married with another man, the directorate also said.
http://www.hurriyetdailynews.com/woman-may-divorce-man-in-jail--turkeys-religious-affairs-directorate-.aspx?pageID=238&nID=64036&NewsCatID=393
-------------
Pak Civil society concerned about recent violent crimes against women, girls
March 25, 2014
Islamabad: Civil society networks, women's organizations, human rights activists, NGOs and representatives of different social sections have expressed inexpressible grief and sorrow over the barbaric acts of violent crimes against women and girls (VAWG) reported from all parts of Pakistan over just the past one week.
A partial list of the most recent VAWG includes jirga/punchayat-ordered burying a woman alive, dishonourable killings (e.g. 'karokari'), gang-rapes, rapes, burns/acid-burns, public stripping and tying to a tree in a village square, strangulations, shootings, giving away numerous little girls as "compensation" for peace between feuding tribes/clans ("badal-e-sulah"), 'vanni', 'swara', 'irjai' and 'sangchatti' amongst others.
A press statement, issued by Elimination of Violence against Women and Girls Alliance and endorsed by a large number of civil society networks, on Monday, mentions that almost all the cases that come to light (and the vast majority that do not), are inhuman, monstrous acts ordered by illegal Jirgas and Punchayats, and are forcibly implemented immediately.
"No defence, no jury, no judge, just the biased jirga/punchayat — a self-appointed all-male, feudal/tribal/religious council of influentials. These illegal entities are notoriously anti-women and anti-non-Muslim Pakistani citizens (aka "minorities"), and act as the "judge", jury and executioner all rolled into one," said the statement.
It states that domestic violence (DV), sexual abuse and suicide rates are also on an ever-increasing spiral amongst women and girls. "Only two provinces have enacted laws pertaining to DV (Sindh and Balochistan), while the others drag their patriarchal feet. The police and other law enforcement agencies are mostly as misogynist as the Jirgas and Punchayats, and are, in fact, highly politicized and intimidated by the feudal/tribal/religious lords."
The statement mentions that Pakistani women and girls, who are already in an inverse ratio of 108:100 (i.e. 48% of the population), are in grave danger of succumbing to Gender-Based Violence (GBV). "This flies in the face of the hypocritically pious statements mouthed each year on Women's Day, by those same people who are our federal and provincial Ministers and Government rulers, legislators in Parliament, and are also the Heads of Jirgas and Punchayats when they are back in their villages," claims the statement.
"Even those who do not convene/participate, by their very silence and inaction, become accomplices, e.g. the local MNAs/MPAs, Chief Ministers and Prime Ministers," it further states.
The statement demanded immediate compliance and enforcement by the federal and provincial Governments, of the repeated orders and judgements of the Supreme Court of Pakistan (2005-to date) and the Sindh High Court (2004), to abolish all Jirgas and Punchayats in all parts of the country, as they are illegal and unconstitutional entities and nullify and prevent their orders from being implemented.
The statement also demanded the government to arrest all their members and participants and protect the intended victims besides taking strict punitive action against the local police which neither prevents Jirgas and Punchayats from being convened, nor prevents their inhuman decisions/orders from being implemented on the spot (often with police connivance). It also urged the government to end impunity.
The statement also called for de-politicization and strengthening of the police force, especially in the rural fiefdoms and strengthening of the laws against VAWG, e.g. inter alia: Criminal Amendment Act (2004), Women's Protection Act (2006), Anti-Women Practices Act (2010); (b) removing lacunae and conflicts between laws, e.g. forgiveness, compromise and waiver through the Qisas and Diyat provisions vs. CAA, WPA and AWPA; and (c) repealing discriminatory legislation, e.g. Hudood and Shahadat.
The statement also demanded the enactment of strong federal and provincial laws to institute Agricultural Income Taxes, as well as meaningful and effective land reforms. For this, the Zia-inducted unconstitutional Federal Shariat Court will also need to be abolished — or at least, convinced to overturn its earlier rulings.
http://www.thenews.com.pk/Todays-News-6-240108-Civil-society-concerned-about-recent-violent-crimes-against-women,-girls
----------
No Saudi Nationality for My Daughters, Says Shoura Member
March 25, 2014
JEDDAH — A Shoura Council member said she was unable to get the Saudi nationality for her daughters because their father is Lebanese, business daily Al-Eqtisadiah reported Monday.
Addressing a gathering in her honor held recently in Jeddah by the Organization of Islamic Cooperation (OIC) on the occasion of Women's History Month, Thuraya Obaid said the Cabinet decision to treat the children of a Saudi woman married to a foreigner as full-fledged Saudis has not been honoured by a large number of government departments.
"Saudi women married to foreigners should be allowed to obtain nationality for their children on an equal footing with the Saudi men married to foreign women," she said.
She said children of Saudi women married to foreigners should be allowed to stay in the country with their mothers and receive the same treatment given to Saudi children in terms of education and health.
Obaid said she and other women members in the Shoura Council were currently trying to ensure Saudi women have access to all their rights.
"We are working on a number of files to amend the rules and regulations with a view to enabling Saudi women to obtain all their rights," she said.
She said they made proposals to amend the pension system because women are not paid their full pensions if their husbands are already receiving them on their wives' behalf.
"This is unjust to women and their children," she said.
Obaid said women Shoura Council members also asked to set the age of consent for women at 18, after which they should not be under the guardianship of men.
"When they reach this age, women should be considered mature and should no longer need to be under male guardianship," she said.
She said the government and senior officials are supportive of women's rights but obtaining them will take time.
She said: "We are making efforts to enable Saudi women to have all their rights.
"Women represent half of society so they should enjoy the same rights as men."
Obaid said they called for improving health services in villages, hamlets and remote areas.
"We have also called for giving women the same treatment as men when they apply for loans from the Real Estate Development Fund," she said.
Princess Adila Bint Abdullah, who spoke at the function, urged government ministries and non-governmental organizations to enable women to participate in the process of decision making.
"Women, who represent half of the society, are important pillars for development and progress," she added.
She said Islam has given women all their rights but many Muslim societies are not heeding this.
The princess said Islamic tenets are based on justice and equality in rights and duties but Muslim countries are not applying the correct principles of Islam.
"Reforming society cannot be achieved without women's participation," she said
http://www.saudigazette.com.sa/index.cfm?method=home.regcon&contentid=20140325199746
------------
Makkawi Women 'Enrich the Holy City's History'
March 25, 2014
MAKKAH — The women of Makkah have played a significant role in the process of development through various ages and worked diligently to spread knowledge and enlightenment among the female members of society, according to a number of historians and anthropologists.
"Through the ages, Makkawi women have played a pivotal role in inculcating knowledge in their society," Abdullatif Bin Dihais, a historian, told Al-Watan newspaper on Sunday.
He said many Makkawi women had established themselves as Islamic scholars and experts in Fiqh (Islamic jurisprudence) and other branches of knowledge.
Hussain Shafie, professor of Islamic history at Umm Al-Qura University, said many Makkawi women had made their mark in the fields of Islamic subjects, education, arts, language, medicine and others.
He said Makkah is full of families who were famous for their impeccable knowledge in civilizations and religion. "Among others, these include the families of Bin Fahd, Al-Tabariyah and Al-Fasi," he said.
Shafie said many scholarly women in Makkah were teaching Qur'an, Fiqh, Tawheed (monotheism) and language in their own homes. He cited the names of famous women scholars in Makkah including Asia Bin Jar Allah Al-Tabariyah, Husna Bint Mohammed Bin Kamil, Umm Al-Khair Bint Abdul Qadir, Umm Kalthoum Bint Abdul Wahid, Umm Hani Bint Mohammed, Zainab Bint Ahmed, Zain Al-Sharaf Bint Abdul Qadir, Sayidat Al-Jamie Bint Abdul Qadir, Naseem Bint Mohammed and Kamaliyah Bint Mohammed.
"All these women were also narrators of the Prophet's (peace be upon him) Ahadith (prophetic teachings)," he said.
Faisal Al-Sharif, a professor of modern history, said Makkawi women have been playing a great role in society since the advent of Islam in the Arabian Peninsula.
He said Makkawi women were able to contribute to the spread of knowledge in society on an equal footing with men. "The Makkawi women were famous for their knowledge, intellectual and literary activities," he said.
Al-Sharif said the libraries in the Arab world contain many books written by the Makkawi women on various aspects of knowledge and religion. "The Makkawi women had always enriched the Haj and Umrah seasons through the knowledge they were determined to spread among pilgrims," he said.
http://www.saudigazette.com.sa/index.cfm?method=home.regcon&contentid=20140325199748
------------
Moroccan artwork highlights traditions of Eastern women
March 25, 2014
Prepare for the East to be brought to West Campus: Lalla Essaydi, the world-renowned Moroccan multimedia artist is coming to Sawhill Gallery today.
In the Western world there exists a particular preoccupation with women of the East and the traditions they adhere to, most specifically the adornment of the hijab, or veil. The West often sees this tradition through a singular, narrow lens that depicts this custom as oppressive and damaging to the women who wear them.
However, Essaydi, whose works will be exhibited this year in 17 different locations worldwide, including JMU's own Sawhill Gallery, uses her paintings and photographs of veiled Arab women to shatter these stereotypes of Muslim women and their traditions.
"Images of the harem and Odalisque [Turkish concubine] still penetrate the present, and I use the Arab female body to disrupt that tradition," Essaydi said in her artist statement, which is titled "Disrupting the Odalisque."
Essaydi's work subverts misconceptions of Islamic traditionalism by applying calligraphy and henna to women's bodies. Calligraphy is a form of art historically reserved for men, while henna is a tradition performed solely by women on women's bodies. Just as Essaydi gives a voice to Arab women, the exhibition of her work on campus helps shed light on a culture that is oftentimes underrepresented in the JMU community.
"As a former student from JMU, I was one of the few Muslim women at the time as a minority on campus," JMU alumna and former officer of the Muslim Student Association, Mavra Ahmed ('12), said. "I believe that it is very important to display a Muslim artist's work on this campus for the university to get a broader perspective on Muslims and of course, Muslim women."
The fact that the art to be featured was made by a Muslim woman dispells these stereotypes in more ways than one, through both the art and the artist.
"Muslim women are engaged in the public realm and are creative, free-thinking minds, which is not an image you usually see being tied to Islam when it comes to women in particular," sophomore political science and international affairs double major Nahla Aboutabl, said.
By featuring women Essaydi knows personally, her work "[invites] the viewer to resist stereotypes" in a deeply personal way.
"Stereotypes aren't just part of the outside world. They exist on campus as well as off campus," Aboutabl said. "To educate students who are unfamiliar with Muslim women's contributions to art and culture could really open up their minds to what Muslim women are like and not what they're thought to be."
The exhibition of Essaydi's work will benefit not only JMU, but Harrisonburg as a whole.
"One of the hidden treasures of Harrisonburg, which is usually unknown and a surprise to the JMU community, is the ultimate diversity that Harrisonburg actually has," Ahmed said. "The town itself has a huge Muslim population, ranging from the majority of Muslims coming from Iraq, Kurdistan and the Middle East, to South Asian countries such as Pakistan."
With such a varied and widely representative community, Essaydi's exhibition has the potential to act as a unifying force between Harrisonburg's ever-flourishing Muslim population and the JMU community.
"Muslims are very much part of the international community as well as local ones and it's important to highlight that," Aboutabl said. "It's important to understand the culture of people around you if cooperation and coexistence were to ever be achieved."
Essaydi's exhibition, "The Photography of Lalla Essaydi: Critiquing and Contextualizing Orientalism," will be on view today through Friday, April 4 at the Sawhill Gallery on the fourth floor of Warren Hall. Essaydi will also be hosting an artist talk tomorrow from 6:30 to 7:30 p.m. at Grafton-Stovall Theatre.
http://www.breezejmu.org/life/article_4333b788-b2de-11e3-9ea1-0017a43b2370.html
------------
KSA Women Seek Parity with Men: Member Shoura Council
March 25, 2014
A leading woman member of the Shoura Council has urged the government to provide women parity with men in terms of citizenship rights for their children, retirement benefits and home loans.
Thoraya Obaid, the first Saudi Arabian to head a UN agency and former executive director of the UN Population Fund, said that the children of Saudi women married to foreigners are denied the same rights as the offspring of their male counterparts.
Speaking at a Women's Month function to honor her organized by the Organization of Islamic Cooperation in Jeddah, Obaid said she had a frustrating time trying to get Saudi citizenship for her daughters from her marriage to a Lebanese man.
Princess Adela bint Abdullah, who spoke at the same function, also called for greater empowerment of women around the globe.
Obaid demanded that children of Saudi women should be allowed to become citizens, with the rights and benefits of other Saudi children.
She said women Shoura members participated in discussions on all issues, including finance, tourism, health and education, and can submit private proposals. Clause 29 of the council's regulations allow women members the right to suggest new regulations without any discussions.
They want to amend retirement regulations that are "biased against women." The current regulations state that a woman worker is not entitled to full benefits if her husband receives a pension. This was another example of unjust and unequal treatment of women, she said.
The members also proposed drafting a code spelling out the rights of divorced and separated women, and amending regulations governing the sons of Saudi women. She said most government departments have ignored a ministerial order to treat the sons of Saudi women and expatriate men as citizens.
Obaid called on community organizations to work hard to bring about more change in society particularly around women's empowerment.
"Just as we demand better medical services in regions far from major cities, we demand equal rights with men in getting real estate loans," she said.
Princess Adela said that women represent half of the world's population and need the support of organizations, ministries, and civil society institutions.
She said there was a misconception held by many communities, especially Muslim ones, about women's rights. She said Islam provides equal rights for women, with prescriptions against discriminatory practices that would reduce their social and economic participation.
She said many Muslim communities were failing to apply principles of gender equality. Greater effort was needed to reinvest the wasted capacity of women, she said, quoting a statement from the Holy Prophet, peace be upon him: "Women are the twin halves of men."
Princess Adela said reforms could only take place with the active participation of women.
She said Islamic organizations must work to ensure women can take their rightful place in society, with full legal rights. They should also conduct campaigns to prevent violence and abuse of women.
She said women are affected by economic, social and security concerns, as much as men.
http://www.arabnews.com/news/545601
------------
UK Muslim schoolgirls get a taste of food business in visit to Subway store
March 25, 2014
A group of schoolgirls were given a taste of what life is like in the food business when Subway at Crompton Place shopping centre became a temporary classroom.
Eighteen youngsters from Bolton Muslim Girls' School got the chance to prepare and bake the bread used to build Subway's popular sandwiches.
The visit was arranged between the school's Gifted and Talented Enrichment Officer, Rizwana Adam, and brothers Shuaib, Zubair and Awais Ishaq who hold the franchise for the Crompton Place store which opened just before Christmas, creating six new jobs.
Rizwana explained that experiencing what goes on behind the scenes at the busy Subway branch was part of the varied programme of enrichment visits which the school prides itself on and gained recognition from the school inspection body Ofsted last year.
She said: "Our intention at the school is to give the girls a wide perspective of what happens in the real world of work so we expand on what they learn in the classroom by fulfilling their potential further through a wide range of enrichment opportunities.
"In the past the girls have been to companies involved in areas such as engineering and science and the particular group we arranged to take to Subway are all very keen on food and its preparation and will be studying this for their GCSEs.
"With the kind assistance of the franchisees, we took along 18 girls from Year 9 who are all aged 13 or 14.
"Before going to the shop we first called in at the Newport Street store where we were shown the various pieces of equipment used to prepare and bake the bread for the sandwiches.
"Later, we went to the shop where the girls were shown how the bread is worked on ready for the baking process.
"They got the chance to handle the bread for themselves, applying the seasoning and getting it ready for the oven. As the baking takes about two hours we arranged for one of the girls to go back to the shop later to pick up the bread they had a hand in making.
"The whole experience was very enjoyable and worthwhile and being able to visit Subway was a fantastic opportunity for the girls."
One of those involved was 13-year-old Tasneem Badat, who lives in Bolton. She said of the visit: "It was really fun and gave us a great insight into what life in the food business is like.
"I'm very interested in food and am thinking of making it my career when I leave school. One day I'd even like to have my own business.
"I think the enrichment visits that the school arranges for us are very useful for teaching us about the world of work. I've been on a few of them now and I believe there are more planned for us."
Zubair Ishaq of Subway in Crompton Place said: "It was a fantastic morning and we were pleased to welcome the girls and demonstrate to them how the bread is prepared for our sandwiches.
"We did a risk assessment at the start of the day and also told them about the importance of health and safety.
"Over at our shop in Crompton Place they were given the chance to work with the dough which went into the oven ready for them to pick up later when the bake had finished.
"I also gave them a little test on what they had learned, conducted a question and answer session with them and handed out little goodie bags for them to take away containing some cookies and an information sheet."
Zubair added: "We believe this sort of enrichment experience is very important and although this was the first one we have done in the Crompton Place shop since opening, we have had similar ones at our shop in Manchester.
"I've also been out to give talks to college students and pupils in local primary schools including Oldham Sixth Form College, St Margaret's Primary School and Manley Park Primary School and we are planning to work again with Bolton Muslim Girls' School and other local schools in the future."
The Crompton Place franchise, which is the fifth store for the Ishaq brothers, was officially opened by the Mayor of Bolton, Councillor Colin Shaw, late last year.
Malcolm Angus, Crompton Place Manager, said: "It is terrific to see Zubair and his brothers working so hard to engage with the community which is important to us all at Crompton Place, given our central location in the town.
"You can tell from the feedback from the students that they gained a very valuable insight into the food business and I feel sure this first hand learning will be very valuable to them."
For more information about Crompton Place go to www.crompton-place.co.uk
http://www.asianimage.co.uk/news/11097613.Muslim_schoolgirls_get_a_taste_of_food_business_in_visit_to_Subway_store/?ref=var_0
----------
Play in UK tells of Bengali women raped by Pakistani army during 1971 war
Kounteya Sinha,TNN | Mar 25, 2014
LONDON: Britain is set to hear for the first time the voices of women who were systematically raped and tortured by the Pakistani army during the 1971 Bangladesh Liberation War.
Komola Collective, a London-based theatre and arts company, has dug out real-life stories of the two lakh women and girls who were raped and tortured by Pakistan's army — one of the worst incidents of genocidal rape in human history.
Scholars have suggested rape was used to terrorize the Bengali-speaking Muslim majority and the Hindu minority of Bangladesh, resulting in the births of war babies and, ultimately, to the ostracization of the victims.
The play, which will premiere in London on April 9, is called "Birangona" — meaning "Brave Woman" or "War Heroine".
"In 2010, I interviewed 21 such women who were raped by the army," Leesa Gazi, co-writer and lead performer of the play, said in an exclusive interview. "In 2013, I returned to them with my production company and picked out the most poignant of those stories. The play is about the experience of five of these women in Shirajgonj. Two of these women have died since.
These five women for the first time opened up about their horrific experiences — talked about their childhood, how they were captured, raped and how they were treated after the liberation of Bangladesh, where rape is considered a source of shame."
Marked with dishonour, these women were silenced, ostracized and forgotten. Komola Collective wants to help break this silence. Given how wartime rape is a phenomenon that affects people worldwide in present day, "we feel that it is important, now more than ever, to tell these stories. The 2014 tour of "Birangona: Women of War" is dedicated to Josna Begum who died in February 2014, 43 years after the independence of Bangladesh", Gazi said.
One of the stories is about Moryom. She still remembers the calming details of her life before: the taste of tamarind, the smell of her mother, holding her husband's hand as the war of independence tears through Bangladesh. Every day, she and her family hid from the army in the pond behind their house, while across the country women and girls started to disappear from streets and homes.
http://timesofindia.indiatimes.com/world/uk/Play-in-UK-tells-of-Bengali-women-raped-by-Pakistani-army-during-1971-war/articleshow/32634878.cms
----------
WFP, Balochistan Govt to assist malnourished kids, women
March 25, 2014
Islamabad—The World Food Programme (WFP) and Baluchistan government jointly launched a project to assist around 108,271 malnourished children, pregnant and lactating women suffering to prevent stunting and micronutrient deficiencies.
The project would be implemented with collaboration of Balochistan Department of Health from 2013 to 2015 in nine districts of Balochistan including Zhob, Musakhel, Lora Lai,Qilla Saifullah, Pishin, Nushki, Kharan, Washuk, Chagai by providing them food supplements through Lady Health Workers (LHWs).
It would also prevent their intergenerational transmission using locally produced specialized nutritious products and promoting appropriate infant and young child feeding practices utilizing effective behavior change communication strategies.
Balochistan is the second most affected province, where only 36.5% of the population were food secure. 33.9% were food insecure without hunger, Nicole CARN, World Food Programme (WFP) Chief in Balochistan told APP.
In response to the nutrition situation in Balochistan, WFP has been assisting the Health Department of Balochistan to address the issue of malnutrition through Community Based Management of Acute Malnutrition (CMAM), she added.
This will also contribute to reducing the incidence of low birth weight as maternal nutritional status of pregnant and lactating women will be improved.
Out of 32 districts in Balochistan, there are nine districts where Balochistan Nutrition Cell, along with WFP was working to address the issue of malnutrition.—APP
http://pakobserver.net/detailnews.asp?id=237346
-------------
Women Activists Are the Bravest and Most Visible Right Now
March 25, 2014
Topless demonstrators in Ukraine are part of the self-defined "sextremist" Femen group — radical women protesting the Russian invasion of Crimea. Femen is a stark example of women who use their bodies and their voices to fight status-quo corruption, war and a political oligarchy. They are the most recent vocal group of women to take to the streets to defeat structures that often claim them as the first and greatest casualties.
Russian aggression has driven women to exhibit the latest extreme manifestation of a long protest tradition dating back to the ancient Greek play "Lysistrata," in which radical women 2,400 years ago used sex to organise for peace. For those watching the contemporary mass protest movements, it is noteworthy that women are again leading many of the most effective and jarring protests. Whether Ukraine's Femen or a provocative punk rock band in Russia, women are in the lead squaring off against authoritarianism in bully states.
Coinciding with the run-up to the recent International Women's Day earlier, one Femen protester was violently dragged along the street in front of the Crimean parliament by burly male fur-hatted pro-Russian militias. The near-naked woman in body paint resisted while screaming "stop Putin's war!" It was shocking street theatre and effective messaging.
In Russia, the punk musicians Pussy Riot have served prison time, been subjected to physical abuse and remain a thorn in President Vladimir Putin's side. Originally sentenced in 2012 for their irreverent and confrontational performance in the main Moscow cathedral, the masked group continues to protest Putin's power with aggressive performances even after Putin handed them a Sochi Olympics-timed pardon.
Feminist political protest is not for the timid. Both Russian and Ukrainian feminist groups, however, believe they are living in extreme times calling for extreme measures. When Putin's doublespeak tries to justify Russia's military actions and gross violations of international law, these women's visceral protests cut through the palaver and propaganda.
My own experience with Russian women protesters is vivid. As a correspondent in the U.S.S.R., I knew that the KGB headquarters in downtown Moscow was a feared building where people who went in seldom came out the same. During the waning days of the Soviet Union, I visited the ominous Lubyanka with a group of mothers of missing, killed and otherwise destroyed or drug-addled Soviet soldiers who occupied Afghanistan — a country some Russians called the "giant mincer."
These mothers organized and fearlessly marched into KGB headquarters to demand information about their sons. They confronted atypically deferential KGB agents — many of whom likely saw their own mothers in the faces of the agitated, but otherwise powerless group. The women had nothing left to lose. The mothers' movement should be widely credited for organising public opposition to a war they helped to end.
The prevalence and prominence of effective modern female protest is not limited to extremists, mothers or to Slavic states. Many contemporary feminine fights for human rights are quiet and can be as simple as the act of going to school. Pakistani schoolgirl Malala Yousafzai dared to seek an education and was rewarded with a Taliban bullet in the head. Having survived the assassination attempt, the recovered 16-year-old continues to promote the right of girls everywhere to have access to a schoolroom. To the world, she has become the face of hope and change in Pakistan.
Elsewhere in the Islamic world, women in Bagdad recently dared to march in the street to protest a proposed religious-based law that permits 9-year-old girls to marry and which always grants fathers child custody. In Saudi Arabia, defiance is a woman in the driver's seat of a car.
In noisy counterpoint in Argentina, a protest tradition started more than a decade ago, brought women into the streets banging pots and pans. "Cacerolazo" is now a popular way to express society's economic despair at being unable to fill those kitchen pots and pans with more food.
Extremist women may be the most visible protest class these days. But it was a mostly peaceful, broad-based protest movement made up of men and women who collected in Kiev's Maidan and caused Ukraine's President Viktor Yanukovych to flee to Russia. Whether leaning in or speaking up, women are noticeably standing out in the current battles against war and corruption and the current Ukraine crisis. I'm a guy and I've noticed.
Markos Kounalakis is a research fellow at Central European University and a visiting fellow at the Hoover Institution. Readers may send him email at markos@stanford.edu. He wrote this for The Sacramento Bee.
http://www.dailylife.com.au/news-and-views/news-features/women-activists-are-the-bravest-and-most-visible-right-now-20140321-357js.html
------------
Unveiling the face of women in the Middle Eastern business landscape
March 25, 2014
Wendy Alexander, Associate Dean, Degree Programmes and Career Services, London Business School, says:
"Women's leadership is entering a new age in the GCC and the wider Middle East. In recent weeks, several high-profile appointments have been made - Hala Shukrallah, who became Egypt's first female political party leader, for example, and Somayya Jabarti, who became Saudi Arabia's first female Editor-in-Chief.
"Business leaders in the region are increasingly recognising that women are at the heart of high performing teams delivering growth, and are taking bold moves to promote them into senior positions.
"Yet, whilst progress is being made, women in the GCC represent one if its greatest untapped talent pools.
"Women in the GCC make up the majority of its university graduates - Kuwait (67%), Qatar (63%), and Saudi Arabia (57%) respectively.[1] Yet women are still comparatively few in the labour force. Whilst 57 per cent of all Saudi national graduates are women, just 17 per cent of the Kingdom's labour force are female.
"Nationalisation policies and board targets hold the potential to ameliorate that disparity, but there is still a long way to go before a balance is achieved.
"As regional economic activity ramps up, GCC businesses will have to identify the leaders most able to harness highly diverse, global teams. Women are well suited to these roles, with their approach to teamwork and inherent abilities at networking and relationship building.
"Women are already changing the face of business in the Middle East. The reality of women in leadership roles, in comparison to the promise and potential of Arab women to become leaders, however, shows that the challenge of getting women into senior leadership is more than skin deep."
https://www.zawya.com/story/Unveiling_the_face_of_women_in_the_Middle_Eastern_business_landscape-ZAWYA20140324103225/
------------
URL: https://newageislam.com/islam-women-feminism/jordan-court-rules-women-don/d/66265