New Age Islam News Bureau
08 October 2021
• Appearance of Women in Pizza and Drink Advertisements Should Be Prohibited: Iran Censorship Rules For Commercials
• Germany, Denmark Repatriate Islamic State-Linked Women, Children
• Danish Women Evacuated From Syria Charged With Terror Links
• New UN Women-EU Project to Support Women Rights Kicks Off
• Egypt: Woman Shocked To See News of Her Death on Facebook
Compiled by New Age Islam News Bureau
URL: https://www.newageislam.com/islam-women-feminism/jordan-american-ahlam-neqab/d/125535
--------
Jordan-American Niqab-Wearing Fitness Influencer Ahlam Mohammed Encouraging Muslim Women In The Gym
Thoraya Abdullahi
Oct 7, 2021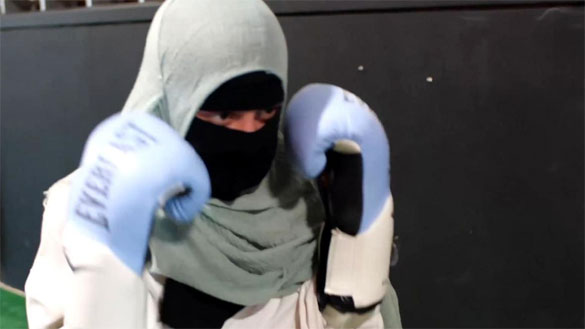 Ahlam Mohammed a champion fitness influencer for Muslim women
----
With more than 200,000 followers on TikTok, Ahlam Mohammed is a champion fitness influencer for Muslim women around the world. Her modest and passionate approach to working out would have anyone reaching for a pair of trainers.
What makes her stand out from the myriad other fitness enthusiasts? Mohammed, 24, wears the Niqab – a veil covering everything on the face except the eyes – and jilbab – long, loose-fitting coats or outer garments – during workouts, and the clips she posts to social media have captured people's attention all over the world.
"I am just trying to represent in a positive way for the youth and Muslim women out there who are really struggling to find their way or hold on to modesty in times where doing such things is so hard," she tells The National.
"I really thought this would never happen to me. It has been an eye-opener, and I am very grateful to be seen as an influencer for Muslims and non-Muslims."
Mohammed, who was born in Amman, Jordan, got into fitness from a young age, when her father enrolled her and her siblings into taekwondo classes when she was 7 or 8. Aged 9, she moved with her family to Texas, where she has lived ever since.
"When I got into high school, things shifted, so I stuck to track, as that was what I was good at," she says. At the time, she wasn't wearing the hijab, but as she grew older, she became increasingly interested in her faith. "So I wanted to re-evaluate my life and my religion."
When she started wearing the hijab, she stopped pursuing fitness completely. "A couple of years went by, and I just didn't like how I felt about my body and how tired I felt and the laziness that occupied my life," she recalls.
"I wanted to change that and get back to fitness but go about it the right way, which was to do it in a way that is pleasing to Allah and not to western standards."
It was this that inspired her to encourage and motivate her fellow Muslims via social media. "I know a lot of people are in the same predicament as me, having the same thoughts, feelings as me, about going out into the western world, especially wearing the hijab."
While she says there has been a rise in representation for hijabi women, it's not enough. "I certainly feel we are being put out there. But not necessarily enough representation for athletic women who wear the jilbab, abaya and niqab."
She's now trying to fill that gap, by conveying that women who are fully covered are striving to live by the way of their creator, but also enjoy life. "So this gives them more confidence and think if she is able to work out in a niqab and jilbab, then why can't I also do that."
@bint3rabia
Launching a fitness app soon I A . stay tuned to have access to all my intense workouts! #fitness #fit #workout #fitgirl #arabgirl #muslim #fyp #fy
♬ Liyakun Yawmuka - Nasheed
She's also taking this one step further by creating a fitness clothing line, as part of Purely Modest, a modest clothing line she launched in April to offer affordable alternatives for women after struggling to find suitable options in the US.
Before setting it up, she had limited finances, but forged ahead anyway, despite that niggling thought "no one would buy or want that" ever-present in the back of her mind. "I wouldn't know until I tried it, so I did some online research and reached out to a couple of people on how to start a business."
The new fitness line she hopes will provide "simple, breathable and modest alternatives to Muslim women".
What might this entail? For modest clothing at the gym, there are certain fabrics you should consider, says Mohammed. For example, "synthetic materials tend to make your body sweat more. Dry-fit and polyester are great for working out, I would provide those types of material.
"For me, I haven't seen a modest outfit that is 100 per cent cotton provided for women that go to the gym, so I want to provide that and do more research on my end on what are the best fabrics."
In the meantime, she's also launched a fitness app and she continues posting and sharing her journey on social media. In particular, she loves "anything with agility, because you can achieve so much in so little time with HIIT [high intensity interval training] or boxing-related workouts".
Her platforms are full of short videos that show her exercising outdoors, as she doesn't always find what she needs in a gym to practice CrossFit and free weights, as opposed to yoga, spinning or group classes.
"That is why it is difficult to find gyms that are going to provide you with everything you need."
While Mohammed is aware some niqab-wearing women encounter prejudice for the way they dress, she says she's "never been approached in a negative manner or encountered any racism living in Texas", although she has spotted people staring. She has, however, "been told how beautiful my dress is".
It's a different matter on social media, though. "When I do read the negativity in the comments saying, 'How can she fear god if she is displaying herself for a bunch of strangers to see?'
"It definitely impacts me in a negative way because that is not my intention," she says.
"Seeing where I am now, it makes me proud, how much I have sacrificed and accomplished, and how much I am trying to strive in the way of Allah."
Her message to other Muslim women is not to be afraid or ashamed of the way you dress. "Hold your head up high and represent your faith and do whatever you want to do in life."
Source: The National News
https://www.thenationalnews.com/lifestyle/wellbeing/2021/10/07/how-niqab-wearing-fitness-influencer-ahlam-mohammed-is-encouraging-muslim-women-in-the-gym/?D21D2867-F863-BB46-B6C3-74B085DF90F3_kav_cup_C6FA3ED5_6D17_47D1_B6E2_F4B02CC905E0_
--------
Appearance of Women in Pizza and Drink Advertisements Should Be Prohibited: Iran Censorship Rules For Commercials
Oct 07, 2021
You've probably seen a lot of pizza and drink commercials on TV.
Women and men have been seen in these commercials, but have you ever considered that the appearance of women in pizza and drink advertisements should be prohibited?
Should a TV show be closed if a guy is serving tea and coffee to a woman or a woman wearing leather gloves?
We can assure you that after reading this, you must have been shocked, but let us assure you that all such unusual orders have been issued under Iran's new TV censorship law.
According to opposition sources, new Iranian censorship regulations prohibit television producers from portraying ladies eating pizza on air.
In addition, dramatists have been told that males should not be depicted serving teas to ladies in situations involving a workplace, and women should not be seen wearing leather gloves.
According to IranWire, following a recent audit, government officials gave new rules to broadcasters and film creators.
According to the website, Amir Hossein Shamshadi, the chief of public relations at the Islamic Republic of Iran Broadcasting, has also decreed that women should not be depicted on TV consuming any red beverages.
Sandwiches are also included on the menu.
To guarantee that the rigorous new regulations are observed, all scenes or pictures depicting men and women in household settings must be approved by the IRIB before being aired.
Source: WION
To escape fines from Tehran's government, certain Iranian streaming sites may self-censor.
https://www.wionews.com/world/dont-show-women-eating-pizza-and-men-serving-tea-to-ladies-iran-censorship-rules-418969
--------
Germany, Denmark repatriate Islamic State-linked women, children
October 7, 2021
Germany and Denmark have repatriated 11 women and 37 children from a camp in northeast Syria holding families with alleged links to the Islamic State.
A flight carrying 23 children and their eight mothers landed in Frankfurt, Germany just before midnight Wednesday. The group had been living in the Roj camp, one of two sprawling sites housing women and children and run by the Kurdish-led Syrian Democratic Forces.
"The children are in no way responsible for their circumstances," Foreign Minister Heiko Maas said in a statement. "It is right for us to do everything we can to enable them to grow up in a safe and appropriate environment."
"The mothers will be held accountable for their acts under criminal law," he said, adding that most of the women were taken into custody upon arriving in Germany.
Maas thanked the Kurdish authorities and US partners involved in the repatriation, describing the operation as "no mean feat, neither for us nor for anyone else involved."
The Danish Broadcasting Corporation as well as an official in the Kurdish administration confirmed that three Danish women and 14 children were also repatriated from the camp. The Danish station reported that the women have already been charged with terrorism.
Located in northeast Syria's Hasakah province, the Al-Hol and Roj camps house more than 60,000 people, many of whom were detained when the SDF ousted the Islamic State from its last Syrian stronghold in Baghouz in March 2019.
US-allied Kurdish forces have warned they are ill-equipped to handle the thousands of stranded families. But many Western countries are reluctant to bring home their nationals, with some having gone as far as to strip the citizenship of their citizens who joined the terrorist group.
Human rights groups have repeatedly called on governments to repatriate children in the camps and to recognize that those who were forced to join IS are victims of war. Save the Children warned last month that young people in the camps are "simply wasting away."
Source: Al Monitor
https://www.al-monitor.com/originals/2021/10/germany-denmark-repatriate-islamic-state-linked-women-children
--------
Danish women evacuated from Syria charged with terror links
October 08, 2021
COPENHAGEN: Denmark said on Thursday three Danish women, who were evacuated from Syrian detention camps along with their 14 children, had been charged with aiding terrorist activities and illegally traveling to and residing in conflict zones.
Danish authorities decided in May to evacuate the women, who were being held in northeastern Syria due to their association with Daesh, following political pressure and the threat of a no-confidence vote from parliament.
The women and children were evacuated from the Al-Roj camp on Wednesday with the help of the US and Germany, with Germany also taking in eight other mothers and 23 children from the camps.
"Upon arrival in Denmark the mothers were arrested and preliminarily charged," presiding police inspector Tenna Wilbert said. "Now an investigation and legal proceedings await."
Depending on the outcome of the investigation, prosecutors must decide whether to confirm formal charges, paving the way to a trial.
The women faced questioning in front of a judge on Thursday, where prosecutors will argue they should be kept in custody.
All three women have Danish citizenship.
Denmark is also offering to evacuate another five children from the camps, but without their mothers, who have been stripped of their Danish citizenship due to suspicion of links with militant groups such as Daesh. But this would require the mothers' consent, which they have not given so far.
"It might be necessary to evacuate more children from Syria but no more parents," Prime Minister Mette Frederiksen told journalists on Thursday.
Source: Arab News
https://www.arabnews.com/node/1943611/middle-east
--------
New UN Women-EU project to support women rights kicks off
October 07 2021
A new three-year project aiming to support civil society on women's rights in Turkey has kicked off in an event bringing together the representatives of the European Union Delegation to Turkey, U.N. Women, civil society, government representatives and other stakeholders in the capital Ankara.
The project "Strengthening Civil Society Capacities and Multi-Stakeholder Partnerships to Advance Women's Rights and Gender Equality in Turkey" will help women's rights civil society organizations (CSOs) and groups, as well as women-led CSOs, in improving their capacity to influence national and local women's rights and gender equality agendas.
Implemented by U.N. Women, the project will continue until March 2024. It will receive funding of 4.5 million euros from the European Union. The European Union is financing this project under the "Civil Society Facility and Media Programme."
"This comprehensive project's multi-stakeholder approach and its thematic diversity will not only help advance women's rights and the gender equality agenda in Turkey but also reinforce the 'leaving no one behind' principle of the Sustainable Development Goals," said Asya Varbanova, country director of U.N. Women Turkey.
Ambassador Nikolaus Meyer-Landrut, the head of the EU Delegation to Turkey, said on the occasion: "We trust this project will allow civil society organizations to be more vocal, more effective and more united in working on the advancement of women's rights and gender equality in Turkey. We are pleased to work on these goals in partnership with U.N. Women, who will play a key role in bringing together the relevant stakeholders committed to the empowerment of women and girls."
The project will also address the challenges and inequalities faced by women, especially in the aftermath of the COVID-19 pandemic.
According to the project, up to 30 CSOs will benefit from small-scale grants to strengthen their institutional capacities.
Giving a keynote speech at the event, Alia El-Yassir, Europe and Central Asia regional director for U.N. Women, said: "We need multi-layered, multi-stakeholder and multi-disciplinary partnerships to accelerate the progress and reverse back the COVID-19 trap that has immensely and disproportionally affected women all around the world."
"If our mission is to ensure 'Leaving No One Behind' on the way to achieving gender equality, we need the partnerships between civil society, organizations, states, and more importantly, the youth," expressed Selin Özünaldım, HeForShe Advocate.
In partnership with CSOs, U.N. Women will put in place joint actions for eliminating violence against women and girls, increasing women's access to justice and human rights mechanisms and women's economic empowerment.
"The women's movement in Turkey is really strong. Their voice needs to be heard louder in the international arena. I think that this project is important in terms of supporting civil society organizations working in the field of women's rights to have their voices heard at the international decision-making mechanisms such as the Commission on the Status of Women (CSW)," noted Selma Acuner from Women's Coalition.
Representatives of civil society organizations also stated that they were hopeful the project would help them strengthen their capacities to advocate for women's rights and gender equality in Turkey in a more effective and structured way.
Source: Daily News Turkey
https://www.hurriyetdailynews.com/new-un-women-eu-project-to-support-women-rights-kicks-off-168418
--------
Egypt: Woman shocked to see news of her death on Facebook
By Sakina Fatima
6th October 2021
Cairo: In a shocking incident in Egypt, a woman was declared dead and mourned on social media with funeral prayers slated at dhuhr (afternoon prayer), local media reported on Tuesday.
An Egyptian woman named Amina of Burma village in Gharbia Governorate was shocked to see herself dead with her photograph in a Facebook post by a stranger.
According to the media reports, on the day of the incident, the woman was at her work and according to the company norms she had to turn off her mobile phone. Later on, during a break, when she opened her phone, she was surprised to receive several notifications of people trying to contact her after the post announcing her death.
It is reported that the false news of Amina's death spread like wildfire in the town and she refused to return to the town until late at night. The next day, many villagers flocked to her house to express their condolences for her death. However, they were shocked when they saw her.
The woman reportedly said the incident shocked her and would take legal action against those who have spread the news.
Source: Siasat Daily
https://www.siasat.com/egypt-woman-shocked-to-see-news-of-her-death-on-facebook-2203169/
--------
URL: https://www.newageislam.com/islam-women-feminism/jordan-american-ahlam-neqab/d/125535
New Age Islam, Islam Online, Islamic Website, African Muslim News, Arab World News, South Asia News, Indian Muslim News, World Muslim News, Women in Islam, Islamic Feminism, Arab Women, Women In Arab, Islamophobia in America, Muslim Women in West, Islam Women and Feminis