New Age Islam News Bureau
5 Apr 2013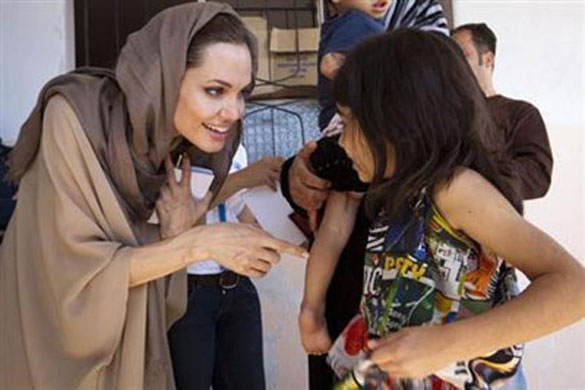 Photo: Actress Angelina Jolie honors Pakistani teen Malala Yousufzai who was shot in the head by the Taliban last year for her advocacy for girls' education in Pakistan. (Reuters)
--------------
• Let Threatens J&K Village Council, Asks Girls to Follow 'Islamic Dress Code'
• Arab Women Burn 'Flag of Islam' In Paris, Protest Against Gender Oppression
• Kano Mass Wedding - HIV Positive, Pregnant Women Discovered at Screening
• Women Lawyers Call for Sex Education in Nigerian Schools
• Malala Yousafzai Announces First Grant from Malala Fund
• Saudi Official Denies Issuing Permits for Women's Sports Clubs
• Naked Feminists Protest across Europe In Support Of Tunisian Activist
• Morocco's Greatest Victim Was Only 16 Years Old – Amina Filali
• Uganda Police to Train Girls in Martial Arts As Remedy for Rape
• Illiterate Pakistan Housewife Makes Vote History
• Nazia Hassan's Legacy Lives On
• Seats for Women: PPP Wants New Faces on Reserved Seats
• Scrutiny of Pakistan NA Reserved Seats for Women Completed
• Exclusive: How my brother tried to kill me in 'honour attack'
Compiled by New Age Islam News Bureau
URL: https://newageislam.com/islam,-women-and-feminism/new-age-islam-news-bureau/jolie-honours-malala-and-donates-$200,000-to-malala-fund/d/11023
-------------
Jolie Honours Malala and Donates $200,000 To Malala Fund
April 05, 2013
NEW YORK: Angelina Jolie paid glowing tribute to the Pakistani teenager who was shot by the Taliban for advocating for girls' education, introducing Malala Yousafzai to the Women in the World summit via a new video from Britain.
"Today I'm going to announce the happiest moment of my life," the 15-year-old said, at one point shyly covering her face with her hands. She said a new school in Pakistan would be built for 40 girls. "Let us turn the education of 40 girls into 40 million girls," she said.
Jolie committed $200,000 to the new"Malala Fund" for girls' education in Pakistan.
Malala was already known for her activism when she was shot in the head in October by Taliban attackers angered by her outspokenness in a deeply conservative society.
She was brought to Britain for treatment, including skull reconstruction. She was released last month and has started attending school there. She was shortlisted for Time Magazine's "Person of the Year" in 2012 and recently signed a deal to write her memoir.
"Here's what they accomplished," Jolie said of Malala's attackers. "They shot her point-blank range in the head and made her stronger. The brutal attempt to silence her voice made it stronger."
Jolie, a special envoy for the U.N. refugee agency, said Malala's father had shown his daughter in the hospital a poll that said she was the sixth most influential person in the world, and that President Barack Obama was seventh. But the teen said she didn't think people should be categorized like that.
"So we can learn a lot from this girl," Jolie said with a grin.
Jolie was not the only Hollywood star on the stage at the conference. Meryl Streep was there to honor another activist, Inez McCormack of Northern Ireland, who died in January of cancer. At the first Women in the World summit three years ago, Streep had played McCormack in a short play, called "Seven," with McCormack watching from the audience.
The conference continues on Friday, with a speech by former US Secretary of State Hillary Rodham Clinton and appearances by Oprah Winfrey, Eva Longoria and Tom Hanks.
The evening began with a dance performance by Michaela DePrince, who grew up as an orphan in war-torn Sierra Leone, where her father was killed and her mother starved to death. She was adopted by a US family and now dances with the Dance Theater of Harlem.
http://dawn.com/2013/04/05/jolie-honours-malala-and-donates-200000-to-malala-fund/
-------------
LeT threatens J&K village council, asks girls to follow 'Islamic dress code'
Apr 4, 2013
Srinagar: In a bid to derail grassroots level democracy in Jammu and Kashmir, Pakistan-based terror outfit Lashkar-e-Taiba (LeT) Thursday threatened and asked village council members to resign from their elected posts.
The LeT posters threatening village members and asking girls to follow strict "Islamic dress code" appeared in Aharipal village, 50 km from here in south Kashmir's Pulwama district.
The posters were signed by Abdullah Mujahid who claimed to be the LeT commander for Jammu and Kashmir. Through the posters the outfit threatened village Panches and Sarpanches of dire consequences if they did not resign from their posts.
The posters written in Urdu also asked the girls to adhere to a strict Islamic dress code. The LeT warning asked locals to desist from working for Indian agencies.
In the past also such threats by other guerrilla groups have appeared in some villages. One such threat also asked girls not to use mobile phones.
Five elected village council members have been killed by gunmen in the Kashmir Valley since the panchayat election in 2011.
An overwhelming majority of villagers participated in the panchayat polls of 2011, which were held in Jammu and Kashmir after a gap of 28 years.
http://www.firstpost.com/india/let-threatens-jk-village-council-asks-girls-to-follow-islamic-dress-code-686019.html
-------------
Arab Women Burn 'Flag of Islam' In Paris, Protest Against Gender Oppression
Arab women burn 'flag of Islam' in France to protest against gender oppression in the Muslim world.
By Maayana Miskin
4/5/2013
Three members of the French feminist group FEMEN burned an Islamic flag this week outside the Grand Mosque of Paris. The flag-burning was carried out as a protest of oppression of women in the Muslim world.
A Tunisian activist set fire to the flag, on which was written the declaration of Islamic faith, "There is no God but Allah, and Mohammed is His messenger."
She and two other Arab women who took part in the flag-burning were shirtless during the event. The women wrote slogans on their torsos including "Arab women against Islamism" and "Freedom."
The protest was one of several to take place across Europe following a Muslim preacher's call to kill Tunisian woman Amina Tyler, a FEMEN activist, for having shared naked pictures of herself on Facebook.
Tyler put up pictures of her naked body with the words, "My body belongs to me" written on it in Arabic. She could face prison if it is proved that she posted the pictures while in Tunisia.
Salafi preacher Adel Almi said Tyler should be lashed under Islamic law, but that her case calls for a harsher punishment – death – "because what she did is an epidemic."
FEMEN responded by condemning Almi and calling, "Long live the topless jihad against infidels." The group declared Thursday, April 4, "International Topless Jihad Day," and topless women protested outside mosques and Tunisian embassies in several countries.
http://www.israelnationalnews.com/News/News.aspx/166793#.UV6ar9LfCbs
----------------
Kano Mass Wedding - HIV Positive, Pregnant Women Discovered at Screening
BY LUBABATU I. GARBA
4 APRIL 2013
Kano — Ahead of the third round of the Kano mass wedding, the Hisbah Board in the state yesterday started screening couples.
Our correspondent, who visited the venue of the exercise, gathered that about eight persons among the prospective couples have so far tested positive to HIV, while some women who came to seek spouses were found to be pregnant.
On why they applied for the marriage despite their conditions, a woman who gave her name simply as Umma said that she was not aware that she was still pregnant as she had earlier gone for an abortion.
"I was shocked when I tested positive because I thought I had aborted the pregnancy. It is an act of God," She said.
The Assistant Commandant General, Women wing of Hisbah, Zahra'u Muhammd told Daily Trust that anyone who is found to be HIV positive or pregnant would not be a beneficiary of this mass wedding programme.
"We cannot go ahead with marriage arrangement for HIV carriers, we are not advocating for spread of the virus. What we normally do in this case is to advise the woman or the man to wait patiently until we get partners for them who are HIV carriers too. During the second batch of the mass wedding, we married off a man and woman who are HIV carriers and they are now blessed with a child," she said.
She added that the board will replace the HIV carriers and pregnant women with stand by applicants.
"You know we have more than 1,000 women who applied for the marriage, so we will replace those HIV carriers and pregnant women with those stand by women who are ready to get married at anytime. We will marry off 1000 women on Sunday Insha Allah," she said.
http://allafrica.com/stories/201304040441.html
------------
Women Lawyers Call for Sex Education in Nigerian Schools
4 APRIL 2013
The International Federation of Women Lawyers (FIDA) has advocated the inclusion of sex education in schools' curriculum to curb rising cases of violence against women.
The President of the body, Hauwa Shekarau, made the call in an interview in Abuja on Thursday. She said that increased access to social networks, among other factors, had exposed children to several violent acts, including gender violence.
"Children tend to put what they see on social networks into practice because there are no proper avenues to teach them the right thing," she said. Mrs. Shekarau said that in spite of negative responses from some religious leaders and individuals, regarding the teaching of sex education, it was important for children to be taught moral values.
"There was a time some NGOs were involved in trying to include sex education in schools' curriculum but a lot of religious leaders said it will expose children to promiscuity. What we are seeing today is reinforcing the need for sex education because, at the end of the day, we don't teach these children the proper thing. They learn about these things on the Internet and from the wrong set of people and they go out of control.
"I know a lot of people have kicked against it; but the social networks are right here and all you need do is just get on the Internet, type a particular thing and everything is there for you to see," Mrs. Shekarau said.
She said that the sex education provision in the revised secondary school curriculum was not adequate to enlighten children on moral values, adding that there was need for a review.
"I am aware that a revised version of the curriculum includes some kind of sex education but I think there is need for it to be reviewed so that it can accommodate all these issues. We have tried in some of our engagements with women to consider all these issues as they are bringing up their children and inculcate in them the moral upbringing that is expected of them. We have a duty to inculcate these values into them so that they can be better citizens," she said.
Mrs. Shekarau called on parents to create time within their tight schedules to inculcate moral values in their children rather than leaving them in the hands of nannies and strangers.
She added that "Children should not be left with nannies and young girls who themselves need moral assistance."
http://allafrica.com/stories/201304041114.html
-------------
Malala Yousafzai Announces First Grant from Malala Fund
April 05, 2013
NEW YORK: Malala Yousafzai announced at the Women in the World Summit in New York City the first grant from the Malala Fund.
It was raised with the support of Vital Voices, Angelina Jolie and the Women in the World Foundation. The grant will support the education of 40 girls aged 5-12 in Pakistan. For security reasons the name of the organization or the specific community will not be publicly released.
The Malala Fund supports the right to education for girls in Pakistan and across the world. Malala announced the grant via a video shown at the Women in the World conference in New York.
"Announcing the first grant of the Malala Fund is the happiest moment in my life," said Malala Yousafzai in a video shown to thousands Thursday night attending the Women in the World Summit at Lincoln Centre. "I invite all of you to support the Malala Fund and let us turn the education of 40 girls into 40 million girls."
http://www.geo.tv/GeoDetail.aspx?ID=95354
-------------
Saudi official denies issuing permits for women's sports clubs
4 April 2013
A Saudi government source on Wednesday denied licensing women's sports clubs in the kingdom, saying a ministerial committee has not yet reached a decision on whether to allow them.
"We receive many requests from businesswomen specifically, but the only thing I can confirm is that there's a high-profile ministerial committee ... meeting regularly" to discuss the issue, Abdullah Zamel of the General Presidency of Youth Welfare told Al Arabiya.
The media is circulating merely the recommendations delivered at these meetings, he said.
The Saudi al-Watan daily had said the kingdom would license women's sports clubs for the first time, adding that the government had set up a ministerial committee to allow them.
Women's exercise facilities are usually licensed by the Health Ministry, and are designated as "health centers," reported Reuters.
Full report at:
http://english.alarabiya.net/en/News/middle-east/2013/04/04/Saudi-official-denies-issuing-permits-for-women-s-sports-clubs-.html
-------------
Naked feminists protest across Europe in support of Tunisian activist
4 April 2013
Bare-breasted activists staged rallies in front of mosques and Tunisian embassies across Europe Thursday against what they called an Islamist crackdown on Arab women's rights.
Protesters from the Ukrainian women's power group Femen held "International Topless Jihad Day" in capitals such as Berlin, Kiev and Paris and painted their torsos with slogans including "Bare breasts against Islamism."
"We're free, we're naked, it's our right, it's our body, it's our rules, and nobody can use religion, and some other holy things, to abuse women, to oppress them," Femen member Alexandra Shevchenko said at a small demonstration in front of a Berlin mosque amid temperatures near the freezing point.
Full report at:
http://english.alarabiya.net/en/News/world/2013/04/04/Naked-feminists-protest-across-Europe-in-support-of-Tunisian-activist-.html
-------------
Morocco's greatest victim was only 16 years old – Amina Filali
5 April 2013
MOROCCO, NORTH AFRICA: Women's rights defenders in Morocco are closer than ever to a major victory as the government plans to change a law that has allowed rapists to avoid jail time by marrying their victim. In spite of policy improvement, activists in the region point out that there is still a lot of work to be done in the area of women's rights in the North African nation.
In a case that caught the eye of the global public in March 2012 Amina Filali, a 16-year-old Moroccan woman, was forced by Morocco's court system to marry her 23-year-old rapist. After the coercive marriage Filali ended her life by swallowing rat poison. She died suddenly in the Moroccan streets of Larache after ingesting her poison while standing next to her husband. The incident, while not the first of its kind in the region, prompted other women to report their own cases of marital abuse spurring a public outcry over the controversial Moroccan penal code called: Article 475.
Full report at:
http://womennewsnetwork.net/2013/04/04/moroccos-greatest-victim-amina-filali/
-------------
Uganda Police to Train Girls in Martial Arts As Remedy for Rape
BY INNOCENT ANGUYO, 4 APRIL 2013
Following a surge in cases of rape and defilement in recent years, Police are set to train all girls countrywide in martial arts to arm them against rapists and defilers.
The Inspector General of Police Lt. Gen. Kale Kayihura said girls will be imparted with skills of fighting-off rapists and defilers.
Among other things, the girls will be tutored on how to harm rapists and defilers where it hurts most, consequently sending them to flee in excruciating pain. They will also be taken through physical-fitness drills.
"For the case of rape and defilement, police have offered as a community policing approach to train women especially in all areas of vulnerability such as Kampala and other urban centres across the country in martial Arts," Kayihura revealed.
Full report at:
http://allafrica.com/stories/201304040990.html
-------------
Illiterate Pakistan Housewife Makes Vote History
4 April 2013
A Pakistani housewife, who cannot read or write despite being married to a head teacher, has made history by becoming the first woman approved to run for election in the Taliban-infested tribal belt.
Badam Zari, 53, has little chance of winning, but her enthusiasm has been seized upon as a step towards emancipation in one of the most conservative parts of Pakistan, where women live in purdah and many are barred from even voting.
"I am contesting the election with passion, with a clean heart and a clear conscience. My passion is to educate the future generation, girls and women, and to serve them," she told AFP in a telephone interview from Bajaur district.
Full report at:
http://english.alarabiya.net/en/life-style/art-and-culture/2013/04/04/Illiterate-Pakistan-housewife-makes-vote-history.html
----------------
Nazia Hassan's Legacy Lives On
5 April 2013
Aap jaisa koi meri zindagi main aaye to baat ban jaaye
Nazia Hassan was the most influential and popular female singer and probably the only real female pop singer of the 80s and 90s in both India and Pakistan.
Today marks her birth anniversary. Born in Karachi on April 3, 1965, Hassan's first ever television appearance was in a program "Kaliyon Ke Mala (1975)" aired on Pakistan Television Network (PTV), where she appeared as a child artist and sang "Dosti Aisa Naata."
Her song "Aap Jaisa Koi" which she sang at the age of 15 for the Indian film Qurbani (1980) became one of the biggest hits in Bollywood film music. Hassan was the first Pakistani to win a Filmfare Award and remains the youngest winner of the award in the category of Best Female Playback Singer to date.
Full report at:
http://dawn.com/2013/04/03/pakistans-queen-of-pop/
-------------
Seats for women: PPP wants new faces on reserved seats
April 5, 2013
KARACHI: The Pakistan Peoples Party (PPP) has finalised its list of women MPAs on reserved seats for the Sindh Assembly.
According to the list made available, the PPP has replaced most of the old faces as only four or five women lawmakers of the outgoing assembly would continue as MPA for another term. Of the 16 reserved seats, the PPP had denied tickets to Humera Alwani, Farheen Mughal, Rai Naz Bozdar, Aisha Khoso, Shamim Ara Panhwar, Najma Chawala, Nargis ND Khan, Rashida Panhwar, Aisha Khoso, Farzana Baloch and Shama Arif Mitani.
Meanwhile, 28 names have been included on the party's priority list, including Shagufta Jumani, Shehla Raza, Sharmila Farooqi, Kulsoom Chandio and others.
Full report at:
http://tribune.com.pk/story/531257/seats-for-women-ppp-wants-new-faces-on-reserved-seats/
-------------
Scrutiny Of Pakistan NA Reserved Seats For Women Completed
April 05, 2013
KARACHI: The Sindh Election Commission on Thursday completed the process of scrutinising the nomination papers filed by different political parties for National Assembly seats reserved for women in the province. According to the Election Commission, 99 nomination papers filed by the women candidates for 14 National Assembly reserved seats of Sindh from different political parties have been accepted by the Election Commission after proper scrutiny. A
Candidate of Pakistan Peoples' Party (PPP) Azra Afzal Pechuho and two women candidates of Pakistan Muslim League-Functional (PML-F) Farkhanda Begum and Fakhrun Nisa could also not submit their nomination papers. Similarly, Pakistan Tehreek -e-Insaf candidates Erum Butt, Zubida Malik and Ghazala Kaifi and Jamaat-e-Islami candidates Ayesha Munawar and Afshan Naveed could also not file their nomination papers. However, Sindh Election Commission accepted all the main nominees of Muttahida Qaumi Movement (MQM), National Peoples Party and three names from All Pakistan Muslim League (APML)
http://www.dailytimes.com.pk/default.asp?page=2013\04\05\story_5-4-2013_pg12_4
-------------
Exclusive: How my brother tried to kill me in 'honour attack'
By Anna Coren, CNN
April 4, 2013
Kabul, Afghanistan (CNN) -- It's cold and raining in Kabul and the pothole-filled dirt roads have turned into a sea of mud. We drive up to the gateway of a high-walled compound. A soldier brandishing an AK-47 stands guard outside the building. We've come to a women's shelter to meet Gul Meena -- a 17-year-old girl from Pakistan who shouldn't be alive.
My crew and I are ushered into a room and sitting on a wooden chair slouched over is small, fragile Gul Meena. Her sullen eyes turn from the raindrops streaming down the window outside and towards us as we enter the room.
Gul's bright coloured headscarf is embroidered with blue, red and green flowers and covers most of her face. She nervously plays with it and gives us a glimpse of a frightened smile from underneath the fabric. Her guardian Anisa, from the shelter run by Women for Afghan Women, touches her head and gently moves the headscarf back. That's when we see the scars etched deeply into her face.
Full report at:
http://edition.cnn.com/2013/04/04/world/asia/afghanistan-honor-killing-survivor/
-------------
URL: https://newageislam.com/islam,-women-and-feminism/new-age-islam-news-bureau/jolie-honours-malala-and-donates-$200,000-to-malala-fund/d/11023