New Age Islam News Bureau
8 Oct 2012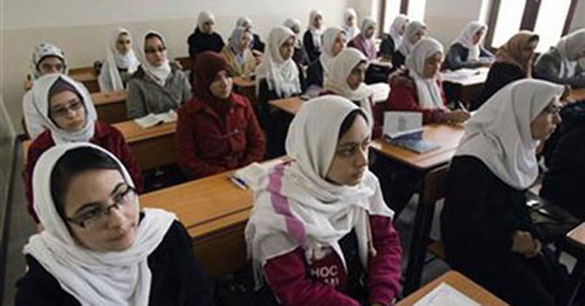 • Indonesia: Teenage Girl Expelled from School after Alleged Rape
• Woman Accuses Pakistan's Ruling Party Member of Selling Her into Marriage
• Daughter of Qaddafi Spy Chief Held
• Madonna Backs Down From Wearing Muslim Bridal Dress
• Don't forget us in Afghan transition, women plead
• Pakistani's Queen Sufi Music Honoured with Lifetime Achievement Award in India
• Africa's Only Two Female Heads of State Honoured
• Egypt Rights Activists Seeing Long-Denied Equal Rights for Women Hopes Dissolve
• Africa: UN Launches New Programme to Empower Rural Women and Girls
Compiled by New Age Islam News Bureau
Photo: Don't forget us in Afghan transition, women plead
URL: https://newageislam.com/islam-women-feminism/jirga-declares-13-girls-vani/d/8914
---------
Jirga Declares 13 Girls Vani (Settlement of Feuds) In Balochistan
October 8, 2012
DERA BUGTI: A jirga in Dera Bugti, Balochistan declared 13 girls vani on Monday while settling a murder-related conflict between two tribes, Express News reported.
The conflict was between the Bagirani and Shahwani tribes of the area.
Earlier on October 4, two vani cases were reported from separate localities of Mansehra.
Vani is a tribal custom in which girls are forced to marry members of different tribes as a result of settlement of feuds between conflicting clans.
http://tribune.com.pk/story/448650/jirga-declares-13-girls-vani-in-dera-bugti/
---------
Indonesia: Teenage Girl Expelled from School after Alleged Rape
Camelia Pasandaran | October 08, 2012
A Depok junior high school expelled a 14-year-old girl on Monday who was recently kidnapped and raped by an angkot driver, saying the child had tainted the school's reputation, according to the National Commission for Child Protection.
"The announcement was made during the flag raising ceremony in front of other students," Arist Merdeka Sirait, chairman of the National Commission for Child Protection said on Monday. "Even though her name was not mentioned during the ceremony, when she entered her classroom, her teacher asked her to leave."
The teenage girl was allegedly kidnapped and raped by a 24-year-old angkot driver she met on Facebook. The man reportedly raped her three times after driving her to Bogor, according to reports in Tempo.co.
He allegedly planned to sell the girl to a brothel in Batam, but dropped her off in Depok after learning that police were looking for her, Tempo.co reported.
The girl was allegedly too traumatized to return to school, Arist said. But after some time, her parents, neighbours and friends were able to convince the teenager to return to SMP Budi Utomo, in Depok.
But when the girl returned to school on Monday, she was told to leave.
"The [school] foundation did not allow my daughter to go back to school," mother Rauden Gultom told Tempo.co. "I could not accept this."
Arist said SMP Budi Utomo had failed to protect the victim of a terrible crime.
"Schools should be protecting victims," Arist said. "Children have the right to have education, whether [they are the] victim or perpetrator."
Arist sent a letter to the school, asking the administrator to allow the student back in class.
"If they [still] dismiss her, we will recommend the Ministry of Education and Culture review the school's license for violating the children's protection law," Arist said.
The school called the entire ordeal a "misunderstanding."
"She was not ousted at all," said Ratna, an administrator at the school. "The media has wrongly written about us. It is a misunderstanding."
http://www.thejakartaglobe.com/home/teenage-girl-expelled-from-depok-school-after-alleged-rape-mom-says/548932
---------
Woman Accuses Pakistan's Ruling Party Member of Selling Her into Marriage
October 8, 2012
SUKKUR: Early Saturday morning, S* burst into the Ahmedpur police station in Khairpur begging for shelter.
For the distraught woman, what had seemed like the perfect opportunity to start over after a painful divorce quickly morphed into a nightmare.
A couple of weeks ago, S, who hails from Vehari in Punjab, had met the vice president of the Pakistan People Party's Kingri women wing. The ruling party member was in town to meet her relatives and bumped into S, who had been struggling to support her two children after a gruelling divorce, she claimed.
The political activist offered her a job in Khairpur, and she jumped at the opportunity. Packing her belongings, she headed south with her two children, thinking about starting a new life, S claimed. Unfortunately this is where her luck ran dry.
Soon after S arrived in Khairpur, the lady took her to a man named A, assuring her that he would give her a job. However, the man forced her to marry him and she then found out that he had paid Rs110, 000 to "purchase" her from the political leader, the woman told the police.
After weeks in captivity, S managed to flee from A's house and headed straight to the police station. After she narrated the incident to the head constable, Ghulam Nabi Narejo, the law enforcers took her to the Khairpur district and sessions court.
The court directed the police to shift her to the Darul Aman and register a case against the ruling party's leader and the man accused of forcefully marrying her. But the head constable says they have yet to receive a written order from the court and will act when they get one.
When contacted by The Express Tribune, the political activist admitted she had gone to Vehari but refuted all other allegations.
"Recently, I visited Vehari where the woman's maternal uncle and brother told me that S had been divorced and they wanted to find a suitable partner for her," she said. "In my own town, [A] had been repeatedly asking me to find him a suitable wife."
So she asked the woman's uncle and brother to bring her to Khairpur so that S and A can be married, she added.
Refuting the allegations that she had sold off S, the politician claimed that she had spent money on her marriage instead. "These allegations are intended to ruin my reputation," she believed.
Tauqeer Fatima Bhutto, the minister for women development and the head of the ruling party's Larkana women wing, said that the party will take action against its member if she was found guilty. "We will provide S justice," she said. "We want to empower women not exploit them."
*Names changed to protect privacy
http://tribune.com.pk/story/448508/twist-of-fate-woman-accuses-ruling-party-member-of-selling-her-into-marriage/
---------
Daughter Of Qaddafi Spy Chief Held
8 October 2012
TRIPOLI: The daughter of Muammar Qaddafi's former spy chief was arrested at a Tripoli hotel for entering Libya illegally, a Supreme Security Committee official said yesterday.
The official, who refused to be named, said Al-Unood Al-Senoussi, daughter of Abdullah Al-Senoussi and niece of Qaddafi's wife Safiah, was detained by the military police on Saturday.
"Al-Unood was arrested at a central Tripoli hotel after she entered Libya from Algeria on a fake Libyan passport," he told Reuters. He said the daughter, 18, was carrying a "large amount" of US dollars, but he did not say how much.
While her father faces charges of "crimes against Libyans" in Tripoli and is also wanted by the International Criminal Court in the Hague and by France, Al-Unood Al-Senoussi has not been accused of any crime, except illegally entering Libya, the official said.
Abdullah Al-Senoussi was arrested seven months ago after arriving with a falsified Malian passport on a flight to the Mauritanian capital, Nouakchott, from Morocco.
He was then handed to Libya by Mauritanian authorities last month, triggering a tussle between Libya, France and the ICC over who should try him.
The ICC has issued a warrant for Senoussi accusing him of crimes against humanity, including murder. France wants to try Senoussi in connection with a 1989 airliner bombing over Niger in which 54 of its nationals died.
Senoussi has also been linked to the 1988 bombing over Lockerbie, Scotland of US passenger plane that killed 270 people. Diplomatic sources have said the United States was keen to question him about that.
Meanwhile, seven Iranian relief workers who had been taken hostage by an armed group in July in the Libyan city of Benghazi were freed on Saturday, a Libyan security source and the Libyan Red Crescent Association said.
The seven Iranian men arrived in Benghazi in late July as guests of the Libyan Red Crescent to help with relief work in the city. They were seized from their vehicle by an unknown armed group in the heart of Benghazi.
The security source said they were released about midday. It was not immediately clear who freed them, or why now.
http://www.arabnews.com/daughter-qaddafi-spy-chief-held
---------
Madonna Backs Down From Wearing Muslim Bridal Dress
08 Oct 2012
Madonna has decided against wearing a Muslim bridal dress, a combination of a traditional Iraqi bridal veil and a US soldier's uniform, in her new music video after being convinced by her advisers to give the outfit a miss for her own safety.
Madonna has decided against wearing a Muslim bridal dress in her new music video over fears for her safety.
The 54-year-old singer was planning to don a 'Terror Bride' outfit - a combination of a traditional Iraqi bridal veil and a US soldier's uniform - in the video for upcoming single 'Superstar' as a statement against oppression against women and war, but her advisers convinced her to ditch the political stunt because of the outrage it would be likely to cause.
A source said: ''Madonna had the outfit ready to go. She was really proud of it and said it was her 'Terror Bride' costume.
Full report at:
http://news.ph.msn.com/entertainment/madonna-backs-down-from-wearing-muslim-bridal-dress
---------
Don't Forget Us in Afghan Transition, Women Plead
08 Oct 2012
WASHINGTON: Afghan women activists are urging the global community to ensure hard-won progress in Afghanistan in the past decade is not lost amid fears that as US and Nato-led troops leave they will be forgotten.
"We do not want to go back on our gains. Whatever we have gained in the past 10-11 years, we do not want to give an inch of it," said Mahbouba Seraj, founder and director of the Organization for Research in Peace and Solidarity.
"There is no going back, we don't want to do that, so that's why we want the support of the world," she told AFP during a whirlwind trip to Washington.
Together with Hasina Safi, director of the Afghanistan Women's Education Center, the two women pressed their message with top policy-makers in the US administration during their six-day trip which ended late Saturday.
Full report at:
http://dawn.com/2012/10/08/dont-forget-us-in-afghan-transition-women-plead/
---------
Pakistani's Queen Sufi Music Honoured with Lifetime Achievement Award in India
October 8, 2012
Queen of Sufi music Abida Parveen was honoured with a lifetime achievement award in India by Kaladharmi Begum Akhtar Academy of Ghazal, Express News reported Monday.
Upon receiving the award at the ceremony, Parveen said that she was delighted to receive the award and that it was an unforgettable moment of her life.
The Sufi singer was also requested to sing one of her Ghazals after which she sang "Laal Meri Pat" and left the audience enthralled.
Parveen was born to a musical family of Sindhi descent and received training from her father Ustaad Ghulam Haider.
She started her career from Radio Pakistan and gained popularity. During her career, Parveen has been awarded the Pride of Performance and the Sitara-e-Imtiaz by the Government of Pakistan.
http://tribune.com.pk/story/448636/abida-parveen-honoured-with-lifetime-achievement-award-in-india/
---------
Africa's Only Two Female Heads of State Honoured
8 OCTOBER 2012
At a historic U.S. gathering honouring Africa's only two female heads of state, The Africa-America Institute (AAI) paid tribute on September 26 at its 28th Annual Gala to Her Excellency President Ellen Johnson Sirleaf of the Republic of Liberia and Her Excellency President Joyce Banda of the Republic of Malawi for championing the rights of women and their full inclusion in economic development to boost economic growth. AAI is dedicated to advancing education and professional training for Africans, and promoting engagement between Africa and America through education, training and dialogue.
More than 350 distinguished U.S. and African business, philanthropic, academic, political and diplomatic leaders gathered to recognize African achievement under AAI's theme of "Jobs for Africa." Held annually during the U.N. General Assembly, the AAI Awards Gala is the most high profile Africa-focused event in New York City. This year's major corporate sponsors are Chevron and Fulbright & Jaworski L.L.P..
Full report at:
http://allafrica.com/stories/201210080469.html
---------
Egypt Rights Activists Seeing Long-Denied Equal Rights for Women Hopes Dissolve
By Reem Abdellatif, Los Angeles Times
October 7, 2012
Women and minorities had wanted guarantees of equal rights, but that goal seems out of reach now that control of Egypt has shifted to an Islamist president.
CAIRO — Eman Mostafa, a village girl from southern Egypt, was shot and killed last month when she dared to spit in the face of the man who groped her.
Ramadan Salem told authorities he mistakenly shot Mostafa, 16, after she cursed him. It is uncertain whether Salem will be convicted: The only witness willing to testify — Mostafa's friend, Sahar Mamdouh — has been threatened in a society that often blames women and girls for provoking sexual crimes against them.
Full report at:
http://www.latimes.com/news/nationworld/world/la-fg-egypt-constitution-20121008,0,5859262.story
---------
Africa: UN Launches New Programme to Empower Rural Women and Girls
27 SEPTEMBER 2012
UN Women and the three Rome-based United Nations agencies working on food and agriculture today launched a joint programme to empower poor rural women through economic integration and food security initiatives.
The programme, Accelerating Progress Toward the Economic Empowerment of Rural Women, is a five-year initiative of the UN Entity for Gender Equality and the Empowerment of Women (UN Women), the Food and Agriculture Organization of the UN (FAO), the International Fund for Agricultural Development (IFAD), and the World Food Programme (WFP). It will be implemented initially in Ethiopia, Guatemala, Kyrgyzstan, Liberia, Nepal, Niger and Rwanda.
"When women are empowered and can claim their rights and access to land, leadership, opportunities and choices, economies grow, food security is enhanced and prospects are improved for current and future generations," said Michelle Bachelet, Under-Secretary-General and UN Women Executive Director.
Full report at:
http://allafrica.com/stories/201209281177.html
---------
URL: https://newageislam.com/islam-women-feminism/jirga-declares-13-girls-vani/d/8914