New Age Islam News Bureau
04 October 2021
• Egyptian Biker Women Dotted A Highway In Cairo To Encourage More Females To Take The Plunge And Get On Two Wheels
• Iranian Women Fear Setbacks In Hard-Earned Rights Under Raisi
• Woman Comes Under Acid Attack On 'Honour' Issue In Pakistan
• Abortion, Taliban In Spotlight At Hollywood Women's Event
• What You Need To Know About Twitch Through Eyes Of Saudi Female Streamers
• "I Am Not Weak": Qatari Women Unsuccessful In First Legislative Elections
• Ambassador Moushira Khattab Selected President Of Egypt's National Council For Human Rights
Compiled by New Age Islam News Bureau
URL: https://www.newageislam.com/islam-women-feminism/jewish-arab-women-jerusalem-palestine-israel/d/125507
--------
Jewish, Arab Women March In Jerusalem For Palestine-Israel Peace Deal
Sep 23, 2021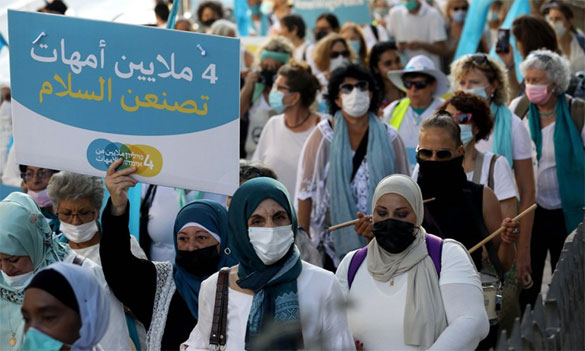 Jewish and Arab women rally for a Palestine-Israel peace deal in downtown Jerusalem on Sept. 22, 2021.(Photo: Xinhua)
-----
Jewish and Arab women rallied in Jerusalem on Wednesday to mark the International Day of Peace and call for a peace agreement between Israel and Palestine.
"We marched in Jerusalem, demanding the advancement of an agreement," Women Wage Peace, an Israeli peace group composed of Jewish and Arab women that organized the event, said in a statement.
The women created a human chain around the walls of East Jerusalem's Old City near the Jaffa Gate and chanted songs for peace.
Women Wage Peace was formed by Jewish and Arab women in 2014 aimed for peace between Israel and Palestine and for women's involvement in the negotiations.
The last round of peace talks between the two sides failed in 2014.
Source: Global Times
https://www.globaltimes.cn/page/202109/1234895.shtml
--------
Egyptian Biker Women Dotted A Highway In Cairo To Encourage More Females To Take The Plunge And Get On Two Wheels
Oct 03, 2021
Dozens of Egyptian biker women dotted a highway in the capital Cairo to encourage more females to take the plunge and get on two wheels.
During a one-day event, women of different ages rode their motorcycles and scooters for some 30 km on the Cairo-Suez highway to deliver a message that women can ride motorbikes just like men.
"Today's event is meant to bring a large number of female riders on the road so that people can see us riding easily just as men do," Wala Zouhier, the event organizer and owner of a motorcycle training academy, told Xinhua.
"We want to unite females for friendship and support by riding on the road," said the young lady, who leads an initiative to encourage women to ride motorbikes and scooters.
Zouhier pointing out that the ride will also promote the idea that women have the mental and physical abilities to own and ride a motorbike.
"We want to break a taboo and support women to use motorcycles and scooters as a means of transportation," she said, "the number of female motorcyclists is rapidly increasing now and more girls are willing to know how to ride a motorbike or a scooter."
For Heba Ahmed, a radiologist who got a scooter license recently, riding with a group is an exciting experience that she was longing for.
She revealed that it was uncommon for people in Egypt to see women riding motorbikes. However, she said the phenomenon of female bikers is gaining momentum in the North African country.
"People are beginning to accept that women ride motorbike...male drivers on the road show respect to us and I personally did not get harassed while riding," Ahmed told Xinhua as she sat on her scooter.
"I go to work by riding my scooter and people do not feel surprised...it helps me arrive on time when there is a traffic jam. My coworkers like the idea and some of my female colleagues are seriously thinking to learn how to ride scooters."
Heba Abdelhamid, a middle-aged employee at an international company, uses her scooter every day to commute.
"I ride some 40 km everyday...it helps me save time because I live in the overcrowded downtown," she told Xinhua after the ride.
She said that her family members, especially her husband, welcomed the idea, adding that she also received great support from people on the road.
"Riding a motorbike or a scooter gives you freedom and I really love it," Abdelhamid told Xinhua, flashing a smile.
Source: Global Times
https://www.globaltimes.cn/page/202110/1235598.shtml
--------
Iranian women fear setbacks in hard-earned rights under Raisi
By Maysam Bizaer
19 September 2021
Ebrahim Raisi's pick for Iran's vice president for women and family affairs has raised eyebrows across the country, with many fearing the appointment of Ensiyeh Khazali is a harbinger of potential setbacks for women's rights under the hardline president.
Khazali, the only female member of Raisi's cabinet and former dean of Iran's first women-only public university, has previously made controversial remarks in support of early marriage of girls and her objection to Unesco's 2030 sustainable development agenda.
Azam Haji Abbasi, the secretary-general of the conservative all-female Zeynab Society party, reacted to Khazali's appointment on Twitter by describing it a "bitter joke regarding women's rights".
Marziyeh Mohebbi, a lawyer and a women's rights activist in Mashhad, told Middle East Eye that she does not expect Raisi's government and his VP for women's affairs "to have a plan for gender justice or increasing women's participation."
Mohebbi added that appointing Khazali "can never indicate a determination to address the issue of women."
Meanwhile, Iranian journalist Parisa Salehi recalled her first-hand experience as a student under Khazali's management when she was the dean of al-Zahra University.
"Of course it only felt like a university inside the classrooms. Outside, it resembled nothing like a university, but rather a big Basij [militia] base, which only corresponded to ten percent of students there," Salehi wrote in a thread on her Twitter account.
While a great majority of reactions towards Raisi's pick for his only female cabinet member have been negative, there have been some people who welcomed it.
In a short message sent to MEE, Minoo Aslani, the head of the women and family department at Iran's General Staff of the Armed Forces, welcomed Khazali's appointment and described her as "a capable person who adheres to the revolution's principles and values with capacity to build public participation of women in different issues."
Women's rights under the Islamic Republic
Following the Islamic Revolution in 1979 and the change of the constitution, various restrictions were imposed on women under Islamic law, many of which are still in place four decades later, including mandatory hijab and a ban on female singers performing for male or mixed audiences.
This is while other laws such as unequal child custody rights, inability to seek divorce unless otherwise agreed upon at the time of marriage, and discriminatory inheritance laws, remain in place since the rule of Mohammad Reza Shah.
But discrimination against Iranian women also extends to other kinds of restrictions that are enforced by religious authorities for being "un-Islamic" or "against women's values". Running for president or riding a motorcycle are just two examples of the areas where women face discrimination despite there being no legal ban under the law.
For all these restrictions, however, the Islamic republic has encouraged education for women. For years, female students have outnumbered men at universities to the point that authorities have at times placed restrictions or quotas for admitting female students in some majors.
With a population of 84.5 million, according to figures published by the Statistics Centre of Iran, of which 49 percent are women, having a highly educated and skilled female population has resulted in a major transformation of women's expectations in Iran, which has in many cases overturned the traditional roles of women in society.
The struggle of Iranian women fighting for their rights has been dangerous, as the state generally considers activism as a threat to national security and therefore there is no tolerance towards any major activities in this regard.
For instance, last December, lawyer Hoda Amid and sociologist Najmeh Vahedi were sentenced to a total of 15 years in jail on charges of "cooperating with the hostile government of America against the Islamic Republic" on issues related to women and families.
Slow, but continuous progress
While the struggle of Iranian women continued even in the early days of the revolution, it lost its tempo during the devastating war that late Iraqi president Saddam Hussein waged against Iran (1980-1988), and the following years of reconstruction.
However, social freedoms and women's rights in Iran witnessed a degree of transformation during the presidency of reformist Seyed Mohammad Khatami (1997-2005), before being pushed a few steps back under his successor Mahmoud Ahmadinejad (2005-2013).
Despite the setbacks, however, a historic achievement was made for Iranian women when Ahmadinejad appointed Marzieh Vahid-Dastjerdi as his health minister, against all the odds and objections by religious authorities, making her the first and only woman to have served as a minister under the Islamic Republic.
In 2013, the landslide victory of Hassan Rouhani, who had run a presidential campaign with a promise to bring equality for women, hope was renewed for rights activists.
While these changes were not as radical as some had expected, Rouhani made some progress in slowly expanding social freedoms and job opportunities for women. His administration became the first in the Islamic republic to appoint women to senior roles such as ambassador, foreign ministry spokesperson, governor, among others.
Additionally, Iran approved a decade-overdue bill in October 2019 granting women the right to pass their citizenship to their children born of marriages with foreigners.
Despite the progress that Iranian women have achieved over the past four decades, the country's international ranking in gender equality is still among the lowest. According to the 2021 Global Gender Gap Report by the World Economic Forum, Iran ranked 150 out of 156, making it one of the countries with the largest economic gender gaps along with India, Pakistan, Syria, Yemen, Iraq, and Afghanistan.
Future of women's rights
"Both Khazali and Raisi ascribe to 'wives and mothers' first and foremost, and will probably propose policies similar to what we saw during Ahmadinejad's presidency, where mandatory hijab will be enforced more vigorously and women will be policed more intensely in public spaces," said Sussan Tahmasebi, the director of FEMENA, an organisation working to promote women's rights in the Middle East and West Asia.
Fatemeh Hasani, a sociologist and women's affairs activist in Tehran, echoed the same concerns.
"We are worried that, like in the Ahmadinejad era, we will not only not make progress, but also have serious setbacks," Hasani told MEE.
"The ideological background of those in charge of the government is that the presence of women in the community is not important and is actually something against family consolidation."
In regards to the prospect of women's rights in coming years, Tahmasebi added that "women will be encouraged through incentives and disincentives to choose marriage and motherhood over careers and singlehood."
However, she added, due to the country's severe economic woes, "these policies will be difficult to sell to women, and financially difficult for the government to implement."
While the country's unemployment rate among women stands at 27.8 percent, some 71 percent of all female graduates remain jobless. According to Hasani, women make nearly half of the country's population and the government can't easily ignore their demands and needs without significant consequences.
While seeking equality in the economy and the job market might be a major demand for many years to come, there are many others, especially among the younger generation, who aspire for more social freedoms in addition to the right to work.
"There are fundamental gaps between the real demands of women and what is being done by the socio-cultural policymakers," said Hasani, adding that these gaps "could have major consequences for the society if they are not rightly addressed."
Source: Middle East Eye
https://www.middleeasteye.net/news/iran-women-rights-fear-setbacks-raisi
--------
Woman Comes Under Acid Attack On 'Honour' Issue In Pakistan
October 4, 2021
VEHARI: A man threw acid on a woman on Sunday with whom he had contracted a second marriage two years ago. The incident occurred at Mujahid Colony in the jurisdiction of the Burewala City police, some 40km from Vehari, on Sunday.
Mumtaz, 40, contracted a second marriage with Rashida Bibi, 34, of the same locality, two year back. Later, the couple ran into troubles after Mumtaz suspected his wife had an affair.
They exchanged words on Sunday and Mumtaz fled after throwing acid on her. Rashida suffered severe injuries on her face and body.
She was admitted to the THQ hospital, Burewala, for treatment.
SHO Altaf Bhrwana said the police arrested Mumtaz within hours of the incident in a case registered under section 336-B of the Pakistan Penal Code.
He said that Mumtaz claimed his marriage with Rashida was intact whereas Rashida claimed that the suspect was her ex-husband.
Source: Dawn
https://www.dawn.com/news/1650060/woman-comes-under-acid-attack-on-honour-issue
--------
Abortion, Taliban in spotlight at Hollywood women's event
BEVERLY HILLS, Calif., Oct 2, (AP): A Hollywood event that's supposed to be about women's empowerment in the industry and the world was more about how their rights are being imperiled at home and abroad. Restrictive abortion legislation in the US and the Taliban's takeover of Afghanistan took center stage Thursday at the Variety Power of Women event, which honored actor Rita Moreno, singers Katy Perry and Lorde, poet/activist Amanda Gorman, and Channing Dungey, chairwoman of Warner Bros. Television Group. The event celebrates the philanthropic efforts of those in the entertainment industry, with causes ranging from providing health care to the uninsured to reaching out to underserved communities through the arts. Angelina Jolie spoke of all the girls in the world who feel like outsiders as she introduced the 23-year-old Gorman, who stole the show at President Biden's inauguration with a powerful recitation of her poem, "The Hill We Climb." (Gorman plans to run for president herself in 2036, the first year she'll be eligible.) "How many Amandas are living in Afghanistan, hiding their journals, waiting to see if they're going to be allowed to go to school?" Jolie asked. "As if anyone has the right to decide what a woman can or cannot do with her own mind and body."
Jolie continued: "There is nothing more beautiful, more challenging, and perhaps unsettling than the free mind of a thinking woman." Gorman then delivered a poem so powerful, the speaker that followed her — director Ava DuVernay — quipped: "Thank you to the person who decided that I would go after Amanda. Lord have mercy." The nearly 90-year-old Moreno, who became the first Latina to win an Oscar, said that women have been deprived of power for far too long. "We live in a time that requires us to be vigilant," she said. "As women, many issues require our attention in these dreadfully dark days, when our leaders politicize the wearing of masks and polarize our citizens over vaccines, when in the minds of many climate change is science fiction, and health care is still not codified as a basic human right in this divine America." Actor Alyssa Milano said that "this is the most dangerous time to be a woman in America in my life." "Texas enacted laws that are worse than we could ever have imagined. Other states are following suit," she said.
"The Supreme Court seems content to let it all happen. And both parties in the Senate are failing us on this issue." Milano then introduced a surprise guest: Paxton Smith, the Texas high school valedictorian who scrapped a speech approved by her school administrators and delivered an abortion rights call in its place. Smith used her moment in front of Hollywood's elite to urge them to act. "There is no more time to wait and see what happens next because the very thing we are afraid of is happening right now," she said. "Every citizen of Texas who has the reproductive capability of carrying out a pregnancy has had a fundamental freedom stripped away from them, the fundamental human right to decide what we do with our lives." The Texas law is already facing legal challenges, including a lawsuit filed by the Biden administration. "Royals" singer Lorde used her speech to question her own power. The singer drew some criticism after recording five songs from her latest album, "Solar Power," in the indigenous New Zealand language of te reo Maori.
The songs, she said, sparked a hard discussion. "Is this wealthy famous white woman being supportive or tokenistic? Is she advocating or co-opting for her own social gain?" she said. "I welcome this discourse. Power like mine should be interrogated. In the past few years, we've all seen that no system of power is too big to fail, no person in charge too established to uproot." On a night when she and other powerful women in Hollywood were being honored, Lorde said she was thinking of "the women whose birthplace or skin color or socioeconomic status was always going to make it less likely that they be handed a megaphone." Katy Perry steered clear of politics during her speech and made it a more personal night for her, fiancé Orlando Bloom, and their daughter Daisy, who just turned 1. "Orlando, a man that is a friend and an ally to women all around the world, thank you for handling the insanity of my life with such loving grace," she said. "And to my Daisy, a future powerful woman, I pledge to you to do my best to be an example of one, to never put limits on your dreams, to lead with love never through fear and to always be your lighthouse in any darkness." She then asked Bloom to loosen her corset so she could sing a song called "What Makes a Woman." As he worked to undo the back of her billowing lavender dress, she advised: "Pull it all the way down, I have a girdle in here."
Source: Arab Times Online
https://www.arabtimesonline.com/news/abortion-taliban-in-spotlight-at-hollywood-womens-event/
--------
What You Need To Know About Twitch Through Eyes Of Saudi Female Streamers
RAHAF JAMBI
October 03, 2021
JEDDAH: E-gamers are on the rise in the Kingdom, and Saudi female gamers are matching their male counterparts with their skillsets and tenacity.
The attention of e-gaming is growing among girls, especially with the appearance of platforms such as Twitch. Saudi female gamers are entering this platform strongly, achieving high ranks and attracting considerable viewership.
Twitch is an American platform that focuses on video game livestreaming, including broadcasts of esports competitions, and began gaining popularity in the Kingdom in 2017.
Arab News spoke to several Saudi women about their experiences on the platform. Catspawgirl is an avid gamer who live streams for five hours a day, and has been playing games such as Apex Legends and Overwatch since 2019.
"Twitch is the best full-time platform in Saudi Arabia, especially if you are a fan of a certain game and want to watch people play it," she said.
Pikaloli, another Saudi streamer, said that there is no fixed monthly amount of cash to be gained from Twitch; it depends on people's interaction and visits to the stream.
Catspawgirl explained that to start an account on Twitch, you must first have a PC or a console, and a desire for streaming: "The first year will be very difficult. There will not be many followers and support, and this may be the reason that people lose interest in this hobby."
Pikaloli said: "Before starting a Twitch account, it is preferable to prepare your screen layout design and remember to introduce yourself and the games you would like to stream to attract new followers."
Catspawgirl talked about attracting the audience by having a unique appeal. "I like to change my look in every stream so the audience will come back to see what I will be wearing, and I usually change my hair color and have a different makeup look every day."
She advised girls who want to enter the Twitch world to communicate with their audience and not stay silent — "just be spontaneous, show enthusiasm and communicate."
Pikaloli has another way of attracting an audience — as the first Saudi Vtuber, which means she uses a virtual avatar using computer graphics and motion capture software technology.
"I don't want to show my face and, as a content creator, I always try to be exceptional, so I decided to appear as a virtual character that simulates my movements and facial expressions."
Meshael MR, another Saudi Twitch streamer, said: "The streamer must have a future plan, enjoy every moment of the stream, find a unique feature in them and try as much as possible to stay away from problems and drama."
She started streaming in 2018 and has more than 145k subscribers. She has supported other female gamers and has helped them to gain more skillsets.
"I really want to see the Saudi female gamer community grow. I know starting can be hard because of the social challenges but the acceptance is smoother now," said Mashael.
Even with the added support from their communities, the gamers said that social media can be a difficult platform to break into, and break out of, too. There can be bullying, harassment, inappropriate comments, an unfortunate evil in the wide world of social networking.
"Social problems are inevitable, especially as a girl who plays and loves to communicate, laugh and talk a lot with followers. Sometimes I am harassed, and I face a lot of bullying, but with the click of a button, we can hide all the bullies and go back to our game," Catspawgirl said.
Pikaloli added, "I consider myself lucky that my biggest fans are from Saudi and the UAE. Sometimes I get cyber-bullied by boys saying that girls belong in the kitchen, but funny enough, they end up following me after they watch me play."
The Saudi gamer Bador Alhtheill commented that female streamers are hungry for success and have what it takes to become the best in the world.
Sami Al-Alwani, another Twitch gamer, said: "Girls are enthusiastic about creating unique content for the world of games, and their numbers are remarkably competitive with the international streamers. They have a huge following of all ages, and they influence a lot of people."
GCON, Girl Gamers and Development community in Saudi Arabia, hold events and tournaments in the electronic games sector and support the female gamer community.
"We started our forum in 2012 supporting women gamers. We have created and hosted many events." GCON said in its mission statement. "We have 13 streamers in the forum, and we have many projects in the development and production of games, esports and entertainment."
GCON is encouraging female gamers to join Twitch, since unlike on YouTube the streamers there do not need to have editing skills.
Source: Arab News
https://www.arabnews.com/node/1940476/saudi-arabia
--------
"I Am Not Weak": Qatari Women Unsuccessful In First Legislative Elections
October 3, 2021
Voters chose none of the 26 women who stood for election in Qatar's first legislative elections on Saturday, disappointing candidates who had wanted to lend a voice for women and other Qataris in the Gulf monarchy's political process.
The vote was for 30 members of the 45-seat advisory Shura Council while the emir will continue to appoint the remaining 15 members of the body that can approve a limited scope of policies for the small but wealthy country, which bans political parties. read more
"To have all men is not the vision of Qatar," said Aisha Hamam al-Jasim, 59, a nursing manager who ran in Doha's Markhiya district. She urged Qatari women to start "voicing what they believe in" and vote for strong women candidates in future.
"For the first time in Qatar, this is the opportunity to take part in the political," she said as people trickled into the polls earlier on Saturday.
Jasim, like fellow female candidates, said she had encountered some men who thought women should not run. Highlighting her administrative skills, she focused on policy priorities like health, youth employment and retirement.
"I just say: I'm strong, I'm capable. I see myself as fit as a man … If you want to see me as weak, that's up to you, but I am not weak," she said in the polling station where men and women had separate entrances.
While Qatar has introduced reforms to women's rights in recent years, including allowing women to independently get a driving license, it has been criticised by rights groups for issues like the guardianship system, where a woman needs male permission to marry, travel and access reproductive healthcare.
Human Rights Watch in March said that when in 2019 women tweeted from an anonymous account about Qatar's guardianship system, the account shut down within 24 hours after cyber security officials summoned one woman. read more
Naima Abdulwahab al-Mutaawa'a, a candidate and foreign ministry worker whose elderly mother came to vote for her, had wanted to press for a body advocating for women and children.
Several female candidates had been seeking to improve the integration into Qatari society of children of female citizens married to foreigners who, like in other Gulf states, cannot pass their Qatari nationality to their children.
Qatar has one female minister: Public Health Minister Hanan Mohamed Al Kuwari.
While Jasim stopped short of advocating for granting passports, fellow candidate Leena al-Dafa called for full citizenship for children in such cases.
Dafa, a writer, does not see those who oppose women in the Shura Council as an obstacle because the ruling emir – and the law – support female participation.
"The law gives me this right … I don't care what aggressive people say about that," she said, adding that women were best suited to discuss their issues.
Al-Maha al-Majid, a 34-year-old industrial engineer stood for election, alongside her policies, to change mindsets.
"To convince the males (to vote for women), yes, we may have to put in work or extra effort … I'm willing to take this extra effort in order to be in and to convince this society that the women can do so," she said.
For some, attitudes are hard to shake.
Male candidate Sabaan Al Jassim, 65, supports women standing in elections but said their primary role remains in the family.
"They are here, they have their fingerprint and they have their vote and a voice … But most important is in the house, to take care of the kids with the families," he said at a polling station where Jasim and Mutaawa'a sat across the room from him.
Source: Egypt Independent
https://www.egyptindependent.com/i-am-not-weak-qatari-women-unsuccessful-in-first-legislative-elections/
--------
Ambassador Moushira Khattab selected president of Egypt's National Council for Human Rights
04 Oct 2021
CAIRO – 4 October 2021: The Egyptian House of Representatives announced on Monday selecting Ambassador Moushira Khattab as the new president of the National Council for Human Rights (NCHR).
Egyptian politician Moushira Khattab held several high-level diplomatic posts and was Egypt's candidate for the post of UNESCO Director-General at the 2017 elections but lost the runoff vote to her French rival, Audrey Azoulay.
The House on Monday also selected Ambassador Mahmoud Karem as vice president of the NCHR. Karem served as Egypt's ambassador to the European Union and has been a member of the NCHR.
Nehad Lotfy Aboul Qomsan, an Egyptian activist in women's rights and widow of renowned Egyptian politician Hafez Abu Saada, was selected as a member of the NCHR.
The House selected other members of the NCHR, namely George Ishak Gerges, Hany Ibrahim Fahmy, Ghada Mahmoud Hamam, Noha Talaat Abdel Latif, Samira Luke Daniel, Mohamed Esmat El-Sadat, Dina Hisham Abbas, and Ismail Abdel Rahman Mohamed.
Other members include Journalist Ezzat Youssef Ibrahim, Dr. Mohamed Anas Qassem, Dr. Mohamed Sameh Bandar, Dr. Hoda Ragheb Awad, Dr. Nevin Abdel Moneim Mosaad, Dr. Noha Ali Bakr, Lawyer Abdel Gawad Ahmed Ahmed, and Lawyer Rabeha Fathy Shafik.
The members also include Lawyer Essam El-Din Ahmed Taha, Lawyer Saeed Abdel Hafez Darwish and Dr. Ayman Gaafar Ahmed, Dr. Walaa Gad El Karim, Lawyer Mohamed Mamdouh Galal, Lawyer Alaa Sayed Shalabi, Dr. Mahmoud Mohamed Saad Metwally, and Dr. Wafaa Benjamin Mitri.
Established in 2003, the NCHR is composed of twenty-seven members, including the president and vice president.
The NCHR, through independent work in the country, seeks to develop and implement a national strategy for human rights as well as to protect and promote human rights in accordance with the Constitution.
The NCHR's vision is to "make human rights concerns a national priority."
The Council holds human rights-related conferences, sessions and round-table discussions. It also posts regular reports about the recent developments of the human rights situation in the country.
The NCHR also cooperates with the National Council for Women and the National Council for Motherhood and Childhood to enhance the state's institutions' efficiency regarding promoting human rights.
This comes through developing media campaign and educational programs and through training state officials.
Source: Egypt Today
https://www.egypttoday.com/Article/1/108456/Ambassador-Moushira-Khattab-selected-president-of-Egypt%E2%80%99s-National-Council-for
--------
URL: https://www.newageislam.com/islam-women-feminism/jewish-arab-women-jerusalem-palestine-israel/d/125507
New ge Islam, Islam Online, Islamic Website, African Muslim News, Arab World News, South Asia News, Indian Muslim News, World Muslim News, Women in Islam, Islamic Feminism, Arab Women, Women In Arab, Islamophobia in America, Muslim Women in West, Islam Women and Feminism