New Age Islam News Bureau
12 Dec 2015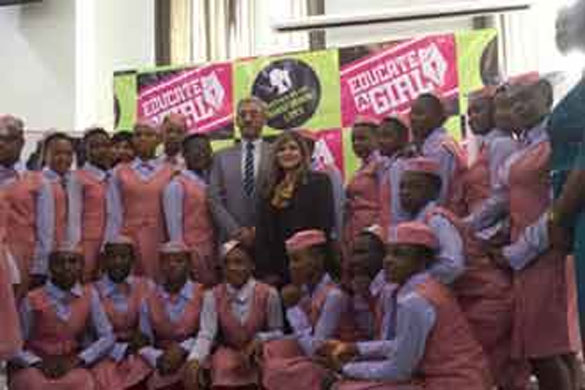 Photo: Dawood Global Foundation has hosted the Educate a Girl Nigeria Summit at the Oriental Hotel and Virgin Rose Resort, both in Victoria Island of the Nigerian capital.
---------
• Muslim woman Rahila Haidary responds to abuse after challenging demonstrators at Reclaim Australia rally
• 250 Nigerian girls trained by Pakistanis
• Girl kills herself after 'insult by teachers'
• U.S. Muslim Women debate safety of hijab amid backlash
• Two Muslim women attacked in Tampa
• Females' marriageable age to remain 18: Chumki
• Mosque in legal battle over ban on women
• Radicalized Hyderabad girl led agencies to IOC executive
• Lady doctor's bail extended in minor rape case
• What it's like to be a US Muslim woman after a terrorist attack
• Women in Saudi Arabia to vote for first time
• 'Stalkers kill' girl's father
• Teachers call for programme's continuation
• Saudi women vote for the first time in landmark election
• Accelerating women rights — Awareness is the key, say legal experts
• 'ArabNet part of Saudi ecosystem growth'
Compiled by New Age Islam News Bureau
URL: https://newageislam.com/islam-women-feminism/jewish-muslim-sisters-doin-coexistence/d/105582
---------
Jewish and Muslim Sisters Are Doin' Coexistence for Themselves
Dec 12, 2015
Heba Macksoud had just put laundry detergent in her shopping cart when someone few feet away started loudly cursing "f'ing Muslims" and the "f'ing Koran." She looked up to see a 60-something man wearing a sleeveless undershirt and large cross, looking directly at her as he continued his supermarket tirade.
Macksoud, 44, a Staten Island native of Egyptian descent, who wears a hijab with her jeans and sweaters, didn't know how to respond except to ask him, "why would you say that?" as she quickly walked to the front of the North Brunswick Shoprite. She asked for the manager and when Mark Egan arrived, Macksoud, trembling because she felt humiliated and powerless, told him what happened. Egan wanted to find the man, but the offender had already left the store. When Macksoud said she had to shop for more items before picking her kids up at school but didn't feel safe, Egan stayed with her.
For that simple but all too rare act of human kindness, Egan received a plaque and standing ovation from 350 Muslim and Jewish women — and a few men — at the conference of the Sisterhood of Salaam-Shalom on Sunday. It was by far the largest gathering the Sisterhood had ever had. Its first conference, last year, attracted 100 participants.
About half the women at the gathering on the luxuriously Gothic Princeton University campus were already involved in one of the Sisterhood's 20 chapters around the United States — from Santa Barbara, California, to Boston, Massachusetts — or one in Britain. Sisterhood founder Sheryl Olitzky said that women from 10 or 15 additional communities have since told her they want to start chapters.
A day before Republican presidential candidate Donald Trump announced his proposal to bar all Muslims from entering the U.S., the women at the conference spoke about building their personal relationships with women from the other faith as an antidote to the nativist tone taking root in America.
"The need is unbelievable. Jewish women and Muslim women are saying 'enough, we don't want our children to grow up in this world,'" Olitzky told Haaretz.
Birth of a sisterhood
Olitzky began the Muslim-Jewish women's meetings in 2010. The year before, she was on a family trip in Poland to visit the concentration camps. "In Poland you don't see anyone different," she said. "There's no one in a kippah, no one in a hijab. I asked the tour guide why and he said, 'Poland is for the Poles. We don't have a Muslim problem because Muslims are not welcome here.'"
As a resident of central New Jersey, with has a substantial Muslim community, she knew that there was little by way of personal interaction between the two religious communities. She wanted to initiate one. Not knowing how reach any Muslim women, she called the area's mosque.
The imam's son had gone to public school with her son, but the parents had not gotten to know one another. The imam gave her the name of the mosque's female chair, and Olitzky left her a message. And another, then a third. The woman wasn't returning her calls. But after several messages, she finally did. "We hit it off right away," said Olitzky. "That changed both of our lives."
With friends in tow, they began meeting monthly —a dozen women rotating between each other's homes in the North-South Brunswick area. After a year or two, "we decided to teach our community what we were doing," Olitzky said, so they began a newsletter, and two more chapters started in nearby East Brunswick and Princeton. The Sisterhood of Salaam-Shalom filed for non-profit tax status in 2013. Because the organization's name includes an Arabic word, it was subjected to an unusual level of scrutiny, Olitzky said, and the leaders were advised to take it out. But they refused, and were awarded tax exempt status last December.
Now the organization is adding chapters wherever women take the initiative. Each has membership of 10 to 12 women, though some include as many as 18. Meetings include three elements: dialogue; socializing, usually over a meal; and sharing a project, like baking cookies for patients at a nearby hospice. The Manhattan chapter teaches English to Syrian refugees.
A Muslim participant in each chapter opens her home to Jewish friends' families for a Ramadan break-fast party, and on Sukkot the Jewish participants do the same.
Kristin Sekerci came to the Sisterhood conference toting her 11-month-old son, Haroun, from their home in Washington. A convert to Islam, Sekerci was raised Roman Catholic and converted after marrying a Turkish Muslim she met when they both worked in the same pizza restaurant. Sekerci is involved in the Sisterhood's D.C. chapter.
"A specifically Muslim-Jewish all-women group was appealing," said Sekerci, who didn't know Jews or Muslims until she went to college in Washington. Growing up as a Catholic school student in Wallingford, Pennsylvania, "I was in a little Catholic bubble, and I had no idea how to interact" with people of other religions, she told Haaretz.
Getting to know Jewish women, "I've learned that there are so many commonalities between Islam and Judaism. We have our own personal collective struggles, dealing with the patriarchy in our religions, and raising kids as Jewish or Muslim. We have a unique perspective on peace, which transcends binaries of 'me' and 'the other,'" she added. "I've learned a lot more about Judaism, the holidays, traditions and liturgical stuff. It's just shocking how similar it is."
Avoiding the conflict
Most groups are afraid to broach the Israeli-Palestinian conflict, said Sekerci, who is also part of a "Daughters of Abraham" book club, which includes Jews, Muslims and Christians. At the height of the recent wave of stabbings and car-rammings, no one discussed it, she said. "It made me kind of crazy. What's the point of getting together and not talking about the issues?"
She appreciated that the topic was discussed at the conference.
Rabbi Amy Eilberg offered an introduction to political dialogue on inflammatory subjects like the conflict. Training for dialogue facilitators was also announced. "Some of us should do that and take those skills and apply it," Sekerci said. "It's such a taboo topic. Any Jewish people I meet, we just don't talk about it. "
Amanda Quraishi, a digital media consultant who spoke on a panel entitled "Dialogue and Engagement as a Means for Peace," told the crowd: "People are increasingly interested in having deep, meaningful conversations, not just the symbolic stuff. The conflict is the elephant in the room in every scenario where Muslims and Jews work together. Anything that does not address that is going to be superficial and not honest. Ignoring it is not going to make it go away."
In her presentation, Eilberg talked about a dialogue group of rabbis and imams in which she participates. She and the co-leader "disagree vehemently" about whether to discuss the conflict. Two-thirds of the participants don't want to, "and its very painful," she said. "We tabled the conversation to preserve the relationship. It's a tragedy, in my view."
She once hoped that "this dialogue would move us toward an Israeli-Palestine resolution. I no longer expect North American Muslim-Jewish dialogue to have an impact" on the conflict, she said.
http://www.haaretz.com/jewish/news/.premium-1.691349
---------
Muslim woman Rahila Haidary responds to abuse after challenging demonstrators at Reclaim Australia rally
By Lauren Day
Dec 12, 2015
A young Muslim woman is vowing to continue to speak out against anti-Islam protesters, despite an encounter at a Reclaim Australia rally last month that left her feeling "disappointed" and "heartbroken".
Twenty-year-old Afghan refugee Rahila Haidary had planned to join friends at the anti-racism side of the rally in Perth last month but changed her mind at the last minute.
"The whole night I was thinking 'these people are against Muslims, but why?'," Ms Haidary said.
"I actually went there to join the other side but then before I got to the other side I thought, 'why not just hear some of the reasons why these people are against Muslims before I go there?'"
Ms Haidary was quickly met by several members of the United Patriots Front who asked if she would discuss her religion with them.
Do you know more about this story? Email 7.30syd@your.abc.net.au
"They said do you agree with freedom? And I said, 'yes I do'," Ms Haidary told 7.30.
"The next interesting question that they asked was 'would you call yourself a Muslim first or an Australian first?
"I said 'I would call myself an Australian first' and they were surprised, they said 'why? Aren't you a proud Muslim?' I said, 'I am a proud Muslim.
"The reason I would call myself Australian first is because [the] Australian constitution gives me the freedom to practise my religion and that's why I respect this country, that's why I'm here today."
'Hatred' spread in online post of her photograph
Ms Haidary said she was pleased with how the conversation had gone but when the group later posted a photograph of her on its Facebook page telling their supporters they had "educated" her, she was horrified.
"I was disappointed really, I was really disappointed," she said.
"The amount of hatred coming from that post, the comments were just heartbreaking, some of them were really threatening, 'wait until she walks outside and she gets her scarf pulled off' and that breaks my heart."
Ms Haidary said she regretted confronting the protesters at the time but that she would do it again if she had the chance.
"If the need arises then I would," she said.
"If I feel that they need to be educated more, then I would go for it."
Ms Haidary was born in the war-ravaged Uruzgan province in Afghanistan and as a six-year-old defied the Taliban by dressing up as a boy to go to school.
"They had really strict punishment for me," she said.
"They said either we have to take her life or my dad had to send me somewhere that I couldn't come back or couldn't see my family anymore so that I forget that education is for girls."
She was sent to Pakistan where her family later joined her before ultimately fleeing to Australia.
"[I had heard] Australia is so peaceful, it's a country of love, everybody cares about people, you have every right there, you can go to school so I couldn't wait to be honest, I couldn't wait to come here," she said.
Ms Haidary said while the recent anti-Islam rallies had made her question that image, she loved Australia and her experience at the Reclaim Australia rally only strengthened her resolve to talk to people about her culture and religion.
"Nothing scares me really," she said.
"It might make me feel bad for one or two days but then at the end, I'm the person who would not tolerate the injustice and go out there and say, hey, this is not right."
http://www.abc.net.au/news/2015-12-11/muslim-woman-rahila-haidary-confronts-anti-islam-demonstrators/7021856
---------
250 Nigerian girls trained by Pakistanis
December 12, 2015
LAGOS - Dawood Global Foundation has hosted the Educate a Girl Nigeria Summit at the Oriental Hotel and Virgin Rose Resort, both in Victoria Island of the Nigerian capital.
The training educated an audience of 250 deserving Educate a Girl Nigerian Scholarship winners, as well as two Pakistani "Educate a Girl" delegates.
Leading Pakistani journalist Dr Fouzia Khan flew in from Karachi to conduct the training.
Other keynote speakers included Canadian-Nigerian poet Juliet Kego Ume-Onyido, who flew in from Toronto, Canada, for the occasion, Tara Uzra Dawood, President, Dawood Global Foundation, and various local celebrities.
The opening keynote was delivered by Pakistani High Commissioner to Nigeria Umer Farooq and the closing keynote was made by Wana Udobang, a leading Nigerian broadcaster, writer, poet, performer and curator.
He held a special dinner in honour of the Pakistan delegation and Malala Fund, Global Giving and Participant Media partnered with Educate a Girl for a special screening of "He Named Me Malala" for EAG scholars.
The three-day training was comprehensive.
Day One was focused on Personal and Professional Grooming for Success, which was facilitated by Nigerian celebrity fashion designer Amede Nzeribe.
The morning session of the second day of training focused on Basics of Journalism, News Writing and Science Writing, conducted by trainer Dr Fouzia Khan.
In the afternoon session, participants were taught Water Journalism, Climate Science and Challenges of Climate Journalism.
The third day training focused on breakout sessions in the morning and Whole Wo Man Network leadership training in the afternoon.
The Closing Keynote by Wana Udobang reminded all attendees about the importance of finding your heart in a story.
"I am happy to be able to come to Nigeria to support the training of deserving girls in journalism," stated Dr Fouzia Khan, who is a professional Psychologist, Social Activist, Member National Steering Committee SGP/GEP-UNDP, Broadcast and Print Journalist and is currently serving as an Education & Gender Policy Advisor.
"We are delighted that Dr.
Fouzia has made this long journey in support of this important initiative," stated Tara Uzra Dawood, Founder of Educate a Girl, "and are very excited about our other fantastic trainers and speakers.
Juliet Kego Ume-Onyidoadded, "We are delighted to see the birth of the award-winning Educate a Girl in Nigeria.
" The aim of the program is to raise a new Generation of Transformational, empowered and media-savvy women leaders.
There is a huge shortage of jobs in Nigeria, especially among Youths.
(2015 Unemployment rate as a function of the labour market is 23.
9%, according to the Nigerian Bureau of Statistics).
It is important to note that the youth demographic as a percentage of the entire population is estimated to be between 65-70%.
There exists a cultural bias, which manifests as a discouragement from hiring women for important spots in traditional media, journalism or positions in contemporary types of social media.
Thus, this program is an important step to address an urgent need to increase the representation of women holding influential media jobs in Nigeria, to better address issues affecting women and girls, such as: domestic abuse, rape and sexual assault, harmful cultural practices, level of access to quality education and healthcare, child marriage, enacting laws and enforcing legislation to enhance overall welfare of women, female genital mutilation, funding constraints for business start-ups, entrepreneurial training and mentorship, gender equity in corporate board representation, pay differentials, low level of participation in governance andl eadership by women etc.
http://nation.com.pk/international/12-Dec-2015/250-nigerian-girls-trained-by-pakistanis
---------
Girl kills herself after 'insult by teachers'
December 12, 2015
A class IX student of Gono Bidyaloy Niketon in Narayanganj city hanged herself at her house on Thursday because of "insult by her teachers".
Umme Habiba Sraboni, 14, left a "suicide note" where she mentioned the names of two teachers and the way they insulted her during the physics exam that day, said the family.
The note said one teacher was responsible for the consequences she suffered.
On Thursday, when the girl was sitting for the exam, an invigilator seized her answer script on allegations of cheating while another teacher slapped and insulted her and expelled her though she did not cheat in the exam, the note said.
Back home, she hanged herself.
The school management committee said they would take action against the teachers if they were found guilty.
Officer-in-Charge of Narayanganj Sadar Model Police Station Abdul Malek said they did not receive any complaint.
http://www.thedailystar.net/city/girl-kills-herself-after-insult-teachers-186046
---------
U.S. Muslim Women debate safety of hijab amid backlash
By Rachel Zoll
December 11, 2015
NEW YORK — On the night of the California shootings, Asifa Quraishi-Landes sat on her couch, her face in her hands, and thought about what was ahead for her and other Muslim women who wear a scarf or veil in public.
The covering, or hijab, often draws unwanted attention even in the best of times. But after the one-two punch of the Paris and San Bernardino attacks by Islamic militants, and amid an anti-Muslim furor stoked by comments of Donald Trump, Quraishi-Landes, an Islamic law specialist at the University of Wisconsin-Madison, wanted to send a message.
"To all my Muslim sisters who wear hijab," she wrote on her Facebook page. "If you feel your life or safety is threatened in any way because of your dress, you have an Islamic allowance (darura/necessity) to adjust your clothing accordingly. Your life is more important than your dress."
Amid a reported spike in harassment, threats and vandalism directed at American Muslims and at mosques, Muslim women are intensely debating the duty and risks related to wearing their head-coverings as usual.
Sites for Muslim women have posted guidance on how to stay safe. Hosai Mojaddidi, co-founder of the educational group MentalHealth4Muslims, drew nearly 4,000 likes for her Facebook post advising women to "pull out those hooded sweatshirts, beanies, hats and wraps for a while until the dust settles."
Muslimgirl.net posted a "Crisis Safety Manual for Muslim Women," with tips such as wearing a turban instead of a longer more obviously religious scarf and carrying a rape whistle.
Muslim women in several cities are organizing or taking self-defense classes. The ad for one such class in New York features a drawing of a covered woman in a karate stance.
"We're getting so many calls," said Rana Abdelhamid, 22, founder of the Women's Initiative for Self-Empowerment, which offers self-defense and empowerment classes in several cities for young Muslim and Jewish women who face harassment.
Abdelhamid, a New York native attending the Harvard Kennedy School of Government, said she had studied karate since childhood and started offering self-defense classes for women after a man tried to pull off her headscarf when she was 16 years old.
"Even now when I think about that moment — I have a lot of anxiety moving through the streets to this day — especially with all of the hateful rhetoric because, I don't know, is it going to happen again?" she said.
The question of whether to wear the hijab is already deeply sensitive for Muslim women. Scholars have debated for years whether women have a religious obligation to dress a particular way. And Muslims disagree over whether the hijab is a symbol of piety or oppression.
Women who wear a scarf or veil say they have many motivations for doing so, including demonstrating devotion to their faith and showing pride in their religious heritage. Their decision makes them among the most visible representatives of Islam, in a way that men with beards aren't. Well before the latest uproar, it was common for American Muslim women wearing the hijab to be stared or cursed at, or have strangers tug at their scarves.
Now, many Muslim women say this is the exact moment when they need to make their presence known by wearing the hijab without any modification as an act of defiance.
Suehaila Amen, a community activist in Dearborn Heights, Michigan, said that was the reaction from women she knows around Detroit. Amen said she would never take off her headscarf, but said she has the advantage of living in an area with one of the largest concentrations of Arabs and Muslims in the country. Still, she and her sister plan to take a self-defense class this weekend because of the furor. Amen regularly travels to give public talks.
"I wasn't this concerned about my safety after 9/11. This is the first time in my life that I've ever said I worry when I leave the house," Amen said. "Yes, there are people who need to be concerned or modify the way they wrap their scarf so that it's not as visible."
Generally, Islamic law allows people who face persecution over their faith to alter their behavior or even "renounce faith itself" if necessary to survive, said Mohammad Fadel, an Islamic law specialist at the University of Toronto. Each person can determine what constitutes a credible threat.
Omar Suleiman, resident scholar at the Valley Ranch Islamic Center in Irving, Texas, posted a YouTube video last Sunday underscoring that Muslims can take steps to protect themselves, such as wearing a hat instead of a hijab or not praying public. But he cautioned against assuming there's a risk without examining the circumstances.
Suleiman said he posted the video in response to a Muslim woman he said came to him crying because she took off her veil for the first time out of concern for her safety, and was worried that God would punish her. The video has been viewed nearly 39,000 times.
"I'm not going to judge anyone's individual standing," Suleiman said, but "you don't have to resort to completely abandoning your obligation."
The Council on American-Islamic Relations, the civil rights group that most closely tracks bias against Muslims, said it does not have a breakdown of harassment by gender. But "the vast majority" of cases of discrimination and harassment against Muslim women at work, in school and in the public in general are from women who wear the hijab, said Jenifer Wicks, the organization's litigation director.
Since the Paris attacks last month, a Brooklyn, New York, man was charged with spitting on and shouting anti-Muslim slurs at a woman wearing a hijab after she accidentally bumped him with a baby stroller; a New York pharmacist who wears a headscarf said a customer called her a terrorist and told her to get out of the country; and a San Diego State University student said a man ripped off her headscarf and began yelling racist slurs at her.
Last Sunday, two young Muslim American women who wear headscarves went to an Austin, Texas, restaurant where a male customer harassed them and told them to go back to Saudi Arabia. They said when they asked other customers to help them, no one did, and the man was seated at a table even though the women alerted the host. The owner of the restaurant, Kerbey Lane Cafe, has apologized repeatedly to the women and the public.
Margari Hill, co-founder of The Muslim Anti-Racism Collaborative who lives in San Bernardino County near the site of last week's shootings, said it was important for bystanders to help stop any harassment they witness. "Just standing there and looking, that's the worst thing that anybody who is being subject to harassment and violent threats can experience. You just feel so alone," Hill said.
Hill said she and most of her friends aren't changing anything about their daily lives. She said she's experienced an outpouring of support, especially from people of other faiths since the rampage by husband-and-wife shooters Syed Rizwan Farook and Tashfeen Malik. Still, one of Hill's friends has stopped wearing her scarf when she goes out.
"Being a Muslim woman — it makes you this symbol of the faith," said Hill, who has worn a hijab for 17 years. "I think it's very important for Muslim women to be smart during this time."
http://cjonline.com/news/2015-12-11/us-muslim-women-debate-safety-hijab-amid-backlash
---------
Two Muslim women attacked in Tampa
December 11, 2015
We're learning about attacks on two Muslim women, right here in the Tampa Bay area. Their attorney says one of the women was shot at, and another one was nearly driven off the road -- both because of their Muslim faith.
The women were targeted as they were leaving the places where they worship, according to the Florida chapter of CAIR, the Council on American-Islamic Relations.
An attorney from CAIR says the women were leaving mosques and wearing scarves over their heads -- a traditional Muslim head covering called a hijab.
Thursday, a woman's car was shot at as she left a mosque in eastern Tampa, about a mile from the Seminole Hard Rock Hotel and Casino, CAIR Florida director Hassan Shibly told me.
And over the weekend, a woman reported a man cutting her off and throwing stones and other things at her as she drove away from a mosque in New Tampa.
Shibly told me CAIR is hearing reports like this every single day from across the state.
"The American Muslim community is proud of its contributions in society, and it's unfortunate that certain politicians are attacking the entire Muslim faith and people for the horrendous actions of a few people," Shibly said.
You can see what a hijab, or head scarf, looks like in this story, "What's it like to be Muslim in Tampa Bay?" from 10News reporter Mark Rivera.
Mark spent Thursday with the Saleh family, a typical family in Tampa Bay. They own small businesses, they're raising their kids, and they are Muslim.
Analysts and experts say the kind of anti-Muslim attacks reported in Hillsborough County this week are literally exactly what ISIS wants.
Because ISIS has only a few thousand people, and almost all of them are on the other side of the planet, this is their strategy:
Create a divide between Muslims and non-Muslims in America, with the hopes that some Muslims will feel isolated and fed up enough to turn to radical Islam, then attack.
http://www.wtsp.com/story/news/local/2015/12/11/two-muslim-women-attacked-in-tampa/77137026/
---------
Females' marriageable age to remain 18: Chumki
December 12, 2015
State Minister for Women and Children Affairs Meher Afroze Chumki yesterday said the government is not going to lower the minimum age of marriage for females from 18.
"Child marriage will not be allowed and the (minimum) age limit of marriage for females will remain at 18," she said.
Chumki was addressing a roundtable on building grassroots network for women empowerment at the office of the daily Bhorer Kagoj, organised by the daily and Unnayan Shahojogy Team (UST) in association with Paz Y Desarrollo.
Chumki also urged the male members of society to shun child marriage. Imran Hossain Bhuiyan, a lecturer of Development Studies at Dhaka University, presented the concept paper.
Bhorer Kagoj Editor Shyamal Dutta and UN Women country representative to Bangladesh Christine Hunter also spoke on the occasion. The speakers also demanded women election commissioners in the Election Commission.
http://www.thedailystar.net/city/girls-marriageable-age-remain-18-chumki-186058
---------
Mosque in legal battle over ban on women
Dec 12, 2015
MUMBAI • A landmark mosque in Mumbai is facing pressure to overturn a ban on women entering its inner sanctum, a move that could set a precedent on gender restrictions to places of worship in deeply religious India.
A Muslim women's rights group is locked in a bitter legal battle with trustees of Mumbai's Haji Ali Dargah, built in the 15th century and popular with not only Muslims but also Hindu devotees and tourists.
Women have been prevented from entering the mausoleum of the mosque since 2011, with its trust saying female proximity to the tomb of a saint is "a grievous sin" in Islam.
Bharatiya Muslim Mahila Andolan (BMMA), the rights group, has petitioned the Bombay High Court seeking a ruling that the ban is unconstitutional, hoping such a decision would mark a step forward for women's rights in India.
"A positive ruling would set a precedent and would have a wider and long-term effect," said BMMA co-founder Noorjehan Niaz. "It would send a message and encourage women of all religions who are barred from entering places of worship to approach courts with similar demands."
The mosque was built in the 1430s in memory of a wealthy Muslim who gave up his worldly possessions and went on a pilgrimage to Mecca.
Legend has it that Pir Haji Ali Shah Bukhari, who became a Sufi saint, died during his spiritual journey and his body washed up on rocks in the Arabian Sea off south Mumbai.
The mosque was constructed on the spot where his body was found - and his tomb lies in the inner sanctum, the mosque's most sacred place. It is one of a string of temples and mosques across India that restrict access to women.
Ms Niaz said the trust started banning women from the mausoleum four years ago, although they are still allowed into the mosque's other areas. She said trustees cited menstruation as the reason for barring women from sacred spots.
"They've said women are impure. But menstruation is a natural event and responsible for the entirety of humanity being born. How can it be dirty? It's a ridiculous and demeaning argument."
A member of the trust declined comment, saying only that he hoped Mumbai's top court would settle the dispute when it holds its next hearing next Tuesday.
Mr Maulana Mustaqeem Azmi, a member of the non-profit All India Muslim Personal Law Board, said the rule was similar to those in other mosques. "To insist that they be allowed into the tomb is against the religion."
Human rights lawyers back the women, but are sceptical of whether they will win their case. Instead, they are pushing for a law making it illegal for any trust to bar entry to a public place of worship on the grounds of gender.
"There are lots of temples where women are not allowed. If you go through each individual case, it will be an endless exercise, so you have to have state intervention," said prominent Indian rights lawyer Mihir Desai.
"Courts also like to restrain themselves from ruling on religious issues. Whether the court will deliver a verdict in favour of the women is very doubtful."
http://www.straitstimes.com/asia/south-asia/mosque-in-legal-battle-over-ban-on-women
---------
Radicalized Hyderabad girl led agencies to IOC executive
Dec 12, 2015
New DELHI: Intelligence agencies stumbled upon IOC executive Mohd Sirazudin, arrested in Jaipur on Thursday for motivating people to join Islamic State (IS), while tracking a Hyderabad-based girl who was actively following pro-IS propaganda on social media.
The girl, in her twenties, was found to be following a closed group on Facebook which was tracked to Sirazudin, its administrator. "The girl was found to be on the verge of getting radicalized and we are now counseling her for de-radicalization, taking the help of her family and community elders," an intelligence officer told TOI.
READ ALSO: Indian Oil executive arrested in Jaipur for allegedly urging youth to join ISIS
Around 15-20 people, both Indians and foreigners, followed Sirazudin on his closed Facebook page as well as on Whatsapp. "He would put pro-IS material online and influence his followers to subscribe to the extremist, violent ideology propounded by the group. He would also actively persuade them to travel to IS territory to participate in jihad," said the officer.
"We were tracking Sirazudin for almost six months. Only when the agencies sensed that he was on the verge of turning into a lone wolf attacker did we act against him," the officer added.
A number of issues of IS's online magazine 'Dabik', pictures and videos were recovered from Sirazudin, who hails from Gulbarga in Karnataka.
READ ALSO: Global Terrorism Index — The map that shows where 42 different militant groups have pledged support to ISIS
Incidentally, the IOC executive was also in touch with 3-4 youth from Maharashtra, of which two were found to be on the verge of radicalization. "We are also counseling these two men, who are in their late twenties, to de-radicalize them," said the officer.
Meanwhile, TOI has learnt that an Indian who has worked with the IS is due to return home soon. "He is in his mid-20s and is likely to be arrested upon his return," said an official of the security establishment.
So far, two Indians who had joined IS have returned home. These are Kalyan youth Areeb Majeed and Zeba, who was deported to Hyderabad from Qatar.
http://timesofindia.indiatimes.com/india/Radicalized-Hyderabad-girl-led-agencies-to-IOC-executive/articleshow/50145798.cms
---------
Lady doctor's bail extended in minor rape case
December 12, 2015
Israr Ahmad
rawalpindi - A local court yesterday extended the pre-arrest bail of a lady doctor, who is accused of conducting the abortion of a minor rape victim, for three days.
Police investigators commented in the investigation report submitted before the court that the lady doctor conducted the abortion to save the life of the rape victim. All this was done apparently to give a clean chit to the accused, a source disclosed to The Nation yesterday.
However, Dr Tallat, who runs a private clinic in Wah Cannt, was accused by the parents of the minor girl of taking bribe from the rape accused for carrying her abortion to hide his sin and avoid any legal action.
The victim, a 6th grade student, was allegedly raped by her uncle Muhammad Ashfaq at gun point in June 2015. Ashfaq is a resident of Barhama Bahter area of Taxila and a local leader of ruling Pakistan Muslim League (Nawaz). Upon getting pregnant, the little girl was taken to the clinic of Dr Tallat by the rape accused where he bribed the doctor to conduct abortion. A rape case was registered with police station Saddar Wah while police arrested Muhammad Ashfaq and his two brothers Asif and Amir, who are languishing in Adiala Jail.
The investigation report was presented to Additional Sessions Judge Zafar Ullah Khan by Sub-Inspector Malik Zarahat during the hearing of petition of pre-arrest bail of the lady doctor.
The court extended the pre-arrest bail till December 14 after Mir Nasir Bilal Advocate, the lawyer of the victim girl, pleaded that defence lawyer should cross-examine the victim girl first then he would present his arguments in the case. The court ordered the defence lawyer to cross-examine the girl today (Saturday).
Talking to The Nation, Sajid Khan and his wife Misbah Khan, parents of the victim, alleged that police investigators are trying to save the skin of the lady doctor allegedly after taking hefty bribe. They said that police mentioned in the report that lady doctor conducted abortion of the victim to save her life but the reality was that Ashfaq had bribed the lady doctor to do so.
Malik Zarahat, the investigation officer, when contacted rebuffed the allegations that he had received bribe to take side of the lady doctor. He said the lady doctor was guilty but police have not concluded investigations. "The cross-examination of the girl will be done by defence lawyer and after this the prosecution will argue before the court on Monday and then police will conclude the investigation report," he said.
Meanwhile, two Afghan nationals were arrested yesterday by a joint patrolling team of police and Pakistan Army here from Chaklala Scheme-III area.
The Afghan nationals were staying illegally in Pakistan. A case under section 14 Foreign Act has been registered against the Afghans identified as Pasham Gull and Bashir Gull while further investigation is underway.
According to Deputy Superintendent of Police (DSP) Farhan Aslam, a joint team of police and Pakistan Army was on routine patrol in the area of Scheme-III when it spotted two suspected persons. Upon questioning, the both persons revealed that they were Afghan nationals and came to Rawalpindi from Peshawar for some sort of work.
However, the DSP added, they could not produce any valid stay documents before the police on which both were arrested and shifted to police station where a case was lodged against them.
http://nation.com.pk/islamabad/12-Dec-2015/lady-doctor-s-bail-extended-in-minor-rape-case
---------
What it's like to be a US Muslim woman after a terrorist attack
December 11, 2015
Los Angeles: "God, please don't let them be Muslim."
Tina Aoun said those words to herself last week as she sat in the lounge of UC Riverside's Middle Eastern Student Centre, which she directs. Together, she and several students watched footage of a still-unfolding search for any details on the shooters that killed 14 people Wednesday in nearby San Bernardino.
In the immediate aftermath of the November 13 attacks in Paris, the centre fielded complaints from Muslim students who reported being harassed — such as one being called a "rag-head."
So when it was reported that one of the shooters, Syed Rizwan Farouk, had previously attended a mosque down the street from the campus, students feared more of the same.
The next day, two male students were walking downtown when someone shouted "Isis" at them. They did nothing to provoke the harassment, she said, other than wearing beards.
Aoun said she is especially concerned for the safety of Muslim women.
Women who wear head coverings such as a hijab, she said, are easily distinguished as Muslims. That makes them more vulnerable to verbal or physical harassment.
Two weeks before the shooting, San Diego State campus police reported that a white man grabbed a woman's headscarf and made racist comments to her. At a high school in San Francisco last year, a girl said that boys had ripped off her headscarf, spit on her, and called her a "terrorist."
Many parents of Muslim women attending local campuses have asked their children either to take off their hijab, or to wear hooded sweat shirts to hide their head coverings. Aoun said that at least 10 students came to her asking her what they should do about their parents' requests.
"I can't give them religious advice," she said. "But this situation is really terrifying."
On Friday, a candlelight vigil was held at UC Riverside for the victims of the shooting, including three school alumni who had been hurt or killed in the attacks.
After the vigil, Rafika Alami was one of several students who headed back to the Middle Eastern Student Center to meet up with friends and study for final exams.
A photo from Alami's high school yearbook went viral last year. The combination of her wearing a hijab, along with a humorous quote, "Only reason I wear this is to give you females a chance," made waves on social media. The comments online were positive and negative.
She's used to verbal harassment, Alami said. "I've been called every name you can think of. I can take insults," she said. "But now, I'm really afraid."
"It's so hard, because we need to mourn the people killed in San Bernardino, but we have to also worry about our own safety," Alami said. "That's the sad reality of it."
Alami said that after 9/11, her aunt was attacked while picking up her child from kindergarten. She suffered injuries to her neck and arm that never fully healed.
Aoun, the director of the community center, said that she has suggested that women travel in pairs, even during the day, and that they carry mace.
She said that campus police recently offered to increase patrols on a path between campus and the nearby mosque, which is often used by Muslim students who attend prayer before or after classes.
"The campus police have been really helpful so far," Aoun said, noting that an officer had stopped by the lounge to check on the students and assure them that police were available if they needed help.
Alami said that after the shootings, many of her non-Muslim friends contacted her.
Recently, she was in the bathroom when she noticed another student staring at her. Alami said the young woman was a bit nervous about approaching her, but said: "I know there's a lot going on now," apparently referring to comments that Alami, as a Muslim, might have heard. "Don't listen to them, ignore them. Just be you," the student said.
"She didn't really know how to word it, but I could tell that she just wanted to support me in her own way," said Alami.
"I wanted to give her the biggest hug."
http://gulfnews.com/news/americas/usa/what-it-s-like-to-be-a-us-muslim-woman-after-a-terrorist-attack-1.1635796
---------
Women in Saudi Arabia to vote for first time
December 12, 2015
Saudi Arabia will go to the polls on Saturday in unprecedented municipal elections in which women will cast a ballot for the first time.
Women are able to stand as candidates, despite the fiercely conservative kingdom being the only nation where women are not allowed to drive.
A total of 978 women have registered as candidates, alongside 5,938 men.
Female candidates have had to speak behind a partition during campaign appearances or be represented by a man.
About 130,000 women have registered to vote, officials say. That figure still falls well short of male voter registration, which stands at 1.35 million.
Salma al-Rashed was the first woman to register to vote. "It felt really good," she told the BBC. "Change is a big word but the election is the way to make sure we are really represented."
Elections themselves are a rare thing in the Saudi kingdom - Saturday will be only the third time in history that Saudis have gone to the polls.
There were no elections in the 40 years between 1965 and 2005.
The decision to allow women to take part was taken by the late King Abdullah and is seen as a key part of his legacy.
In announcing the reforms, King Abdullah said women in Saudi Arabia "have demonstrated positions that expressed correct opinions and advice".
Before he died in January, he appointed 30 women to the country's top advisory Shura Council.
There are 2,100 council seats available in Saturday's vote. An additional 1,050 seats are appointed with approval from the king.
The results of the elections are expected to be announced later on Saturday.
http://www.thedailystar.net/world/women-saudi-arabia-vote-first-time-186190
---------
'Stalkers kill' girl's father
December 12, 2015
Stalkers strangled the father of a schoolgirl in Muktagachha municipality of Mymensingh early yesterday, alleged the victim's family.
The 45-year-old day labourer was found dead by the roadside.
Family members said tea stall worker Katu Miah, 26, of Syedpara area, along with his friends Dipu, Ashu, Taher, Rakib and Lal Miah, used to stalk the class V student.
Her father protested it several times but the stalkers threatened to teach his family a good lesson, said the victim's cousin, Monir Hossain Monu, president of ward no-8 Awami League of Muktagachha municipality.
On Thursday afternoon, when the man with his wife and daughter was returning from a relative's house in a nearby village, Katu waylaid them and beat them up, Monu said.
In fear the girl's father went back to his relative's house with his family and was returning home alone around 2:00am when Katu and his accomplices caught and strangled him, he said.
Jahangir Alam, local ward councillor, confirmed that the girl was stalked by Katu and said the rope used in the murder was found beside the body.
He demanded immediate arrest of the killers.
Abu Mohammad Fazlul Karim, officer-in-charge of Muktagachha Police Station, said the body was sent to Mymensingh Medical College Hospital for autopsy.
"Without the autopsy report, we can't say whether it was a suicide or murder," he said. The OC said Katu was on the run. A case was filed.
http://www.thedailystar.net/city/stalkers-kill-girls-father-186076
---------
Teachers call for programme's continuation
December 12, 2015
This year's English in Schools programme concluded yesterday through a daylong training at a Rajshahi city hotel where the 52 participating teachers of some 26 Natore, Rajshahi and Chapainawabganj schools urged its continuation in the coming years.
Explaining the ways the programme benefitted them, the teachers also sought reintroduction of a written test assessing students' skills in general grammar, writing complete sentences and comprehensions and ability to listen.
They also urged increasing the number of complimentary copies of The Daily Star the newspaper provides to schools.
The Daily Star and Robi Axiata Ltd jointly completed organising the training for English teachers of secondary schools in four divisions through grammatical and communicative exercises to stimulate English language learning among students.
A page of the newspaper has been dedicated every week for the programme.
Yesterday, many teachers said the programme gave them confidence in imparting lessons and to speak in English inside classrooms. Students were learning to work in groups and were getting better grades, they added.
It provided a scope for interactions with renowned schools and learn about the country and the world, said Tanjina Shirin of Natore Government Girls School.
The programme allayed fears over giving lessons on communicative English, introduced in the new curriculum, she said.
During the training, teachers presented posters prepared by students showing their engagement. Some of those were pasted on the walls of the training venue.
In the training, the teachers were demonstrated different techniques to inspire and engage students in regular classes.
Mohammad Jahidul Islam, regional manager of Robi Axiata Limited, attended as the special guest and Rajshahi District Education Officer Rofiqul Islam also spoke.
Shireen Hasan, founder executive director, X-cel, Institute of Interactive Learning, conducted the training with her team.
http://www.thedailystar.net/city/teachers-call-programmes-continuation-186070
---------
Saudi women vote for the first time in landmark election
12 December 2015
Saudi women are heading to polling stations across the kingdom on Saturday, both as voters and candidates for the first time in this landmark election.
More than 5,000 men and around 980 women are running as candidates for local municipal council seats. More than 130,000 women have registered to vote compared to 1.35 million men.
The election, which does not have quotas for females, is widely seen as a small but significant opening for women to play a more equal role in Saudi society.
Not many women are expected to win seats because of the sheer number of male candidates and because many had no previous experience running campaigns. Many women said they also could not afford the high cost of running a public campaign.
"I don't consider winning to be the ultimate goal ... but it is the right of being a citizen that I concentrate on and I consider this a turning point," said Hatoon Al-Fassi, general coordinator for the grassroots Saudi Baladi Initiative that worked closely with women to raise voter awareness and increase female participation in the election.
"We are looking at it as an opportunity to exercise our right and to push for more," she added.
It's the third time in recent decades that Saudi men are voting in the municipal council elections . The first local council election was held in 2005 and the second in 2011, with only men taking part.
Both male and female candidates relied heavily on social media to reach voters, using Twitter, Facebook and YouTube to announce campaign events and explain their platforms, which include ideas such as creating more youth centers, nurseries, parks and improving roads.
The candidates are vying for around 2,100 council seats with an additional 1,050 seats appointed with approval from the king.
While the municipal councils do not have legislative powers, they do oversee a range of community issues, such as budgets for maintaining and improving public facilities.
https://english.alarabiya.net/en/News/middle-east/2015/12/12/Saudi-women-vote-for-the-first-time-in-landmark-election.html
---------
Accelerating women rights — Awareness is the key, say legal experts
Dec 12, 2015
The modern Saudi woman is no longer confined to playing the role of stay-at-home mom. Law, business, engineering, medicine and design are just some of the fields Saudi women have penetrated, proving their contribution as worthy as their male counterparts. And while the new developments are good for the progress of both Saudi society and the national economy, experts say women's increasingly-prominent role in society has led to a rise in legal issues and many are unable to claim their rights due to a lack of awareness, Al-Riyadh daily reports.
The most common cases being reviewed in the Kingdom's courts involve divorce, child custody, khula (divorce on wife's demand) and infidelity. Labor disputes and harassment cases are also on the rise.
According to attorney Majed Garoub, the number of legal cases involving women is on the rise due to a lack of public awareness on the legal and Shariah rights of women both at home and the workplace.
Abdulaziz Al-Shabrami, a former judge, said personal status cases, which include divorce, alimony and child custody, have become very common. He called on the media to shed more light on women's rights and issues and raise their awareness about these rights.
"Men should be fully aware of the consequences of assaulting or harassing women so that they do not commit such acts. All civil society institutions should recognize the importance of women's rights and champion such rights. They should play an active and positive role in educating women about their rights," he said.
Mazen Al-Oufi, a lawyer, explained that the Shariah does not differentiate between men and women when it comes to legal rights. A woman can be a plaintiff or a defendant and she can represent herself before a judge or appoint legal counsel to appear on her behalf.
"The laws allow women to file a case at the court of the city where they live even if the defendant does not live in the same city. This is an exception made only for women because the laws stipulate that cases related alimony, child custody and visitation rights should be filed at the court of the city where the defendant lives. This exception makes it easy for women to go to a court where they live and file a case without having to travel to another city," he explained.
Sexual harassment
Khloud Al-Rawashda, a lawyer, said more efforts are needed to combat sexual harassment of women at the workplace, a relatively new phenomenon that followed women's entry into the job market.
"I believe that most women today are aware of their rights although many of them resort to the legal system when it's too late and after the damage has been done. Some of them do not make the decision to go to court because of a fear of repercussions at home and from society," she said.
Dr. Lulu'a Al-Braikan, assistant professor at Princess Noura University, agreed that women have gained awareness about their rights and many of them now file for divorce because they do not want to be part of a doomed marital relationship, especially if they are working and financially independent.
"Divorce is no longer viewed as a social stigma as it was in the past. The increase in divorce rates is directly linked with women's financial independence, which is a result of women entering the job market," she said.
http://saudigazette.com.sa/saudi-arabia/accelerating-women-rights/
---------
'ArabNet part of Saudi ecosystem growth'
Dec 12, 2015
Omar Christidis, founder & CEO of ArabNet — the leading Events & Media Company focusing on the Arab web and mobile industry, said ArabNet has been part of a very encouraging growth in the Saudi ecosystem. "We can see that through the multiplication of funding and support organizations such as Endeavor Saudi Arabia, CellA+, OQAL, Qotuf, YAL and others," he said, adding the 4th edition of the exclusive ArabNet Riyadh 2015 on Dec. 14-16 is expected to see many industry leaders participating in the panel discussions. ArabNet also publishes news and analysis of the web and mobile industry on its online portal and print magazine, The ArabNet Quarterly, Christidis said. Before founding ArabNet, Omar worked in private wealth management at a family office in New York on a small team managing $1 billion in diverse assets. Prior to that, he was a consultant at Booz & Co. in the MENA, and worked on varied projects across industries, including energy, technology/media, and public sector. Christidis was selected as a high-impact Endeavor Entrepreneur, and was highlighted by Gulf News Magazine as one of its "30 under 30" list in 2012. Extracts of the interview with Saudi Gazette:
SG: Can you give us highlights about ArabNet Riyadh 2015?
OC: ArabNet Riyadh 2015 will include interesting features, some introduced for the first time at the event. Over 1,000 participants, 80 speakers and 50 exhibitors from the region, the world and Saudi Arabia will network in a setting dedicated to the KSA market. The event includes 15+ workshop hours on a Design+Code day dedicated to designers and entrepreneurs who wish to hone their skills and build better products. The TechFair will fit 1,200m? of corporate display and B2B meetings in the hundreds. Two initiatives are planned for this year: The MatchUp is an exclusive, invitation-only initiative to facilitate connections between business executives and ArabNet competitions' finalists and runners-up. Women Mentoring Women is another initiative designed to engage female attendees with regional and international women leaders through 1-on-1 meetings.
SG: What can we expect in terms of content at the panel discussions?
OC: Firstly, the entrepreneurship panels include discussions about the entrepreneurship landscape in the Kingdom and its relationship with the international ecosystems, leading Investors in technology and their support in growing the startup landscape, as well as enterprises embracing innovation. On digital media, reputation & crisis management for brands and corporations will be discussed, alongside video's exponential growth on mobile, influencers in the online world, local and international Instagram fashion, native advertising and user experience online, new trending platforms on social media, as well as edutainment and kids content. In the eBusiness world, online travel booking will be a major subject, as well as strategic online positioning through luxury commerce management and digital mobile banking. The power of eRetail, Islamic digital economy, solutions and apps serving Islam-conscious users will also be discussed and with respect to technology, panels will include the subject of industrial internet advancement and uses, the machine-to-machine and Internet of Things, augmented and virtual reality, as well as gaming at the forefront.
SG: In what way has the Saudi entrepreneurial ecosystem developed since you started organizing ArabNet Riyadh?
OC: ArabNet has been part of a very encouraging growth in the Saudi ecosystem. We can see that through the multiplication of funding and support organizations such as Endeavor Saudi Arabia, CellA+, OQAL, Qotuf, YAL and others. STC has recently launched InspireU, an incubator/accelerator for startups, focused on Digital/ICT innovation in Saudi Arabia. STC Ventures empowers entrepreneurs to create market leading technology businesses. Mobily Ventures invests in early and growth stage companies across information and communication technology. Flat6labs is a regional startup accelerator program that invests in bright, cutting-edge ideas. AccMakk is a Saudi startup accelerator that is supported by UQU (Um Al Qurra University), and we can see an emergence of Saudi success stories such as UTURN, a Jeddah-based production company revolutionizing Saudi Arabian news and entertainment, as well as Sawerly that has lately announced reception of +210K in seed fund.
SG: Name some issues KSA entrepreneurs face?
OC: One key challenge we wish to highlight this year is the accessing of clients and decision makers. We have created initiatives at the event to give entrepreneurs the opportunity to connect with corporate decision makers who can help them grow their business. The MatchUp is an exclusive initiative to facilitate connections between business executives and ArabNet competitions' finalists and runners-up (a total of 30 entrepreneurs.) The StartUp Demo MatchUp will allow industry leaders to tap into the latest in digital innovation by meeting ArabNet's Startup Demo finalists and runners-up and engage them as potential service providers or partners. The Ideathon MatchUp will allow investors and seed accelerators to tap into the region's most creative ideas by meeting ArabNet's Ideathon finalists and runners-up, and explore their growth potential by offering a seed fund, acceleration or other forms of partnerships.
Women Mentoring Women is another initiative designed to engage female attendees at ArabNet Riyadh with regional and international women leaders. This session will allow women leaders to explore a largely untapped source of entrepreneurial innovation and create a space for female entrepreneurs to actively discuss ways to enhance their career path. As I always say — you cannot win in the MENA region without winning in KSA! And so we act as curators and connectors to key figures in one of the most challenging markets in the Middle East, and offer the possibility for expansion within.
SG: Does ArabNet support other entities within the region's entrepreneurial ecosystem?
OC: ArabNet is the hub for Arab digital professionals and entrepreneurs, creating online and offline platforms for them to connect and learn. ArabNet's vision is to grow the web and mobile sectors in the MENA region, with the aim to build bridges across the region to stimulate growth of the Arab knowledge economy. We support the creation of new businesses and job opportunities for youth through conferences, partnerships, and competitions. Growing the digital industry in the region is a bigger task than one entity's reach, hence the need for us to work together in order to change the way people think and approach digital. The market is big, and we are always ready and willing to collaborate with any entity that aligns with our vision and objectives. These also include media institutions. —SG
http://saudigazette.com.sa/business/arabnet-part-of-saudi-ecosystem-growth/
URL: https://newageislam.com/islam-women-feminism/jewish-muslim-sisters-doin-coexistence/d/105582
New Age Islam, Islam Online, Islamic Website, Womens in Islam, Islamic Feminism, Arab Women, Womens In Arab, Islamphobia in America, Muslim Women in West, Islam Women and Feminism