New Age Islam News Bureau
4 Sept 2014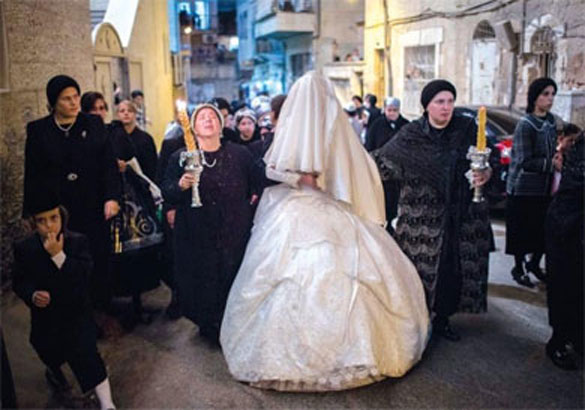 Haredi wedding.Photo credit:YONATHAN SINDEL,FLASH 90
----------
• Egypt Religious Authority Calls For Ban on 'Obscene' Belly Dancing Show
'• IS Tore Our Families Apart, We're Fighting Back', Kurdish Women Army
• Africa: 'Women Must Be Heard in Church and Society'
• 650 Child Abuse Cases Registered Every Month in Turkey
• US Embassy Condemns Brutal Beating and Rape of Women in Kabul
• Lebanese-Danish Woman Suspected Of Aiding ISIS by Selling Stickers
• Women's Income One Third of Men in Turkey
• Makkah: 600 Couples to Marry At Mass Wedding
• Kenya Launches FGM and Child Marriage Hotline
• Policewomen Have a Tough Task On Hand inside Prophet's Mosque
• Scaling Up Cash Transfers for HIV Prevention among Adolescent Girls and Young Women
Compiled by New Age Islam News Bureau
URL: https://newageislam.com/islam-women-feminism/jerusalem-rabbinical-court-refuses-let/d/98901
------------
Jerusalem Rabbinical Court Refuses To Let Widow of 13 Years Remarry
04 Sep, 2014
A widow who was unable to remarry for 13 years due to the refusal of her dead husband's family to allow a little- known ceremony to be performed has recently been denied the right to finally marry her partner of over 10 years by the Jerusalem Rabbinical Court.
The case involves the ancient and now defunct practice of levirate marriage and the arcane ceremony still required to obviate the biblical requirement.
A levirate marriage is a particular stipulation of Jewish law, which is no longer operative, in which a man has to marry his brother's widow if the married couple did not have children.
Any children of the new marriage would carry the name of the dead man, so his name is perpetuated.
Despite the fact that levirate marriage is no longer performed, Orthodox practice stipulates that the "Halitza" ceremony, which symbolically releases the widow and her former brother-in-law from the obligation of marrying each other, must still be performed in order to allow the woman to remarry.
The ceremony requires the widow to take off the shoe of her brother-in-law, known as the "Yabam," and spit in front of him.
Shlomit Lavi, now 42, was happily married to her husband, Shlomi, for a year and a half until he died 13 years ago.
She initially believed that performing the Halitza ceremony would be a formality, but her father-in-law demanded that she pay NIS 200,000 for his son, the brother of her late husband, to perform the ceremony.
Shlomi Lavi's family claim Shlomit misused money that was supposed to be used for his treatment, although she vehemently denies this.
According to Lavi, the Jerusalem Rabbinical Court, in which the case was heard, asked her to compromise, but her former father-in-law was not willing to reduce his demands to a sum she could afford, and his family filed three separate suits in the family courts against her in a process that took 13 years to complete.
Earlier this year, a judge in the family court finally arranged a compromise agreement between the two sides, whereby Lavi agreed to pay the family NIS 20,000, and in return the family promised to permit the halitza ceremony to be conducted.
In July this year, Shlomit flew to Canada, where her brother-in-law resides, and the halitza ceremony was performed under the auspices of an Orthodox rabbinical court in Toronto.
However, in the years during which the family refused to perform the Halitza ceremony, Shlomit found a new partner and had four children with him, but was unable to marry him since Jewish law prohibits a woman from marrying without having performed Halitza.
But despite having finally completing the process, which should have permitted her to remarry, the state rabbinical court in Jerusalem refused in July to grant her permission to remarry, even though it recognized that the halitza ceremony had been performed in accordance with Jewish law.
The rabbinical court ruled that since she had lived with a man and had children with him before the Halitza ceremony was performed, she was no longer permitted to marry him according to Jewish law.
Tehila Cohen, an attorney and rabbinical court advocate for Yad L'Isha: the Monica Dennis Goldberg Legal Aid Center, a women's rights group, represented Shlomit in court.
Cohen noted that there is a basis in Jewish law for the rabbinical judges to prevent Shlomit marrying her current partner, but strongly criticized the Jerusalem court's decision, pointing out that there are also opinions in Jewish law to allow her to marry him.
Senior authorities in Jewish law – including the late Rabbi Ovadia Yosef, a revered arbiter of Jewish law – were lenient in such cases, she added.
Lavi will appeal the case to the Supreme Rabbinical Court of Appeals, although the process will take years because of a large case-backlog in the court.
Speaking to The Jerusalem Post on Wednesday, Lavi strongly condemned the ruling of the Jerusalem Rabbinical Court and its attitude toward her throughout the process.
"The judges were almost abusive toward me, they treated me as if I had slept around or cheated on my husband," she said. "They told me that because of me my late husband has no rest or peace."
Lavi claimed that one of the judges had told her that part of the reason she could not marry her partner was because she is Sephardi whereas he is Ashkenazi.
She also strongly criticized the court for not working harder to persuade her husband's family to agree to the Halitza ceremony, and noted it had never challenged her father-in-law's involvement nor requested that he present a power-of-attorney document to act on behalf of his son, her husband's brother.
Lavi was equally critical regarding the ruling preventing her from marrying her current partner, Alon.
"This is my life, of course I'm going to find someone else and have children," she said. "I was 29 when my husband died, do they think I'll remain alone and not have children for so long? It's the basic right of a Jew in Israel to get married."
Lavi insisted that she views the halitza ceremony as valid within Jewish tradition, although she said it had been hard for her to perform, likening it to a second funeral for her husband .
"Once the ceremony was done it gave me great tranquility that the soul of my husband could find rest and that this burden on my heart was now relieved," she said.
Attorney Cohen was also critical of the Jerusalem Rabbinical Court, and said that it should look for ways to prevent the possible abuse of power inherent in the requirement for halitza.
"The commandment of Halitza gives to a man who is a stranger to the woman, a man who the woman did not choose and did not marry, the power to control her life," said Cohen, who is one of seven attorneys and rabbinical court advocates working for Yad L'Isha, part of the Ohr Torah Stone network of educational and social-justice organizations.
"It is expected of the Beit Din [court] to prevent in every way possible the abuse of this power by the Yabam [brother-in-law] for purposes not connected to the Mitzvah," she said.
"When a woman is chained to the Yabam, she does not however give up on her right to a partner and to bring children into the world. If after the Halitza she wants to get married in accordance with Jewish law, the more lenient opinions in Jewish law should be relied upon to allow her to marry in accordance with Jewish law," she added.
In response to a request for comment from the Post, the Jerusalem Rabbinical Court noted that it was the claims of the family for money that had delayed the performance of the Halitza ceremony.
It said that its ruling preventing her from remarrying was made in accordance with Jewish law, although it noted the more lenient position in Jewish law that would not prohibit her from marrying her partner, and said she could appeal the decision to the Supreme Rabbinical Court.
The rabbinical court did not address Lavi's claim that one of the justices said part of the reason she couldn't marry her partner is because she is Sephardi and he is Ashkenazi.
http://www.jpost.com/Israel-News/Jerusalem-rabbinical-court-refuses-to-let-widow-of-13-years-remarry-374371
------------
Egypt religious authority calls for ban on 'obscene' belly dancing show
04 Sep, 2014
Religious authorities in Egypt have branded an X Factor-style television show for belly dancers "obscene" and called for it to be taken off air.
Dar Al-Ifta, a state body which makes religious edicts, or fatwas, said the programme could be viewed as part of a "campaign to destroy the moral system of the religious Egyptian people."
The programme only serves "extremists who could use [the programme] to reinforce the idea that society opposes religion," it added in a statement on its official website.
The government has recently launched a campaign against atheism in parallel to its crackdown on Islamists affiliated with the outlawed Muslim Brotherhood.
The "critical stage" Egypt is going through requires people to concentrate on "great challenges" such as development, illiteracy, health and terrorism, the religious body said.
The Belly Dancer is the first such competition on Egyptian television. Among its presenters is well-known dancer Dina.
The programme started airing on Al-Qahira wal Nas channel this week. It is broadcast three days a week.
On Tuesday, the channel issued a statement saying it would postpone the upcoming episode after 11 security personnel were killed in an armed attack in North Sinai.
It also said it would add a black stripe to its screen as part of three days of mourning.
http://english.ahram.org.eg/NewsContent/1/64/109899/Egypt/Politics-/Egypt-religious-authority-calls-for-ban-on-obscene.aspx
-----------
'IS Tore Our Families Apart, We're Fighting Back', Kurdish Women Army
04 Sep, 2014
A shot rings out across an oval of dusty land, next to a man-made lake.
There, crouched in front of a light support weapon, is a young Iraqi woman, her hair in a long plait tied with a silver butterfly clip, hanging over her shoulder. Two Syrian Kurdish soldiers instruct her on how to aim and shoot, while a row of women dressed in camouflage sit beind her on a mound of sand, looking on. And awaiting their turn.
Welcome to this remote corner of Syria's Kurdish region, between the city of Derik and the Tigris River, where a group of 11 Yazidi women are being trained to form a resistance army.
They are among more than 1,000 men and women who have joined the Sinjar Resistance Units here and are being prepared to fight by the People's Protection Units (YPG) and Women's Protection Units (YPJ); the female armed-wing of Syria's Kurdish Supreme Committee.
In early August approximately 200,000 of Iraq's estimated 600,000 Yazidis – a minority religious community - fled their hometowns in Sinjar province when the Islamic State gave them an ultimatum: convert to Islam or die.
While most found refuge in the Kurdistan Region, more than 15,000 fled to the Sinjar mountain range, where they were escorted by the protection units through a man-made 'safety corridor' into Syria. They have been sheltering here ever since.
Video footage from the area has shown refugees, including many children, living in unbearably hot conditions, with little food and water and reliant on aid.
But there is another side to the Yazidi experience. For, in driving these people from their homes, the extremist organisation IS - known for its barbaric treatment of women and girls - has unknowingly created an army of women, prepared to fight.
"For myself and for my people I will go to Sinjar to either die or live there freely," 26-year-old Hend Hasen Ahmed tells me.
"We are being trained to use snipers, Kalashnikovs, rocket propelled grenades and hand grenades," she explains.
The Shahid Shadaab military training camp is basic; there is a single run-down building, decorated with an image of Kurdistan Workers' Party (PKK) leader Abullah Ocalan (the symbol of Kurdish resistance).
The women stay in accommodation nearby. They sleep together, eat together and learn to use machine guns together, while calling to God during military chants.
Theirs is a shared goal: to eradicate IS from Sinjar. It is something which focuses the mind and makes the training programme - which lasts just two weeks - more bearable for all of them.
Something approaching camaraderie has developed between these women. The head of the base, a petite Kurdish woman named Dunia, tells me that the female soldiers had been quick to learn because of their strong will and morals.
It is this determination which binds this group of tough, single-minded women together.
As Badrea Sado Sliman tells me, "joining the units has changed my life. Daily life with girl fighters is so different [to the fear of fleeing from IS]."
Only one of Hend Hasen Ahmed's brothers - out of 16 family members - has survived what she describes as "IS genocide" in her hometown. Like most women here, she wears a scarf wrapped around her head and looks older than her years - the harrowing events of the past weeks having taken their toll. When she speaks to the other women, her eyes glisten with tears.
"My husband joined the YPG," she tells me. "He came back [from Syria to Sinjar] to get me and told me I should join too and take our family's rights back".
She speaks of her husband with pride. He is currently back in Iraq fighting IS, so they no longer see each other, or have any contact. But their dedication to this new resistance movement, she says, means they remain close.
"I am not worried about him because he is with the YPG and the YPJ," she adds, as more practice gunfire echoes in the background.
Nofa Xero Resho is the oldest woman here: aged 30. She sits slightly apart from the other women, cross-legged, a look of defeat in her sunken eyes. She appears fragile, something that makes her an unlikely volunteer to battle IS. But, having reached the relative safety of Syrian Kurdistan alone, she feels she has little to lose.
When IS took over, Resho had recently separated from her husband, leaving him with their two children.
She has had no news from any of them since she fled Iraq.
But, she tells me, her voice breaking, she has not joined the Sinjar Resistance Units only for them: "I joined to protect my land […] to protect my religion, all Yazidis are my children."
At 18, Gemed Serham Morad is one of the youngest women here. She is keen to tell me her story. She recalls her family's last night in their hometown of Tel Azer and how they ran to the mountains after the Iraqi Kurdish military forces – the Peshmerga – retreated from Sinjar, creating a power vacuum that was swiftly filled by IS.
They stayed on the mountains for eight days and half of her family remains there to this day. She has no way of communicating with them.
"I joined the Sinjar Resistance Units to protect my land, to protect my religion and to take back my family's rights," she says. "Especially the women, who are now in the hands of IS". Despite her small frame and childlike mannerisms, she shows no fear: "I am not afraid to go to the mountains. I need to clear our land [of IS]. We will go back to my land and we will live there again under my religion," she explains forcefully.
That sense of duty towards a religion that is key to their identity - and towards a homeland that has been battled over by the Iraqi Kurds, Baghdad and now IS - is what holds this female fighting unit together.
"If I haven't a land, I haven't a religion," says 24-year-old Nerges Omer Saleh.
For 22-year-old Nora Qasem Naser, whose gun-shot had earlier echoed through the training ground, the will to fight also carries the weight of revenge. Four years ago, her brother was murdered, in Mosul, at the hands of those who would eventually become members of IS.
"IS killed my brother," she explains, with fire behind her eyes. "From that time I've wanted to take up arms and fight them - and now after what has happened in Sinjar…" she trails off, before steeling herself and looking me straight in the eyes.
"Because of that I am not afraid to go and fight."
http://www.telegraph.co.uk/women/womens-life/11069661/Islamic-State-tore-our-families-apart.-Now-were-fighting-back.-Meet-the-Kurdish-womens-resistance-army.html
------------
Africa: 'Women Must Be Heard in Church and Society'
04 Sep, 2014
The Archbishop of Melanesia, who is also the patron of the Mothers' Union (MU), has urged MU delegates to promote the place of women in the Church and society.
The Most Revd David Vunagi made the statement at the official opening of this 13th Provincial Mothers' Union General Conference at the Melanesia Haus on Monday 25th August 2014.
The theme for the conference was: Faithful Relationship in Unity, Mission and Service.
"Your mission is to liberate women from cultural and religious beliefs that oppress and discriminate against women," Archbishop David said.
"But before you can do that, you must take the initiative to raise your own self-esteem and liberate yourselves from the negative impacts of culture and religion that restrict the place of women in the church and society."
He said women, particularly in Melanesia, have been conditioned by culture and religion to think that their place is at the periphery of any organisation or body of people.
The archbishop urged Church and society, especially in Melanesia, to listen to the voices of women, girls and children who are "always placed at the deep end of the stick". He said it is only when Church and society are listening that they can establish achievable goals to remedy unjust systems and structures.
"It should be part of the witness for the gospel that the church must work towards dismantling the conditioned mentality of the society that put women at the backburner. But women must have trust and confidence in themselves that they are equal partners of men in the mission and ministry of the Church."
It is for such reason that this general conference can help women in Vanuatu and Solomon Islands recognise the negative impacts of the different forms of oppression and discrimination that have continued to hinder them in fully participating in the decision-making processes in the church and in the communities they live.
It is also for such reason that this consultation will help to develop a dynamic process that will help establish a societal environment that is truly free and inclusive to help women fully realise their worth and potential.
The general conference ran from 25th to the 30th August.
Around eighty MU delegates from the nine dioceses across the Anglican Church of Melanesia plus Provincial MU staff took joined the conference.
http://allafrica.com/stories/201409021392.html
------------
650 child abuse cases registered every month in Turkey
04 Sep, 2014
Some 650 cases of child abuse are being registered at the Forensic Medicine Institute (ATK) every month, according to figures provided by the Justice Ministry in response to a parliamentary question.
Some 916 cases were waiting to be inspected by forensic officials at the end of last year, the data also showed.
The response by Justice Minister Bekir Bozdağ to main opposition Republican People's Party (CHP) deputy Sezgin Tanrıkulu also said the number of lingering cases fell sharply from 3,271 in July 2012.
The reports on the mental health reports of victims are completed over a period of six months for children and one year for adults, it also said.
Data collected from Child Watch Centers in just 13 provinces last month showed that 2,792 children suffered sexual abuse last year, while 263 were married despite being underage.
http://www.hurriyetdailynews.com/650-child-abuse-cases-registered-every-month-in-turkey.aspx?pageID=238&nID=71243&NewsCatID=509
------------
US embassy condemns brutal beating and rape of women in Kabul
04 Sep, 2014
The U.S. Embassy in Kabul strongly condemned the brutal beating and rape of four women by a group of men in Paghman district of Kabul city.
"The United States Embassy strongly condemns the brutal robbery, beating, and rape of a family in the Paghman district of Kabul last week," a statement released by U.S. Embassy said.
The statement further added, "We welcome the quick response of the Kabul Police in arresting the suspects. We call on the Afghan judicial bodies to ensure that the perpetrators are brought to justice, and we commend the Afghan government for protecting the basic rights of women and girls."
At least four women were kidnapped along with their other family members a week ago in Paghman district after their car was stopped by gunmen while they were returning from a wedding ceremony.
According to Kabul security officials, at least six people including the head of a 16-people gang have been arrested in connection to the incident and are in police custody.
Three of the suspects were arrested by police from southeastern Ghazni province of Afghanistan late Monday after they managed to flee Kabul city, security officials said.
According to Kabul police chief, Gen. Zahir Zahir, the convicts have confessed to their crimes and have said the victims were also tortured besides they were repeatedly raped.
In the meantime, Aimal Faizi, spokesman for President Hamid Karzai has said the president is personally following the case with the chief justice and Afghan Attorney General.
Faizi further added that the death sentence of the convicts will be immediately signed by President Karzai once the chief justice issues a verdict against the perpetrators.
http://www.khaama.com/us-embassy-condemns-brutal-beating-and-rape-of-women-in-kabul-6625
------------
Lebanese-Danish woman suspected of aiding ISIS by selling stickers
04 Sep, 2014
COPENHAGEN: Police in Denmark say they detained a man and two women, one of whom has Lebanese orgins, on suspicion of supporting the Islamic State group, in violation of the country's anti-terror laws.
Investigator Jens Moeller Jensen says 100,000 kroner ($18,000) were seized during Wednesday's raid.
Ali Daghim, of Palestinian descent, told the AP he sold some 20 car bumper stickers, each costing 50 kroner ($9), which he said had nothing to do with the IS group.
The 35-year-old Daghim denied supporting the extremists, saying the logo on the black-ribbon stickers - white Arabic text on a black background - is used by many Muslims, including the militant group.
They face preliminary charges - a step short of formal charges - for financially supporting a terrorist organization and face up to 10 years in prison if convicted.
http://www.dailystar.com.lb/News/Lebanon-News/2014/Sep-03/269469-lebanese-danish-woman-suspected-of-aiding-isis-by-selling-stickers.ashx#ixzz3COMDK4oR
------------
Women's income one third of men in Turkey
04 Sep, 2014
Turkey's failure in narrowing the gender pay gap has been highlighted by a United Nations Development Program (UNDP) index, which shows how the gross national income (GNI) is three times higher for men.
According to the Gender Development Index (GDI), which for the first time is measuring the gender gap in human development achievements for 148 countries, the estimated GNI for men in Turkey is $28,318, compared with women who earn $8,813.
Turkey, which was listed at 118th out of 148 countries, ranking among the "medium human development" countries, failed in several other aspects, including women's education and several development indicators.
Between 2002 and 2012, the average number of years of schooling for women is 6.4 years, in comparison with men where the rate is 8.7 years. In line with realities, the expectations of schooling for women also remain at 13.8 years, whereas it is 15 years for men.
http://www.hurriyetdailynews.com/womens-income-one-third-of-men-in-turkey.aspx?pageID=238&nID=71255&NewsCatID=347
------------
Makkah: 600 couples to marry at mass wedding
04 Sep, 2014
MAKKAH — With the backing of Emir of Makkah Prince Mishal Bin Abdullah, the charitable society for assisting youth to get married will hold its sixth mass wedding Thursday. The society's secretary-general, Dr. Saeed Al-Nami, said the event will witness 600 couples tying the knot. He added that the society provides couples with financial assistance, and gives them training to lead a healthy family life. He noted that more than 3,528 individuals have benefited from this financial assistance and 6,971 have joined the training program so far.
http://www.saudigazette.com.sa/index.cfm?method=home.regcon&contentid=20140904216956
------------
Kenya Launches FGM and Child Marriage Hotline
04 Sep, 2014
Nairobi — Kenya has launched a hotline to rescue girls from female genital mutilation (FGM) and child marriage and to help prosecute these crimes.
Kenya stepped up the fight against FGM, a traditional practice which involves the partial or total removal of the external female genitalia, with the creation of a prosecution unit in March that has 20 prosecutors based in FGM-practising communities around the country.
"If we get this information beforehand, it will actually assist in prevention of the practise because we can organise our officers on the ground to raid the place and rescue the girls," Christine Nanjala, head of the anti-FGM prosecution unit, told Thomson Reuters Foundation.
The hotline number - 0770 610505 - was launched three weeks ago and goes through to one of the unit's members of staff.
"The line is on 24-7," said Nanjala. "Any time you make a report, (a staff member) will attend to it, document it and then we react."
BLED TO DEATH
The unit has been active in prosecuting cases of FGM and educating communities about the crime. It recently charged two guardians with murder after a 13-year-old Maasai girl, Rehema Lesale, bled to death in April.
It is also investigating the case of a 16-year-old Pokot girl, Alvina Noel, who bled to death after giving birth several days after she was cut.
Nanjala said she hopes the hotline will speed up her unit's work.
"For the Pokot incident, unfortunately it actually came out in the paper," she said.
"This girl died on July 30, so we are getting this information one month down the line. But we have used our networks on the ground and we are actually on top of it right now."
Action will be taken after the unit, which is part of the Office of the Director of Public Prosecutions, has completed its investigations, she said.
The unit is also following up on a report in Wednesday's Daily Nation about four girls being circumcised in Baringo County, 300 km north-west of the capital Nairobi, a week ago.
"According to Ms Sarich Cheptakor, the mother of one of them, girls (from the Pokot ethnic group) must be circumcised for them to become adults and "complete" women," the newspaper reported.
Kenyan law provides for life imprisonment when a girl dies from FGM which can cause haemorrhage, shock, complications in childbirth, fistula and severe pain during sexual intercourse.
Around 27 percent of Kenyan women and girls have been circumcised, with the highest rates among the Somali, Kisii and Maasai communities.
http://allafrica.com/stories/201409040640.html?aa_source=sptlgt-grid
-------------
Policewomen have a tough task on hand inside Prophet's Mosque
04 Sep, 2014
MADINAH — They help the elderly and sick, guide pilgrims, crack down on pickpockets, break up fights among visitors and even help find girls who take refuge inside the Prophet's Mosque after running away from their families.
However, the biggest difficulty female police officers at the Prophet's Mosque face is dealing with the female visitors who suffer from mental problems, said the chief of the women's police station at the holy mosque.
Thamra Al-Shehri said: "Dealing with such patients need a lot of wisdom and patience. Once we control them, we hand them over to pertinent officers who take them outside the mosque."
The female officers are also responsible for cracking down on pickpockets and beggars as well as runaway maids.
They ensure that the security situation inside the mosque is safe and under control and there is nothing that poses a danger to female visitors.
Many times the officers have helped identify girls who run away from their families and take refuge in the Prophet's Mosque.
Al-Shehri said: "Once we have received a report of a runaway girl, we send officers all over the women's section to comb the area and search for the girl. "When we find them, we call their parents and hand them over."
Sometimes an argument or quarrel might occur between two female visitors, mostly from different nationalities, over their possessions. The female officers intervene immediately and break up the fight before things get out of hand. "If the matter can't be solved at my office, I refer it to the central police station to take necessary measures," she said.
Any lost items found on the floor of the mosque will be handed over to the women's police station.
If the owners cannot be found within a month, the items will be sent to the Security Forces Command where they will be sold and the money given to the poor.
Brig. Gen. Muhammad Al-Ahmadi, commander of the security forces, said there are 30 female officers who are responsible for the security of the women's sections.
"They provide different services such as helping visitors and the elderly, especially those who suffer from difficult medical conditions," Al-Ahmadi said.
Amal Al-Radadi, security coordinator, said a new center will be set up to qualify female officers and help them cope with the pressures of work.
http://www.saudigazette.com.sa/index.cfm?method=home.regcon&contentid=20140904216948
------------
Scaling Up Cash Transfers for HIV Prevention among Adolescent Girls and Young Women
04 Sep, 2014
Now a 19-year-old university student in South Africa, Noxolo Myeketsi started receiving a social welfare grant in 2005. Part of a state-run programme to assist poor households, the cash transfers allowed her to stay in school and her grandmother to buy food and pay their bills.
The grant changed Noxolo's life for the better. Other girls turned to having sex, often with older men, in exchange for basic needs, and potentially exposed themselves to sexually transmitted infections and HIV.
"I believe that without the grant assistance, I would not have been able to make healthy decisions in my life. Maybe I would have ended up being a sugar daddy's girl, like others from my area, or ended up contracting HIV," Noxolo said.
Social protection schemes, including financial incentives, can make a difference in a number of ways. The World Bank reports that, globally, there is strong evidence that cash transfers improve the education, health and lifelong income of beneficiaries.
"Cash transfer programmes work for HIV prevention and a host of other human development outcomes as well, and they are scalable," said David Wilson, Director of the World Bank's Global HIV/AIDS Program.
Studies conducted in South Africa show that small cash grants provided to poor households allow teenage girls to make safer sexual choices and can significantly reduce the number of new HIV infections. When psychosocial care and support are added to the cash, the results for girls are even better.
At the UNAIDS Programme Coordinating Board (PCB) meeting held in Geneva in July a thematic session was organized on addressing the social economic drivers of HIV through social protection, at which Noxolo spoke about the positive impact grants can have.
Following up on the PCB meeting, UNAIDS and the World Bank pledged to assist governments in the process of scaling up social protection programmes, including cash transfers, for HIV prevention in eastern and southern Africa, covering Botswana, Kenya, Lesotho, Malawi, South Africa, Swaziland, United Republic of Tanzania and Zambia.
"It is befitting that South Africa is the centre of the initiative because the country accounts for 23% of sub-Saharan Africa's new HIV infections, 18% of the global HIV burden and has one of the world largest social protection programmes," said Benjamin Ali, UNAIDS Country Director for South Africa.
Countries and partners will be urged to collaborate in a comprehensive review of social protection systems. Proposals to make such systems HIV sensitive include modifying age bands and other inclusion criteria to ensure that the groups most affected and at risk of HIV infection are covered, providing some cash directly to girls and young women and linking cash incentives to their adherence to HIV prevention and treatment programmes.
http://www.unaids.org/en/resources/presscentre/featurestories/2014/august/20140818cash-transfers/
------------
URL: https://newageislam.com/islam-women-feminism/jerusalem-rabbinical-court-refuses-let/d/98901