New Age Islam News Bureau
27 Jan 2014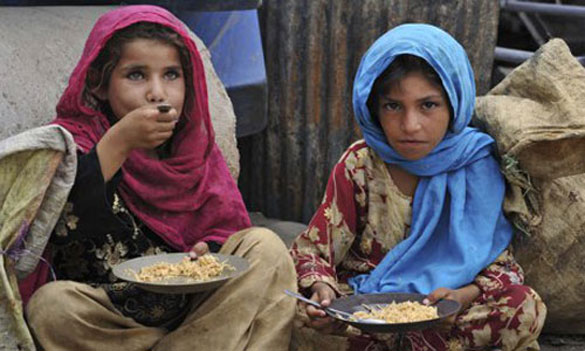 Afghan children eat a meal of rice in Jalalabad. More than half are believed to be stunted because of inadequate food. Photograph: AFP/Getty Images
------
• With Greater Awareness, More Sex Abuse Victims Speaking Out
• Women, Children Allowed To Leave Besieged Syria City
• UK Woman Smuggles Terror Money to Syria
• Countries Urged To Set Minimum Age of Marriage
• Saudi Girl Designs Aircraft Interiors
• Saudi Ministry to Set Up Hotline for Battered Women
• Malala in Britain's 'Most Influential' List
• A Brilliant Scheme for Making Sure Syria's Child Refugees Get an Education
• Women, Children Face Malnutrition in Neelam Valley, PoK, Says Survey
• Half of Afghan Children Suffer Irreversible Harm from Malnutrition
• 180 Saudi Women Land Hotel Jobs
Compiled by New Age Islam News Bureau
URL: https://www.newageislam.com/islam,-women-and-feminism/new-age-islam-news-bureau/jeans-wearing-women-ruling-kpk--jamiat-ulema-e-islam-f/d/35468
-----------
Jeans-Wearing Women Ruling KPK: Jamiat Ulema-e-Islam-F
January 27, 2014
PESHAWAR - Central Ameer of Jamiat Ulema-e-Islam-Fazl (JUI-F) Maulana Fazl ur Rahman has lambasted the Khyber Pakhtunkhwa government for following Western agenda and termed the PTI-led government is a system which is run by NGOs.
"There is nothing like the government in Khyber Pakhtunkhwa. Jeans-wearing women are running the provincial government," he said.
"The US and Jewish agents in KPK are chanting anti-West slogans but behind the scene, they are working on western ideas," said JUI-F chief while addressing an impressive show against the growing lawlessness and price hike in the province here on main Grand Trunk Road on Sunday.
Thousands of activists and workers of JUI-F across Khyber Pakhtunkhwa attended the protest rally against the provincial government. The participants were carrying the party flags and placards, demanding establishment of sustainable peace and against the growing price hike in the province.
Besides, JUI-F Senator Abdul Ghafoor Haideri, the party central leader and Federal Minister Akram Khan Durrani, Senator Ghulam Ali, JUI-F spokesman Jan Mohammad Achakzai, Provincial Information Secretary Jalil Jan, JUI-F provincial and district Ameer from KPK and Fata and others also attended the protest rally.
Fazl Rehman added the current rulers in the province were bent upon destroying the culture of KPK and spreading immorality. He also criticized the Khyber Pakhtunkhwa government for growing lawlessness, incidents of kidnapping for ransom, price hike and unemployment in the province. "The PTI-led provincial government is a representative of western ideas, which has been involving to diminish Pakhtuns culture, on directions of foreign mentors," JUI-F chief said. He also said that the KPK government was a product of massive rigging in the last year's general elections. He viewed that Islam is the only system for progress and development of humanity.
"Our culture was attacked by the West," he said, added now war was fought on culture front and the West wants to damage Pakhtuns culture and traditions. He said that they were holding protest and sit-ins against drone attacks and the US and Jewish agents were promoting slogans of their foreign mentors in Khyber Pakhtunkhwa. He also termed the protest against drone strikes mere an exhibition.
The JUI-F chief said the vulgarity is being promoted among the people. He said the West has failed to convince him to follow its agenda. He said the Khyber Pakhtunkhwa bureaucracy is not playing its role in policy making, as foreign NGOs are formulating policies and incumbent PTI-led government is being run from Islamabad.
Without naming PTI Chairman Imran Khan, he said that those who were raising voice against polls rigging in Punjab should look into Khyber Pakhtunkhwa. He said that the KPK government was a product of massive rigging committed during the last year's general elections.
Regarding talks with Taliban, he said that government should sort out peaceful resolution of all issues. He said that force policy would not produce positive results. He said the job of security forces is to play role for establishment of peace
"The JUI-F tribal jirga is ready to play role for establishment of sustainable peace in the country," he added. He said that if joint resolutions of parliament were fully implemented then peace would be ultimately restored in this country.
Similarly, he said the government had already got mandate through All Parties Conference but it was not respecting and honouring the national consensus.
They also passed a unanimous resolution, asking the government to provide protection to traders, initiate dialogue with Taliban, ensure appointment of teachers on merit basis and stop looting the funds of KPK in the name of Islam.
Fazl said writ of the state should be established at every cost either by operation or by talks. A jirga formed by the Jamiat Ulema-e-Islam is willing to play its role to restore peace from Fata to other parts of Pakistan, he added.
Fazl said the government should immediately announce a ceasefire and give tribal jirgas a chance to negotiate.
http://www.nation.com.pk/national/27-Jan-2014/jeans-wearing-women-ruling-kpk-fazl
-----------
With Greater Awareness, More Sex Abuse Victims Speaking Out
January 27, 2014
Increased awareness and more widely available information about violence against women have encouraged more victims to speak up and report the abuse they have suffered, an expert says.
"It's not that the number of the cases has drastically increased," Irma Martam, a psychologist from Pulih Foundation, which helps women overcome the trauma of sexual abuse, said on Friday.
"I believe that violence [against women] has been with us for a long time but only now are people becoming more aware that there is a way to report these cases."
Irma said more victims had found the courage to come forward and reveal what they had suffered.
"People used to think domestic affairs were best kept domestic and therefore other people should not interfere, but now people have gradually realized that they do not have to endure constant abuse," she said.
Irma said that as women grew more confident of their rights, people would think twice before committing violence against them.
The National Commission on Violence Against Women, or Komnas Perempuan, reported between 1998 and 2010, it received reports of more than 90,000 cases of sexual violence against women, with the number rising each year.
It has attributed the increase to more women coming forward rather than a rise in the prevalence of abuse, but still warns that the number of cases being reported represents a tiny fraction of all cases of abuse against women.
The Legal Aid Institute for Justice, orLBH Keadilan, has demanded that the House of Representatives immediately pass legislation to tackle sexual violence.
LBH Keadilan says the increase in the number of reported cases indicates there are few safe places left for women, with abuse being reported everywhere from public transportation to the work place to the home.
"It is also not uncommon for sex abuse to happen at education facilities, or even at home, a place that should be the safest place for women," said Halimah Humayrah Tuanaya, the director of advocacy at LBH Keadilan.
In a recently reported high-profile case, a 28-year-old woman claimed to have been groped while unconscious at a TransJakarta bus shelter last Tuesday.
The woman reportedly fell ill shortly after boarding a bus at the RSI Cempaha Putih shelter in Central Jakarta, suffering an asthma attack before passing out, according to police.
Sr. Cmr. Rikwanto, a spokesman for the Jakarta Police, said she was helped off the bus at the Harmoni shelter in Central Jakarta and taken into the generator room for treatment, where four TransJakarta employees allegedly groped her as she was half-conscious.
Each was later charged with committing an indecent act and faces a maximum sentence of 32 months in prison if convicted.
Rikwanto advised women to only take public transportation with women-only sections, such as the TransJakarta.
http://www.thejakartaglobe.com/news/with-greater-awareness-more-sex-abuse-victims-speaking-out/
----------
Women, children allowed to leave besieged Syria city
January 27, 2014
Women and children trapped in a besieged Syrian city will be permitted to leave "immediately" under a deal that marked the first tangible sign of progress in peace talks.
"What we have been told by the [Syria] government side is that women and children in the besieged area of the [Homs] old city are welcome to leave immediately," Agence France-Presse quoted U.N. mediator Lakhdar Brahimi as telling a news conference after talks with government and opposition delegations.
"Hopefully starting tomorrow, women and children will be able to leave the Old City in Homs," Brahimi said.
The subject of Homs -- where hundreds of families in the Old City are living under siege with near-daily shelling and the barest of supplies -- has been discussed at length since the two parties started face-to-face talks on Saturday.
"You know that the center of the city has been under siege for a very, very long time and now I hope that we are approaching a solution for at least the civilians." Brahimi added.
The veteran diplomat said the opposition delegation, which has been calling on the government to release tens of thousands of detainees, had agreed to a government request to provide a list of detainees held by armed rebel groups.
Brahimi also said he would meet the two sides jointly on Monday, when they are expected to discuss opposition demands for the creation of a transitional governing body.
The mediator said he was pleased with the general tone of peace talks.
"I am happy, because in general there is mutual respect and they are aware of the fact that this attempt is important and we must continue. I hope that this mood will continue."
However, he acknowledged that the agreement on the city of Homs fell short of his hope to send a humanitarian aid convoy, the Associated Press reported
But, he said, "to bring Syria out of the ditch in which it has fallen will take time."
AFP also reported him saying that the talks had touched on continued efforts to have convoys of humanitarian aid brought into Homs.
Homs, one of the first cities to rise against President Bashar Assad, once more came under mortar attacks from the government.
Assad's future
Brahimi defended the pace of the talks, which have yet to touch upon the issue of President Bashar al-Assad's future.
"I think being too slow is a better way than going too fast," he said. "If you run, you may gain one hour and lose one week."
Brahimi said the thorniest topic - a possible transitional government - will not come up until at least Monday.
"I think this belittles the importance of this conference and the goal that was drawn for it," said Bouthaina Shaaban, an adviser to Assad.
The Western-backed opposition, made up largely of exiled Syrians, said Assad has lost legitimacy and can no longer lead a country after unleashing the military on largely peaceful protests nearly three years ago.
While the government accused the rebellion with being rife with terrorists and that Assad is the only person able to end the fighting that has killed more than 130,000 people.
Homs was considered a promising place to start the negotiations.
The city was one of the first areas that plunged into armed conflict in 2011. Neighborhoods in the old city have been ravaged following repeated government assaults to reclaim control from rebels.
The city had a pre-war population of 1 million, but most residents have since fled. Activists say about 800 families are trapped, without regular access to food, medicine and basic necessities.
"The regime is blocking all convoys to Homs and has been doing so for months," said a senior U.S. official, speaking on condition of anonymity because the talks remain sensitive. "The situation in Homs is extremely urgent. Anything the government says to the contrary is false."
Monzer Akbik, an opposition spokesman, said the coalition was still determined to stay for the political talks set to begin Monday. He accused the government of using "stalling techniques."
Violence ranges on Damascus outskirts
Meanwhile, Syrian rebels and government troops clashed Sunday in restive districts of Damascus, a monitoring group said, as representatives of the warring sides met for peace talks in Geneva.
"Fierce fighting raged between rebels and troops in Jobar (in eastern Damascus) and the Port Said area of Qadam (in the south)," AFP quoted the Syrian Observatory for Human Rights as saying.
A mortar round fired by rebels hit the city's central Qassaa district, wounding seven people, state news agency SANA reported.
Meanwhile troops pounded opposition-held Douma northeast of the capital, the Britain-based Observatory said.
It also reported the choking siege of the Yarmuk Palestinian camp in southern Damascus by regime troops had claimed six more lives on Sunday because of food and medical shortages.
http://english.alarabiya.net/en/News/middle-east/2014/01/26/Women-children-allowed-to-leave-besieged-Syria-city-.html
-----------
UK Woman Smuggles Terror Money to Syria
January 27, 2014
A 26-year-old British woman was charged with terror offenses after trying to smuggle 20,000 Euros ($27,364) to rebel forces in Syria.
The woman, Nawal Msaad, was charged along with her partner in crime, 27-year-old Amal Elwahabi, becoming the first British women to be charged with terror in connection to the Syria war.
Msaad was arrested at Heathrow Airport as she was trying to board a flight to Istanbul, Turkey. In the process it came out that she had the money wrapped in cling film in her underwear.
The woman is a university student in Holloway, North London, and she and her accomplice are both the children of Moroccan immigrants, reports the British-based Daily Mail.
Msaad and Elwahabi appeared at a Magistrates' Court last Thursday; neither submitted a plea to the charge. The two were remanded, and their case will continue on January 31.
The arrests hint at a larger trend, as Richard Walton, head of the British Counter Terrorism Command, reported that British teenage girls have been drawn to aid the Syrian rebels.
In the first 3 weeks of 2014 reportedly 14 terror arrests related to Syria have been recorded in Britain, reveals Walton. That figure is more than half the total of similar arrests in 2013.
This newer trend is the latest in an ongoing upsurge in British women going to Syria to join the jihadist movement.
Walton warns that it is "almost inevitable" that such suspects would attempt attacks in the UK after returning from Syria, and indeed reports indicate that foreign nationals are being trained in Syria to conduct attacks in the UK.
In response, Britain has been revoking the citizenship of its nationals who join the Syrian civil war, according to reports last week.
Talks are currently underway in Geneva in an attempt to bring a diplomatic solution to the bloody war now in its third year. On Sunday, President Bashar Assad agreed to allow women and children to leave rebel-held areas of Homs, where they have been under siege for months.
http://www.israelnationalnews.com/News/News.aspx/176761#.UuWFHNLTn4Y
-----------
Countries urged to set minimum age of marriage
January 27, 2014
Dubai: Child marriages take place in many parts of the world, with some countries facing an even wider spread of the practice than in the Arab world.
Activists have urged governments around the world to introduce laws setting the minimum age for marriage at 18 for both boys and girls to prevent children being victimised.
In one case, an Afghan family gave their 3-year-old daughter to another family so she could marry their son when she was older. She was beaten and treated like a slave at the hands of the family. At the age of ten, she was raped by her future husband's uncle. She suffered serious injuries and had to be hospitalised. She was eventually married off to a teenager in the family.
Later, she got divorced. Then at the age of 12, she was forced to marry her rapist, who continued to abuse her and would make her sleep in the stable with the animals. She managed to run away, and the police helped her find a shelter with a women's organisation. Her "husband" was arrested and sentenced to 13 years in prison for rape.
In the absence of accurate statistics in Afghanistan, Unicef estimates that 46 per cent of girls are married off before the age of 18 and 15 per cent of them before the age of 15.
In Mauritania, a 11-year-old girl died after being force fed from the age of seven to make her look more marriageable, the report said.
That example was one of several ugly and inexcusable cases of child abuse and child marriages mentioned in a recently published report by Equality Now, a member of the Girls Not Brides (GNB) global advocacy group.
"Child marriage legitimises human rights violations and abuses of girls under the guise of culture, honour, tradition and religion," wrote the report's editor, Jacqui Hunt.
"Its far reaching effects go beyond the individual, affecting the entire community, and even national and global development. Ending child marriage must be a global priority".
The report shed light on the laws and practices surrounding child marriage in 18 countries, including Chad, Eritrea, Guatemala, India, Mauritania, Morocco, Pakistan, Papua New Guinea, Saudi Arabia, Tajikistan, Thailand and Yemen.
The report noted that the rate of child marriage is 66 per cent in Bangladesh and 6 per cent in the Central African Republic and Chad. In India, 47 per cent of girls are married before they turn 18, it added.
http://gulfnews.com/news/gulf/yemen/countries-urged-to-set-minimum-age-of-marriage-1.1282248
-----------
Saudi girl designs aircraft interiors
January 27, 2014
JEDDAH – A young Saudi woman has designed the interiors of three aircraft belonging to Cairo-based Nesma Airlines, an Egyptian company that was set up in a joint venture with Saudi investors.
Arwa Salim also designed the logos and chose the colors for the aircraft's fuselage, Makkah daily reported.
Salim, who has been working for Jeddah-based Nesma Holding Group for seven years, said it was not an easy job.
"Graphic designs and decorations require creative artistic talents and knowledge about various cultures," said Salim, who studied graphic design at a Jordan university.
She said she had difficulty from the outset in selecting the most appropriate colors for the airplane interior and fuselage.
For the latter, she decided to go with grey, representing Nesma Holding Company, and yellow, representing Egyptian culture.
She said: "It was a tough job for me because I had to bring out the company's airplanes in terms of colors and make them distinctive from other global airliners.
"I was jumping with joy when I learned that my designs had been approved by the authorities."
She attributed her success to Nesma Airlines and her self-confidence.
Salim said she feels pride every time she sees a Nesma Airlines aircraft soaring in the sky with the yellow and grey logo on its body.
http://www.saudigazette.com.sa/index.cfm?method=home.regcon&contentid=20140127193834
-----------
Saudi Ministry to Set Up Hotline for Battered Women
January 27, 2014
RIYADH – The Ministry of Social Affairs is reportedly considering setting up a hotline for abused women. The idea of having such a hotline was first mooted during the recent regional conference that marked the launch of the child support hotline, said Dr. Maha Al-Maneef, executive director of the National Family Safety Program (NFSP). The NFSP called upon the ministry's representatives to set up a hotline for women who fall victim to domestic abuse. These calls came after the NFSP received several calls at the child abuse hotline from women who said they were being abused.
http://www.saudigazette.com.sa/index.cfm?method=home.regcon&contentid=20140127193873
------------
Malala in Britain's 'most influential' list
Agencies | Jan 27, 2014
LONDON: Nobel Prize-winning Indian-origin author V S Naipaul and Pakistani teenage campaigner Malala Yousafzai have been named among Britain's 500 most influential people across different fields.
The first-ever 'Influential 500' list, compiled by specialist publisher Debrett's and 'The Sunday Times' newspaper, includes personalities in 25 areas chosen by experts in their field. While Yousafzai makes the cut in the 'charity and campaigning' field, Naipaul stands out as the only Indian-origin author in the 'writers' category.
http://timesofindia.indiatimes.com/world/europe/Malala-in-Britains-most-influential-list/articleshow/29432891.cms
-----------
A brilliant scheme for making sure Syria's child refugees get an education
January 27, 2014
Slowly but surely a revolutionary idea is being put into operation in the most unpromising area of the world.
While more than 100 years ago the Red Cross established the right to healthcare in conflict zones, the right of refugee boys and girls to continue their education, irrespective of borders, has yet to be won.
But this week in the village of Akroum, which is in the extreme north-east corner of Lebanon close to the Syrian border, a group of exiled Syrian teachers teamed up with Akroum's local village school to "timeshare" the building. For several half days each week, outside of normal school hours, they teach the refugee children.
These teachers are unpaid volunteers who are taking children off the streets, preventing many from becoming child labourers or even beggars, and already doing what only education can do – providing the children with hope that there is a future worth preparing for.
Now, a small Scottish charity, Edinburgh Direct Aid – moved by their plight and aware that the language of Lebanese education is French and English and that Syria is Arabic – is delivering textbooks in Arabic to the school and have offered to fund timeshare projects across the country.
The Akroum experiment is a small illustration of what can be done to meet the educational needs of children in the most appalling of situations. It challenges the international community to support a big idea: for the first time in conflict zones providing universal education provisions on a similar basis for all 400,000 school-age children who are now Syrian refugees in Lebanon. By using 1,500 schools dotted across Lebanon in areas where refugees are huddled in tents, prefabricated huts and tenements, this could be achieved.
With the support of the UN secretary-general, Ban Ki-moon, and the education campaigner Malala Yousafzai, an ambitious plan has been drawn up costing $195m (£117m) a year to repeat across Lebanon what the Akroum school and the Syrian exiled teachers have achieved for one small area.
The simplicity of the concept, crafted by Kevin Watkins, director of the UK-based Overseas Development Institute, is that it can be operational within weeks. Instead of having to build new camp schools for refugees, exiled Syrian children will use existing Lebanese schools on this two-shift system. Members of the public have an opportunity to personally donate to make the plan a reality through any one of 500,000 Western Union outlets throughout the world, with the money transfer company matching the first $100,000 (£60,000) donations.
Lebanon is dealing with a refugee crisis on an unimaginable scale. Half of the 2 million Syrians already displaced from their country have fled for neighbouring Lebanon, where they make up one in four of the population. Every month an additional 50,000 make the same journey. But this project has won the support of the Lebanese government, whose prime minister Najib Mikati has this week reiterated his support for the Global Education Initiative,showing that in even the most hopeless of situations it is important to ensure that a generation of children does not miss out on education.
The appeal comes just a week after the second international pledging conference for Syria, which was held in Kuwait City on 15 January and raised only one third of the emergency aid the UN needed. Currently education is the main loser as health, nutrition and shelter take priority in the allocations. Last year only one pound in six of the appeals for education should be met.
But young people need more than food, a home and vaccinations: they need hope, which is what education offers, allowing children to plan for the future and preventing young people, already scarred by war, from becoming a "lost generation".
If, through the creation of the Red Cross and later Médecins Sans Frontières, the right to healthcare even in conflict has become the norm for more than a century, then we can achieve the same for education in 2014, and prise open a window of hope amidst the increasing despair.
http://www.theguardian.com/commentisfree/2014/jan/24/syria-child-refugees-school-education-gordon-brown
-----------
Women, Children Face Malnutrition In Neelam Valley, PoK, Says Survey
January 27, 2014
The mountainous and remote Neelum valley in the extreme north of Pakistani-administered Kashmir appears to be facing a serious problem of malnutrition among women and children, reveals a United Nations survey.
Conducted by the World Food Programme-funded Community Based Management of Malnutrition (CMAM), the survey is based on a sample of nearly 23,000 women and 8,000 children who were examined last year.
"Out of them, 32 per cent women and 22 per cent children were found to suffer malnutrition" said Malik Saadat, an assistant monitoring officer of the project.
He said about 4,500 women and more than 2,000 children have been provided food supplements under the program so far, and the process is continuing.
Neelum valley is located along the Line of Control (LoC) and has been exposed to militant conflict for two decades.
The picturesque Himalayan territory of Kashmir is divided between India and Pakistan by the UN-monitored de facto border of LoC but is claimed in full by both countries. Of more recently, the LoC has also been a scene of clashes and firing from the two sides.
The conflict has left many women widowed and children orphaned, and caused huge losses to public and private property.
Meanwhile, the WFP-funded surveys are being conducted in three other districts of Kashmir as well. All are located along the LoC and have been exposed to militant conflict for two decades. They include Muzaffarabad, Haweli and Hattian Bala
The region also suffered a major earthquake in 2005.
"In all the four districts, including Neelum valley, more than 32,000 pregnant or lactating women and 76,500 children were examined during the four months ending December 2013.Out of them, 38 per cent women and 21 per cent children were found to be malnourished," Saqib Bukhari, a program manager in the project, said.
— Zulfiqar Ali contributed to the reporting of this story
http://www.dawn.com/news/1083053/women-children-face-malnutrition-in-neelum-valley-says-survey
-----------
Half of Afghan children suffer irreversible harm from malnutrition
January 27, 2014
Afghanistan is raising a stunted generation whose hobbled development could spell disaster for the country's feeble economy and undermine the impact of billions of dollars in aid poured into health, education and other areas.
More than half of Afghan girls and boys suffer damage to their minds and bodies that cannot be undone because they are poorly nourished in the crucial first two years of life, doctors and other experts say. The finding raises serious questions about the legacy of more than 10 years of western involvement in Afghanistan.
"After the age of two years, stunting is largely irreversible, and has an impact on growth and development and cognitive function," says Carrie Morrison from the World Food Programme. "Over the longer term, it can have a very damaging effect on the national economy. Young people are not able to attain what they should be able to attain. Women who marry young and are stunted themselves give birth to a small infant and the cycle goes on."
Children who are not getting enough nutrients from their food suffer from what is known as chronic malnutrition. The problem afflicts poor countries worldwide, but in Afghanistan it is particularly widespread and persistent.
A decade after the fall of the Taliban government, 55% of the country's children are stunted because of inadequate food, Afghan government and UN data shows.
The statistic is a damning one for western powers that have poured billions into Afghanistan to fund development and reconstruction. The US alone has spent $90bn (£54bn). Such funding aimed to modernise Afghanistan, but return on the spending seems to have been low.
As foreign troops prepare to head home, violence is spreading and Afghanistan remains one of the world's poorest countries, with low life expectancy and poor healthcare for mothers and young children. The malnutrition problem is caused by the basic poverty of those who cannot afford healthy food, as well as poor hygiene and healthcare, the tradition of child marriage, and a web of other issues.
"We have whole families where food insecurity means they are all malnourished, but we [also] have rich families that have one child who is sick," says Alam Mohammad, 25, a doctor who swapped the chance of an easy city practice to work in Feroz Nakhchair, on the gruelling frontline of a fight for the country's future.
Half an hour's drive down a dirt track from the nearest country road, in a valley on the fringes of Taliban territory, every day he sees dozens of cases like Mojabeen, a thin 19-year-old mother of three whose leopard-print dress beneath her burqa seems incongruous with her life of constant hardship. She and her family live in a one-room house on a plain that is periodically flooded.
Her husband earns $2 or $3 a day, if he can find work, which is not enough to feed the small family. "My second child is living with my mother, as we can't provide for him," says Mojabeen, as she waits for her new baby to be weighed and examined.
Her children were at a disadvantage even before they were born because Mojabeen was so starved of nutrients that she could not pass on what they needed during pregnancy. In a district of around 13,000 people, the problem is so widespread that a programme set up for around 100 pregnant and breastfeeding mothers is serving more than four times that number.
Nevertheless, it can be hard for charities and the government to focus attention or funds on chronic malnutrition when the country is battling a more dramatic type of hunger, which is more straightforward to address: acute malnutrition.
In clinics nationwide, tens of thousands of babies and toddlers have experienced such severe shortages of calories that they have the protruding bones and distended stomachs familiar from photographs of famine victims. Acute malnutrition affects more than one in four children in some areas, but it can usually be resolved relatively quickly with a steady supply of high energy Plumpy'Nut feeding paste.
In some ways, children who suffer from chronic malnutrition are harder to treat as their need for help may not be so obvious.
"You might see a child who appears underweight, or short for their age, but it doesn't really tell you much unless you line them up against a well-nourished child. But it [chronic malnutrition] prevents them growing up to lead a more productive life," says Morrison.
She says a lack of iron, which affects three-quarters of Afghan children, reduces activity and productivity. In young children, it disrupts brain development, with effects including "stunting, sickliness, poor school attendance, and lower levels of concentration and memory". A lack of iodine is the world's leading cause of preventable mental impairment, and a lack of vitamin A hobbles the immune system, pushing up death rates among children under five. So severe is the damage that tackling it by lacing basic foods such as salt and flour with micronutrients has been rated one of the most economical ways to do good.
"In the worst-affected countries, the benefits of supplementation with vitamin A and zinc can be up to 100 times higher than the costs," according to a research paper on the impact of giving children "micronutrients".
The government has launched a five-year programme to fortify flour used to make flat bread – often the only daily food for poor families – oil and other foodstuffs.Progress has been slow on women's education, healthcare and hygiene
A recent World Bank study found a direct link between sanitation and height: a five-year-old child in a community where everyone uses a toilet is on average more than 2cm taller than a child from one where people defecate in the open.
But poverty is also a pressing problem, in a country where a third of all citizens do not always know where their next meal will come from. A recent UN study found that even a minimally healthy diet was beyond the reach of the majority of Afghans; in some provinces, only one in five could afford regular balanced meals.
While aid workers try to address problems that can take years to solve, health workers are held back by a focus on apparently more pressing problems. "We do worry about chronic malnutrition, but all we can give them is advice," says Nehmatullah Majidzafa, a nutrition nurse at an Oxfam-backed project near the city of Balkh, where most funds support feeding those children in most obvious need.
That includes demonstrations, with nurses chopping onions into a basic pressure cooker before adding lentils, rice and vegetables, and warnings to spend money on protein rather than the sugary foods many lavish on their children.
The information does help, because "parents don't know much about health here", says Mohammad. But many are already beyond his help.
"If a child comes in after too long with chronic malnutrition, he cannot fully recover. We can only teach the parents so they take more care it doesn't happen with their other kids."
Hunger in Afghanistan
Extreme poverty and a harsh climate mean many Afghans go hungry. One-third of the population do not get enough food to live healthy, active lives, and another third hover around the borderline of "food insecurity", or not knowing where their next meal will come from. But the food shortages are particularly damaging to young children, who need to develop fast.
International studies show that children who are properly fed can earn between a third and a half more as adults than those who did not get a proper diet, the World Food Programme's Morrison says.
And overall malnutrition shaves 2%-3% off Afghanistan's national income each year, the World Bank says. That's around half a billion dollars lost to an already very poor country.
http://www.theguardian.com/world/2014/jan/26/afghan-children-harm-malnutrition-growth-development
------------
180 Saudi women land hotel jobs
January 27, 2014
RIYADH – A total of 180 Saudi women landed various positions including personnel director, customer services director and international marketing coordinator at different hotels all over the Kingdom belonging to the Al-Hokair Tourism and Development Group, said Abdulaziz Zainul Deen, the group's director of human resources. He said the group is working on hiring more women to work as house keepers. He added women should be provided with courses to prepare them for this type of work as well as transportation. Although Saudi universities do not offer hospitality programs, interested women should explore the job opportunities offered by some hotels, he said.
http://www.saudigazette.com.sa/index.cfm?method=home.regcon&contentid=20140127193875
-----------
URL: https://www.newageislam.com/islam,-women-and-feminism/new-age-islam-news-bureau/jeans-wearing-women-ruling-kpk--jamiat-ulema-e-islam-f/d/35468