New Age Islam News Bureau
23 July 2022
• Irish Islamic Convert Lisa Smith Jailed for ISIS Membership
• Journalist Lynne O'Donnell, Detained By Taliban For Her Reporting, Spared After 'Forced Apology'
• Muslim Women Even Face Discrimination During Labour And Pregnancy in UK
• Russian Fashion Consultant Living In Riyadh Celebrates Saudi Golden Age
• Kuwaiti Women To Play Vital Role In Business Fields
• Qatar's Policies Allow Women to be Active Participants in Country's Development
• Bahrain Tops In Female Digital Skills Training And Stem Education
Compiled by New Age Islam News Bureau
URL: https://newageislam.com/islam-women-feminism/jana-mousa-saudi-painter-modern-art/d/127553
--------
Jana Mousa , The Controversial Saudi Painter Aims To Make Her Mark In Modern Art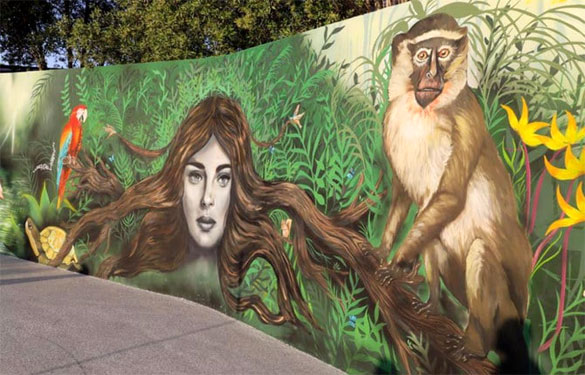 Backed by her family and buoyed by Saudi government support for the arts, Jana Mousa remains determined to open her own modern art museum to showcase her work and that of other up-and-coming artists. (Supplied)
-----
Rahaf Jambi
July 23, 2022
RIYADH: A controversial Saudi painter is aiming to overturn traditional public perceptions of art with her modern abstract style.
Jana Mousa has been the subject of criticism for portraying nudity and womanly shapes in her vibrant artwork.
But backed by her family and buoyed by Saudi government support for the arts, she remains determined to open her own modern art museum to showcase her work and that of other up-and-coming artists.
She told Arab News: "My art isn't traditional, but what makes me creative is that I don't relate myself to an idea or a concept of one agenda, because I don't want to be in a box.
"I feel as though many people still hang on to traditional art, the art of horses, Arabic calligraphy, and such, but when they see modern art, it's new to them, and the reaction varies. This is why I want to introduce modern art to the public and let it have its space."
It was during the coronavirus pandemic lockdown when Mousa rediscovered her love of painting and with the help of her family, she set up a social media account and started posting her work online.
She said: "I was criticized for portraying nudity and, in general, for my modern style, and when I displayed my work in Al-Balad (historic area of Jeddah), I got comments that my paintings were just doodles that ruined the place. Because they did not show a horse or swords, then, to society, it was not considered art."
Undaunted, she has since gone on to exhibit her pieces at Jeddah corniche, the port city's Durrat Al-Arus, Culiart gallery — as part of a collaboration with chef Joud Badr — and in March, the Silence art gallery.
"Chaotic and full of life is how I would describe my artwork. I don't have one direction, and I like to mix styles, but eventually, a pop of color needs to be included in my paintings.
"I like to feel the painting and touch it. Art doesn't have rules or right or wrong; anything you do is art, and the possibilities are endless," Mousa added.
She plans to open her own modern art museum to showcase her artistic style, support local artists, and provide a space for them to exhibit their work.
"I am noticing a lot of support from the government to empower art. The Jameel district in Jeddah is a good example of art encouragement, and many local artists are invited to display their artwork in Al-Balad," she said.
Source: Arab News
https://www.arabnews.com/node/2127736/saudi-arabia
--------
Irish Islamic Convert Lisa Smith Jailed for ISIS Membership
Lisa Smith was convicted in May of being a member of Isis (Niall Carson/PA)
(PA Wire)
-----
By Lily Zhou
July 22, 2022
A former Irish soldier who travelled to Syria and became an ISIS bride was sentenced to 15 months in prison at a Dublin court on Friday.
Lisa Smith, 40, from Dundalk, County Louth, was found guilty in May of her membership with the ISIS terrorist group between Oct. 28th, 2015, and Dec. 1st, 2019, after a nine-week trial at Dublin's Special Criminal Court.
But she was cleared of a separate charge of financing the group.
Smith is the first person to be prosecuted and convicted in Ireland over terror offences committed outside the country.
Smith served in the Irish Defence Force between 2001 to 2011. She converted to Islam in 2010 and left the army the next year after she was refused permission to wear the hijab.
According to fellow Islam convert Carol Karimah Duffy, who testified in court, Smith started speaking to an ISIS recruiter online and she was focusing on the "harsh end of Islam."
Smith went to Syria in October 2015 after the ISIS leader Abu Bakr al-Baghdadi called on Muslims to go to the country.
Despite knowing she would end up being a housewife in Syria, Smith believed it was her religious obligation to live in the Islamic country, she later told Irish police officers.
In Syria, Smith married British jihadist Sajid Aslam, who Smith said was killed when fighting, and gave birth to a daughter in 2017.
After the fall of ISIS in 2019, Smith and her daughter were repatriated to Ireland and she was arrested at the Dublin airport.
Smith's lawyer previously argued Smith should be given a suspended sentence, citing the abuse she had suffered during her marriage to Aslam, the detention she had endured in a Syrian camp before being returned to Ireland, and the strict bail conditions imposed on her for two-and-a-half years in Ireland.
O'Higgins SC also asked the court to consider Smith's child and argued psychological reports on Smith presented "a picture of an extremely vulnerable person, but accompanying that vulnerability is a great level of stoicism in terms of dealing with whatever hand she's been dealt with."
Sentencing Smith, presiding judge Tony Hunt said he's satisfied Smith is unlikely to re-offend.
The judge acknowledged the evidence showed Smith had "followed rather than led," but said she had been determined to go to Syria.
"She may have been easily led but then displayed characteristics of resilience—the rejection of her family, travelling to Syria, and remaining there to the bitter end," he said.
He also said that Smith had had a "tough time in Syria" but that it was a "foreseeable consequence" of joining ISIS.
Hunt said the three judges had taken into consideration Smith's previous "good character" and the fact that she had made a "positive contribution to society during her military service."
The judges also accepted that life in the Syrian camps was "arduous" and the "equivalent" of being in prison, and that they had given a "substantial" discount off Smith's sentence because of this.
The maximum sentence for the offence is eight years.
Source: The Epoch Times
https://www.theepochtimes.com/irish-islam-convert-lisa-smith-jailed-for-isis-membership_4615502.html
--------
Journalist Lynne O'Donnell, Detained By Taliban For Her Reporting, Spared After 'Forced Apology'
23rd July 2022
KABUL: Foreign Policy writer Lynne O'Donnell was detained by the Taliban for columns accusing them of forcefully marrying teenage girls and using teenage girls as sexual slaves.
The terror outfit forced the writer to issue a Public Retraction after holding her caged for three days, Khaama Press reported.
Lynne O'Donnell, an Australian writer who writes a column for Foreign Policy magazine presently, tweeted, "l apologize for 3 or 4 reports written by me accusing the present authorities of forcefully marrying teenage girls and using teenage girls as sexual slaves by Taliban commanders."
Notably, O'Donnell was forced to make an apology by the Taliban, she revealed in a statement on Wednesday.
"Tweet an apology or go to jail, said Taliban intelligence," she tweeted. "Whatever it takes: They dictated. I tweeted. They didn't like it. Deleted, edited, re-tweeted. Made a video of me saying I wasn't coerced. Re-did that too," she said.
The agents disapproved of her reporting on LGBTQ persons and asserted that there were "no gays" in the country, the journalist added.
Lynne is an internationally acclaimed war journalist who has reported occasionally from Afghanistan for over 20 years. However, following her alleged detention, harassment, and threats she departed the war-ravaged country on Wednesday for Pakistan, reported Khaama Press.
O'Donnell was the Afghanistan bureau head for the Agence France-Presse wire service and the Associated Press between 2009 and 2017, according to her biography on the Foreign Policy website.
However, the Taliban's Ministry of Information and Culture and intelligence authorities have not reacted to the issue as of yet.
The atrocities of the Taliban against Afghan women have been on an incessant surge since the group seized power in Afghanistan in August last year.
The Taliban had previously promised an inclusive society and equality during their first press conference after the takeover of Afghanistan while on the contrary, stopped girls from going to school beyond sixth grade on March 23 and a decree against the women's dress code was issued after a month.
There are restrictions on movement, education and freedom of expression of women posing a threat to their survival.
According to locals, the Taliban has prevented women from using smartphones, and the Women's Affairs Ministry often extorts money for providing essential protection.
Around 80 per cent of women working in the media have lost their jobs, it said adding that almost 18 million women in the country are struggling for health, education and social rights.
Source: New Indian Express
https://www.newindianexpress.com/world/2022/jul/23/journalist-lynne-odonnelldetained-by-taliban-for-her-reporting-spared-after-forced-apology-2479533.html
--------
Muslim Women Even Face Discrimination During Labour And Pregnancy in UK
By Faima Bakar
23/07/2022
"I've had a nightmare time during my pregnancy and I'll be going in to labour with the full knowledge that as a brown woman I face significant bias from medical professionals," says Mariam*, 41, a South Asian writer from London.
Mariam isn't alone in that feeling. According to a report by the Muslim Women's Network and the All-party parliamentary group (APPG), one in five Muslim women say their maternity care is very poor, leading to a "culture of maternity abuse".
During the research, 1,022 Muslim women completed an online survey, 37 women gave in-depth interviews and one focus group was held with Somali women.
The study suggests that Muslim women's labour and birth is being over medicalised. Women said they were being "bullied" into having labour inductions, without "reasonable medical justifications".
When experiences were compared to national average statistics, data showed that Muslim women from racialised minority communities were 1.6 times more likely to have their labour induced, and 1.4 times more likely to have forceps or a ventouse suction cup used to help deliver the baby.
They are also 1.5 times less likely to be given an epidural for pain relief and 2.1 times more likely to be in a prolonged labour, with a 2.4% more likelihood of postpartum haemorrhage.
There was also evidence of bias against women from specific sub-ethnic groups, such as Bangladeshi, Arab and Black women and other Asian women.
This is something Mariam is worried about, as someone approaching the end of her pregnancy.
She tells HuffPost UK: "I'm dreading labour. I keep hearing that I'm 'high risk' due to my ethnicity, which makes me cringe.
"I've been put on all sorts of random medications. For example, they have me injecting myself with blood thinners twice a day because they are worried I might develop a blood clot due to a family history.
"As much as I tried to resist this, they insisted I have to take them…at one point the doctor called my husband's number and complained to him that I'm not taking the medical advice they offered!"
Mariam appreciates that some of it may be to do with age, but worries that as an Asian woman, she's also being over-medicalised.
The research comes at a time when maternity care failings have dominated headlines. It follows the Ockenden inquiry into the maternity scandal at the Shrewsbury and Telford Hospital NHS Trust, which found a "string of failures" – including at least 304 cases where there was "avoidable harm". Louise Barnett, the chief executive at the trust, said she believes "services are safe," but the report will be used to guide future actions.
Elsewhere, campaign groups including Five X More have continued to petition against the maternity discrimination facing Black mothers, particularly the fact that they are more likely to die than white counterparts during childbirth. The group say grouping Black women under the 'BAME' label masks the problem and is costing women their lives.
The latest report has also flagged issues with the BAME label, suggesting it can hide crucial differences between care and treatment among groups.
For example, in the study, Arab women were amongst the groups with the worst experiences and most likely to have a prolonged labour and vaginal tears. Of the South Asian group, Bangladeshi women were most likely to have had their labour induced, an instrumental birth, an emergency caesarean and to have suffered from an infection after giving birth.
Pakistani women were amongst those most likely to experience excessive blood loss. Black women from all backgrounds were the least likely to be given pain relief. Black people also have a long history of being thought to have a higher pain tolerance – something that can be fatal.
Additionally, Somali women provided the most unfavourable assessments of healthcare professionals, with some even describing maternity experiences as "horror stories", calling care "dangerous" and expressing that they "felt lucky to be alive".
They described being treated as "less than human" and spoke of excessive physical forced being used. For example, one woman said she felt like her whole womb had been pulled out.
Baroness Shaista Gohir, author of the report said: "Every year, thousands of Muslim women are having traumatic experiences and being put in life threatening situations that are avoidable.
"Sub-standard maternity is no doubt contributing to maternal mortality, neonatal deaths and stillbirths. The lack of compassion, respect and dignity shown to women at times was also shocking.
"Such appalling treatment during such a traumatic time is unacceptable."
Biased attitudes could also stem from a phenomenon dubbed as Bibi syndrome – stereotypes that assume South Asian women are exaggerating their health concerns.
Baroness Gohir added: "To effectively tackle the inequalities in maternity care, a better understanding is needed in how multiple intersecting forms of discrimination are associated with poor maternity outcomes. Urgent action must therefore involve a cultural shift in attitudes towards how minority ethnic pregnant women are perceived, cared for, provided with maternity information, involved in decisions about their bodies and studied in maternity data – it will prevent avoidable deaths."
The findings of the report were presented to the The Maternity Disparities Taskforce, which was launched in February 2022 to explore inequalities in maternity care and identify how the government can improve outcomes for women from ethnic minority communities and those living in the most deprived areas.
In response to the findings, patient safety and primary care minister James Morris said: "We are committed to making the NHS the safest place in the world to give birth, no matter someone's religion or ethnicity.
"I would like to thank the Muslim Women's Network and Birthrights for sharing invaluable insights on the maternity experiences of Muslim and ethnic minority women, and I look forward to working with the system to set out actions on how we can ensure better care for all women.
"Alongside this, we are investing £95 million to hire 1,200 more midwives and 100 consultant obstetricians, alongside a further £127 million to help improve maternity services."
Source: Huffington Post
https://www.huffingtonpost.co.uk/entry/muslim-women-face-discrimination-during-labour-and-pregnancy_uk_62ceda91e4b007c97c85d216
--------
Russian fashion consultant living in Riyadh celebrates Saudi golden age
HUSSAM AL-MAYMAN
July 22, 2022
RIYADH: The Saudi fashion market is gold according to Karina Komill, a Russian fashion consultant living in the capital.
Komill, who has been in the Kingdom for the past six years and began her career in the luxury aviation industry, is certain that this period is significant in Saudi history and is glad to be in the Kingdom to be a part of events and watch them unfold.
"I could say that I am in the time when we create a story and I'm really blessed to be here and remember this part of my life and history … because of the evolution of fashion which is happening and also the evolution which is happening in life, it's great," she said.
Komill sees strong potential for local talent in the industry, for creators to make their mark in the global market and compete with international brands. She sees that local designers are creating worldwide apparel with an Arabic touch that is distinctive.
"It is easy to understand, from which region they are from, like beautiful dresses with stones, and to share the experience. When you see the dresses, you can feel that you visit Saudi Arabia or when you wear it, you can understand that you are a princess," she said.
Komill said that in her experience the industry was world recognised yet reflected the cultural heritage of the sub-regions of Saudi Arabia.
"Well, OK, let's say evolution of fashion. Before it all was maximum full makeup, even if it's daytime, a lot of stones. Now, girls are creating something minimal, something classy, which they can wear to work with a beautiful tarhah (head scarf). Of course, going out, dresses completely changed, and some of the designers become worldwide well-known. So I think this is a big step for Saudi fashion," she said.
Komill has been a cover model for Vogue Arabia, Hia, and Glamor Magazine. She is also a singer and has performed many songs in Tajik, her native language, and sang the anthem for FC Istiklol, a professional football club in Tajikistan.
She is active on social media, creating content about Saudi Arabia in Russian to educate her audience.
Source: Arab News
https://www.arabnews.com/node/2127491/offbeat
--------
Kuwaiti women to play vital role in business fields
KUWAIT CITY, July 7: The Board of Directors of the Public Authority for Manpower, headed by Minister of Justice, Minister of State for Integrity Promotion Counselor Jamal Al-Jalawi, decided during its meeting Tuesday, to add a paragraph to Article No 26 of the list of rules and procedures for granting work permits pursuant to Resolution No. 156 of 2022, for the employment of Kuwaiti women in business fields, including oil business, in order to achieve the maximum benefit from her distinguished service, reports Al- Jarida daily.
This is done in order to allow the Kuwaiti women to play the role and participate in the labor market and to encourage them to perform the role entrusted to them in the economic system. According to the decision the work of supervision, management, followup and operation can be undertaken by Kuwaiti female engineers and workers and which do not require hard physical effort.
Meanwhile, Asrar Hayat, a Kuwaiti woman who obtained her Bachelor's Degree in Computer Programming from the College of Science in Kuwait University, holds a Master's Degree in Business Administration with an academic distinction that landed her a teaching job at the University of Birmingham in the United Kingdom, reports Al-Qabas daily. The daily interviewed Hayat about her success story, during which she revealed that a Swedish professor hired her to teach at the prestigious university. She said: "He was my Master's Degree professor. He chose me for my diligence, expertise and teaching abilities." Hayat disclosed that she specialized in teaching a business administration course for students pursuing their masteral degree, where she explains the material in a practical and detailed manner and then encourages students to discuss and debate on a plethora of topics related to their specialization.
She affirmed her commitment to transfer her knowledge and expertise to students of different nationalities; while allowing them to share their opinions, suggestions, experience and culture. She added the university accepts students of all nationalities and cultures that contribute to the expansion of human perception and acceptance of the other, pointing out the most important characteristic of working in this great edifice is the large scope of trust between university officials; away from mediocrity and bureaucracy.
Source: Arab Times Online
https://www.arabtimesonline.com/news/kuwaiti-women-to-play-vital-role-in-business-fields/
--------
Qatar's Policies Allow Women to be Active Participants in Country's Development
July 04 2022
Qatar has affirmed its interest in building a cohesive society based on justice and equality among all its members and providing them with equal opportunities to access quality education and quality work.
It emphasised that government policies supporting Qatari women contributed to building their capabilities and providing them with full opportunities to effectively contribute to the comprehensive renaissance witnessed by the country.
This came in the statement delivered Monday by Second Secretary of the Human Rights Department at the Ministry of Foreign Affairs Hissa al-Sulaiti, at the 50th session of the Human Rights Council, during the annual thematic panel discussion on technical co-operation and capacity-building.
Al-Sulaiti said that promoting women's rights requires promoting the principle of equality and equity and raising society's awareness of the important roles and responsibilities of all its members.
She added that Qatar has adopted, in this regard, specific initiatives directed at promoting women's involvement in the labor market, in political participation, and in decision-making positions, which was positively reflected in strengthening its role as an active and essential partner in development.
Al-Sulaiti noted the initiative of the Women's Work Group recently adopted by the Ministry of Labour in Qatar with the participation of the public and private sectors and academic institutions in the country to serve as a co-operation platform for the exchange of experiences, information and best practices that ensure the presence of women at all levels and enhance their active presence, especially in the labour market.
She stressed that Qatar has adopted relevant legislation in the field of protecting women from all manifestations of violence, and has also established specialised institutions such as the Aman center, which operates under the umbrella of the Qatar Foundation for Social Work and seeks to protect and rehabilitate women and children victims of violence and family breakdown and reintegrate them into society.
Source: Gulf Times
https://www.gulf-times.com/story/720491/Qatar-s-Policies-Allow-Women-to-be-Active-Participants-in-Country-s-Development
--------
Bahrain tops in female digital skills training and Stem education
June 30, 2022
Bahrain has ranked 1st globally in multiple subindices within Metas' (Facebook) Inclusive Internet Index conducted by Economist Impact. The kingdom came first in national female e-inclusion policies, female digital skills training and Stem education, open data policies, and privacy regulations.
The Inclusive Internet Index 2022 measures whether the internet is accessible and affordable in each country and how much it enables social and economic mobility.
It assesses the performance of 100 countries in four indicators of inclusion: availability (usage, infrastructure and quality), readiness (literacy, safety and policy), affordability (price and competitive environment), and relevance (local and relevant content).
Equal opportunities
Dalal Buhejji, Executive Director of Investment Origination at the Bahrain Economic Development Board (EDB) said: "Bahrain continues to focus on creating equal opportunities within the tech and innovation sector, as well as leading on female tech-inclusion with initiatives like Women in FinTech led by the Supreme Council of Women.
"Prioritising IoT and ICT comes naturally to us due to the kingdom's availability of talent, best-value operating costs, and its forward-thinking regulators - coupled with the infrastructure that drew companies such as Citi to set up their Global Tech Hub in Bahrain."
Bahrain was recently ranked first in the GCC for the availability of advanced computer programming talent in Information and Computer Technology (ICT), according to the International Telecommunication Union (ITU) Report 2020.
Sector strategy
Telecommunications, ICT and digital economy are considered vital sectors under the kingdom's Economic Recovery Plan. The sector strategy aims to establish a world-class digital infrastructure by attracting big-tech companies, and making Bahrain a regional digital innovation hub.
Source: Zawya
https://www.zawya.com/en/business/technology-and-telecom/bahrain-tops-in-female-digital-skills-training-and-stem-education-wrtwmn5w
--------
URL: https://newageislam.com/islam-women-feminism/jana-mousa-saudi-painter-modern-art/d/127553
New Age Islam Islam Online, Islamic Website, African Muslim News, Arab World News, South Asia News, Indian Muslim News, World Muslim News, Women in Islam, Islamic Feminism, Arab Women, Women In Arab, Islamophobia in America, Muslim Women in West, Islam Women and Feminism