New Age Islam News Bureau
4 Nov 2013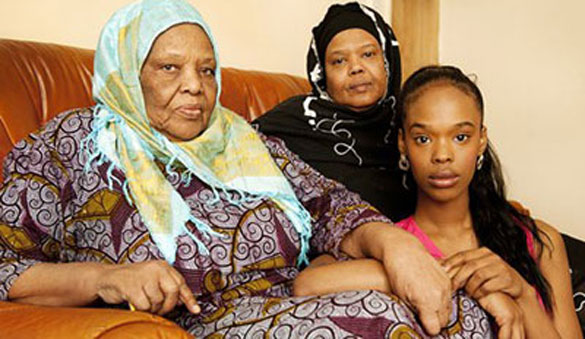 Samira Hashi, her mother Lul Musse and Grandmother Faduma Ali. The older women underwent FGM in Somalia but decreed that Samira should not. Photograph: Linda Nylind for the Guardian
----------
• Could Semi-Naked Pictures of the 'Uzbek Princess' Put Paid To Her Dream of Inheriting Power?
• Louisiana Student Expelled and Arrested After Setting Fire to Teacher's Hijab
• Cycle Rally in Delhi for Safety of Women to Be Organised
• UK Must Act To Halt Mutilation of Girls – Report
• Female Circumcision Continues in Iraqi Kurdistan
• Kuwaiti Woman Arrested In Saudi Arabia for Driving Sick Father to Hospital
• Women-Friendly Cafe in Benghazi Bombed
• Saudi Arabia's Hayat Sindi to Serve on U.N. Body
• Libya Women Report Increased Harassment
• Nigerian VP's Wife Advises Muslim Women on Upbringing of the Girl-Child
• Women's Freedom Icon Rocks Kabul Peace Concert
Compiled by New Age Islam News Bureau
URL: https://newageislam.com/islam-women-feminism/jamat-e-islami-hind-women/d/14280
-------------
Jamat-e-Islami Hind Women Holds Rally in Kolkata for Dignity and Rights
By Zaidul Haque
4 November 2013
Kolkata: To stop the crime against women and to protect dignity and rights of the women a rally was held in Kolkata on 30th October. The rally was organized by women wing of Jamat-E-Islami Hind, West Bengal.
From October 2—30, JIH had organized a campaigning program across the state, and the rally was part of the last session, to mark and end of a successful programme, under the slogan `save the dignity and rights of women,' and to remove, what they called, the misconception over women's freedom.
More than ten thousand Muslim women are believed to have participated in this rally.
Chief Guest of this rally former Land and Land reform Minister of the State and veteran CPIM leader Abdur Razzak Molla said, "Every woman should be aware of what they are wearing. Teenage girls should leave tops and T-shirts. This kind of dress is not compatible with the society. Not only girls, even all the parents should look upon theirs daughters for their dignity." Razzak Molla also suggested to wearing Salwar kameez instead of T-shirt and jeans.
The state President of Women wings of Jamaat-E-Islami Hind Rehana Sultana said, "We have organized the protest rally to save the dignity and rights of women. No political party has ever taken the initiative for women dignity and freedom."
She urged the government to take bold decisions against the rapist and torturer, and suggested that the government should ban the advertisement using the female body.
State President of Jamaat-E-Islami Hind Md Nuruddin said, our campaigning is against those people who are using women in the name of advancement of women. We are in favour of education of women, but not for anti-Islamic means.
Member of the All India Personal Law Board Dr Md Raisuddin said, we should follow the instruction of the beloved Holy prophet Hazrat Muhammad (pbuh) for a peaceful and better society.
State Secretary of Jamaat-E-islami Hind Abdur Rafique,Secretary of Milli Ittehad Abdul Aziz, urdu columnist Syed Ali, Ex state president of JIH was delivered their valuable speech. Before the end the rally a charter demand was announced by the convener of JIH media cell Masiur Rahman.
http://www.newsxs.com/en/go/14267597/TwoCircles.net/
-------------
Could Semi-Naked Pictures of the 'Uzbek Princess' Put Paid To Her Dream of Inheriting Power?
4 November 2013
The West is on alert over a possible coup in Uzbekistan as powerful henchmen surrounding 75-year-old ruler Islam Karimov battle with his glamorous but hated daughter Gulnara over the succession to the ailing autocrat.
Ruthless secret services chief Rustam Inoyatov allegedly presented her iron-fisted father a dossier of compromising materials including 'semi-naked pictures' of the 'Uzbek princess' and allegations of monumental financial corruption in a bid to permanently discredit her.
This resulted in the incandescent president hurling an ashtray and mobile phone across his desk at his ex-KGB intelligence boss, but also summoning his 41-year-old daughter and slapping her in the face, it has been reported.
Karimov - whose regime is notorious for torture and boiling his foes to death - was then seen wandering alone in the grounds of his Tashkent presidential palace, evidently weeping uncontrollably.
Instability amid a fight for the succession in Uzbekistan could pose problems for Britain where Defence Secretary Philip Hammond negotiated a deal to use the country to exit military hardware from Afghanistan.
Gulnara previously seen as untouchable was last week stripped of her lucrative television and radio holdings in Uzbekistan, in an extraordinary clampdown on the most powerful woman in Central Asia.
The 41-year-old amassed a fortune worth an estimated £400 million under her father's corrupt rule which began with the fall of the USSR when the gas and cotton rich country gained independence.
Last week on Twitter she admitted to attacks on her businesses by her father's regime and claimed she had suffered mercury poisoning, saying of her foes: 'Thanks to God they didn't bring me down.'
She is variously known as a pop star, diplomat, and oligarch and charity doyen and, in her own words, a 'poet, mezzo-soprano, designer and exotic Uzbekistan beauty'.
In the past she has lured Sting and Julio Iglesias to Tashkent for concerts but recent Lara Fabian abruptly cancelled an appearance.
Last month, a key political ally of the 'first daughter', Akbarali Abdullayev, 29, a nephew of the president's wife, was arrested amid suspicions she was promoting him as a future puppet ruler with her pulling the strings.
Abdullayev had been promised immunity by Inoyatov if he returned from a foreign trip but in the event was promptly arrested. This prompted the 'first daughter' to accuse the secret police chief: 'Are you a man or not? Put a skirt on your fat ass. Understood?'
She then stormed into his office hurling 'insults and obscenities'.
'Kicking the door and furniture in his office, she scolded the head of the Uzbek security services and demanded the release of Akbarali Abdullayev,' reported The Times of Central Asia, an opposition media outlet published from outside the country, one of a number of sources to report lurid accounts of disarray in the Uzbek ruling clan.
After being shown a dossier including allegations of business transgressions and personal abuse, 'a mobile phone and ash tray were thrown into Inoyatov from Karimov's desk', it was claimed.
It is unclear which allegedly revealing photographs offended the Muslim president - who was once a member of the Soviet Union's ruling politburo.
However, Gulnara was pictured in April wearing little more than peacock feathers in a shoot.
Karimov summoned his top officials, and accused them of keeping him in the dark over his daughter's excesses.
'The President cursed at Prosecutor General Rashid Kadyrov for disguising the truth about financial and other deals of Gulnara Karimova. Interior Minister Matlubov was accused by the President of misleading him.
'Karimov ordered Inoyatov and Matlubov to immediately arrest all chiefs of counter-corruption divisions of the National Security Service and Interior Ministry, who were aware of those deals and did nothing to counteract them.'
A total of 18 high ranking officials were arrested or dismissed and a number of Gulnara allies fled abroad, it was reported.
After summoning Gulnara, Karmimov first slapped her and then really started to beat Gulnara. He said that she disgraced the family in front of the whole world.
'The President's bodyguards tried to calm him down.
'Later, the President asked all his bodyguards and servants to leave him alone. He did not go into the building of the residence, but decided to have a walk in the garden.
'At night, while returning to the residence, some bodyguards noticed that he was crying.'
The noose has been tightening gradually on Gulnara who in July was removed as ambassador to the UN in Geneva, and so forfeited her diplomatic immunity. She is reported to be under criminal investigation in France and at least one other European country.
A leaked US telegram in 2005 dubbed her a 'robber baron' and 'the single most hated person' in Uzbekistan.
'The vultures are circling around Karimov, who has not anointed a successor despite his ailing health and heart problems,' said a Western diplomatic source yesterday.
'They have picked off the once mighty Gulnara, but now may start fighting among themselves for the ultimate prize.
'Karimov's growing senility is leaving a vacuum in which his famous instability will not hold, leading to a coup or chaos.'
Her enemies Inoyatov, deputy premier Rustam Azimov and premier Shavkat Mirziyoyev are all competing with each other for the presidency once Karimov is gone, he said.
'They want to destroy her business empire and political influence,' said journalist Daniil Kislov.
On Twitter Gulnara targeted Inoyatov warning he 'has started his struggle to become Uzbekistan's next president.'
Diviisions in the ruling family were earlier revealed when her younger sister, Lola Karimova-Tillyaeva, said she and Gulnara were estranged for 12 years.
Gulnara hit back claiming Lola engages in sorcery.
Former British ambassador to Uzbekistan Craig Murray has criticised the West for collaborating with Karimov in recent years.
'I'm talking of people being raped with broken bottles. I'm talking of people having their children tortured in front of them until they sign a confession,' he said in 2009.
'I'm talking of people being boiled alive. And the intelligence from these torture sessions was being received by the CIA, and was being passed on.'
http://www.dailymail.co.uk/news/article-2486316/Could-semi-naked-pictures-Islam-Karimovs-daughter-Gulnara-stop-taking-power.html#ixzz2jig6vwZu
-------------
Louisiana Student Expelled and Arrested After Setting Fire to Teacher's Hijab
4 November 2013
A schoolboy has been arrested for setting his teacher's Hijab on fire moments after she told him off for misbehaving in class.
The 14-year-old eighth grader, who has not been named, was attending a lesson at Westdale Middle School, in Baton Rouge, Louisiana, when the substitute teacher reprimanded him for causing trouble.
When she turned around to continue the class, the boy allegedly took out a lighter and put it to her Islamic headdress.
The headdress immediately caught fire sending the teacher and class into a panic.
but fortunately she managed to put the fire out and only suffered minor burns which were treated at the school.
Parents have vented their anger at not being told of the incident for more than three weeks, some having alleged a cover up.
Why the incident has only come to light now remains unclear.
School officials called it an 'isolated incident.'
'It's unfortunate that one student out of the almost 1,200 at Westdale made a bad, bad choice and faces some pretty serious consequences,' East Baton Rouge Parish Superintendent Bernard Taylor told The Advocate local newspaper. 'But it doesn't change the fact that Westdale is a fine school.'
http://www.dailymail.co.uk/news/article-2483651/Eighth-grade-student-expelled-arrested-setting-Muslim-relief-teachers-hijab.html#ixzz2jiK8ZqzQ
-------------
Cycle Rally in Delhi for Safety of Women to Be Organised
November 4, 2013
Jamia Milia Islamia will organise a 1,100–km–long cycle rally to spread awareness regarding safety of woman and to provide them a secure environment in the country.
The rally, to be flagged off Nov 9 by Jammu and Kashmir Chief Minister Omar Abdullah, will cover a distance of approximately 1,100 km.
It will pass through the states of Jammu and Kashmir, Punjab, Himachal Pradesh, Haryana and Chandigarh to finally reach the national capital, where it will be received by Delhi Governor Najeeb Jung at the Jamia Milia Islamia, said a press release Sunday.
A team of 25 students, including 11 girls, along with 15 staff members from Jamia Millia Islamia will participate in this rally led by Major (Prof.) N.U. Khan, National Cadet Corp officer and professor in the Department of Social Work at Jamia Milia Islamia.
During the rally, the participants will interact with villagers and students from other states on women's safety issues.IANS
http://www.thehindu.com/todays-paper/tp-in-school/cycle-rally-for-safety-of-women-to-be-organised/article5310332.ece
-------------
UK must act to halt mutilation of girls – report
Conal Urquhart
4 November 2013
Thousands of girls in danger of genital mutilation are being failed by the health and justice systems, a coalition of health professionals has warned in a report that recommends aggressive steps to eradicate the practice in the UK.
Female genital mutilation (FGM) should be treated the same as any other kind of child abuse and evidence of it must be reported to the police, according to the report.
Janet Fyle, a policy adviser of the Royal College of Midwives and one of the report's authors, said that just as it was inconceivable that a health worker would not report evidence of child abuse to the police, it should be equally important to report evidence of FGM.
"If we are applying child protection laws, we cannot pick and choose which crimes against children we pursue," she said.
"We are not asking for more money or legislation, we are just asking that child protection laws should work for all children not just some."
According to the report more than 66,000 women in England and Wales have undergone FGM and more than 24,000 girls under the age of 15 are at risk of it.
Despite its regular occurrence, FGM has not resulted in a prosecution in Britain, whereas in France there have been about 100.
The report – Tackling Female Genital Mutilation in the UK – will be launched at the House of Commons on Monday by the Royal Colleges of Midwifery, Nursing and Obstetricians and Gynaecologists, the Unite union and Equality Now. It has been praised by the government.
FGM is carried out in Africa and the Middle East by Muslims and non-Muslims. It predates Islam and is not called for in the Qur'an although it mostly occurs in countries that became Islamic.
In countries such as Somalia and Egypt more than 90% of women have undergone some kind of FGM but it is also common in Ethiopia, Eritrea, Mali and Sierra Leone. Although FGM has been outlawed in the UK since 1985, migrants from countries where FGM is common have continued the practice here or by taking girls to their home countries for it to be performed.
Since 2003, Britons can be prosecuted for acts of FGM abroad.
The report recommends that FGM must be treated as child abuse and evidence of it should be collected by the NHS and shared with the police and education officials. It also recommends that health workers who detect evidence of FGM should treat it as a crime and inform the police.
The former director of public prosecutions, Keir Starmer, said it was only a matter of time before prosecutions for FGM took place.
"Through working together closely with the police, health and social care professionals and the third sector, we are now in a much better place to have a successful prosecution against those who perpetrate this practice," he wrote in the report's foreword.
"It is only a matter of time before this happens and this will send a very powerful message that FGM is a crime that will not be tolerated in a modern multicultural society."
The report recommends that health workers identify girls at risk and treat them as if they were at risk of child abuse. Girls at risk are defined as girls born to a woman who has undergone FGM or a child who lives closely with someone who has.
It also calls for a government-funded awareness strategy, similar to the HIV campaigns, and for health workers to be held accountable for their success or failure in monitoring FGM among patients and sharing information.
The report clearly emphasises the importance of an individual's safety over the respect for religious and racial sensibilities, a point welcomed by Shaista Gohir, the chairwoman of the Muslim Women's Network.
"We need to be mindful of cultural and religious sensibilities but safeguarding the child from FGM has to be the priority. If a child is at risk it is better to protect them rather than religious and cultural feelings," she said.
The report's launch will be hosted by the public health minister, Jane Ellison, who has praised the report but not yet endorsed any of its recommendations.
She said: "One of my priorities as public health minister is to work towards eradicating female genital mutilation. Having supported this report during its development, I welcome its publication and the lead that the organisations involved, representing so many healthcare workers, are showing."
A spokesman for the Department of Health said ministers had yet to study the report's recommendations.
Other suggestions include that medical staff should question all new young female patients to determine the prevalence of FGM in their families and that teachers and schools should highlight the issue with at-risk groups and individuals.
Sarian Karim, a 36-year-old community worker from Peckham, south London, who suffered FGM as an 11-year-old in Sierra Leone, welcomed the report.
"FGM is a normal thing for us. We don't know it is against the law, but I know that it damages girls and leaves them scarred for life – mentally and physically.
"It is very important that everyone knows that FGM is illegal. We suffer from a lot of complications [because of the procedure].
"We want those people who work in schools to have guidelines and be able to inform, prepare and protect children."
http://www.theguardian.com/society/2013/nov/04/uk-mutilation-girls-report
-------------
Female Circumcision Continues in Iraqi Kurdistan
November 4, 2013
SULAIMANIYAH, Iraq — Despite the efforts of Kurdish civil society organizations and the media to shed light on the practice of "female circumcision" — which is widespread in the Kurdistan Region of Iraq — this practice continues, albeit at a lower rate, in secret and with the blessing of some within the religious establishment.
The Kurdistan parliament criminalized this practice in Article VI of the Domestic Violence Act of 2011.
Given the conservative nature of Kurdish society, it is very difficult to talk openly about issues pertaining to women and their bodies. When those in parliament were asked to discuss a law criminalizing female genital mutilation (FGM), talks were postponed several times due to the sensitivity of the issue. This resulted in the debate over this law lasting from 2006 to 2011.
As a result of these efforts, female circumcision rates in all of Iraq fell by half, according to a report released by UNICEF in July 2013 addressing this practice in the 29 countries where it is most common.
The report noted that 8% of Iraqi women between the ages of 15 and 49 had been subjected to some form of FGM when they were young. The vast majority of these women are concentrated in the provinces of Erbil, Sulaimaniyah and Kirkuk.
In Iraqi Kurdistan, female circumcision is justified based on religious foundations as well as tribal traditions. Any attempts at enlightenment are resisted.
Adnan Ibrahim, a religious figure who rejects this practice, spoke to Al-Monitor about FGM. He noted that there is no relationship between female circumcision and Islamic teachings, and "there is no single piece of evidence in the Quran or sunna that legitimizes or calls for [female] circumcision."
He describes female circumcision as a "practice that results from ignorance or religious fervency." On the other hand, another religious figure, Sheikh Mohammed Hassan, told Al-Monitor, "I do not forbid the practice, based on sayings by the Prophet Muhammad that confirm [the legality of] female circumcision."
Muslims of various Islamic sects do not have a unified position on female circumcision, particularly within the Shafi school of jurisprudence, which accepts the practice. The vast majority of Muslims in the Kurdistan Region of Iraq belong to this sect. Moreover, Dar Al-Iftaa, the Egyptian educational institute founded to represent Islam, issued a fatwa condemning female circumcision on June 23.
Ehab Kharat, a psychologist from Erbil, told Al-Monitor, "[Female] circumcision is a historical-based crime that violates a woman's body. In the distant past, the practice was concentrated in the Nile Basin and Africa, yet under the guise of religion it began to seep into other countries. The practice involves cutting off active parts of the woman's body — parts that have a physical function. It is completely different from male circumcision. In the case of the latter, the flesh that is removed is not functional and does not have [a high concentration of] nerve endings. Yet, in the case of female circumcision, the most sensitive parts are removed. Thus, she loses the ability to obtain sexual satisfaction, yet her sexual desire does not decrease."
Kharat notes that a distinction should be made between the idea of chastity and honor on the one hand, and sexual desire on the other. Female circumcision does not eliminate sexual desire — which is a psychological desire — but rather prevents a woman from obtaining sexual satisfaction. According to Kharat, it could even drive a woman to engage in deviant acts in an attempt to satisfy this psychological and physical deficit.
The long-term health consequences of this practice on women are not limited to mental health problems. Noor Suleiman, a doctor specializing in women's health, told Al-Monitor that the majority of circumcised women suffer from chronic health problems. Suleiman noted, "The tragedy begins with this primitive practice itself, which is usually carried out by one of the village elders. The latter typically has no [medical] proficiency and doesn't take into account the amount [of flesh] removed, the cleanliness of the tools being used or the overall health status of the girl. All forms of female circumcision lead to complications, the most serious being bleeding to death."
Suleiman outlines the health problems circumcised women face: "Nervous shock, damage to neighboring organs, inflammation, organ mutilation, infertility, difficulty giving birth, dysmenorrhea, a general risk of wounds and injuries to the Bartholin's glands."
Al-Monitor spoke to Falah Muradkhan, project coordinator at the Wadi Organization, a German-Iraqi nongovernmental organization focusing on human rights and family issues, which has been working in Iraqi Kurdistan for 18 years. Muradkhan said, "We have been working on awareness campaigns to condemn female circumcision for nine years. This is done through media coverage and our on-the-ground teams. Our efforts involve drawing attention to the harm and damage this practice can cause as well as providing first aid to circumcised women. We meet with those who perform these circumcisions and with religious figures and try to help them understand the danger of this practice, to deter them from facilitating it. We distributed 80,000 awareness pamphlets in the villages and cities of Iraqi Kurdistan as well as copies of our organization's newsletter, called 'Women's Rights.'"
Muradkhan referred to the results of a study conducted by the Wadi Organization in Kirkuk in 2012, as a model for the rest of Iraq. The study revealed that 38.2% of females over 14 years of age had been circumcised. Among those surveyed, 65% were Kurdish women, 26% were Arab and 12% were Turkmen. Muradkhan said that he is in contact with a female doctor in Diwaniyah who has evidence that there are cases of female circumcision in southern Iraq.
"We are working on a campaign called Stop FGM, to put an end to female circumcision in the Middle East — in Iraq, Iran, Yemen, Saudi Arabia and the United Arab Emirates. Moreover, we are publishing data from recently conducted surveys," Muradkhan added.
Many circumcised girls abstain from talking to the media. Sana (not her real name), 39, said that she is trying to forget the experience. However, she is forced to deal with it in her marital life, and as a result the psychological damage it has caused. She noted, "I had no choice in the matter. My parents committed this crime against me when I was a young girl. Today, however, I am a married woman with children. Discussing this issue has become impossible."
Muradkhan recalls a number of incidents he witnessed during his work at the Wadi Organization. "I remember a father who approached me, and his eyes were filled with tears. He was distraught that he had his daughter circumcised a month prior. He would not have done this had the awareness campaign team come to the village a month earlier, because he realized the harm and risks of this procedure."
He continued, "Female circumcision causes innumerable problems. We have noticed that Kurdish men usually prefer to marry women from other ethnic groups, because there is a prevailing notion that Kurdish women are 'cold,' when it comes to marital relations. There have been many cases of young men who marry, only to end the relationship when they discovered the wife was circumcised. Problems related to 'coldness' between husband and wife as well as depression can lead to illness and suicide."
A report issued by Human Rights Watch said that FGM is practiced mainly by Kurds in the Kurdistan Region of Iraq.
Since 2003, the United Nations has designated Feb. 6 to be the international day against FGM.
Miriam Ali is a journalist who has worked with a number of Iraqi media outlets. She is an activist in the field of women's rights and has participated in a number of courses and workshops for promoting civil action.
http://www.al-monitor.com/pulse/originals/2013/10/iraq-kurdistan-region-female-circumcision-continues.html
-------------
Kuwaiti woman arrested in Saudi Arabia for driving sick father to hospital
4 November 2013
A Kuwaiti woman was arrested in Saudi Arabia for driving a car while taking her diabetic father to the hospital. The arrest comes just one week after Saudi women protested the driving ban in the conservative Gulf monarchy.
The woman was driving a Chevrolet Epica with her father in the passenger seat when she was pulled over in an area located near the border with Kuwait, Saudi police told Kuwait Times newspaper.
She explained that she was taking her sick father to the hospital, but officers were unsympathetic. The woman was detained and is now being held in custody pending an investigation, police said.
The media report provided no information on whether her sick father made it to the hospital.
There are close ties between Kuwaitis and Saudis in the area, with people from both countries crossing the border on a regular basis.
However, Kuwait has surged ahead in terms of female rights. Women in the country are allowed to drive, vote, and run for political office.
In Saudi Arabia, attempted reforms from King Abdullah often face resistance from the country's senior clergy.
Saudi woman are not allowed to drive cars, travel abroad, open a bank account, or work without permission from a male relative.
Last Saturday, a protest took place against the driving ban, which resulted in 16 female drivers being stopped by police. They were fined 300 riyals (US$80) each and forced along with their male guardians to pledge to obey the kingdom's laws.
Activists said that more than 60 Saudi women got behind the wheel to protest the driving ban.
http://rt.com/news/woman-arrest-driving-saudi-164/
-------------
Women-friendly cafe in Benghazi bombed
November 4, 2013
BENGHAZI – A Benghazi cafe popular with women and families was bombed at around 7 a.m. on Saturday. There were no casualties in the explosion but much of the Rotana Cafe, in the Hadaiq district of Benghazi, was destroyed.
The owner had reportedly previously received threats relating to the cafe catering for women. Families and female customers were seated and served in a separate section upstairs, while the downstairs part of the cafe was reserved for men only.
Apparently in response to the threats, the owner temporarily closed the upstairs section and told customers that it was undergoing renovation work. Local people are convinced, however, that the cafe was still targeted for being women-friendly.
One customer said that the Rotana was one of the most popular cafes in Benghazi for women and children. "I am very upset," she said, "It was a special place." She added that she liked to go there because it was "cosy and classy and was a good, safe place," pointing out that it was one of the few cafes women could go where they were not hassled by men.
"The people who blew up the cafe want to take away all the good modern things from us," she said. "They want to take us back into the past and leave us with nothing."
Nearby residents were also furious. One family with a young baby described how they were woken up by the massive blast which shook the house and shattered all the crockery in their kitchen.
http://www.saudigazette.com.sa/index.cfm?method=home.regcon&contentid=20131104185593
-------------
Saudi Arabia's Hayat Sindi to serve on U.N. body
November 4, 2013
The United Nations Secretary-General Ban Ki-moon has invited Saudi scientist and researcher Hayat Sindi to serve on the world body's Scientific Advisory Board.
Sindi, one of the first women to be appointed to the Kingdom's consultative Shoura Council, is among 26 scientists from around the world to join the newly constituted body, which will provide the U.N. leadership with advice on science, technology and innovation for sustainable development.
The creation of the board follows a recent report on global sustainability, which recommended that the global body undertake a major initiative to strengthen ties between governments and the scientific community.
Commenting on her new role, Sindi said, "I am extremely honored to be the first woman from the region to join this panel of renowned scientists."
"Our prime objective will be to provide advice to the UN secretary-general on scientific policy, thereby enabling the global organization to achieve its goal of ensuring sustainable development worldwide," she added.
Sindi is a well-known inventor and entrepreneur. She is the co-founder and director of "Diagnostics for All", a non-profit institution that aims to create low-cost, easy-to-use diagnostic tools for developing markets.
She also founded the company Synoptix, which, with Saudi seed funding, developed a diagnostic tool used for the early detection of breast cancer.
Sindi recently founded the i2 Institute for Imagination and Ingenuity and the prestigious i2 Fellowship Program for young scientists.
Last year, she became the first Saudi and the first female scientist to be appointed a UNESCO goodwill ambassador for sciences.
In his statement, Ban said, "We must strengthen the interface between science and policy, so that the latest scientific findings are reflected in our high-level policy discussions."
Other Middle Eastern experts that have also been appointed to the board include Abdullah Daar, professor of public health at the University of Toronto (originally from Oman), and Nobel laureate Dr. Ahmed Zewail from Egypt and Ethiopia's Gebisa Ejeta, winner of the 2009 World Food Prize.
http://english.alarabiya.net/en/variety/2013/11/03/Saudi-s-Hayat-Sindi-to-serve-on-U-N-body.html
-------------
Libya Women Report Increased Harassment
4 November 2013
TRIPOLI — Sexual harassment of women is increasing in Libya and women complain that combined with the general lawlessness in the country their daily lives are becoming more of an ordeal and perilous.
It was bad under former Libyan strongman Moammar Gadhafi with men jostling, groping and pestering women in shops, universities and offices and demanding sex but since his ouster two years ago harassment has worsened, say activists and ordinary women.
British expatriate Anne has lived in Libya since 1965. VOA is using only first names as activists fear being targeted.
"It is worse now. When I first came over there was very little harassment of women. In general, the youngsters were very respectful and friendly," said Anne.
The Gadhafi family and their top officials were notorious for abducting women, sometimes spotting them at hair salons or shops. Women would be summoned from their homes after they had been noticed at social events, according to a recently published book Gaddafi's Harem by Le Monde journalist Annick Cojean.
That behavior spread through society, convincing men beyond the power circles that women were fair game, says Nisreen.
"The Gadhafi time there was a lot of sexual harassment and the generations have now grown up with that," she added.
She says that post-revolution sexual harassment in Libya's capital and the bigger cities has increased and is now at a different level, with lawlessness making the country more dangerous.
Going out alone or even with female friends risks verbal and sometimes physical abuse, she says. Even shopping has become an ordeal.
"You have all these youngsters who are high on drugs and drunk and who are going around and when they see someone they like or whatever and they start harassing her," said Nisreen.
Libya isn't the only Middle East country to be experiencing a post-Arab spring explosion of sexual harassment.
In May the United Nations Entity for Gender Equality reported that 99.3 percent of Egyptian women have experienced some form of sexual harassment or violence. Nearly 50 percent of women reported more harassment after the revolution ousting ex-president Hosni Mubarak.
Without a functioning police force there are no statistics available to know how frequent the problem is in the Middle East.
But activists in Libya say it is pervasive and that women are afraid to report harassment fearing they will be harassed by police when they do.
Leila, another activist, says many professional women try to find work they can do from home. She thinks twice about running errands.
"I can't even walk to the next-door grocery store. I have to take the car," she said.
Angry about the harassment, activists have followed an example set in Egypt and launched a "Don't Harass Me" website to record incidents and to try to prod Libyan authorities to act.
http://www.voanews.com/content/libya-women-report-increased-harassment/1781596.html
-------------
Nigerian VP's Wife Advises Muslim Women on Upbringing of the Girl-Child
November 4, 2013
Hajiya Amina Sambo, wife of the Vice President, on Sunday, urged Muslim women to use their resources to support the girl-child to attain excellence.
Sambo made the call in a message to the opening of the 14th Annual Women's Week of Nasrul-Lahi-L-Fatih Society of Nigeria (NASFAT), in Lagos.
She was represented by Hajiya Farida Sada, the Naiba Amira, Federation of Muslim Women Association of Nigeria (FOWAN).
The programme has as its theme: "Nurturing the Muslim Girl Child for Excellence."
She said that a girl-child should be well nurtured and prepared to impact positively on the larger society.
"We are all highly concerned that our desired standard of Islamic values, comprising learning the faith, general education, consciousness, selflessness, charitable spirit, tolerance, humility and peaceful co-habitation are fast declining.
"This has given rise to the prevailing state of insecurity, economic deprivation and other social ills that have been afflicting us for a while now.
"This annual event that educates Muslim women on the unique values of the Islamic faith and their expected roles in building a model society has no doubt become one of the programmes that I look forward to shape us," she said.
Sambo said that the country was endowed with human and material resources which needed to be properly nurtured to lay solid foundation for the youth especially the girl-child.
"I implore NASFAT women to share the message and spirit of the 2013 theme as widely as possible, to ensure that its impact is registered in the minds of the generality of Muslim women in every nook and cranny of the country.
"I commend the leadership of NASFAT for the accomplishment over the years and the numerous laudable projects being executed by the various arm of the society," she said.
Sambo called on other women organisations to emulate NASFAT, and join in the effort to help the less privileged in the society.
Earlier in her address, Alhaja Nofisat Arogundade, National Women Affairs Secretary of the body, noted that Islam attaches significance to the proper upbringing of children.
She, however, regretted that socio-economic challenges were eroding this very important task.
"This theme is, not only very important but fundamental to our existence and development as a people, creating and sustaining inter-generational benefits.
"The position of children, especially the girl-child in developing nations has steadily been encroached upon and under constant threat.
"Cases of domestic abuse as well as dehumanising treatment of children abound, especially those that border on sexual harassment, violence and child labour.
"The worrisome resultant effects include escalating prostitution, violence and wars, migration, drug addiction and lower literacy level," she said.
http://tribune.com.ng/news2013/index.php/en/news/item/25491-vp%E2%80%99s-wife-advises-muslim-women-on-upbringing-of-the-girl-child.html
-------------
Women's freedom icon rocks Kabul peace concert
November 4, 2013
Afghanistan Theater fear of music peace initiatives struggle within Islam
Aryana Sayeed, a popular singer and TV personality known as the "Adele of Afghanistan," was among the performers at a Kabul "Peace Concert," organized by a network of youth groups and held at the city's Babur Garden venue Oct. 19. In August, she performed at a similar concert held in front of the ruins of the Bamiyan Buddhas that were destroyed by the Taliban in 2001. Sayeed remains unbowed in the face of hate mail and death threats over her refusal to wear the hijab in her performances and TV appearances, becoming an icon of women's freedom in Afghanistan. In a typical statement, parliament member Abdul Satar Khawasi said her show "brings shame to our community and ruins our Islamic and Afghan dignity and culture." Satar has called for a jihad against the reality-style talent showcase program, dubbed "The Voice," in which Sayeed is a judge. In response to the threats, Sayeed said: ""I'm here to make a difference for women. I want women to have rights, to talk freely, to walk freely... I'm not saying that they have to take their clothes off, or even remove their head scarves. Freedom is being able to live as a human being.'' In one of her music videos, Sayeed sings "Because I am a woman, I am a slave''—against a background of images of women in Burqas. (Dawn, Pakistan, Oct. 21; The Nation, Pakistan, Oct. 20; TeleCinco, Spain, Oct. 14; NBC, Oct. 12; DPA, Aug. 17; AFP, Aug. 16; Khaama Press, Afghanistan, July 22)
http://www.ww4report.com/node/12734
-------------
https://newageislam.com/islam-women-feminism/jamat-e-islami-hind-women/d/14280