New Age Islam News Bureau
28 Dec 2016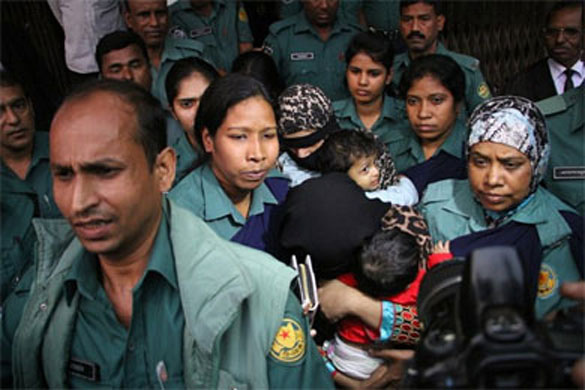 Bangladeshi police escort two women, who were arrested during a weekend raid on a suspected militant hideout in Dhaka, into court, Dec. 26, 2016.
-------
• Taliban 'Behead' Woman Because She Visited the City Alone
• Romania's First Female, Muslim PM Rejected
• Afghan Woman Pilot's Asylum Bid Sparks Fervent Debate
• Muslim Women Made More Educational Gains than Muslim Men Globally: Pew Study
• Girls Freed From Boko Haram Not Allowed To Spend Christmas At Home with Their Families
Compiled by New Age Islam News Bureau
URL:
https://www.newageislam.com/islam,-women-and-feminism/new-age-islam-news-bureau/jamaat-ul-mujahideen-bangladesh-uses-women-as-'sex-slaves,'-police-claim/d/109522
Jamaat-ul Mujahideen Bangladesh Uses Women as 'Sex Slaves,' Police Claim
2016-12-27
A female bomber who blew herself up in Dhaka over the weekend belonged to a militant group that uses women as "sex slaves" and whose male members force their wives into it, a top police counter-terror official said Tuesday.
Men in the militant faction known as Neo-JMB can have multiple wives and use women to ensure their own safety, said Monirul Islam, chief of the counter-terrorism and transnational crimes unit at Dhaka Metropolitan Police (DMP).
"They use the women as sex slaves. Another militant marries a female member if her husband dies," Islam told reporters.
"Interrogating the female members, we have come to know that the women do not enter militancy by their own choice. They are basically forced by their husbands to get involved," he said.
Islam addressed a news conference in Dhaka three days after a woman and a teenager reportedly blew themselves up separately as police raided a three-story house in Ashkona, a neighborhood in the Bangladeshi capital.
Two women and two children left the house and were taken into custody at the time.
But a third child, who was with the female bomber as she exited the building and headed toward police, was injured in the blast when the woman set off the explosives, a police official who was at the scene told BenarNews.
The bomber was the girl's mother. The girl remains hospitalized in Dhaka.
"After 12 hours of persuasion, one woman came out of the den, holding a [girl] aged 6 to 7 year old. We asked the woman to raise both her arms up and hand over the [girl] to us," Additional Deputy Commissioner Sanwar Hossain said.
"She was not listening to us. Suddenly, she pushed the [girl] toward us and exploded her suicide vest. Probably she had a plan to destroy herself and police members," Hossain told BenarNews.
'Totally against Islam'
A faction of Jamaat-ul Mujahideen Bangladesh (JMB), Neo-JMB reportedly aligns itself with the extremist group Islamic State (IS) and has been blamed for a terrorist attack that left 29 dead, including 20 hostages, at an upscale café in Dhaka July.
IS claimed responsibility for the overnight siege, but Bangladeshi officials have insisted that Islamic State has no presence in the country, saying the attack was carried out by a home-grown group, Neo-JMB.
The female bomber who committed suicide on Saturday, identified as Shakira, was the wife of Neo-JMB member Sumon, Home Minister Asaduzzaman Khan Kamal confirmed.
She married Sumon after her first husband, Iqbal, had died of cancer, the minister said. The injured girl, identified as Sabina, was the daughter of Iqbal and Shakira.
Retired Brig. Gen. Shahedul Anam Khan, an expert on militancy and security issues, told BenarNews that Neo-JMB follows an IS policy on women.
"The IS uses the women, especially the Christians, the Shiites, the Yazidis and other faiths, as sex slaves. What IS does is totally against Islam and the Islamic guidelines on women's rights," he said.
"Suicidal female militants are really a big threat for us," Khan said.
Women can even use their clothing to their advantage.
"Traditionally, a large number of women in Bangladesh don burkas, so this is difficult to find the militant women from the general ones," Abdul Halim, a student at the criminology department at Dhaka University, told BenarNews. He said the government could not ban burkas.
"Instead, law enforcers must enhance intelligence gathering," Halim said.
Arrests of women
In 2016, not including Saturday's arrests, Bangladeshi security forces have arrested at least 17 suspected female members of JMB, who, according to police, were being groomed for suicide bombing missions.
"Our female members rent houses stating that their husbands work in other places and they will come at times. Thus our militants stay with their wives at secure houses and continue the operation," a JMB member who identified himself as "Khadem" told BenarNews in September.
JMB carefully manages marriages within its ranks to help it survive, he said, noting that high-ranking members are allowed up to four wives so that they have safe places to stay. Moreover, men who are with JMB appoint "standby husbands" for their wives in case they are widowed. Khadem said.
Women who do not accept their new husbands can leave the group as long as they do not divulge any of JMB's secrets, he added.
"Leaking any information … would be dealt with severely. But in most of the cases, our women members remain with the company and marry the standby candidates," he said, using an insider codename for JMB.
Shahriar Sharif in Dhaka contributed to this report.
http://www.benarnews.org/english/news/bengali/militant-women-12272016153354.html
-------
Taliban 'Behead' Woman Because She Visited the City Alone
December 28, 2016
KABUL: A 30 year old woman was beheaded on Monday evening in Sar-e-Pul province of Afghanistan by a group of armed men, local officials said today.
Provincial Governor spokesman Zabiullah Amani, confirmed the incident and said that the armed men were linked with Taliban. The incident took place in the remote village of Latti in Sar-e-Pul.
Amani said that the women was beheaded because she visited the city alone without her husband. Amani said that the victim's husband is in Iran and they don't have children.
Sar-e-Pul women's affairs head Nasima Arezo, also confirmed the incident. The village is under Taliban control and so far no one has been arrested.
However the Taliban rejected any involvement.
http://nation.com.pk/international/27-Dec-2016/taliban-behead-woman
-------
Romania's First Female, Muslim PM Rejected
Dec 27, 2016
BUCHAREST: Romania's president sparked fresh political turmoil on Tuesday after rejecting a proposal by the election-winning leftist party to name the EU country's first female and first Muslim prime minister.
Klaus Iohannis gave no reasons for his rejection of Sevil Shhaideh, put forward by the Social Democrats (PSD), but there was speculation that it may be due to her Syrian husband's background.
"I have properly analysed the arguments for and against and I have decided not to accept this proposal," the president told reporters in a televised statement.
"I call on the PSD coalition to make another proposal," Iohannis said.
The PSD had suggested the previously little-known Shhaideh, 52, after its thumping poll victory on December 11 when it won 45 percent of the vote.
The leader of the PSD, Liviu Dragnea, had withdrawn his own bid to become prime minister because he is serving a two-year suspended sentence for fraud in a previous election.
Shhaideh's political experience is limited, having served as development minister for just five months before the previous PSD-led government resigned in late 2015.
This and her personal closeness to Dragnea — he was a witness at her wedding — have stoked opposition accusations that she would merely be his puppet.
Shhaideh is from Romania's small and long-established Turkish minority, but her Muslim faith is not thought to have been a problem for Iohannis.
Instead the focus may have been on her Syrian husband, whom she married in 2011.
According to non-profit investigative journalism group the Rise Project, he has several times expressed his support for Syrian President Bashar al-Assad and for Lebanese Shiite movement Hezbollah.
The 54-year-old worked in the Syrian agriculture ministry for 20 years before emigrating in 2011, according to media reports and Dragnea. He then served as an advisor to the Romanian agriculture ministry and gained citizenship in 2015.
Former Romanian justice minister Catalin Predoiu, from the centre-right National Liberal Party, said on Facebook that he "can't see how" the PSD candidate could get the necessary security clearance needed to be prime minister.
Being premier would "give her access to defence information classified as secret, including from NATO," the Western military alliance that Romania has belonged to since 2004, Predoiu wrote.
"In the absence of any explanations by the president, I suppose that his rejection is linked to questions of national security and because the United States would not have been very keen," political analyst Andrei Taranu told AFP.
Website HotNews cited unnamed sources as saying that the security services had "strongly cautioned" against Shhaideh's nomination because of the closeness to the Assad regime of her husband and his two brothers.
All eyes Tuesday were on how the PSD would respond, with some in the party calling for Iohannis to be suspended. Party leader Dragnea was due to make a statement in the afternoon.
"Either the PSD shows its wisdom by making a new proposal (for prime minister) or we move towards fresh elections," Taranu said.
But he added that an attempt by the PSD to remove the president was problematic because under the constitution Iohannis is entitled to request a second proposal for premier.
The PSD's election triumph came barely a year since anger over a deadly nightclub fire that killed 64 people forced it and prime minister Victor Ponta from office.
The inferno inside the Colectiv club was blamed on corrupt officials turning a blind eye to a lack of fire precautions. Poor medical care exacerbated the death toll.
http://timesofindia.indiatimes.com/world/europe/romanias-first-female-muslim-pm-rejected/articleshow/56204306.cms
--------
Afghan woman pilot's asylum bid sparks fervent debate
December 28, 2016
Anuj CHOPRA - The shock announcement of Afghanistan's first woman fixed-wing pilot to seek asylum in the US has touched off a spirited national debate on the country's most vexing issues: insecurity, women's rights and mass exodus of young people.
Niloofar Rahmani, a 25-year-old pilot lionised widely as the "Afghan Top Gun" after the 1986 Tom Cruise film on flying aces, was scheduled to return to Afghanistan last week after a 15-month training course with the US air force.
But on the eve of her departure, she declared she will not be returning citing fears for her safety, triggering a storm of criticism in Afghanistan for "betraying" her nation but also garnering support from activists.
"What she said in the US was irresponsible and unexpected. She was meant to be a role model for other young Afghans," defence ministry spokesman Mohammad Radmanesh told AFP Monday. "She has betrayed her country. It is a shame."
Rahmani became a symbol of hope for millions of Afghan women when she surfaced in the press in 2013 after becoming Afghanistan's first woman pilot since the Taliban era, dressed in tan combat boots, khaki overalls and aviator glasses.
The once-unimaginable feat last year won her the US State Department's "Women of Courage Award".
But with fame came death threats from insurgents and she routinely faced contempt from her male colleagues in a conservative nation where many still believe that a woman does not belong outside the home.
In an interview with AFP in Kabul last year, Rahmani said she always carried a pistol for her protection and though she has grown accustomed to the ogling eyes of men, she never left her airbase in uniform, lest it make her a target.
'Vicious threats'
Rahmani's lawyer Kimberly Motley said her decision to seek asylum in the US had been a "heartbreakingly difficult decision".
"Niloofar and her family have received vicious threats which have unfortunately confirmed that her safety is at significant risk if she were to come back to Afghanistan," Motley told AFP. "The real betrayal to Afghanistan is against those who threaten her life, her family's life, and also to those who continue to oppress women."
But some of the most virulent criticism over her decision has come from women.
"Dear Niloofar, do you think your problems are bigger than that of millions of other Afghan women?" photojournalist Maryam Khamosh wrote on Facebook.
"I sometimes wish I were Niloofar and could soar in the sky and bomb the enemies of my people. But you, Niloofar, who touched the skies from the ashes of our land have shamed our flag."
NATO forces also took umbrage at her media comment that the security situation in Afghanistan is "getting worse and worse".
"Afghan security forces have seen definitive progress... and their performance in 2016 was better than 2015, and we expect 2017 to be better than 2016," the military coalition said.
But that sentiment hardly resonates with the Afghan youth, who have continued to flee the country's escalating conflict in record numbers.
On Monday many Afghans decried another symbol of violence and impunity - social media images of dreaded warlord Faryadi Sarwar Zardad relaxing in a public bathhouse.
Infamous for once keeping a "human dog" that savaged victims on his command, Zardad was unexpectedly deported from Britain this month following his early release from jail.
"When someone like Zardad can roam freely in Kabul then Niloofar has the right to not come back," said an Afghan man on Facebook.–AFP
http://nation.com.pk/international/28-Dec-2016/afghan-woman-pilot-s-asylum-bid-sparks-fervent-debate
-------
Muslim women made more educational gains than Muslim men globally: Pew study
December 28, 2016
Muslim women have made greater educational gains than Muslim men in most regions of the world, according to Pew Research Center's comprehensive new study on educational attainment among the world's major religious groups.
The study looked at changes in educational attainment across three recent generations, finding that the youngest GENERATION of Muslim adults analyzed (born 1976 to 1985) have far more formal education than those in the oldest generation analyzed (born 1936 to 1955). While both men and women are contributing to these gains, women have been gaining at a faster rate.
The oldest Muslim women in the study averaged just 2.5 years of schooling, compared with 4.6 years for men – a gap of 2.1 years. Young women (ages 25 to 34 as of 2010), by comparison, have averaged more than twice as many years of formal education as their female elders (6.1 years), and now trail young men (7.3 years) by just over a year.
Another way to measure education is by looking at the percentage of people with no formal schooling, and the Muslim gender gap also has narrowed from this perspective, noted the Pew study.
Globally, a majority of the oldest generation of Muslim women analyzed (64%) had no formal schooling, but this figure is 31 percentage points lower among the youngest generation (33%). Meanwhile, the share of Muslim men who never received any formal education dropped by a more-modest 20 points across three generations (43% to 23%).
At the other end of the attainment spectrum, relatively few Muslim men and women have post-secondary degrees. But in some places, Muslim women's gains in post-secondary education were so dramatic that the gender gap has reversed, meaning that, in the youngest generation, more Muslim women than men hold college degrees. This pattern has been particularly striking in Qatar, Kuwait, Bahrain and other nations that are members of the Gulf Cooperation Council, a regional political and economic union.
In Saudi Arabia, for example, the share of Muslim women holding post-secondary degrees rose from 3% in the oldest GENERATION analyzed to 35% in the youngest generation. Among Saudi Muslim men, the share with higher education rose from 16% to 28%.
This general pattern of Muslim women making greater educational gains than Muslim men has not extended to sub-Saharan Africa. Across the three generations in our study, Muslim gender gaps in that region remained largely unchanged and sometimes even widened. Although Muslim women in this region have made some gains, they have done so at a slower rate than their male peers.
The gender gap in average years of schooling illustrates this trend. The youngest Muslim men in sub-Saharan Africa gained 2.4 more years of schooling, on average, than the oldest Muslim men, while the youngest Muslim women gained only 1.7 more years of schooling over their elders.
But in other regions, Muslim women have gained on men. In Europe, for instance, Muslim women and men average virtually the same number of years of schooling among the youngest generation analyzed, and in the Asia-Pacific and Middle East-North Africa regions – together home to most of the world's Muslims – the gaps have narrowed considerably.
https://www.americanbazaaronline.com/2016/12/27/muslim-women-made-educational-gains-muslim-men-globally-pew-study/
-------
Girls freed from Boko Haram not allowed to spend Christmas at home with their families
Dec 27, 2016
Kidnapped girls freed from more than two years of captivity by Boko Haram Islamic extremists were prevented by Nigerian officials from spending Christmas at home with their families, said relatives and a lawyer on Tuesday.
The news raised questions about Nigeria's handling of the 21 girls freed in October through negotiation mediated by the Swiss government and the International Committee of the Red Cross.
Nearly 300 girls taking science exams were kidnapped from a government boarding school in the northeastern town of Chibok April 2014. Dozens escaped within hours, and some 200 others remain captive. The mass abduction brought Boko Haram world attention and sparked an international social media movement to #BringBackOurGirls.
Those freed in October have been held for trauma counselling and rehabilitation in Abuja, the capital.
Kept at legislator's house
They demanded to spend Christmas in their hometown, which is a Christian enclave in a mainly Muslim area. The government tried to appease them, saying it would fly their parents to Abuja, human rights lawyer Emmanuel Ogebe said.
He said the girls insisted on being at home and arrived in Chibok on Christmas Eve, but were held at a legislator's house.
Christmas Day passed, but they were not allowed to see their parents until Borno state Gov. Kashim Shettima showed up on Monday with CAMERAS to have his photograph taken officially presenting the girls to their parents, Ogebe said.
"In terms of a Christmas family reunion, this has got to rank amongst the world's most spectacular failed parties," Ogebe told The Associated Press by phone from his base in Washington. "The Grinch — or in this case, the government — stole their Christmas this time. Not the terrorists."
'The Grinch — or in this case, the government — stole their Christmas this time. Not the terrorists.'
- Emmanuel Ogebe, human rights lawyer
The mother of one girl and the father of another told the AP that the girls wanted to attend Christmas service at their church but were told they had to remain at the legislator's house for their security. The relatives spoke on condition of anonymity, fearing repercussions from the government for them and their daughters.
The Bring Back Our Girls movement, Human Rights WATCH and lawyers like Ogebe, who has organized scholarships in the United States for some of the girls who escaped the night of the abduction, are asking if the traumatized girls have escaped one form of captivity for another.
Thousands rescued, then detained
Nigeria's army has freed thousands of people from captivity by Boko Haram this year as it has driven the extremists out of towns and villages where they had declared an Islamic caliphate. Most have been detained for interrogation in appalling conditions that have resulted in the deaths of newly freed hostages and their babies, Amnesty International has reported.
NIGERIA-SECURITY/GIRLS
President Muhammadu Buhari this week declared that Boko Haram had finally been "crushed," driven out of their last stronghold in the northeastern Sambisa Forest where they were believed to be holding many Chibok girls. The government said this week that negotiations to free the rest of the girls continue.
The military victory in Sambisa, which could not be independently verified, is unlikely to end the deadly suicide bombings and attacks on remote villages and army camps staged by the insurgents.
http://www.cbc.ca/news/world/boko-haram-girls-christmas-1.3913643
-------
URL: https://www.newageislam.com/islam,-women-and-feminism/new-age-islam-news-bureau/jamaat-ul-mujahideen-bangladesh-uses-women-as-'sex-slaves,'-police-claim/d/109522
New Age Islam, Islam Online, Islamic Website, African Muslim News, Arab World News, South Asia News, Indian Muslim News, World Muslim News, Womens in Islam, Islamic Feminism, Arab Women, Womens In Arab, Islamphobia in America, Muslim Women in West, Islam Women and Feminism, Moderate Islam, Moderate Muslims, Progressive Islam, Progressive Muslims, Liberal Islam