New Age Islam News Bureau
31 March 2013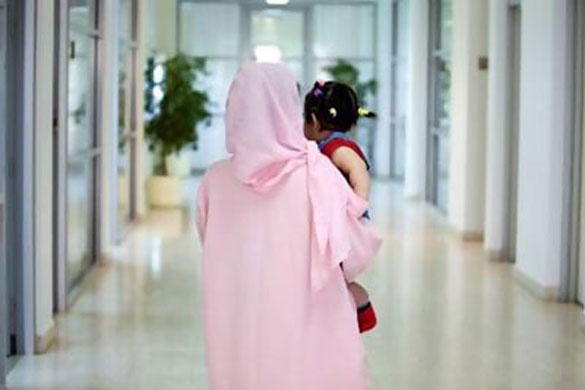 Photo: A mother holds her 10-month-old baby who was born in Dubai Central Jail. (Sarah Dea/ The National)
----------
• Syrian Women's Marriage to Egyptian Men Is Human Trafficking
• UAE Torture Dad Claims Daughter He Killed Was 'Possessed
• Psychology Tests Mandatory for Ethiopian Housemaids
• 32 Million Girls in Pakistan Not At School, We Must Push For Change
• Woman Photographers, Aims To Provoke Debates Over Gender and Cultural Stereotypes
• Children Jailed With Their Mothers In UAE Visa Amnesty
• Child Protection Law for UAE to Go Before Federal National Council This Week
• Turkish Child Fostered By Dutch Lesbians Sparks Diplomatic Row
• Online Protest over Maldives' Rape Sentence
• Afghan Women Cyclists Riding For Freedom
• Female Host Deals With Family Issues on Radio Show in Afghanistan
Compiled by New Age Islam News Bureau
URL: https://newageislam.com/islam-women-feminism/jamaat-e-islami-organization-under/d/10954
-----------------
Girls Islamic Organization Under The Scanner Of Mumbai Police
Mar 31, 2013
MUMBAI: Intelligence agencies in the state have sent letters to all police stations in Mumbai asking them to monitor the activities of the Girls Islamic Organization (GIO). The organization is trying to "motivate girls towards Islam", the letter warned.
GIO is girls' wing of Jamaat-e-Islami in India. The letter stated that the GIO is trying to recruit young women and girls. It also mentioned names of two women, Swaleha Baji and Smaiyya. While the former has been referred as the Maharashtra chief of GIO, Smaiyya is said to be recruiting people.
"People are now attracted towards science. These women are trying to ask girls to wear a burqa and study Islam. We have asked police stations to monitors their activities," said Sanjay Shintre who heads the special branch's intelligence wing.
According to Shintre, male activists of the Jamaat-e-Islami had come under the scanner and now women were coming to the fore. "Many male functionaries of the Jamaat are on our radar so they are now focusing on girls. Muslim girls who are educated are not inclined towards religion," Shintre said.
When asked whether there was any case against the GIO in the state or preaching a particular religion constituted any wrongdoing, Shintre said, "No. But we are monitoring them." A Jamaat activist said they contacted special branch chief Nawal Bajaj. "Bajaj told us he will inquire into the matter," he said.
http://timesofindia.indiatimes.com/city/mumbai/Womens-group-under-the-scanner-of-Mumbai-police/articleshow/19299619.cms
-----------------
Syrian women's marriage to Egyptian men is human trafficking
March 30, 2013
Gamal Eid, director of the Arab Network for Human Rights Information (ANHRI), stated that the marriage of Egyptian males to female Syrian refugees in exchange for money is a form of human trafficking.
The National Council for Women (NCW) sent two letters to Minister of Interior Mohamed Ibrahim and Minister of Justice Ahmed Mekki on Thursday requesting the ministries' intervention in combatting this phenomenon.
Eid stated that such marriages taking place is a political disaster. "It's disastrous that female refugees fleeing their warring country would meet such treatment in Egypt," he said.
In a statement released on Thursday, the NCW cited a memorandum sent last week to President Mohamed Morsi by the International Union for Egyptian Women, calling for immediate intervention to stop such marriages.
The union stated that Syrian women are made available for marriage to Egyptian men in exchange for EGP 500 per wife, adding that such marriages are especially abundant in 6th of October City, 10th of Ramadan City, and New Cairo, as well as the Alexandria, Al-Daqahleya and Al-Gharbeya governorates. In one year 12,000 marriages have taken place, the union claimed.
The phenomenon has expanded to Facebook pages offering Syrian women for marriage. One particular page, "Syrian girls for marriage in Egypt", links the marriage to Islamic religion and describes them as offering a helping hand to struggling girls and widows.
Another example includes a flyer belonging to a company called Al-Basma. The flyer, reportedly distributed at Nasser mosque in Damanhour, offers "well-mannered, veiled, and Syrian" women for marriage. The company Al-Basma could not be reached for comment.
Eid stated that countries receiving refugees should provide them with protection and sustenance. "If the Egyptian state, alongside other refugee rights commissions, provides Syrian refugees with adequate sustenance, it would protect them from such acts of human trafficking," he said.
The NCW repeatedly rejected and condemned this phenomenon since Syrian families began flocking to Egypt. The council also described such marriages as a form of human trafficking, adding that it violates human rights and contradicts international conventions.
Article 73 of the constitution bans all forms of oppression, forcible human exploitation, and sex trade. However there is no mention of human trafficking. When discussed by the constituent assembly, most assembly members were against addressing human trafficking. Some members, such as Freedom and Justice Party member Hoda Ghaneya, preferred to take the article banning human trafficking out of the constitution, saying that Egypt doesn't suffer from human trafficking so it shouldn't address it in its constitution.
Syrian refugees' presence in Egypt began surfacing around mid-2012. Most Syrian refugees come to Egypt because they believe it's their least worst option when weighed against other neighbouring countries.
http://www.dailynewsegypt.com/2013/03/30/gamal-eid-syrian-womens-marriage-to-egyptian-men-is-human-trafficking/
-----------------
UAE torture dad claims daughter he killed was 'possessed'
Salam Al Amir
Mar 31, 2013
DUBAI // A father convicted of torturing and killing his eight-year-old daughter Wadeema told the Appeals Court today that the girl was "possessed", that his original trial was "fiction" and that his girlfriend confessed only because she was stressed.
"Your honour, my daughter Wadeema was possessed, Mira her sister knew this and often told me that Wadeema spoke in a voice of a man, but when I told prosecutors, they mocked me," said HS, 29, before apologising to the judge for raising his voice.
The father was appearing at the court for the first hearing in his appeal against his death sentence. He and his girlfriend AM, both Emirati, were convicted of torturing his two daughters, Wadeema and Mira, 7, as well as killing Wadeema and hiding her body. Both are now appealing, despite the girlfriend pleading guilty during her original trial. Wadeema's father pled not guilty in his original trial to all charges except that of hiding his daughter's body.
He told the Appeals Court there was no tangible evidence against him, claiming that the court case so far was more like a fictional "movie", and that investigators had overlooked any evidence backing up his version of events.
"They talked about the expired food in the fridge and overlooked the valid food, they overlooked my brother's testimony which proved that I treated my daughters well - even Mira's testimony changed. She was on YouTube talking about just punishment, but how could a child her age know what a just punishment is?" he said.
He claimed that he had been wrongly blamed for one of his daughter's injuries, and that other injuries had been caused by his mother's maid. "She broke her hand and I took her to a hospital for treatment, the hospital did not treat her well.
"The burns on her body and those on her sister were mainly caused by the maid at their mother's house," he said.
However, he admitted that his girlfriend had burnt his daughter, but said she did this "only once".
He explained his girlfriend's confession by claiming she was stressed due to her pregnancy.
The father showed the court pictures of him and his daughters at a hotel, saying these proved he took good care of them and had not imprisoned them at his studio flat in International City as the prosecution claim.
"As for the death sentence, I died when Wadeema died and death is 100 times better than seeing my son being raised to know that he was the fruit of an illicit relation," he added.
His girlfriend gave birth to his son while she was in custody awaiting trial for Wadeema's murder.
The trial of the couple at the Criminal Court heard the father and his girlfriend had burnt both girls with irons and cigarettes and had poured boiling water on them. They had also beaten the girls with sticks, electrical wires and bars. Prosecutors said they had used an electrical stun gun on the girls.
When Wadeema died from her injuries, she was wrapped in a white cloth and buried in the desert in Sharjah.
The case was adjourned to April 14.
salamir@thenational.ae
http://www.thenational.ae/news/uae-news/courts/uae-torture-dad-claims-daughter-he-killed-was-possessed#ixzz2P7HQl7g1
-----------------
Psychology tests mandatory for Ethiopian housemaids
March 30, 2013
JEDDAH — The Saudi Embassy in Addis Ababa will require all Ethiopian housemaids to undergo mental health tests before traveling to the Kingdom for work, Al-Watan daily reported Saturday quoting Saudi Ambassador to Ethiopia Abdul Baqi Ajlan.
"We want to reduce danger posed by housemaids to Saudi families," Ajlan said, adding that a few mentally-disturbed cases were discovered among newly recruited Ethiopian housemaids after their arrival in the Kingdom.
Housemaids who obtain the normal health certificates are required to travel to the Kingdom within two weeks of the certificate's issue date.
This will reduce the possibility that a housemaid will catch an infectious disease or become sick if she stays longer in her country after she was issued with a health certificate.
A number of housemaids tested positive for infectious diseases after they arrived in the Kingdom, although they had been issued with heath certificates back home stating that they were free from such diseases.
The ambassador attributed the cause to the fact that some housemaids stay up to three months in their country after issued work visas following the medical checkup.
During this period, they might have picked up some diseases. The embassy is planning to make it mandatory for all housemaids to leave within two weeks of obtaining a health certificate.
The embassy stressed that medical checkups should be conducted by institutions and laboratories in Ethiopia that have been certified by GCC countries' pertinent authorities.
The Ethiopian government suggested the names of some more institutions to be added to the list of approved institutions but the Saudi embassy refused to do so.
He said all Ethiopian domestic servants undergo tests for infectious and sexually transmitted diseases, including AIDS. The health certificate is sent online to the embassy to prevent any attempts to falsify it.
Regarding the training of housemaids, the ambassador said Ethiopia is a relatively new recruitment market for domestic servants and that is why most housemaids who arrived to the Kingdom from the country did not have any idea about Saudi traditions and culture.
http://www.saudigazette.com.sa/index.cfm?method=home.regcon&contentid=20130331159235
-----------------
32 Million Girls in Pakistan Not At School, We Must Push For Change
By Gordon Brown,
March 29, 2013
(CNN) -- Can the world agree that 2013 will be the year when a girl's right to education will finally be won -- even in the most remote and once lawless corners of the globe?
Last October, shocked by the attempted murder of the 15-year-old Pakistani girl Malala Yousufzai, three million people around the world rushed to sign a petition demanding universal girls' education.
The Pakistani government then agreed for the first time to legislate compulsory free education and provided stipends for three million children.
Only this week Shahnaz Nazli, a brave 41-year-old teacher on her way with her child to work at an all girls' school, was shot dead and joined an ever-lengthening list of teachers and students murdered because of their support for the basic right of girls to go to school.
The murder demonstrates yet again that in parts of the Indian subcontinent, Afghanistan, and Africa, intimidation and violence are the daily reality of life for many girls who want to go to school and the many educators who want to teach them.
Full report at:
http://edition.cnn.com/2013/03/28/opinion/gordon-brown-girls-education/
-----------------
Woman Photographers, Aims To Provoke Debates Over Gender and Cultural Stereotypes
Veiled in revelation
Nona Walia, TNN | Mar 31, 2013
Are veils oppressive or liberating? Conservative or dogmatic? Practical or sheer necessity?
Yemini photographer Boushra Almutawakel's work challenges every stereotype that has deeply polarised the world.
Boushra Almutawakel, one of Yemen's first woman photographers, aims to provoke debates over gender and cultural stereotypes through her work. "As an Arab Yemeni Muslim woman, who also wears the hijab, I had my own observations on the veil. It's a complex, multi-layered subject. It's not as simple as black and white, good or bad. I was tired of hearing and reading about the veil from Westerners. I wanted to speak about this subject in my own way through my photographs," says Almutawakel.
Full report at:
http://timesofindia.indiatimes.com/life-style/people/Veiled-in-revelation/articleshow/19304622.cms
-----------------
Children jailed with their mothers in UAE visa amnesty
Wafa Issa , Ramola Talwar Badam and Ramona Ruiz
Mar 31, 2013
DUBAI // At least 10 children are in jail because their mothers were arrested when they handed themselves in during a visa amnesty.
The mothers are among about 61,000 illegal residents who came forward during the two-month amnesty from December 4. They expected to have their papers processed and be sent home, but instead were jailed for adultery, sex outside marriage and having illegitimate children.
Among those in Dubai Female Prison are Yakub Bhi, 42, and her daughter Mariyam, 9, who featured in The National in February, before the amnesty expired. Ms Bhi, who has lived in the UAE illegally for 11 years, said at the time she was too scared to leave as she had no papers for her child. The Indian consulate said it was working on processing the papers.
Ms Bhi was sentenced last week to five months in prison.
Full report at:
http://www.thenational.ae/news/uae-news/children-jailed-with-their-mothers-in-uae-visa-amnesty#ixzz2P7H718yG
-----------------
Turkish Child Fostered By Dutch Lesbians Sparks Diplomatic Row
Thomas Seibert
Mar 31, 2013
ISTANBUL // A nine-year-old boy in the Netherlands is at the centre of a row between Turkey and European countries over non-Muslims fostering Muslim children and eroding their "moral values and religious beliefs".
Yunus, a Dutch citizen of Turkish origin, was removed from his Turkish parents as a four-month-old by Dutch authorities over suspicions of child abuse and neglect. He was given to lesbian foster parents who have raised him ever since.
Several court rulings have confirmed that Yunus's biological parents were unfit to care for him, a Dutch official said last week. He said the boy had not been adopted by his foster parents.
Full report at:
http://www.thenational.ae/news/world/europe/turkish-child-fostered-by-dutch-lesbians-sparks-diplomatic-row#ixzz2P7J9A42G
-----------------
Online protest over Maldives' rape sentence
Campaigners target islands' tourist economy after teenage victim is ordered to be flogged
SARAH MORRISON
31 MARCH 2013
With its crystal clear waters, white sandy beaches and iridescent sunsets, the Maldives is a sought-after destination for loved-up British honeymooners. But its Edenic reputation is under threat after a teenage rape victim was sentenced to 100 lashes for engaging in premarital sex. Now justice campaigners are planning to target the country's lucrative tourism industry unless it improves womens' rights.
The ultimatum has been issued by the world's largest online campaigning group, Avaaz. The network, which boasts 20 million members, has designed an advert contrasting the country's sunny beaches with an image of a crying young girl and a reference to the island republic's Islamic laws. The advert will be published in the travel press, online and via social networks if politicians do not agree to change legislation, according to the organisation.
Full report at:
http://www.independent.co.uk/news/world/asia/online-protest-over-maldives-rape-sentence-8555347.html
-----------------
Afghan women cyclists riding for freedom
30 MARCH 2013
WASHINGTON- When asked to describe their bicycle in one word, many cyclists of all kinds use the word "freedom." Nowhere is this description more appropriate than for the women who make up the Afghan National Women's Cycling Team.
Challenging the long- held cultural belief that a woman cycling is offensive, these dedicated young athletes are standing up to social norms and becoming vehicles of change.
"Daily in Afghanistan, girls risk their lives to go to school, women risk their lives to work in government, the police forces, and even the army. Women activists march in the streets to fight for their rights, knowing that they are making themselves targets," says Shannon Galpin, currently producing a documentary film about the team. "The women cyclists are doing something very simple that we take for granted, but making a huge statement in a country that doesn't allow their women to ride bikes."
Full report at:
http://communities.washingtontimes.com/neighborhood/world-our-
-----------------
Female host deals with family issues on radio show in Afghanistan
March 30, 2013
FORWARD OPERATING BASE SPIN BOLDAK, Afghanistan — There's no crackle of static or catchy radio jingle to be heard. Squeezed into a cramped plywood room adorned with Afghan flags and stacked with electronic equipment, the two women could be speaking among themselves.
But they are speaking to a much larger audience via a radio transmitter the size of a small refrigerator.
With a target audience of women and families, the weekly show — called in Pashto "Da Kor Rana," or "The Light of the House" — is broadcast from Forward Operating Base Spin Boldak to the booming border areas in southern Afghanistan.
On this day, host Zubiah Fedaie, an Afghan linguist with the base's civil affairs unit, is interviewing Capt. Noorul Hayat, a pioneering, female member of the Afghan Uniform Police.
The pair take calls from locals — men and women — asking how to join the Afghan police forces.
Full report at:
http://www.stripes.com/news/female-host-deals-with-family-issues-on-radio-show-in-afghanistan-1.214378
-----------------
URL: https://newageislam.com/islam-women-feminism/jamaat-e-islami-organization-under/d/10954