New Age Islam News Bureau
8 Dec 2019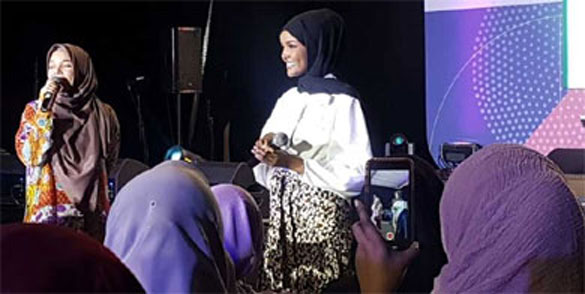 American Muslim supermodel Halima Aden speaks at the Jakarta Halal Things festival at Senayan City, Jakarta, on Saturday. (JG Photo/Nur Yasmin)
-------
• Student Says She Was Assaulted At School In Elk Grove For Being Muslim
• Deported Indonesian Domestic Worker Claims Hong Kong Authorities Made Her Strip In Front Of Male Doctor
• Why Is The NYT Allying With Islamists Against Women?
• UK: Muslim Schoolgirl Target Of Islamophobic Assault
• Lebanese Women March In Beirut Against Sexual Harassment
Compiled By New Age Islam News Bureau
URL: https://www.newageislam.com/islam-women-feminism/jakarta-halal-things-presents-world/d/120468
------
Jakarta Halal Things Presents World's First Muslim Supermodel Halima Aden
BY: NUR YASMIN
DECEMBER 07, 2019
Jakarta. An Islamic cultural conference kicked off in Jakarta this weekend to represent Muslim ways in an array of interests and businesses, from travel and Sharia banking to digital economy and fashions.
Organizers of the Jakarta Halal Things festival have invited American model Halima Aden, known as the first model to wear a Hijab in the Miss Minnesota USA pageant, and at least 50 speakers to lead discussions in various panels.
In her first visit to Indonesia, Aden will share her views in women empowerment. Born as a refugee in Kenya, Aden is now an ambassador for the United Nations Children's Fund (Unicef).
An exhibition of Muslim products and halal foods was held during the two-day event at the Senayan City Mall in South Jakarta.
"The demand of halal products globally has transformed various industry lines, especially in Indonesia, home to the world's biggest Muslim population," Desy Bachir, co-chairman of Jakarta Halal Things, said on Saturday.
The key included former Jakarta deputy governor Sandiaga Uno, actress Dewi Sandra, actor Teuku Wisnu, preacher Ustadz Solmed, Director of Halal Center Malaysia Muhammad Elyas Harun, and Jakarta Governor Anies Baswedan.
The festival will end with a charity concert featuring Chiki Fawzi and music group the Groove and SIVIA with a ticket of a mere Rp 20,000 ($1.5).
https://jakartaglobe.id/lifestyle/jakarta-halal-things-presents-worlds-first-muslim-supermodel-halima-aden
------
Student Says She Was Assaulted At School In Elk Grove For Being Muslim
December 7, 2019
ELK GROVE (CBS13) – Students in Elk Grove are coming together to support a Muslim classmate who says she was assaulted because of her religion.
The alleged attack happened on Wednesday. A 17-year-old girl wearing a Muslim Student Association shirt at school and was followed by a masked person into the bathroom, she says. There, the alleged attacker verbally attacked the girl for being a Muslim and threw a bucket of water on her. The girl was not physically injured during the incident.
On Friday, students, parents, and staff met at Pleasant Grove High School to discuss the incident. The Elk Grove School District sent a letter home to parents condemning what happened.
"The PGHS community came together to show student unity and respect for the diverse makeup of the school community which is cherished, promoted and protected," the school district wrote on their Facebook page.
Police are investigating the incident.
https://sacramento.cbslocal.com/2019/12/07/high-school-muslim-elk-grove/
------
Deported Indonesian domestic worker claims Hong Kong authorities made her strip in front of male doctor
7 Dec, 2019
Kathleen Magramo
An Indonesian domestic helper and citizen journalist deported from Hong Kong for overstaying her visa said on Saturday she was forced to take off her clothes in front of a male doctor during her detention, as about 100 people joined a rally in Central to throw their support behind her.
Yuli Riswati, 39, was deported on December 2 following her arrest on September 23 for overstaying her visa which had expired on July 27. She was detained at Castle Peak Bay Immigration Centre (CIC) on November 4.
Speaking from Indonesia in a live call to the rally at Edinburgh Place, Yuli said her "humiliating" experience at the start of her 29 days in detention had left her feeling depressed.
"They told me to take off my clothes for medical examination. But I was horrified when I found out that the doctor was a man," she said.
"In Islamic beliefs, a woman's body should not be seen by a man outside their family. But they forced me to take off my clothes. I'm a Muslim woman. It was so humiliating to do that in front of a man."
The crowd at the rally chanted "We support Yuli" as she talked, reducing Yuli to tears.
"We're all like a family now. I hope you can also support my friends, too. Many ethnic minorities were also abused at the CIC," she said over the phone in Cantonese.
The rally called on the government to respect foreign domestic workers' freedom of speech and right to take part in political activities.
Yuli's supporters have accused the government of expelling her because she wrote about the civil unrest on Indonesian online news outlet Migran Pos, which she launched in March. They also questioned why authorities had to detain her for such a long period of time.
Fish Ip Pui-yu, regional coordinator of the International Domestic Workers' Federation, said domestic workers who forget to renew their visas could ask their employers to give a written statement and a copy of their work contract to the Immigration Department.
Ip wondered why Yuli was detained, despite her employers submitting the necessary documents to extend her visa.
The Immigration Department earlier declined to comment on individual cases, but said the law gave it the power to arrest, detain, prosecute and deport anyone for violating their conditions of stay.
In response to Yuli's most recent allegations, the department once again refused to comment on her case, but stressed that any arrangements for detainees at CIC were made strictly in accordance with established procedures, to ensure fair treatment.
"If any detainee is dissatisfied with the arrangement, he or she could lodge a complaint through our official complaints channel," a spokesman said.
Source URL: https://scmp.com/news/hong-kong/politics/article/3041097/deported-indonesian-domestic-worker-claims-hong-kong
Links
[1] https://www.scmp.com/news/hong-kong/society/article/3040288/immigration-officials-deport-indonesian-domestic-worker-who
https://www.scmp.com/print/news/hong-kong/politics/article/3041097/deported-indonesian-domestic-worker-claims-hong-kong
------
Why is the NYT allying with Islamists against women?
Prof. Phyllis Chesler
07/12/19
Harvard Law Professor Noah Feldman last week stated in his testimony before the star chamber style impeachment hearing that:
"The framers provided for impeachment of the president because they feared that a president might abuse the power of his office to gain personal advantage; to corrupt the electoral process and keep himself in office; or to subvert our national security.
• High crimes and misdemeanors are abuses of power and public trust connected to the office of the presidency.
• On the basis of the testimony and evidence before the House, President Trump has committed impeachable high crimes and misdemeanors by corruptly abusing the office of the presidency. Specifically, President Trump abused his office by corruptly soliciting President Volodymyr Zelensky to announce investigations of his political rivals in order to gain personal advantage, including in the 2020 presidential election."
Who is Noah Feldman? And what does choosing him as an expert tell us about the current Democratic Party?
I once challenged Feldman to a debate about the Islamic headscarf. He did not rise to the occasion. I suggested that the New York Times, his bully pulpit, sponsor the debate. I did not hear from the Gray Lady either.
In 2008, Professor Feldman praised hijab, the Islamic headscarf, and claimed that if Erdogan (!) could lift Ataturk's ban on it, that he'd bringing Turkey that much closer to democracy. Allowing the Islamic headscarf would be a "case study of religious freedom against coercive secularism."
Feldman wrote this article in the New York Times, the very venue that devotes three separate front page articles about the impeachment hearing (favoring it of course), and four full pages about it continued within.
Thereafter, the New York Times published an article by a Turkish woman lawyer, Fatma Benli, titled "Under a Scarf, a Turkish Lawyer Fighting to Wear It."
Feldman and the Times are totally out of touch with the reality of Muslim girls and women who are routinely beaten and sometimes honor killed because they refuse to wear hijab. To Feldman, the politically correct narrative is one which is pro-Islam and anti-Judaism.
Feldman once wrote a long and bitter article in the Sunday New York Times in which he excoriated his own Orthodox Jewish brethren for (accidentally, as it turns out), not including a photo of himself together with his non-Jewish, non-Orthodox, non-convert wife at a class reunion. He presents Judaism as primitive, xenophobic, hateful. To the best of my knowledge, Jews do not honor kill the girls and women who become dissidents nor do they murder apostates. Only Islam does that.
I have yet to read an article in the Times calling for the right of Christians or Jews to build churches and synagogues in Muslim countries; they focus more on the right of Muslims to build mosques in Europe and in North and South America. They do not demand that Jews not be beaten or cursed for wearing visible Jewish headcoverings or religious insignia.
Such views have propagandized entire generations of Westerners—and to our detriment. The way propaganda works its magic is through persistence, subtlety, photographic images, and Big Lies couched in acceptable and popular ways. Every week, sometimes every day, the Times has a piece which glorifies and normalizes Muslim customs, but not Christian or Jewish customs.
So, why is the New York Times making so powerful an alliance with Islamists against women?
In 2007, in the New York Times, Ian Buruma wrote an article that is so cleverly cobbled together than most readers do not understand that it is meant as a devastating attack on the heroic Ayaan Hirsi Ali.
Tariq Ramadan, the genetic and intellectual heir to the man who founded the Muslim Brotherhood is, again and again, glowingly profiled, reviewed, published, and shown wearing trendy western dress in these same pages.
Young, attractive women wearing headscarves are shown and they are quoted saying sophisticated, friendly things.
Steadily, slowly, inexorably, Western readers have been softened for the "kill," seasoned and habituated to accept the subordination of women as an inviolate cultural and religious reality.
http://www.israelnationalnews.com/Articles/Article.aspx/24842
------
UK: Muslim Schoolgirl Target Of Islamophobic Assault
Ahmet Gürhan Kartal
07.12.2019
British police said they have arrested a man and a woman after a video on social media showed the woman attacking a teenage Muslim schoolgirl on a local bus in Northern England.
The cellphone footage from Wednesday shows the 40-year-old woman hitting the 14-year-old Muslim schoolgirl on the floor repeatedly and a man shouting Islamophobic slurs.
The assault on the young girl started on a single-decker service bus, bound for Ecclesfield, Sheffield, in South Yorkshire, and then continued outside the bus.
Police said they were called to the Nursery Tavern in Sheffield following "reports of racial abuse" and that "a man and a woman were asked to leave the premises."
But the same man and woman, who appear in the video footage, were later involved in the assault of "a 14-year-old girl," according to the statement.
The woman and a 44-year-old man have been arrested in connection with the incident, according to the South Yorkshire Police.
The girl's school also made a statement on the incident.
"We are aware of an incident that has happened outside of school where it appears that some of our students have suffered abuse from members of the public," said Silverdale School.
"We are supporting the students and their families in any way needed," it said.
"Given that this is an ongoing police investigation, we won't be commenting further."
Islamophobia in the U.K. has shown a sharp rise since the 2017 terror attacks in London and Manchester.
https://www.aa.com.tr/en/europe/uk-muslim-schoolgirl-target-of-islamophobic-assault/1667008
------
Lebanese women march in Beirut against sexual harassment
December 07, 2019
BEIRUT: Scores of women marched through the streets of Beirut on Saturday to protest against sexual harassment and bullying and demanding rights including the passing of citizenship to children of Lebanese women married to foreigners.
The march started outside the American University of Beirut, west of the capital, and ended in a downtown square that has been witnessing daily protests for more than seven weeks.
Nationwide demonstrations in Lebanon broke out Oct. 17 against proposed taxes on WhatsApp calls turned into a condemnation of the country's political elite, who have run the country since the 1975-90 civil war. The government resigned in late October, meeting a key demand of the protesters.
"We want to send a message against sexual harassment. They say that the revolution is a woman, therefore, if there is a revolution, women must be part of it," said protester Berna Dao. "Women are being raped, their right is being usurped, and they are not able to pass their citizenship."
Activists have been campaigning for years so that parliament drafts a law that allows Lebanese women married to foreigners pass their citizenship to their husbands and children.
Earlier this year, Raya Al-Hassan became the first woman in the Arab world to take the post of interior minister. The outgoing Cabinet has four women ministers, the highest in the country in decades.
Lebanon is passing through a crippling economic and financial crisis that has worsened since the protests began.
During the women's protest in Riad Solh Square, a man set himself on fire before people nearby extinguished the flames. His motivation was not immediately clear and an ambulance came shortly afterward and evacuated him.
Also on Saturday, outgoing Prime Minister Saad Hariri appealed to more countries to help Lebanon in its crisis to import essential goods. The request made in a letter to the leaders of Germany, Spain and Britain, came a day after Hariri sent similar letters to other countries including Saudi Arabia, US, Russia and China.
https://www.arabnews.com/node/1595591/middle-east
------
URL: https://www.newageislam.com/islam-women-feminism/jakarta-halal-things-presents-world/d/120468
New Age Islam, Islam Online, Islamic Website, African Muslim News, Arab World News, South Asia News, Indian Muslim News, World Muslim News, Women in Islam, Islamic Feminism, Arab Women, Women In Arab, Islamophobia in America, Muslim Women in West, Islam Women and Feminism