New Age Islam News Bureau
16 March 2019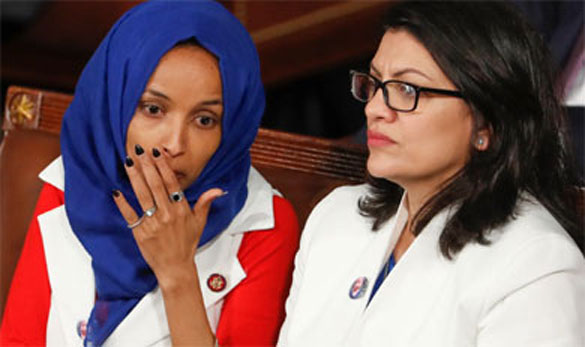 'I Tried To Hold Back Tears': First Two Muslim Congresswomen React to New Zealand Tragedy
-----
• 'I Tried To Hold Back Tears': First Two Muslim Congresswomen React to New Zealand Tragedy
• Yemenis Bury Women, Children Killed In Saudi Airstrike
• Saudi Arabia Affirms Economic Role for Women
• Move To Set Up Network of Safe Places for Muslim Women in Dublin
• Defying Threats, Afghan Singer Aryana Comes Home For Women
• International Women's Leadership Conference Discusses Ways To Fight Radicalism
• Arab Women Pioneers: Daring to Break Stereotypes
Compiled by New Age Islam News Bureau
URL: https://www.newageislam.com/islam-women-feminism/jailed-saudi-women-activists-receive/d/118045
---------
Jailed Saudi Women Activists Receive PEN Writing Award
March 15, 2019
The literary and human rights organization PEN America is honouring three women's rights activists jailed in Saudi Arabia. The group announced recently that they have won the PEN/Barbey Freedom to Write Award.
The three are Nouf Abdulaziz, Loujain al-Hathloul, and Eman al-Nafjan. The Associated Press notes that their arrests last year have been condemned around the world.
Saudi Arabia says the activists were detained for working to "undermine the security" of the country. The detainees have openly opposed government policies that they believe restrict women's rights.
The PEN award comes at a time of intense international criticism of Saudi Arabia and its Crown Prince Mohammed bin Salman. In October 2018, Saudi activist and journalist Jamal Khashoggi went missing during a visit to the Saudi embassy in Istanbul. Investigators blame Saudi agents for his disappearance. They say Khashoggi was murdered.
Earlier this month, the United Nations Human Rights Council denounced Saudi Arabia's "continuing arrests and arbitrary detentions of human rights defenders."
PEN has long noted that the Freedom to Write Award has been a way of turning advocacy into action. The group says 37 of the past 43 winners have been freed, at least in part because of the attention raised by the prize.
"It helped me to survive while I was in prison," said Ahmed Naji, who won the award in 2016. He had been imprisoned in Egypt. The writer and journalist now lives in Washington, D.C.
PEN officials have not decided who will accept the Freedom to Write Award on behalf of the three Saudi women's rights activists. The PEN awards ceremony will take place in New York City on May 21.
https://learningenglish.voanews.com/a/saudi-women-receive-writing-award/4830894.html
---------
'I Tried To Hold Back Tears': First Two Muslim Congresswomen React to New Zealand Tragedy
March 15, 2019
WASHINGTON – Two freshmen congresswomen who were the first Muslim women ever elected to Congress reacted to New Zealand mosque attacks with heartbreak on Friday.
Rep. Rashida Tlaib, D-Mich., and Rep. Ilhan Omar, D-Minn., both elected in November, reacted with both pain and worry for Muslims across the world after 49 people were killed in targeted attacks at two mosques in the city of Christchurch.
"This morning I tried to hold back tears as I hugged my two brown, Muslim boys a little tighter and longer," she said in a statement. "I am so angry at those who follow the 'white supremacy' agenda in my own country that sends a signal across the world that massacres like this is some kind of call to action."
This morning I hugged my two brown, Muslim boys a little tighter and longer. It pains me to see the "white supremacy" agenda right here at home sending signals across this world that a massacre like #NewZealandTerroristAttack is part of some kind of call to action. #TakeonHatepic.twitter.com/cmmWY0lqwo
— Rashida Tlaib (@RashidaTlaib) March 15, 2019
She said that today was Jumu-ah, a prayer held each Friday, and she prayed that other Muslims would be "protected and can find some kind of peace." Tlaib also posted a photo of her cuddling with her two sons, the two boys smiling.
"I hope that our children don't become numb to this, and that this is not their new normal," Tlaib said.
Omar echoed those sentiments. She told reporters that she didn't see the news until she woke up Friday morning in disbelief.
"Love trumps hate," she said. "And so we just have to make sure that we are resilient, loving and that we are creating an environment that recognizes all of our work."
Omar said she worried about the level of hatred in fringe groups, such as what the suspects in the attack were involved in, but said those terrorists should not be given any credence or be allowed to win.
'We must face the hate and terror with love and with compassion.' — Rep. @IlhanMN responded to the New Zealand terror attack by asking everyone to join Muslims at Jummah prayers in solidarity pic.twitter.com/0GvB9s9f32
— NowThis (@nowthisnews) March 15, 2019
She called on everyone — Muslim or not — to pray and not be afraid to go to mosques and "join them in solidarity."
"I know that there was a call for people to not go, and I said to people that is what the terrorist want us to do. That is a win for them," Omar said. "And so we must face the hate and terror with love and with compassion."
The New Zealand attacks occurred the Al Noor mosque, where 41 people died, and the Linwood Islamic Center, where seven died. One person died in the hospital.
More than 20 people were seriously wounded in the racist rampage.
One person, a self-proclaimed racist who described himself as a 28-year-old Australian, was arrested and charged with murder and two others were detained in what Prime Minister Jacinda Ardern called "one of New Zealand's darkest days."
The Australian suspect, who claimed responsibility for the shootings, left a 74-page manifesto against immigrants and used a helmet-mounted camera to capture footage of the killings.
https://www.usatoday.com/story/news/politics/2019/03/15/new-zealand-mosque-attacks-rashida-tlaib-and-ilhan-omar-react/3180683002/
---------
Yemenis Bury Women, Children Killed In Saudi Airstrike
Mar 15, 2019
Hundreds of mourners have taken part in the funeral of 17 women and children killed in a Saudi airstrike in Yemen's northwestern province of Hajjah earlier this week.
Mourners carried wooden coffins, painted green, to the city's Grand Mosque for prayers in Yemen's capital city of Sana'a on Thursday.
Participants chanted slogans denouncing "the Saudi aggression" and the United States and Israel collusion with the Saudi invaders.
Saudi airstrikes leveled five residential houses on Sunday, killing 10 women, 12 children and wounding another 30 people, nearly half of which were under 18.
Local sources claim 11 victims of the attack were from the same family.
Saudi warplanes also targeted ambulances, preventing rescue teams from accessing the area.
Many of those killed or wounded were transported to Sana'a.
On Wednesday, a mass women's rally also took place in the capital denouncing the Saudi attack.
Deteriorating humanitarian situation
The United Nations International Children's Emergency Fund (UNICEF) issued a statement denouncing the attack on Wednesday.
The organization also underlined what it described as a deteriorating humanitarian situation in the Hajjah province.
"The violence has further deteriorated the health system and sanitation services in the area, increasing the risk of cholera/acute watery diarrhea spreading. Since January, 6,322 suspected cases have already been reported," read the statement.
The Norwegian Refugee Council (NRC) also said that more than 203,000 people have been forced from their homes as fighting continues in Hajjah, nearly doubling the total number of displaced people in the province to 420,000.
"Whilst the eyes of the world are on Hudaydah, air strikes and shells continue to rain down on civilians in other parts of Yemen, killing with impunity," said NRC's East Africa and Yemen Regional Director Nigel Tricks.
Saudi Arabia and a number of its regional allies launched the war on Yemen in March 2015 with the goal of bringing the government of Saudi-allied former president Abd Rabbuh Mansur Hadi back to power and crushing Yemen's Houthi Ansarullah movement.
The Saudi regime consequently launched a campaign seeking to capture Yemen's western lifeline port city of Hudaydah on June 2018 but failed after facing strong resistance from Yemeni forces.
Despite a truce agreement to end the major fighting in the city, the deal has been constantly breached by the Saudis.
The war has so far taken a heavy toll on the Yemen's infrastructure, destroying hospitals, schools, and factories.
According to a report by the Armed Conflict Location and Event Data Project (ACLED), a nonprofit conflict-research organization, the Saudi war has so far claimed the lives of around 56,000 Yemenis.
On Wednesday, the US Senate passed a resolution against US military support for the Saudi campaign.
The resolution has been described as a response to Riyadh's onslaught on Yemen along with the murder of Saudi journalist Jamal Khashoggi.
US Senator Bernie Sanders, a co-sponsor of the text, has called the war on Yemen a humanitarian and strategic disaster
https://www.presstv.com/Detail/2019/03/15/591089/Yemenis-bury-Saudi-strike-victims
---------
Saudi Arabia Affirms Economic Role for Women
March 15, 2019
NEW YORK: Saudi Arabia affirmed its belief that women are an important component of the power of society and are of paramount importance in the creation of a vibrant economy.
Under Vision 2030 the country will continue to invest in women's energies and develop their talents by offering appropriate opportunities to build their future and contribute to society's development.
This came in a speech delivered by the secretary-general of the Supreme Council for Family Affairs, Hala Al-Tuwaijri, at a high-level meeting of the Commission on the Status of Women (CSW) at the UN in New York.
Al-Tuwaijri said that in the course of discussions that focused on social protection systems, access to public services, sustainable infrastructure and the empowerment of women, the Kingdom's delegation would highlight its achievements in this field.
Vision 2030 and its programs reflect the aspirations of the Kingdom's leadership to ensure the welfare of future of generations by "upgrading the efficiency of institutions to achieve ... a vibrant society, a prosperous economy and an ambitious homeland." She highlighted the Kingdom's initiatives to strengthen the role of women, through 36 strategic goals, supporting women's empowerment and ensuring their access to services through the building of supportive infrastructure.
Al-Tuwaijri explained that the social protection system in the Kingdom includes a number of programs for the labor market, social insurance programs and social safety net programs. Saudi Arabia is keen to provide equal social protection for its citizens, and education and health services that are equally available to all.
The Kingdom seeks to promote the economic status of women by working to eliminate barriers facing them in the labor market, and through its endorsement of UN conventions and protocols in supporting of women's rights.
http://www.arabnews.com/node/1467411/saudi-arabia
---------
Move To Set Up Network of Safe Places for Muslim Women in Dublin
Mar 16, 2019
Abusive and threatening behaviour towards Muslim women has prompted a group of them to try to set up a network of safe places in Dublin where women can seek immediate refuge if they are being harassed.
Taking their cue from a similar and successful scheme in Scotland, the women, who are all associated with the Dublin Mosque on the city's South Circular Road, hope to launch their initiative by the end of this month.
It has been prompted by several incidents of intimidation and abuse directed against Muslim women, many of whom are identifiable by wearing either the hijab, the head and neck scarf favoured by many women of teenage and adult years, or the niqab, the full face black veil with a narrow slit for the eyes, favoured by others.
"It is a very bad day indeed," the initiative co-ordinator, Shanaya Ahmad, said on Friday, reflecting a collective sense of vulnerability in the Muslim community caused by the atrocity in New Zealand.
Reacting to that event, she said: "We don't want to spread any irresponsible hate messages."
While on a wholly lesser scale to the outrage in Christchurch, Muslim women in Ireland are not infrequently the recipients of unprovoked public abuse and threatening behaviour from others, almost invariably men.
Ms Ahmad and colleagues, all of whom are connected to the Amal Women Association attached to the Dublin Mosque, are designing a sign – a large yellow sticker – with the message "Ask For Help" which they hope participating premises will display prominently.
This week, Sabina Higgins, wife of President Michael D Higgins, showed support for Amal by visiting the mosque for the association's get together marking International Woman's Day.
The safe space idea, which is known in Amal as the Yellow Sticker Project, is that participating retail outlets and community groups with walk-in facilities would have the sticker in their window or door, signalling to anyone feeling vulnerable that this was a safe place to which they could retreat for protection, support and comfort in a moment of vulnerability.
The yellow sticker safe spaces would be for women who "just need a little relief at that moment, maybe a glass of water and some comforting support, and maybe also someone to call the police", said Ms Ahmad.
Incidents
Ms Ahmad, who was born in India and is a banker with a Masters degree in strategy management from Dublin City University, illustrated the sort of incidents that have prompted the self-help initiative.
"I have a friend living in Dublin 8 and she was walking along the footpath one day, with three or four men behind her. One snatched off her hijab and threw it down. She was alone and tried to take the matter to the police. They took her complaint down but nothing much else was done about it," she said.
Another example concerned an Irish-born woman, a convert to Islam, who was walking in a Dublin city centre park when she was confronted by some men.
"They said to her, 'What are you?'" They shouted at her that they would rape her daughter. "She had a baby in a pram with her," said Ms Ahmad. "This was in a public park."
A colleague in Amal Women Association, Noor Nasib, has had personal experience of anti-Muslim harassment. Attending night classes in Aungier Street, Ms Nasib has been subjected to unwanted attention in the area around Cuffe Street, Mercers Street and Digges Street.
"Young boys and girls like to tease us," she said. "They throw eggs or stones and such and we've been advised not to go there." Ms Nasib said traditional clothing appeared to be the factor in prompting such abuse.
"The hijab is attracting them as if we . . ." her voice trails off. "I don't know what they are thinking. It's Islamophobia, I would say, and racism."
The Scottish Keep Safe scheme was designed to help disabled people who felt vulnerable, or victims of hate crimes, who need a safe space and assistance. According to its website: "Keep Safe places are checked and approved by Police Scotland and staff within are trained."
https://www.irishtimes.com/news/ireland/irish-news/move-to-set-up-network-of-safe-places-for-muslim-women-in-dublin-1.3827740
---------
Defying Threats, Afghan Singer Aryana Comes Home For Women
MARCH 16, 2019
KABUL, Afghanistan (Reuters) - Each time Aryana Sayeed, one of Afghanistan's most famous singers, returns to the country of her birth, she braves threats and endures scrutiny right down to her choice of clothes.
Still, she returns often, as much to encourage women in a restrictive country as to share her music, a mix of pop and traditional songs.
"It's really hard for me as a female singer to carry on with my work in Afghanistan with the type of pressure that I have on my mind, the threats that I get on a regular basis, the attacks on social media," she said in an interview in Kabul.
"I get messages, scary ones actually."
Aryana, as she is usually known, had just finished performing last week on Afghan Star, a televised singing competition.
In 2017, Aryana enraged conservative Afghans when she was photographed wearing a self-coloured dress at a Paris concert. Clerics threatened that she would be killed if she returned to perform a scheduled concert in Kabul.
She performed anyway.
"People love to hear her voice. But they don't love her," said filmmaker Sadam Wahidi, who is working on a documentary about Aryana, who is often compared to Hollywood reality star Kim Kardashian.
Aryana's success in Afghanistan and among Afghans living abroad illustrates how much the treatment of women has changed since the 2001 ouster of the Taliban by U.S.-led forces. But the vitriol she draws shows how intractable some attitudes remain.
Born in Kabul, she fled Afghanistan's civil war at age 8 with her family, stopping in Pakistan, then Switzerland. After the family's asylum case was rejected, they hired a smuggler to get to London, and settled down.
Aryana, 34, now splits her time between Kabul and Istanbul.
'SO SCARY'
In her home city, Aryana travels by armoured vehicle, but more often she lives in isolation.
"I'm basically a prisoner in my own room," she said. "All I do is go to my room and back to the set and record the show."
Women have gained the right to work and girls can attend school since the Taliban government fell.
It is a stark contrast to life under the hardline Islamists, when women were banned even from appearing in public without a male relative or with faces uncovered. Playing musical instruments was also forbidden.
Still, rural Afghanistan remains more conservative than the cities, and many people object to Aryana's clothing and her promotion of women's rights.
"Aryana Sayeed's concerts are not in accordance with our society and Islam," said Layeq Khan Wahdat, 26, a resident of Paktika province. "Dress-up like this can promote prostitution and seduction."
Aryana's latest return to Afghanistan came as the United States discusses peace with the Taliban to end the 17-year war. The prospect of re-integration of the Taliban is chilling to the singer.
"That's so scary even to think about it," she said. "I don't want to accept that this is my last concert. If they come with the same mindset, I'm afraid the rights of women will be taken away from them again."
The Taliban have said their return to Afghan society would be less harsh and that they do not oppose women's education or employment; however they are against women wearing "alien culture clothes."
At her Afghan Star performance, Aryana wore a tight-fitting white jumpsuit and cape, with no headscarf.
TOLO TV, Afghanistan's largest private station that airs the singing show, closely cropped images of her in the outfit to display her only from the chest up.
Several hundred young women wearing headscarves watched in the studio audience admiringly and dozens mobbed her afterwards for photos.
"The Taliban are always trying to cut off the voices of women," said a teenage girl, 17. "But it was Aryana Sayeed who taught us that 'you are not weak'."
https://in.reuters.com/article/afghanistan-singer/defying-threats-afghan-singer-aryana-comes-home-for-women-idINKCN1QX01R
---------
International Women's Leadership Conference Discusses Ways To Fight Radicalism
By Sydney McCourt
Mar 15, 2019
Rabat – The Women's Leadership for Peace Conference opened in Rabat yesterday. The two-day conference brought together scholars, ambassadors, security experts, and theologians to discuss the theme of "Women's Leadership for Peacebuilding, Countering Terrorism, and Religious Radicalisms."
The conference, organized by the Interfaith and Peacebuilding Research and Training Center in collaboration with the Mohammadian League of Ulemas, Morocco's highest body of Islamic clerics, is meant to be a platform for exchange and collaboration.
In his opening speech, Ahmed Abbadi, the Secretary General of Mohammedian League of Ulemas said that the conference was an opportunity to face the goals of countering hate speech and building a more peaceful, more sustainable society.
Women as peacebuilders
Women occupied a prominent spot during discussions. They sought to understand the ways in which women can strengthen peacebuilding capacities and contribute to the fight against terrorism.
The UK government contributed to funding the two-day event. When asked about the conference, the British Ambassador Thomas Reilly stressed the importance of associating women to the fight against radicalization.
He explained, "Women make up 52 percent of our population and if we leave that part of our society behind we leave behind a whole range of possible solutions to countering radicalization, countering violent extremism, and countering terrorism.
To have women involved in that fight, in that generational struggle, is an absolutely essential part of achieving success."
Through presentation of research results, discussion of personal experience, theorization, and debates about politics and theology, the conference's participants worked towards answering questions relating to women's role in peacebuilding and security activities.
Aicha Haddou, director of the Morocco Interfaith and Peacebuilding Research and Training Centre and one of the conference's main organizers, spoke about the emergence of women as major players in mobilizing for peacebuilding. Women, she explained, are increasingly engaged in fighting against extremism and populism.
Haddou argued, however, that there currently exists a narrative vacuum regarding women's role in non-violence and peacebuilding activities. She maintained that, in order to move forward, it is necessary to re-write history to give women their rightful place.
Building upon this idea, Sarah Sayeed of Women in Islam Inc. emphasized the importance of giving Muslim women a seat at the table where they are so often the topic of conversation. She argued that in order to create the most successful solutions to the issues at hand, Muslim women must have a hand in policymaking and in shaping their own narrative.
In addition to discussions of women's role in policymaking to deal with the radicalization crisis, there was analysis of research which seeks to understand the radicalization of women themselves.
Radicalization of women
Bahija Jamal, an associate professor of international law at Hassan II University in Casablanca addressed the situation of women in Morocco in relation to extremism.
According to Jamal, of the 1664 individuals who have joined ISIS from Morocco, 300 have been women.
Jamal's research did provide clear-cut answers about female radicalization, but she advised against viewing radicalized women as a homogenous bloc. She proposed nuance in dealing with radicalized women, warning that any solution that essentializes extremism would be incomplete.
Participants discussed varying responses to terrorism and radicalization across many countries.
Jamal explained that the Moroccan response to terrorism involves coherence between three pillars: the reinforcement of security governance; the fight against poverty and social inequality; and the promotion of religious values of tolerance, moderation, and coexistence.
Others called for embracing a new way of practicing spirituality.
For Dr. Ramin Jehanbegloo of the Mahatma Gandhi Centre for Non-Violence and Peace Studies, values like moderation and tolerance are of utmost importance in curbing the proliferation of extremist ideas.
Proponents of tolerant and moderate spirituality argued for an emphasis on spirituality and the re-interpretations of religious texts as means of countering the spread of extremist thought.
Jehanbegloo spoke passionately about the crisis of spirituality facing the world at large. "Religion without nonviolence is lame and nonviolence without spirituality is blind," he said.
https://www.moroccoworldnews.com/2019/03/268111/international-womens-leadership-conference-ways-fight-radicalism/
---------
Arab Women Pioneers: Daring to Break Stereotypes
Mar. 16, 2019
May Rihani
The need to break the stereotypes about women in the Arab world remains important. One of the ways to do that is to recognize the role that Arab women pioneers have played and Arab women leaders continue to play. The achievements of these women were the cornerstones of the change movement that took place in the 20th century and continues to forge ahead in the 21st century. We, at the Gibran Chair for Values and Peace at the University of Maryland, decided to build a knowledge centre that acknowledges the achievements of these pioneering women and the advancement of Arab women's progress. This centre aims to break stereotypes and support the empowerment of women and their allies. It is designed for knowledge seekers: women, men, policymakers, NGOs, research institutes, businesspeople, international development agencies, students and the media.
In the Arab World, as in all the regions of the world, women face social obstacles in their journey toward accomplishment and success. However, where there are obstacles, restrictions and discrimination, there is a will to overcome them. From among those women who have a strong will to overcome impediments and who act on this will, many leaders emerge.
This online knowledge centre features 55 women pioneers and 97 women leaders. The Arab women pioneers profiled might already be household names and some might be less known, however, they all deserve our attention. These pioneering figures changed their countries thanks to their enormous contributions to women's rights, education, academia, health, science, politics, literature, art, architecture, media, aviation and many other fields. They worked toward a future of equity, equality and justice as basic values.
All of these agents of change are strong voices, tireless advocates and major activists for reform in their countries with a common goal of advancing gender equality and women's rights. Many of them persisted despite numerous social, cultural and political obstacles.
The writers, thinkers and journalists among them helped ignite, through their articles and public speeches, the will of others to advocate for women's rights.
The political activists led the way and traced a path where women could play new roles outside traditional roles and thereby helped guide their societies and countries in new directions.
The pioneer women scientists called on other scientists to protect against nuclear hazards or worked with them on preventing diseases and expanding access to health services.
These pioneers founded civil society organizations, presided over universities, increased access to educational systems, reformed health systems, helped launch new movements, organized women's marches, challenged traditional norms and worked with leading national figures to improve the status of women and girls in their countries. Each one of the pioneers accomplished a first in her field. In the late 19th century and in most of the 20th century, it was highly unusual to find a woman in many of the positions that these pioneers occupied.
Each of these women dared to be the first. Each of these women challenged convention and stepped outside of expected roles, and thus created new opportunities for her sisters. Many of these pathfinders believed that the status quo was not an option.
These extraordinary women pushed society to think bigger, change some unfair norms and regulations, overcome barriers, break glass ceilings and move forward. The women featured in the knowledge center are excellent examples of women with powerful visions, boundless courage, strong will and inspiring determination to create a more equitable world. They changed the Arab world by transcending boundaries in their fields and by opening new paths for women and future generations. Thanks to each of them, women and girls are able to live with fewer restraints and greater dreams.
These pioneers are Arab history's greatest female role models.
May Rihani is director of the Gibran Chair for Values and Peace, University of Maryland. See www.pioneersandleaders.org.
http://www.dailystar.com.lb/Opinion/Commentary/2019/Mar-16/478937-arab-women-pioneers-daring-to-break-stereotypes.ashx
---------
URL: https://www.newageislam.com/islam-women-feminism/jailed-saudi-women-activists-receive/d/118045
New Age Islam, Islam Online, Islamic Website, African Muslim News, Arab World News, South Asia News, Indian Muslim News, World Muslim News, Women in Islam, Islamic Feminism, Arab Women, Women In Arab, Islamophobia in America, Muslim Women in West, Islam Women and Feminism