New Age Islam News Bureau
25 March 2019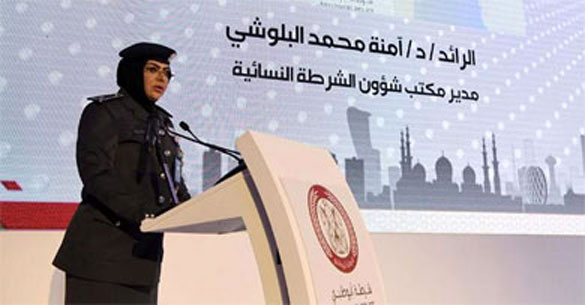 Amna Mohammad Al Beloushi, director of Women Police Affairs Bureau.
Image Credit: Courtesy: Abu Dhabi Police
------
• Muslim Teenager Enters Boxing Competition Wearing a Hijab
• Makkah Millennium Hotel Honours Its Female Workers
• Women an Integral Part of UAE's Police Forces, Conference Hears
• USAID Supports Women's Trade Fair in Mazar-e-Sharif
• India, Pakistan Spar over Abduction of 2 Hindu Girls
• Thousands of Muslim Women Raped, Tortured, Killed in Syrian Prisons
Compiled by New Age Islam News Bureau
URL: https://www.newageislam.com/islam-women-feminism/jacinda-arderns-hijab-shows-new/d/118120
--------
Jacinda Ardern's Hijab Shows What New Zealanders Really Think of Muslims
Dominic Green
March 24, 2019
The reaction of New Zealand's vast non-Muslim majority to the terrorist attack at the Al Noor mosque in Christchurch is both inspiring and alarming. Inspiring because, faced with a group of mostly recent arrivals who constitute a mere 1 percent of New Zealand's population, the other 99 percent have chosen not to ignore their loss and distress, but to commiserate and console at a time when liberal democracies are beset by factional resentments. What is alarming is the form the reaction has taken.
When New Zealand's prime minister Jacinda Ardern observed Friday prayers in the park outside the mosque, she and many other non-Muslim women wore a hijab. They were not in the gender-segregated prayer area reserved for women, where covering their hair would have been politely insisted upon, and courtesy would have required compliance. They did this voluntarily — to express fellow feeling, rather than to avoid arousing Muslim men.
Ardern's choice of headwear was a political statement. So was broadcasting the call to prayer over state television and radio. So was the unfounded claim from Gamal Fouda, imam of the Al Noor mosque, that the massacre was 'the result of the anti-Islamic and anti-Muslim rhetoric by some political leaders, some media agencies, and others'. So was the foolishly repressive banning of the shooter's 'manifesto' by the New Zealand censor, presumably under pressure from Ardern's Labour party. So was the downright ridiculous response of Whitcoull's, a New Zealand bookstore chain, to ban Jordan Peterson's self-help manuals. These are not the reactions of thoughtful leaders. They are panic reactions, seeking political gain or shelter from as-yet hypothetical consequences.
It is good that Ardern has 'stood with' New Zealand's Muslims in a display of simple decency. But the message sent by her hijab, and those of the other non-Muslim women, is politically confused — and an admission of unconscious bigotry.
'In my simple worldview, if you believe in equality, you should be a feminist,' Ardern wrote in 2015. On Friday, Gamal Fouda thanked Ardern and the non-Muslim women for 'honoring us with a simple scarf'. But there is nothing simple about a scarf in this context.
In Muslim-majority societies where family honor is everything, the presence of the hijab is a barometer of the status of women. Where the hijab is the marker of Muslim female identity, women are subjugated to custom over free expression, to discriminatory clerical law over equality before secular law, and to male authority over a woman's right to choose.
In the liberal democratic states into which large numbers of Muslims have recently immigrated, the hijab is second only to the niqab, the face cover, as a symbol of the subjugation of women, and the political assertion of Islam in secular societies. If an elected female prime minister chooses to signal her virtue by wearing a hijab outside a Muslim prayer space, she will appear to be endorsing the hijab as the official and correct public costume of Muslim women, regardless of what they might think, and regardless of what it costs them. Especially if she is a self-professed feminist.
'It is a symbol of purity culture antithetical to feminist values,' the Muslim reform campaigner Asra Nomani tweeted at Ardern on Friday. 'We have women in jail and dead, for refusing the interpretation of Islam you promote.'
The New Zealand Muslim Association and the Islamic Women's Council of New Zealand promoted the idea that non-Muslim New Zealanders should 'stand with' New Zealand's Muslims by covering their hair. The suggestion, however, came from Dr Thaya Ashman of Auckland. after she had seen a news item in which a New Zealand Muslim woman said she was now afraid to go outside in her hijab.
Ashman, apart from being a doctor, is also a vicar's wife and occasional preacher. She has volunteered for an NGO in Afghanistan, where women are afraid for their lives if they go outside without a hijab. There was a time when a vicar's wife might have advised her fellow Christians to pray for their Muslim neighbors, and then to respond with charity, like the surviving congregants of the Tree of Life synagogue in Pittsburgh, who have reciprocated the crowd-funded generosity of their Muslim neighbors by sending more than $50,000 to Al Noor.
Ashman might have called on non-Muslims to make the small gestures of fellow-feeling on which genuine relations are built between religious and ethnic communities. Instead, she practiced what liberal-minded Christians tend to preach these days, a woozy and theatrical religion of humanity. Of course, it took off on Twitter, where no gesture of sanctimony is too fatuous to make. Soon, hordes of young non-Muslim women were posting hijabi selfies under the tag #HeadscarfForHarmony.
Australians did the same in December 2014 when a self-starting ISIS adherent held a Sydney café hostage and two customers were killed. After an Australian Muslim woman was insulted on a bus, the #IllRideWithYou hashtag became the way to signal amity. The enemy is no longer the ideologically motivated terrorism of a minority within a minority, but a diffused intolerance, the purported racism of the majority among the majority.
A female Muslim New Zealander, writing anonymously, called the #HeadscarfForHarmony fad 'cheap tokenism… 'a gimmick and pretty distasteful': 'Most people will remove their scarves when Friday ends whilst my mother and sisters continue to be abused — as it's their religious outfit and not a costume.' The fact that she had to write anonymously confirms her case.
The Christchurch attack is the first mass casualty terrorist event in New Zealand's history. The frenzied extent of the messaging — the newsreaders speaking Arabic, the armed policewoman in a hijab, the #HeadscarfForHarmony mania — smacks of terror — the feeling, not the act. For the power and purpose of terrorism is to inculcate fear by random violence. And it is only human to wish to ward that off, whether by surrender or resistance.
The world is terrified of Islamist violence. In that sense, if no other, the Islamist-approved term 'Islamophobia' is accurate. Imam Fouda rightly observed that the Al Noor attack 'did not come overnight'. It comes after a long global wave of Islamist terrorism, most of whose victims have been Muslims. And some of that violence has incited its despicable twin, the terrorism of the minority within the majority, into a dance of death.
New Zealanders sense that even their distant society has been drawn into the dialectic of religious murder. Of course, Islamists will retaliate: that is the nature of terrorism. The hijabs, the selfies, and the invocation of Arabic phrases are all what the anthropologists call apotropaic magic, an unconscious attempt to ward off the coming evil.
In Greece and Turkey, the eye of the 'evil eye' amulet is blue because it is blue-eyed people who, inadvertently or not, are believed to carry the evil. One theory has it that this is a folk memory of violent, blue-eyed invaders like the Crusaders. Today, non-Muslim New Zealanders are propitiating their fear of the coming evil with a similar outburst of collective primitivism.
As with the hanging of evil eye amulets that face outwards, or the strategic placement of mirrors which serve similar magical thoughts, Ardern and the selfie-takers are trying to protect themselves by reflecting their image of terror back to itself. This, more than their consciously contrived theatricals of affection and sympathy, shows what they really think of Islam and Muslims.
https://spectator.us/jacinda-ardern-hijab-muslims/
--------
Muslim Teenager Enters Boxing Competition Wearing a Hijab
24 Mar 2019
Last month, the International Boxing Association (AIBA) lifted a ban on hijabs and other full-body uniforms that fighters wear for religious reasons. This meant Muslim teen Safiyyah Syeed, who wears a hijab, can take her love of boxing to the next level. The 18-year-old from Bradford began boxing a year ago. When she was suffering from from anorexia and bulimia, she wrote a bucket list, which included becoming a boxer. Overcoming the conditions, Safiyah said she wants to show people that it's possible to overcome mental health issues and have a positve relationship with your body. Now she wants to be one of the first Muslim women to compete nationally and hopes to take her boxing to the Olympics one day. To prepare, Safiyyah, who is studying a leadership program at university, has begun training twice a day.
'I was a bit worried at first about being a hijabi girl going into a boxing gym. It's not what people are used to,' said Safiyah. 'But everyone has been so nice and supportive. No one minds that I wear a hijab in the ring. 'It doesn't affect my boxing at all, some people think it might make it hard to move but I forget I'm even wearing it.'
https://metro.co.uk/2019/03/24/muslim-teenager-enters-boxing-competition-wearing-a-hijab-8998199/
--------
Makkah Millennium Hotel Honours Its Female Workers
2019-03-24
MAKKAH Millennium Hotel and Towers, the luxury hotel serving the pilgrims coming to Makkah and located directly over the Holy Haram Piazza, celebrated International Women's Day by organizing a series of events and activities to appreciate the contribution by female employees in the hotel and the hospitality industry.
Marking International Women's Day celebration last March 8, the female employees of the hotel visited King Abdullah Medical City Specialist Hospital for women to brighten the day of the patients and inspire them to improve their health and well being while also distributing gifts to cheer them up.
The hotel also honored the women in the organization by arranging a gathering at Al Andalus Restaurant.
Saad Khayat, General Manager, Makkah Millennium Hotel and Towers, recognized the achievements of women and listing down action points to empower the women workforce in the organization, and encourage them to start a conversation that matters. As a token of appreciation, a gift distribution ceremony for each female employee was held.
He said: "Women are making their presence and contribution felt in every industry alongside men and it is a matter of great pride and honor to witness these remarkable progress and achievements. On behalf of the management of Millennium Hotels and Resorts, we would like to extend our thanks and appreciate their presence in the family. We pledge to support women in the hospitality industry and offer more opportunities in the near future." — SG
http://saudigazette.com.sa/article/561890
--------
Women an Integral Part of UAE's Police Forces, Conference Hears
March 24, 2019
Abu Dhabi: Being a police officer is no longer just a man's job. More and more women are playing influential roles as highly skilled policewomen in the UAE, thanks to the government's efforts to ensure women have a role in the country's security apparatus.
The fourth Policewomen Regional Conference, which highlighted this point in the capital yesterday, brought together several female police officers in leadership positions to discuss the latest trends when it comes to policewomen in the UAE and the region. "In the police sector, Emirati women have worked side by side with their male colleagues with full equality — carrying out all their duties and showing a high level of professionalism as well as proving their competency," said Amna Mohammad Al Beloushi, director of the Women Police Affairs Bureau.
"We have seen the empowerment of women in the UAE in all fields, especially when it comes to the police, where women have reached high ranks and positions of leadership requiring special skills to carry out their duties when it comes to security matters," she added.
Al Beloushi said, "We're supporting them in all areas — social and family life — and we are also sending them outside the country to continue their studies. Women are equal to men... they are involved with all projects and in our core activities."
Al Beloushi said looking upon the police's role as a male prerogative is passe.
"Nobody is saying that at all [in the UAE. Even if you go to the US or the UK nobody is talking like that anymore. Women work in all places now."
Azza Sulaiman, a member of the UAE Federal National Council who also spoke at the forum, said the increased numbers of Emirati women working as police officers was because of the country's decades-long policies of diversifying its workforce to include both men and women.
"Our leadership changed the look and image of women to one that is innovative, providing opportunities for women to have all chances to become productive citizens... Here in the UAE, women have been integrated in all roles of society."
Speakers said it is important for women to be innovative in whatever role they are in.
https://gulfnews.com/uae/women-an-integral-part-of-uaes-police-forces-conference-hears-1.62881403
--------
USAID Supports Women's Trade Fair in Mazar-e-Sharif
25 Mar 2019
The second USAID Forward Together: Women in Business regional trade fair ended this week in Mazar-e-Sharif, Balkh Province. The three-day event (March 21-23) coincided with this year's observance of Nowruz.
The United States Agency for International Development in a statement said "USAID supports these annual regional trade shows to showcase products and services of Afghan women-owned companies or companies that employ substantial numbers of Afghan women."
The statement further added that featuring a variety of businesses from Balkh Province as well as from six other provinces, the three-day event offered business-to-business networking and an open day for consumers to visit the exhibition.
"Trade fairs are a great way for Afghan women to reach discerning consumers in some of the world's largest markets with their outstanding products," said USAID Mission Director Peter Natiello. "This means better incomes, employment, and livelihoods for Afghan women and their families."
Participating businesses identified more customers, suppliers, and contractors. Businesses also heard from customers and improved their understanding of customer needs.
In last year's trade fair, businesses made approximately AFN 15.5 million from wholesale contract agreements and approximately AFN 2.9 million in direct retail sales, USAID said.
https://www.khaama.com/usaid-supports-womens-trade-fair-in-mazar-e-sharif-03564/
--------
India, Pakistan Spar over Abduction of 2 Hindu Girls
Mar 24, 2019
A fresh row appeared to be brewing between India and Pakistan on Sunday after external affairs minister Sushma Swaraj asked India's envoy in Islamabad for details about the alleged abduction and forced conversion of two Pakistani Hindu girls in a tweet that triggered an exchange on social media with a minister of the neighbouring country.
Reports said that two Hindu teenage girls, 13 and 15 years old, were allegedly kidnapped and forced to convert to Islam before being married to Muslim men in Pakistan's Sindh province. Pakistan Prime Minister Imran Khan on Sunday ordered the provincial Sindh and Punjab governments to retrieve the two girls, who were said to have been moved to Rahim Yar Khan from Ghotki in his country's south-east.
In videos circulating on social media over the last two days, the father and brother of the girls can be heard saying the two were abducted and forced to change their religion.
In another clip, however, the minor girls appear to say that they have accepted Islam of their own free will. Hindustan Times could not independently verify the video clips.
While tagging a media report about the incident in Pakistan, the Indian external affairs minister on Sunday tweeted that she had asked the Indian high commissioner in Islamabad to send a report on the matter. Pakistan's information minister Fawad Chaudhry responded to her tweet, saying it was his country's "internal issue".
Swaraj hit back in another tweet: "Mr Minister, I only asked for a report from Indian High Commissioner in Islamabad about the kidnapping and forced conversion of two minor Hindu girls to Islam. This was enough to make you jittery. This only shows your guilty conscience."
To this, Chaudhry responded by tweeting: "Madam Minister I am happy that in the Indian administration we have people who care for minority rights in other countries. I sincerely hope that your conscience will allow you to stand up for minorities at home as well. Gujarat and Jammu must weigh heavily on your soul."
Non-Muslims constitute about 3% of the 190 million people in Pakistan, about 7.5 million of them from the Hindu community. The minority populations are concentrated in some areas and they are said to have a crucial impact in a few seats during elections in the Sindh and Punjab provinces.
The incident comes weeks after the Pakistani government sacked a provincial minister for making offensive remarks about Hindus amid tensions with India following a suicide bombing in Kashmir's Pulwama that killed 40 troopers of the Central Reserve Police Force (CRPF). Pakistan-based terror outfit Jaish-e-Mohammed (JeM) claimed responsibility for the attack that was carried out by a 22-year-old Kashmiri man.
In an operation carried out on February 26, fighter jets of the Indian Air Force bombed a site in Balakot, in Pakistan's Khyber Pakhtunkhwa region, known to be a militant training centre of the JeM. The air strike triggered a sharp escalation in tensions with Pakistan, which attempted an air operation in retaliation.
The tensions eased after Pakistan released Indian Wing Commander Abhinandan Varthaman, whose jet was shot down in a dogfight over the Line of Control on February 27.
In a Twitter post in Urdu on Sunday, Pakistan's information minister Chaudhry said that the Prime Minister of his country asked the Sindh chief minister to look into reports that the two Hindu girls had been taken to Rahim Yar Khan in Punjab. Chaudhry said that Khan also ordered the Sindh and Punjab governments to devise a joint action plan in light of the incident, and to take concrete steps to prevent such incidents from happening again.
"The minorities in Pakistan make up the white of our flag and all of our flag's colours are precious to us. Protection of our flag is our duty," he said.
The Hindu community in Pakistan has carried out massive protests, calling for strict action to be taken against those responsible, while reminding Imran Khan of his promises to the minorities of the country. During his election campaign, Khan had said his party's agenda was to uplift the various religious groups across Pakistan and said they would take effective measures to prevent forced marriages of Hindu girls.
https://www.hindustantimes.com/india-news/india-pakistan-spar-over-abduction-of-2-hindu-girls/story-Wh8XgySb56sESGnjXj7TZI.html
--------
Thousands of Muslim Women Raped, Tortured, Killed in Syrian Prisons
by Bassam Tawil
March 25, 2019
For Palestinian women in Syria, there was no reason to celebrate International Women's Day, an event commemorated around the world earlier this month. While in many countries women were celebrating, a report published by a human rights organization, the Action Group for Palestinians of Syria, revealed that 107 Palestinian women were being held in harsh conditions in Syrian prisons.
The Palestinian women, according to the Action Group for Palestinians of Syria, were arrested by the Syrian authorities after the beginning of the civil war in that country in 2011. "The Syrian security authorities are continuing to hold dozens of Palestinian refugee women since the beginning of the war in Syria," the Group said. The Group's researchers said they were able to document the cases of 107 Palestinian women who are still being held in prison; 44 from the Damascus area, 12 from the city of Homs, four from the city of Daraa and 41 from different parts of Syria.
Among the female detainees are university students, activists and mothers, some of whom, report added, were incarcerated with their children. The "testimonies of some women who were released from prison confirm that they had been subjected to various forms of torture at the hands of Syrian security officers," the report said. "It is worth noting that Palestinian women in Syria have been subjected to arrest, kidnapping, death and disability as a result of the conflict in Syria that erupted in March 2011."
Another report by the same Group revealed that, since 2011, 34 Palestinian women have died in Syrian prisons as a result of torture. Altogether, 570 Palestinians, including women, children and the elderly, have died in Syrian prisons since the beginning of the civil war there, the report said.
Another statistic showed that a total of 484 Palestinian women have been killed in Syria during the fighting among the various rival parties: 240 as a result of shelling, 68 as a result of lack of medical care and the blockade imposed by the Syrian army on the Yarmouk refugee camp near Damascus, 28 by sniper gunfire, 37 in bomb explosions, 24 by shootings, 26 by drowning and five who were summarily executed in public squares.
According to the Group, a total of 3,920 Palestinians have been killed in Syria since the beginning of the civil war in 2011. Another 317 Palestinians have gone missing, while 1734 Palestinians are being held in different prisons belonging to the Syrian government.
A recent report by the Turkish news agency Anadolu found that Syrian women were also being tortured as well as raped in Syrian prisons. Anadolu said that 13,500 women detained by the Syrian authorities have been subjected to torture and rape while in prison. At present, the report said, there are 7,000 women being held in Syrian prisons.
One former detainee who identified herself as Rana said that while she was in prison, the Syrian security officers burned alive a woman and her daughter who were being held in a nearby cell. She recalled that two other women from the city of Aleppo were raped by prison guards. She said that she herself was held in a small cell together with 15 other women who were subjected to various forms of torture.
Two years ago, an 18-year-old Palestinian woman who identified herself as Huda complained that she had been repeatedly raped while being held in a Syrian prison. She said she was arrested by members of the Palestinian terrorist group Popular Front-General Command, a militia that works with the Syrian authorities, at the entrance to Yarmouk camp where she lives. Before Huda was handed over to the Syrians, her Palestinian captors tortured her and three other Palestinian women they had arrested.
"The [Syrian] interrogators questioned me about the identities of women and men in Yarmouk camp... When I denied that I knew them, they beat me subjected me to electric shocks. I was also raped for 15 days. Sometimes, I was raped more than 10 times a day by different officers and guards."
In her testimony, Huda said that she got pregnant as a result of the rape, but miscarried under beating.
"I had severe bleeding and lost consciousness... The rape of female detainees was very common. One woman tried to commit suicide several times and she used to bang her head on the wall of the cell. Each time she would lose consciousness for hours."
During her incarceration, Huda said, she witnessed a 20-year-old woman who had also become pregnant after being repeatedly raped:
"After she gave birth, she could not tolerate seeing the baby or keeping him near her in the cell... She couldn't stand hearing the crying of the baby, so she tried to kill him so she would no longer see him. A few days later, a prison guard came and took the infant away."
The plight of the Palestinian women in Syria is an issue that does not seem bother Palestinian leaders in the West Bank and Gaza Strip. These leaders are too busy fighting and inciting violence against each other, against Israel and the US. They have completely forgotten about the suffering of their people in an Arab country such as Syria.
In the past two weeks, the rivalry between the Palestinian Authority's ruling Fatah faction in the West Bank and Hamas in the Gaza Strip seems to have reached new heights, especially after Hamas reportedly broke the bones of dozens of Fatah supporters and officials in the Gaza Strip.
Hamas has accused Fatah of being behind the recent protests against economic hardship that swept the Gaza Strip. As part of its effort to crush the protests, Hamas sent its security officers into the streets to break the arms and legs of many protesters. One of the victims was Atef Abu Seif, the Fatah spokesman in the Gaza Strip, who was kidnapped and badly beaten. He remains in serious condition, with broken arms and legs. Fatah says that Hamas was behind the attack.
Fatah officials have responded to the Hamas crackdown by calling Hamas a terrorist organization and comparing its security forces to Nazi Germany's secret police, the Gestapo. Palestinian Authority President Mahmoud Abbas has also reacted with fury to the crackdown on his supporters in the Gaza Strip. Hamas, he said, will "end up in the dustbin of history."
For the Palestinian women in Syria, the ongoing dispute between Fatah and Hamas is the last thing they seem to care about. These women, who are being subjected to rape and various forms of torture in Syrian prisons, are the victims of failed Palestinian leaders who seem to only care about holding on to their bank accounts and their jobs. Not a single Fatah or Hamas official -- or the United Nations or Western so-called "human-rights" groups -- has spoken out against the plight of Palestinian women in Syria. Why should they, when all they do most of their time is throw mud at each other while at the same time continuing to incite their people against Israel and the US?
https://www.gatestoneinstitute.org/13954/syria-women-raped-tortured-killed
--------
URL: https://www.newageislam.com/islam-women-feminism/jacinda-arderns-hijab-shows-new/d/118120
New Age Islam, Islam Online, Islamic Website, African Muslim News, Arab World News, South Asia News, Indian Muslim News, World Muslim News, Women in Islam, Islamic Feminism, Arab Women, Women In Arab, Islamophobia in America, Muslim Women in West, Islam Women and Feminism