New Age Islam News Bureau
27 Jul 2019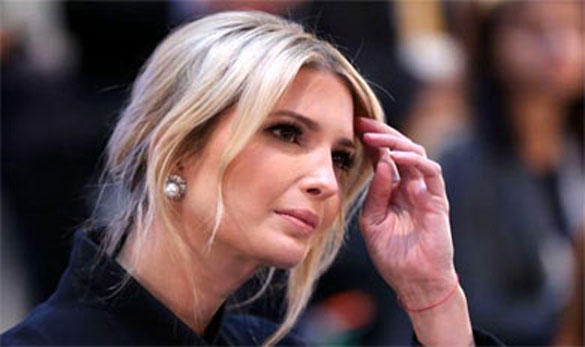 Advisor to US President Ivanka Trump
-----
• Malaysian Advocacy Group Sisters in Islam Says That Islam Recognises Women's Roles
• Muslim Women of Sri Lanka Urge Expedited Marriage and Divorce Act Reforms
• DPD driver did Nazi salute and called Muslim women 'ninja'
• UN Condemns Israel as World's Only Violator of Women's Right, Ignoring Abuses in Iran, Saudi Arabia, Pakistan
• Afghan Women Must Have A Role In Future Talks, Activist Tells UN
• Atousa Abbasi Bicycling Record Holder Peddles In The Streets
• Three Million Egyptian Women Screened for Breast Cancer Under Women's Health Initiative
Compiled by New Age Islam News Bureau
URL: https://www.newageislam.com/islam-women-feminism/ivanka-trump-offers-help-empower/d/119319
--------
Ivanka Trump Offers To Help Empower Women in Pakistan
July 27, 2019
ISLAMABAD: Advisor to US President Ivanka Trump has extended the offer to help empower women in Pakistan by launching projects for their welfare.
In a meeting with Prime Minister for Overseas Pakistani's and Human Resource Development Syed Zulfiqar Abbas Bukhari, Trump underscored that the projects would provide women with employment opportunities, vocational training and help with the economic development of the country.
Ivanka also said that she would like to help provide the youth with job opportunities in Pakistan.
During the moot, the two agreed to start cooperation between Pakistan and the US in various fields.
The special assistant lauded Ivanka for her offer to help empower women.
He also added that Pak-US cooperation will help create opportunities for human development and would provide men and women with equal opportunities.
Zulfiqar was hopeful that in the next few months, there will be more success on the Pak-US diplomatic front.
https://tribune.com.pk/story/2022562/1-ivanka-trump-offers-help-empower-women-pakistan/
--------
Malaysian Advocacy Group Sisters in Islam Says That Islam Recognises Women's Roles
26 July, 2019
IN the 1980s, a group of eight women, together with the Association of Women Lawyers, realised the need to help women who faced marital problems and difficulties when seeking legal redress from religious authorities.
Law reform became the core of their work, but they realised that dealing with the law alone was insufficient.
Sisters In Islam executive director Rozana Isa said: "The call for SIS to start this work is because of what's happening to women on a daily basis, and realising that they suffer in silence."
She said when SIS first started, the eight women got together, studied the Quran with a scholar every weekend for three years, and sought to understand the place and role of women in Islam.
SIS introduced itself to the public by publishing articles and two books on equality between men and women in Islam.
One of the issues it addressed in its discussions on women was whether the religion allowed husbands to beat their wives.
Rozana said: "They did this with much trepidation because they didn't know how the public was going to receive them, but it was the first effort to justify why women should be protected from violence."
SIS' work to boost awareness of issues affecting Muslim women, however, was not met with praise.
It was criticised, and the Selangor Islamic Religious Council and the Selangor Fatwa Committee issued fatwa (edict) that SIS was a "deviant".
Rozana, an accountant by profession, joined SIS as a member in 2001, then became the executive director in 2016.
She said battling public perception was tough for the group, especially with the advent of social media.
On how SIS faced the demonisation, Rozana said: "With great difficulty.
"I think the negative perception arises because the public think we do things without basis.
"Our work is grounded in the experience of women and knowledge of Islamic scholars. We come from the perspective that Islam has its values of equality and justice."
She said when consequences to women's lives were not just, women had the right to raise questions, seek solutions, and work to deliver and help those in need.
"We see this as a long process but we are in it for the long haul because we believe in the work that we do, and why we're doing it."
PLACE OF WOMEN IN ISLAM
Rozana said it was common in Malaysia that women, while educated and being high-flyers, still faced challenges.
Women, she said, were expected to look after the household, their children, and sometimes saddled with parental or elderly care, on top of having to perform at work.
"It's a cultural thing. It's interesting to see that in Malay-Muslim families, there are certain norms that are perpetuated and how religion is used to maintain the status quo.
"In our culture, women are advised to mengalah (back down) to maintain the marriage and told to make sacrifices to keep the family's peace.
"The narrative has always been that there must be obedience to the husband and if you don't obey him, you have violated a rule and committed a sin. The husband has the right to correct you and put you back on the right path."
She said she had come across victims of domestic abuse who still thought they needed
their husbands' permission to leave.
This, she said, was proof that the religion had a strong hold on women and they were told that to be a good Muslim wife, they must obey their husbands at all cost.
She said such a belief must be addressed to ensure women were informed about their rights and position in a marriage.
"In Islam, women are equal and their lives are not without value."
She said following the death of Prophet Muhammad, women's voices had been silenced to the extent that the role of the Prophet's wife, Aisha Abu Bakar, was no longer recognised as being one of the teachers to his companions.
"Women's voices and experiences have been hidden and underappreciated. In the past, there were a lot of discussions, debates and differences of opinion, and this was celebrated.
"Along the way, we have somehow lost that richness. But now, we're entering an era where there are more women involved in the production of scholarship in Islam.
"It is through this scholarship that we know Islam recognises women's roles, voices and experiences."
TELENISA
SIS, initially formed as an advocacy group, has pushed for changes in laws and policies, writing in memorandums, and engaging the government and women on the ground.
Rozana said in its work to boost awareness of Muslim women's rights, more women came forward to share their experiences and marriage dilemmas.
They felt it was necessary for a service to be created to ensure that women knew who to call when they had questions or needed help with legal advice.
"We've had the Telenisa service running for more than 15 years and have served more than 10,000 women since.
"We find that the demand for this service continues until today and it is through Telenisa that we collect data to understand what's happening on the ground, transforming them into statistics."
She said SIS had been publishing statistics for three years since 2016. It used the statistics to advocate for changes.
Describing Telenisa as an "important service", she said women came to them because they did not judge the latter based on their problems.
"We don't question and we don't judge. Our role is to ensure they know their options. We have lawyers that we can recommend. We don't impose anything on them because it is their choice."
In 2015, SIS launched the Dr Nik Noriani Legal Aid Fund, named after lawyer Dr Nik Noriani Nik Badli Shah.
The fund is made available to women who need legal aid, such as opening case files.
Rozana said: "We are expanding the fund a little bit and now it can support women's legal fees to a certain extent."
She said those who wanted more information about the fund could contact SIS.
UNDERSTANDING POLYGAMY
Rozana said SIS had embarked on a five-year study on the impact of polygamy on Muslim families in Peninsular Malaysia, and found that most polygamous husbands could not fulfil financial and sexual demands.
The study, in collaboration with Universiti Kebangsaan Malaysia, Universiti Sains Malaysia and Universiti Malaya, interviewed 1,224 respondents, which included husbands, first wives, second wives and their children.
The most common situation, Rozana said, was that the wives did not know their husbands had married another woman.
She said SIS found that 69 per cent of first wives said their husbands treated them unfairly and some were unhappy with their situation (61 per cent).
It found that 87 per cent of children were affected negatively by polygamy.
"All our lives, we have been told that this is the Prophet's practice. The Quran states that men are allowed to take up to four wives, but people's reading stopped there.
"When SIS studied the Quran, we discovered that the verse went on to say that if you cannot do justice, marry only one. In Surah An-Nisa verse 129, it said that you're not able to do justice even if it is your desire."
She said it was important to break the myth that women were doing a service to their husbands by allowing them to take on another wife, adding that cultural expectations were often buttressed by religious arguments.
"The Prophet was monogamous for a very long time when he was married to Siti Khadijah and his subsequent marriages were done with other interests.
"And the fact is, he is a Prophet. People tend to forget that they are not."
https://www.salaamgateway.com/en/story/malaysian_advocacy_group_sisters_in_islam_says_that_islam_recognises_womens_roles-SALAAM26072019182448/
--------
Muslim Women of Sri Lanka Urge Expedited Marriage and Divorce Act Reforms
July 26, 2019
Muslim women have had problems with regard to Muslim Marriage and Divorce Act (MMDA) and they have been demanding amendments for a quite some time, says former Minister Ferial Ashraff.
Representatives of Muslim women's rights groups, including former Minister Ferial Ashraff, held a press conference today (26) to voice their demands for reforming the MMDA and concerns over the attempts to thwart the process.
Attorney-at-Law Safana Gul Begum, Julwairiya Mohideen from Muslim Women's Development Trust (MWDT) in Puttalam, veteran human rights activist Deshabandu Jezima Ismail and Aneesa Firthous from Islamic Women's Association for Research and Empowerment (IWARE) Kattankudy and Lawyer and member of Muslim Personal Law Reform Action Group (MPLRAG) Ermiza Tegal led the conference alongside the former minister.
Speaking further, Ferial Ashraff said, Muslim parliamentarians have taken the MMDA up in the House. Muslim women are confident that the MPs will be able to take this forward despite the challenges and present papers to the Cabinet to get the necessary amendments done to the MMDA in favour of the Muslims of Sri Lanka.
The Muslim women in Sri Lanka are not seeking amendments for God-given laws but for man-made laws, she continued.
Responding to a question posed by a media person, former Minister Ashraff said, "We can't sweepingly say the ACJU is against reforming MMDA. The government-appointed committee came up with two reports, one which was supported by the ACJU. […] But there are few situations where they were unable to accept."
Veteran rights activist Deshabandu Jezima Ismail, speaking of the misconceptions concerning the MMDA, emphasized that it is not only the elite, urban Muslim women who speak up for the amendments.
Stating that she had been working on bringing necessary amendments to the MMDA for nearly four decades, Ismail highlighted the efforts of certain noteworthy Muslim men in reforming the MMDA.
The amendments that the Muslim women seek are about the human values of Quranic justice and the discrimination against Muslim women, she added.
Attorney-at-Law Ermiza Tegal, addressing the press conference, said that Muslim women from diverse communities, lobbying for amendments in MMDA for many years, are now looking for reforms in the Act without delay.
Ms Tegal dismissed the claims that state the call for reforms in the MMDA is not coming from within the Muslim community. She referred to this urgency as "a historic call from within the Muslim community".
The current MMDA, which came to place in 1951, is a piece of Sri Lankan legislation drafted by men and passed by a legislature of men, Ms Tegal pointed out.
The MMDA is discriminating, not benefiting and it leads to intimidation and violence of Muslim women and girls, in particular, Ms Tegal stressed. It reflects badly on the community in general, she said.
"Women's demands are also demands that will ensure Muslim women are treated as equal citizens in Sri Lanka," she continued.
The reforms that the Muslim women in Sri Lanka call for in the MMDA, as listed out by Ms Tegal, are as follows:
The minimum age of marriage of all Muslims must be 18
Women to be able to hold office in Qazi courts as judges, members of the Board of Qazis, marriage registrars, jurors, and registrars.
MMDA must apply uniformity to all Muslims disfavoring the sect
Mandating the signature or the thumbprint of both bride and groom in all official marriage documents
Women to be given freedom in making decisions regarding marriage
Mandatory registration of marriages
Conditions to be imposed for Talaaq (divorce) and Faskh (annulment) to be equitable
Dowry to be recorded in documents and recovered at the time of the divorce
To introduce and recognize the concept of 'marriage contract'
To upgrade the Qazi court system to a family court system
https://www.adaderana.lk/news/56669/muslim-women-urge-expedited-marriage-divorce-act-reforms
--------
DPD driver did Nazi salute and called Muslim women 'ninja'
Jul 26, 2019
A driver from the delivery firm DPD said "ninja" and performed a Nazi salute from their vehicle as a Muslim mother and her two daughters left a café in Wimbledon.
The incident took place at around 18:00 GMT on July 23.
Speaking to Tell MAMA, a family member described how the incident left them feeling vulnerable, and how it left their mother in further shock given the relative diversity in the Wimbledon area.
All three women were wearing the hijab when the Islamophobic and anti-Muslim incident occurred.
Tell MAMA reported the incident to the Metropolitan Police on behalf of the family, after informed consent was given.
The family member described the driver as white, male, and in his mid-thirties.
They have since written a letter of complaint to DPD who are now investigating the driver.
The dehumanising and racialised language is emblematic of how perpetrators construct essentialised ideas of Muslim women, of Muslim identity (or 'Muslimness'), where their religious identity and clothing is seen to embody all that is "problematic and threatening about Muslims and Islam".
And, given the gendered nature of this incident, it demonstrates how such religious visibility reinforces, in the minds of perpetrators, at least, the "age-old stereotypes about Muslim women as meek and submissive".
The theory of intersectionality, was, after all, intended to offer a framework to explain the particularities in which black woman are oppressed and subordinated, a framework rooted in black feminist thought. Crenshaw, who helped popularise the term, went on to argue, that the oppressive barriers facing black women were more to do with how "particular categories are negatively valued and exclusionary", not just essentialist thinking. Other academics integrated these theories with ideas around embodiment.
Sara Ahmed explored how "inter-embodiment" sought to define embodiment as a lived experience within "the social experience of dwelling with other bodies", which includes the social body, born from the 'historically determined' antagonistic encounters between those bodies deemed and not deemed 'others'. Ahmed argues: "In contrast, I want to consider inter-embodiment as a site of differentiation rather than inclusion: in such an approach 'my body' and 'the other's body' would not be structurally equivalent (even as impossible bodies), but in a relation of asymmetry and potential violence".
The Metropolitan Police investigation is ongoing, and the family consented to have their story told anonymously, to raise awareness and to demonstrate how incidents like this can happen in areas like Wimbledon.
https://tellmamauk.org/dpd-driver-did-nazi-salute-and-called-muslim-women-ninja/
--------
UN Condemns Israel as World's Only Violator of Women's Right, Ignoring Abuses in Iran, Saudi Arabia, Pakistan
July 26, 2019
The United Nations once again established its reputation as a forum for smearing and delegitimizing the State of Israel. The UN's Economic and Social Council passed a resolution condemning Israel as the only country in the world that violates women's rights.
The 54-nation UN council passed the resolution by a margin of 40 to 2, with nine abstentions. The United States and Canada were the only member nations that voted against the resolution. The supporters of the move included the who's who of the leading violators of women's and human rights such as Iran, China, Pakistan, Saudi Arabia, Russia, and Sudan. India, Israel's prominent defense ally, joined the arch-rival Pakistan in condemning the Jewish State. Germany and the United Kingdom were among nine nations that abstained from voting.
The resolution condemned Israel for defending its borders against thousands of armed Hamas demonstrators who have tried to break into Israel from the Gaza border since March 2018. Israel's armed forces have repelled several intrusion attempts orchestrated by the terrorist group Hamas since last year. These armed intrusions, repeatedly described by some mainstream media outlets as 'peaceful demonstrations,' have been accompanied by a barrage of rocket and mortar attacks on Israeli civilians by Gaza-based jihadi organizations, Hamas and Islamic Jihad.
The UN council expressed it's "grave concern" over the "deaths of and injuries caused to civilians, including children, women, and peaceful demonstrators," the four-page resolution said. The UN did not convey any concern for the lives of Israeli civilians during these deadly terrorist operations.
The resolution claimed that Israel undermines the "ability of the Palestinian Government to protect Palestinian women and girls." The UN ignored the violent suppression carried out by the PLO-controlled Palestinian Authority and Hamas against their civilians, in the West Bank and Gaza.
The UN Watch reported the details of the anti-Israel resolution:
Iran, Saudi Arabia, Yemen and Pakistan were among members of the UN's 54-nation economic and social council, a principal organ of the world body, who voted to single out and condemn Israel yesterday as the only country in the world that violates women's rights.
The Jewish state was harshly and repeatedly condemned in a resolution, adopted 40 to 2 with 9 abstentions and 3 absent (see breakdown below), for allegedly being the "major obstacle" for Palestinian women "with regard to their advancement, self-reliance, and integration in the development of their society."
Out of 20 items on the UN Economic and Social Council's 2018-2019 agenda, only one — Item No. 16 against Israel — focuses on condemning a specific country. All the other focus areas concern global topics such as disaster relief assistance and the use of science and technology for development.
The resolution completely ignores how Palestinian women's rights are impacted by their own governing authorities—the Palestinian Authority in the West Bank, and Hamas in Gaza—nor does it mention how women are discriminated against within patriarchal Palestinian society.
Former U.S. Ambassador to the UN Nikki Haley slammed the international body for the absurd vote. "It amazes me how the U.N. condones votes like these," she wrote on Twitter. "It is a total mockery of human rights to allow Saudi Arabia, Iran, Pakistan, and Yemen to name Israel as the world's only violator of women's rights."
Nikki Haley
✔
@NikkiHaley
It amazes me how the U.N. condones votes like these. It is a total mockery of human rights to allow Saudi Arabia, Iran, Pakistan, and Yemen to name Israel as the world's only violator of women's rights. #Embarrassing https://twitter.com/hillelneuer/status/1154076008158519297 …
Hillel Neuer
✔
@HillelNeuer
No Joke: the U.N. just condemned Israel as the world's only violator of women's rights, backed by votes of council members Iran, Saudi Arabia, Pakistan & Yemen.https://unwatch.org/no-joke-un-singles-out-israel-a-worlds-only-violator-of-womens-rights-iran-saudi-arabia-yemen-among-the-voters/ …
32.6K
8:38 PM - Jul 25, 2019
Twitter Ads info and privacy
13.4K people are talking about this
"The UN reached new heights of absurdity by singling out Israel alone on women's rights, yet saying nothing on Iran holding women's rights lawyer Nasrin Sotoudeh behind bars, Saudi Arabia jailing and torturing women's rights activists, and subjugating women under harsh male guardianship laws, or on Yemen denying women hospital treatment without the permission of a male relative," said Hillel Neuer, Executive Director of UN Watch.
The noted Israeli writer and former humanitarian officer in the Israeli Defence Force (IDF) Hen Mazzig also slammed the UN for the malicious move. "The UN just condemned Israel as the world's only violator of women's rights, backed by votes of council members Iran, Saudi Arabia, Yemen," he tweeted. "That's just heads up for the next time someone sources a UN report to make a point about Israel."
While the UN council smeared the only democracy in the Middle East, an image appeared on social media of a Hamas recruit carrying out shooting practice. It showed his rifle resting on the food sacks provided by the UN. The photograph, taken at the Hamas' terrorist 'summer camp,' is symbolic of the world body's funding and support for the terror campaign against Israel. The UN-funded Palestinian 'relief' agency, or UNRWA, has repeatedly faced accusations of harboring terrorists within its ranks and allowing its facilities and resources to be used to influence Palestinian children in the twin ideologies of Islamic jihad and Jew-hatred.
https://legalinsurrection.com/2019/07/un-condemns-israel-as-worlds-only-violator-of-womens-right-ignoring-abuses-in-iran-saudi-arabia-pakistan/
--------
Afghan Women Must Have A Role In Future Talks, Activist Tells UN
July 27, 2019
Jamila Afghani, an Afghan women's rights activist, says women in her country should have a voice in decisions that affect them and that their concerns must be addressed in any peace deal with the Taliban.
"Afghan women must be able to meaningfully participate in decisions that affect them," she told a meeting of the UN Security Council on July 26, speaking from Kabul through a video link.
Afghani urged the council to ensure that there are clear rules for engaging Afghan women from diverse backgrounds in peace negotiations, including allowing them roles as negotiators and religious leaders in any talks.
The United States is leading efforts to bring the Taliban militant group into talks with the Afghan government in Kabul. Zalmay Khalilzad, the U.S. special envoy to Afghanistan, has held a series of negotiations with the Taliban in Qatar, but the extremist group has so far refused to meet directly with leaders in Kabul, calling them puppets of the West.
Before the Taliban militants were driven from power in a U.S.-led invasion in 2001, the group severely restricted women's rights and banned the education of girls in the country.
'Significant Progress'
U.S. Deputy Ambassador Cherith Norman Chalet, speaking at the conference at the UN, told the council that Washington wants all Afghans, including women, to participate in negotiations to determine the war-ravaged country's future.
Amina Mohammed, a UN deputy secretary-general, told the Security Council session that, under the Taliban, "women and girls were denied access to education, health services, and protection from extreme violence, and could not participate in political or public life."
Mohammed recently traveled to Afghanistan to meet with President Ashraf Ghani and other senior leaders and religious scholars. She also met with women's rights leaders, decision-makers, and health-care workers.
"In the past 18 years, there has been significant progress," said Mohammed, who pointed out that women now hold senior roles in the defense, foreign affairs, and interior ministries and make up some 27 percent of the country's civil service.
Afghanistan has "done more to invest in women's leadership" than many countries with greater means and women are "rising to reclaim their rightful place in all areas of society," she said.
https://www.rferl.org/a/afghan-women-rights-future-decisions-taliban-negotiations/30078162.html
--------
Atousa Abbasi Bicycling Record Holder Peddles In The Streets
Jul 25, 2019
Atousa Abbasi the top record holder of women's bicycling in Iran, is peddling in the streets to earn her living.
Atousa Abbasi and her husband, a former cycling coach, and their child live in a rented parking lot. Her husband is now a driver transporting passengers.
Atousa Abbasi is the first medal winner among women in the Asian tournaments. She holds the record of speed since 2014, but has to peddle on the streets while taking her 3-year-old child with her.
In a video clip circulating in the social media, she said, "During the three years that I was away from bicycling to raise my child, nobody has been able to break my record." She shows the numerous medals she had won, adding that no one has given her support.
She has been deprived of participating in cycling tournaments in 2017 due to breaches made by her husband who is a cycling coach. (The state-run Mashreq website – October 18, 2017)
Also, Sousan Rashidi, who has been the champion of women's kick boxing for eleven terms, is now training under difficult conditions for foreign tournaments. She is a nomad girl living in Kermanshah (western Iran). (The state-run Fararu website – October 18, 2017)
Due to poverty and the special conditions of her family, she has to work in the village since early in the morning, including baking bread, taking the sheep for grazing, bringing log wood, etc. She does not even have her own birth certificate and uses her deceased sister's birth certificate.
Ms. Rashidi said, "Some days, I did not have my transportation fare to go for training. Sometimes, if I were given some money to buy an egg to eat, I saved the money to pay for my transportation."
"I became a champion for nine terms, but I did not receive any prize for these wins," she added. (The state-run ISNA news agency – December 26, 2016)
In another report on women's poverty in Iran under the rule of the mullahs, a young woman who is a PhD student in Computer Engineering has offered to sell her kidney. On Tuesday, July 23, 2019, the 30-year-old PhD student posted an ad on the walls to sell her kidney and provide for the medical expenses of her disabled mother, housing rent, and her sister's wedding.
https://women.ncr-iran.org/2019/07/25/atousa-abbasi-bicycling-record-holder-peddles-in-the-streets/
--------
Three Million Egyptian Women Screened for Breast Cancer Under Women's Health Initiative
JULY 27, 2019
Under the slogan "Egypt's Women are Egypt's Health", the first phase of a nationwide campaign to support women's health kicked off in nine governorates and screened more than three million women so far, reports Ahram Online.
The Ministry of Health and Population launched the Women's Health Initiative earlier this month for early detection of breast cancer, hypertension, diabetes, osteoporosis and heart disease, targeting around 30 million women above the age of 18.
The examinations are accompanied by awareness lectures on methods of breast-cancer detection as well as tips on how to lead healthier lifestyles and improve reproductive health, with checkups taking place at 1,200 medical centres in South Sinai, Marsa Matrouh, Port Said, Alexandria, Beheira, Damietta, Qalioubiya, Fayoum and Assiut.
The first phase is set to last until August 30 in Alexandria, Port Said, Beheira, Qalyubia, Damietta, Matrouh, South Sinai, Fayoum and Assiut.
The second is from September 1 to October 30 and includes Cairo, North Sinai, Red Sea, Ismailia, Suez, Kafr El-Sheikh, Menoufia, Beni Suef, Sohag, Luxor and Aswan.
The third and final stage will start on 1 November and will include Giza, the New Valley, Gharbia, Dakahlia, Sharqia, Minya and Qena.
Health Minister Hala Zayed previously noted that breast cancer is the second most prevalent cause of death among Egyptian women, though women often prefer to spend the money on their children than on treatment.
To cover the costs, the initiative is providing its services for free, as the cost of a breast-cancer test in a laboratory is close to 1,000 EGP, while an osteoporosis test costs around 450 EGP.
"The initiative will save all these costs for Egypt's women, as many cannot afford the cost of these tests," Khaled Megahed, spokesman for the Ministry of Health, told Al-Ahram Weekly.
"More than 500,000 were found to have breast tumours, and they have been sent to specialised hospitals for further examinations to identify whether the tumours are benign or malignant," said Hamdy Abdel-Azim, supervisor of the campaign.
https://egyptianstreets.com/2019/07/27/three-million-egyptian-women-screened-for-breast-cancer-under-womens-health-initiative/
--------
URL: https://www.newageislam.com/islam-women-feminism/ivanka-trump-offers-help-empower/d/119319
New Age Islam, Islam Online, Islamic Website, African Muslim News, Arab World News, South Asia News, Indian Muslim News, World Muslim News, Women in Islam, Islamic Feminism, Arab Women, Women In Arab, Islamophobia in America, Muslim Women in West, Islam Women and Feminism