New Age Islam News Bureau
8 Jul 2017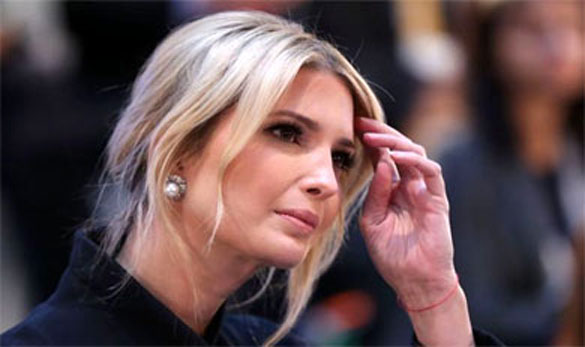 Ivanka Trump, seen here with President Trump, planted the idea for a new World Bank program that supports women entrepreneurs in developing countries. (Pablo Martinez Monsivais/Associated Press)
-----
• Mother of Two Murdered In Shangla in Suspected Honour Killing
• Progress for Saudi Women: Number of Female Workers Surges 130% in Four Years
• As Malala Yousafzai Graduates High School, Global Luminaries Including Bill • Gates, Justin Trudeau Congratulate Her
India Denies Medical Visa to Pakistani Woman Seeking Cancer Treatment
• Pa. Mosque Tackles Matchmaking for Black Muslim Women
Compiled by New Age Islam News Bureau
URL: https://www.newageislam.com/islam-women-feminism/ivanka-trump-world-bank-new/d/111818
--------
Ivanka Trump and the World Bank have a new idea to help women globally
By Danielle Paquette and Damian Paletta
July 08, 2017
Following a push from first daughter Ivanka Trump, the World Bank unveiled a new program Saturday that is designed to boost women entrepreneurs in developing countries and fight the norms that hold them back, such as uneven access to loans and shaky property rights.
The Women Entrepreneurs Finance Initiative, as the bank calls it, announced it had raised $325 million from numerous countries, with $50 million coming from the United States and other contributions from Germany, Saudi Arabia, the United Arab Emirates, Japan, China, the United Kingdom, South Korea, and the Netherlands.
At an event Saturday morning at the G-20 summit in Hamburg, numerous world leaders praised the initiative, with several singling out Ivanka Trump for helping the program get up and running. But the biggest praise came from her father, who said it could result in a transformation of the global economy.
"The world economy will grow and millions of people will be lifted out of poverty," he said. "Millions and millions of people."
Ivanka Trump, who serves as a West Wing adviser to her father, planted the idea "several months ago," the White House official said, but will have no authority over the initiative's investments or operations.
The program — which will support loans, mentorship programs and gender equality advocacy — is funded by individuals, companies and foreign governments. The first countries to make a public commitment were Saudi Arabia and the United Arab Emirates, which pledged a combined $100 million after President Trump and his eldest daughter visited Saudi Arabia in May.
Less than a third of global businesses are owned by women, and the initiative aims to grow women-run enterprises across Africa, Latin America and the Middle East. It will also help facilitate loans to entrepreneurs, ranging in size from between a few hundred dollars to several hundred thousand dollars, depending on the applicant's needs. World Bank officials said they hope to make the capital available later this year or in early 2018.
German Chancellor Angela Merkel said there will have to be proper stewardship over the program, adding that "I do hope that the money will be used in a wise" way, but she expressed confidence in World Bank President Jim Yong Kim to ensure that this would occur. Trump also praised Kim, who was picked by President Obama.
The White House has proposed slashing several existing programs that offer assistance to developing countries and a 31 percent cut to U.S. diplomacy and aid spending, but it has thrown support behind the World Bank's new program.
Although Saudi Arabia's announcement that it would donate to the fund came as Trump and his eldest daughter visited the country, the president has spoken harshly about the nation in the past.
Last year, he slammed his political opponent Hillary Clinton for allowing her foundation to accept funds from Saudi Arabia. (Women cannot legally drive there and often need a male guardian's permission to conduct everyday business.)
"Saudi Arabia giving $25 million, Qatar, all of these countries," he said during a presidential debate with Clinton in October. "You talk about women and women's rights? … These are people that kill women and treat women horribly. And yet you take their money."
But since becoming president, Trump has warmed markedly to Saudi Arabia. He had a lavish reception there several weeks ago and he has sided with Saudi Arabia in numerous foreign policy disputes.
The World Bank has a long history of providing support to women who grapple with economic disadvantages. In 2011, the international lender launched a multimillion-dollar program to support female small-business owners with the U.S. Agency for International Development.
The Women Entrepreneurs Finance Initiative, however, is the first World Bank-led effort to change public policy in countries where men tend to have far more legal and social power.
In the Middle East and North Africa region, for instance, about 25 million women in cities don't have equal constitutional or property rights, according to the International Property Rights Index.
A disproportionate number of African countries, meanwhile, make it harder for women to hold onto property, United Nations reports show. The share of men who own a house or land in Uganda is 21 percent higher than the share of women. Without clear laws, a widow could lose her home after the death of her husband, if her husband's family chooses to take it away.
Without a stake in property, it's harder to obtain credit and easier to slip into poverty, said Simone Schaner, an economics professor at Dartmouth College.
"There's a need to pay attention to the complex reality women live in," she said. "They're often not able to reach their full potential because of certain social structures."
Of the World Bank program's focus on shifting policy, she said, "Giving people the resources and making sure things are in place so they can use those resources effectively is the best way to go."
https://www.washingtonpost.com/news/wonk/wp/2017/07/08/after-proposed-aid-cuts-ivanka-trump-and-the-world-bank-have-a-new-idea-to-help-women-globally/?utm_term=.3ccc6be55414
--------
Mother of two murdered in Shangla in suspected honour killing
Umar Bacha
July 07, 2017
A mother of two children was killed in the Lelonai area of Shangla, Khyber Pakhtunkhwa, on Friday afternoon, in what police suspect was an honour killing.
An official in the Alpuri Police Station, Arif Khan, told Dawn.com that a girl, identified as Zainab Bibi, was believed to have been shot dead by her brothers-in-law.
Khan said the police suspect that Zainab was killed on suspicion of having relations with a man named Mehmood, who had been killed in February this year by Umar Zada, Zainab's husband, and his brother.
Zainab had been married to Zada for about six years and the couple had two children together.
Khan said a police team had been dispatched to the scene of the crime, while the victim's body had been taken to District Headquarter Hospital Alpuri for a post-mortem examination.
Two accused had been nominated in the killing of the girl, namely Rehmat Khan and Sultan-e-Room. Police have lodged an FIR in the case and are hunting for the culprits.
https://www.dawn.com/news/1343825/mother-of-two-murdered-in-shangla-in-suspected-honour-killing
--------
Progress for Saudi women: Number of female workers surges 130% in four years
06 July 2017
The number of Saudi women in the workforce has surged 130 percent over the past four years, recent official data showed.
The figures released by the kingdom's Ministry of Labour and Social Development in March showed that the number of Saudi female employees in the private sector increased from 215,000 in 2012 to 496,000 in 2016, Gulf News reported on Tuesday.
The number of women working increased by 30 percent this year, up from 12 percent in 2011.
Social and cultural barriers pose major challenges to the career development of many Saudi women in their home country. The Arab world's biggest economy is the only country in the world where women are forbidden to drive and religious police patrol the streets to ensure public segregation between men and women who are not related, which makes it harder for them to go to work. Other regulations bar women from certain professions.
Last June, a prominent Saudi female activist who had previously been detained for breaching the country's driving ban was arrested in Saudi Arabia, Amnesty International rights group said in a statement that was carried by Reuters.
The oil-rich kingdom had last year announced a long term economic plan to help diversify its revenues away from a full reliance of oil, following the historic fall of the commodity's prices in 2014. In the plan, set to be achieved by 2030, the government said it aims to increase the number of women in the workforce from 23 percent in 2016 to 28 percent in 2020. It also said it targets to quadruple the number of women in senior civil services roles.
According to Reuters, women are already allowed to work as doctors and have volunteered as medics in the holy city of Makkah during the haj pilgrimage season for the previous few years.
https://www.zawya.com/mena/en/story/Progress_for_Saudi_women_Number_of_female_workers_surges_130_in_four_years-ZAWYA20170706115038/
--------
As Malala Yousafzai graduates high school, global luminaries including Bill Gates, Justin Trudeau congratulate her
Jul 8, 2017
NEW DELHI: Shot in the head by the Taliban for daring to go to school, Pakistan's Malala Yousafzai yesterday graduated high school, joined Twitter, and was immediately congratulated by a host of global luminaries including Bill Gates and Justin Trudeau.
Within minutes of her saying "Hi Twitter" on Friday, dozens of people and high-profile organisations welcomed the plucky young woman - who's also a Nobel Peace laureate - to the microblogging platform. And in fewer than 24 hours she gained close to 370,000 followers (and counting).
"Today is my last day of school and my first day on @Twitter," she wrote.
Canada's Prime Minister Justin Trudeau, who met Malala a few months ago, congratulated her for finishing high school.
Microsoft founder Bill Gates called her an "inspiration".
Malala, who will be 20 this month according to AFP, was shot by Taliban terrorists in 2012. She was well known much before that, though, as a girls' education activist, which is why the Islamic fundamentalists targeted her.
The BBC says Malala was 11 years old when she began writing a diary for its Urdu service.
"Her blogs described life under Taliban rule from her home town of Mingora, in the northwest region of Pakistan she affectionately calls 'My Swat' ", the BBC says.
Education for young girls is still uppermost in Malala's mind, which is probably why she said on Twitter that finishing high school is a "bittersweet" experience for her.
Malala wrote further - she posted seven tweets in total - that her "fight" for girls worldwide will continue. She will soon embark on what she calls a ''girl power trip".
US senator Kamala Harris said Malala, with her fight on behalf of young girls around the world, is "the change we want to see in the world".
As one of her new Twitter followers said on Friday, "Twitter seemed a little brighter today".
http://timesofindia.indiatimes.com/world/pakistan/as-malala-yousafzai-graduates-high-school-global-luminaries-including-bill-gates-justin-trudeau-congratulate-her/articleshow/59499635.cms
--------
India denies medical visa to Pakistani woman seeking cancer treatment
Saifullah Cheema
July 07, 2017
The Indian Embassy has rejected the medical visa application of a 25-year-old Pakistani tumour patient who was due to travel to India for treatment, citing deteriorating relations between the two countries as the reason for refusal, the patient's mother told DawnNews on Friday.
Inderprastha Dental College and Hospital (IDCH) in Ghaziabad was to provide surgical treatment to Faiza Tanveer for a recurrent ameloblastoma, a cancerous oral tumour which is aggressive in nature, according to documents acquired by DawnNews.
The hospital had invited Tanveer and her mother Parveen Akhtar to India for treatment, requesting a 20-day medical visa for the duration of their stay in the country, the documents said.
Akhtar said the pair were told by local medical professionals that chemotherapy would be challenging as the target area is a particularly sensitive one, given the close proximity to her ears, nose and eyes.
They were told that Jinnah Hospital would be able to perform chemotherapy, but Tanveer's eyeball would need to be removed for the process, which Tanveer and her mother were unwilling to opt for.
Treatment in India is cheaper than in the United States or Singapore, Akhtar said, adding that it was why they chose to apply there for treatment.
IDCH had quoted the cost of treatment to come to about $20,000, and Tanveer's classfellows had raised Rs1.6 million for the Lahori's treatment, Akhtar said, adding that they had deposited Rs1m with IDCH already.
However, due to the rejection of the visa application, Tanveer will be unable to avail treatment in India.
Akhtar said embassy officials informed her it was possible she may be able to acquire a medical visa if the Adviser to the Prime Minister on Foreign Affairs Sartaj Aziz wrote a letter to India's Foreign Minister Sushma Swaraj regarding the matter.
She appealed to politicians in both countries to help facilitate her daughter's visa application.
https://www.dawn.com/news/1343814/india-denies-medical-visa-to-pakistani-woman-seeking-cancer-treatment
--------
Pa. Mosque Tackles Matchmaking for Black Muslim Women
JUL 7, 2017
PHILADELPHIA -- Naeemah Khabir, a 35-year-old devout Muslim who works for the Department of Veteran Affairs in Philadelphia, has attended matchmaking events from New Brunswick, N.J., to Queens, N.Y. She has used several matchmaking services.
Khabir, of Elkins Park, who has a master's degree from Syracuse University, even hired a private matchmaker for nine months until the counsellor assigned to her conceded that race was part of her problem.
"When you look at all Muslims, of all races and ethnicities, who has it the hardest? Black women unequivocally have it the worst. Black men have it bad, too, but black women have it the worst," Khabir said. "Everyone knows it, but it goes unspoken."
Practitioners say there's an epidemic of educated, professional women older than 30 struggling to find suitable matches among Muslim men, who are often less bound by a biological clock and societal expectations and more likely than Muslim women to marry younger and outside their culture or religion.
Women in the Philadelphia Muslim community, which is primarily African-American, may also face a double whammy: a dearth of educated men in communities ravaged by unemployment and incarceration, said Aneesah Nadir, whose observation is echoed in research by the Brookings Institution and Yale University. Nadir is a social worker specializing in premarital education and project director of the Muslim Alliance in North America's Healthy Marriage Initiative.
An obstacle to finding a good Muslim man through dating can be Islam itself: The religion limits intermingling with the opposite sex, prohibits physical intimacy before marriage, and requires the presence of a wali -- a male family member who serves as a chaperone, go-between, and private investigator -- for all interactions between two potential spouses.
Fair hearts
So what's a modern Muslim woman to do?
Khabir, along with Kashief Smith, a fellow member of the United Muslim Masjid in West Philadelphia, created a "marriage fair" under the mosque's Healthy Marriage Committee. First taking place with a speed-dating format in 2012, this year it was revamped and rebranded as a match-up event.
When Aminah Muhammad, divorced 16 years with six adult children, attended the April match-up, she already had tried -- unsuccessfully -- one other match-up event and the services of a matchmaker. This time, she met Muhammad Abdul-Warith, a man she thought was nice, funny and, most important, comfortable around her 23-year-old son, also her wali.
The two then met at a Starbucks. Three visits later -- always communicating through her son -- the two eventually met on her porch and talked for several hours.
"If he can handle himself with my boys and convince them," Muhammad said, "that says a lot."
The wedding is Sunday.
Cultural imperative
The match-up event was born of the Healthy Marriage Committee's marriage retreat, created by Khabir and Smith in 2011. Attracting 23 couples to two days of speaker events and activities in the Poconos, the idea was for people to learn tools rooted in the principles of Islam to manage challenges within a committed relationship.
United Muslim Masjids then-new imam, Shadeed Muhammad, has made strengthening marriages a priority, so he sees the committee's goals as twofold: to fortify the connection of married couples to the mosque, and to make marriage seem "cool" to single members.
Both initiatives help an institution, a bedrock of the community, that's seen as under threat.
Just 49 percent of college-educated black women marry well-educated men (i.e., with at least some post-secondary education), compared to 84 percent of college-educated white women, according to an analysis by Yale sociologist Vida Maralani. According to the 2015 Brookings Institution report, black women have the lowest rates of "marrying out" across race lines.
"The women themselves, they would maybe be interested in someone from another cultural group," said Nadir. "But those other cultural groups are looking at their own group, and not so much at African American women, as prospective mates."
In the meantime, there has been a rise in the practice of polygyny, marriages in which the husband has more than one wife, particularly in cities like Philadelphia, New York and Chicago, Nadir said. (By contrast, polygamy, illegal in the United States, refers generally to the practice of marrying multiple spouses.)
Khabir said she felt the pressure.
"Sometimes, when you express that you want to be in monogamy, people look at you like that's an unrealistic expectation," she said. "They're like, 'Do you see all these women, and there are very few men?' "
Cyber connection
As a result, many matchmaking websites and apps geared toward Muslims have emerged. Most of these modern solutions accommodate traditional practices, like the use of a wali. But Zara Johnson, known as "Zara J," founder of the private marriage network Black Muslim Singles Society, said she believed hers was the only one that specifically served African-American Muslims.
"It's just not an industry where we're represented or that we've really even taken the time to enter," she said.
Many also feel uncomfortable with the anonymity and practices of online services.
"If you come from a conservative household, and then you're online with people who don't have that background, it becomes very scary," Aliya Khabir said. "The norms are different."
Almost all of the matchmaking services, events and websites, including the Black Muslim Singles Society, face a similar problem: There is much more interest from women than from men.
'It takes a strong person'
Still others are committed to adhering to traditional Islamic courtship practices, and that's where the Healthy Marriage Committee comes in. For Naeemah Khabir, it makes sense.
"Most people would say, 'You're a 30-year-old woman, you live on your own, you make your own money. Isn't that kind of demeaning that you have to have a male relative there? Don't you feel like a child?' And I say, 'No, not at all,' " she said. The rule "is there for protection, it's there out of respect."
The committee plans to continue programming for married couples, including pottery classes, sports outings and game nights featuring reportedly intense games of Taboo.
"It takes a strong person to follow the rules when you live in a society that's telling you that those rules are stupid, that they're archaic, that they're obsolete, that they're chauvinist," Khabir said. "But Islam teaches us to be strong."
http://www.chieftain.com/life/religion/pa-mosque-tackles-matchmaking-for-black-muslim-women/article_3ec6af8a-b216-5ea3-9f34-835a9b2facd5.html
Muslim women deliver cakes to Lewisham firefighters who were at Grenfell Tower
Hampers of cakes and buns have been delivered to fire stations across Lewisham by local Muslim women.
Women from Lewisham Mosque delivered the hampers to the Red Watch team at Ladywell and Leee fire stations, a team who were at Grenfell Tower.
The troupe of Muslim women delivered the cakes to the fire station on Wednesday, July 5.
Asma Meer said: "We really want to say thank you the British way and the Muslim, Christian, Hindu, Jewish, Atheist way.
"Our sense of community is very strong in Lewisham and we thank the sisters who started this campaign for this great initiative.
"Thank you again to our emergency services and may you be rewarded for your bravery and compassion.
"As one firefighter said today, when we save a life we do not see the colour or religion - saving a life is saving a life."
http://www.chieftain.com/life/religion/pa-mosque-tackles-matchmaking-for-black-muslim-women/article_3ec6af8a-b216-5ea3-9f34-835a9b2facd5.html
--------
URL: https://www.newageislam.com/islam-women-feminism/ivanka-trump-world-bank-new/d/111818
New Age Islam, Islam Online, Islamic Website, African Muslim News, Arab World News, South Asia News, Indian Muslim News, World Muslim News, Women in Islam, Islamic Feminism, Arab Women, Women In Arab, Islamophobia in America, Muslim Women in West, Islam Women and Feminism