New Age Islam News Bureau
20 Aug 2016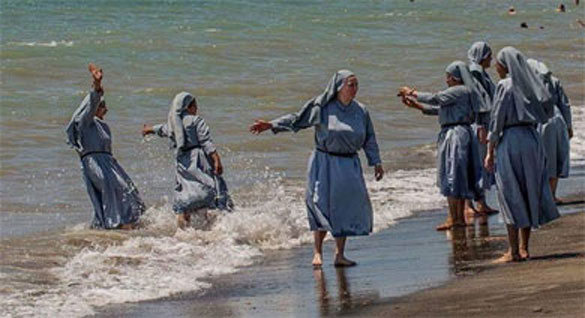 Photo: Facebook Page Izzeddin Elzir, Nuns on Beach
----------
• Muslim-Owned Driving School Offering 'Women Only' Class Causes Uproar in France
• Burkini´ about Inclusion Not Division in Australia
• How an Eritrean Woman Escaped ISIS' Enslavement in Libya
• The Woman, Aisha Wakil, Boko Haram Calls Mummy Is Igbo
Compiled by New Age Islam News Bureau
URL: https://newageislam.com/islam-women-feminism/italy-imam-defends-burqinis-with/d/108318
---
Italy Imam Defends Burqinis with Beach-Going Nuns Photo
19 Aug 2016
The Imam of Florence, Izzedin Elzir, waded into the controversial burqini debate on Thursday by posting a photo on Facebook of habit-wearing nuns splashing around on the edge of the shore – only for the social network to block his account.
Italy rules out burqini ban and wants home-trained imams (17 Aug 16)
Wednesday's post - a response to some French beach resorts banning burqinis - garnered over 2,000 shares.
But when he tried to access his account the next morning, Elzir, who is also the president of the Union of Italian Islamic Communities, found it was blocked.
"It's incomprehensible," he was quoted by La Repubblica as saying.
"I have to send them an ID document to reactivate it. They wanted to make sure it's my account – it's a very strange procedure."
His account was back online by Friday evening, and the photo is still there.
"I hope it wasn't suspended because of a photo like this, which was shared by more than 2,000 people within a few hours, and calls for dialogue - we live in a society of law and freedom," he added.
Elzir said that the burqini was a swimming costume which had become fashionable among Muslim women in recent years.
"In the US, American women buy them, not just Muslims. But for us it's new, it's only really become fashionable over the last five years.
"I'm sorry that community leaders and some politicians in France, instead of responding to the political and economic needs of their citizens, are focussing on how Muslims dress."
Elzir could not be reached for further comment when contacted by The Local on Friday evening.
Needless to say, the picture rekindled a debate that has been raging for over a week across Europe because of France's burqini ban.
"Does it escape you that the sisters belong to a religious order, and that is uniform? The clothing of laity is something else. The comparison with the nuns doesn't make sense!!!!!" wrote one commenter.
Another joked: "Thank goodness we found something to talk about under our beach umbrellas this summer, otherwise we would have discussed potholes."
On Thursday, an Austrian politician also provoked an angry reaction online after posting a photo of two nuns wearing habits and sarcastically joking they were 'oppressed women' wearing burqas.
Ahmet Demir, a politician in Tyrol with the Green party, took the post down and apologised if he offended anyone but defended his post.
In a second message posted on the social network he explained that he was trying to convey that "every woman should be able to wear what they want as long as they chose the clothes themselves".
Italy's Interior Minister Angelino Alfano said on Tuesday that Italy would not follow France by allowing burqini bans on public beaches but is planning tighter regulation of imams and mosques.
Alfano told the Corriere della Sera daily that he regarded France's restrictions on Islamic clothing as counter-productive because of the potential backlash it could provoke.
http://www.thelocal.it/20160819/italy-imam-defends-burqinis-with-beach-going-nuns-photo
--
Muslim-Owned Driving School Offering 'Women Only' Class Causes Uproar in France
08/20/2016
A driving school owned by a Muslim businesswoman hoping to offer women's only driving courses in the French town of Villefranche sur Saône, near Lyon, has sparked new controversy in France
The new driving school hoping to offer a "for women only" room for coursework and female driving instructors caused an outcry over social media, with the deputy mayor of the town suggesting the course encourages "communalism".
"We affirm our commitment to the values ​​of the Republic and the equality between men and women and our opposition to any kind of communalism," the City Council said in a statement.
One of the world's most secular countries, France strongly separates religion and public life, arguing a common arena without religious connotations helps avoid sectarian conflicts and encourages equality,
Manager of the driving school, Sarah Bakar, denied the women's only course offering was connected to religion. She told France's Le Figaro newspaper that the main classroom is open to everybody.
"Other driving schools do the same elsewhere. It has not been debated so far, perhaps because the climate is different today," she said.
France is currently embroiled in debate over the permissibility of the body-concealing Islamic swimsuit known as the burkini on its beaches.
Resort cities Nice, Cannes, and fourteen other towns in the southeast have recently banned the burkini. Nice, announcing the ban Friday, said the swimwear "overtly manifests adherence to a religion at a time when France and places of worship are the target of terrorist attacks."
Nice's deputy mayor Christian Estrosi wrote in a letter to Prime Minister Manuel Valls Tuesday that "hiding the face or wearing a full-body costume to go to the beach is not in keeping with our ideal of social relations."
France's Human Rights League accused Valls of "participating in the stigmatization of a category of French people who have become suspect by virtue of their faith."
The ban has triggered disdain in English-speaking countries, where outlawing religion-oriented clothing is seen as hampering integration.
http://www.i24news.tv/en/news/international/europe/123161-160820-muslim-owned-driving-school-offering-women-only-class-sparks-uproar-in-france
--
Burkini´ about Inclusion Not Division in Australia
August 20, 2016
SYDNEY: Part bikini, part all-covering Burqa, the Burkini swimsuit has sparked huge controversy in France, but in Australia where beach culture is a national obsession, it´s seen as a symbol of inclusion, says its designer Aheda Zanetti.
The light-weight, quick-drying two-piece swimsuit which covers the body and hair has been banned from French beaches by several mayors in recent weeks following deadly attacks linked to extremists.
While Australia is grappling with a rise in anti-Muslim sentiment after a series of assaults by radicalised youth, the burqini has not attracted strong criticism in a country where people regularly cover up at beaches to protect their skin from the harsh sunshine.
The swimsuit is rather seen as allowing more people to participate in the outdoor lifestyle Australians celebrate as part of their national culture.
When Australian-Lebanese Zanetti, 48, was designing the outfit on the lounge-room floor of her home in the multicultural southwestern Sydney suburb of Bankstown more than a decade ago, her first thoughts were about how it could help girls play sports while respecting their faith as Muslims.
"Australia has a lifestyle of beach, surf and sun and sporting activities and I felt that when I was growing up I missed out on a lot of the activities," Zanetti told AFP, adding that the idea stemmed from watching her niece play netball.
"I just didn't want anyone to miss out on any sporting activities like we all did because of our modesty restrictions."
Zanetti -- who was a housewife with three young children at the time -- opened her first shop in Sydney in 2005. Since then, she has sold some 700,000 suits, with the multi-million-dollar business also exporting to wholesalers in countries such as Bahrain, Britain, South Africa and Switzerland.
Like a second skin
The burkini came to national prominence after the Cronulla riots in Sydney in December 2005, when a drunken white mob attacked Arab-Australians in a bid to "reclaim the beach" after two lifesavers -- viewed as national icons -- were beaten, and retaliatory attacks spread.
The violence shocked Australians and sparked efforts by Surf Life Saving Australia to recruit Muslim lifeguards to patrol beaches. They also commissioned Zanetti to create a burkini in their iconic red and yellow colours.
For Siham Karra-Hassan, the burkini -- which she describes as "like a second skin" -- was her opportunity to return to the swimming pool, two decades after she was chased out of the water by a lifeguard for wearing cotton clothes.
"When the burkini came out, things changed very quickly," the mother-of-six told AFP, adding that her 25-year-old daughter was a burkini-wearing swimming instructor.
"I´m extremely active... so the more I can exercise, the more I can get into that water, the more I can throw this (burkini) on, I´m happy."
Other swimmers initially stared at Karra-Hassan but since then she has been approached by people, including non-Muslims, who want to wear the burkini to protect themselves from Australia's harsh sun.
Fitness instructor Fatma Taha, who runs women-only aqua aerobics classes at local swimming pools in Sydney´s west, regularly trains Muslims and told AFP the arrival of full-body swimwear made it easier for them to head to the water.
´No bombs in burkinis´
Zanetti claims the trademark on the name burkini and burqini and says her designs are the first to be streamlined into two-piece swimwear that have a head covering.
But she is frustrated the words have taken on negative connotations in France, where Islamic dress has long been a source of tension.
France already bans the full-face veil in public places, and friction over religion has grown following attacks claimed by the Islamic State group -- including the killing of 85 people after a truck rammed into a crowd celebrating Bastille Day in Nice.
"They (French politicians) have taken the word of burkini to symbolise it as an Islamic term in a bad way, when it´s really just a word. It´s a word that I created to suit a product that I make... We´re not hiding any bombs underneath it, we are not going to create terrorists from it," she said.
"They are not addressing anything except hatred. A garment is just there to suit the need of that specific event. It just so happens a burkini swimsuit is a modest type of dress for a specific event... and we still wear bikinis underneath it, if that counts."
https://www.geo.tv/latest/111978-Burkini-about-inclusion-not-division-in-Australia
--
How an Eritrean Woman Escaped ISIS' Enslavement in Libya
Aug 19, 2016
REUTERS - On the night of June 2, 2015, gunmen blocked a highway on Libya's northern coast and stopped a white truck speeding toward Tripoli, the capital. The men trained their assault rifles on the driver. Three climbed aboard to search the cargo.
Ruta Fisehaye, a 24-year-old Eritrean, was lying on the bed of the truck's first trailer. Beside her lay 85 Eritrean men and women, one of whom was pregnant. A few dozen Egyptians hid in the second trailer. All shared one dream — to reach Europe.
The gunmen ordered the migrants off the truck. They separated Muslims from Christians and, then, men from women. They asked those who claimed to be Muslims to recite the Shahada, a pledge to worship only Allah. All of the Egyptians shouted the words in unison.
"There is no god but God. Muhammad is the messenger of God."
"Allahu Akbar," the gunmen called back.
Fisehaye realized then that she was in the hands of Islamic State. Her captors wore robes with beige camouflage print — clothes she had not seen on other men in Libya. Most of them hid behind black ski masks. A black flag waved from one of their pickup trucks.
"We were certain that they were taking us to our deaths," recalled Fisehaye, a Christian who wears a black-thread necklace to symbolize her Orthodox faith. "We cried in despair."
Her captors had another end in mind.
Islamic militias hold a demonstration against a film and a cartoon denigrating the Prophet Muhammad in Benghazi, Libya, Sept. 21, 2012.AP
As Islamic State battles to expand in Libya, it is rewarding its warriors by exploiting the great exodus of African migrants bound for Europe.
Since the group emerged in Libya in late 2014, some 240,000 migrants and refugees have traversed the war-torn country. Over the past 18 months, Islamic State fighters have abducted at least 540 refugees in six separate ambushes, according to 14 migrants who witnessed the abductions and have since escaped to Europe.
The fighters then enslaved, raped, sold or exchanged at least 63 captive women, nine of whom described their ordeal in detail to Reuters. Their stories comprise the first corroborated account of how Islamic State turns refugee women into sex slaves using them as human currency to attract and reward fighters in Libya. It is the same blueprint of abuse it employed on Yazidi women in Syria and Iraq.
Because of its proximity to southern Europe, and its shared borders with six African nations, Libya is Islamic State's most important outpost outside Syria and Iraq. It is territory that the group is fighting hard to defend.
In August, U.S. fighter jets bombed Sirte — the stronghold of Islamic State in Libya — in an attempt to wrench the city from the group's control. The airstrikes have revived a stalled military assault that Libyan brigades launched earlier this summer.
Sirte is strategically important for Islamic State. The city sits on a highway connecting two hubs of Libya's people-smuggling trade — Ajdabiya in the northeast, where migrants stop to settle fees with smugglers, and fishing ports in the west, where boats depart for Europe every week.
From this bastion, Islamic State has found numerous ways to profit from the refugee crisis, despite the group's declaration that migration is "a dangerous major sin" in the September issue of its magazine, "Dabiq."
The extremist group has taxed smugglers in exchange for safe passage and has used well-beaten smuggling routes to bring in new fighters, according to Libyan residents interviewed by phone, a senior U.S. official and a UN Security Council report published in July.
Fighters of Libyan forces allied with the UN-backed government fire a rocket at ISIS fighters in Sirte, Libya, August 4, 2016.Goran Tomasevic, Reuters
Brigadier Mohamed Gnaidy, an intelligence officer with local forces mustered by the nearby town of Misrata, says Islamic State has recruited migrants to join its ranks, offering them money and Libyan brides.
It has also extracted human chattel from the stream of refugees passing through its territory, according to the accounts of Fisehaye and the other survivors who were interviewed. Five of six mass kidnappings verified by Reuters took place on a 160-km stretch near Sirte in March, June, July, August and September of last year. The sixth occurred near Libya's border with Sudan this January.
This story is based on interviews with Fisehaye, eight other women enslaved by Islamic State, and five men kidnapped by the group. Reuters spoke to the refugees in three European countries over four months. Two women agreed to speak on the record, risking the stigma that besets survivors of sexual violence. Reuters was unable to reach the Islamic State fighters in Libya or independently corroborate certain aspects of the women's accounts.
Better shot than beheaded
Before she left Eritrea, Fisehaye (rhymes with Miss-ha-day) felt trapped in her job as a storekeeper for a government-owned farm. Like most young Eritreans, she was a conscript in the country's long-term national service, which lasts well beyond the 18 months mandated by law. She could hardly get by on her meager wages of $36 a month. But she also felt she could not quit and risk angering the state, which is often accused of human-rights violations.
Fisehaye, a petite woman whose smile easily takes over her entire face, decided to take a risk. In January 2015, she walked across the border into Sudan with a cousin and two friends, her heart set on Europe.
In Khartoum, Sudan's capital, Fisehaye spent four months raising the $1,400 she needed to pay a smuggler for a trip to Libya. She tried and failed to find a lucrative job. So, like thousands of refugees before her, she called on relatives abroad to pitch in. She talked to recent émigrés and found an Eritrean smuggler whose clients gave him a glowing review.
Before setting off into the desert, she heard stories about armed outlaws who rape women in Libya. She paid a doctor for a contraceptive injection that would last for three months.
"Once you leave Eritrea, there is no going back. I did what any woman would do," she said.
The first leg of her journey went off without a hitch. In May, her convoy crossed the Sahara and reached Ajdabiya in northeast Libya. Fisehaye believed the worst was behind her. Though no one counts migrants who die from sickness, starvation and violence in the desert, refugee groups say more may perish there than drown in the Mediterranean Sea.
"No one stopped us in the Sahara … and the smugglers told us we shouldn't worry about Daesh," she said, using an Arabic acronym for Islamic State. "I never expected to see an organized state like theirs in Libya."
She was wrong.
On the night of the kidnapping, the armed Islamic State fighters ordered Fisehaye and the other Christians back onto the truck. The men climbed onto the front trailer and the women, 22 in all, onto the back. They drove east, threading the same road they had driven hours earlier. A pickup truck with a mounted machine gun trailed close behind.
A half hour later, the truck turned right onto a dirt road and the soft glow of a town's lights shimmered ahead. A few male captives had seen videos of Islamic State beheadings. Realizing the gunmen belonged to the group, the men jumped off and ran into the flat desert. Gunfire erupted. Some fell dead, others were rounded up. A few got away.
"We thought it would be better to get shot than beheaded," Hagos Hadgu, one of the men who jumped off the truck, said in an interview in Hållsta, Sweden. He wasn't caught that night and made it to Europe two months later. "We didn't want to die with our hands and legs bound. Even an animal needs to writhe in the hour of death."
The fighters deposited the migrants at an abandoned hospital perched in a scrubland near a desert town called Nawfaliyah. They searched the women for jewelry, lifting their sleeves and necklines with a rod, and hauled them into a small room where a Nigerian woman was being kept.
The next morning, one of the fighters' leaders, a man from West Africa, paid the women a visit. He brought a young boy, one of at least seven Eritrean children Islamic State had kidnapped in March, to serve as his translator.
"Do you know who we are?" the man asked.
The women were silent.
"We are al-dawla al-Islamiyyah," the man explained, using the Arabic for Islamic State.
He reminded the women that Islamic State was the group that had slain 30 Eritrean and Ethiopian Christians back in April, filmed the massacre, and posted the video online. The caliphate would spare their lives because they were women, he assured them, but only if they converted to Islam.
"Or we will let you rot here," he warned.
Fisehaye found conversion an unholy thought. Along with the other women, she fired a volley of questions at the man: Can we call our families and tell them where we are? Can they pay you a ransom for our freedom? Can you tell us what you did to our brothers? Our husbands?
The man offered few answers and no solace.
Three weeks later, in the first week of Ramadan in June, fighter jets bombed the abandoned hospital compound and some of the buildings collapsed. It is difficult to determine who was behind the attack. Both the U.S. military and western Libyan groups have claimed raids on nearby towns around that time.
In the ensuing chaos, Fisehaye and the other women sprinted past the debris and ran barefoot into the desert. The hot ground seared their feet. The captive men, who had been held in the same compound all along, ran ahead.
Before long, the fleeing captives made out the silhouettes of a pickup truck and men with assault rifles ahead of them. The armed men waved for the migrants to stop then opened fire. The women stopped. Most of the migrant men escaped, but eleven were rounded up and flogged. Their whereabouts are unknown.
The airstrikes continued through the week. Eventually, Islamic State fighters moved the women to the abandoned quarters of a Turkish construction company in Nawfaliyah, two hours away.
The makeshift prison housed graders and dozers from road-work projects of the mid-2000s, their metal bodies rusting under the intense heat. Itinerant workers had scribbled their names and countries on the compound's walls. Fisehaye and the other women stayed in a small room where the drywall sweated when temperatures rose. A Korean family — a pediatrician, his wife and her brother — were jailed in another room.
It only took a week for Fisehaye and the other women to attempt another breakout. Nine escaped, but not Fisehaye. Instead, she was brought back to the makeshift prison and whipped for days. The Korean doctor tended to her wounds.
A few weeks later, in early August, 21 other Eritrean women joined Fisehaye's group. They too had been kidnapped along a stretch of highway in central Libya. One woman came with her three children, aged five, seven and eleven.
Conversion
Throughout the summer, Islamic State consolidated its hold in central Libya. In Sirte, Islamic State fighters crushed a Salafist uprising by executing dissenters and hanging their bodies from lampposts. In Nawfaliyah, they paraded decapitated heads to silence dissent.
Then, in September, the group's emir in Libya, Abul-Mughirah Al-Qahtani (more commonly known as Abu Nabil), advertised his domain's "great need of every Muslim who can come." He summoned fighters, doctors, legal experts and administrators who could help him build a functioning state. He levied hefty taxes on businesses and confiscated enemy property, just as his group had done in Syria and Iraq.
The ranks of Islamic State fighters swelled. At its peak, the group may have had 6,000 fighters in Libya, based on the U.S. Army's estimates, although the Pentagon drastically cut that estimate this month to a thousand fighters in Sirte.
The single men, most of whom flocked from other parts of Africa, needed companions, and Islamic State enlisted older women in Sirte to help. The women, called 'crows' because they dressed in black, visited townspeople's homes and registered single girls older than 15 as potential brides, says Brigadier Gnaidy of the Misrata forces.
As the group's ambitions grew that summer, so did its need for women. Islamic State's take on sharia permits men to take sex slaves. The kidnapped women, unprotected and far from home, became easy targets. In mid-August, more than two months after Fisehaye was abducted, Islamic State fighters moved the 36 women in their custody to Harawa, a small town they controlled some 75 kilometers (46 miles) from Sirte.
As Fisehaye and the seven other women Reuters interviewed describe it, life in Harawa was almost quotidian at first.
There were no air strikes, beatings or threats of sexual violence. The captives — the Eritreans kidnapped in June and August, including Fisehaye, two Nigerians, and the Korean couple and their relative — lived in a large compound by the town's dam. In the next few weeks, they were joined by 10 Filipino medical workers kidnapped from a hospital in Sirte, a Bangladeshi lecturer taken from a Sirte university, a pregnant Ghanaian captured in Sirte, and an Eritrean woman captured with her 4-year-old son on the highway to Tripoli.
It was here that Fisehaye bonded with Simret Kidane, a 29 year-old who left her three children with her parents in Eritrea to seek a better life in Europe. She was among the women kidnapped in August.
Kidane befriended one of the guards, Hafeezo, a Tunisian mechanic turned jihadist in his early 30s. Hafeezo helped the women navigate their new life in captivity. He brought them groceries and relayed their demands to his superiors in Sirte. He comforted them when they cried. He counseled them to forget their past lives and embrace Islam. That way, he promised, they may be freed to find a husband among the militants. They may even be allowed to call home.
The women asked for religious lessons, and Hafeezo brought them a copy of the Koran translated into their first language, Tigrinya. He also brought a small Dell laptop and a flash drive on which he had uploaded religious texts and lessons on the lives of fallen jihadists.
Fisehaye succumbed first. In September, after three months of captivity, she converted to Islam and took on a Muslim name, Rima. Her conversion had a domino effect across the compound; Kidane and the others followed suit a month later.
"I could see no other way out," Fisehaye said. "Islam was one more step to my freedom. They told us we would have some rights as Muslims."
After their conversion, Hafeezo brought them black abayas and niqabs, loose garments some Muslim women wear to cover themselves. He kept his distance and refused to make eye contact. Instead, he supervised their piety from afar.
Another guard, an older Sudanese fighter, taught them to pray. He recited verses from the Koran and made the women write down and repeat his words. When the guard moved to a new job in Sirte, Hafeezo brought a flat-screen TV and played them videos of religious lessons and suicide missions. As promised, Hafeezo allowed the women to call their families.
In December, frequent gunfire punctured the relatively quiet life in Harawa. Food became scarce. Hafeezo was often called to the frontline and disappeared for days. One day, he took Kidane aside and told her to prepare for what was to come. The leadership had changed — Islamic State's emir in Libya had died in a U.S. airstrike a month earlier — and the women's fate along with it.
"You are now sabaya," Hafeezo told Kidane, using the archaic term for slave. There were four possible outcomes for her and the other women, he explained. Their respective owners could make them their sex slaves, give them away as gifts, sell them to other militias, or set them free.
"Do not worry about what will happen to you in the hands of men," Kidane says Hafeezo told her. "Concern yourself only with where you stand with Allah."
Kidane did not share this detail with Fisehaye or the other women, hoping to save them from despair.
Later, one of Hafeezo's superiors came to the compound to take a census. He wrote the women's names and ages on a ledger. He asked them to lift their veils and examined their faces. He returned a week later and took two of the youngest women, aged 15 and 18, with him. On December 17, he sent for Kidane. That day, he gave her to a Libyan member of an Islamic State brigade in Sirte. Despite her repeated pleas, her new owner refused to reunite her with Fisehaye.
Kidane and the teenage women escaped and are now seeking asylum in Germany.
Sabaya
In late January, a stomach ulcer confined Fisehaye to her bed. Stress made matters worse. Returning from a hospital visit one afternoon, she witnessed a child, no older than 9, shoot a man in the town square.
Soon after, she and the remaining female captives moved to a warehouse in Sirte where Islamic State stored appliances, fuel and slaves. A group of 15 Eritrean women, who had been kidnapped in July, and three Ethiopian women kidnapped in January joined them that week.
The warehouse became, to the women, a last frontier of defiance. As new Muslims, they argued for better healthcare and the abolition of their slavery. They absorbed beatings in response.
Resistance proved futile. An Eritrean fighter called Mohamed, who had often dropped by to survey the women, purchased Fisehaye in February. He never said how much he paid for her. But he seemed gentle at first, asking after her waning health and her past life in Eritrea.
"I was confused. I thought he was going to help me. Maybe he had infiltrated Daesh. Maybe he wasn't really one of them. I started harboring hope," Fisehaye said.
Instead, he raped her, repeatedly, for weeks.
"No one ever showed us which part of the Koran says they could turn us into slaves," Fisehaye said. "They wanted to destroy us…so much evil in their hearts."
She plotted her escape but could not find a way out.
Then her owner lent her to another man, a Senegalese fighter. Known by the nom de guerre Abu Hamza, the Senegalese had brought his wife and three children to the Libyan frontline. Fisehaye was to work, unpaid, in Abu Hamza's kitchen.
The work was busy but bearable, until one night in mid-February when Abu Hamza brought an Eritrean woman from the warehouse. He raped the woman all night.
"She was screaming. Screaming. It tore my heart," Fisehaye recalled. "His wife stood by the door and cried."
The next morning, Fisehaye convinced the battered woman to run away with her. They left the city behind and ran into the desert. No one stopped to help them and they were caught by religious police on patrol outside the city.
The police returned both women to captivity. The battered Eritrean woman went back to Abu Hamza. Mohamed took Fisehaye to a three-story building in Sirte that he shared with two other fighters.
Fisehaye moved in with a 22-year-old Eritrean woman and her 4-year-old son, both of whom belonged to a Tunisian commander named Saleh. Another 23-year-old Eritrean lived down the hall with her 2-year-old son and a daughter to whom she gave birth while in Islamic State custody. That woman and her children belonged to a Nigerian fighter who called himself al-Baghdadi.
Fisehaye's roommates said the men raped them on multiple occasions. They told their stories on condition of anonymity.
"There was no one there to help me. So I kept quiet and took the abuse," the Eritrean mother of two later said. "I stopped resisting. He did as he pleased with me."
Escape
In April of this year, Libya's nascent unity government stationed itself in a naval base in Tripoli. Separately, rival factions — the Petroleum Facilities Guard in the east and brigades from towns in the west — plotted to attack Islamic State from opposite flanks.
In Sirte, meanwhile, Fisehaye and her roommates learned that one of them, the mother of two, would soon be sold to another man.
The revelation pushed them to plot an escape. They pretended to call their relatives but talked, instead, to Eritrean smugglers in Tripoli. They studied their captors' schedules. They surveyed their surroundings whenever the Tunisian commander Saleh, in a cruel prank, left the house keys with his slave but took her son with him.
Finally, on the early morning of April 14, the women grabbed 60 Libyan dinars, about $40, from Saleh's bag and broke out of the house through a backdoor. But Sirte looked ominously deserted in the early morning and, fearing they would be caught, the women returned to the house.
They ventured out again, hours later, when the city came to life. They walked for hours before a cab stopped for them. Fisehaye negotiated with the driver in halting Arabic. She told him they were maids who had been swindled by an employer. She gave him a number for an Eritrean smuggler in Tripoli.
The driver negotiated with the smuggler over the phone. He agreed to drive them for 750 dinars ($540), to be covered by the smuggler once the women arrived in Bani Walid, five hours away.
In the end, it took the women 12 hours to get to Bani Walid. As promised, the Eritrean smuggler paid for their escape and took them to a holding cell. There, they shucked off their niqabs and cried with joy. They prayed for the dozens they had left behind.
Fisehaye borrowed the smuggler's phone and called her father in Eritrea. Soon, word of her escape spread among her friends and relatives. They settled her debt and paid the smuggler another $2,000 to get her on a boat to Europe.
In May, during a month when 1,133 refugees drowned at sea, Fisehaye crossed the Mediterranean. Her 10 months of captivity had come to an end.
She traversed a path trod by many refugees, across Italy and Austria, and reached Germany a month after her escape. She is now seeking asylum there.
read more: hthttp://www.haaretz.com/middle-east-news/isis/1.737713
http://www.haaretz.com/middle-east-news/isis/1.737713
--
The Woman, Aisha Wakil, Boko Haram Calls Mummy Is Igbo
AUGUST 20, 2016
Barrister Aisha Wakil who was declared wanted by the Nigerian military authorities last Sunday was until recent largely unknown. Almost always totally veiled, her identity has been as inscrutable as the tale about her origins. Popular folklore is that the woman activist, who was born into an Igbo Christian family converted to Islam during her time at the University of Maiduguri where she studied law. Aisha Wakil Prior to the transformation of the Islamic Boko Haram sect into a fighting force in 2009, Wakil was well known to have close ties with Mohammed Yusuf, the leader of the sect, whose killing led to the radical transformation of the group. Following her education, she settled in Maiduguri and made a home with another lawyer, Wakil Gana who is presently a judge with the Borno State High Court. The news report declaring Aisha wanted undoubtedly came to her and nearly all who knew her with surprise especially against the fact that she had almost always carried out her conduct and liaisons with Boko Haram with the knowledge of the authorities. In fact, she is known to be a staff of the National Human Rights Commission, NHRC and was during the Goodluck Jonathan administration an important liaison that was used to make contacts with the Boko Haram. She has not for once denied a link with the group, having said in separate fora that she knew some of the insurgents right from when they were circumcised. It was perhaps on that account that when the Jonathan administration constituted a committee to negotiate with Boko Haram she featured prominently on the list. Even more, when the Boko Haram group announced a group of prominent northerners to negotiate with the government she and her husband, Justice Wakil were featured among those nominated by the group. Calling the Boko Haram insurgents at one point as her children who moved in and out, she said: "That was how I got to know most of them. Then they were not Boko Haram and Jama'atu ah-lil Sunnah members. It is surprising how these children turned out to be what they are now. I keep on saying there is certainly no smoke without fire. Something must have triggered those innocent-looking children to grow up behaving the way they are behaving now. "You needed to see them growing up. Sometimes when I start talking about them, I shed tears. Those children prayed, and still pray a lot. I have a mosque in the house, and they would always go in and pray." Wakil narrated how she started noticing changes in them. How they would go out in the morning and return in the evening and during the fasting period, they would not return until around 11 or 12 midnight. They also started attending Muhammad Yusuf's lectures to listen to his preaching. "I didn't observe anything strange about the teaching. Soon, the children began to be conscious of themselves. It was then that the rumour started that they were planning a war. When I heard of it, I went straight to Muhammad Yusuf because I had been very close to him. When I realized that Muhammad Yusuf was frequently being arrested, detained and released, I went to Baba Fugu and asked him why his son-in-law was always being detained? But I learnt he was always preaching things the government didn't like and insulting them." At the peak of the crisis when few dared to come out, Aisha was able to mobilise some Borno women to come out to protest against the situation. At that time she was quoted to have referred to the Boko Haram insurgents as her children. "My sons, I have been begging you since in silence to come out and state your grievances and stop destroying your homeland. Please come out and state your grievances and stop these killings," she was quoted to have tearfully said. Just as she is almost never seen without being fully veiled from the crown of her head to the sole of her feet, Aisha's origin has been almost always veiled from Nigerians. The nearest revelation about her linkage to being Igbo was when she was quoted to have disclosed in an interview with a national newspaper her peace-making efforts. According to her, she "started the dialogue process since 2009, even before the major crisis erupted because I knew their slain spiritual leader, Muhammad Yusuf. His father-in-law, late Alhaji Baba Fugu Mohammed, was my spiritual father in Islam, and I used to visit his home. "In fact, Mohammed Yusuf almost married my younger sister Amina, but Almighty Allah did not make it possible. So that was how I got closer to the duo. It went even to the extent that I was cooking food and taking it to the house of late Alhaji Fugu, to the pupils of the Qur'anic school, (almajari). "And because I am from the southern part of the country, I normally prepared southern dishes, which Yusuf had always come to eat. In fact, he liked my egusi soup very much, and we became very close when his father-in-law told him that I was the one who cooked the food. So anytime we met, he expressed delight and prayed that Almighty Allah would reward me, for he was eating from my pot and that was how I established a strong relationship with him," she was quoted as saying.
http://www.vanguardngr.com/2016/08/the-woman-aisha-wakil-boko-haram-calls-mummy-is-igbo/
--
URL: https://newageislam.com/islam-women-feminism/italy-imam-defends-burqinis-with/d/108318
New Age Islam, Islam Online, Islamic Website, African Muslim News, Arab World News, South Asia News, Indian Muslim News, World Muslim News, Women in Islam, Islamic Feminism, Arab Women, Women In Arab, Islamophobia in America, Muslim Women in West, Islam Women and Feminism