New Age Islam News Bureau
10 March 2017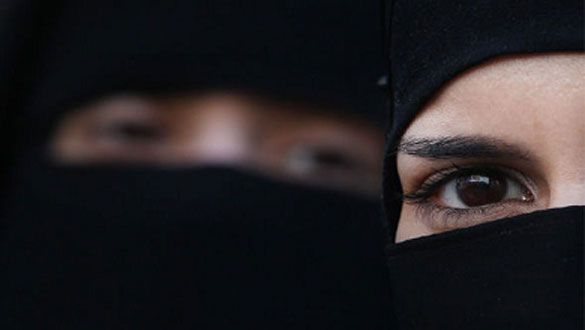 Photo: The burqa has been described as 'the worst symbol of the oppression of women'
-----------
• ISIS Female Member Paid To Lash 'Immodest Women'
• Palestinian Woman Lawmaker Arrested By Israel
• Mother of Six Allegedly Killed For 'Honour' In Pakistan
• Crimes against Women on the Rise in Pakistan Capital
• Senator Hanson Challenged By Muslim Women over Her Views on Islam in Perth
Compiled by New Age Islam News Bureau
URL: https://newageislam.com/islam,-women-and-feminism/new-age-islam-news-bureau/italian-region-could-ban-women-from-wearing-islamic-niqab-in-hospitals-and-public-offices/d/110359
--------
Italian region could BAN women from wearing Islamic niqab in hospitals and public offices
Fri, Mar 10, 2017
Liguria will become the latest region to ban traditional Islamic attire if the plans go ahead, following other European nations that have already adopted burqa bans.
Described as an attempt to defend women's freedom, it is not yet known when the ban will be implemented if it is given the green light by officials.
He added: "Those who live in Italy need to grasp and respect at least the minimum rules of equality between men and women."
France: Became first country in Europe to ban the burka in April 2011, with a penalty fine of 150 euro
Spain: Ban in Barcelona and some other towns in the region of Catalonia
Netherlands: In November 2016, Dutch MPs backed a ban in public places, such as schools and hospitals, and on public transport
Italy: Islamic face covering banned in hospitals and local government buildings in region of Lombardy and other individual towns
The proposal, put forward by the president along with Sonia Viale, Liguria's health councillor, was announced on International Women's Day but has been condemned by some critics.
Alice Salvatore, spokesperson for the region's Five Star Movement, said the plans were "discriminatory and unconstitutional".
She added: "Instead of extending the rights of women, this will reduce them further.
"It is horrific that, in 2017, you might impede women's access to essential health care solely for the clothes she wears."
The news comes after the government in the German region of Bavaria approved a draft law to prevent women from wearing burkas in public.
Bavaria announced any traditional clothing that covers the face will be banned "in areas of public service, in high schools, schools, kindergartens, in areas relating to general security and during voting".
The bill was first introduced last November, but a ruling by the administrative court in Bavaria in April 2014 banned teachers from wearing the Islamic head coverings in schools.
express.co.uk/news/world/777355/italy-liguria-muslim-women-niqab-burqa-ban-hospitals-public-office-giovanni-toti
-----------
ISIS female member paid to lash 'immodest women'
March 10, 2017
(AhlulBayt News Agency) - A 26-year-old female Daesh (ISIS) member, now in prison in Iraqi Kurdistan, has revealed she was paid £35 per month to lash women deemed immodest with ropes and sticks in the city of Mosul.
Yass Khathr, who lived in Iraq's second city all her life, told the Times that she punished roughly 50 women a week, beating them for crimes against the so-called caliphate that ranged from smoking, reading banned books or showing their ankles beneath their niqabs.
"I took the job because I needed the money," she told the newspaper. In return for meting out Abu Bakr Al-Baghdadi's justice Khathr was paid 50,000 Iraqi dinars (£35).
Unlike men who were regularly beaten in public, their punishments exhibited in grisly Daesh propaganda, women were not whipped in public.
As Iraqi forces push further into Daesh's remaining territory in the fifth month of their assault on the city, more is being learned about life under the extremist militant group.
Khathr, now in prison with other former members of Daesh, told the Times she greatly regretted the role she had played during Daesh's two-year rule. She said she had joined the radical group despite the protestation of her family. Now she fears they would not accept her were she released. "I will be shunned by family, my community … I can never go back home," she was quoted as saying.
The female Daesh enforcer is sister to a dead militant, her husband is now also in prison. Khathr was intercepted by Kurdish fighters as she fled fighting in Mosul in the second month of the assault of the Daesh-held city.
en.abna24.com/news/middle-east/isis-female-member-paid-to-lash-%E2%80%98immodest-women%E2%80%99_816750.html
-----------
Palestinian woman lawmaker arrested by Israel
March 10th, 2017
HEBRON: A female member of the Palestinian parliament has been arrested by Israeli forces, Palestinian and Israeli security sources said on Thursday.
Samira Halayqa, a Hamas member of the largely defunct Palestinian Legi­slative Council, was arrested by Israeli forces on Wednesday night from her home near Hebron in the occupied West Bank, Palestinian security sources said.
The Shin Bet Israeli intelligence service confirmed the arrest, but declined to provide further details.
Nine other members of the 132 member Palestinian Legislative Council are currently detained by Israel, according to the Palestinian Prisoners' Club.
Islamist movement Hamas has fought three wars with Israel in Gaza since 2008.
The Hamas-dominated parliament has not met since the Islamists took over the Gaza Strip in June 2007, ousting Fatah forces loyal to Palestinian president Mahmud Abbas.
dawn.com/news/1319537/palestinian-woman-lawmaker-arrested-by-israel
-----------
Mother of Six Allegedly Killed For 'Honour' In Pakistan
A mother of six was killed alleged by her husband in PeeralMakorani near Tando Adam, Sanghar, on Thursday evening, police said.
"The accused, Gul Hussain Malookani, admitted to having killed his wife as he suspected her character and further claimed that he saw her in a compromising position with another man," B-Section Police Station SHO Mohammad Aslam Billo told Dawn.
Billo said Malookani killed his 42-year-old wife, Suhila, by assaulting her with an iron bar. He later disposed of her body in some shrubbery near the village.
The police officer said a First Investigation Report was being registered on the complaint of Ghulam Nabi Malookani, the woman's brother.
The woman's body was handed over to her brother after an autopsy at Taluka Hospital, Tando Adam.
Dr Shugafta, who conducted the post-mortem investigation, told local journalists that the body bore marks of six serious injuries.
dawn.com/news/1319620/mother-of-six-allegedly-killed-for-honour-in-sanghar
-----------
Crimes against Women on the Rise in Pakistan Capital
In a reply submitted to the National Assembly on Friday by Interior Minister Chaudhary Nisar Ali Khan, the interior ministry revealed that crimes against women had risen sharply in the federal capital.
Last year, Islamabad saw a 160 per cent increase in rape cases, according to documents provided by the interior ministry detailing the number of crimes committed in the federal capital.
15 cases of rape were reported in the federal capital in 2015, but the number jumped to 39 last year, the document said.
The ministry said the federal capital saw an increase of 10 per cent in such incidents during the course of one year.
However, in 2016, "there was a decrease in incidents of murder, kidnapping, theft, robbery and car snatching," the interior ministry said.
While sharing details about the number of terrorists arrested in 2016, the interior ministry revealed that "around 1,554 terrorists" were arrested last year, of which 799 were nabbed from Khyber Pakhtunkhwa.
Nearly 418 terrorists were arrested from Punjab, the minister added.
Commenting on the number, PPP lawmaker SuraiyaJatoi pointed out that Punjab was ranked second in the number of terrorists arrested, while Sindh came third.
"We have been saying this all along: that Punjab hosts a large number of terrorists," Jatoi said.
Replying to this, Parliamentary Secretary Afzal Dhandla said that despite the fact that no targetted operation was launched against terrorists in Punjab, more than four hundred miscreants had still been arrested.
"This goes to show the improved performance of the police in the province," the secretary added.
dawn.com/news/1319616/crimes-against-women-on-the-rise-in-federal-capital
-----------
Senator Hanson challenged by Muslim women over her views on Islam in Perth
10/03/2017
The One Nation leader Pauline Hanson was walking through a shopping centre in the south-eastern suburb of Cannington greeting voters ahead of the WA election, when she began speaking with two women wearing hijabs.
Senator Hanson said against halal certification and Sharia law, and if the women wanted that sort of life they should move to a Muslim country.
She appeared to cite a section of the Koran which she said advocated beating women.
abc.net.au/news/2017-03-10/senator-hanson-challenged-by-muslim-women-over-her/8344970
URL: https://newageislam.com/islam,-women-and-feminism/new-age-islam-news-bureau/italian-region-could-ban-women-from-wearing-islamic-niqab-in-hospitals-and-public-offices/d/110359
New Age Islam, Islam Online, Islamic Website, African Muslim News, Arab World News, South Asia News, Indian Muslim News, World Muslim News, Womens in Islam, Islamic Feminism, Arab Women, Womens In Arab, Islamphobia in America, Muslim Women in West, Islam Women and Feminism