New Age Islam News Bureau
14 Sept 2019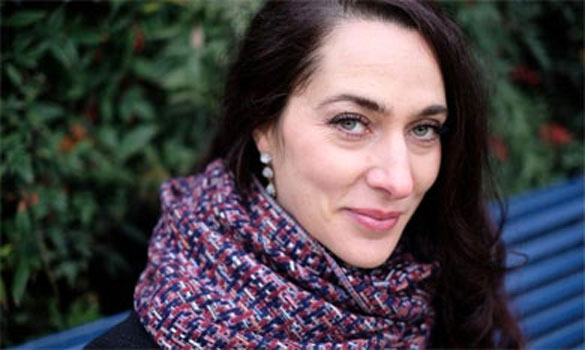 Kahina Bahloul, first female Imam in France.
-----
• Malay Shariah Courts Need Urgent Reforms to Protect Women
• Iran to Arrest Actress for Supporting 'Blue Girl' Who Set Herself on Fire
• Women at Malad Housing Society Insist On Unity in Diversity, Set an Example for Mumbai and the Rest of the Country
• Iraq Sentences Islamic State's Woman Chemical Weapons Expert
• A Middle East Bikers' Club Hits the Road for Women's Empowerment
• Toronto Raptors Launch Line Of Team-Branded Athletic Hijabs
• Teen Egyptian Girl's Case Puts Legal System under Spotlight
• Iran in no hurry to allow women into stadiums after 'Blue Girl' death
Compiled by New Age Islam News Bureau
URL: https://www.newageislam.com/islam-women-feminism/it-important-islam-establish-new/d/119743
--------
'It Is Important For Islam to Establish a New Model,' Says France's Female Imam Kahina Bahloul
By Yahia Hatim
Sep 13, 2019
Rabat – Kahina Bahloul, the first female Imam in France, told French-Monegasque Radio Monte Carlo (RMC) that she plans to open the first liberal mosque in France. Men and women would pray side by side and lead prayers alternatively in the proposed place of worship.
Bahloul also announced that she launched a crowdfunding campaign to open the mosque, which she intends to call "Fatima."
When asked about headscarves by the talk-show host, Jean-Jacques Bourdin, Bahloul said: "I consider that headscarves are not a religious obligation. I have studied many religious texts and I believe that the Quran does not oblige women to conceal their hair."
"It is important for Islam to establish a new model where men and women have the same role in mosques. In traditional mosques, the main prayer room is exclusive to men. This is not acceptable in the 21st century," added Bahloul.
Kahina Bahloul is a graduate in Islamic Studies from the Practical School of Higher Studies in Paris. She is also the founder of the NGO "Parle-moi d'Islam" (Talk to me about Islam).
Last saturday, September 7, two female Imams, Eva Janadin and Anne-Sophie Monsinay, led the first mixed gender prayer in France. Bahloul expressed her support for the initiative.
https://www.moroccoworldnews.com/2019/09/282530/france-first-female-imam-plans-liberal-mosque/
--------
Malay Shariah Courts Need Urgent Reforms to Protect Women
Mariam Mokhtar
September 14, 2019
The MP for Petaling Jaya, Maria Chin Abdullah, may have been ill-advised to comment on an ongoing, high profile custody battle but many people will agree that she has brought much needed attention to the shariah court system.
Many women feel the shariah system has failed them. Only the victims, such as abandoned wives and single mothers, and their close families, are aware that the system is in urgent need of reform and proper enforcement.
Most divorced Muslim women will agree that they are punished whilst the man escapes scot-free.
Last week, Maria said that "Muslim women were still being discriminated against under the shariah legal system". Her comments have resulted in a legal suit against her, because she had allegedly insulted the shariah court.
Some readers may recall the case of a single mother who was caught in a hotel room, in Kuala Terengganu, in September 2018. She was charged with "preparing to prostitute herself". This case illustrates perfectly, that women are still denied justice.
The accused was in the hotel room with a man. They were not caught in flagrante delicto, but in Terengganu the act of "preparing to prostitute oneself" is an offence punishable by six strokes of the rotan.
There are several irregularities in the takzir, which is a schedule of punishments for offences. These punishments are meted out at the discretion of the rulers or judges of the state. So, the decisions of the shariah courts, in Terengganu, are man-made.
As the single mother was unrepresented, she quickly pleaded guilty to a charge of attempting to prostitute herself. Did the court query the fact that she did not have a lawyer to fight her case? Did the court ask why the husband failed to provide the nafkah (maintenance for the children and wife)?
Most women give up their education or careers to become a wife and start a family. If they become divorced, they lack the skills to earn a good income. So, they end up in low-paying jobs, and may hold two or three jobs just to survive.
Their children will have to be taken to a mother's helper, which is expensive.
This is the problem that many of these women face. They cannot afford the legal fees and have no clue about their rights.
Moreover, what happened to zakat? Why had society failed to help this woman?
Many Muslim women agree that the ageing shariah system is in dire need of reform and proper and strict enforcement of its decisions. Moreover, the system needs to be standardised nationwide.
https://www.freemalaysiatoday.com/category/opinion/2019/09/14/shariah-courts-need-urgent-reforms-to-protect-women/
--------
Iran to Arrest Actress for Supporting 'Blue Girl' Who Set Herself on Fire
13 September 2019
A judge is issuing a warrant for the arrest of an Iranian actress for showing support toward a female fan who set herself on fire after she was denied access to a football stadium, the semi-official Fars news agency reported.
Saba Kamali had written a post on Instagram in which she said that Sahar Khodayari had suffered much worse treatment than Imam Hussain ibn Ali, one of the grandsons of the Prophet Mohammad.
Kamali has since removed the Instagram post, posting another message in which she said she believes "that no one can tarnish the special status of the Imams."
In another follow-up post, Kamali said her post was misunderstood by people who had "skewed understanding, illiteracy and who were being fanatical."
"They do not know the basics of playwriting which is my first field of study," she wrote.
Siavosh Bahman
@simekhardar
Sahar Khodayari,the female football fan who was arrested for trying to enter the stadium in Iran and sentenced to six months prison, passed away today, a week after setting herself on fire@FIFAcom is still silent towards gender apartheid in iran! #FIFAEnforceEqualityInIran
View image on Twitter
314
5:49 AM - Sep 10, 2019
Twitter Ads info and privacy
169 people are talking about this
Khodayari died on Monday from injuries received after self-immolating on September 1 outside the public prosecutor's office. She had been told she would receive a six-month prison sentence after being detained by police on March 12, 2019, accused of trying to enter Tehran's Azadi Stadium to watch a football game.
FC Esteghlal's twitter account confirmed her death. Khodayari was a supporter of the club and became known as the "Blue Girl" because Esteghlal wear blue jerseys.
Iran is the only country in the world where women are banned from sports stadiums. The country has had an unwritten ban on women attending football stadiums since the so-called Islamic Revolution in 1979.
https://english.alarabiya.net/en/features/2019/09/13/Iran-to-arrest-actress-for-supporting-blue-girl-who-set-herself-on-fire.html
--------
Women at Malad Housing Society Insist On Unity in Diversity, Set an Example for Mumbai and the Rest of the Country
Sep 14, 2019
After two kids tell a girl they would not play with her because she is Muslim, a Malad housing society sets an example for Mumbai and the rest of the country In these divisive times when hatred is fashionable and bullying macho, a housing society in Malad comprising around 100 families is setting an example for Mumbai, and the rest of India. The entire society, led by the women residing there, came together to support a Muslim family after a six-year-old girl went home crying last weekend when a couple of children refused to play with her citing her faith.
The incident occurred last Saturday when the children had gathered in the play area at Royal Oasis society in Malad West. The girl's family said that minutes after she left her home to play with her friends, she rushed back in tears, saying a couple of kids taunted her for being a Muslim.
The girl's mother put out her child's ordeal on the society's WhatsApp group, after which at least a dozen women came out in her support. A few others personally met with the woman and told her that such behaviour will not be allowed in the society. Later, the girl's mother approached the two children's family, and was told that the kids may have heard such ideas from others. The children have been counselled to ensure they respect everyone, the parents said.
The women held a meeting wherein each one of them decided they'll sensitise their children to ensure such an incident doesn't get repeated. They also decided that they'll celebrate all festivals in the society to send out a message of unity in diversity. All of them assembled in the common area along with their children on Thursday evening for the Ganpati Visarjan.
The society's stance was both bold and refreshing, considering the communal hate that is being spewed out in the country. Whether it is lynchings in the name of cow protection or people being forced to say Jai Shree Ram, there is palpable fear among the minorities in the country.
The girl's mother told this newspaper that the support her family received following Saturday's incident has convinced her that her children were "growing up in the right atmosphere". "The kids are back to playing together. There is no animosity whatsoever," she said.
The residents pointed out to at least two housing societies in the area where members of only a particular community can buy or rent flats. There are many other societies in the same area where it is demanded of residents that they don't cook non-vegetarian food at home. They said their society was a "refreshing change" because it comprises residents of all faiths. "Our society welcomes all and that's how it will remain. The only thing that is not welcome here is bigotry," said Garima Shrivastava, a Royal Oasis resident.
Society members now plan to organise dinners and get-togethers to make their children aware of different cultures. "Mothers are children's first teachers and I want my kids to respect everyone. They should not grow up carrying any sort of bias," said another resident, Rukshana. https://mumbaimirror.indiatimes.com/mumbai/cover-story/love-all/articleshow/71119906.cms
--------
Iraq Sentences Islamic State's Woman Chemical Weapons Expert
By Rikar Hussein
September 13, 2019
WASHINGTON - The Iraqi government on Thursday said it has issued life imprisonment for a female Islamic State (IS) member who helped the group develop chemical and biological weapons.
The woman, identified by the Iraqi Interior Ministry as Abrar al-Kubaisi, reportedly played a key role in research as a part of IS's team to develop chemical and biological weapons.
Iraq's Falcon Intelligence Cell did not disclose the time of her arrest, saying only that she had been arrested during an operation at an earlier date.
Life in prison
"The convicted terrorist Abrar al-Kubaisi, who was recently sentenced to life imprisonment, was one of the most prominent biological researchers involved in the IS program to manufacture and train special elements within the Development and Manufacturing Body of the terrorist organization responsible for preparation, production and use of chemical weapons in the country and abroad," said Abu Ali al-Basri, the head of Iraqi Interior Ministry's Directorate of Intelligence and Counterterrorism, in a statement for semi-official al-Sabah newspaper.
Al-Basri said Abrar al-Kubaisi had told Iraqi officials that she was lured into the extremist group through the internet and that she helped the IS militants conduct chemical operations in Iraq.
"Confessions of the terrorist Abrar al-Kubaisi show how she was tricked through social media to join the ranks of the terrorist organization," said the intelligence head, adding that al-Kubaisi followed IS directions to help in the use of chemical weapons materials in several operations in Baghdad.
Chemical weapons in 2015
Reports about the IS use of chemical weapons appeared as early as 2015 when local Iraqi and Kurdish forces complained about sustaining dozens of casualties from the battlefield because of the use of mustard gas by the jihadist group.
U.S. and Iraqi intelligence officials in November 2015 expressed grave concerns that the group was aggressively pursuing the development of chemical weapons. They reported the group was seeking the help of scientists from Iraq, Syria and elsewhere in the region to open a branch devoted to research and experiments of chemical and biological weapons.
By late 2016, the group used chemical weapons, including chlorine and sulfur mustard agents, at least 52 times on the battlefield in Syria and Iraq, according an assessment by London-based intelligence collection and analysis service the IHS Conflict Monitor.
https://www.voanews.com/extremism-watch/iraq-sentences-islamic-states-woman-chemical-weapons-expert
--------
A Middle East Bikers' Club Hits the Road for Women's Empowerment
MEGHA MIRANI
September 14, 2019
DUBAI: History was made in 2018, when women in Saudi Arabia were permitted to drive for the first time since 1957. As the world watched female motorists across the Kingdom celebrate, a less visible set of women also quietly stepped out of the shadows and revved up their engines. "Women were interested in motorbikes, but they couldn't
ride openly in Saudi Arabia," said Zahra AbuAli, founder of social media group Saudi Women Riders and co-founder of The Litas Khobar, a Saudi chapter of the international all-female motorcycle group The Litas.
"It was an underground scene. They used to wear baggy clothes, hide their hair under helmets, and ride at the center of (mixed) groups. Some girls have licenses from Bahrain, some have bikes but no licenses, and some ride with their husbands."
AbuAli, a 28-year-old Saudi national, learnt to ride a motorbike last year while working in Dubai.
"I just wanted to try something new, and once I started, I couldn't stop. Cars in Saudi were only a man thing, but that didn't mean they're made only for men," she said.
The horsepower thrill was amplified when the biomedical engineer began to ride her Harley 883 Sportster with Lara Tarabay Saab, founder of The Litas Dubai, the first chapter of the motorcycle collective in the Middle East.
Saab, who is from Lebanon, said that she founded the group to alter perceptions and help female bikers find each other and ride together as a sisterhood.
"My vision is to make our community as women bikers in the Middle East visible to the world. I don't want them to think of us in stereotypes," she explained.
The Litas Dubai currently features 10 women from Saudi Arabia, Jordan, Bahrain, Palestine, Morocco, Russia and the UAE. The group includes police officers, doctors, artists, engineers, management professionals and mothers.
"Thirteen years ago, if I stood anywhere with my bike, people would come and speak to me in English and be surprised when I answered in Arabic," Roqayya Abdullateif, 37, said.
The Emirati police officer said that she mastered the handlebars simply by watching her brothers riding bikes. "I saw girls sitting in the back of the bike, and I said why not sit in the front?"
Saab, who initially rode as part of mixed groups in the UAE, said that she also formed the sisterhood as a support system in a male-dominated sport. "Our culture dictates a few things for us. Typical lady behavior wouldn't be to be on a motorcycle, so it wasn't easy (for me) at all.
"I was in Italy with my husband, and I wanted to ride a scooter. He said, 'No, you can't.' When I'd ask him to teach me, he'd say 'It's very heavy, you can't even lift it.
"This triggered a lot in me in terms of my sense of existence, freedom of choice and power."
Saab, a mother of two and a marketing director, now cruises on a Sportster 1200cc, but her journey to this point involved attending 7 a.m. lessons before heading to work.
"I had to come to my husband to sign the form to give me approval … because I'm on his sponsorship," she said. "He said it's dangerous and that I should talk to my father first. (But) I said there's no way I'm not doing this."
Saab, who also co-founded The Litas Lebanon, is UAE ambassador for the Women's International Motorcycle Association and Middle East ambassador for the Women Riders World Relay (WRWR).
"We have a lot of women who message us with questions about motorcycles or asking where we learnt to ride," Saab said. Set to take place in Dubai in 2020, the WRWR is one of the largest global motorcycle events for female riders, created to raise awareness of women across all spheres of motorcycling. The UAE and Oman are the only Middle Eastern states included in the tour of 80 countries, with Dubai marked as the final destination. Saab and her pack are already holding information sessions for the event.
"This is for women's empowerment because models who pose on bikes are not lady bikers," she said.
https://www.arabnews.com/node/1554186/middle-east
--------
Toronto Raptors Launch Line Of Team-Branded Athletic Hijabs
Sep. 13, 2019
The Toronto Raptors say a new line of team-branded hijabs is part of a broader effort to be more inclusive to fans of all cultures.
The team's parent company, Maple Leaf Sports and Entertainment, unveiled the Nike Pro hijabs emblazoned with the team logo in a social media post on Friday.
In doing so, they say the Raptors became the first team in the National Basketball Association to offer an athletic hijab for Muslim women.
MLSE Senior Marketing Director Jerry Ferguson says the organization was inspired to create the hijabs by a local Muslim women's organization known as the Hijabi Ballers.
Ferguson says MLSE designed the gear in collaboration with the women, who regularly play basketball at a community court associated with the team.
He says the Raptors want to send a message of inclusion to its widely diverse fan base, which grew substantially during the playoff run that saw the team win its first NBA championship earlier this year.
Ferguson says having hijabs available to female Muslim athletes who wish to wear them allows the team to send a message of tolerance.
"One of the things that we are very interested in is moving from saying we are just about inclusivity and accessibility, and finding ways to bring products and ideas to market that actually prove that," he said in a telephone interview.
Ferguson says the hijabs, available only at the team's official store at its downtown Toronto home arena, allows female Muslim athletes to wear gear supporting their team while taking part in their sport of choice.
Doing so, he said, emphasizes that basketball courts should be places where all feel welcome and included.
The Hijabi Ballers seconded the message, welcoming the branded hijabs as a symbol of empowerment.
"Our goal … is to ensure Muslim girls and women feel like they belong on those courts, in the mainstream sports world and restating the idea that sports are for everyone, no matter your beliefs," founder Amreen Kadwa said in a statement.
Hijabs geared towards Muslim women athletes have been gaining traction in recent years.
While smaller manufacturers of athletic hijabs existed long before, Nike made headlines in 2017 by announcing plans to start marketing its own version.
The International Basketball Federation and the international soccer organization FIFA lifted bans on head coverings in recent years.
The Raptors-branded hijabs represent the first time MLSE has offered such a product, Ferguson said.
The move was celebrated by the National Council of Canadian Muslims, which praised the Hijabi Ballers for spurring the team to action.
Executive director Mustafa Farooq acknowledged that the issue of hijabs in sports has proven a divisive issue, with opponents disclaiming it as a symbol of oppression.
"It's hard for me to understand that," Farooq said.
"One of the beautiful things about sports is that everyone can play. Highlighting that … everyone should get a shot is such a beautiful thing to do, so obviously we thank the Raptors for taking this step."
https://www.columbiavalleypioneer.com/sports/toronto-raptors-launch-line-of-team-branded-athletic-hijabs/
--------
Teen Egyptian Girl's Case Puts Legal System under Spotlight
September 14, 2019
CAIRO: The prosecution of a 15-year-old girl who killed a bus driver after he allegedly tried to rape her has reignited debate over the treatment of women in Egypt's legal system, including the practice of virginity tests and blaming victims of sexual violence.
In July, the teenager made headlines after she confessed to police that she stabbed to death a bus driver who she alleged had kidnapped her in a deserted rural area near Cairo and sought to sexually assault her at knife point. The girl said she tricked her alleged assailant, took away his knife, and stabbed him several times before running away.
Shortly after her arrest, the teenager was required to undergo a virginity test, an invasive procedure that rights groups say in itself amounts to sexual assault.
Several women's rights groups have offered legal assistance, arguing for leniency for the teen because she defended herself against a sexual attack. They hope that a judge's ruling in her favor could set an important legal precedent and help challenge what they view as a deep-seated misogynistic culture of blaming female victims rather than male attackers.
"This case reveals the dualism in Egyptian society," said Intissar Saeed, president of the Cairo Foundation for Law and Development. "I myself have sympathized with her since day one. But when I wrote about her on my Facebook page some male lawyers attacked the girl on my page saying she was not a decent woman."
The teen's name was widely published in the Egyptian media. However, The Associated Press does not generally identify individuals who say they have been sexually assaulted or those under the age of 18 who are accused of crimes.
The case highlights the culture's obsession with female virginity. In conservative areas, relatives celebrate a new bride's loss of virginity by brandishing a bloody sheet in public, a practice they believe affirms the family's honor.
Unlawful virginity examinations garnered attention in 2011 when several women said they were detained by military personnel and forced to undergo virginity tests while protesting the interim military government that took over the country after the ouster of former President Hosni Mubarak.
During her interrogation, the girl said she was on a date with her boyfriend before riding the bus — a statement that could easily undermine her reputation and probably her credibility in conservative Egyptian society, where dating is frowned upon. Her boyfriend, along with a friend of his, are in custody pending investigations into any potential links to the crime.
After her detention, the girl was required to undergo a vaginal test which determined she was a virgin — which in the Egyptian context could be viewed as helpful to her case.
Saeed explains that this test is a routine legal procedure whenever a woman reports a rape or alleged rape. Yet, she finds it irrelevant in this case.
"She said (the bus driver) tried to rape her but did not so I believe there was no need for this examination," said Saeed, whose advocacy group is part of the teen's legal team.
Feminists have been campaigning for the girl's release and calling for her to face a lesser charge than murder. However, last month, the investigating judge upheld an appeal by the prosecutor against an earlier court decision to release her and ordered her detained for another 30 days.
"There is a frightening misogynistic sense of solidarity in the society," said Mozn Hassan, founder of Nazra for Feminist Studies, a group that has long provided legal and psychological support to women who had to undergo a virginity test. The test has become a tool to weigh the virtuousness of the victim in cases of sexual assault, added Hassan.
"If she is not divorced, married or widowed and turned out not to be a virgin, she gets automatically labeled as indecent and deserving what she had gone through."
"The man is always presumed innocent. Yet, it is very logical in a country where more than 95 percent of women are sexually harassed, that we should start off by believing what the woman is saying," she said.
Sexual harassment, mostly ranging from catcalls to occasional pinching or grabbing, is rampant in Egypt. Polls have found that most men and women in the conservative Muslim country believe it is justified if women dress "provocatively" in public.
Surveys indicate that a vast majority of Egyptian women feel insecure in the streets.
In 2014, Egypt's penal code was amended amid pressure from women's groups to include a broad definition of sexual harassment and tougher penalties. However, most women remain reluctant to file complaints for fear of stigmatization.
The teen's lawyers hope she will be charged with a so-called honor killing rather than murder. Honor killings traditionally are acts of vengeance committed by male family members against female family members deemed to have brought dishonor upon the family. But the girl's attorneys believe the concept could be applied in her case.
Under Egypt's penal code, men are more likely to receive lighter sentences if convicted of an honor killing, a discrimination that activists have been struggling to reverse for decades.
But there are no guarantees for the young female defendant, Hassan said.
"The law takes into consideration the emotional status of a man when he rises to defend his honor, which is very patriarchal," she said. "However, this (has not been) applicable to women. Honor only concerns men."
The investigating magistrate is still expected to receive a detailed forensic report of the crime before deciding on the charges.
"This is the first time we have a girl that goes as far as killing the man who tried to rape her. If the court rules in her favor, it will be a historic precedent for the Egyptian judicial system," said Saeed.
https://www.arabnews.com/node/1554301/middle-east
--------
Iran in no hurry to allow women into stadiums after 'Blue Girl' death
September 12, 2019
Sahar Khodayari, disguised as a man due to Iran's ban on women in stadiums, attempted to attend a soccer game between Tehran's Esteghlal FC and Abu Dhabi's Al Ain FC at Tehran's Azadi Stadium in March 2019. She was arrested and released on bail days later. At the courthouse earlier this week, where her case was postponed, she reportedly overheard she could face six months in prison. She set herself on fire outside of the courthouse and later died at the hospital.
Khodayari was dubbed "Blue Girl" for the color of her favorite soccer team, Esteghlal FC. One of the great ironies in this case is that her favorite team's name means "independence" in Persian and the stadium she was arrested for entering, Azadi, means "freedom."
The tragedy has led to a lot of discussions, and was followed by a visit from the Federation Internationale De Football Association (FIFA). But those in Iran who advocate for loosening restrictions on women, in place for 40 years, seem to have little appetite for a domestic war against conservatives, particularly given the country's economic troubles and growing tension with the United States.
President Hassan Rouhani did not directly address the case at his latest cabinet meeting on Sept. 11. Vaguely addressing the economic issues of the country, he said, "The people are facing enough concerns and worries. … We must not allow carelessness to add to people's worries and concerns." It is not clear what Rouhani meant by this comment, but some have interpreted it as a reference to carelessness by the judicial officials involved in the case.
Ali Rabei, spokesman for the administration, said after the cabinet meeting, "The administration in general supports women entering stadiums." He added that the Sports Ministry has provided the correct "infrastructure" at all stadiums to allow women to attend games played by the national team. Officials have made certain exceptions for international games.
Mahmoud Vaezi, chief of staff of the Rouhani administration, offered a counter take, arguing that now is not the time to allow women to enter stadiums because in "the current environment, supporters of opposing teams curse at one another." He added, "If the environment at stadiums becomes moral and right," the administration would not have objections. Regarding the case of Khodayari, Vaezi said that the administration "expresses sympathies with her family but under no conditions do we approve of self-immolation."
Opponents of allowing women in stadiums are mostly conservative clerics and officials who have remained steadfast in their opposition despite public opinion cooling on the restriction. Brig. Gen. Gholamreza Jalali, head of Iran's Civil Defense Organization, is one the latest conservative officials to address the issue. In a Sept. 12 message on the organization's website, Jalali said the case of the Khodayari is sad but that some people are using it to polarize the country. He criticized those who are promoting her case of being "charlatans" acting as though women entering stadiums were the only relevant issue for women in Iran.
https://www.al-monitor.com/pulse/originals/2019/09/iran-soccer-stadiums-women-blue-girl-death.html
--------
URL: https://www.newageislam.com/islam-women-feminism/it-important-islam-establish-new/d/119743
New Age Islam, Islam Online, Islamic Website, African Muslim News, Arab World News, South Asia News, Indian Muslim News, World Muslim News, Women in Islam, Islamic Feminism, Arab Women, Women In Arab, Islamophobia in America, Muslim Women in West, Islam Women and Feminism