New Age Islam News Bureau
13 March 2013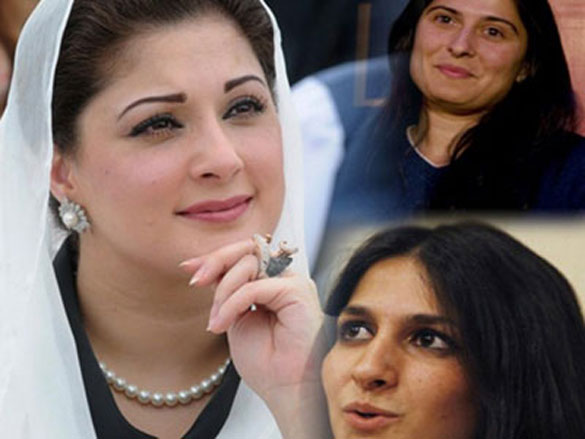 Photo: Marym Nawaz (L), Sharmeen Obaid-Chinoy (R, top) and Shehrbano Taseer (R, bottom) among four Pakistanis on the WEF list
-----------------
• 200 Young Saudi Women to Receive Training in British Venture
• Nigeria: More Than 140 Million Girls to Become Child Brides in 2020
• Israeli Fashion Designer Displays Self, Friends in Catalogue
• For Canadian Muslim Women, Observing Al-Mawled Al-Nabawi an Affirmation of Self
• Muslim Women in UK Caught In the Crossfire between Bigots on Both Sides
• Yemen's Youngest Divorcee Says Father Has Squandered Cash from Her Book
• Four Pakistan Women Make It On To WEF's Young Global Leaders 2013 List
• Bangladesh Man Sent To Jail for Attempted Rape of Child
• Afghan Women Navigate a Challenging Judicial Landscape
• Child Marriages on the Rise in Sub Saharan Africa
• Life of a Woman in the Israel Defence Forces
Compiled by New Age Islam News Bureau
URL: https://newageislam.com/islam-women-feminism/israeli-religious-schools-separate-boys/d/10754
----------------
Israeli religious schools to separate boys and girls from fourth grade
This is the first time that a system-wide policy has been developed for elementary grades since the state religious school system was set up in 1953.
By Talila Nesher
March 13, 2013
The Education Ministry's state religious education council has recently developed uniform gender separation rules for elementary schools − which, with exceptions, will allow mixed classrooms in the lower state religious elementary school grades, but require gender separation in the higher grades.
As first reported Monday by Army Radio, the new rules provide for mixed classrooms through the 3rd grade, but from 4th through 6th grade, boys and girls will study separately in state religious schools. The directive also allows each school to vary that policy and impose gender separation in earlier grades or dispense with it in later grades with the support of two-thirds of the pupils' parents. Any vote by the parents will apply to the school for a period of six years. As is basically the case already, in state religious junior highs and high schools, all classes will be separated by gender unless a special exception is made with the approval of the ministry's state religious education council.
This is the first time that such a system-wide policy has been developed for elementary grades since the state religious school system was set up in 1953.
The system, although public, is distinct from the regular state school system and from ultra-Orthodox schools. The subject of gender separation has been a source of controversy recently in state religious schools, as some parents have complained that such a separation policy was being imposed recently to an extent that it was not practiced in state religious schools in the past.
According to statistics in the ministry's document on gender segregation in the state religious schools, as of the 2011-2012 school year about 200 elementary schools observed complete gender separation in the classroom. In 50 schools, there was partial separation, and another 150 schools had boys and girls studying in all of the classes.
In support of the decision to issue official policy on gender separation, the directive referred to the current situation as "problematic," saying that the situation had to be addressed. "The [current] situation is not enshrined in any legislation or regulation," the document stated. "The situation is the result of the complexity of the subject and its potential explosive and controversial nature."
"In any mixed school in which the parents or the staff and administration seek to create separation in certain classes or in the school as a whole, we expect difficulties and friction," the directive continued in explaining the policy prior to the new directive. The directive noted that the current lack of clear policy also had implications for school budgets, teacher salaries and classroom hours.
http://www.haaretz.com/news/national/israeli-religious-schools-to-separate-boys-and-girls-from-fourth-grade.premium-1.508771?localLinksEnabled=false
----------------
200 Young Saudi Women to Receive Training in British Venture
12 March 2013
Two hundred young Saudi women will be trained in English language, and in art and design under a private partnership between the Kingdom and Britain.
A memorandum of understanding for the program was signed yesterday between Prince Abdullah bin Saud bin Mohamed Al-Kabeer, chairman of the Institute of Creative Routes, and Shaf Hussain, director of Central College of Nottingham, in the presence of the deputy chief of mission of the British Embassy Roddy Drummond at the British Ambassador's residence. Commercial Counsellor of the British Embassy Chris Innes-Hopkins was also present at the signing ceremony.
Prince Abdullah said the idea of the program is to empower women to fit into suitable vocations in line with the Saudisation program of the Kingdom.
Hussain said that the course begins in September.
He said there will be five levels of courses to suit the capacity of the students. The program will also offer two more courses of one year duration each — international foundation course for business and the program in management and economics. Two-year courses will also be conducted in developing skills in art and designs, he added.
The director said these courses will be university progression courses for their further education.
Hopkins said the MOU was signed on the sidelines of the The Best of Britain-Saudi Arabia 2013 show. More than 30 companies are displaying their products and services at the show.
The Best of Britain-Saudi Arabia 2013 exhibition is a showcase of the best of British brands in the creative industries sector in which the UK has a global reputation.
"The vibrant retail market in the Kingdom provides a great opportunity for further Saudi-UK cooperation in the creative services sector," said Hopkins. Among product sectors represented at the exhibition are luxury automobiles, leading fashion brands, beauty products, leather goods and training providers.
A spokesman from the Creative Routes said the institute offers world-class training to fast track students to the world's top universities in association with Central College Nottingham.
http://www.arabnews.com/saudi-arabia/200-young-women-receive-training-british-venture
----------------
Nigeria: More Than 140 Million Girls to Become Child Brides in 2020
March 13, 2013
The UN on Friday said that by 2020 more than 140 million girls would have become child brides globally if the current marriage rates continue.
It warned that little progress has been made towards ending the harmful practise.
According to the Executive Director of the UN Population Fund (UNFPA), Dr Babatunde Osotimehin, of the 140 million girls, 50 million will be under the age of 15.
The News Agency of Nigeria (NAN) reports that Osotimehin spoke at a special session on child marriage at the ongoing UN Commission on the Status of Women (CSW) in New York.
Some of the issues focused on during the session include supporting and enforcing legislation to increase the minimum age of marriage for girls to 18 years.
Others are providing equal access to quality primary and secondary education for girls and boys; mobilising girls, boys, parents and leaders to change practises that discriminate against girls among others.
He said that while 158 countries have set the legal age for marriage at 18 years, laws are rarely enforced since the practise
of marrying young children was upheld by tradition and social norms.
He stated that the practise was most common in rural sub-Saharan Africa and South Asia.
The UNFPA Executive Director said that currently, 10 countries with the highest rates of child marriage are Niger, Chad, the Central African Republic, Bangladesh, Guinea, Mozambique, Mali, Burkina Faso, South Sudan and Malawi.
According to him, in terms of absolute numbers and because of the size of its population, India had the highest number of child marriages in 47 per cent of all marriages, stressing that the bride was a child.
Osotimehin explained that young girls who marry before the age of 18 have a greater risk of becoming victims of intimate partner violence than those who marry later.
"Child marriage is an appalling violation of human rights and robs girls of their education, health and long-term prospects.
"A girl who is married as a child is one whose potential will not be fulfilled. Since many parents and communities also want the very best for their daughters, we must work together and end child marriage," he said.
He added that child marriage was increasingly recognised as a violation of the rights of girls as it interferes with their education, blocks their opportunity to gain vocational and life skills, and increases their risk to sexual violence as well as their chances to contract HIV.
"No girl should be robbed of her childhood, her education and health, and her aspirations.
http://allafrica.com/stories/201303081194.html
----------------
Israeli fashion designer displays self, friends in catalogue
Judging by the comments and photos that appear in Maya Negri's catalogue, it appeals to women for whom words like jetlag and boutique hotel describe a considerable part of their daily vernacular.
By Shachar Atwan
March 13, 2013
Three women star in the Israeli designer Maya Negri's catalogue for spring-summer 2013 – the designer herself and two of her friends, architect Lihi Gerstner and the presenter of the "Master Chef" television show, and Michal Ansky, the founder of the farmers' market at the Tel Aviv Port. Jewelry designer Elinor Dvir also makes a brief appearance.
The idea of casting herself and her girlfriends, it turns out, arose during a trip to Paris. There, according to Negri, she realized the combined power of three women such as themselves and the advantage in presenting "ordinary" women instead of professional models.
The line is geared to "women of a certain sort," she says. From the comments she and her friends add, and from the photos that appear in the catalogue, it appears the reference is mainly to women for whom words like jetlag and boutique hotel describe a considerable part of their daily vernacular.
It is hard to say whether Negri and her glamorous friends – who are photographed in the catalogue in sleek surroundings such as a luxury apartment or a fashionable restaurant, looking very much like poster girls for a hedonistic lifestyle – will arouse a greater sense of identification from the general public than would a trio of professional models. Nevertheless, this is after all a fashion catalogue and Negri has always addressed in a focused way women of a certain economic and social class.
One such woman, Sarah Sonneborn, a lecturer on history and philology, is a veteran client of Negri's who over the years has become her friend. At the beginning of the week, when Negri revealed her catalogue to representatives of the media, she returned Sonneborn to her youthful days as a model in Paris and asked her to show a number of the items. Sonneborn made the new softness and lightness in the designer's spring wardrobe look particularly flattering. If in the past Negri's attempt to dress women in a wide range of ages and body types was accompanied by some grating false notes (mature women sometimes looked as though they were trying to shed years from their age with the help of fashionable silhouettes, while restrained styles gave young women adult sophistication), this time flowing cuts, light fabrics and a new line of Jalabiyas based on traditional Middle Eastern robes bridged the generation gaps in a good way.
Overall, it was clear that Negri's design language has matured and has become refined. The best example of this is in a more basic item like a sleeveless blouse made of two layers of fabric combined in angular lines.
"How good is it to know that you have a few good items in your closet and to know that when you wear them you are set?" Negri says. Her strength has indeed always been in the design of a useful wardrobe. If in the past there were influences of religious dress in her designs, such as short rounded sleeves or erect lapels that follow the neck, now these have given way to clean, tailored lines. In a white top of a fine cotton knit she has managed to create a light, semi-transparent design that has a defined structure but at the same time does not look like it is from a bygone fashion er. However, her lightweight black jacket of a tight knit is not up to this challenge. It hovers over the body and does not add any charm to it.
Prints were seen in Negri's past collections long before they became such a hot element. In the current collection there is only one successful pattern: beige linen printed with a brown tropical thicket and large flowers, from which the designer has cut a long floral dress that softly follows the contours of the body.
The other prints are inferior and look like generic patterns that were randomly pulled from reliable sources for predicting trends or integrated without any inspiration. It is hard to explain, for example, the choice of curly black trim for a pair of white trousers, or the pattern of graphic black spots on a wide white dress. The feeling is that it would have been possible to swap them for any other print or to have done without them, and the difference would not have been all that significant.
One of the innovations in the current collection is a group of basic pieces. Negri explained that this is aimed at making the brand accessible to wider audiences. In the same spirit, she has also accelerated the brand's activity on the social networks and now, she relates, she and her friends are planning to give lifestyle tips on her Facebook page: "What is the best series being broadcast now? Where do you buy the best leather jacket? (Clearly at Balenciaga, but not everyone knows this.) Where do you buy a special shoe? What is the best restaurant in Paris? What interesting dance performances are on now in Europe?"
In any case, the four items in the new basic group are a long narrow sundress and a tight strapless overall, both of them from a grayish light ribbed fabric that is pleasant to the touch, a T-shirt in a grayish hue with a square neckline and gray silk short pants in a sporty cut. These join the grandfather's undershirt-style tank top she designed in the past.
However, the two designs cut from the ribbed fabric were not flattering, even on the models who wore them. Though this is a pleasant fabric, it is thin, elastic and is unforgiving on the body.
Is the message Negri wanted to transmit that women who don't have economic power are not able to look good in their clothes? Presumably not, and therefore this is a miss. If the current collection is mainly an open invitation to women to join the designers' circle of friends, these designs aren't going to do it.
http://www.haaretz.com/news/features/i-wanna-be-a-supermodel-israeli-fashion-designer-displays-self-friends-in-catalogue.premium-1.508925
----------------
For Canadian Muslim Women, Observing Al-Mawled Al-Nabawi an Affirmation of Self
March 13, 2013
By Daood Hamdani
When Muslim Canadians observed Al-Mawled Al-Nabawi (the anniversary of the birth of the Prophet Mohammad) on Feb. 12 of this year, there was something strikingly different going on at the celebration in Ottawa, Canada's capital. Breaking with the practice of sitting in the audience, sometimes behind curtains, and listening to male speakers, Muslim women took centre stage. From master of ceremonies to the keynote speaker, Muslim women captivated a full house – comprising legislators, diplomats, community leaders and Canadians of all faiths – in the Government Conference Centre. The positive outpouring of response after the event was unprecedented in the 30-year history of the celebration in Ottawa.
Full report at:
http://www.dailystar.com.lb/Opinion/Commentary/2013/Mar-13/209874-for-canadian-muslim-women-an-affirmation-of-self.ashx#ixzz2NOt5ZNi1
----------------
Muslim Women in UK Caught In the Crossfire between Bigots on Both Sides
Whether it's sexism from within or religious hatred from without, Muslim women in the UK are fighting prejudice on multiple fronts
Sara Khan
Monday 11 March 2013
Muslim women have always experienced higher incidences of anti-Muslim violence than men. This is confirmed by Tell Mama, the government-backed helpline which measures anti-Muslim violence, which states that 58% of incidents are experienced by women. Victims have ranged from a five-year-old girl who was run over, to an 89-year-old pensioner. Seventy-five per cent of perpetrators are male and 54% of all cases are linked to supporters of far-right groups, such as the British National party and English Defence League.
Full report at:
http://www.guardian.co.uk/commentisfree/2013/mar/11/muslim-women-bigots-sexism
----------------
Yemen's Youngest Divorcee Says Father Has Squandered Cash from Her Book
Nujood Ali clams father has used proceeds from her book deal to marry and has arranged wedding for her younger sister
Joe Sheffer in Sana'a
12 March 2013
It's been five years since Nujood Ali became known as the world's youngest divorcee after escaping the man who bought her as a child bride aged nine.
The story of Nujood's marriage and subsequent court victory was turned into a bestselling book, bringing hope to thousands of Yemeni brides forced into marriages they are too young to understand or consent to.
The royalties from I Am Nujood, Age 10 and Divorced were supposed to pay for the girl's schooling and allow her to follow her ambition to become a lawyer. Instead, Nujood says, the money has been squandered by her father – who has now sold her younger sister to a man twice her age.
Full report at:
http://www.guardian.co.uk/world/2013/mar/12/child-bride-father-cash-spend
----------------
Four Pakistan Women Make It On To WEF's Young Global Leaders 2013 List
By Web Desk
Published: March 13, 2013
The World Economic Forum (WEF) released its annual Young Global Leaders (YGL) list of 2013 that included four Pakistani achievers among the 199 young leaders from 70 countries.
According to a news release by WEF, "the YGL class of 2013 is composed of honourees from all sectors of society, with 50% from business and 50% from arts and culture, academia, civil society, government, media and non-profits; 42% are women".
The YGL 2013 honourees from Pakistan include political figure Maryam Nawaz, documentary filmmaker Sharmeen Obaid-Chinoy, founder Pakistan Innovation Foundation Athar Osama and journalist Shehrbano Taseer.
Full report at:
http://tribune.com.pk/story/520094/four-pakistanis-make-it-on-to-wefs-young-global-leaders-2013-list/
----------------
Bangladesh Man Sent To Jail for Attempted Rape of Child
March 13, 2013
A Dhaka court yesterday sent a 35-year-old man to jail who was arrested on Monday night for attempting to rape a seven-year-old girl by luring her with a promise of giving candy at Tejgaon Railway Colony in the capital.
The arrestee, Emran Hossain, is a vegetable vendor at Karwan Bazar.
Police arrested Emran at his residence in the colony and produced him before the court after the victim's mother filed a case against him on Monday night, said Tejgaon police Officer-in-Charge Apurbo Hasan.
Full report at:
http://www.thedailystar.net/beta2/news/man-sent-to-jail-for-attempted-rape-of-child/
----------------
Afghan women navigate a challenging judicial landscape
FAIZABAD, 12 March 201
Sadaf Ahmadi, 18, from the northern Afghan province of Badakshan, has arrived battered and bruised at a women's refuge centre in Faizabad. It is her fifth such visit.
Every time it is the same. Staff at the centre, run by Women for Women, an Afghan NGO, try to offer support, but every previous time local community leaders or the government courts send her back to her husband and the beatings continue.
Full report at:
http://www.irinnews.org/Report/97631/Afghan-women-navigate-a-challenging-judicial-landscape
----------------
Child Marriages on the Rise in Sub Saharan Africa
Naftali Mwaura
March 13, 2013
Sub-Saharan Africa has the highest proportion of underage marriages with nearly half of population of young women marrying before their 18th birthday. This according to Global advocates is being fuelled by poverty, retrogressive cultural practices alongside legal and policy deficiencies.
The ten countries with highest rate of child marriage are Niger, Chad, Central African Republic, Guinea, Mozambique, Mali, South Sudan, Burkinafaso and Malawi.
The United Nations Population Fund (UNFPA), contend that 39,000 girl child marriages occur daily and the figure is likely to hit 140 million by 2020 as underage girls become wives to older men.
Full report at:
http://www.africasciencenews.org/en/index.php?option=com_content&view=article&id=773:
----------------
Life of a Woman in the Israel Defence Forces
Like all 18-year-old Israelis, Shani Boianjiu was conscripted into the Israel Defence Forces. The recent shooting of a young female soldier brought back memories of being a teenage recruit
Shani Boianjiu
9 March 2013
On the second day of 2013, a girl was shot twice, in the chest and limbs, from a very close distance. The girl is 20 and an Israeli soldier. A commander, actually. Her condition is now reported to be serious but stable.
On the first day of 2013, I woke up afraid. I was scared that a rat had crawled up my trousers while I was asleep. I could almost feel it, furry and warm, sniffing its path past my knee and along my thigh. I jumped out of the bed and shook my trousers. I flung the covers, looked under the bed. There was no rat.
Full report at:
http://www.guardian.co.uk/world/2013/mar/11/young-gun-life-israel-defense-forces
----------------
URL: https://newageislam.com/islam-women-feminism/israeli-religious-schools-separate-boys/d/10754