New Age Islam News Bureau
11 Oct 2019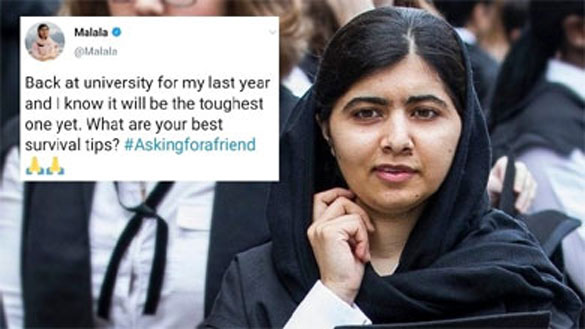 She might be the youngest Nobel laureate in history, but Malala Yousafzai still needs help to get along with her senior year at Oxford University.
------
• Malala Asks Twitter To Help Her Survive University's Final Year
• Who Are The Two Muslim Women That Could Beat Greta Thunberg for Nobel?
• First Female Saudi Football Referee Eyes World Cup
• UN Criticises The Netherlands' Burqa Ban
• Afghan Women Display Handicrafts In Northern City
• Female Empowerment Vital For Kingdom's Vision 2030 Reforms, Says Saudi Human Rights Commission GM
Compiled by New Age Islam News Bureau
URL: https://www.newageislam.com/islam-women-feminism/islamist-regime-slowly-crumbles-sudan/d/119970
--------
Islamist Regime Slowly Crumbles: Sudan Named Woman As The Nation's First-Ever Chief Justice
By Mohammed Alamin
October 10, 2019
Sudan named Neemat Abdullah Mohamed Khair as the nation's first-ever chief justice, the latest top appointment for a woman as the Islamist regime of ex-President Omar al-Bashir is slowly dismantled.
The choice of Khair was announced Thursday by Sudan's sovereign council, part of a transitional government set up to share duties between the army and protesters who helped oust Bashir in April.
Bashir seized power in 1989, promising an Islamic revolution in the North African country and promoting a harsh interpretation of Sharia law. The new government named Sudan's first-ever female foreign minister, Asma Abdullah, in September.
https://www.bloomberg.com/news/articles/2019-10-10/woman-named-sudan-s-top-judge-as-islamist-regime-slowly-crumbles
--------
Malala Asks Twitter To Help Her Survive University's Final Year
October 10, 2019
She might be the youngest Nobel laureate in history, but Malala Yousafzai still needs help to get along with her senior year at Oxford University.
On Wednesday, she asked her 1.5 million followers for survival hacks.
Malala
✔
@Malala
Back at university for my last year and I know it will be the toughest one yet. What are your best survival tips? #Askingforafriend 🙏🙏
View image on Twitter
28.4K
10:03 PM - Oct 9, 2019
Twitter Ads info and privacy
4,138 people are talking about this
Her query got over 2,000 replies and 20,000 likes- probably from the people who have struggled with the same dilemma.
Lots of responses poured in as people gave her some simple yet valuable tips, many of which were focused on food.
One practical person noted that she should start her projects earlier, to which the 22-year-old Nobel Peace Prize recipient replied, "I wish."
Another person recommended her to avoid books and switch to friends, to which she responded with "Happening right now."
Malala is headed back to Oxford University for her final year, where she is studying Philosophy, Politics, and Economics.
https://www.samaa.tv/lifeandstyle/2019/10/malala-asks-twitter-to-help-her-survive-universitys-final-year/
--------
Who Are The Two Muslim Women That Could Beat Greta Thunberg for Nobel?
October 11th, 2019
Greta Thunberg may be the most likely nominee to win the Nobel Peace Prize this year, but two high-achieving Muslim women, Hajer Sharief (from Libya) and Ilwad Elman (from Somalia), could beat her to the honour on Friday morning.
Whilst the Nobel Committee is bound by strict confidentiality rules, those chosen to be in the race can reveal their nominations.
Sharief and Elman have made their nomination public, after they were short-listed on the Director for the Peace Research Institute in Oslo, which ranks those most likely to win the prize.
The two women are known for their work on women's rights and women's protections during times of conflicts.
They have also been a part of former UN Secretary General Kofi Annan's initiative which fosters the abilities and potentials of 10 activisist from across the globe.
Other contenders are the Ethiopian and New Zealand Prime Ministers, a Brazilian indigenous chief, and amongst others, the UN High Commission for Refugees.
The Torch Bearers
During's Libya's still struggling transition to democracy, Sharief has focused her efforts on amplifying the voices of women and youth.
Her organisation "Together We Build it" has been working to promote the UN Security Council resolutions to encourage young Libyan women to be active in the war-torn country's peacebuilding mission. She founded the organisation when she was just 19 when the Arab spring wave of pro-democracy uprisings reached her homeland.
For her part, Elman is known for her efforts promoting a peaceful end to the devastating civil war which has raged in Somalia for more than two decades. Her father was an ardent peace activist before he was killed in 1996; her mother is renowned Somali activist Fartuun Abdisalaan Adan.
Since going back to Somalia at the age of 19, Elman's work focused particularly on helping victims of sexual violence across the country. She founded the country's first rape crisis centre for survivors of abuse and gender-based violence. She also supported young men and women through vocational schemes, helping them integrate, and giving support for defectors of extremist grounds, such as the Islamist Ash-Shabab group.
What remains of Nobel's Legacy?
Issue of bias, lack of diversity, and sexual misconduct have undermined the legacy of the Nobel prize. Since the first ceremony starting in 1901, the academy has awarded only 49 women with the title of laureate, whilst 836 men have been deemed worthy of the prize.
Here, Hajer and Ilwad are part of the minority that defies the norm of the nominations for the globally celebrated award.
But the academy argues that it cannot take nationality nor gender into account when picking its predilect winners, so we are left to see a reflection of the world as is - where minorities are left at a severe disadvantage in the unequal world of material resources that underpin innovation.
"We are slow in our processes but we have to be as we need not only beautiful theory, but also to see it validated," says Göran K. Hansson, secretary general of the Royal Swedish Academy of Sciences.
"So often we are talking about work done 30 years ago, when the situation was much worse than it is now when it comes to equal opportunities."
As of 2018, only twelve Muslims have been awarded the Nobel Prize and only seven have obtained the peace prize, out of thousands of nominees.
Anwar al-Sadat was the first Muslim awarded with the peace prize in 1978 due to his peace building attempts between Egypt and Israel at Camp David – Sadat was assassinated a few years later, and the peace treaty with Israel remains deeply controversial and unpopular amid continued Israeli occupation of Palestinian territory.
Shirin Ebadi was the only Iranian and the first Muslim woman to win the prize in 2003 for her campaign for the rights of women and children.
The world-famous Malala Yousafzai is one of the most recent Muslim nominees, and the youngest person to ever receive the prize. Her work in education provided significant support to the Pakistani youth in areas controlled by the Taliban.
Meanwhile, coinciding with the #MeToo movement, which exposed the magnitude of sexual abuse in the present day, the Swedish Academy did not present a literature prize in 2017 due to the scandal that emerged from rape allegations against one of the 18 members elected for life.
Seven members left the academy over an infighting that tarnished the reputation of the body founded 233 years ago.
Nobel committee member, Jean-Claude Arnault, was accused of several instances of rape. Several of the alleged assaults took place in the academy-owned properties where he used to run a cultural club for Stockholm's high society. He is now serving a prison sentence for rape.
Global Nobel Spectacle
The prize provides a global platform for social justice issues, as many use the title as a status symbol, sometimes with an unquestioned prestige still prevalent in the eyes of many.
But questions remain around its ability to bring justice and peace into the real world.
An Iraqi Yazidi woman won the Nobel Peace Prize last year for her involvement in the campaign against sexual violence as a weapon of war and armed conflict.
Nadia Murad was born in Kojo, Iraq into a Yazidi family, an ethnic and religious minority in the country, targeted by the Islamic State with unimaginable violence leading up to genocide.
Nadia and 6,700 other women were taken as prisoners - beaten, abused, and raped. She now lives safely in Germany, after escaping the grasp of IS, and works to save the women that are facing the same horrors she knows too well.
The co-founder of Nadia's public affairs firm, Elizabeth Schaeffer Brown, said Nadia did not want the Nobel Prize. Frustrated at the lack of response from the international community, she said the award seemed like a hollowed recognition - a reminder of the indifference the world showed at Nadia's plight.
But she also recalls that the Nobel Prize propelled Nadia into the spotlight, making her the face of a new injustice everyone was suddenly slightly more interested about.
Many agree the Nobel committee itself has a long way to adapt itself to a changing society, where inequalities are highlighted more frequently than ever before. But one thing remains certain: the people nominated for these prizes lead important social justice fights that are often down-played, under reported, or forgotten in the global political consciousness.
Whether it's Greta, Hajer, or Ilwad, the clock will start at midnight on Friday counting down the year before another name gets recognised for the small but mighty actions against grave violations against human life, from conflict and femicide, to man-made climate change.
https://www.albawaba.com/editors-choice/who-are-two-muslim-women-compete-greta-thunberg-nobel-prize-1314180
--------
First Female Saudi Football Referee Eyes World Cup
MOHAMMED AL-KINANI
October 11, 2019
Saudi Arabia's first female football referee already has her sights set on taking charge of a World Cup match.
"I spend hours reading and listening to advice from refereeing experts," 22-year-old Sham Al-Ghamdi told Arab News. "To referee a World Cup match would be a dream come true."
Al-Ghamdi, who is studying English literature at university, said her interest in football began when she was only nine.
"One day I saw players in a match voice their anger at a referee's decision. I wished at that moment I was in the referee's shoes," she said.
"Since then I have been following football events on TV, listening to the pundits' comments and analyzing the performance of the referee."
Al-Ghamdi's passion for football came as a surprise to her family.
"My father is not interested in football. When he heard about my hobby, he only advised me to avoid injuries as much as I could. He cannot bear seeing me hurt," she said.
The young referee hopes to undertake more intensified training courses to help her dream of officiating a World Cup match come true.
"I am optimistic and ambitious. The sky is the limit," she said. "I have enough information about officiating matches. I read about all the old and modern rules approved by the FIFA in order to acquire the basic skills an amateur referee needs."
Al-Ghamdi said that she had learned to manage football matches through personal participation and by watching experienced referees.
When she faced difficulties getting the necessary official permits, she focused on refereeing friendly matches.
"I did my best to avoid mistakes in the first-ever women's championship in Jeddah. Good referees ensure safe games," she said.
"Now I am happy that my dream to become a referee has come true. Saudi women can achieve success in the sports sector and they can take part in world championships. We are no less than men. We only need support," she said.
Al-Ghamdi said that she hopes to gain recognition from the Saudi Arabian Football Federation (SAFF) and become a FIFA-certified international football referee.
Saudis should work hand in hand to improve standards in science, culture and sport, she said.
"We need to support one another to develop our society on all levels. Without that we can't make the changes we are dreaming of," she added.
https://www.arabnews.com/node/1567151/sport
--------
UN Criticises The Netherlands' Burqa Ban
11 October 2019
By William Nehra
The UN Racism Rapporteur, Tendayi Achiume, slams the Netherlands' partial ban on face-covering clothing, which includes Islamic clothing like the burqa and the niqab, saying that it discriminates against Muslim women.
The Dutch "burqa ban"
The ban was first proposed back in 2005 by the far-right politician Geert Wilders and was passed by the Dutch government last year. It came into effect two months ago in August and, in accordance with the ban, people must be recognisable in public areas, including public transport and public buildings like hospitals and schools.
The ban has made it illegal to wear articles of clothing that completely or partially obscure the face. This includes motorbike helmets and hoods as well as Islamic religious garments, such as the burqa. Anyone who is not recognisable in public can expect a fine of 150 euros and may be asked to leave the area by the police or remove the offending item.
UN Special Rapporteur slams the ban and the Netherlands
Tendayi Achiume, the UN's expert on racism, said that the ban represented a "consolidation of Islamophobia" in the Netherlands. In her report, she criticised the Netherlands for its opposition of Islam and the so-called "Dutch paradox."
In a preliminary report, presented in The Hague on Monday, Achiume condemned the ban for targeting Muslim women. She explains that even if the targeting was not the intent, it has certainly been the effect, as "the political debate surrounding the adoption of this law makes it plain its intended targeting of Muslim women."
Achiume, who described the UK as hostile for racial minorities in 2018, has asserted that Islam has been "repeatedly represented, including in the national parliament, as inherently opposed to Dutch national identity." She went on to say that the common view in the Netherlands is that to be "truly Dutch is to be white and of Western origin."
She also described what she calls "the Dutch paradox", as the Netherlands' own perception of itself as tolerant, restricting it from making further changes. She said that "the paradox in the Netherlands is that its insistence that equality and tolerance already exist actually operates as a barrier to achieving equality and tolerance."
The UN's efforts to tackle racism
Achiume visited the Netherlands to report on how the country tackles racism and discrimination. All nations who have signed the UN's International Convention on the Elimination of All Forms of Racial Discrimination are inspected every five years. Achiume's report will be submitted to the UN Human Rights Council in July.
While Achiume criticised the Netherlands' efforts in tackling racism, she did praise the Dutch government for promoting gender and the rights of the LGBTQ+ community. Furthermore, she did praise the efforts to remove the dehumanising and stereotypical aspects of Zwarte Piet. Coen Gelinck, a spokesperson for the Ministry of Social Affairs, has said the government is determined to build an inclusive society but admits "there is still work to be done."
https://www.iamexpat.nl/expat-info/dutch-expat-news/un-criticises-netherlands-burqa-ban
--------
Afghan Women Display Handicrafts In Northern City
2019-10-10
MAZAR-I-SHARIF, Afghanistan, Oct. 10 (Xinhua) -- Scores of women from rural Afghan areas showcased their handicrafts in a two-day exhibition in Mazar-i-Sharif city, capital of Afghanistan's northern Balkh province.
The handcrafts were displayed at 50 stalls in the exhibition held on Wednesday and Thursday, according to the organizer provincial Rural Rehabilitation and Development Department.
The handicrafts were made by women of nine provinces in the northern zone.
One of the participants, Haqila was quoted by local media as saying that she had displayed several of her weaved rugs and had a good sale during the first day of the show, hoping to find better national and international markets for her products.
The exhibition came at the time as the government takes measures to empower women in various fields, in the war-battered nation.
The participants called on the government to take more actions by providing job opportunities, and helping women to be involved in economic activities and local businesses, so they can improve the living conditions and help build a better future for their family members.
http://www.xinhuanet.com/english/2019-10/10/c_138461321.htm
--------
Female Empowerment Vital For Kingdom's Vision 2030 Reforms, Says Saudi Human Rights Commission GM
NOOR NUGALI
October 10, 2019
RIYADH: Amal Yahya Al-Moualami's appointment as general manager of international cooperation and organizations at the Saudi Human Rights Commission (SHRC) is a huge step toward fulfilling the Vision 2030 reform plans in empowering women.
She told Arab News that it "clearly shows that the Kingdom's journey toward empowering women has taken wider and quicker strides and continues to open up new doors every day."
She was one of six women being appointed to the SHRC, representing 25 percent of its membership. They are the first women to participate on the commission.
Their appointments mark the beginning of an era where women are engaged in this field, "something that could not have happened without necessary support and patience," she said.
"We were able to reach a stage where we could acquire the necessary expertise and gain the tools that would help us become more involved in the next stage, which is now."
When she was appointed, Al-Moualami received an "avalanche of calls" from women congratulating her. Many of her male friends also reached out to support her in her new role. "I always say that Saudi men are the source of our national pride because they set a great example of support to their wives, daughters, female colleagues and families."
Previously, Al-Moualami was assistant secretary-general at the King Abdul Aziz Center for National Dialogue and a member of the council of the SHRC.
A key part of the Vision 2030 reform plans is promoting the standing of women. "Today, women's empowerment has been represented in appointing a woman leader in an important position, which is concerned with human rights in the Kingdom. It is a major issue that reflects the attention given to women," she said.
She added that the Kingdom's positive accomplishments should reflect a positive image in the Human Rights Council in Geneva.
Al-Moualami is proud of Saudi Arabia's legal accomplishments, such as the new Juvenile Offenders Act and the personal civil status laws, which have been developed substantially.
"These laws have helped a lot in empowering women within the context of a family. They mark the beginning of real change. When you empower a woman within her family and help her be a real mother to her children and not treat her as a child but as a fully legal and competent citizen, that is called empowerment.
"Today, women are in charge of their children, manage their affairs and apply for passports and finalize all transactions. These are great messages that should bring positive reactions at the local and global levels."
Even with all these changes and accomplishments, she said that Saudi Arabia has "not received fair international coverage.
"We were always stuck in the position of defense and justifications. They would draw attention to certain issues and we would respond to them. This time, we will talk about progress and show our achievements to them. We will set the best practices and show them good reforms and we will say to them that we would love to know more about what they have accomplished in their own countries."
She encourages "mutual dialogue" instead of being "stuck in a defensive position where they challenge us and we give justifications."
Her next role will be a difficult one, but she already has a plan in mind. Al-Moualami is seeking mutual dialogue on an international level through enhancing efficient interaction and engagement with all concerned organizations.
She hopes that Saudi Arabia will be successful in joining the Human Rights Council in the upcoming sessions as members and will contribute to developing the performance of the council.
"We might make mistakes and need to reconsider our approaches from time to time, which is a perfectly healthy and natural thing. If we discover at some point that a certain method has not brought about the desired results, we will reconsider and change it."
Al-Moualami has over 23 years of experience in education, training and social development. On expanding opportunities for Saudi females, she said: "There have been great changes in the work environment and job opportunities for Saudi women as well as opportunities to complete college education.
"Education is instrumental to empowerment. The Kingdom has seen a boost in the number of young women in public education, colleges and those who go on scholarships abroad. The percentage of women studying abroad is higher than that of men and women study different, high demand fields. Female academic accomplishments are stronger."
Al-Moualami said that Saudi men are supporting women in the country: "They are happy when they see any woman get to the top in her career. This is one of the characteristics of Saudi men, who are confident and capable of creating an environment that encompasses them and women.
"We all, as citizens, share the love of this country and the desire to build and develop it. We are capable of making a difference."
https://www.arabnews.com/node/1567136/saudi-arabia
--------
URL: https://www.newageislam.com/islam-women-feminism/islamist-regime-slowly-crumbles-sudan/d/119970
New Age Islam, Islam Online, Islamic Website, African Muslim News, Arab World News, South Asia News, Indian Muslim News, World Muslim News, Women in Islam, Islamic Feminism, Arab Women, Women In Arab, Islamophobia in America, Muslim Women in West, Islam Women and Feminism