New Age Islam News Bureau
13 May 2019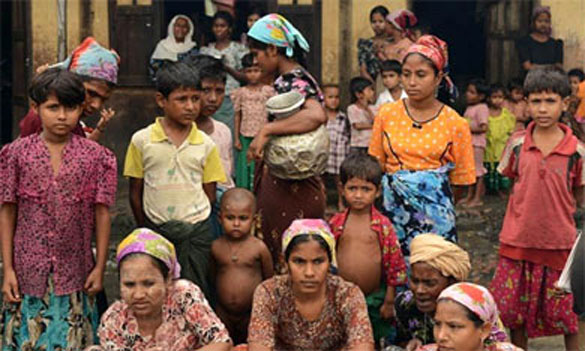 The girls were promised jobs in Malaysia and brought from refugee camps in Cox's Bazar. AFP File
------
• Two Pakistani Sisters 'Married' To Chinese Men Eventually Saved
• Bangladesh Rescues 23 Rohingya Girls from Traffickers
• Pink Booths in Delhi Draw Muslim Women Voters Successfully
• Islamic Girls Academy Donates to the Only Muslim Boarding School in Liberia
• Rear-End Crashes Top Accidents Caused By Saudi Women Drivers
• Iran Parliament Upholds Women's Rights in 'Mixed Marriage' Citizenship Debate
Compiled by New Age Islam News Bureau
URL: https://www.newageislam.com/islam-women-feminism/islamist-bus-driver-refuses-pick/d/118581
--------
Islamist Bus Driver Refuses to Pick Up Woman in Short Skirt
May 12, 2019
An Islamist bus driver in Paris refused to open the doors and pick up a woman because her skirt was too short.
The woman, 29-year-old Elise Bencheikh, was waiting at a stop for the public transportation in the northern part of the city with a friend at about 11 pm. The bus pulled up but the driver did not open the doors.
The two ran after the bus and caught it up at a red light, at which point Becheikh asked the driver why he did not open the doors. "Think about dressing properly," he told her.
Bencheikh is the daughter of Algerian poet Kamel Bencheikh, who wrote about the incident on Facebook. The post was seemingly immediately censored by the social media giant and is no longer visible.
An Italian news site that reported the incident noted the bus was crossing the banlieues, Parisian suburbs (the 19tharrondissement, or district) that have been dubbed by some as sharia-compliant, no-go zones for women.
"Whole neighborhoods are in the hands of fundamentalists who molest women. And the public transport company hires the Islamists as a means to defend themselves from stone-throwing," stated the report in il Giornale.it.
Two years ago, Clarion writer Leslie Shaw filed a report about these very same suburbs after two neighborhood associations — SOS La Chapelle and Tomorrow La Chapelle — posted a petition online titled Women, an Endangered Species in the Heart of Paris.
The petition, addressed to the president, prime minister, minister for justice, minister for the interior, attorney-general and mayor and police commissioner of Paris was a plea for help from the residents of the La Chapelle district in the north-east of the city.
The petition noted that in the previous year, the area adjacent to the La Chapelle subway station had turned into an exclusively male preserve and a dangerous no-go zone for women and girls. There were no women to be seen on the streets or in the cafés and no children playing in the small park.
One woman, who had been living in the neighborhood for 30 years, told a reporter from the Parisien newspaper the constant insults and lewd remarks women were subject to there were causing them to change the way they dress and make detours when commuting to and from work or shopping.
In these areas, even girls going to and from school are called "bitches" and "sluts" by the gangs of youths loitering on the streets.
"My 12-year old daughter cannot walk to school anymore or even go outside alone," said one young mother, while another protested that her 17-year-old daughter is "continually harassed."
https://clarionproject.org/islamist-bus-driver-refuses-woman-short-skirt/?utm_source=Clarion+Project+Newsletter&utm_campaign=8b6ef17de0-EMAIL_CAMPAIGN_2019_03_17_12_03_COPY_02&utm_medium=email&utm_term=0_60abb35148-8b6ef17de0-6425445&mc_cid=8b6ef17de0&mc_eid=8ce16af41e
--------
Two Pakistani Sisters 'Married' To Chinese Men Eventually Saved
Abid Mahmood
May 13, 2019
NAROWAL: As the Federal Investigation Agency steps up its crackdown on a Chinese gang involved in deceiving under-privileged Pakistani girls and marrying them off with Chinese nationals on various false pretexts, two such cases have emerged from Narowal where the 'marriages' took place in January but the parents of the girls refused to let them go with their Chinese 'husbands'.
Labourer Faryad Masih, a resident of Cheenay Saggle village, said priest Babu Javed, a resident of Abid Town near Narowal Grid Station, used to visit their house for prayers and religious rites. Faryad is a brick kiln worker and has six daughters and a minor son.
"In December 2018, Javed convinced me after my repeated refusals to send my daughters Isha alias Asia, 17, and Sunita, 16, to Islamabad to get them married to Chinese men, saying my daughters will go to China and I will get business, a new house and cash and a car. I became greedy and agreed," he began explaining what went down.
He further said Javed came to his house on Jan 3, 2019 and asked him to take his wife Nasreen and the two daughters to Islamabad immediately. "We reached Islamabad at 8pm. Javed took us to a huge house where Isha was married to Le Ze Dang and Sunita to Chen Sing Biao. There were about 25 to 30 Chinese nationals in the house, the security was very tight and many of them carried weapons on them."
Following the 'wedding', Faryad said, he and his wife were sent back to Narowal. "When we told our relatives about the wedding, they told us we have handed over our daughters to human smugglers, who will sell them in China."
Faryad's wife Nasreen said: "We told Javed that the girls may have been married but we will send them to China from our home in Narowal. At first, he hesitated, but later agreed. On Jan 15, he brought our daughters home and said they'll leave for China in a week. We hid our daughters and decided we won't let them go."
The girls' maternal grandfather, Inayat Masih, said Javed returned a week later to take the girls along with three Chinese men and a woman. He claimed that Javed had sold his granddaughters to the Chinese for Rs1.6 million. "We sent back the Chinese with the help of local influentials and elders. The Chinese would take girls to China with the help of Pakistani facilitators through fake wedding documents and force them to work as sex workers," he explained.
One of the girls, Isha, narrated her ordeal, saying that Javed took her and her sister to Islamabad on the pretext of jobs, but forcefully married them off to Chinese men, threatening that if they didn't sign the marriage documents they would be killed.
Faryad further tried to justify why he initially made the mistake of trusting Javed. "I became greedy due to the life we live in poverty. I thought I have spent my life in poverty, but my daughters should live a comfortable one."
He added that a couple of weeks ago he had filed a case in local court for dissolution of marriage. He also demanded Prime Minister Imran Khan take action against human smugglers and their facilitators so that no other poor family was swindled.
https://www.dawn.com/news/1481924/two-sisters-married-to-chinese-men-eventually-saved
--------
Bangladesh Rescues 23 Rohingya Girls from Traffickers
12 May 2019
Twenty-three teenage Rohingya girls were rescued after being brought from refugee camps to the capital Dhaka to be sent to Malaysia by air, Bangladesh police said Sunday.
Dhaka police also arrested four human traffickers including a Rohingya couple and recovered over 50 Bangladeshi passports from them on Saturday.
Police spokesman Mokhlesur Rahman said they raided a residence in the northern part of the city and found the teenagers hiding in a room behind a tailoring shop.
"They were promised jobs in Malaysia and brought from refugee camps in Cox's Bazar," he told AFP, referring to the Rohingya settlements in Bangladesh's southeastern coastal district.
The girls - aged between 15 and 19 - could have been potential victims of forced prostitution, the official said.
"We have filed cases against the four arrested persons and sent the girls back to their camps in Cox's Bazar," Rahman said.
Abul Khair, local police chief of Ukhiya, where Kutupalong, the largest refugee camp in the world, is situated, said he received the girls and would send them to their homes in the camps.
Some 740,000 Rohingya Muslims fled a brutal military clampdown in Myanmar in August 2017 and arrived in Bangladesh to join another 300,000 already living in the refugee camps.
Desperate for a better life and an economic future, the refugees including in particular teenage girls easily fall prey to human traffickers roaming in the overcrowded camps.
Thousands of the refugees have risked their lives travelling to Malaysia and Thailand - mainly by boat - when the Bay of Bengal is calm before monsoon season sets in at the end of May.
Bangladeshi authorities have stopped over 300 Rohingya this year alone from attempting such perilous boat journeys on rickety fishing boats.
Many have also attempted to fly to Malaysia and Middle Eastern countries by procuring Bangladeshi passports and travel documents.
Jishu Barua, an aid worker specialized in human trafficking prevention, said he dealt with 100 cases of human trafficking in the camps in the last six weeks.
"But this figure represents only a small portion of what is actually going on," he told AFP.
https://english.alarabiya.net/en/News/world/2019/05/12/Bangladesh-rescues-23-Rohingya-girls-from-traffickers.html
--------
Pink Booths in Delhi Draw Muslim Women Voters Successfully
13 May 2019
New Delhi: 'Nari Shakti' was on display in the all-women staffed booths in Delhi on Sunday which drew more women voters, especially from the Muslim community, officials said. In a first for the city, as many as 17 all-woman staffed booths have been established for the Lok Sabha election in the seven constituencies of Delhi, where from apresiding officers to ground staff, all are women. Incidentally, four of the seven district election officer-cum-returning officer are also women, and they too felt quite enthused to see the impact of the initiative.
Chandni Chowk Returning Officer Tanvi Garg said the Delhi CEO Office had envisioned this with a larger aim of engendering a sense of women empowerment and the "message has been sent". "We have set up two such booths, one each in Matia Mahal and Model Town Assembly segments. All our polling staff have worked very hard, and these women staffed here are also quite happy to be part of an all-woman team. While women voters were pleased, male voters were also pleasantly surprised," Garg told PTI.
Out of the 17 booths, 10 have been set up in East Delhi constituency, two in Chandni Chowk and one each in rest of the constituencies -- North East Delhi, West Delhi, South Delhi, New Delhi and North West Delhi.
North East Delhi Returning Officer Shashi Kaushal said the initiative was "very successful" and would "definitely contribute" to push voting percentage of women in this election. "We have set up a pink booth in Zeenat School in an area which is a very Muslim-dominated one. And, in the morning a large number of 'pardanasheen' (in veil) women came to vote.
It was so enthusing to see the women in 'burqa' queuing up to exercise their franchise and celebrating the democratic exercise," she told PTI. The women voters were also welcomed with a flower each, she said, adding that girl volunteers were also part of the team. But, more than individual empowerment, it is the large social message of "nari shakti" that has been conveyed to the society, and "aptly showcased".
Besides Garg and Kaushal, ROs of New Delhi (Pooja Joshi) and South Delhi (Needhi Shrivastav) are also women. They both said that during the training process, they would see a lot of women polling staff and it was a nice coincidence that four of the seven ROs were women.
Voting is underway in all seven constituencies of Delhi where 164 candidates are in the fray, of which 18 are women. A total of 13,816 polling stations have been set up at 2,700 locations in Delhi, with a model polling station in each of the 70 assembly constituencies. There are over 1.43 crore voters on Delhi's electoral roll. Out of the total electorate size of 1,43,16,453, as many as 78,73,022 are male and 64,43,431 females, while 669 belong to the third gender. Such booths are aimed at empowering women and increasing their participation in the electoral process, officials said. However, some women voters said they were not fully aware about such a facility. "It's good to have an all-woman polling station, but what's the use of it when one doesn't know what is it for," said Ritu Bahl, 46, a resident of Janakpuri. One polling booth (in North-East district) is completely staffed by persons with disabilities, while the Leprosy Home Complex at Tahirpur in North-East district has a booth for persons with disabilities only, Kaushal said. A pink booth has been set up by poll authorities at a school in Janakpuri which falls under the West Delhi constituency. Devinder Anand, 43, said the words 'women empowerment' came to her mind when she first read about all-woman booths in newspapers, but she didn't know the polling booth she visited was such a facility. Presiding officer, Manju, 50, said the responsibility of creating awareness about all-woman booths lie with the Election Commission and the media. "We have done our best to highlight it. This is the first time such booths have been set up in Delhi. More people will become aware of such facilities with time," she said. In Chandni Chowk, some voters claimed that a polling booth in Zeenat Mahal area that was supposed to be an all-women booth, was not made into one at the time of polling. "We were told that this will be a pink both where only women will be handling all operations. This also being a booth where mostly burqa-clad women came to cast their votes, would have been an apt place for a pink booth," said Zainab Naqvi, a voter. The constituency's Returning Officer, however, claimed that it was a pink booth as planned, and said, "there may have been confusion... more awareness needs to be built about such booths".
https://www.thehansindia.com/news/national/pink-booths-draw-muslim-women-voters-successfully-528949
--------
Islamic Girls Academy Donates to the Only Muslim Boarding School in Liberia
May 13, 2019
Monrovia – The Amina Islamic Girls Academy (AIGA), on Saturday, May 11, donated assorted materials to the Kahatain Islamic boarding school in the VOA community.
The donation, which included clothes, shoes, toys, and foodstuffs, was part of a series of activities leading to the official launch of the organization's fundraising dinner in June of this year.
Speaking to FrontPage Africa following the presentation of the items, AIGA Executive Director Fatima Kamara disclosed that the donation is her organization's way of identifying with less privileged students of the Kahatain Islamic school in the holy month of Ramadan.
Madam Kamara stressed the need to buttress the hard work of caregivers who are supporting the kids in order to ensure a better future for them.
"This may seen small, but it's our way of identifying with these kids who are in need of these item. Let us learn to give mostly to the less privilege, " she noted.
Speaking further, Kamara called all on other Islamic organizations to engage in activities for the promotion of Islamic education in the country.
She, at the same time, challenged Muslim girls in Liberia to seek quality education for the betterment of their lives and the country at large.
"We Muslim need to do something for Islam in this country. Ladies you have to take the challenge to learn. Just forget everything and learn. When you learn, you will be a better person that will contribute to the larger society, " Kamara averred.
Receiving the items on behalf of the school's authority, Ousmane Kanneh Vice Principal for Administration at the Kahatain Islamic school lauded AIGA for the kind gesture.
Kanneh indicated that the donations to Liberia's only Islamic boarding school is timely for the wellbeing of the children in the holy month of Ramadan.
According to him, the items will serve as a motivation for both the orphans and staffs.
"For you to come and identify with the children means a lot. It encourages them to learn more. Your donation also keeps us in doing our work, we pray that this not be the last, " he said.
Amina Islamic Girls Academy is an independent private institution founded to foster students' excellence through high quality enriched Islamic values, teaching and learning.
https://frontpageafricaonline.com/news/islamic-girls-academy-donates-to-the-only-muslim-boarding-school-in-liberia/
--------
Rear-End Crashes Top Accidents Caused By Saudi Women Drivers
2019-05-12
JEDDAH — About 20 percent of 12,037 cases heard by traffic courts in Saudi Arabia during the past eight months involved women drivers, the Arabic-language daily Al-Watan reported on Sunday quoting statistics released by the Justice Ministry.
The report said the majority of charges against women drivers involved rear-ending of cars ahead of them.
Nawwaf Al-Nabati, a lawyer, said after the establishment of traffic courts and traffic circuits in general courts, accident cases, especially those seeking compensation for damage caused to vehicles, were being quickly considered.
He said most of the cases coming to the courts involved demands for blood money and compensation for victims who died or became crippled as a result of road accidents
Ahmed Al-Shihri, a field controller and supervisor of accident inspections, said about 40 percent of rear-end collisions in the past eight months were caused by women drivers.
He said most of the traffic violations registered against women drivers were wrong parking and not fastening the seat belt.
The report said Makkah province, with 3,516 cases, topped all other regions of the Kingdom in the number of lawsuits heard by traffic courts, followed by Riyadh where 3,050 cases were heard during the 8-month period.
http://saudigazette.com.sa/article/566168/SAUDI-ARABIA/Rear-end-crashes-top-accidents-caused-by-Saudi-women-drivers
--------
Iran Parliament Upholds Women's Rights in 'Mixed Marriage' Citizenship Debate
MAY 12, 2019
(Bloomberg) — Iran's parliament struck a blow for women's rights by overwhelmingly voting to confer citizenship on children born to an Iranian mother and foreign father.
Currently, children of "mixed marriages" are only eligible for citizenship if their Iranian parent is a man. If the decision is approved by the Guardian Council, a powerful body of senior clerics and judges, then the offspring of mixed marriages would be eligible for citizenship, regardless of whether their mother or father is the Iranian national.
The parliamentary vote was reported Sunday by state-run Islamic Republic News Agency.
Such a law would represent a significant development for women's rights in Iran, with possible implications for the wider region, where many countries don't give women the right to pass on citizenship to their children if the father is a foreign national. Iran's vice president for women's and family affairs said the current legislation, dating back to 1934, was written at a time "when women were considered chattel."
"Today, when women have gained dignity, respect and a high level of education and status in the country, on the basis of what logic are we depriving a woman the right to transfer the citizenship that's in her blood on to her child?" Masoumeh Ebtekar said, according to IRNA.
http://time.com/5587758/iran-parliament-mixed-marriages/
--------
URL: https://www.newageislam.com/islam-women-feminism/islamist-bus-driver-refuses-pick/d/118581
New Age Islam, Islam Online, Islamic Website, African Muslim News, Arab World News, South Asia News, Indian Muslim News, World Muslim News, Women in Islam, Islamic Feminism, Arab Women, Women In Arab, Islamophobia in America, Muslim Women in West, Islam Women and Feminism