New Age Islam News Bureau
16 Jun 2013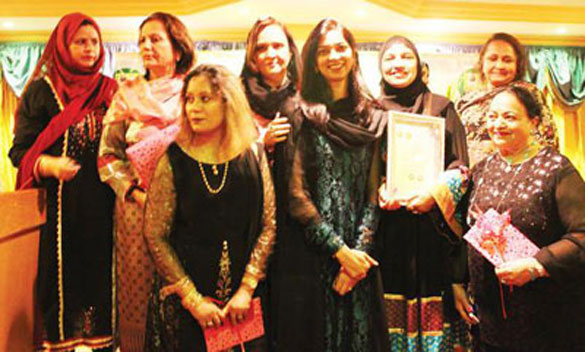 Afshan Aftab Khokher, the chief guest, along with organizers and participants of the event. (AN photo)
---------
• Under 'Vani': Minor Girl Married Off To 50-Year-Old in Pakistan
• Private Schools Start Hiring Saudi Female Sports Teachers
• Pakistani Cultural Group Highlighted Crucial Role of Mothers in Society, In Jeddah
• U.S. Program Aids Afghan Women on Inheritance
• Libya Must Drop Charges against Politicians over Women's Rights Cartoon
• Saudi Female Employment in International Restaurants
• Al-Faisalya Society Caters To 2,024 Families, 395 Orphans
• Alwaleed Foundation Awarded For Its Role in Women Employment
• Muslim Women's Art Celebrated at Sharjah Museum
Compiled by New Age Islam News Bureau
URL: https://newageislam.com/islam-women-feminism/islamic-states-reject-un's-attempt/d/12107
--------------
Islamic States Reject UN's Attempt To Protect Women: It Violates Sharia Law, They Claim
06/16/2013
The Kuwait News Agency KUNA reported that the Islamic member states of the United Nations Human Rights Council formally rejected provisions of a council resolution condemning and calling for the elimination of violence against women because those provisions violate Sharia law.
The Islamic member states objected to, for example, the assertion that women have "the right to control matters concerning their sexual lives as well as their reproductive health without coercion, discrimination or violence," according to KUNA.
Getting to specifics, they objected to any notion of rape within marriage and the treatment of women as anything other than chattel.
KUNA reported:
They also rejected the paragraph that allows performing judicial proceedings in cases of rape within marriage, the abolition of provisions that require the matching of certificates and allow the rapist to escape prosecution by marrying him to his victim as well as subduing victims of sexual violence to prosecution for moral crimes or slander.
In early 1991, Operation Desert Storm liberated Kuwait from Iraqi forces that had barbarically
Eight years later, The Kuwait Institute for Scientific Research prepared a detailed, "abhorrent picture of Iraq's aggression against the State of Kuwait." The report itself, as it claimed, "stands witness to the barbarism, brutality and disgrace displayed by the Iraqi regime toward all human principles, values and conventions."
Civility isn't rooted in how many Mercedes are parked in the garage or how many suits are hanging in the closet. It's based in how a people treat its fellow citizens. The epitome barbarism and brutality is the mistreatment of its countrymen on the basis of race, religion, national origin and yes, gender.
As much as I may disdain the United Nations, its human rights resolution didn't ask for much. It merely called for "the enhancement of women's human rights, protection, and equal participation in communities to men."
We occasionally hear someone say of other countries, especially in the Middle East, that "we should just nuke them back into the stone age." This isn't something I necessarily support, however, in some ways; they're still in the stone age.
Perhaps Sarah Palin was right when she recently said, we should stay out of that region and let Allah figure it out.
http://www.bizpacreview.com/2013/06/16/islamic-states-reject-uns-attempt-to-protect-women-it-violates-sharia-law-77386
--------------
Under 'Vani': Minor Girl Married Off To 50-Year-Old in Pakistan
June 16, 2013
LAHORE: A 10-year-old girl was forcibly married off to a 50-year-old man Malahanwala, Hafizabad under the 'vani' custom to compensate for her father's second marriage in district.
Muhammad Akram, the girl's father, had abducted a woman named Munawaran Bibi, whom he later married out of love, reported the police. Muawaran was Akram's second wife.
Following this the village 'panchayat' (court) decided to give Akram's daughter's hand in marriage to Munawaran's middle-aged brother Falak Sher.
The FIR filed by the girl's uncle reveals that Falak Sher had barged into Akram's house along with seven other men, including a prayer-leader from a local mosque, and performed a forced nuptial ritual in the presence of Akram's first wife.
Mukhtar Hussain, an Investigation Officer in the case informed that the young girl had escaped from Falak Sher's custody and returned to her parents' home. The process of raids continues to ensure the immediate arrest of the all the accused nominated in the FIR.
The FIR, registered with Police Station Jalalpur Bhattiaan on Saturday, nominates nine persons including Falak Sher, the prayer leader and seven members of the 'panchayat.'
The area's people said that the local administration and police had remained tight lipped and reluctant to take any action against the accused. However, police officials claimed that they had registered a case against the accused without any delay when approached by complainants.
http://tribune.com.pk/story/563888/under-vani-minor-girl-married-off-to-50-year-old/
--------------
Private schools start hiring Saudi female sports teachers
16 June 2013
A number of private schools have started the recruitment of Saudi female sports teachers.
The move comes in line with the Ministry of Education's decision to allow sports activities in schools for female students. Sources confirmed that a number of schools have obtained the approval from the ministry to begin building sport facilities in their schools.
The Ministry of Education had earlier announced that priority must be given to Saudis for teaching positions, in compliance with the laws stipulated by the Ministry of Labor.
The recruited Saudi female sports teachers will be subject to extensive training and rehabilitation according to job specifications.
Meanwhile, the ministry is currently considering a number of applications submitted by private schools to recruit sports teachers and trainers from Arab countries.
Prince Faisal bin Abdullah, minister of education, has expressed his ministry's keenness to involve female students in sports activities, stressing the positive benefits of physical activity on students' wellbeing.
http://www.arabnews.com/news/455172
--------------
Pakistani Cultural Group Highlighted Crucial Role of Mothers In Society, In Jeddah
16 June 2013
Mavra, a Pakistani women cultural group, paid tribute to mothers through a cultural event last week in Jeddah.
The function, titled "Maa Tujhe Salam" (Mother, I salute you), comprised poetry recitations and songs performed by Mavra members highlighting the significance of mothers. A short play was performed which depicted a mother's journey of life. The heart-warming performance left the audience in tears.
A cooking competition was also held on the sidelines of the event were a number of Pakistani dishes were presented.
The program began with the recitation of the Holy Qur'an. Mavra President Tabassum Alvi shed light on the beautiful bond between mother and her child. She concluded saying: "A mother's blessing is a sea which has no end."
Afshan Khokher, wife of the Pakistan consul general, was the chief guest of the event.
A panel of cooking experts selected three dishes for the prize. The panel included: Khokher; Farhat Naeem, vice principal of Pakistani International School; and Sheila Tahseemul Haq Haqqi, wife of Pakistan welfare consul.
Riffat Ayesha, Nosheen Majeed and Ayesha Mohsin won the first, second and third prizes, respectively in the savoury items category, while Tazeen Saleem, Gul Saud and Fouzia Atif won the first, second and third prizes, respectively, in the sweets category.
The chief guest awarded the winning contestants. Participating members also received special prizes for their contribution.
The chief guest spoke on the occasion and acknowledged the role of mothers in society.
Khokher appreciated the organizers of the event for making the event a success.
"All the dishes were very well presented. It was hard for us to select the winners," she added.
The evening ended with a lavish dinner.
Mavra offers a platform to women to exhibit their talent through their cultural and literary programs.
http://www.arabnews.com/news/455166
--------------
U.S. program aids Afghan women on inheritance
June 16, 2013
McClatchy-Tribune
KABUL, Afghanistan — A modest campaign sponsored by the U.S. government has begun tackling one of the most basic problems on the long list that women face here: being robbed of property that they have rightfully inherited.
A 30-day pilot program of television and radio ads and billboards in Kabul province, coupled with an ongoing series of workshops in three Kabul districts and around the city of Jalalabad in the northeast, have begun spreading the word that under Afghan and Islamic law, women are entitled to a share of the property when their parents or husbands die.
That was news to many, and dozens of women have been pouring in to the Ministry of Women's Affairs over the past few months for help getting their inheritance.
Full report at:
http://www.timesdispatch.com/news/national-world/u-s-program-aids-afghan-women-on-inheritance/article_696d7240-c234-541b-a5a0-288675c38626.html
--------------
Libya must drop charges against politicians over women's rights cartoon
06/16/2013
The Libyan authorities must drop charges against two politicians who published a cartoon on women's rights deemed to be offensive to Islam, Amnesty International said today.
Libyan National Party policy manager Ali Tekbali and Fathi Sager, the party's secretary general, are due to appear in court this Sunday, 16 June at the Criminal Court in Tripoli .They are facing the death penalty over a cartoon calling for gender equality and women's rights that was circulated on an electoral campaign poster last June.
The cartoon features a group of men discussing the role of women in Libyan society, including a bearded character. That same character appeared as the Prophet Muhammad three months later in a controversial anti-Islamic comic published by the French satirical magazine Charlie Hebdo last September. The cartoon, however, did not make any reference to the Prophet Muhammad or to Islam.
Full report at:
http://www.amnesty.org/en/news/libya-must-drop-charges-against-politicians-over-women-s-rights-cartoon-2013-06-14
--------------
Saudi Female Employment in International Restaurants
06/16/2013
DAMMAM — Five Saudi women are working in the family section of an international restaurant as cashiers and waiters, according to a local report.
The restaurant manager said that the management of the international chain of restaurants is seeking to increase the Saudisation rate in their branches in the Kingdom.
He said that the management is seeking to interact with Saudi society, and that it is looking to employ more Saudis of both sexes.
Full report at:
http://www.saudigazette.com.sa/index.cfm?method=home.regcon&contentid=20130616170029
--------------
Al-Faisalya Society caters to 2,024 families, 395 orphans
June 16, 2013
JEDDAH — Al Faisalya Women Welfare Society, providing services via Princess Hussah Bint Khaled Social Development Center, began its programs for the holy month of Ramadan.
Al Faysalia offers its integrated services to 2,024 Saudi families covering all their needs, aiming to empower sponsored families to self-sufficiency to the point of being productive families instead of being consumers.
Al Faysalia takes great interest in sons and daughters of families by enrolling them in rehabilitation and training programs, thence directing them to the labor market, which contributes to elevate the economic standards of families and help in combating unemployment.
Full report at:
http://www.saudigazette.com.sa/index.cfm?method=home.regcon&contentid=20130616170012
--------------
Alwaleed Foundation awarded for its role in women employment
06/16/2013
RIYADH — Alwaleed Bin Talal Foundation, chaired by Prince Alwaleed Bin Talal, received an award from the Riyadh Chamber of Commerce for its role in female employment, and presented by Princess Hela Bint Abdulrahman, general manager of the ladies branch.
Alwaleed Bin Talal Foundation supports young female nationals and contributes to the elimination of unemployment. It has also supported government initiatives, non-profit organizations and the private sector to enable youth to enter the labor market at all levels of education, and has worked to create modern jobs in line with the current advancement of Saudi society. It is also collaborating with the Chamber of Commerce in training for employment, which is essential in the labor market.
Full report at:
http://www.saudigazette.com.sa/index.cfm?method=home.regcon&contentid=20130616170015
--------------
Muslim women's art celebrated at Sharjah museum
June 16, 2013
Sharjah: Three Sharjah-based women artists spoke about their identity as expressed through their art at a workshop on Saturday, June 15 at the Sharjah Museum of Islamic Civilisation
The workshop, Muslima: Muslim Women's Art and Voices, was held as part of a year-long international collaboration based on an online project of the same name.
The project was developed by the San Francisco-based online International Museum of Women in partnership with Sharjah Museums Department, the Women's Museum in Aarhus, Denmark, and the Ayala Museum in the Philippines.
The online project provided a platform for talented Muslim women around the
The Muslima exhibition featured art works, poetry, creative writing and new media created by Muslim women from all over the world.
Full report at:
http://gulfnews.com/news/gulf/uae/muslim-women-s-art-celebrated-at-sharjah-museum-1.1197809
--------------
URL: https://newageislam.com/islam-women-feminism/islamic-states-reject-un's-attempt/d/12107