New Age Islam News Bureau
30 Jul 2015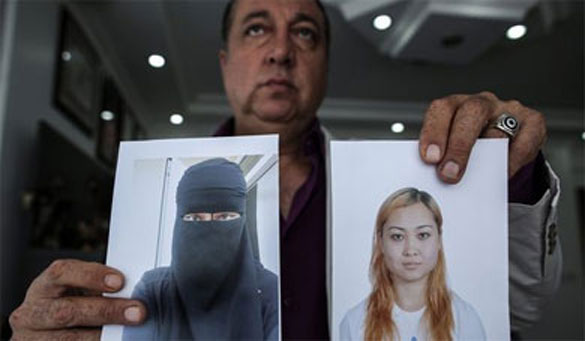 Sahin Aktan says his ex-wife, Asiya Ummi Abdullah, became a Muslim convert and took their child to the territory controlled by Islamic State. (Associated Press)
---------
• Women Getting Paid Less than Men for Same Job in Pakistan
• Women to Cast Votes Again Today at 15 Polling Stations in Swabi
• Jakarta: Law Enforcers Told To Consider Science in Sexual Abuse Cases
• Saudi Civic Elections: Initiative to Boost Women Participation
Compiled By New Age Islam News Bureau
URL: https://newageislam.com/islam-women-feminism/islamic-state-uses-women-recruit,/d/104096
---------
Islamic State uses women to recruit, raise next generation of fighters
July 29, 2015
In the past few months, the FBI arrested a woman in Philadelphia charged with plotting to join the Islamic State and martyr herself, while a young Alabama woman was lured via the Internet to join the terrorist group in Syria.
Halfway around the world, Spanish police arrested a woman who they said ran a notorious ring to recruit girls for the Islamic State, and authorities reported a surge of women leaving Germany to join the so-called Islamist caliphate.
Dramatic and chilling, these episodes are hardly isolated but rather evidence of a concerted effort by the maturing Islamic State to use women as front-line recruiters for the next generation of terrorists, analysts warned a congressional committee Wednesday.
"This is not a sideshow. This is very much a core part of ISIS' strategy, and it is a part of the evolving terrorist landscape," Sasha Havlicek, CEO at the Institute for Strategic Dialogue, testified during the House Foreign Affairs Committee hearing. "As such, they should matter to us more than they have among intelligence circles."
Ms. Havlicek estimates that thousands of women from Western countries have fled to the Middle East to join the Islamic State, despite the group's harsh and strict treatment of female members. Women in Islamic State custody have been raped, forced into marriage, sold into slavery and endured torturous physical punishments if they don't adhere to a strict set of rules, including dress codes.
Still, Western women are heeding the Islamic State's call and are being used to solidify the organization's position, recruit others into its web and raise the next generation of jihadi warriors.
"ISIS needs women, needs to control them, to establish its caliphate and give rise to the next generation of ISIS," said Rep. Edward R. Royce, California Republican and chairman of the committee. "That is why ISIS is investing heavily in recruiting foreign women to join its ranks."
Mr. Royce said each woman who is "brainwashed" by the terrorist group becomes a poster child to lure others to join.
In May, a 30-year-old Philadelphia woman was charged with trying to join the Islamic State and make herself a martyr. The woman, an unemployed mother of two, made arrangements to fly to Spain with the intent of traveling to Syria.
Assistant U.S. Attorney Jennifer Willis told The Associated Press at the time that the woman would have boarded the flight had federal agents not served a search warrant on her home days earlier. She is now in jail pending trial.
A month earlier, a 20-year-old woman fled her hometown of Birmingham, Alabama, to join Islamic State militants in Syria. The woman went missing from her home after being "brainwashed" for an undetermined length of time by Islamic State recruiters online, a family spokesman told AP.
This month, Spanish police arrested a woman suspected of recruiting pre-teen girls and teenagers online to send to areas controlled by the Islamic State. Her orders were to recruit girls and arrange their travel to Syria, according to a Spanish Interior Ministry statement obtained by AP. Girls and teens she helped get into Syria were sexually exploited and were used for domestic and hospital work, the statement said.
Although women are not allowed on the Islamic State battlefield, those from the West are often able to goad others into joining the organization in Syria and Iraq or planning attacks in their home countries, Ms. Havlicek said. A girl can point to the fact that she made it to the Middle East on her own and question how other women or even men can't do the same.
In addition to being effective recruiters and planners, women also are able to help formulate and solidify Islamic State values within society and help achieve the goal of building a nation ruled by believers of radical Islamic law.
Along with being mothers to the next generation of Islamic State fighters, women also pass down the "cultural memory" of any organization, allowing the same extremist and intolerant values and ideals to grow, Ms. Havlicek said.
http://www.washingtontimes.com/news/2015/jul/29/islamic-state-uses-women-to-recruit-raise-next-gen/
---------
Women Getting Paid Less than Men for Same Job in Pakistan
July 30, 2015
Islamabad - Despite outperforming boys in various fields, the largest ever cohort of educated women across the region, including Pakistan, are either struggling to find work or they are paid less than men for the same job.
Across South Asia, women are reportedly doing more unpaid care and domestic work than men: 10 times as much in Pakistan; almost 7 times more in India; and nearly 3 times more in Bangladesh.
A report from UN Women launched Wednesday in Pakistan documents the ways in which current economic and social policies are failing women in rich and poor countries alike, and asks what the economy would look like if it truly works for women.
"Progress of the World's Women 2015-2016: Transforming Economies, Realising Rights" is a flagship report of UN Women, the United Nations Entity for Gender Equality and the Empowerment of Women, brings together human rights and economic policymaking, and provides the key elements for a far reaching new policy agenda that can transform economies and make women's rights a reality.
Evidence suggests that girls are routinely outperforming boys in medicine, mathematics, and reading and graduating with top honours from schools and universities.
Yet the irony is that globally, across the region and in Pakistan, women are struggling to find work, it says.
The gender pay gap is 33 per cent in South Asia (compared to 24 per cent globally).
In South Asia gender pay gaps are wider in urban areas than rural areas: urban women earned 42 per cent less than men, compared to 28 per cent less than men in rural areas, says the report.
Both women and men have lower than average earnings in rural areas and, in absolute terms, rural women are at the bottom of the earnings ladder.
The report suggests that laws are an important basis for women's right to work and at work.
As of 2014, Bangladesh is the only country (with available data in the region) that has a law reinforcing equal remuneration for work of equal value.
Only India has a law for non-discrimination based on gender in hiring.
In South Asia, 64 per cent of women compared to 54 per cent of men are informally self-employed, while 36 per cent of men are in informal wage employment compared to 31 per cent of women.
The South Asia has largely not complied with the ILO minimum standard of 14 weeks paid maternity leave, paid for collectively (i.
e.
not just by employers).
Bangladesh is the only South Asian country that meets or exceeds this minimum, at 16 weeks, however with 100 per cent of total wages paid by employers.
It is also the only country to offer paternity leave, with a minimum length of 10 days.
Across a range of countries, a significant proportion of women do not decide independently on their health care – 48 per cent in Pakistan, 37 per cent in Bangladesh and 34 per cent in Nepal.
In Nepal, ethnic and indigenous minority women are less likely than non-indigenous women to have access to contraception, antenatal care and skilled birth attendance.
Jamshed Kazi, Country Representative UN Women Pakistan, in his welcome address, shared: "If the economy really worked for women, women would have equal access to opportunities and resources – a good job with equal pay, or access to land – and social protection.
We know there are major gaps between this vision and the current reality.
But this gap is not inevitable – we urgently need to build economies that work for both women and men.
"
Khawar Mumtaz, Chairperson National Commission on the Status of Women, speaking on women's roles and economic development said: "Development and women's rights are the side of the same coin.
We need to work on legislations, policies, growth programming and institutional strengthening at every stage and each level.
"
http://nation.com.pk/islamabad/30-Jul-2015/women-getting-paid-less-than-men-for-same-job-report
---------
Women to cast votes again today at 15 polling stations in Swabi
July 30, 2015
SWABI: Around 15,000 women voters are likely to cast their votes in the local government elections' re-polling at 17 polling stations of nine union councils in the district today (Thursday), officials in the district office of Election Commission of Pakistan told Dawn here on Wednesday.
They said that the total number of male and female voters at the stations where re-polling would be held was 17,500. The 17 polling stations include 15 for women and two for men.
They said that the re-polling would be held at three polling stations for women each in the union councils Naranji and Yaqubi, two each in Sodher and Tandkohi and one each in polling stations of Saleem Khan, Shiekh Jana, Bachai, Gabasni and Dobian UCs.
The two polling stations for men where re-polling would be held are in Dobian union council, he said.
Read more: Swabi women take part in election campaign for first time
Re-polling being held at total 17 polling stations in nine union councils
The contestants and ECP officials said that it was for the first time that focus had shifted to women voters whose votes would play a key role in determining the results.
Bakhtiar Ahmad, a candidate for the district council seat in Naranji, said that it was for the first time that women voters came to know about the importance of their votes. Other contestants said that they were expecting a high turnout of women.
MAY 30 VOTES: Following the district council elections held on May 30, Akhtar Zaman of JUI-F had got 2,835 votes, followed by Abdul Sattar of ANP with 2,075 votes at Tandkohi UC. In Dobian UC, independent candidate Asad Bacha had got 1,610 votes and Mukhtiar Ahmad of ANP 1,268 votes, while in Sheikh Jana UC, Nawaz Ali of JI secured 1,621 votes and Gohar Taj of ANP 1,392.
Position at other UCs was as follows: Naranji UC, Bakhtiar Ahmad of ANP 1,338 votes and independent candidate Aamer Zeb 8,44 votes; Saleem Khan UC, independent candidate Gulzar Hussain 2,059 votes and Muharam Taj of ANP 1,803; Sodher UC, independent candidate Sirzamin 1,522 votes and ANP's Iftikhar Khan 977 votes; and at Gabasni UC, independent candidate Abdur Raziq was leading.
Following May 30 LG elections to the tehsil council the candidates' position at Tandkohi UC was that Faizul Hayat of ANP had got 2,025 votes and Wajid Khan of PTI 1,776 votes, in Dobian UC Awami Jamhoori Ittehad Pakistan candidate Jehanzeb Khan 1,180 votes and Manfat Khan of ANP 1,174 votes.
Independent candidate Gul Hayat was leading in Gabasni UC and Sartaj Khan of JUI-F remained runner-up; Sheikh Jana UC, Hasnain of JI 1,070 votes and Manzurullah of JUI-F 916; Naranji UC, independent candidate Munawar Shah 1,138 votes and Gohar Ali of ANP 892 votes; Saleem Khan UC, independent candidate Hussain Zada 2,036 votes and ANP candidate Usman Sher 2,029 votes; while in Sodher UC Mudassir Nazar of PTI had obtained 938 votes and Wajid Ali of ANP 680 votes in the May 30 polls.
http://www.dawn.com/news/1197307/women-to-cast-votes-again-today-at-15-polling-stations-in-swabi
---------
Jakarta: Law Enforcers Told To Consider Science in Sexual Abuse Cases
July 30 2015
Forensic experts are urging law enforcers to heed results of scientific examinations by credible professionals in order to avoid charging innocent people in child sexual abuse cases.
The experts said that to date, the police, prosecutors and judges had often ignored scientific procedures to speed up the legal process due to outside pressure from the alleged victims, the public or the media.
Psychologist Irwanto from Atma Jaya University in South Jakarta gave an example of a case involving a scavenger named Siswanto aka Robot Gedek who was found guilty of killing street children.
"In 1997, Siswanto was sentenced to death for sodomizing and mutilating children in Greater Jakarta on the basis of testimony from only one witness, who was later tried and sentenced for similar crimes," the professor said at a recent Seminar of Scientific Crime Investigation held by the National Police Commission (Kompolnas).
Irwanto was referring to Baekuni or Babeh, the only one of 20 witnesses to testify in the Central Jakarta District Court that he saw Siswanto slashing the wrists and legs of a victim and putting the victim in a plastic bag. He also told the court that he did not see Siswanto killing the victim.
Despite Siswanto's bizarre behavior during the police investigation and in court, the police and the judges also failed to give him the opportunity to be examined by independent psychiatrists.
While experts such as psychologists are often invited to deliver the results of their examinations, Irwanto said some law enforcers set aside such analysis and formed their own opinions.
"I was once appointed as an expert in a sexual abuse trial of a female teen in West Jakarta. The victim [said she] was sexually assaulted by her friend in her school's health unit room when she felt sick during the day. She then attacked the perpetrator with her taekwondo skills. The boy was injured and brought the case to court," he said.
Irwanto said that during one of the hearings, he delivered his evaluation, which supported the girl's testimony. However, the judge later told him to rectify his testimony as he believed that the girl attacked the boy because he had refused to be her boyfriend.
Irwanto said he refused to do so and maintained his testimony.
"The girl ended up losing the legal battle and was put under city arrest," he said.
Meanwhile, forensic doctor Ferryal Basbeth said the police often made conclusions too quickly.
Ferryal cited a case involving a 9-month-old baby identified only as AA who died in 2013 in East Jakarta, allegedly after being raped by her uncle, identified as Z.
"AA was brought by her family to a nearby doctor when she suddenly had difficulty breathing. Through a further examination, the doctor observed the unusual shape of her anus. The doctor then reported this to the police," Ferryal explained.
At Kramat Jati National Police Hospital in East Jakarta, AA was checked and found to be positive for Chlamydia trachomatis, a sexually transmitted infection that can also be passed on through labor.
"The police asked the hospital to perform anal swaps to check the family members, except the mother. When they found the same bacteria in Z and AA, the police concluded the case to be a rape," said the doctor, who was appointed as an expert by the Jakarta Legal Aid Foundation (LBH Jakarta) during the trial.
He said the police claimed they had used a thorough scientific method in finding the perpetrator as there was no witness for the case.
"They should have checked the mother too," he said.
Kompolnas commissioner Adrianus Meliala said law enforcers should handle sexual abuse cases against children carefully despite pressure from the public and media.
"There is no deadline for handling sexual abuse cases, so the police should take their time [to ensure an accurate investigation]," he said. (rbk)
http://www.thejakartapost.com/news/2015/07/30/law-enforcers-told-consider-science-sexual-abuse-cases.html
---------
Saudi Civic Elections: Initiative to Boost Women Participation
July 29, 2015
JEDDAH — A Saudi women initiative to boost the participation of women in public affairs has started lobbying since the last municipal elections back in 2011 to ensure that the fairer sex will be allowed to take part in this year's elections.
The initiative, called Baladi (My Country), has some of its members insisting on visiting polling centers back in 2011 though women were not allowed to participate in elections then. Ever since 2013 the members of the initiative have started to make partnerships and agreements with different bodies to increase awareness of women about their role in society and to enhance the skills of women willing to take part in the elections either as candidates or campaign managers.
Naila Attar, Baladi coordinator in Jeddah, said that they have been pushing for the involvement of women in the municipal elections since 2011. The group has worked on putting down a comprehensive plan aimed at introducing the needed skills and provide training to women, she said.
Speaking to Saudi Gazette she explained that they are arranging for 13 training courses starting Sunday and targeting all women seeking to know more about the municipal elections and also those hoping to manage election campaigns.
Training will be provided in different regions of the Kingdom. The program has been designed by Baladi in cooperation with the Arabic Institute for the Development of Cities which is under the supervision of the Arab League, and the project is also financed by Al-Walid Foundation.
The training is divided in two categories, one that targets those hoping to participate in the election to give them detailed information about the deadlines and poll centers among other information. The second category targets women who want to manage campaigns for potential candidates. The course also aims at enhancing the management and public relations skills as well as increasing their knowledge about the elections in general.
Attar noted that they have already started providing training to women in Riyadh. "Jeddah will start next Sunday followed by the Eastern Province," said Attar explaining that women who are allowed to take part in the training must be above 19. Women registering their names can participate only if they pass an evaluation test. Training will be provided in Jeddah and several other cities including Makkah, Madinah, Tabuk, Taif, Yanbu, Khamis Mushayt and Bisha.
Attar said more and more women have shown their keenness to join the initiative.
Attar said 75 registered women are well-educated holding masters and doctoral degrees. She said she was not sure whether those registering their names want to actually take part in the election process.
She, however, expressed the fear that some manipulations of the law can be used to prevent women from effectively taking part in elections.
http://www.saudigazette.com.sa/index.cfm?method=home.regcon&contentid=20150730251940
---------
URL: https://newageislam.com/islam-women-feminism/islamic-state-uses-women-recruit,/d/104096