New Age Islam News Bureau
5 Aug 2015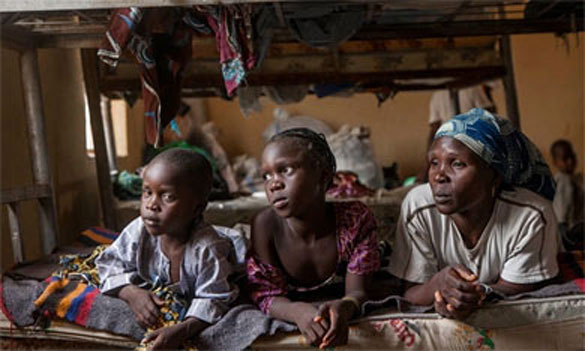 A mother lies with her children in a camp for internally displaced persons in Yola, the capital of Adamawa, a state in the country's north-east. Photograph: Esiebo/Unicef 2015
---------
• Rape, Murder Top Chart of Violence against Women in Bangladesh
• Amid Harassment Spike, Saudi Arabian Woman Hits Back At Tormentor
• Eyewitness: The Women and Girls Rescued From Boko Haram in Nigeria
• 3,000 Jobs Eyed For Saudi Women in Jewellery Design
• Saudi Women Complain Of Exploitation in Cosmetics Sales
• Dubai: 124 Cases of Domestic Violence against Women
Compiled By New Age Islam News Bureau
URL: https://www.newageislam.com/islam,-women-and-feminism/new-age-islam-news-bureau/islamic-state-peddles-children,-women-'like-barrels-of-petrol'/d/104175
----------
Islamic State Peddles Children, Women 'Like Barrels of Petrol'
BY SANGWON YOON
August 4, 2015
NEW YORK — A senior United Nations official says Islamic State is circulating a slave price list for captured women and children, and that the group's ongoing appeal and barbarity pose an unprecedented challenge.
The official, Zainab Bangura, said that on an April trip to Iraq she was given a copy of an Islamic State pamphlet, which included the list, showing that captured children as young as 1 year fetch the highest price. The bidders include the group's own fighters and wealthy Middle Easterners.
The list, showing the group's view of the value of those it captures, surfaced some eight months ago, though its authenticity came under question. Bangura, the UN special envoy on sexual violence in conflict who was also in Jordan and Turkey, said she has verified that the document came from Islamic State and reflects real transactions.
"The girls get peddled like barrels of petrol," she said in an interview last week in New York. "One girl can be sold and bought by five or six different men. Sometimes these fighters sell the girls back to their families for thousands of dollars of ransom."
For Islamic State fighters, the prices in Iraqi dinars for boys and girls ages 1 to 9 are equal to about $165, Bangura said. Prices for adolescent girls are $124, less for women over 20.
The militia's leaders take those they wish first, then rich outsiders from the region are permitted to bid thousands of dollars, Bangura said. Those remaining are then offered to the group's fighters for the listed prices.
Bangura, a Muslim and former foreign minister of Sierra Leone, said that Islamic State, which rules some 80,000 square miles across swathes of Iraq and Syria, is unlike other insurgent groups and challenges all known models of fighting them.
"It's not an ordinary rebel group," she said. "When you dismiss them as such, then you are using the tools you are used to. This is different. They have the combination of a conventional military and a well-run organized state."
Officials and scholars have struggled to understand Islamic State's success despite breaking what are widely seen as rules for insurgents – to be sure to mingle with local populations, not take on established militaries or try to hold territory. The group has broken all those rules and draws thousands of foreign fighters despite its well-publicized savagery.
Kerry Crawford, who teaches at James Madison University in Harrisonburg, Virginia, said that publicizing the violations is used to the group's advantage by building internal ties and external fear.
"If you and your group are doing something that is considered taboo, your doing it together forms a bond," she said. "Sexual violence does really create fear within a population."
She also said that sexual abuse by soldiers has a long history including the so-called rape camps in the former Yugoslavia in the 1990s.
Islamic State has made a particular practice of enslaving communities it has conquered that are not Sunni Muslim – Yazidis and Christians, for example. It portrays such conquests as God's work, drawing disaffected Muslims from around the world.
Bangura said the international community and the UN have been taken aback by such practices because they do not resemble those of village militias in other countries.
"They have machinery, they have a program," she said. "They have a manual on how you treat these women. They have a marriage bureau which organizes all of these 'marriages' and the sale of women. They have a price list."
bc-islamicstate-sextrade
http://www.idahostatesman.com/2015/08/04/3923686_islamic-state-peddles-children.html?rh=1
----------
Rape, Murder Top Chart of Violence against Women in Bangladesh
August 05, 2015
Rape and murder again topped the list of violence against women (VAW) and children during the month of July, according to Bangladesh Mahila Parishad (BMP) data aggregated from 14 national dailies.
Eighty-three incidents of rape took place in the country out of which 15 were gang rapes and nine people were killed after rape, read the BMP VAW chart.
In June, 95 rape incidents occurred in which five victims were murdered after rape.
Sixty-two women and children were killed, and 41 women were tortured for dowry while 19 of them were murdered in July. Thirty incidents of physical tortures were reported while 26 people were compelled to commit suicide following various tortures.
http://www.thedailystar.net/city/rape-murder-top-chart-violence-against-women-122083
----------
Amid harassment spike, Saudi Arabian woman hits back at tormentor
5 August 2015
Security camera footage of a woman in Saudi Arabia beating an attempted sexual harasser with a mop went viral after it was leaked this week.
The scene took place at a shopping mall in al-Dammam, capital city of the economically deprived Eastern Province, home to much of Saudi Arabia's Shia minority population.
The clip shows a woman chasing after a man and brandishing a large floor mop, eventually managing to hit him on the back as he flees.
Concern over the level of sexual harassment in Saudi Arabia spiked late last month after footage of two women being harassed by a huge group of boys and young men during Eid celebrations was circulated.
The video, which received millions of views, prompted police to announce that they had arrested several of the men pictured, and would be installing 112 new security cameras where it was filmed.
Many social media users spoke out against the clip, blaming authorities for failing to act to prevent such incidents.
Authorities in the kingdom have sought to toughen up their stance on the issue, with two airport officials sentenced to four years in jail and 1,000 lashes each for sexually harassing two teenage Iranian boys visiting the country for a pilgrimage in April.
A survey conducted last August found that almost 80 percent of respondents blamed high levels of harassment on a lack of preventative measures, as well as lengthy penal processes once cases come to court.
http://www.middleeasteye.net/news/video-woman-saudi-arabia-hits-back-sexual-harasser-1717505617
----------
Eyewitness: The Women and Girls Rescued From Boko Haram in Nigeria
4 August 2015 16
It is terrible to see how weak and exhausted they are. When I arrive, a group of women and children are just lying quietly on the floor of the large tent, too sick and weak to move. Other children living at the camp, who have been displaced by the violence but have not been held by Boko Haram, are playing outside, but these children don't have the energy. Several children have been injured during their rescue.
A little girl of about seven, terribly thin, is lying absolutely motionless under the watchful eye of her grandmother, sitting beside her. I am surprised to see she has a school backpack close by. Barely able to move, she whispers to me that she was given the backpack at the Unicef camp and that she is excited about going to school. All the children are extremely malnourished, the medic treating the girl tells me, assuring both me and her grandmother, that with treatment and care the girl will regain her strength.
The youngest child in the tent is a tiny girl, just six days old. Her mother Maimuna – that's not her real name, she is afraid to be identified – tells me she was living under Boko Haram control for about a year. She tells me about her very difficult pregnancy, during which she probably had severe anaemia. "I was very sick, weak, dizzy and I couldn't move," she says. "On delivery day, two women helped me; it was very difficult, there was no health centre, nothing. I think my daughter's legs are a bit unequal because of the pulling and the long labour. But I am grateful to God, she is alive. I know several women who were pregnant but didn't make it, they died either in childbirth or during pregnancy."
Maimuna's story is hard to listen to; life under Boko Haram has been brutal. She tells me most of the men have been killed. "The few men who were still alive were not allowed to shave their beards, women were not allowed to leave their homes, and we stayed indoors. Those who did not obey were shot dead. In the place I was, dead bodies littered the area. They killed people anytime they felt like it. They also raped women and girls. We could not go to the farms, we could not fetch water or collect firewood. We tried to escape three times in the past year but every time we tried, they sent us back. We were trapped."
As Maimuna talks, other women seem eager to tell their stories. Aisha – again, not her real name – is here with her three children and is keen to talk about the rescue. Several of her relatives were killed and injured in the fighting, she says, and at first it was difficult to believe they were really free. "We thought we were being attacked by Boko Haram and we were running. Then they convinced us that they were the Nigerian military. They took us in their vehicles and brought us here to Maiduguri. Now we are safe."
Despite their ordeal, I find them in good spirits – glad to have made it out alive. Many have family in the area and are able to see relatives for the first time in a long time. Not all the children are thrilled about being vaccinated soon after they arrived at the UNICEF tent, but it is important to protect them against disease. They are also now getting medical treatment for illness and injuries, as well as for malnutrition and clean, safe water. Maimuna is delighted her new baby has been vaccinated against polio and proudly shows me one of the girl's tiny fingers marked with a pen to show she had had the vaccine. The children will be able to go to school, and Unicef will soon also provide much-needed psychosocial support.
Maimuna already has plans for her daughter, born in such tragic circumstances, but now with a more hopeful future."I will make sure she goes to school," she says. "And she can look after me when she grows up," she adds with a smile.
http://www.theguardian.com/global-development-professionals-network/2015/aug/04/eyewitness-the-women-and-girls-rescued-from-boko-haram-in-nigeria
----------
3,000 Jobs Eyed For Saudi Women in Jewellery Design
Aug 3, 2015
Jamil Farsi, head of the Gold and Jewelry Committee at the Jeddah Chamber of Commerce and Industry (JCCI), says he expects 3,000 job opportunities to be created for Saudi women in the jewelry design and gold sector across the Kingdom, with about 10 women working in each manufacturing workshop.
The efforts of the Technical and Vocational Training Corporation (TVTC) through its activities and training programs will have an impact on the industry because, without the availability of skilled, educated and trained work force training, the job cannot be completed, he added.
"The move by the TVTC to establish a technical and vocational training center for women in the gold and jewelry design sector is a good step toward hiring women and reducing the unemployment rates among them," said Farsi.
He noted that the industry of gold and jewelry demands hard work which is not suitable for all women, especially as a number of workshops have been moved to places outside Jeddah, which makes it difficult for women to travel far distances.
"This is one obstacle still facing the gold and jewelry committee at JCCI without a foreseeable solution so far. The decision to move the workshops to outside the boundaries of Jeddah was taken without the presence of the industry's representatives whose interests will be affected by it," he added.
Additionally, Farsi demanded that the Ministry of Commerce and Industry should reconsider the granting process of work permits in the gold and jewelry design sector.
Commenting on the step to establish a center for training women on the job, he said: "The idea is good, but the most important thing is the implementation process in a professional manner to entrench competitiveness and not just for the sake of hiring women."
Sameer Husain, an expert in the human resources sector, said it is likely that training in the jewelry design sector will attract many women to the work force as the nature of this industry is close to women in general.
"The training program should include courses on the knowledge of the stones and jewelry items, their classification and distinguishing fake items, and encouraging the trainees by giving them incentives because the nature of this work demands a high level of accuracy and skill," he said.
Copyright: Arab News © 2015 All rights reserved. Provided by SyndiGate Media Inc. (Syndigate.info).
https://en-maktoob.news.yahoo.com/3-000-jobs-eyed-saudi-women-jewelry-design-074716658.html
----------
Saudi women complain of exploitation in cosmetics sales
Published August 3rd, 2015
Although the Ministry of Labor is opening its doors to receive complaints from private sector employees, many Saudi females employed in cosmetic and perfume shops in Madinah are not making complaints about being overworked due to fear of losing their jobs and source of income. 

Shop owners in Madinah have been overworking a number of female employees, requiring them to clean shops and load shipments and supplies, despite these duties not being included in their employment contracts.

Ministry of Labor Spokesman Tayseer Al-Mofrej said in a recent statement that the feminization of women's shops has nothing to do with work duties."The employer and employee must commit to the articles stated in the employment contract, and in case any duties outside the agreed upon contract have not been compensated, the employee has the right to make a complaint to the labor office.
"
The overburdening of employees in the private sector is not new, as many have suffered from such issues due to ignorance about their rights and unfair work burdens imposed by employers without compensation.
Despite the growing number of cases over the past few years, cases have been accumulating at Offices for the Settlement of Labor Disputes due to the lack of capabilities and mechanisms required for reviewing and implementing decisions. 

As the case of feminization of women's shops is a culturally sensitive issue, the Ministry of Labor holds great responsibility in monitoring performance and ensuring the application of provisions of the Saudization programs, especially with regards to women.

A number of female employees said shop managers do not take into account the difference in capabilities between men and women, and often make them engage in difficult physical labor. They called on labor offices to monitor shops and ensure that employers are upholding the terms of labor contracts.
http://www.albawaba.com/business/saudi-women-complain-exploitation-cosmetics-sales-726310
----------
Dubai: 124 Cases of Domestic Violence Against Women
August 4, 2015
Dubai: The Dubai Foundation for Women and Children (DFWAC) handled 124 cases of domestic violence towards women over the age of 18 in the second quarter this year, an official said on Tuesday.
Afra Al Basti, director-general of the Foundation said two women have been sheltered. Emiratis were victims in 41 cases while 83 cases involved women from other nationalities.
Afra explained that about 90 per cent of victims were subjected to abuse by their husbands, while 7 per cent were abused by father, 4 per cent by the mother, 2 per cent by brother and 2 per cent of cases of abuse by stepfather.
In 75 per cent of the cases, the women faced neglect or deprivation, 55 per cent faced physical abuse, 52 per cent faced financial abuse while 16 per cent suffered sexual abuse.
In 113 cases, women contacted the foundation directly, The remaining cases were referred by Dubai Police, relatives, friends, schools, embassies and consulates.
Afra pointed out that the UAE's diverse population makes it critical for the Foundation to providing care and protection to all victims of violence.
The Foundation is working to encourage members of the community to participate actively in stopping abuse, especially against women and children, by informing authorities promptly.
The Foundation receives public calls 24 hours a day in different languages on its 800111 helpline. It also provides advisory services and tips on how to prevent abuse.
http://gulfnews.com/news/uae/society/124-cases-of-domestic-violence-against-women-1.1561353
----------
URL: https://www.newageislam.com/islam,-women-and-feminism/new-age-islam-news-bureau/islamic-state-peddles-children,-women-'like-barrels-of-petrol'/d/104175