New Age Islam News Bureau
15 Aug 2015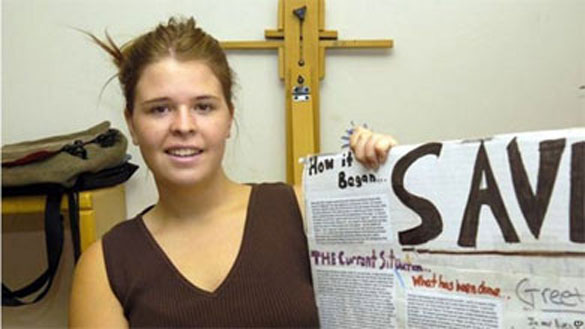 Kayla Mueller's death was announced in February this year
------
• Islamic State Leader Baghdadi Repeatedly 'Raped Kayla Mueller'
• Let's Not Forget the Fate of the Yazidi Rape Survivors
• 10 Things You Must Know About Shanti Tigga – The First Woman Jawan of The Indian Army
• Navratilova Demands Tough Action on Kyrgios after Sex Slur
• Saina Nehwal Reaches Maiden World Badminton Championships Final
• A Theme Park Of Global Standards Is Every Kid's Dream in Saudi Arabia
Compiled by New Age Islam News Bureau
URL: https://www.newageislam.com/islam,-women-and-feminism/new-age-islam-news-bureau/islamic-state-leader-baghdadi-repeatedly--raped-kayla-mueller-/d/104279
------
Islamic State Leader Baghdadi Repeatedly 'Raped Kayla Mueller'
August 15, 2015
An American aid worker who was killed while being held hostage by Islamic State (IS) militants, was sexually abused by the group's leader, US officials told ABC news.
Kayla Mueller, 26, was repeatedly raped by Abu Bakr al-Baghdadi. Her family were informed of the abuse in June.
"They told us that he married her, and we all understand what that means," her father Carl told the Associated Press.
Ms Mueller was abducted while working in Aleppo, Syria, in August 2013.
IS said she was killed in a Jordanian air strike in February, but the US blames the group for her death.
Baghdadi personally took the humanitarian aid worker to the home of another senior IS member - Abu Sayyaf - who was in charge of IS oil and gas until his death in a US special forces operation in May, ABC news reports, citing US officials.
US special forces raid
The channel said Baghdadi regularly visited the compound where she was being held and repeatedly assaulted her.
"Kayla did not marry this man. He took her to his room and he abused her and she came back crying," her mother Marsha told AP.
Officials said they had obtained information about the abuse from at least two teenage Yazidi girls who were held hostage as sex slaves and found inside the Sayyaf compound at the time of the US attack.
Islamic State group Abu Bakr al-Baghdadi in a screen grab of a photo posted on a militant website on 5 July 2014
Abu Bakr al-Baghdadi reportedly took Mueller as a "wife"
Ms Mueller was reportedly held for some time by Sayyaf and his wife, Umm Sayyaf, who was also captured by US Special Forces in May.
At the time, the Pentagon said Umm Sayyaf was suspected of being an IS member and of being complicit in the enslavement of a young Yazidi woman who was rescued in the raid.
Hundreds of young women and girls - many of them Yazidis captured in northern Iraq - are believed to be held as sex slaves by IS militants in areas under their control.
The Yazidi girls provided intelligence used by the US to interrogate Sayyaf's wife, who "spilled everything" about several IS leaders and their whereabouts, a counterterrorism official told ABC.
They described her as a woman who devoted her life to helping others. After graduating, she lived and worked with humanitarian aid groups in northern India, Israel and the Palestinian territories.
In 2012 she decided travel to Turkey-Syria border to work for the Danish Refugee Council and Support to Life.
She visited refugee camps and played and painted with Syrian children.
On 4 August 2013, while leaving a hospital run by MSF (Doctors without Borders), she was kidnapped by militants from Islamic State.
In February 2015 they claimed she had been killed by Jordanian air strike, but the US maintains she died at the hands of the group.
Mrs Mueller told AP that her daughter had acted as a "mother figure" to the other detainees. "Kayla tried to protect these young girls," she added.
Umm Sayyaf was handed over to the Kurdish authorities in northern Iraq last week to face trial.
The information that has come to light appears to contradict speculation that Ms Mueller was treated well in captivity, as a letter written in 2014 and smuggled out to her family implied.
In it, she said she had been treated with "utmost respect + kindness".
http://www.bbc.com/news/world-us-canada-33941913
------
Let's Not Forget the Fate of the Yazidi Rape Survivors
15 August 2015
Just over a year ago, ISIS began their carefully calculated capture of the Yazidi people. Yazidi polytheism was the core reason that ISIS targeted them in August of 2014. After surrounding them on top of Mount Sinjar, they killed the men and captured the women. In the October issue of ISIS's Dabiq journal, they admitted that it was planned and that their research found that the enslavement of Yazidi women was "justified." This is consistent with research by Human Rights Watch., which agrees that the sex trade of minorities has been systematic and organized.
The fate of the Yazidi women hasn't been the main topic of conversation, but a question remains: Could Muslim, Christian, and Jewish women be next?
We're all in this together
he systematic enslavement and rape of Yazidi women is inhumane, and one of the most brutal acts that ISIS has committed in the region. Amnesty International's report describes the escape of a small fraction of women as an "escape from hell."
Although ISIS has systematically targeted Yazidi women in their organized slave labor camps, this is just the beginning. The future of their skewed interpretations of Islam cannot be predicted.
The brutality of ISIS increases exponentially as time passes
Thus, we must all realize that we're all in this together. The brutality of ISIS increases exponentially as time passes – although it started off with showing mercy for foreign hostages and letting them go in exchange for ransoms, it has shown no mercy to anyone in recent months.
Despite initially justifying the enslavement of Yazidi women by the fact that they are not the 'people of the book' (Christians or Jewish – of an Abrahamic religion), a recently leaked document disputes that. The document, which details the trading price of women based on their age, refers to slaves as either "Christian or Yazidi."
It's clear that no one is safe, and this is exactly why the world needs to act against the enslavement of women by ISIS, and give the survivors the attention and care that they need.
The United Nations has been putting in a lot of effort to shelter refugees from the brutality of ISIS. However, rape survivors need a special kind of attention.
Yazidis are bound to feel alienated, simply by the virtue of their beliefs. Rape survivors require medical attention, both on physical and emotional levels. Counselling is a necessity in order to integrate these women and children back into shared communities. Most importantly, these survivors need to feel safe and significant. While discussing refugees, we must also talk about the rape survivors.
https://english.alarabiya.net/en/views/news/middle-east/2015/08/15/Let-s-not-forget-the-fate-of-the-Yazidi-women.html
----
10 Things You Must Know about Shanti Tigga – the First Woman Jawan of the Indian Army
Sushmita Samaddar August 15, 2015
Shanti Tigga was no ordinary woman. She was the first female jawan in the Indian Army, and she achieved this feat when she was 35 and had two children. Here are some more amazing facts about the brave lady.
With more and more women breaking barriers and stereotypes in the country, let's look back at a few who were bold enough to take the first step and pave the way.
Defense, especially on ground, has always been the domain of men. However, there was one woman who refused to bow down to social conventions – Sapper Shanti Tigga. She was the first female jawan the Indian Army was honoured to have.
TBI brings to you 10 facts which showcase her prowess and her badassery in all its might.
1. Tigga was a mother of two when she became a jawan in the Indian Army.
2. During their physical tests, she defeated all her other male counterparts.
3. She completed the 50 m run in 12 seconds during her tests.
4. On her 1.5 km run, she outran all of her other male counterparts to complete it with 5 seconds to spare till they caught up.
5. She was 35 when she achieved this feat. She was immensely fit and did not let her age come in the way of her dreams.
6. She cleared all her tests to join the 969 Railway Engineer Regiment of Territorial Army in 2011.
7. The firing instructors were so impressed with her skills in handling guns, that she earned the highest position of marksman.
8. She was also awarded the title of best trainee.
9. She did not even know that there had been no female jawan before her –
"I joined Railways in 2005, on compensatory ground after my husband passed away. Last year, I learnt about TA Railways and I volunteered for it. At that time, I was not aware of the fact that no woman has ever joined the Army as personnel below officer rank (PROB). But that was hardly a deterrent."
10. They say that she always dreamt of joining the army and making her family proud.
Although she met with a tragic death, after her abduction, she shall always remain a woman carrying valour beyond compare.
http://www.thebetterindia.com/29906/shanti-tigga-first-woman-jawan-of-indian-army/?utm_source=The+Better+India+Newsletter&utm_campaign=1d54f8742f-RSS_EMAIL_CAMPAIGN&utm_medium=email&utm_term=0_cd579275a4-1d54f8742f-73844649#sthash.et1yKsQl.dpuf
-----
Navratilova Demands Tough Action on Kyrgios after Sex Slur
AFP15 08 15
TORONTO: WTA Tour chairman Stacey Allaster and women's tennis legend Martin Navratilova demanded tougher punishment for Australian ATP player Nick Kyrgios in the wake of his sex slur during a match.
Kyrgios was fined $12,500 by the ATP Tour on Thursday as it launched an investigation into the 20-year-old's remark to French Open champion Stan Wawrinka in a second-round match Wednesday at the ATP Rogers Cup in Montreal.
"The statement made by Nick Kyrgios is crude and unacceptable," Allaster said in a statement.
"I commend the ATP on assessing the on-site maximum fine and urge there to be further sanctions in accordance with their process.
"The ATP said its probe could result in further sanctions against Kyrgios."
On-court microphones picked up the Australian's scurrilous sexual remark about Wawrinka's girlfriend during a changeover in their match won by Kyrgios when Wawrinka retired with back pain trailing 4-0 in the third set. Kyrgios said that the woman had been involved with his close friend Thanasi Kokkinakis.
"Sorry to tell you that mate," Kyrgios is heard to say with his back turned to Wawrinka.
Kyrgios said he has apologised to Wawrinka and hopes to move on but an angry Wawrinka had demanded action by tennis authorities over the "beyond belief" comments.
Wawrinka, who separated from his wife earlier this year and has been linked to Croatian tour player Donna Vekic, said the ATP should take "major action this time."
Navratilova tweeted that she agreed with that notion, adding, "I think there needs to be more than just a fine. There is no place for that kind of behavior that is clear."
World number one Serena Williams, asked about the remarks after a match late Thursday in Toronto, said she did not want to get involved in the controversy by expressing any opinion.
"I think a lot of people saw, but as I said at Wimbledon, I'm no longer involved in controversy, so I don't want to be involved in any controversies."
Kyrgios was knocked out of the Montreal tournament on Thursday by John Isner of the United States.
He was loudly booed both on his arrival and exit from the court.
http://www.dawn.com/news/1200625/navratilova-demands-tough-action-on-kyrgios-after-sex-slur
-------]
Indian Saina Nehwal Reaches Maiden World Badminton Championships Final
TNN | Aug 15, 2015
NEW DELHI: Ace India shuttler Saina Nehwal defeated local favourite Lindaweni Fanetri in 21-17, 21-17 in the last-four to reach her maiden final of the Badminton World Championships in Jakarta on Saturday.
Saina will face World No 1 and defending champion Carolina Marin of Spain in the summit clash on Sunday. Marin came through a war of attrition against Korea's Sung Ji-hyun to claim a pulsating 21-17, 15-21, 21-16 victory in a marathon encounter on Saturday that ebbed and flowed through a series of momentum shifts.
The Spaniard was a surprise champion as ninth seed a year ago but has since risen to the top of the rankings with a game built on confidence, athleticism and a never-say-die attitude.
Fanetri, who has not won any major title, looked uncomfortable throughout the match because of an injury but didn't let that affect her game, giving her much higher-ranked opponent a tough fight. In the last decade, the only major title that the world No. 29 has won was the Syed Modi Grand Prix Gold, a Grade IV tournament, in 2012. She was the runner-up in the Chinese Taipei Open and Vietnam Open in 2012.
Earlier on Friday, in a nerve-jangling one hour, 12 minute fight, Saina triumphed 21-15, 19-21, 21-19 against China's Wang Yihan to make her maiden entry into the Worlds semifinals, which assured her of at least a bronze medal.
In five earlier attempts, Saina had never crossed the quarters.
Saina started in an emphatic fashion and clinched the first game against the world No. 6 Chinese without breaking much sweat. However, that was where the fight truly began. She allowed Yihan to wipe out a big deficit and win the second game. In the third game too, Saina did a lot of catching-up and was even trailing at 16-18. But it was here that Saina came up with some breathtaking strokes to move ahead of Yihan with a three point burst and then went for the kill.
The Indian ace, who has won close to 20 international titles including the Olympics bronze, was always unlucky when it came to the World championship. She was struck down by chicken pox once, stomach bug later - the 24-year-old was always laid low by some off-court problems. Even before the Worlds she was suffering from shoulder niggle but she did not allow that to affect her game.
http://timesofindia.indiatimes.com/sports/badminton/Saina-Nehwal-reaches-maiden-World-Badminton-Championships-final/articleshow/48494998.cms?
----
A Theme Park Of Global Standards Is Every Kid's Dream in Saudi Arabia
Saudi Gazette, 15 August 2015
Saudi Arabia does not have amusement parks as large or varied as the ones that can be found in North America, Europe or even other countries of Asia.
In Riyadh, there are only four amusement parks, all of them are in a poor condition and are overpriced. Moreover, they have the same few rides with no new additions in many years.
As a result, most families in Saudi Arabia prefer to travel abroad and take their children to countries where they can have fun, Al-Riyadh daily reports.
Many global entertainment cities provide, together with different entertainment options, accommodation for visitors.
Strict rules
Mishaal Al-Otaibi is a college student who said most amusement parks in the country are old with few ever visiting.
"I haven't been to one for five years and I don't have any plans to visit one soon. They're the same and have not changed or improved their services.
What's worse is the strict rules imposed on women, let alone the high prices they charge for rides," Al-Otaibi said.
Fatin Al-Otaibi, also a college student, said she visited an amusement park three months ago, a trip she described as "boring."
"We don't have entertainment venues except for malls and even there they impose draconian rules just like the amusement parks, which don't allow people to bring food and drinks in or their cameras.
Women are also expected to watch what they wear to the parks," she said. Nada Al-Salim, a teacher, said investors of amusement parks in Riyadh are not taking care of the parks even though such projects have potential to generate hefty profits if they are developed and improved.
"Saudi society is craving for such projects because they allow them to escape daily pressures and enjoy some down time with family members.
The current rules imposed at the parks do not allow men to enter the park with their wives and children," she said.
Maha Al-Anazi, a recent college graduate, added that there is nothing special about amusement parks in the Kingdom and their services still do not meet public expectations.
"This is why most families do not go there anymore. The rides are boring and old," she said, while calling on investors to build bigger entertainment cities where all members of a family can go together and have fun.
"Entertainment is important for children and parents alike and parks should meet the needs of both," she added.
https://english.alarabiya.net/en/life-style/entertainment/2015/08/15/Saudis-hope-for-bigger-better-theme-parks-in-the-kingdom.html
------
URL: https://www.newageislam.com/islam,-women-and-feminism/new-age-islam-news-bureau/islamic-state-leader-baghdadi-repeatedly--raped-kayla-mueller-/d/104279